A good Sunday morning to all Uni Watch readers. I hope you're all enjoying the upgraded site. If you didn't happen to see, I mentioned in yesterday's post (done in the "old" style as one long post, rather than broken up into multiple posts throughout the day), today I'm going to release this post in multiple sections, spread out through the morning. I asked for (and received) some good feedback as to which style weekend posts should be, so I'd ask for the same again today — please let me know in the comments below if you prefer the long, single-post with multiple entries, or the new weekday style of multiple articles in a day. Thanks!
As you're all probably aware, the NFL and its member teams have been introducing alternate helmets (five in the past week, with three alone released on Friday), plus a sixth and seventh in the past 10 days. Under the "old" system, I would have covered the three helmets released Friday for Saturday's lede, but with the new rapid-response protocol, Paul covered all three of those a couple days ago.
Almost all (or all) of the unveilings have come while Paul has been at the helm, and I've withheld comment…until now.
Obviously the lifting of the "one-shell" rule has been good in some respects (throwbacks which couldn't be worn previously are now possible), but may have opened a Pandora's box where teams are seemingly introducing alternate helmets because they can, and not necessarily because it's a good fit. And of course, teams who go BFBS can now have matching black hats. So there's good and there's bad.
Since the alternate helmets fall into three categories (I'll call them "Throwback," "Pure Alternate," and "BFBS"). In order to properly grade the helmets, we do need to consider which uniform they'll be pairing them with, but that will be only a minor consideration in the rating. Mostly, I'll be grading them as a helmet, with the exception of the throwbacks, as those are the raison d'être for the helmets. Those will NOT take into account the helmet (as it's not a "new" helmet, but rather a previously-unwearable component of the throwback uniform). Those will be judged as a whole.
Let's get started:
The Throwbacks:
Atlanta Falcons: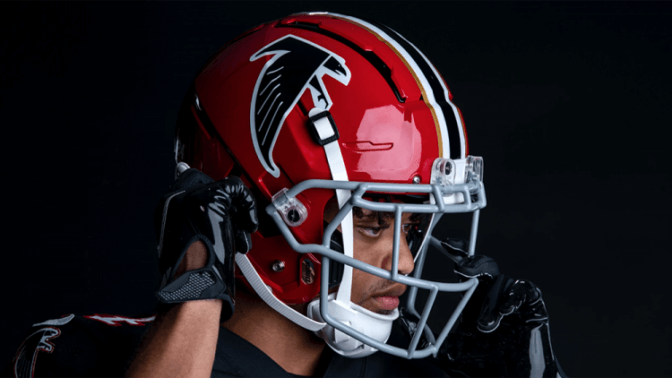 The Falcons are throwing back to their original 1966 helmet and wearing a combination they'd previously worn. They were prohibited by the one-shell rule from wearing it, but actually wore it as a fauxback with the black helmet for several seasons. Now the red hat returns, and not a minute too soon. I actually don't love the gold helmet striping (yes, I understand why they did it back in the day), but both as a throwback and an actual NFL uniform, this one is gorgeous.
Grade: A
Here's what Paul had to say.
__________
New England Patriots: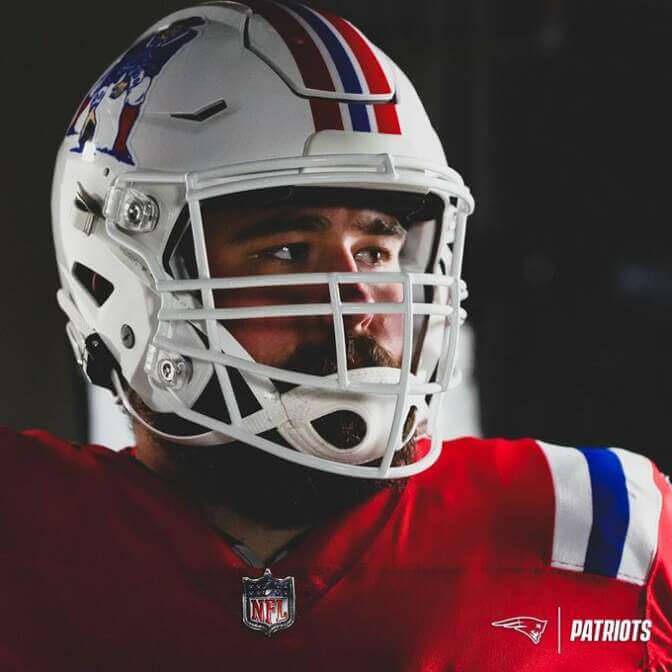 Like the Falcons, the Patriots have worn this uniform before, and were prohibited from doing so by the one-shell rule. Unlike the Falcons, the Pats did not create a fauxback using their silver helmet shell (thankfully). Of all the throwbacks, with the possible exception of the Tampa Bay creamsicles, this was the most-awaited throwback to return to circulation. Clearly, these are much better uniforms than anything the team has worn since they switched to the Flying Elvis helmet. But while it's a really good uniform (and helmet), it's not a great uni and helmet. But it's still really, really good.
Grade: B+
Here's what Paul had to say.
__________
New York Giants: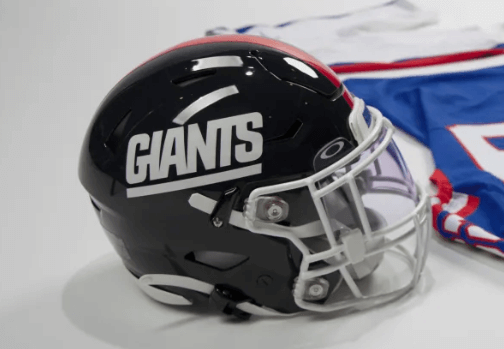 As a New York Football Giants fan and with fond memories of Super Bowls XXI and XXV, in which the team basically wore these uniforms, you'd think I'd be ecstatic about their return. The team even went the extra yard to create a special helmet just for the throwback uniform. And, in a way, I am. But I never loved any of the styles the Giants wore from the mid-1970s through 1999, when they had "GIANTS" on their helmets. And honestly, I never really loved that particular helmet. Still, it's a really faithful reproduction (note the tremendous attention to detail, as noted by Paul). If this were their "regular" helmet, I'd absolutely hate that the blue on the lid and jersey don't match. But this throwback is pretty true to the original.
Grade: B+
__________
Dallas Cowboys: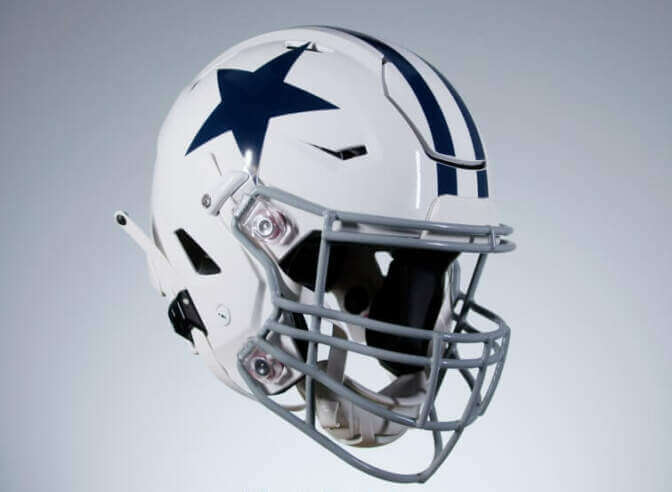 As with the Falcons and Patriots, the Cowboys have worn these helmets as throwbacks before, but as with the others, the one-shell rule prevented them from being worn. And they'll be wearing it on Thanksgiving (as they had also done previously), which is an added treat. I'm a fan of white helmets and gray facemasks, so I am pretty enamored with this one. The unis? I'm so used to seeing them in basically the same uniform since 1964 (multiple shades of blue and seafoam green excluded), this one "almost" doesn't look like the Cowboys — except for the star on the helmet. Yeah, that's the 'boys.
Grade: A-
Here's what Paul had to say.
__________
The Pure Alternates:
New Orleans Saints: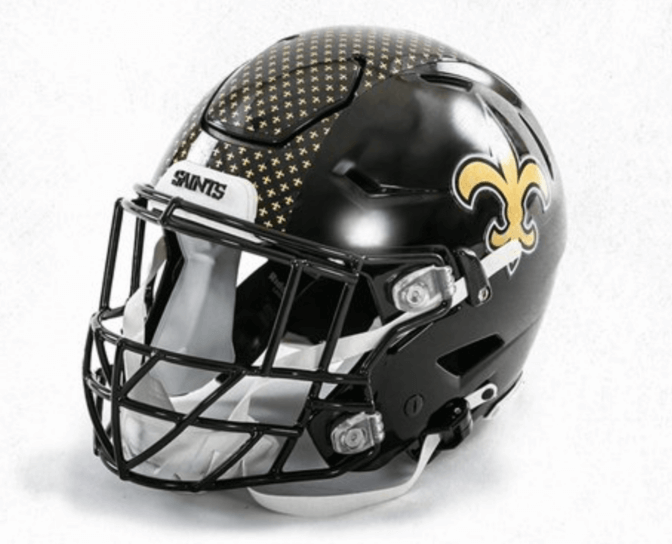 You probably all know the story of the original Saints black helmet, and it makes sense for a team whose two primary colors are black and gold to have a black alternate. Instead of creating a helmet based on the original 1969 alternate, the Saints went with a modernized version. And, because the alternate helmet is not (yet) permitted to be worn with a teams primary uniform, they'll be pairing this with their "color rush" uniform, albeit with black socks instead of white. While I'm all in favor of the Saints having a black helmet, that is not the uni with which to wear it. Perhaps in a season or three the NFL will allow the alt hat to be worn with the team's mono-black set, and over which the current gold helmet looks out of place. As a pure helmet? I don't love the fleur-de-lis "striping," but it's not a deal breaker.
Grade: B
Here's what Paul had to say.
__________
Houston Texans: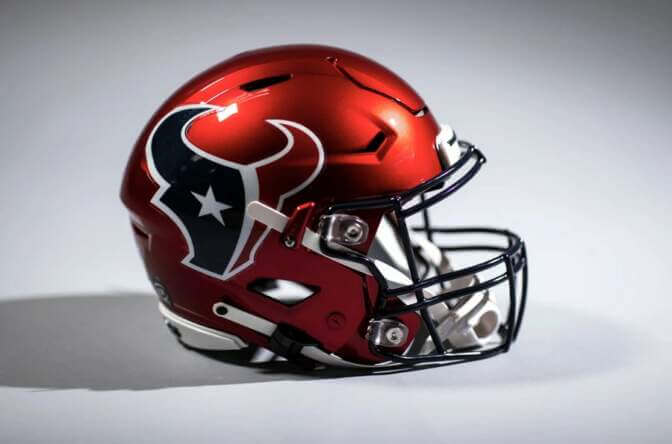 This one falls squarely into "because they can" category. The new Texans alternate is simply a red version of their current blue helmet. And why do they need a red alternate? Why, to wear with their ridiculously named Battle Red uniform. While I didn't love it, that blue helmet/red jersey combo was unique (yeah, I know the Bills did it) to the NFL and probably the team's best look. If the team absolutely had to have an alternate, why didn't they pick the white one they had originally proposed, but which never saw the field? It's not a terrible helmet, per se, but it's completely unnecessary.
Grade: C
Here's what Paul had to say.
__________
Carolina Panthers: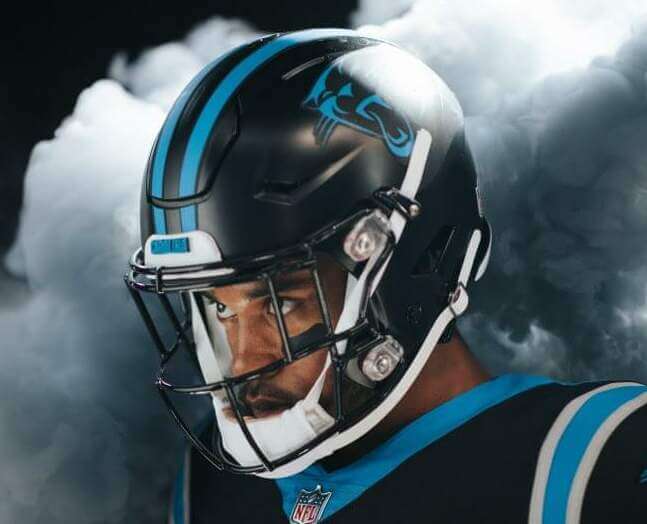 Like the Saints, I don't have a problem with the cats wearing a black helmet, since their colors are black and "Carolina" blue. And frankly, I've never been a fan of silver helmets (unless worn by Da Raidahs), so I'm ok with the concept. The execution (that logo is going to be almost impossible to see at distance) not so much. And the team is going to wear it with their mono-black uniform, which is even better. Like the Saints, the team looked unfinished when going all black, but with a silver helmet. So this is an improvement when worn with that uniform. If only that logo were more legible (but maybe that's the idea).
Grade: B
Here's what Paul had to say.
__________
Cincinnati Bengals: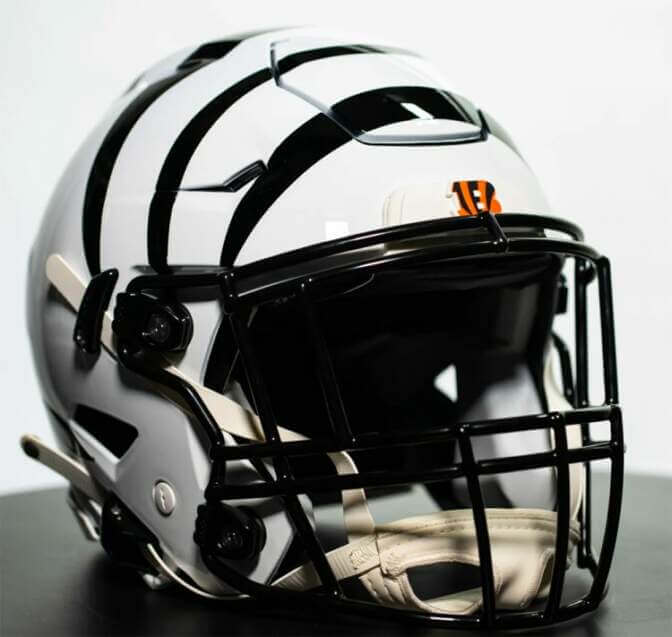 Finally! They've been teasing/promising this one almost since the team got its new uni set last year (even before the one-shell rule was rescinded). So far, the team has been coy as to whether the hat will be worn with the current all-white set (which includes orange outlining) or the "color rush" set unveiled a couple years back. In fact, it's possible the team may even tweak their existing jersey to remove the orange. We'll find out later this week when the team announces when, and with what jersey, the new helmets will be worn. I've loved the Bengals helmet since they first introduced the orange version in 1981. I love this one even more. Chef's kiss!
Grade: A+
Here's what Paul had to say.
__________
Black for Black's Sake Helmets:
Philadelphia Eagles: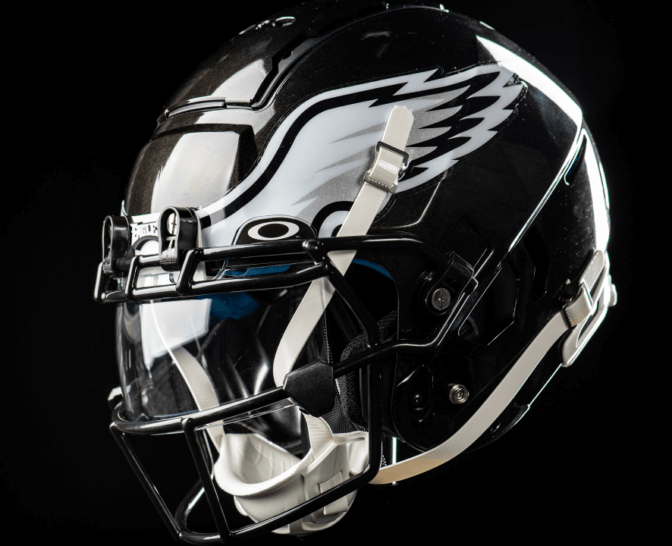 I'm not sure which is worse: the Eagles BFBS uniforms, or the new all black helmet with which they will be worn. Now, I suppose you could argue black is a "team color," but c'mon, we all know it's not. And as many have pointed out, their current midnight green helmet looks almost black anyway, especially during night games. So is this really even necessary? Couple this with the fact that the team has already announced they'll be wearing a kelly green throwback (and helmet) next season, and you get a completely unnecessary, one-year, one-off BFBS helmet.
Grade: D-
Here's what Paul had to say.
__________
New York Jets: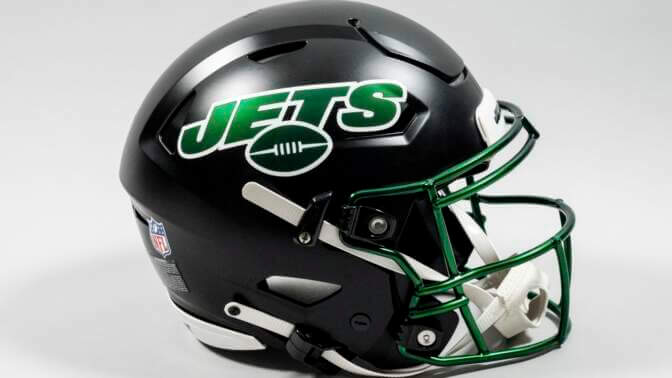 Quick, which team that wears green and white and also goes BFBS will wear a new BFBS helmet this season. If you said "The Eagles" (duh), well, you'd be right, but they aren't the only ones. The Jets mono-black alternate looked terrible with a green helmet, have attempted to make the look "better" by introducing the BFBS helmet to pair with the BFBS uni. In the immortal words of Butthead, "Beavis, you can't polish a turd." I suppose the helmet doesn't make the BFBS uni look any worse, but that's not saying much.
Grade: F
Here's what Paul had to say.
__________
BFBS/Alternate:
Washington Commanders: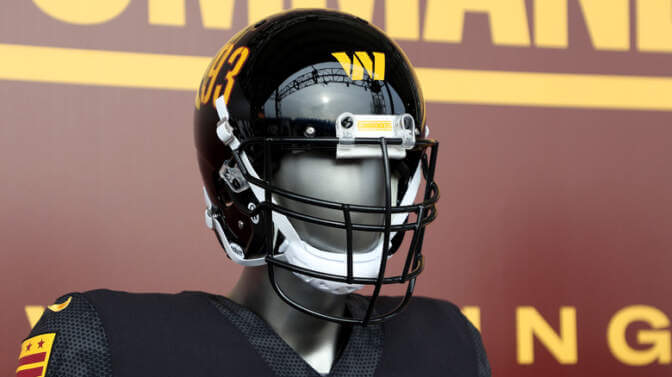 I had to create a hybrid category for the newly rebranded Washington franchise. Is the helmet BFBS? Or, is black a legitimate new color for the Commanders, so the helmet is just an alternate? It's both. What a disaster. Really? Almost 90 years of basically being burgundy and gold (a fantastic combination) and when you rebrand, you go BFBS? Ugh.
Grade: F
Here's what Paul had to say.
• • • • •
And there you have it — every new alternate (so far) released. It's clearly a mixed bag. And it proves the axiom, "Be careful what you wish for."
Your thoughts?