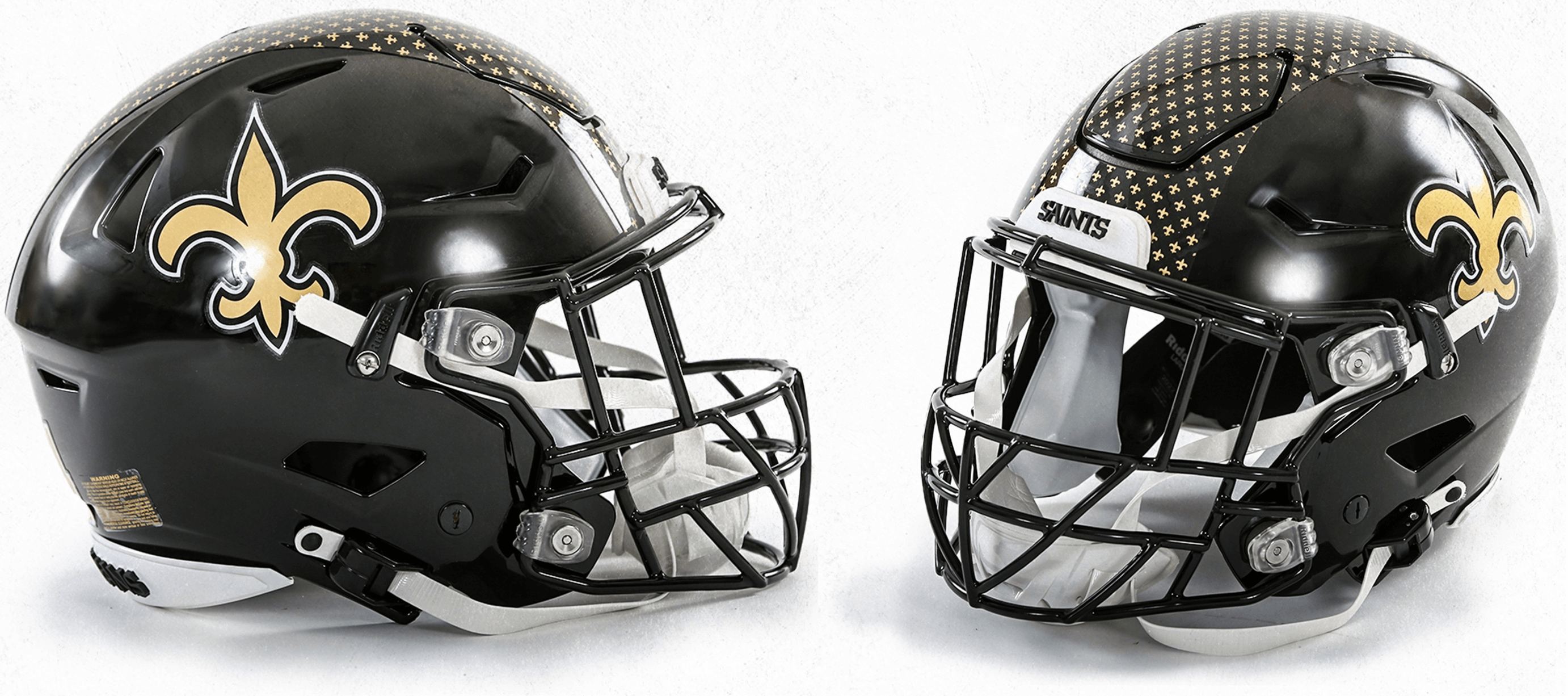 For all photos, click to enlarge
The Saints yesterday became the latest team to take advantage of the lifting of the NFL's one-shell rule by unveiling a new black alternate helmet. According to the team, it will be worn for at least one game this season, with more details to be announced later.
I had no inkling that this was coming — there were no teasers, no hints (at least not that I was aware of). Kind of refreshing to see an unveiling handled that way.
Side and three-quarter views of the helmet are shown above. Here are the front and back views: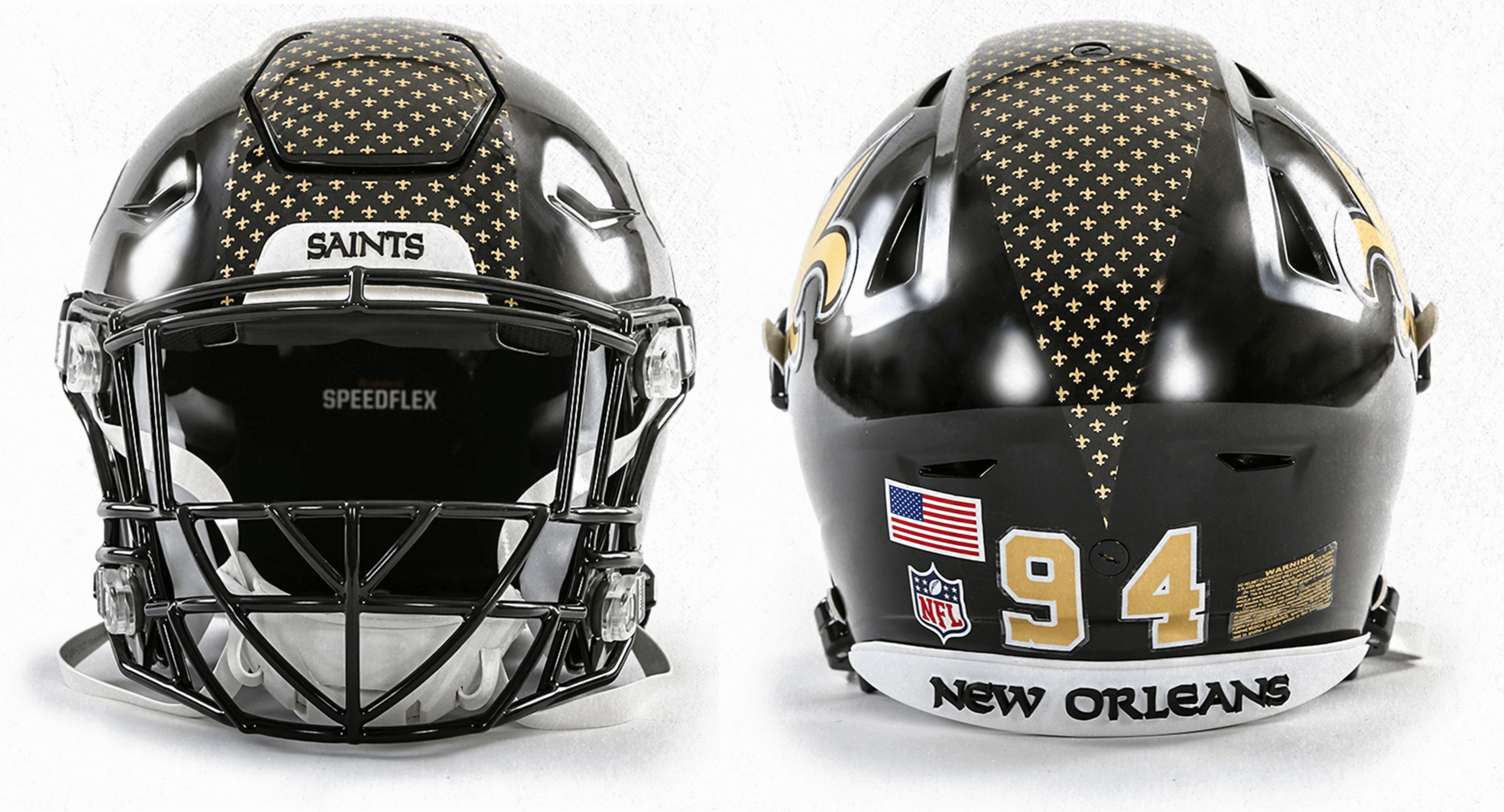 So which uniform(s) will this helmet be worn with? In theory, it would seem to work with any of the Saints' uni combos, but the team released photos of defensive lineman Cameron Jordan wearing the helmet with the club's mono-white Color Rash uni, so they apparently plan to wear it with that uniform, at least for starters: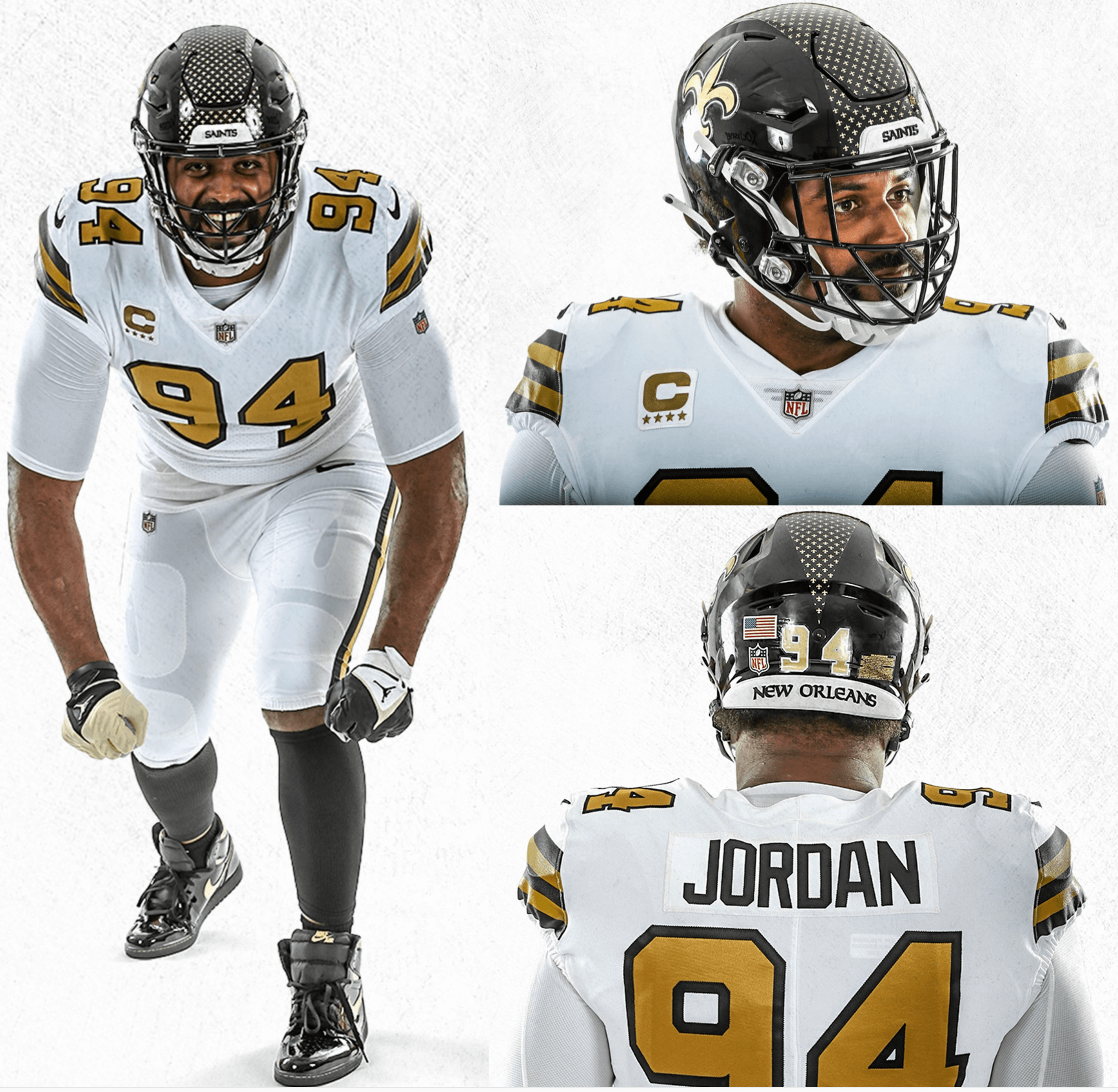 Some quick thoughts:
• I don't hate the idea of a black helmet for the Saints. Black is one of their team colors, so it's clearly not BFBS. On the contrary, it totally makes sense.
• I do hate that center stripe/cloud of fleurs de lis, though. Ugh, what a mistake.
• As many of you probably know, the Saints do have some previous history with black helmets. In 1969, they wore black lids for all six of their preseason games (yes, NFL teams actually played six preseason games in those days!) and in practices. But team ownership hadn't informed the league of its plan to switch from gold helmets to black, so the league pressured the team to switch back to gold for the regular season.
Here's how those black helmets looked: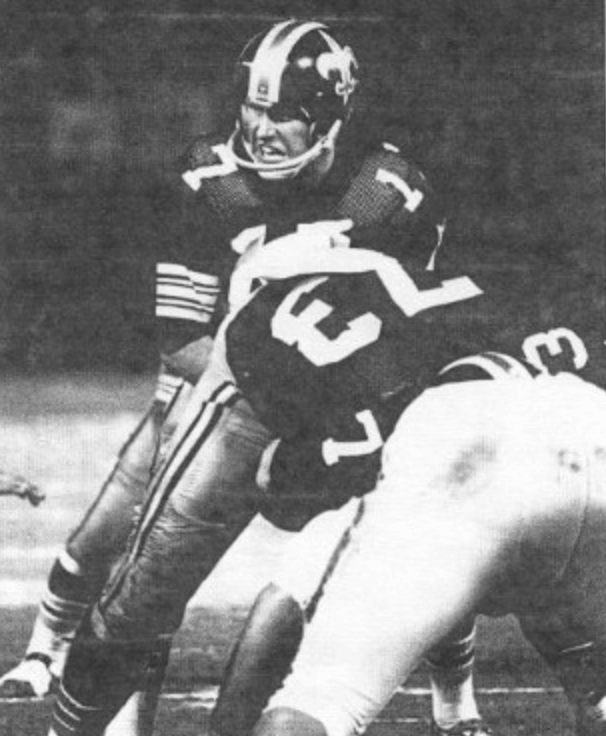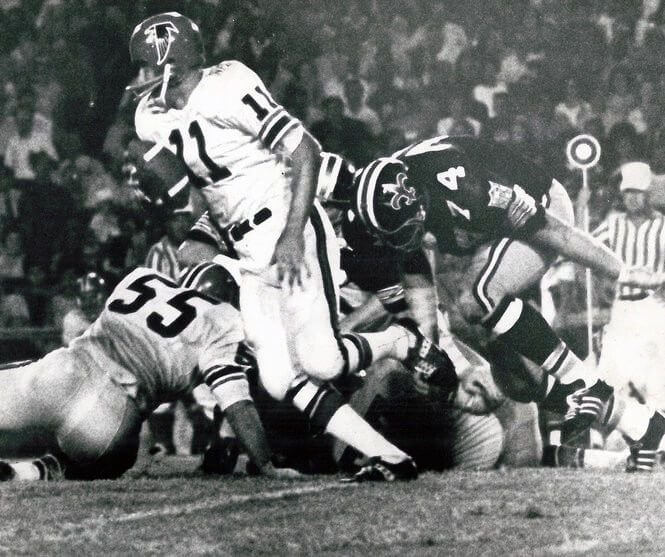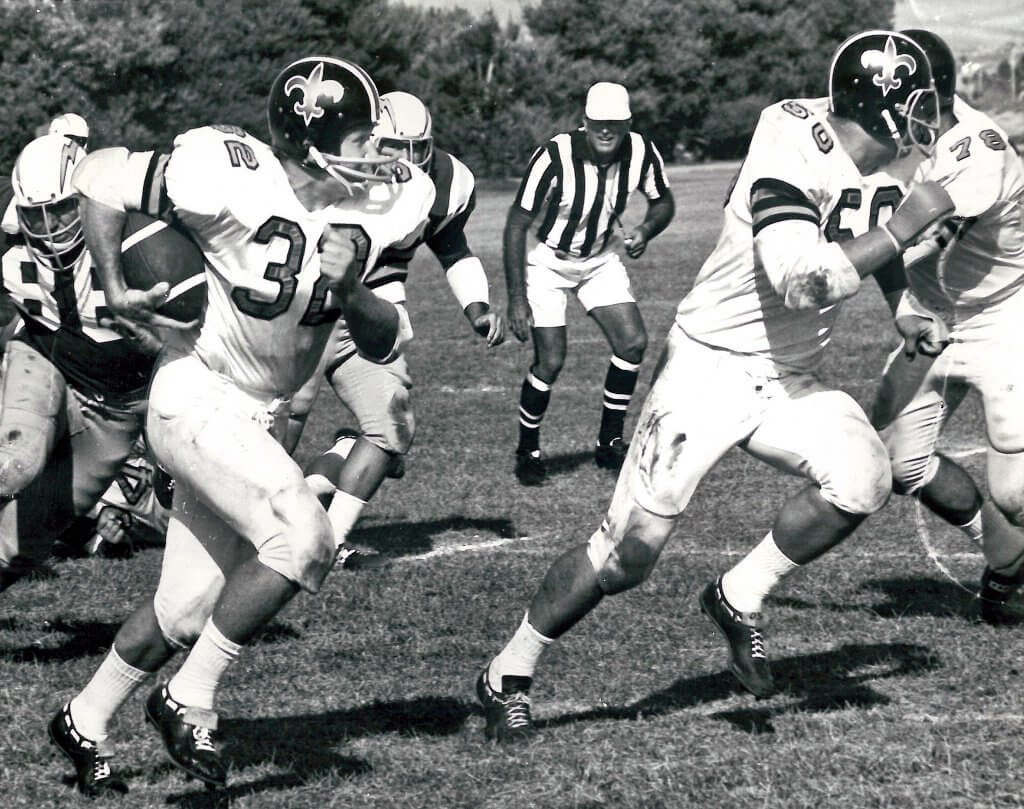 (For that last photo, which shows a Saints/Chargers scrimmage, note the ref wearing shorts!)
I've always liked that helmet and have long hoped that the Saints would revive it as a throwback, as a way of spotlighting this odd chapter in team history. I wish they had gone that route instead of going with their new design. But hey, you can always swap out the decals and striping tape on an existing shell color, so maybe they'll do that someday. Here's hoping.
Anyway: By my count, this makes five teams that will have two helmet colors this season (the others being the Falcons, Eagles, Pats, and Commies).
Meanwhile, as long as we're talking about the NFL, the Eagles introduced a new wordmark yesterday:
The #Eagles have tweaked the wordmark for their logo, going with a more modern look. pic.twitter.com/raqORA9dvm

— Ari Meirov (@MySportsUpdate) June 16, 2022
That move has on-field implications, because the Eagles wore the outgoing wordmark on their jersey chests. Check that — reader/commenter Patrick notes that the new wordmark will not appear on the jerseys this season.
• • • • •
• • • • •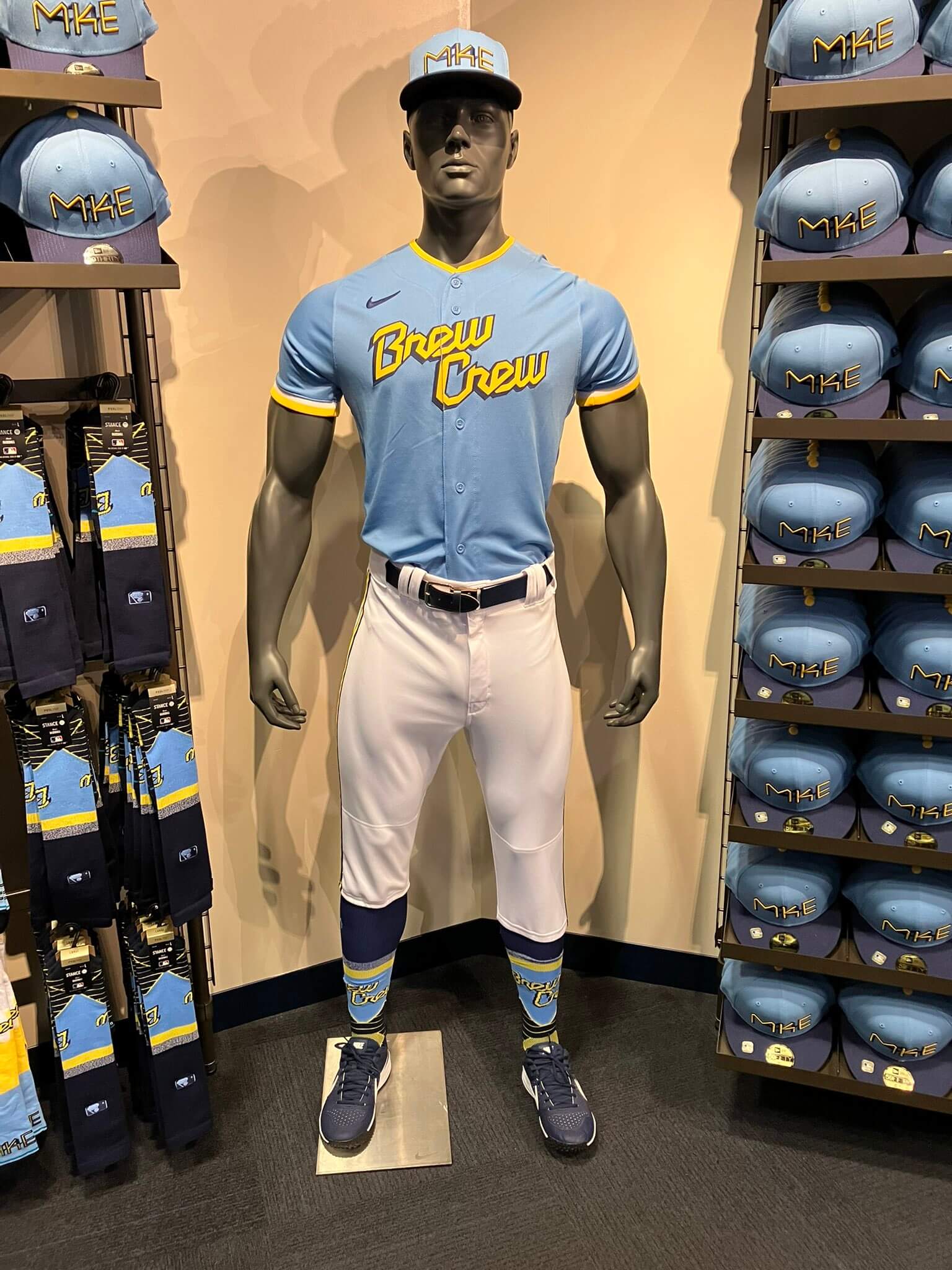 Click to enlarge
Brewers City Connect unveiling: The Brewers just unveiled their CC uni this morning. It's consistent with the earlier cap leak and also features MLB's first-ever grilling-themed sleeve patch: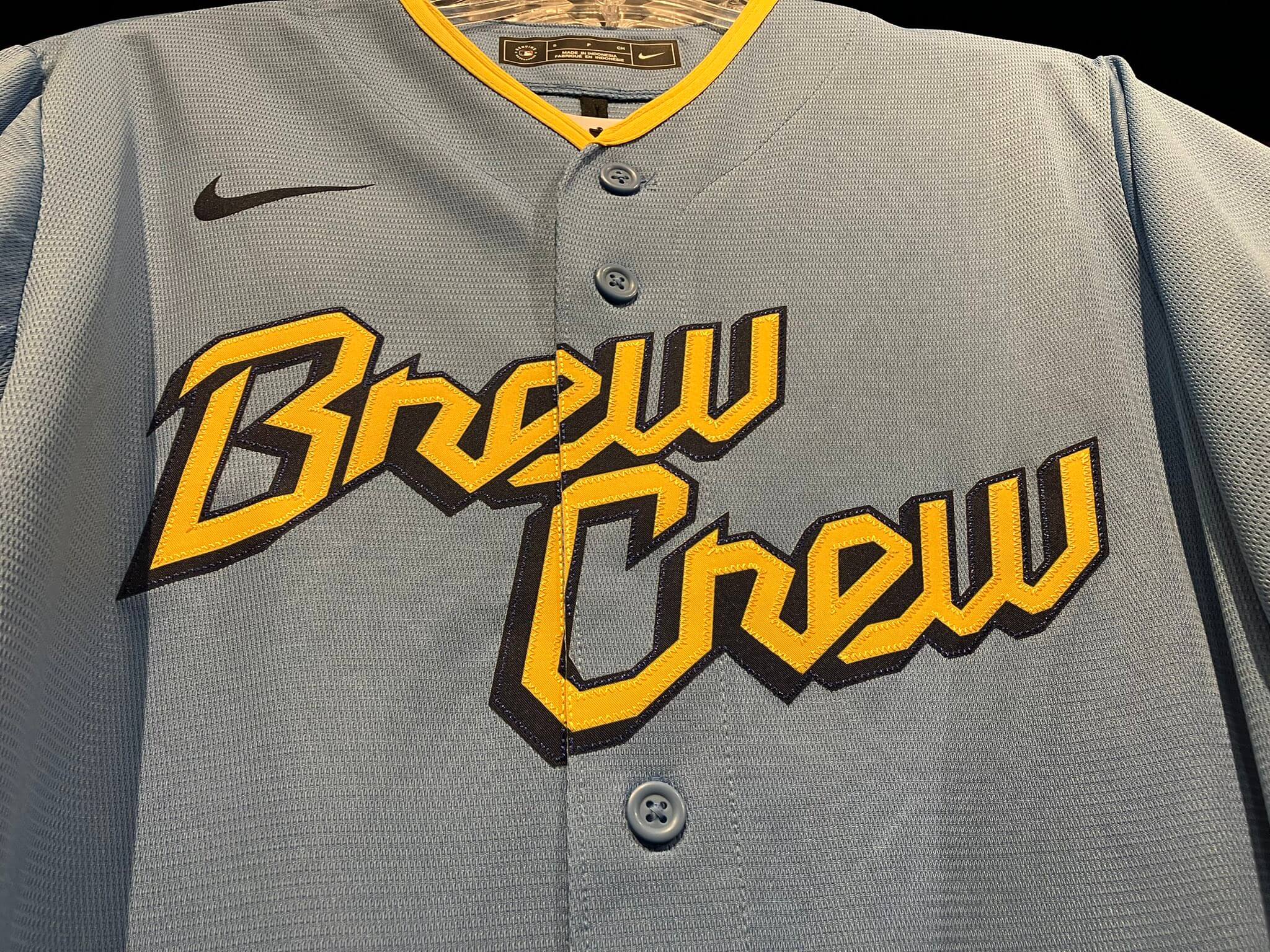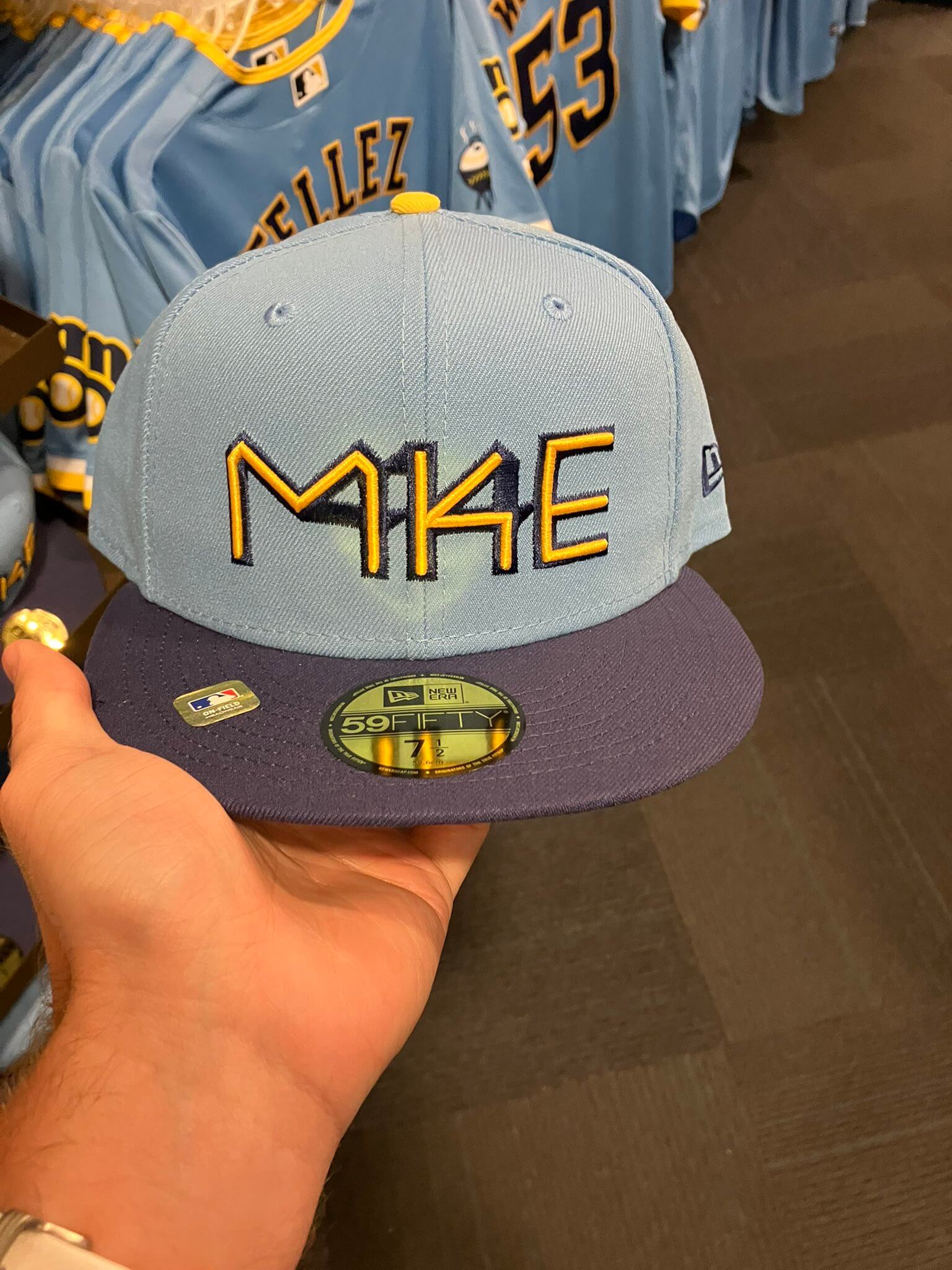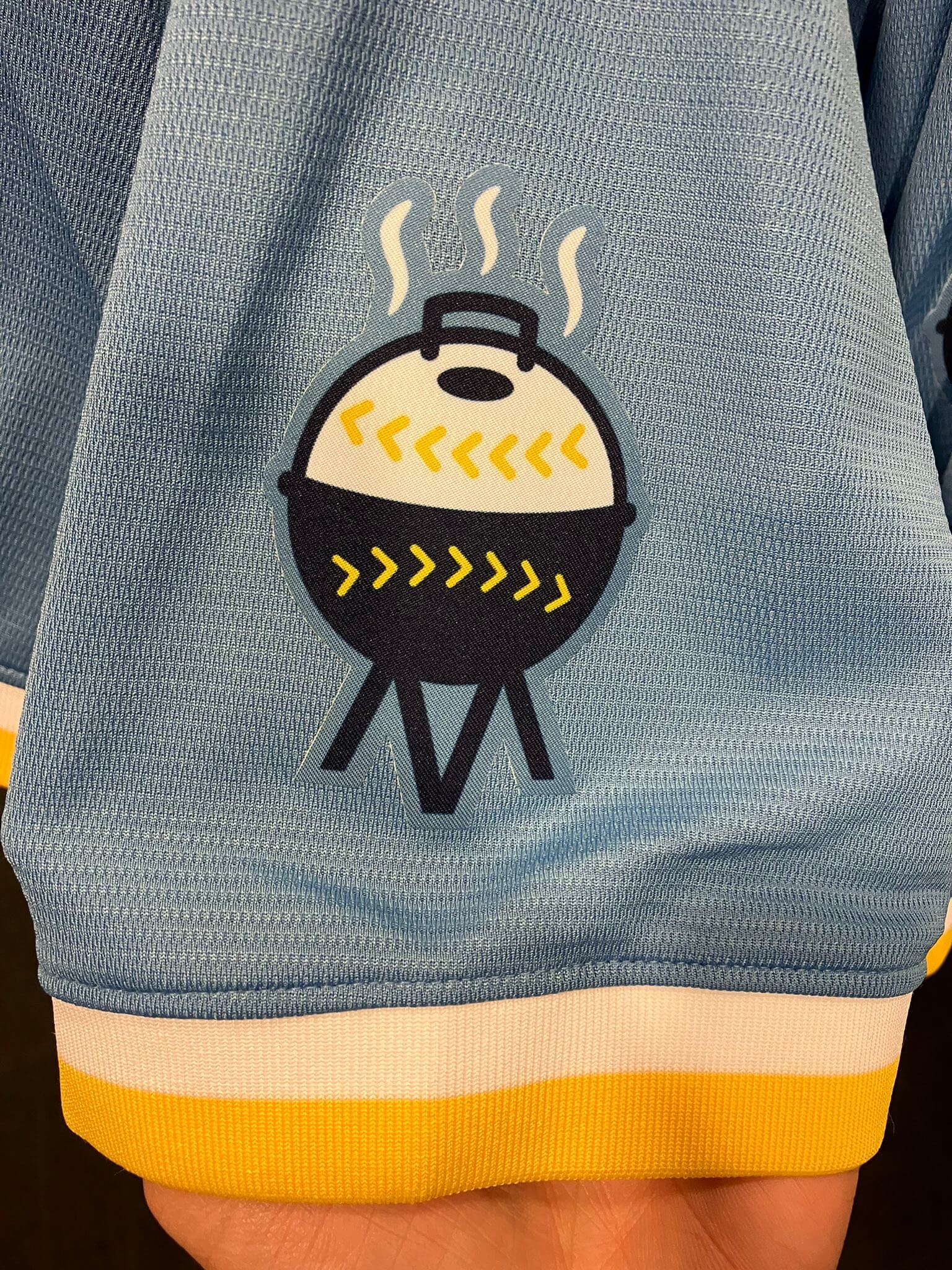 I'll have more to say about this uniform on Monday.
• • • • •
• • • • •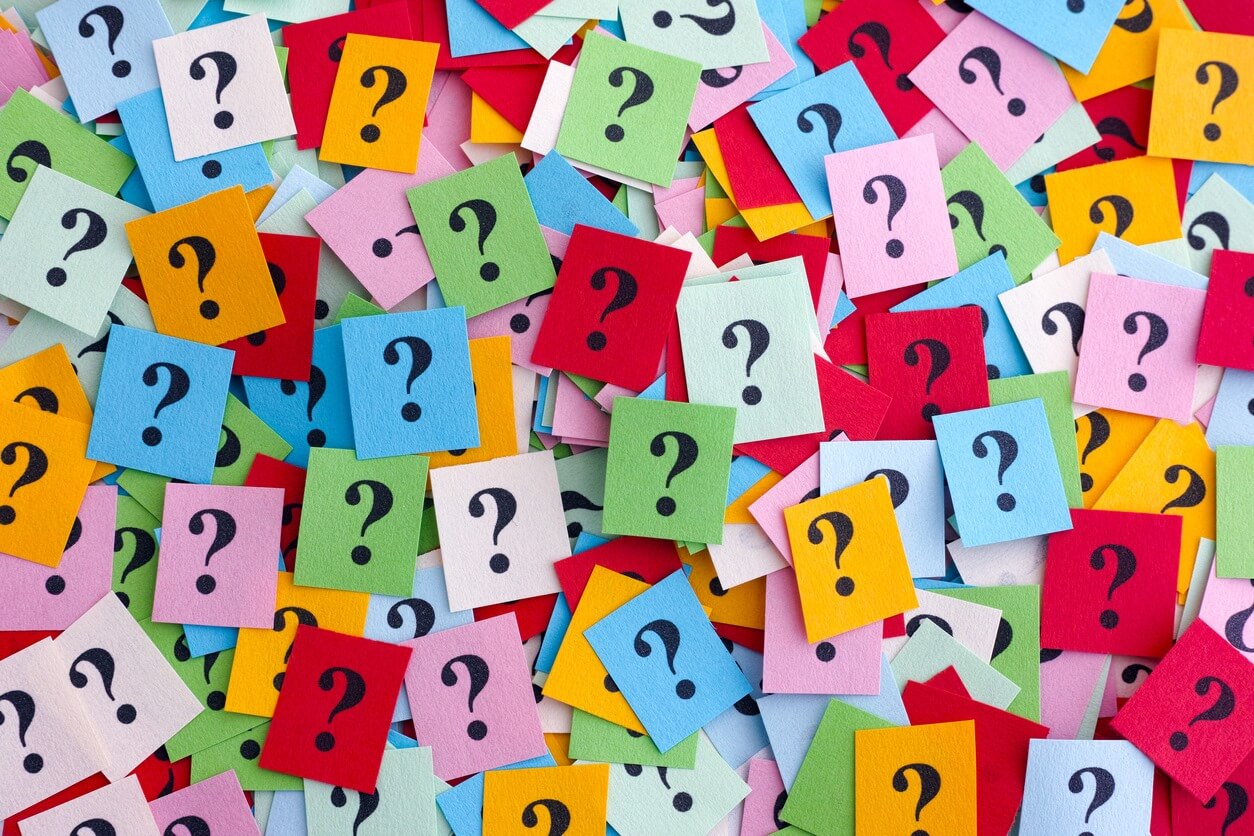 AMA reminder: My Bulletin article this week is my quarterly "Ask Me Anything" edition, where I answer questions posed by Uni Watch readers. My Premium Subscribers can read the article here. If you haven't yet subscribed, you can do that here (you'll need a Facebook account in order to pay). Don't have or want a Facebook account? Email me for workaround info. Thanks!
• • • • •
• • • • •
The Ticker
By Anthony Emerson

Baseball News: Mariners P George Kirby's cap's squatchee was silver instead of navy for his start last night. Honestly, I kinda like the look. … The Orioles are giving away a soccer-style jersey in September (from multiple readers). … The Nationals are using an anachronistic number font on this promotional art for Ryan Zimmerman's number retirement (from David Raglin). … The San Antonio Missions, Double-A affiliates of the Padres, wore Uvalde jerseys last night (from Ignacio Salazar).

NFL News: All Bears players wore No. 41 yesterday in honor of Brian Piccolo, who died 52 years ago on June 16 (from multiple readers). … Phoebe Bridgers and her backing band wore football uniform versions of their trademark skeleton costumes during a Jimmy Fallon appearance, complete with pads. Bridgers performed her new song, appropriately named "Sidelines" (from Tyler Kepner).

Hockey News: Alpine F1 driver Fernando Alonso was spotted in a Habs jersey ahead of this weekend's Canadian Grand Prix in Montreal (from Andreas Papadoupolos).


Hoops News: Ahead of today's uniform reveal, the Jazz's note logo sculpture outside their arena has been changed to evoke the '90s uni set. … The Pistons are putting their primary logo on their shorts next season, replacing the interlocking DP logo that had been there (from Kary Klismet). … Also from Kary, the Fraser Valley Bandits of the Canadian Elite Basketball League has a new logo designed by a local British Columbia First Nations artist. … Duke has revealed the uni numbers for its new varsity players.

Soccer News: England's women's team wore black armbands for Thursday's friendly in memory of coach Sarina Wiegman's sister (thanks, Jamie). … Also from Jamie: New third shirt for Scottish club Kilmarnock. … The following are all from Kary Klismet: new 125th-anniversary kits for Red Star FC of the French third tier, and new kits for Kilmarnock, Middlesbrough, Porto, Arminia Bielefeld, Fortuna Düsseldorf, Tranmere Rovers and Swindon Town. … ESPN broadcaster Derek Rae noted that due to FIFA sponsorship rules, the NFL facilities that will be used for 2026 World Cup matches may have their names changed for the duration of the tournament (from Trevor Williams).

Grab Bag: If you want to celebrate Dickies' 100th anniversary, you can buy these Dickies logo pants for $85 (from John Cerone). … LGBTQ Ukrainian servicemembers are adding unicorn patches to their uniforms (from Timmy Donahue). … A Japanese low-cost airline, Zipair, is changing its logo due to associations with Russian military units. … Premier Lacrosse League news from Jared Buccola: "Atlas Lacrosse Club unveiled a new cream "special edition" jersey with horned sleeve stripes and new number font. Not sure if these will be worn on the field. Also, Chrome Lacrosse Club has new matte grey helmets." … A federal court has ruled that a North Carolina charter school violated girls' Constitutional rights by requiring that they wear skirts.
• • • • •
• • • • •

What Paul did last night: Yesterday was the third Thursday of the month, which means it was time for me to go see the great Pre-War Ponies, a ukulele band specializing in lesser-known songs by famous 1920s and '30s composers. My friends Matt and Charlotte met me at the club, where we bumped into a few additional friends, and then we all went out for burgers afterward. A swell night!
• • • • •
That's a wrap for this week. Phil is busy curling at a bonspiel this weekend (good luck, buddy!), but we'll have a quick pre-Father's Day post tomorrow and have Phil's annual "Dads in Uniform" post for Father's Day on Sunday.
I'll have a full assessment of the Brewers new CC uni and the Jazz's new uni set on Monday.
Enjoy your weekend, and please accept my best wishes for a happy Juneteenth and also a happy Father's Day. I'll see you back here on Monday. Peace. — Paul