[Editor's Note: Jamie Rathjen, who's our women's sports expert and one of our soccer experts, has combined those two passions into his annual NWSL Season Preview. Enjoy! — PL]
The NWSL's 11th season kicked off on Saturday, March 25. For the first time since 2015 (!), no team changed its name or location over the offseason, nor did any team join or leave the league. In another milestone, the league was added to the FIFA 23 game March 22, becoming the third women's league to be included in the game (after England's and France's top tiers).
As for this year's kits: While I and others have previously praised the league for being more creative while MLS tended to look blander, the script has flipped this year, as many MLS teams are trying something new while the latest NWSL shirts have underwhelmed compared to those from a few years ago. (There might be more variety next year, as several reporters have indicated that teams won't be required to have white second shirts after 2023, ending an informal but bizarre policy observed by no other soccer league I'm aware of.)
Here's this year's team-by-team kit rundown:
Angel City
The new second shirt has less pink than its predecessor and is mostly grey and white, which to me is a downgrade and took away a unique part of their color scheme. It has a nice touch — but only on the retail version! — where one of 11 sleeve patches based on LA neighborhoods can be applied, as well as one for season ticket holders. The powers that be apparently wouldn't let them wear the patches in-game, but you can still read about them here.
———
Chicago Red Stars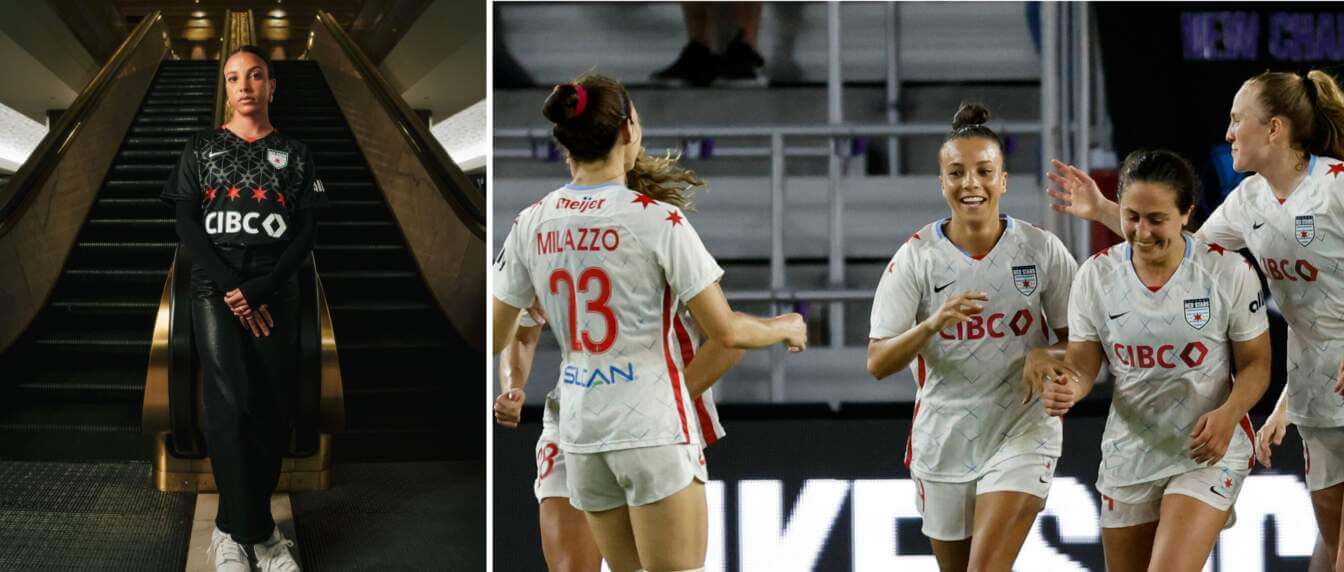 The Red Stars have gone back and forth between wearing black and blue as first choice recently, and are now back to black. They're extending their star pattern, borrowed from Chicago's flag, throughout the upper half of the new black shirt, which has been reasonably well-received. The team's previous black shirts have included blue accents, which this one doesn't have aside from the crest, but I think it still works.
———
Houston Dash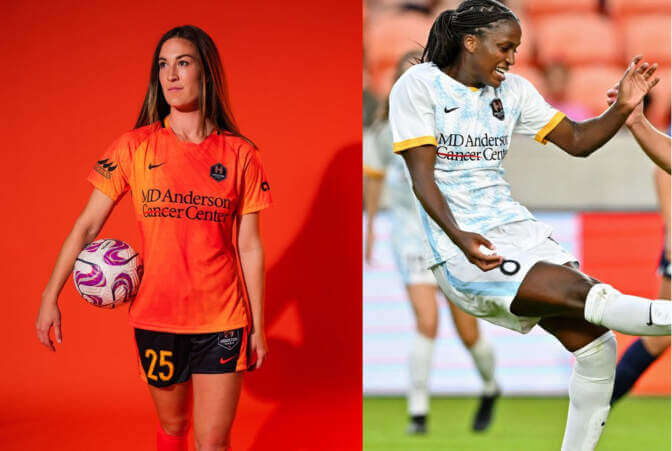 To illustrate how much NWSL color schemes have coalesced, the Dash are one of only two teams whose first shirt isn't dark blue, dark purple, or black. They do have black shorts this time, instead of a mono-orange look. Most teams who wear solid colors try to do something a little crazy every few years, but the Dash really haven't ever tinkered with their orange shirts.
———
NJ/NY Gotham FC

When I initially saw Gotham FC's new first shirt, the pattern reminded me so much of lightning — which they've done before — that I was prepared to point out how unusual it was for them to be going back to the same design well so soon. But the team's marketingspeak indicates it's not supposed to be lightning. Okay, then.
The team wore a new second shirt for its first game with little notice beforehand and no formal release. It has a dotted pattern in the numbers, but the team hasn't explained what that's supposed to mean.
———
Kansas City Current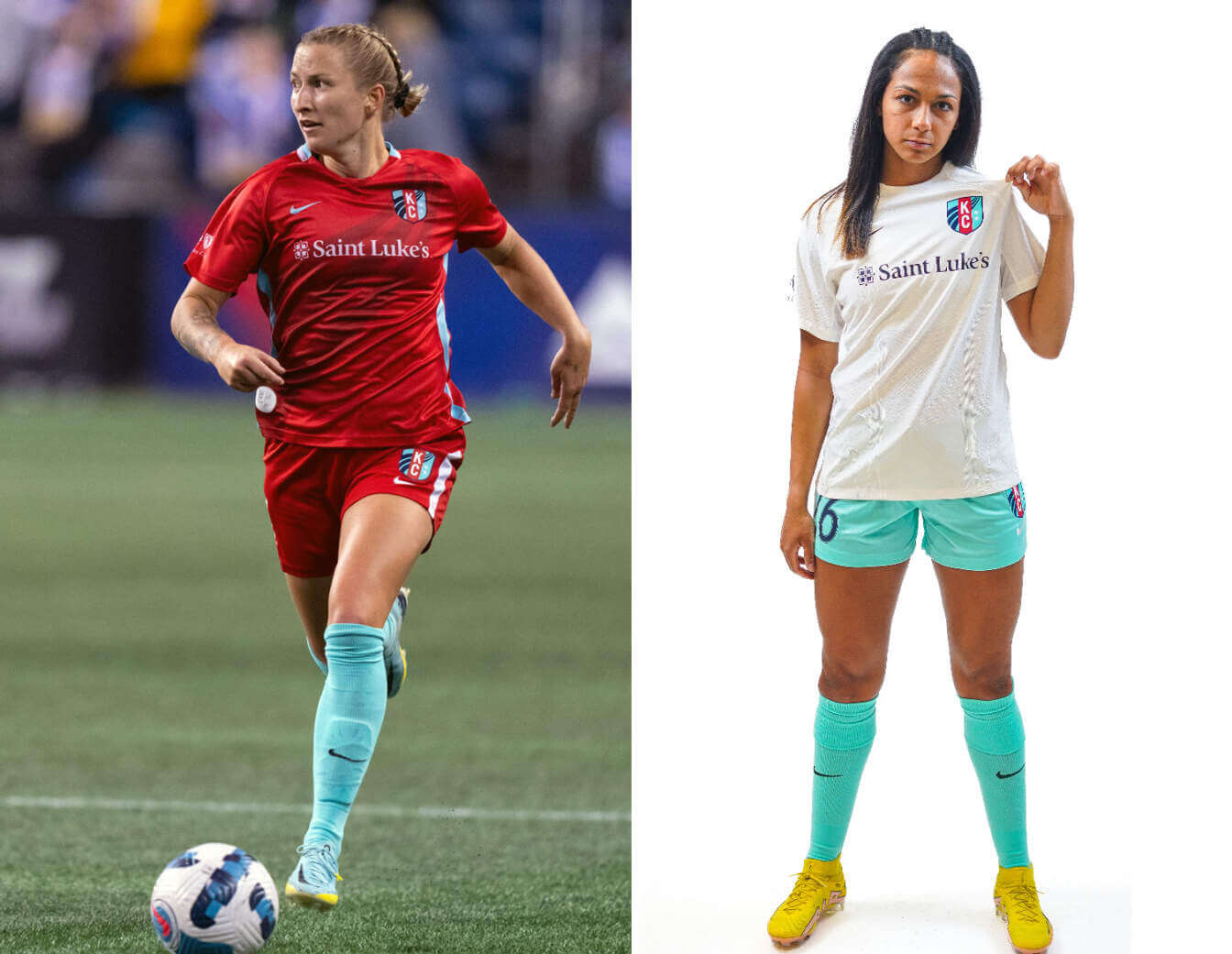 The Current leaned into the teal of their color scheme with their new white/teal/teal second kit. The teal shorts are new and welcome. The picture with the team's news release for the shirt appears to show the numbers outlined in blue or teal, but that's not the case. They're also suffering from mismatched swooshes — white on the teal shorts, black on the teal socks.
———
North Carolina Courage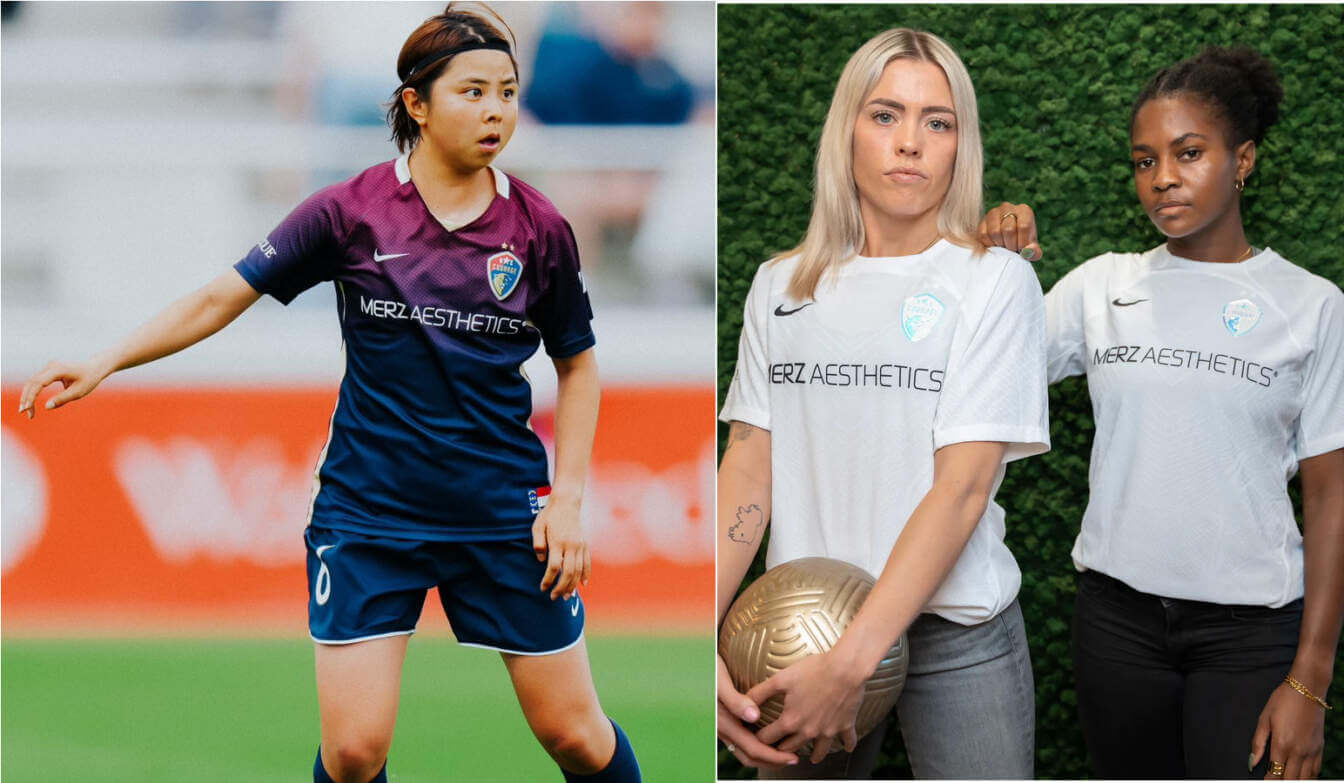 The Courage have a new solid-white second shirt this season with a mostly whited-out crest that you really can't see except up close. (Of course, the other elements on the shirt — swoosh, ads, NOB, numbers — are black, so you have no trouble seeing those.) Unfortunately, this approach marks a return to the very bland norm for the team that gave us a pretty brilliant mountain design a few years ago.
———
OL Reign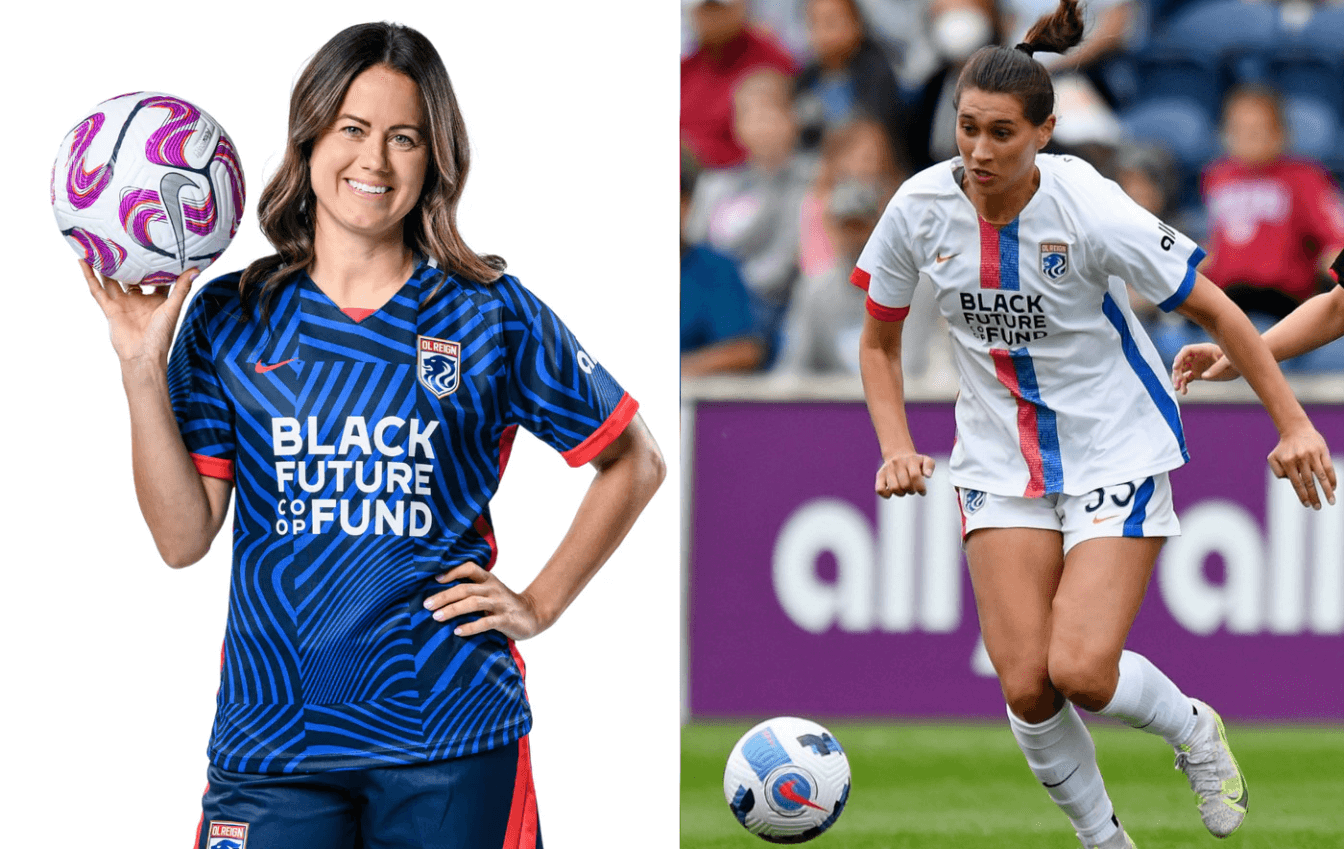 Seattle's OL Reign replaced their blue first shirt. It's not bad but is basically a random pattern that seems like it had relatively nonsensical marketingspeak applied to it afterwards. Ironically, the shirt's name is indeed "Purpose," in the growing but useless trend of American soccer teams giving their new shirts "brand names" that you'll probably forget in about 20 seconds. The team also has a charity on the front of its shirts, as it has for several seasons, but it's apparently only staying there until they find a replacement for that space.
———
Orlando Pride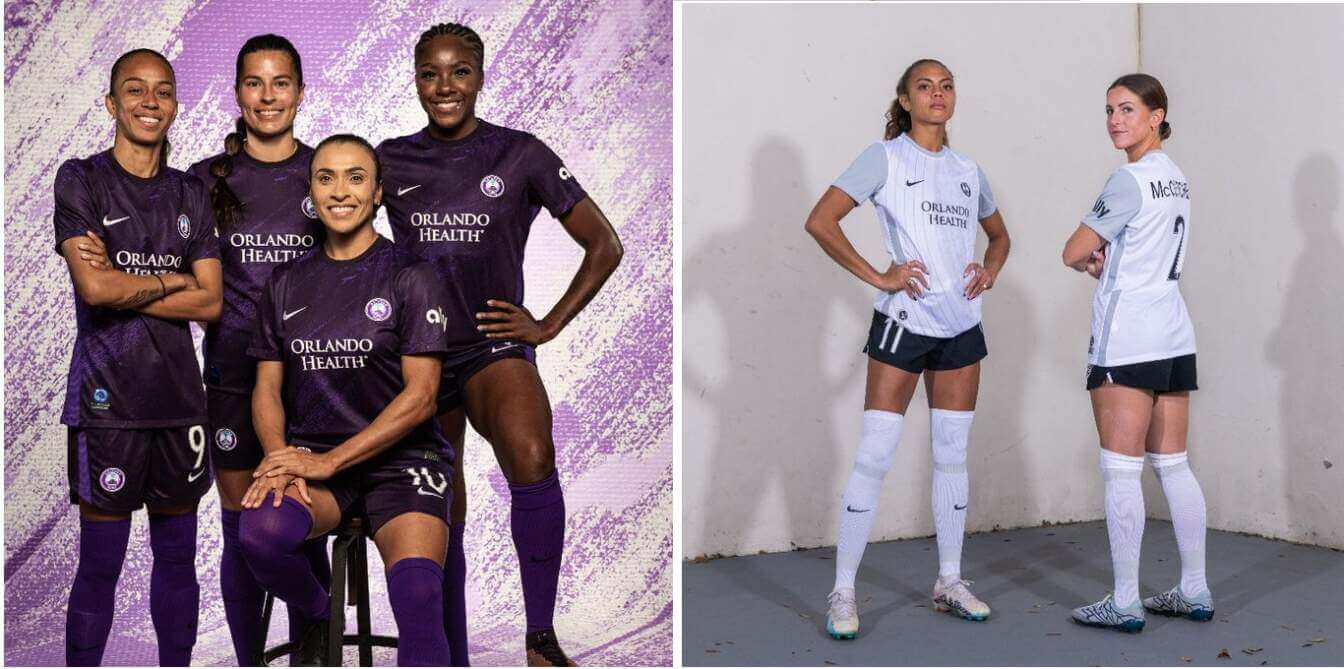 The Pride say that their new first shirt pays tribute to Mary Ann Carroll, the only woman in the Highwaymen, a group of Black landscape painters that started in 1950s Florida. But the shirt design apparently has only two Carroll-specific details, both at the lower-right hemline: her signature and a small royal poinciana tree, which the team says was one of her favorites. In short, a glorified jock tag.
This shirt feels like a missed opportunity, especially since the Pride worked with Carroll's daughter on the project. Instead of using a distinctive visual detail connected to Carroll, they just used a brushstroke, which to me could represent any painter. It's a perfectly fine design when viewed in a vacuum, but it could have gone in many more directions, especially when paired with the really distinctive royal poinciana tree.
The Pride have also made two changes to their previously mono-white second kit. First, they changed the numbers and NOBs from a barely visible grey to black. And they're also switching from white shorts to black. If you follow the Uni Watch News Ticker, you may know that this fits into the current trend of women's sports teams eliminating white shorts to avoid potentially visible blood from menstruation, but that movement has so far been limited primarily to the UK and Australia. The Pride are also the first American team I'm aware of that has explicitly cited the menstruation rationale.
———
Portland Thorns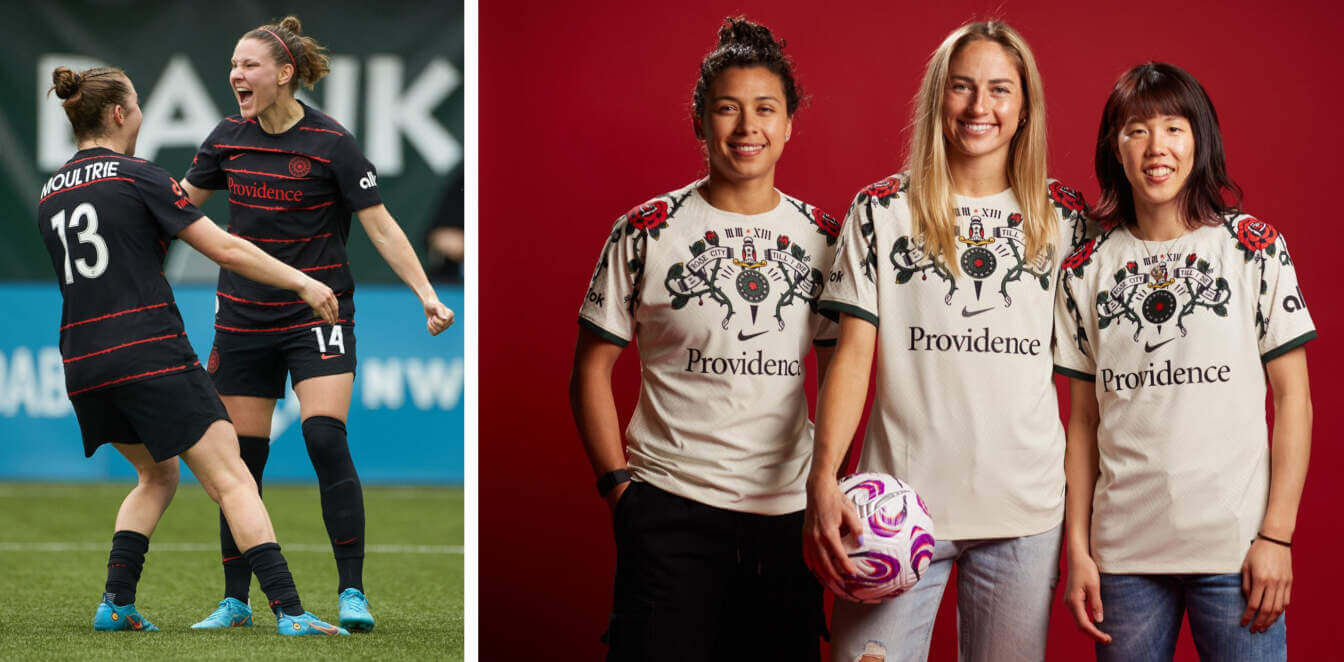 The new white second shirt has a very intricate rose-based pattern and has already been roasted enough on social media, so I'm not going to join in with that. There are parts that are unique about it, such as the roses on the shoulders — soccer teams rarely do anything with the shoulders. If they'd stopped there, like they did with their warm-up shirts, I think I'd be more forgiving of this design. At least the Thorns tried something new, even if the result to me is pretty busy for a soccer shirt.
———
Racing Louisville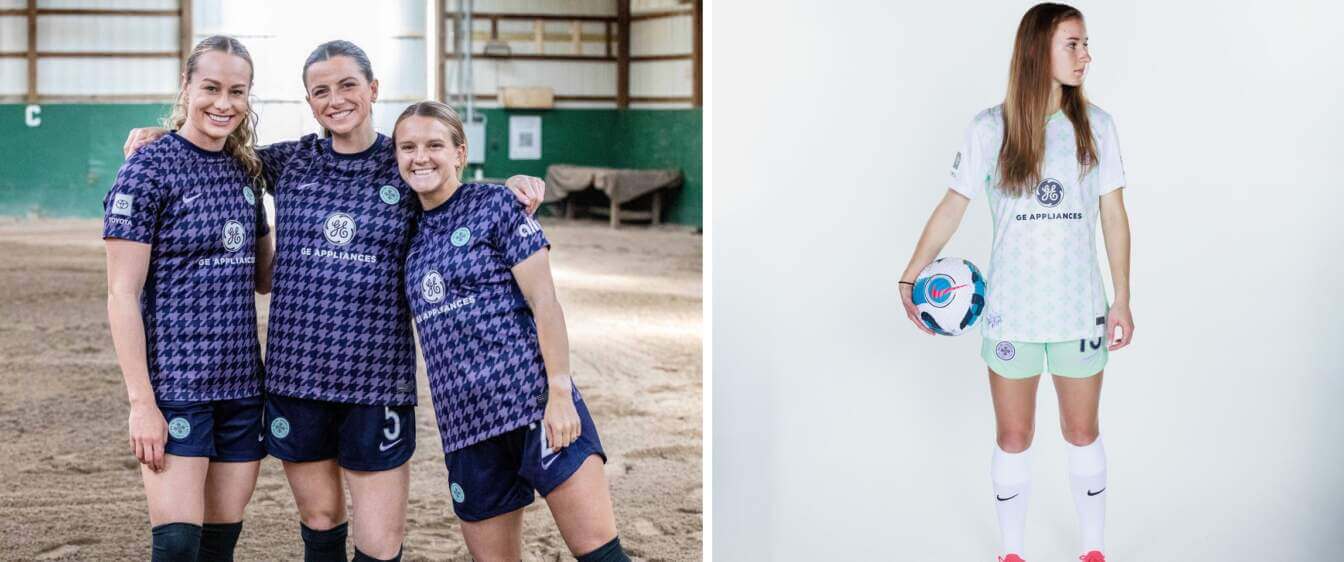 It took a couple years for Louisville to do a shirt with an explicit horse racing reference, but they have one this year with their new first shirt. With this year marking the 50th anniversary of Secretariat's Triple Crown win, the shirt's houndstooth background pattern references Secretariat's owner, Penny Chenery, who was an avid wearer of houndstooth jackets. The team has also emphasized her role as a woman in the male-dominated circle of thoroughbred owners.
———
San Diego Wave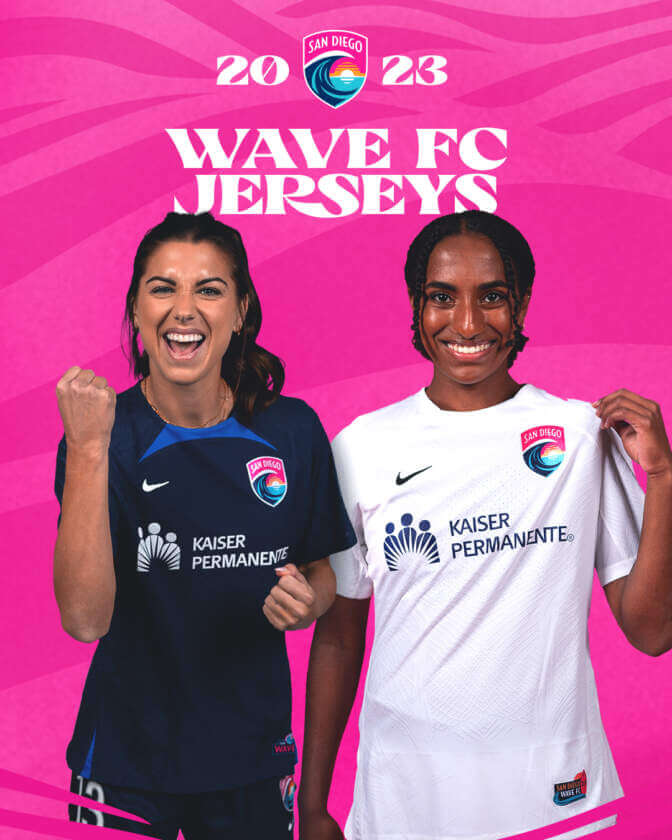 Except for the use of a different template on the first shirt, the Wave's shirts have not really changed at all from last year, which is a little disappointing. One thing these shirts do have going for them is a wave pattern in the numbers. Background patterns on shirt numbers are frequently not allowed in competitive contexts (that's why when the U.S. national teams wear rainbow numbers in June, for example, they'll only wear them for friendlies and not competitive games), but they're clearly okay in the NWSL.
———
Washington Spirit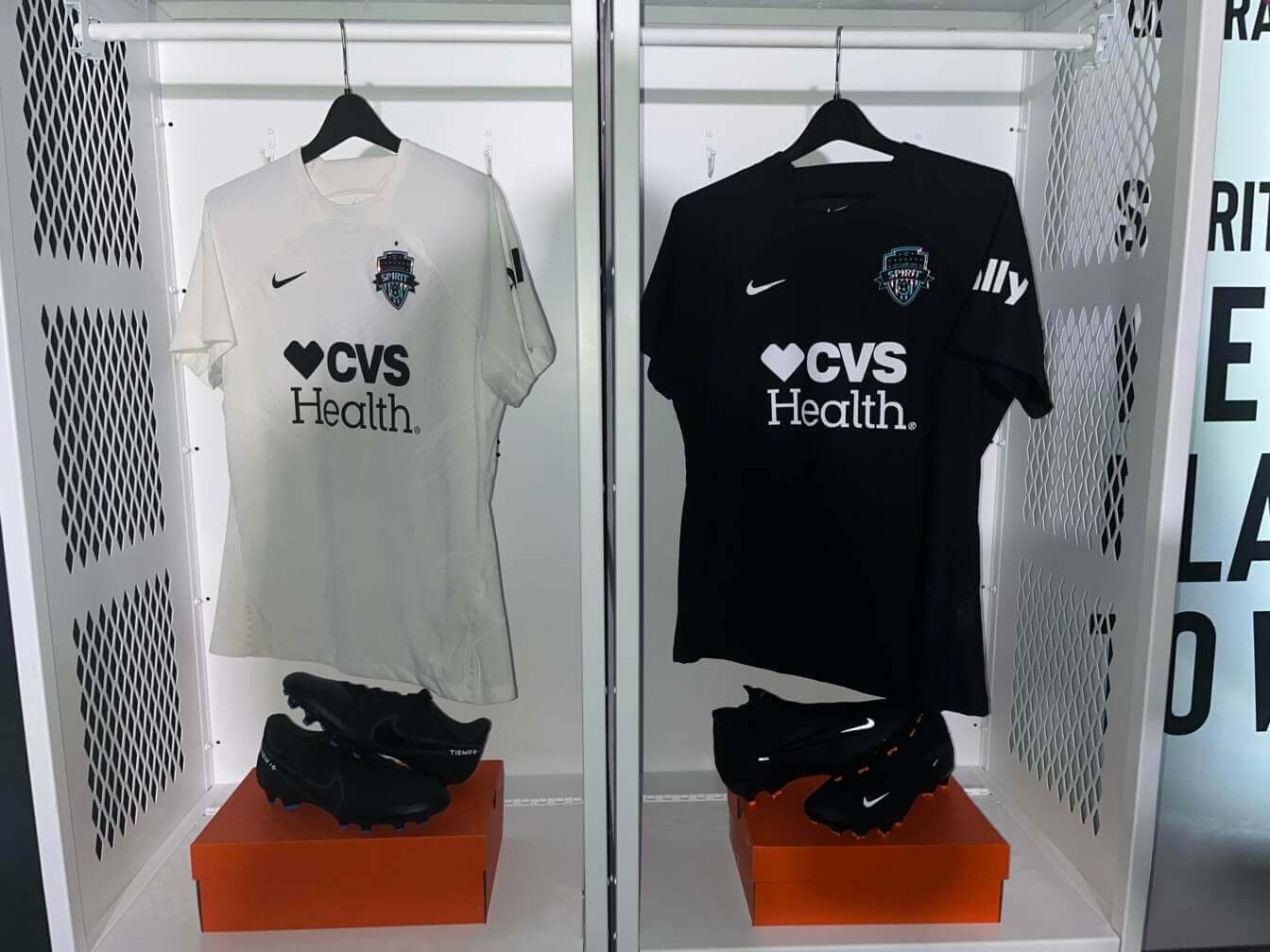 The Spirit have undergone a second color change in less than five years, going to just black and white instead of the previous dark blue and red which morphed into mono-dark blue. Owner Michele Kang has said this is part of a rebrand stretching into next year that may include yet another color change or even a new team name.
When using solid colors, it's often a thin line between classy and boring. But I think these designs end up on the right side of that line because of the reflective crest and because completely solid-black shirts aren't that common. Even though the Spirit have had plain white second shirts for five seasons now, the new color scheme gives this one a sense of novelty.
The team is planning to wear either white or black shorts with the white shirt, though menstruation wasn't explicitly cited as a reason why. I'd really like to see a black/white/black combo, but I have a feeling that might not be on the cards because of the white shorts.
The team's crest has been updated as well. It's now black and white and the text elements were also thickened. Here's a comparison — old on left, new on right: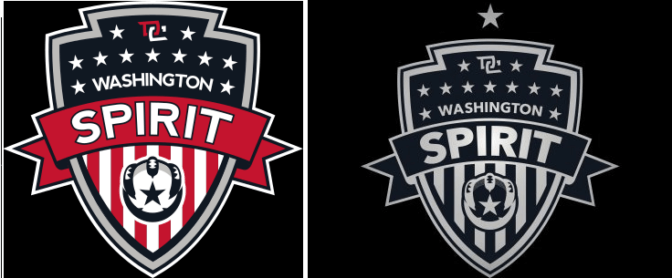 ———
The regular season will conclude on Oct. 15. The playoffs will begin a week after that, with the championship game scheduled for Nov. 11.