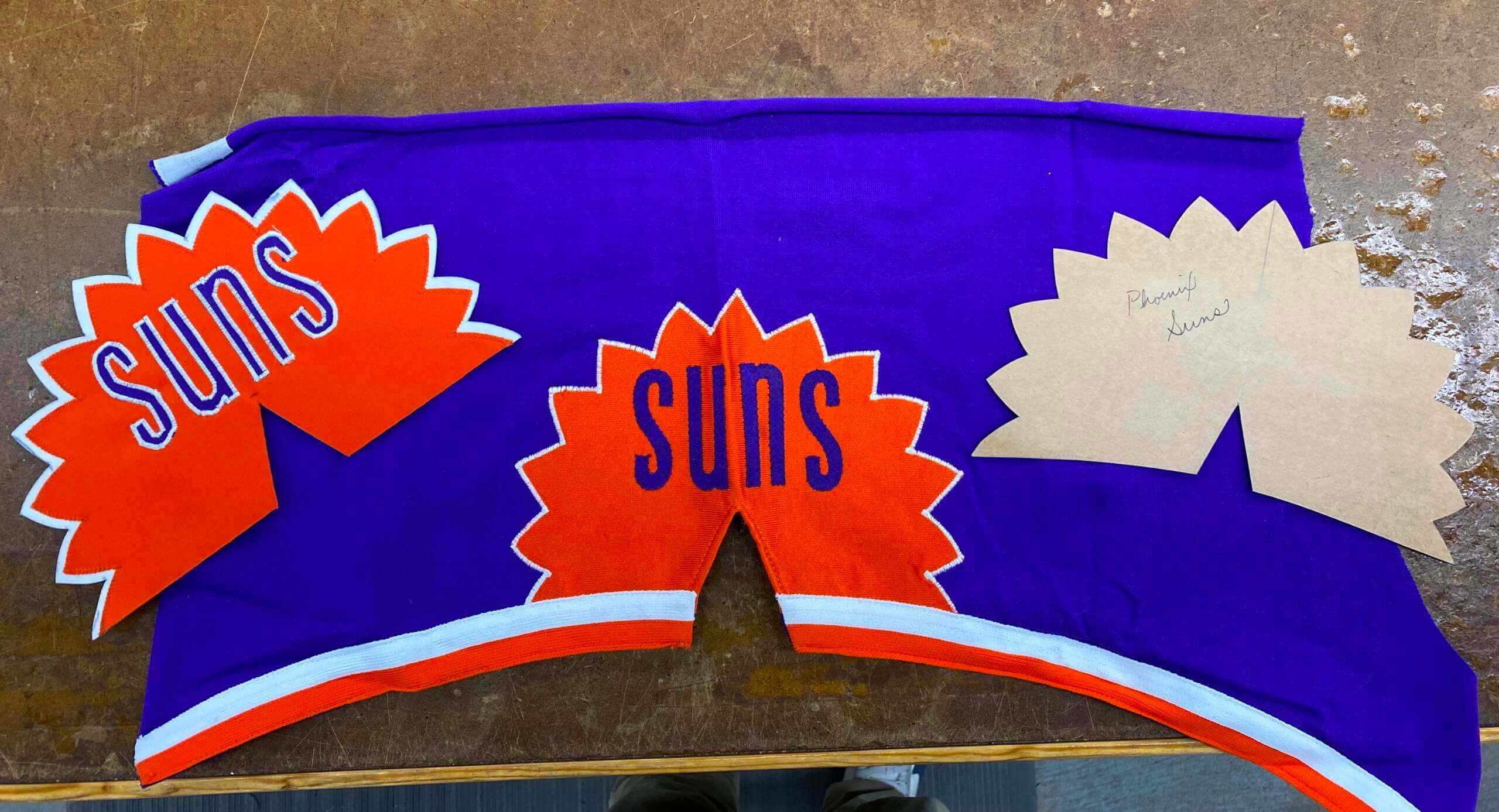 For all images, click to enlarge
Good morning! I received lots of very positive feedback in response to my recent post about the Suns still wearing zipper-fly shorts as late as the mid-1980s. The most interesting response came from Robert Martin, who works for Ripon Athletic, the venerable uniform manufacturer in Berlin, Wis.
Robert, it turns out, is a longtime Uni Watch reader and particularly enjoyed Wednesday's post because Ripon made the Suns' shorts, under their Sand-Knit brand, for the 1986-87 season — the first year the team stopped using the zippers and snap buttons (and also the year they stopped having their uniforms made by Spanjian). What you see above are some templates and guides that the company used for making the team's shorts. "According to my records, we also did the Bullets, Clippers, Hawks, Kings, Lakers, Mavs, Nets, Pacers, Spurs, Rockets, and Warriors that year," says Robert. "They all wore rib-knit waistbands with a drawstring."
Here's a great spec sheet from Robert's files, showing the Suns' old shorts with the buttons and zipper: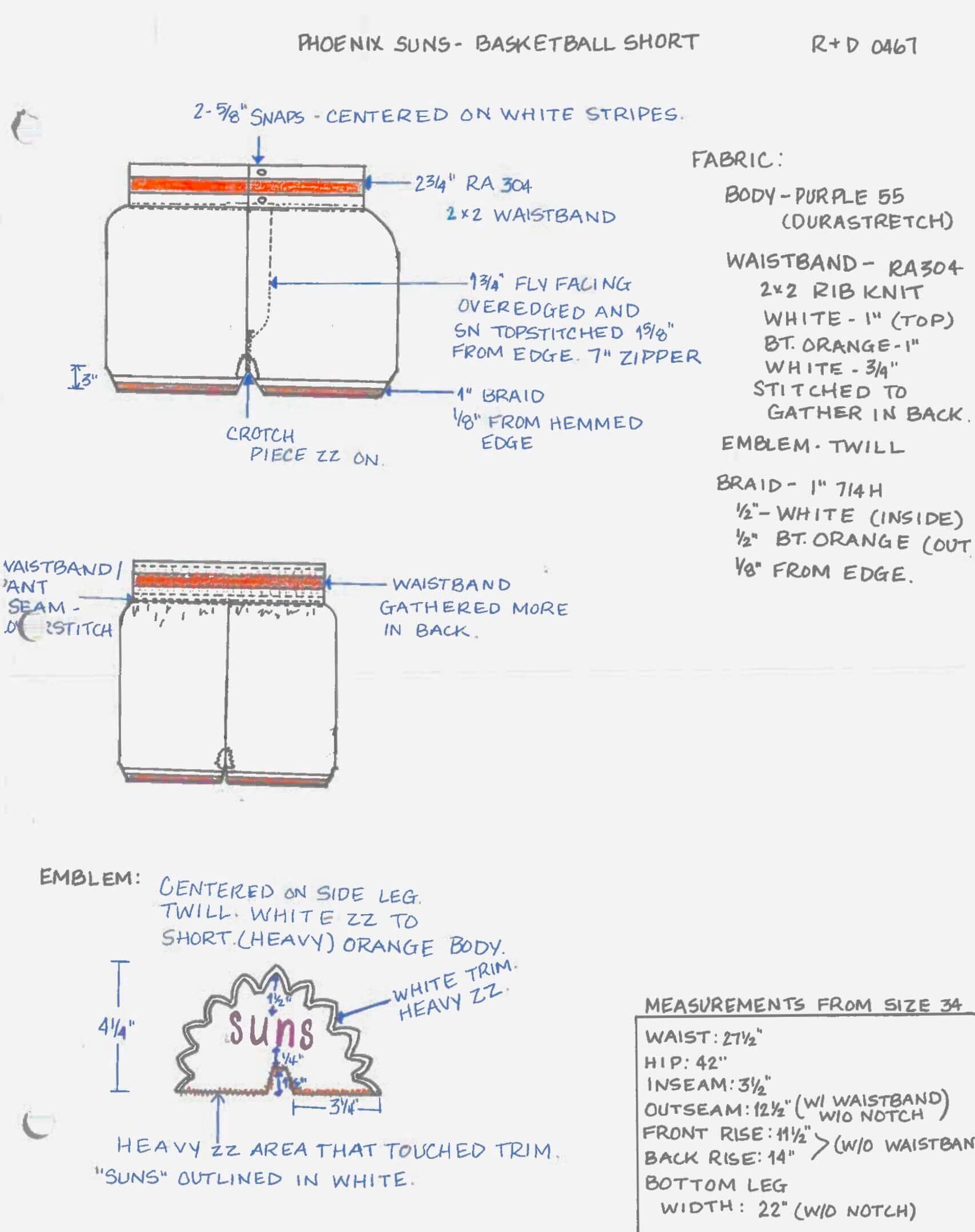 Isn't that awesome? I love old stuff like this! And then here's the order for a prototype set of Sand-Knit shorts without the zipper: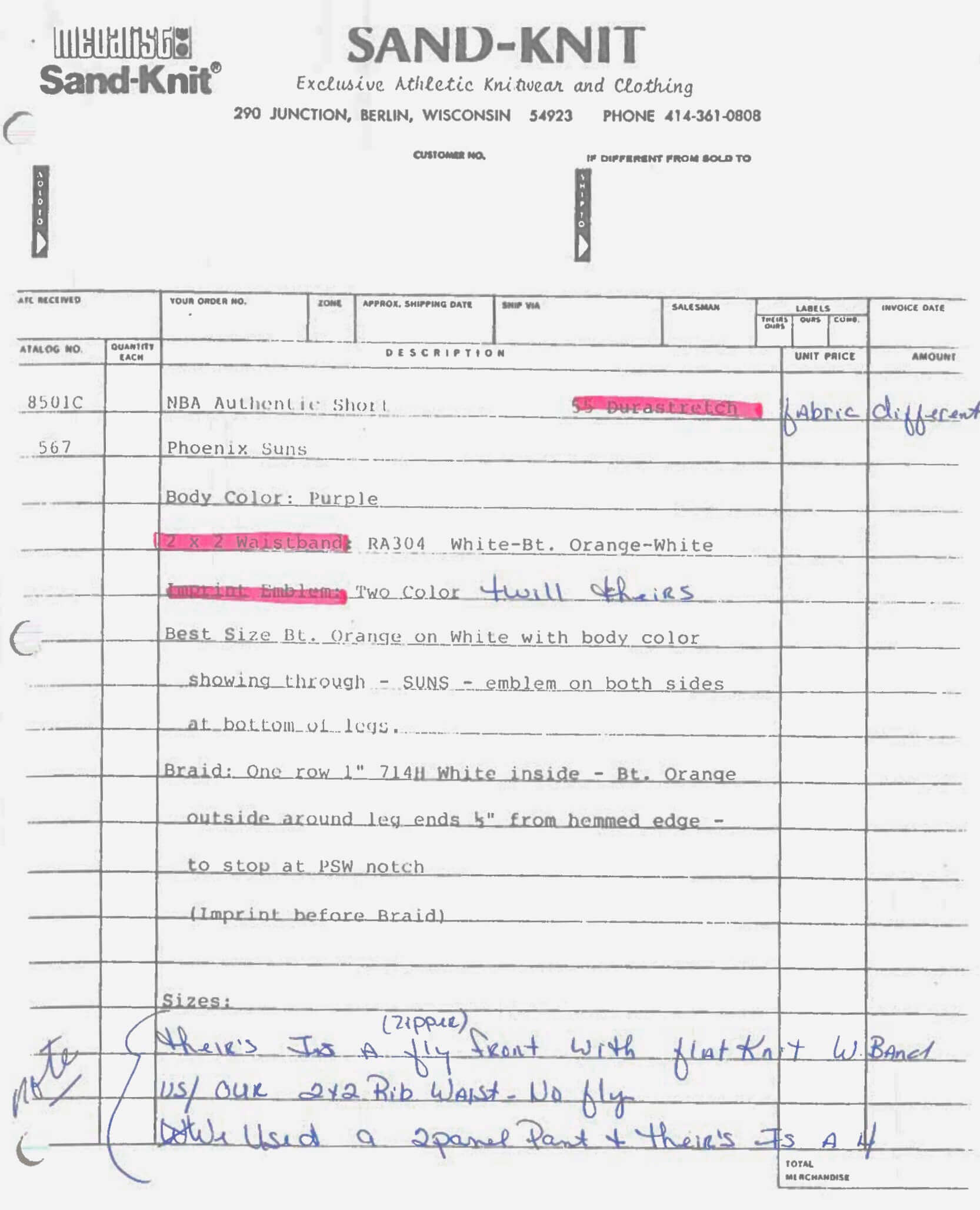 Check out the little handwritten note at the bottom: "Theirs [i.e., Spanjian's] is a zipper fly front with flat-knit waistband, vs. our 2×2 rib waist — no fly. We used a 2-panel pant, and theirs is a 4."
It's hard for me to express how completely geeked out I get over this type of paperwork. It's like see the original Rosetta Stone or something like that. So cool!
Now that I know Ripon still has lots of old records like this, along with an enthusiastic Uni Watch reader on staff, I'm thinking it might be time for me to pay them a visit (which is something I probably should have done a long time ago). I proposed that to Robert, he passed the request up the line, and the response was favorable. So while we still need to work out the logistics, it looks like I'll be making a field trip out there sometime soon-ish. Exciting!
• • • • •
• • • • •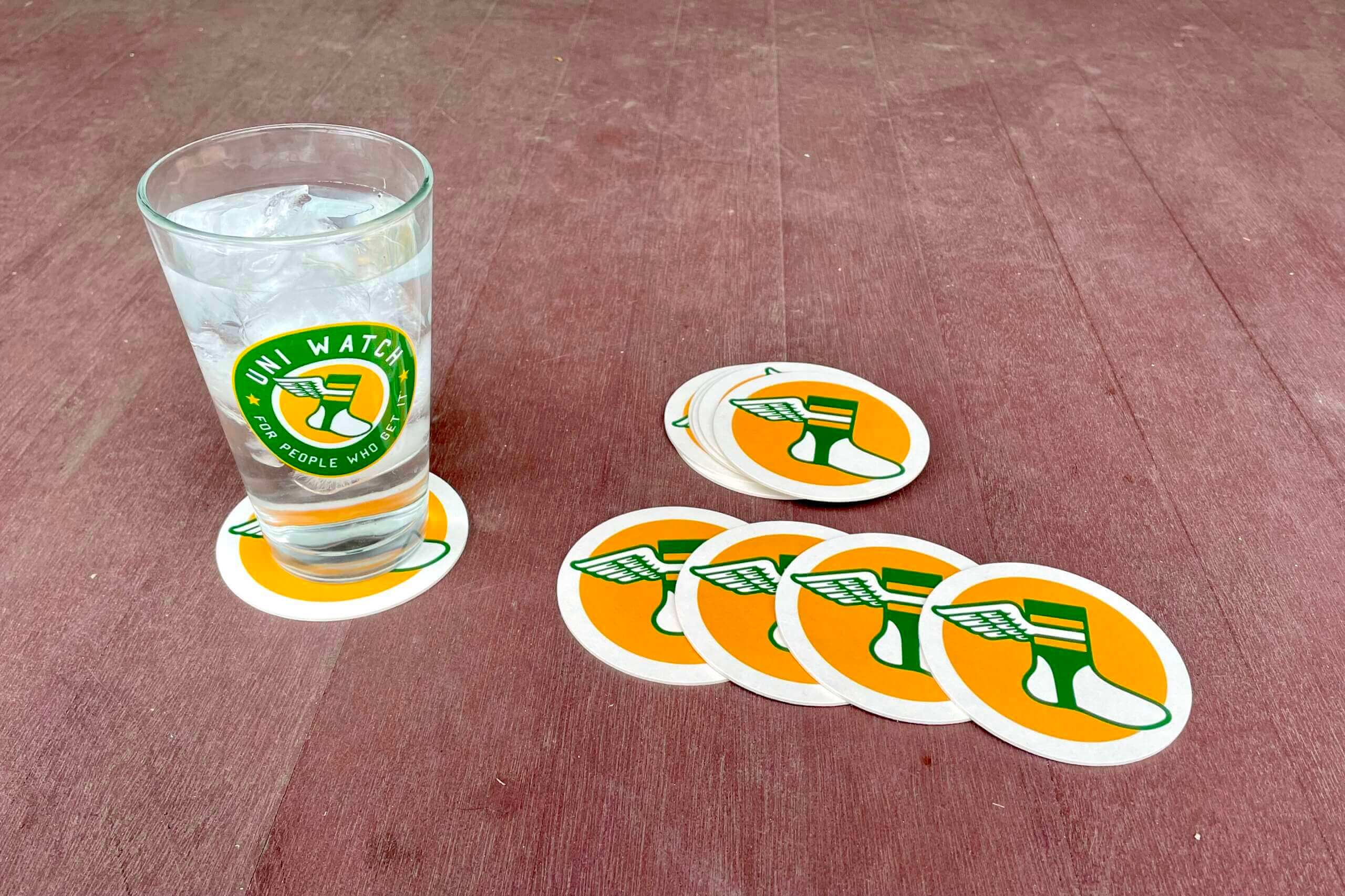 Click to enlarge
ITEM! New coaster design: My coaster supplier ran a sale, so I put in an order and decided to go with a different design this time around. I'm really happy with the results — they look so great!
I'm selling these in sets of three and am already down to just 11 sets remaining, so move fast if you want in! The price is $9 per set, plus $1 for USA shipping or $2 for non-USA shipping.
To order, send me the appropriate amount via Venmo (use @Paul-Lukas-2 as the payee), Zelle (plukas64@gmail.com), or PayPal (newcollegeuni@gmail.com). If you want to use Apple Pay or a paper check, get in touch and I'll give you the appropriate info.
After paying, email me with your shipping info. Thanks!
If you want to combine your purchase with an order for a Uni Watch koozie, a trading card, a seam ripper, a magnet, a chain-stitched patch, or some pins, please email me and I'll give you a price that includes a combined shipping fee for the whole shebang. (Sorry, these are the only Uni Watch items I can combine into one shipment, because our other items ship from separate locations.)
Finally, if you like the look of that Uni Watch pint glass in the photo at the top of this section, it's available here.
• • • • •
• • • • •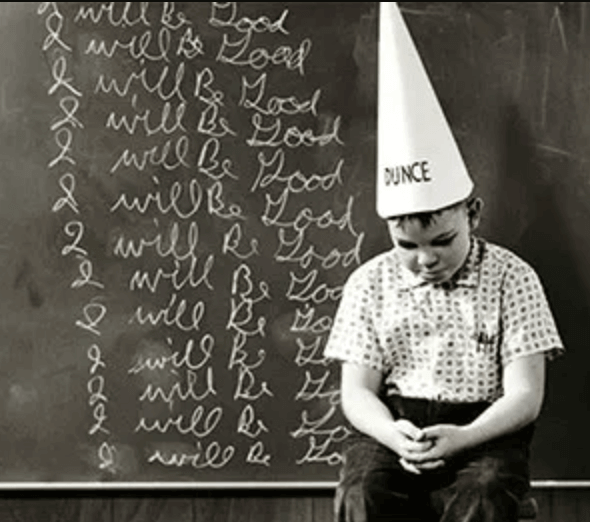 Shame revisited: About two years ago I wrote a piece that was sorta/kinda about the Astros' cheating scandal but was mostly about the cultural role of shame. Many of you told me it was one of your favorite Uni Watch entries ever (thank you!). In it, I mentioned that shame is an important societal structure but can sometimes be weaponized by the powerful against the less powerful.
Since then, I've continued to think a lot about shame, and I've been thinking about it even more lately because of two books called How to Do Things with Emotions: The Morality of Anger and Shame across Cultures (which was published last fall) and The Shame Machine: Who Profits in the New Age of Humiliation (which came out just last week). I haven't read either book, but I've read a fair number of reviews of them and articles inspired by them, so you could say I've had shame on the brain lately.
One thing that really stuck out to me was a passage from this article, as follows:
[Cathy] O'Neil [author of The Shame Machine] distinguishes between shame that "punches down" and shame that "punches up." To punch down is to deride and shun people for things that O'Neil says are largely shaped by forces beyond their control; for her, these include addiction, obesity and poverty. To punch up is to hold the powerful to account for their deeds — "police chiefs, governors, CEOs." [Maybe we could add sports commissioners and owners to that list. — Paul]
This is sort of like my description about the risks of shame being "weaponized," but I think the idea of punching down vs. punching up (or even vs. punching laterally) is a much more effective way to phrase it. Moreover, I think punching up vs. down is a good thing to keep in mind regarding all sorts of social interactions, not just regarding shame. We should all try to punch down as infrequently as possible, because there's almost always a better option available to us (usually just having a bit of empathy). I'm going to try to keep that in mind going forward.
• • • • •
• • • • •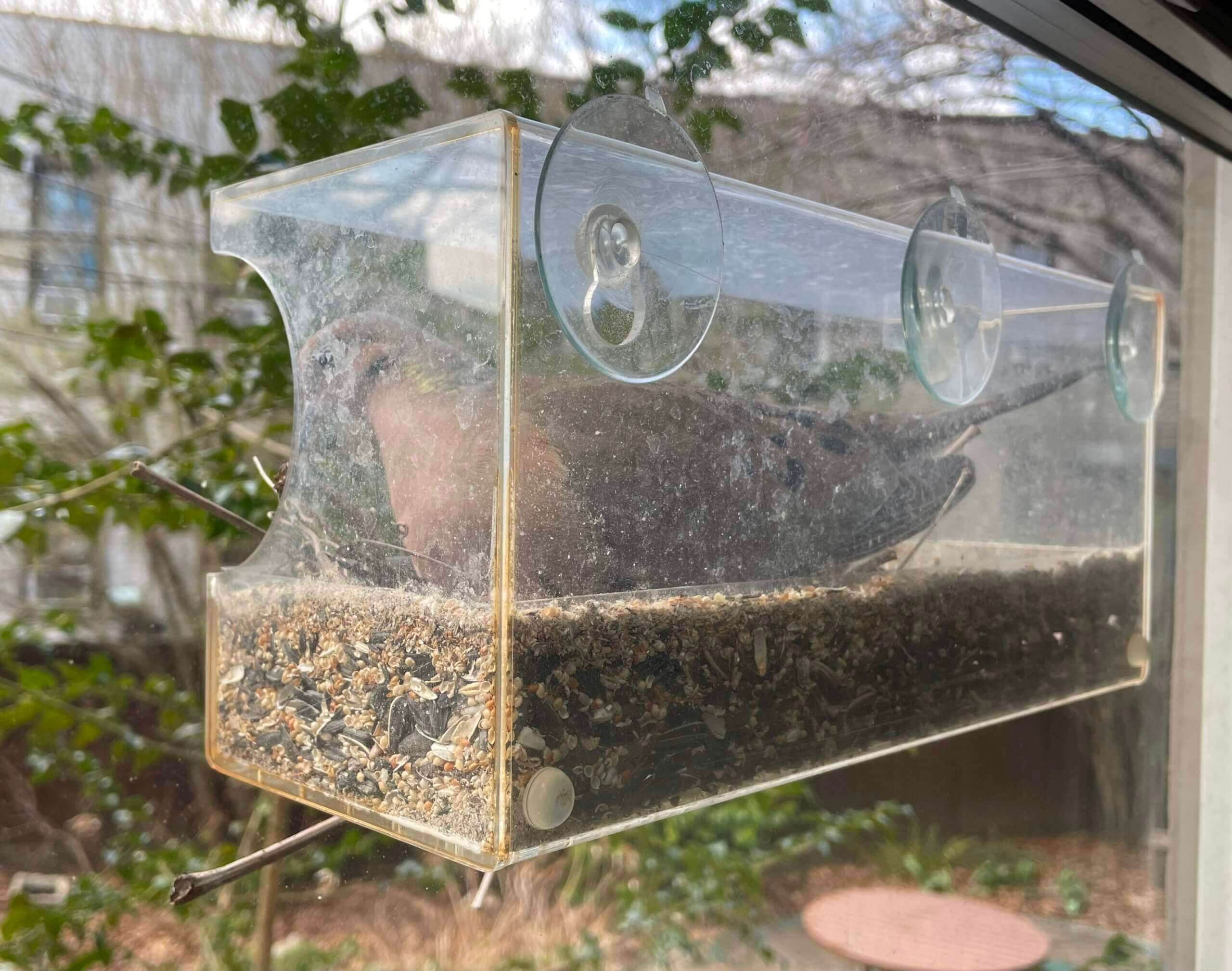 Click to enlarge
Home is where you find it: We have one of those suction-cup bird feeders mounted on one of our windows here at Uni Watch HQ. Lots of birds come by for a snack, but the doves, due to some combination of stupidity and gluttony, often plop themselves down in the feeder instead of perching at the edge. We usually shoo them away because it's not fair to the other birds.
Lately, though, we noticed a pair of doves gathering twigs in the feeder. Were they really building a nest? We didn't know whether to stop them (they were basically hijacking the feeder from all the other birds) or let them proceed (because it was so intriguing). We ultimately chose the latter, mostly because of our own laziness.
Sure enough, a few days ago one of the doves settled in pretty much permanently. And then, on Saturday, a little miracle: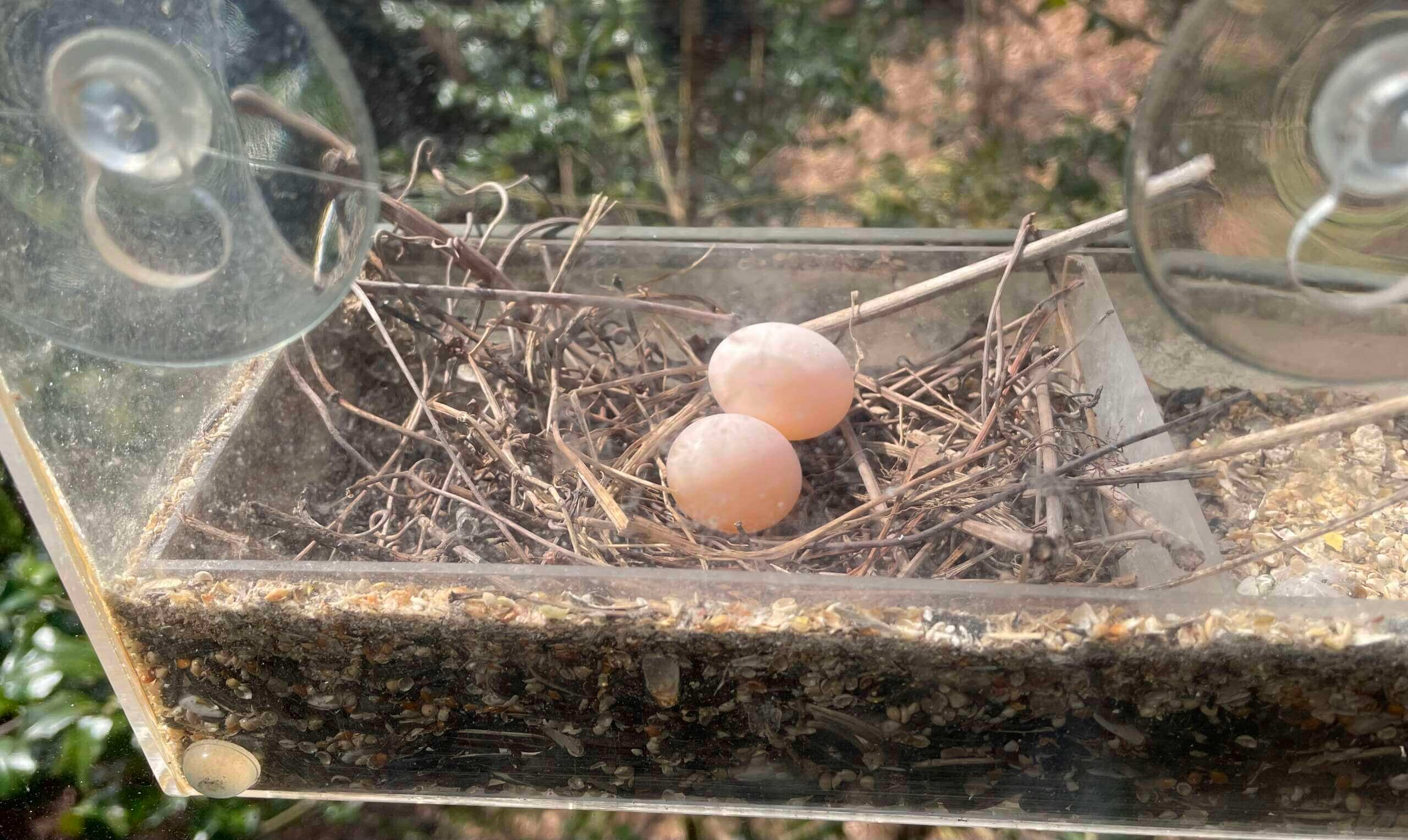 Laying eggs in such an exposed spot seems pretty dumb (especially when other birds already associate that spot with food), but it'll be interesting to see how things proceed. We're hoping for the best but prepared for tragedy. I'll post updates as developments warrant.
• • • • •
• • • • •
The Ticker
By Jamie Rathjen

Baseball and Softball News: Reader Zach Pearce notes that Mets SS Francisco Lindor has been wearing white crew socks over high blue socks, a very NFL-ish look. … In that same photo, you can see that Mets third base coach Joey Cora had a little "KB" sticker on his helmet. Anyone know what that's about? … Speaking of the Mets, 1B Dom Smith and 2B Wyatt Young were both wearing No. 2 late in yesterday's Grapefruit League game. Young is a minor leaguer invited to the big league camp (from Ryan Bowman). … New Rockies and Blue Jays OFs Randal Grichuk and Raimel Tapia were traded for each other last week and both wore No. 15 last season. After the trade, they're both still wearing No. 15 with their new teams (from @NumbersMLB). … A Tigers fan started a petition to bring back the pre-2018 home jerseys that had a different "D" than the cap logo (from Brandon Weir). … The Single-A Delmarva Shorebirds plan to wear Iron Man-themed jerseys for a Marvel promotion on Aug. 5 (from Marcus Hall) … Division III Endicott and Maine-Farmington softball played a white vs. white game yesterday (from @djkufo).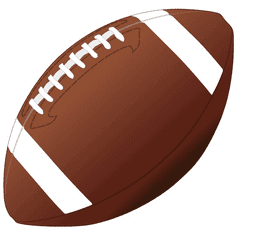 Football News: Cross-posted from the ice hockey section: The AHL's Rochester Americans wore Bills-themed uniforms yesterday (from multiple readers). … Champions Indoor Football's Salina Liberty's new jerseys have red numbers on an American flag background, which is not the best idea (from Ben Underwood).

Hockey News: The Capitals celebrated C Nicklas Bäckström's 1,000th NHL point with a squeezy apple giveaway on Saturday. After he scored a goal, a lot of them were thrown on the ice. … A Twitter user DIYed a rainbow-numbered Wild jersey for the team's pride night this week (from Topher Davis). … The AHL's Rochester Americans wore Buffalo Bills-themed uniforms yesterday (from multiple readers). … A Reddit user responded to the Leafs' new reversible jersey by making their own inside-out Sharks design (from Will Scheibler). … The Predators auctioned off wallets made from G Pekka Rinne's pads yesterday (from @Wilds_Lee).

Basketball News: The Wizards are teasing something cherry blossom-themed for tomorrow. MLB's Washington Nationals will also be releasing a cherry blossom-themed uni that day (from Faisal Hassan). … Multiple readers pointed out that all of this year's men's Final Four teams have blue as their primary color. Reader Steve Rausch says that's the fifth time the men's semifinalists have all shared the same color. … This 1950s shot shows the entire NC State men's team wearing uni numbers in the 70s and 80s. Anyone know what that's about? (From Robert Greist.)

Soccer News: England's men's team played the second half of Saturday's friendly against Switzerland without NOBs to support the Alzheimer's Society, also wearing a sleeve patch for the charity (from Rich Fuller). … Scottish club Inverness Caledonian Thistle already released next season's first kit last week. … Meanwhile, new shirts for Sweden's AIK and IFK Norrköping and Norway's Vålerenga. … AIK's men's team moved to a new stadium, Friends Arena, in 2013 and since then fans have preserved some of the grass from the old Råsunda Stadium, which is to be planted in the center of the Friends Arena pitch at this year's home opener. … New second kit for the Canadian Premier League's Valour FC (from Wade Heidt). … The new USL W League team run by USL League One's Greenville Triumph is called the Greenville Liberty. … Several English and Scottish women's teams have recently played at their men's teams' stadiums for the first time, or in Manchester United's case, for the first time with fans yesterday. Birmingham City also committed to doing so for another entire season, even in the likely event of relegation from the Women's Super League. … A new league primarily for MLS reserve teams, MLS Next Pro, started playing over the weekend. Its number/NOB font is unusually wide (from Brandin Sparks).

Ukraine News: The Netherlands' men's soccer team added a Ukrainian flag to their shirt next to the Dutch and Danish ones that were there for match info purposes. You can also see that they have a Ukrainian flag captain's armband, which quite a few other teams have done recently (from Moe Khan). … Russian tennis player Vera Zvonareva wrote "No War" on her visor at the Miami Open (thanks, Brinke).

Grab Bag: Athletes Unlimited volleyball players wore Women's History Month-themed warm-up shirts this weekend. … Red Bull's Formula One drivers, Sergio Pérez and Max Verstappen, have their national flags on the brims of their hats. However, they're striped the same way even though the Netherlands uses horizontal stripes and Mexico uses vertical stripes, so Verstappen's looks like a reversed French flag instead (from Jeremy Derr). … The AFL's Gold Coast auctioned their guernseys from Saturday's men's team match to support the charity Givit after recent floods in New South Wales and Queensland, and also wore a patch for the charity.
• • • • •
• • • • •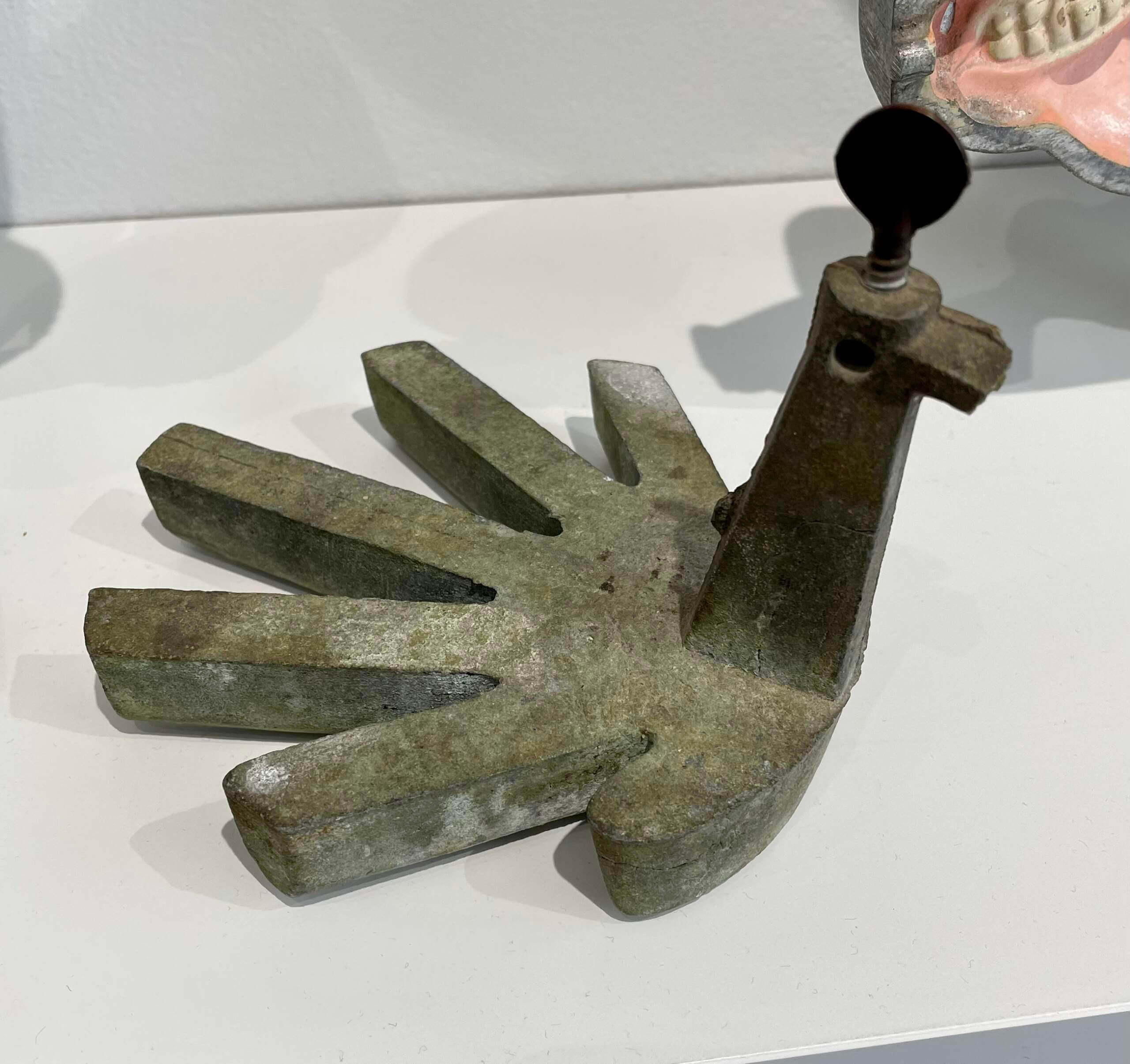 For all photos click to enlarge

What Paul did last night on Friday: The object shown above reminds me so much of how we'd all draw turkeys for Thanksgiving by tracing the outlines of our hands. But it's actually a primitive battery!
That's one of several dozen improbably beautiful and intriguing found objects I saw at an oddball gallery show that two friends and I checked out on Friday afternoon. Some of the objects, like the battery, were very specific (a diver's helmet, a drainboard for making cheese, a kewpie doll, an anatomical model of a pig), while others were more abstract or random (a piece of styrofoam, a rotting bicycle seat, a battered ploughshare that looked more like a piece of driftwood), but all were interesting and most were very aesthetically pleasing.
It was a really fun, thought-provoking exhibit. You can read a few more notes and see about 75 more photos here.