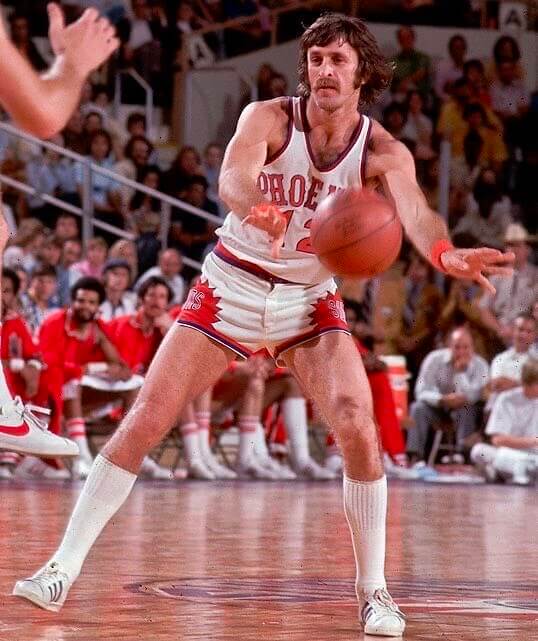 Click to enlarge
Who's that in the Phoenix Suns uni? Give yourself a gold star if you recognized that player as none other than Pat Riley, who played for the Suns during the 1975-76 season — his final year as an active player.
But what interests me about this photo isn't Riley's barely recognizable face under all that hair — it's his shorts. They appear to have a zipper fly!
Early basketball shorts were zippered, because they were also belted. But by the 1950s and '60s, everyone had switched to elastic waistbands with center seams replacing the flies — or so I thought. I was astonished to see that photo of Riley wearing a zipper for the Suns in the mid-1970s.
Was it just Riley? Nope. I did some photo research and discovered that other Suns players — and, I'm pretty sure, all Suns players — were going zippered in the mid- and late 1970s (for most of these, you can click to enlarge):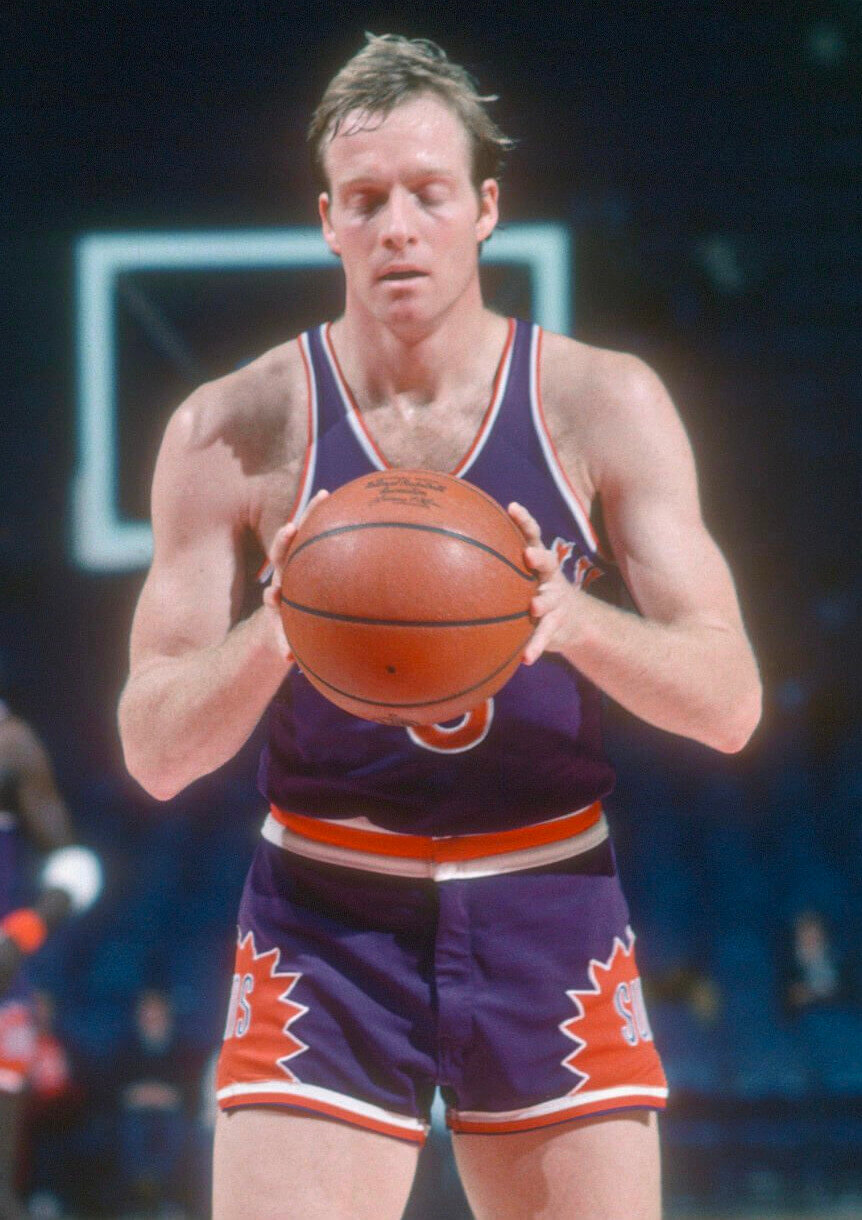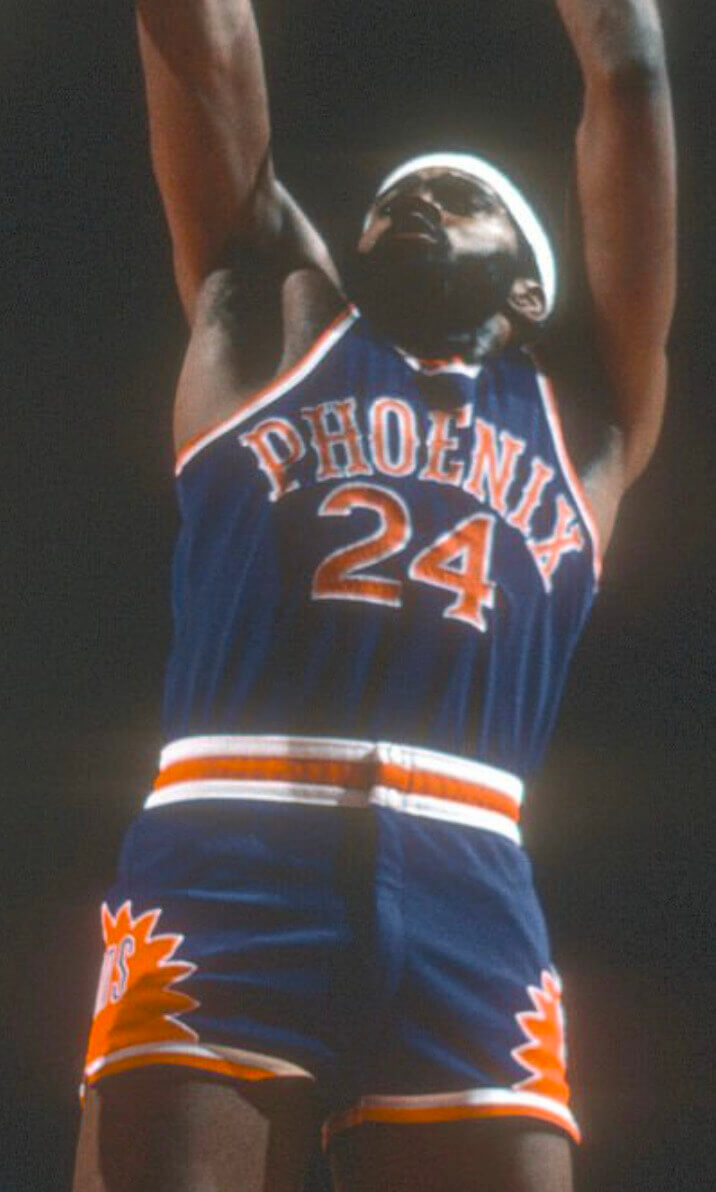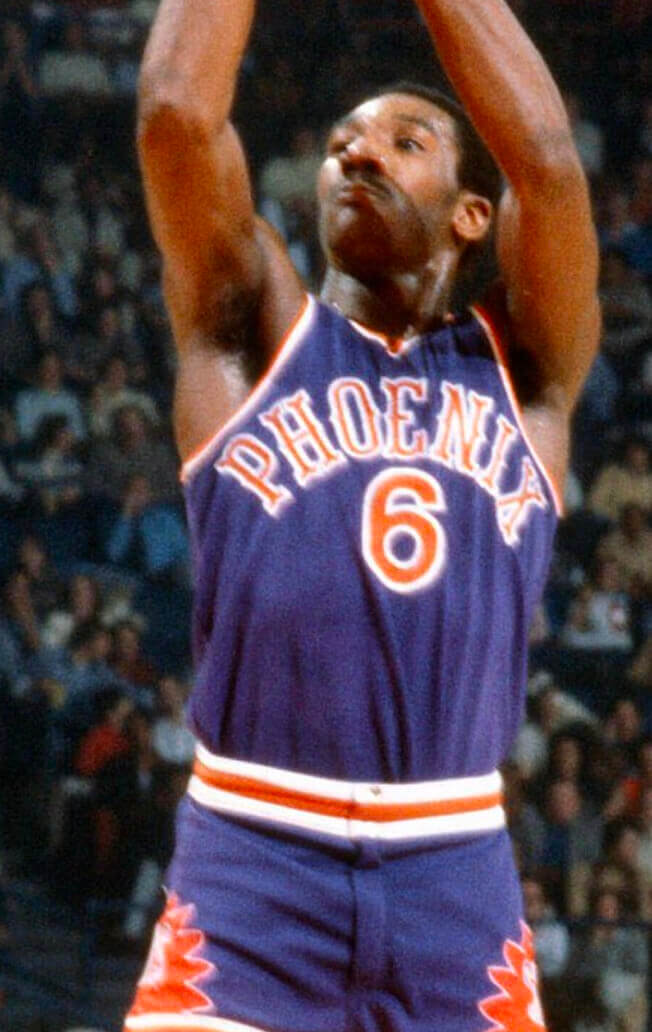 What's interesting about those shorts, aside from the zipper, is that they didn't have the typical "crinkly" elastic waistband. Instead, they had snap buttons, much like the sansabelt baseball pants of that same era. (The snaps aren't evident in the Riley photo, because his jersey obscures the waistband.) I had no idea that the NBA — or at least one NBA team — used that same format.
And get this: The Suns didn't just use zippered/snap-buttoned shorts in the mid-1970s — they continued doing so at least into the early 1980s! We can see that from these photos featuring the NBA 35th-anniversary patch, which was worn during the 1980-81 season: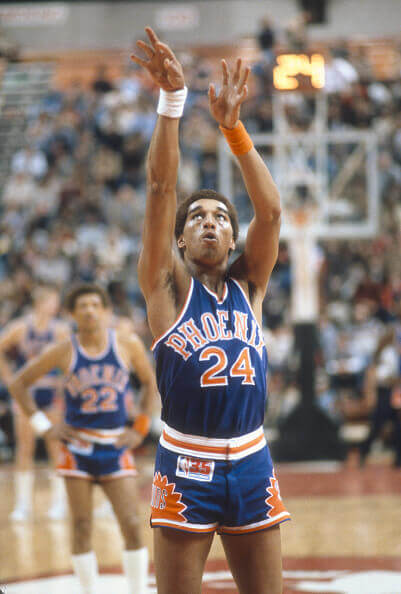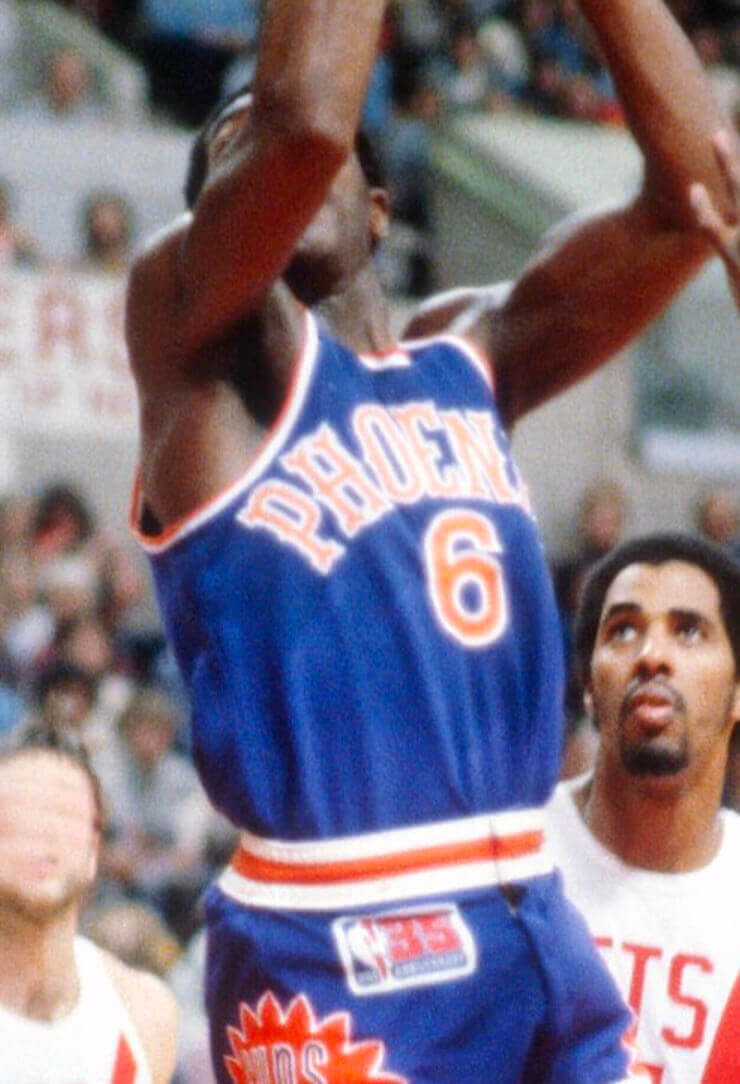 And that wasn't the end of it. Here's a shot of Larry Nance Sr. wearing the zippered/buttoned shorts in a game that Getty Images says is from Jan. 28, 1984: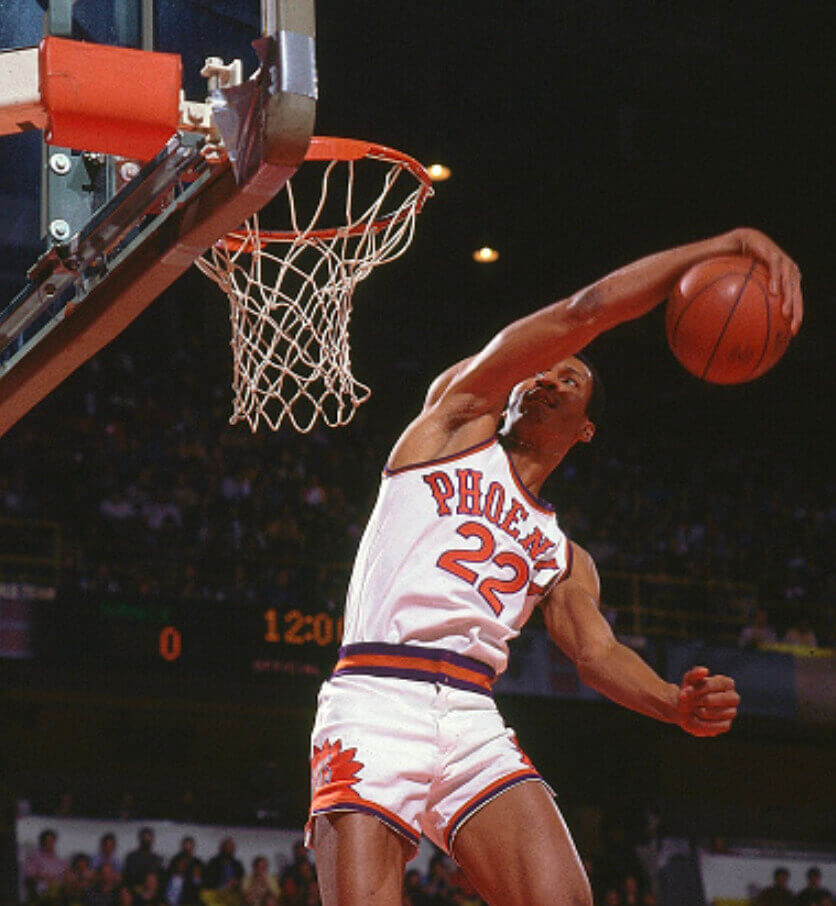 Now, I've learned from experience that Getty isn't a reliable source for old dates, so I'm not sure that photo is really from 1984. But Nance's rookie season was 1981-82, so we know the Suns were still using these shorts at least during that season. (Update: The photo has now been confirmed as being from '84!)
I haven't been able to pinpoint exactly when the Suns switched to more conventional zipper-free shorts, but they definitely appear to have made the switch by 1987. Still, I'm stunned to learn that they were using zippered shorts into at least the early 1980s. And using the baseball-style snap buttons — I had no idea!
Who was manufacturing these shorts? I poked around and found an old auction listing for a pair of game-used Suns shorts from the mid-1970s. Sure enough, they had a zipper fly and snap buttons — and were made by Spanjian (which was a big uni manufacturer in those days). Here's another auction listing, this time for a Suns gamer from the early 1980s — again, we see the zipper, buttons, and the Spanjian label.
Here's a closer look, taken from auction listings: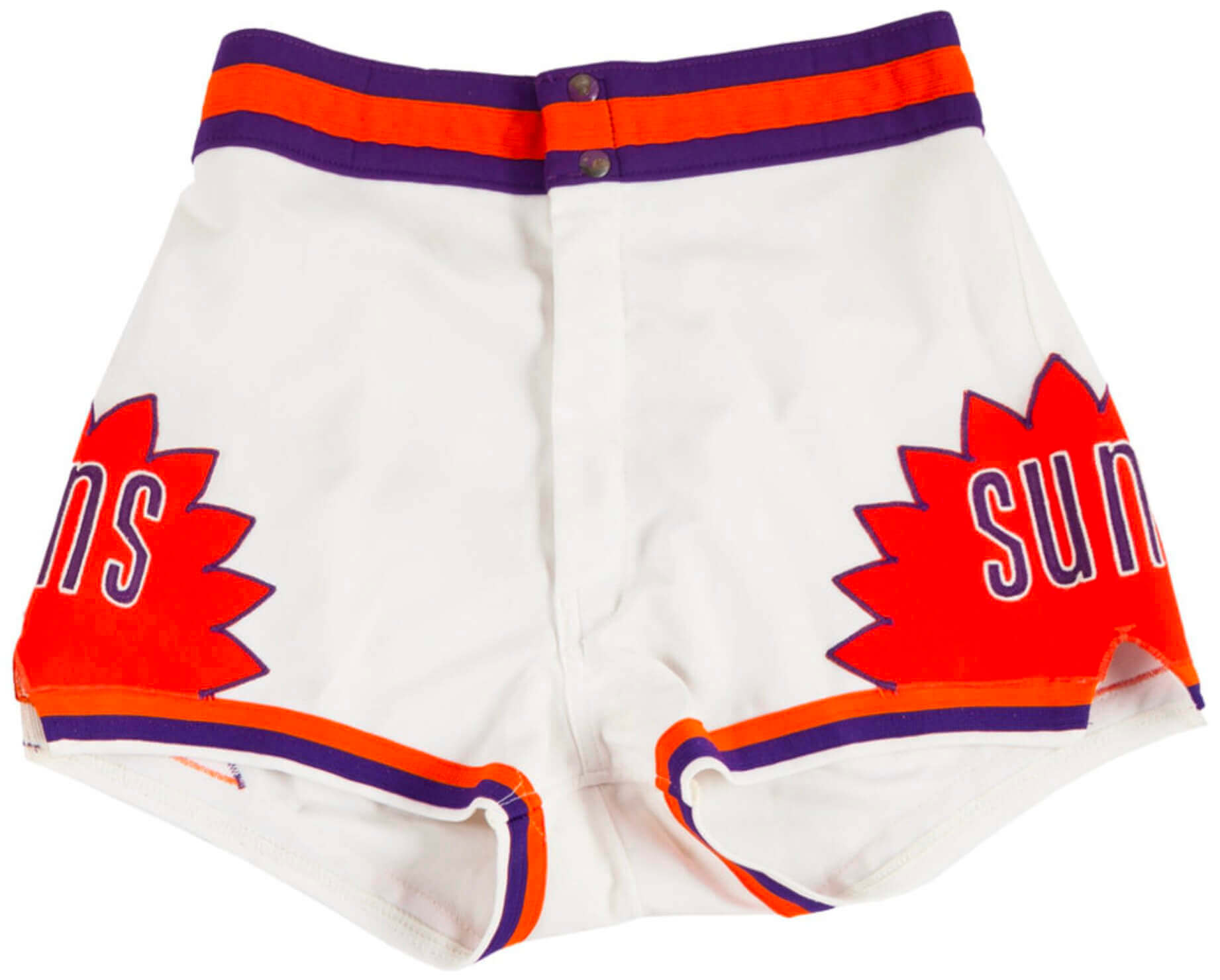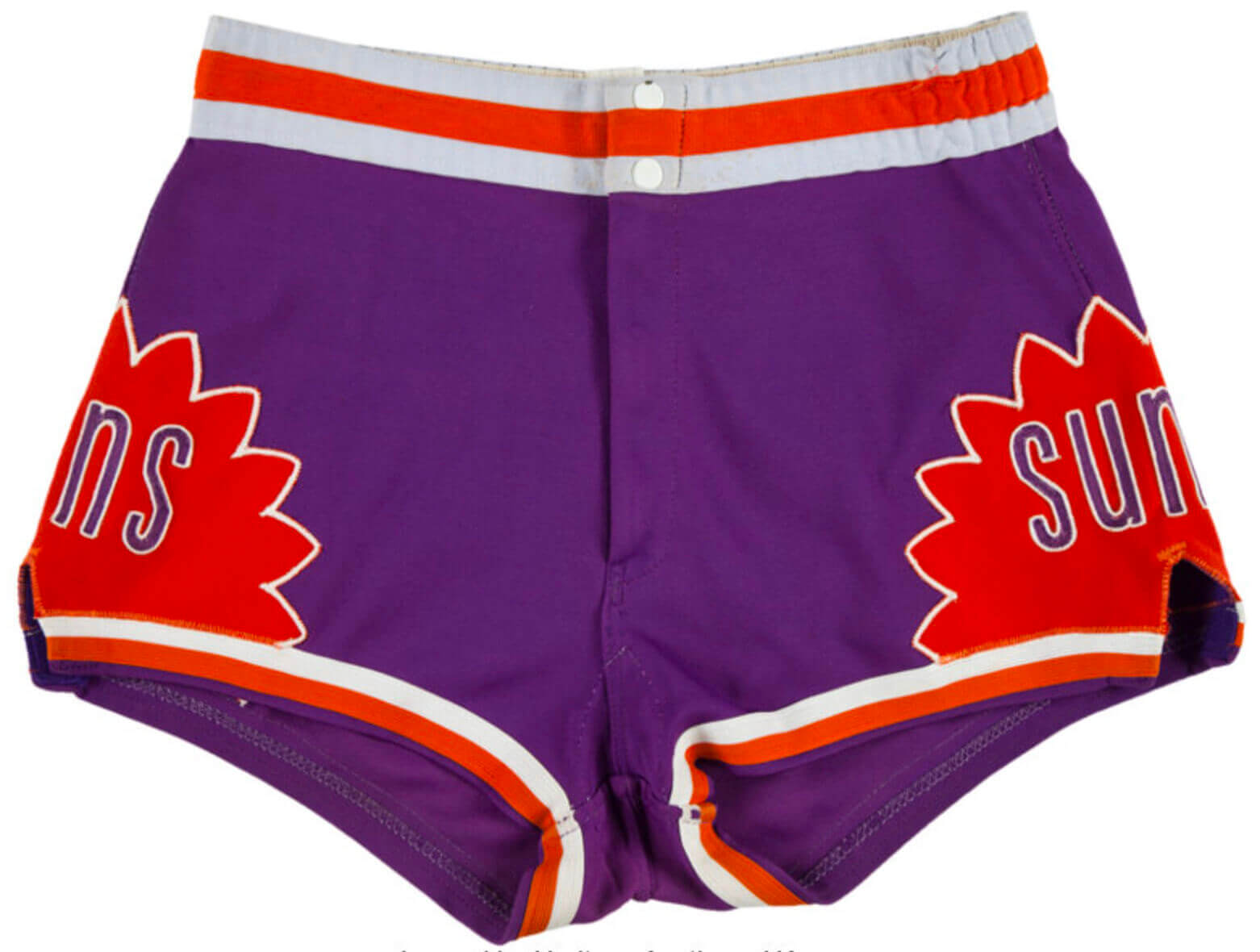 Did any other NBA teams wear shorts like these? What about college teams? If anyone knows more, feel free to enlighten us in today's comments. This feels like a whole new branch of potential Uni Watch inquiry!
I have to say, after covering this beat for well over 20 years now, I love that there are still new things to learn, new things to geek out over, new ways for my mind to be blown.
(Big thanks to Chris Michel, who spotted the Riley zipper and thus sent me down this rabbit hole.)
• • • • •
• • • • •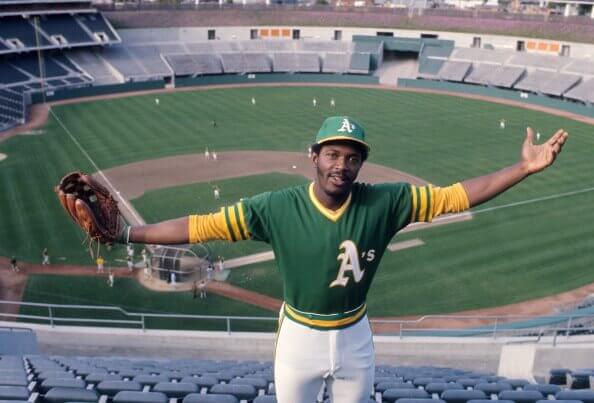 Bulletin reminder: In case you missed it on Tuesday, I've ranked the 35 best green uniforms of all time for this week's Bulletin column (just in time for St. Paddy's Day!). This was so much fun, I can't believe I didn't think of doing it years ago, and I don't mind saying it's one of the best things I've worked on in some time. In addition to the usual suspects you'd expect to see from the Big Four pro leagues, the rankings also include entries from college football and basketball, soccer, lacrosse, cricket, boxing, golf, tennis, auto racing, horse racing, rugby, the Olympics, and more. Even if you don't like green as much as I do, I think you'll really like this one! I hope you'll check it out.
This piece has already generated a lot of good comments and discussion. My Premium Subscribers can read it here. If you haven't yet subscribed, you can do that here, but you'll need a Facebook account in order to pay. If the Facebook requirement is a dealbreaker, email me and I'll let you know about non-Facebook payment options and possible workarounds. Thanks!
• • • • •
• • • • •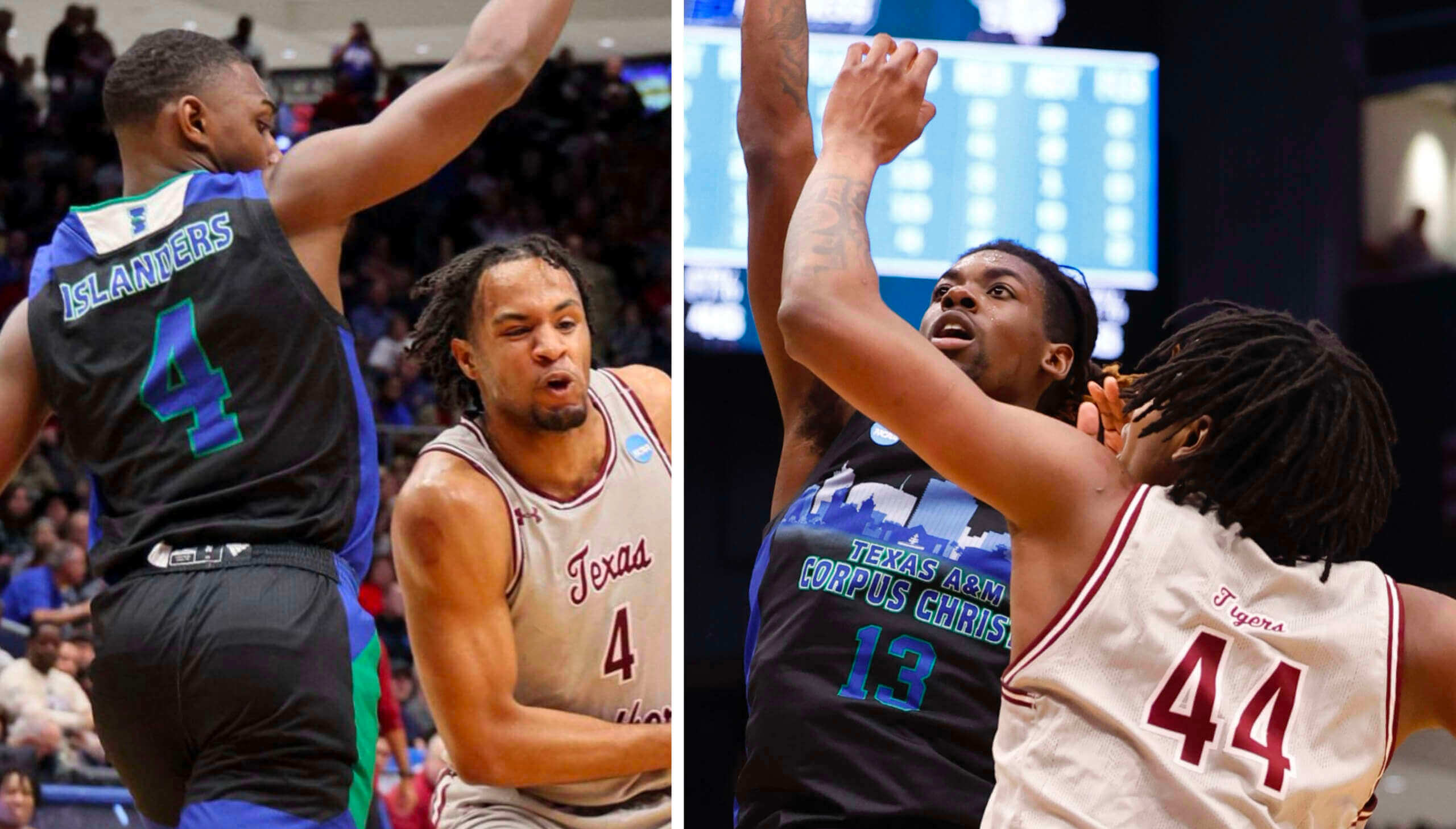 Click to enlarge
Play for the name on the front back of the jersey: Highly unusual situation in last night's First Four men's game between Texas A&M-Corpus Christi and Texas Southern, both of which had TNOB (although you can barely read it in Texas Southern's case). How often does that happen — during March Madness, no less?
Texas Southern won and now advances to face Kansas, which most assuredly does not have TNOB, so we won't be seeing a repeat of this phenomenon.
• • • • •
• • • • •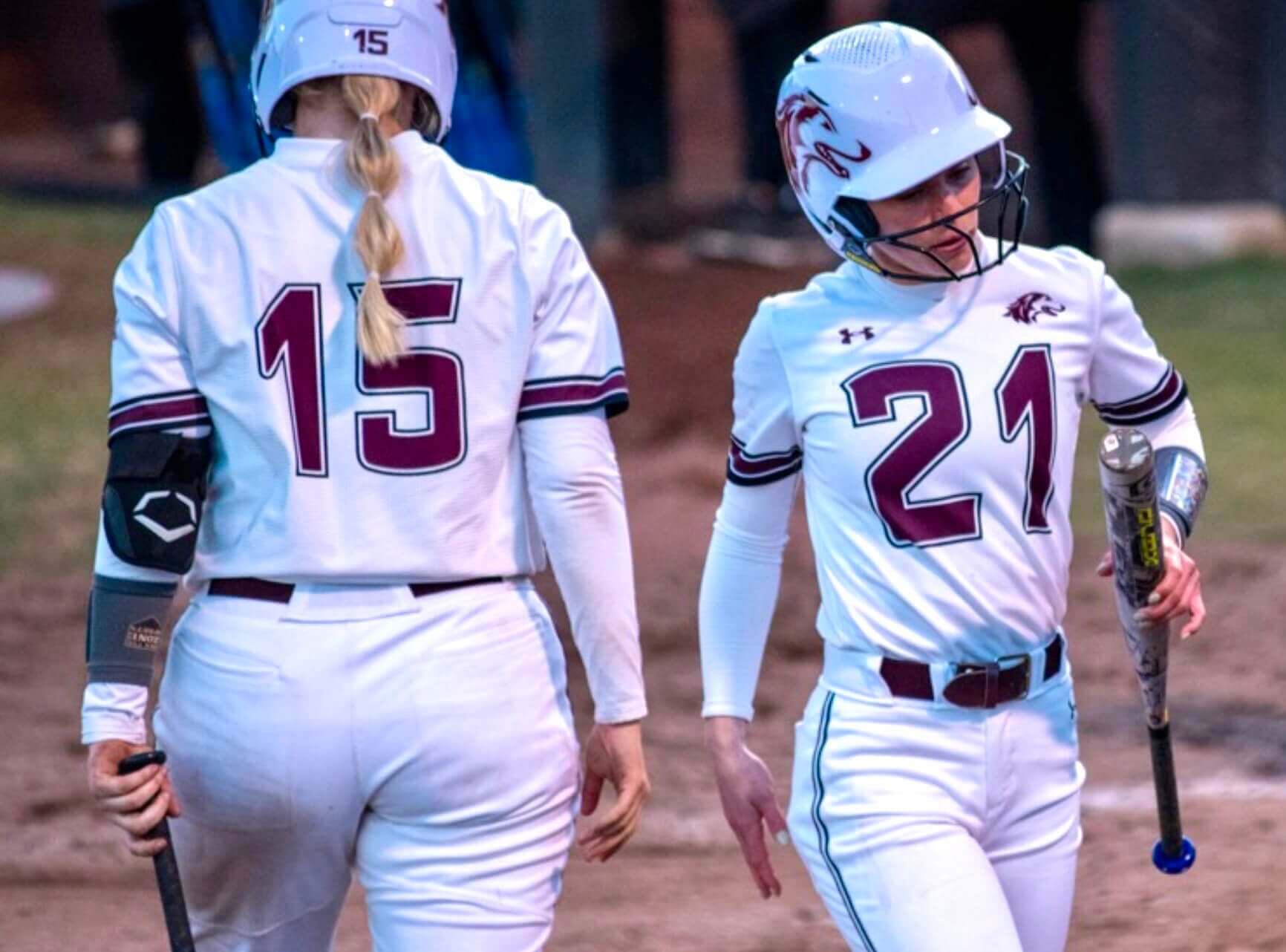 Click to enlarge
Softball or football? This is interesting — one of Southern Illinois's softball uniforms looks more like a football uni, complete with a logo on the side of the batting helmet instead of on the crown. Don't think I've ever seen a softball uni like that before. Lots of additional photos here.
(My thanks to Dave Sikula for this one.)
• • • • •
• • • • •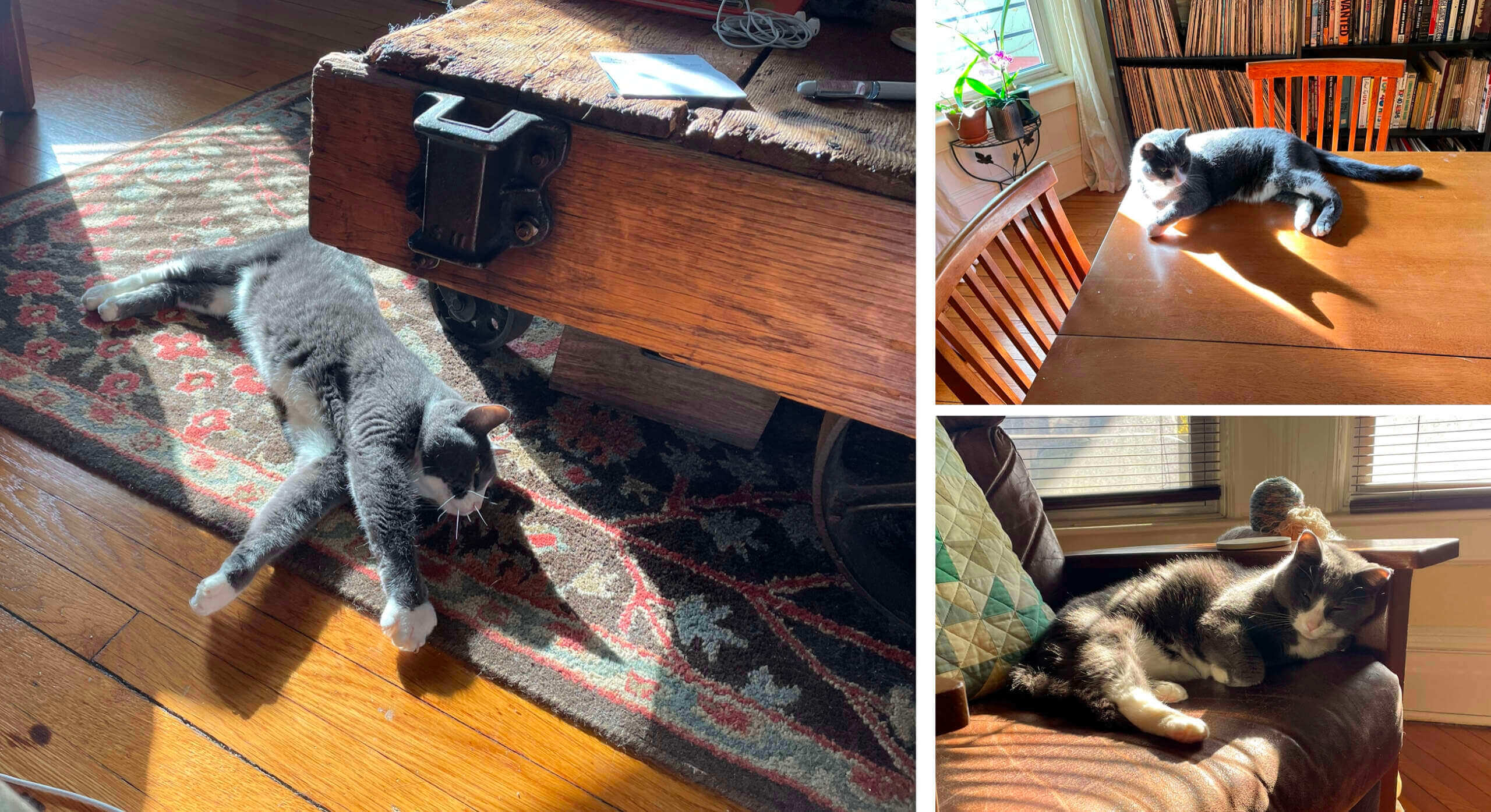 Click to enlarge
Sun worshipper: Uni Watch HQ is on the ground floor of a house and has a porch, which means we get terrible natural light. But we do get a few shafts of sunlight coming through in the mornings this time of year, and Uni Watch girl mascot Caitlin always finds them. Awwwwww — li'l cutie!
• • • • •
• • • • •
The Ticker
By Lloyd Alaban

Ukraine News: Dover Speedway's Monster Monument will be lit with the colors of the Ukrainian flag each evening for the remainder of the month (from Christopher Hickey). … AC Milan has unveiled a retail jersey modeled after its 2003 Champions League uniform, with proceeds to support the Italian Red Cross's mission in Ukraine.

Baseball News: Nationals C Riley Adams will wear No. 15—the same number as former Nationals 1B Matt Adams. So if you already have a Matt Adams jersey, you won't have to throw it out! (From Brock Jackson.)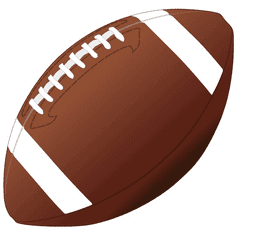 Football News: Vernon Hills High School in Illinois has a very Van Halen-esque helmet logo (from @lolo_phynarski).


Hockey News: G.I. Joke warm-ups for the Caps last night (from our own Jamie Rathjen). … Panthers G Spencer Knight debuted a mask in honor of Teddy Balkind, a Connecticut high school player whose neck was cut by a skate during a game in January. The incident inspired a nationwide hockey movement called "Sticks Out for Teddy" (from Noah Berger). … Mono-white, including white pants, for the FPHL's Columbus River Dragons this weekend (from Jack Patterson). … A Top Ten List on a 1987 episode of Late Night with David Letterman misspelled the Buffalo Sabres as "Sabers" (from Ferdinand Cesarano). … Here's the Ireland jersey for the upcoming Development Cup (from Michael Regan).

Basketball News: Yeshiva men's G Ryan Turell is hoping to go pro, which would make him the NBA's first yarmulke-clad player. … Here's what the Men's Final Four court will look like (from J.A. Scott). … You're going to see a lot of Nike during this year's March Madness men's games. … Here's a new one: It looks like Xavier's men's team, which is playing in the NIT, has inbounds plays mapped out on the inner waistbands of their shorts (from Andrew Green).

Soccer News: Barcelona has sold the naming rights for its historic Camp Nou stadium to Spotify (from Jacob Gibb). … PSG's new home shirt has leaked (from Michael Zerbib). … Lionel Messi has hundreds of shirts on deck each time he plays for Argentina to give away to fans, players, and coaches. … USL League One's Greenville Triumph is starting a team in the USL W League. They're revealing the new team name and logo on March 24 (from our own Jamie Rathjen). … Atlético Madrid's new home shirt has leaked (from Mark Coale). … The next few items are from Kary Klismet: New kits for Phoenix Rising of the USL Championship. … New away kits for Orange County SC. … New kits for the Pittsburgh Riverhounds. … Düsseldorf will wear one-off kits this weekend designed by a local artist. … New home kits for Unión de Santa Fe and new away kits for Atlético Tucumán of Argentina's Primera División.

Grab Bag: When you think of Ralph Lauren, you don't necessarily think of HBCUs. But the fashion brand is nonetheless partnering with HBCUs on a new line of sportswear-inspired apparel (from multiple readers). … Okemos High School in Michigan has unveiled new logos to accompany the recent change of its team name to "Wolves." … Here are the finalists for Rhode Island's new license plate design, all of which feature an ocean theme. … In a related item, here's a huge infographic showing every state's license plate from 1966 to 2016. Click to enlarge (from Clarke Hall). … Here's a breakdown of this season's F1 car numbers (from Russ Flynn).