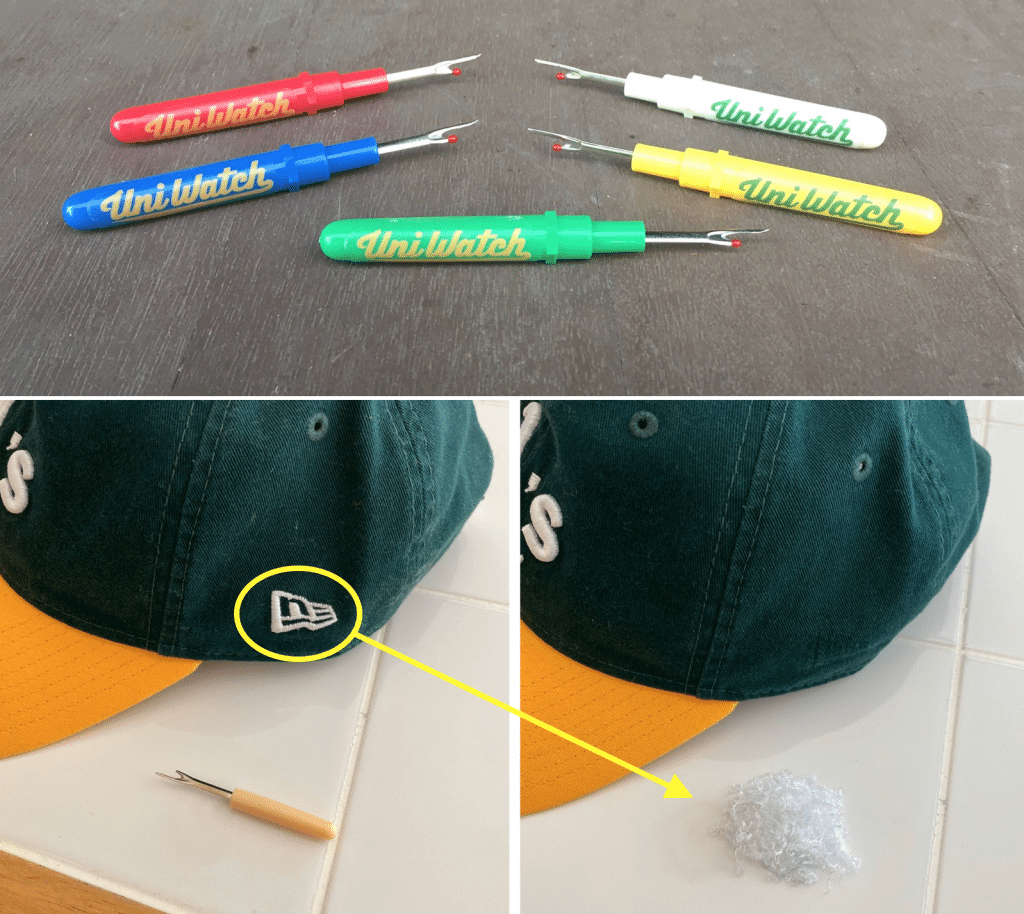 After many requests from our readership, I'm proud to offer Uni Watch seam rippers — perfect for DIY uniform projects, or to remove annoying maker's marks and ad patches from retail caps and jerseys. (You can also get a non-Uni Watch ripper, which is less expensive, here.)
Here's some basic info:
• These are standard-issue seam rippers with the Uni Watch script applied via a clear decal. (I wanted to get custom-printed rippers — looked far and wide for a supplier — but it turns out that nobody offers that. Too bad.)
• The decals can be oriented for either a left-handed user or a right-handed user.
• The rippers are available in green, yellow, blue, white, and red. (Green is currently out of stock.)
• The price is $3 per ripper. No matter how many you order, the shipping charge is $5 per order in the USA. (I realize that may seem like a lot for such a small, lightweight item, but I have to mail the rippers in bubble mailers, which means the Post Office classifies them as packages and charges the package rate.) If you're outside of the USA, contact me so I can calculate the shipping charge for you.
Okay, ready to order? Tally up the total for your purchase and then send me the proper amount via Venmo (use @Paul-Lukas-2 as the payee), PayPal (newcollegeuni@gmail.com), or Zelle (plukas64@gmail.com). If you'd rather use Apple Pay or a paper check, contact me and I'll give you the info you need.
Important: After sending payment, email me with the details of your order, including:
(a) how many rippers you want;
(b) which color(s) your ripper(s) should be;
(c) whether you want the script(s) on your ripper(s) to be orientated left-handed or right-handed; and
(d) your shipping address.
• If you want to combine a seam ripper purchase with an order for a Uni Watch koozie, a trading card, a magnet, a chain-stitched patch, some coasters, or some pins, please email me and I'll give you a price that includes a combined shipping fee for the whole shebang. (Sorry, these are the only Uni Watch items I can combine into one shipment, because all our other items ship from separate locations.)
That's it. Thanks!
———
Meanwhile, I realize some of you may have questions, so let's shift into FAQ mode:
Why would anyone want to remove the manufacturer's logo from their cap?
There's a detailed discussion of the issue here.
Can you show me how to use the seam ripper to remove a logo from a cap?
There's an excellent video tutorial here:
This is stupid. I can go to my local fabric store and get a plain seam ripper for like three bucks!
You sure can — and I encourage you to do so! But for some people who care strongly about a certain issue, using a "fan" item can make a project or activity feel more personally satisfying. If you're into guns, for example, you might want to sign your gun license application with an NRA pen. Or if you're a vegan, you might want to use a PETA apron in the kitchen. Similarly, someone making a DIY jersey or removing the New Era logo from a cap might get a little extra satisfaction from doing it with with a Uni Watch seam ripper. And I get a lot of conceptual satisfaction myself from offering such an item.
You're such a hypocrite! You're against logos on products but you're putting your logo on a seam ripper!
Actually, I've never said I'm opposed to logos on products. I just think the only logo that belongs on a team uniform element is the team's logo, because that's the only brand the uniform should stand for. If a Uni Watch seam ripper can encourage people to improve the integrity of their uniforms by removing extraneous logos, I'm proud to be a part of that. It's very much in keeping with what Uni Watch has always stood for.
Think of it this way: Sports teams put their logos on all sorts of things — Dodgers key rings, Steelers shower curtains, etc., none of which I have any problem with. The people buying those items have no idea who made the key ring or the shower curtain, and they don't care. The Uni Watch seam ripper is in a similar category, but it's even better, because key rings and shower curtains have nothing to do with sports, while seam rippers can be used for Uni Watch-related projects.
You're such a hypocrite! The Uni Watch script is distracting from the maker's mark on the seam ripper, just like you say the New Era mark distracts from the team logo.
Actually, these seam rippers don't have any maker's mark, and neither do any other seam rippers I've ever seen. They're simple, utilitarian items, like a safety pin or nail clippers, most of which are also unbranded. I'm just adding the Uni Watch logo to them to turn them into a Uni Watch fan item.
You're such a hypocrite! You're opposed to capitalism, except when it suits you, like when you want to sell seam rippers.
Actually, I've never said I'm opposed to capitalism. Frankly, as a career freelancer, my life and work involve more entrepreneurial capitalist enterprise than most people's (which I say not as a boast but as a simple statement of objective fact). But as I've explained many times, I view capitalism as a tool, not as a religion, and I think we should be on guard against its excesses. You probably think the same thing — for example, you probably approve of laws that ban child labor, restrict monopolies, and require truth in product labeling, all of which serve to constrain capitalist excess. Does this mean you're "opposed to capitalism"? Of course not. Now, you and I may have some differences regarding how much and in what areas capitalism should be reined in, but that's just a difference in degree, not in kind. All of which is a lengthy way of saying there's nothing inconsistent about what I'm doing here.
Also, as capitalist ventures go, selling seam rippers for five bucks to a small cadre of obsessed DIYers is not exactly a huge profit-making enterprise. I'm doing it for the same reason I do most of our merch projects: because it's creatively satisfying and fun. I wouldn't go quite so far as to say it's an art project, but it's probably closer to that than to a business project.
Thanks for your interest. Happy ripping!