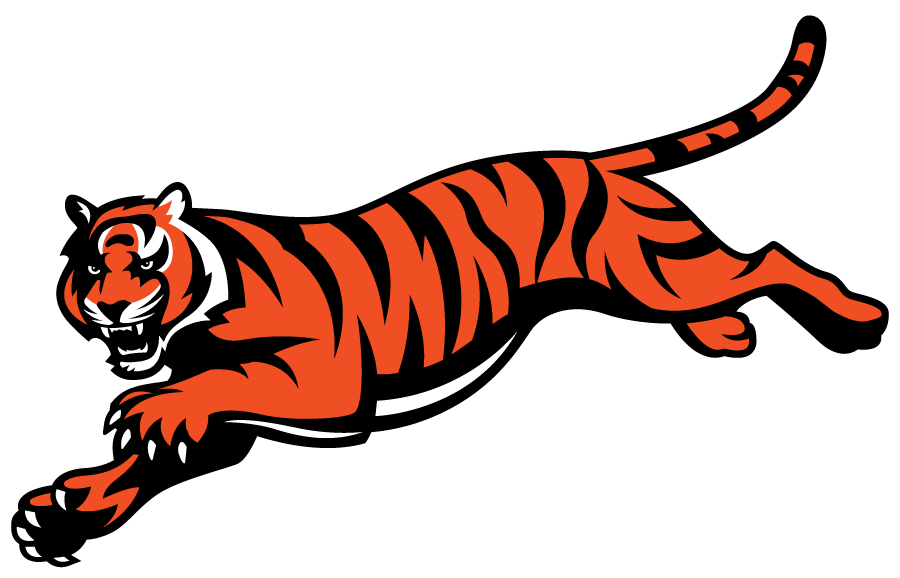 Good morning! The Bengals are scheduled to unveil their new uniforms today at 9am Eastern. I'll add photos and links for the new designs once they're available, and I'll have a detailed analysis of the new set tomorrow.
But for today, since the Bengals will likely be the uni-verse's top topic for the next few days, I thought it would be fun to go over five interesting details from Bengals uni history that you might have forgotten about (or never known about to begin with). In no particular order, here they are (for all photos, you can click to enlarge):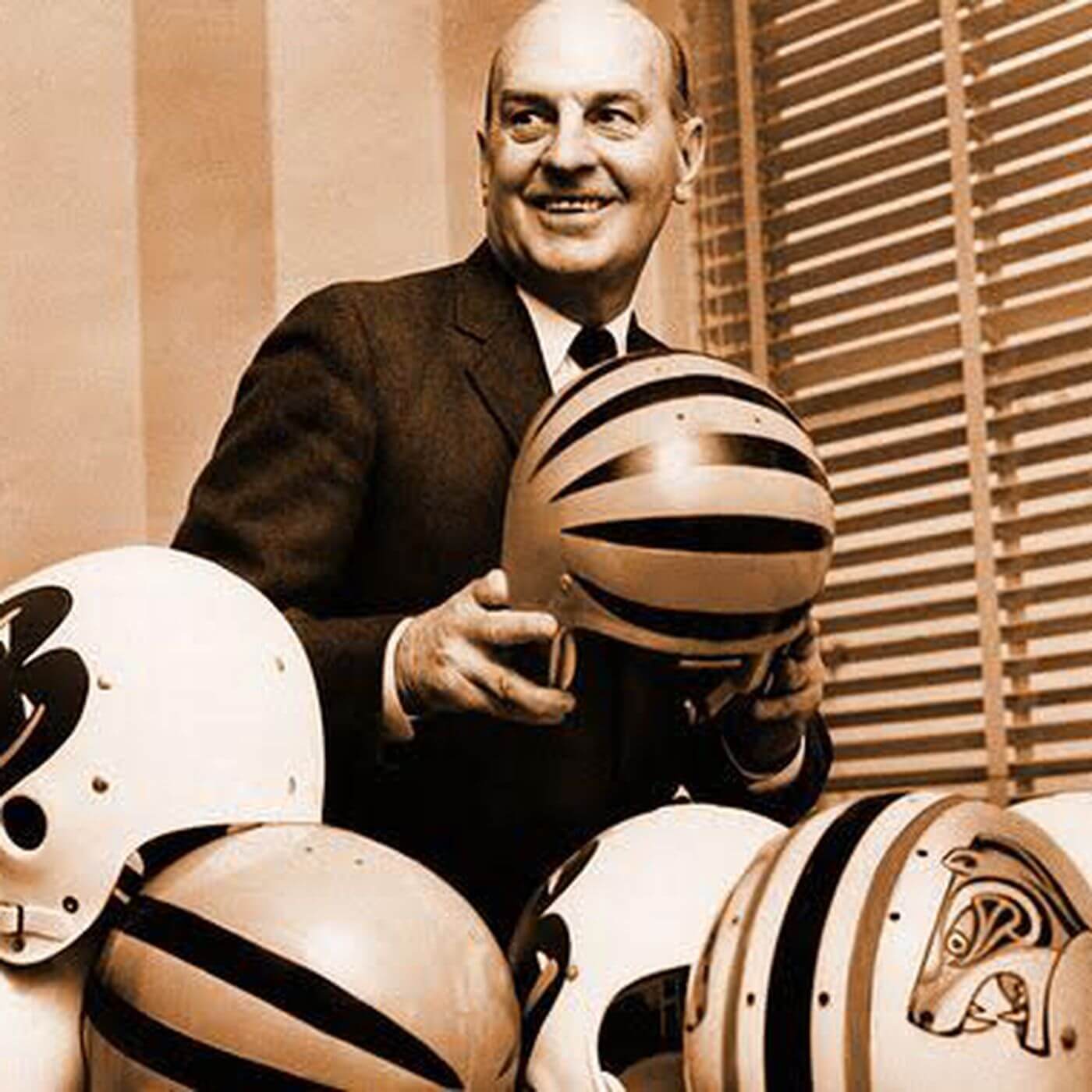 1. The Famous Paul Brown Helmet Photo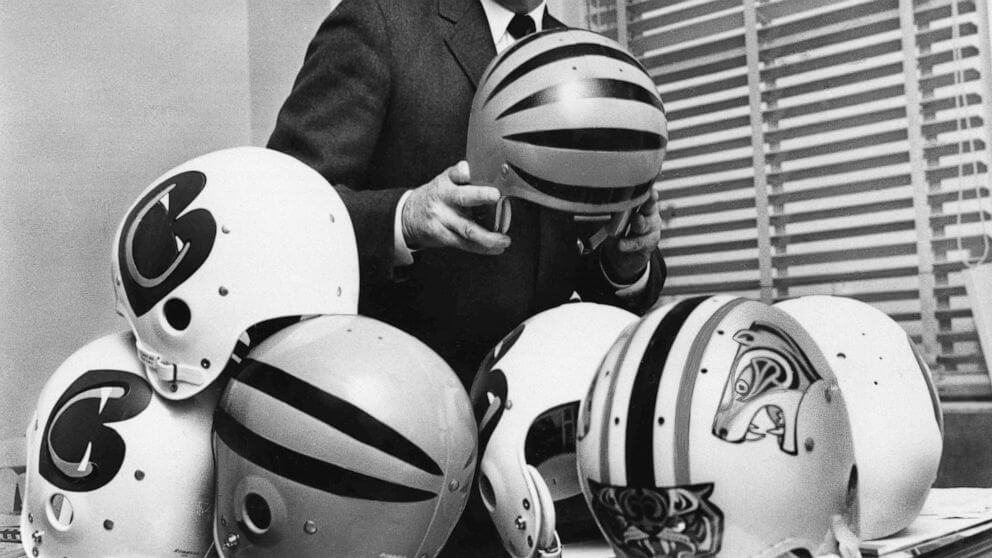 The Bengals were founded by former Cleveland Browns founder/namesake Paul Brown, whose family still owns the franchise. A now-famous photo, taken the winter before the team's 1968 debut season, shows Brown examining a series of prototype helmet designs. Here's a broader view of the bottom of the photo, showing a few more of the designs:

The photo's most intriguing aspect, of course, is that Brown was holding a striped shell similar to the one that the Bengals would eventually start wearing in 1981. The great Helmethut site made a replica of that helmet a few years back. (That page also has lots of great background info on Brown — recommended reading.) But also note the helmet in the foreground that appears to have a bengal's face on the forehead area — that certainly would have caused a stir in 1968!
With all these interesting-looking options, it's so confounding that Brown ultimately chose the plain orange shell with the plain "Bengals" lettering. Meanwhile, I've never heard anything about what became of the prototypes shown in the photo. Those would be great to see in a museum display, no?
2. History's Most Passive-Aggressive Unveiling Report

When the Bengals changed from their inaugural uni set to their first tiger-striped design in 1981, a local Cincinnati TV news show covered the unveiling. As was the case in those days, it was a very sedate affair compared to today's unveilings, but the funniest part is reporter Walt Maher, who makes it hilariously clear that this is about the last story he wants to be covering. A classic video clip!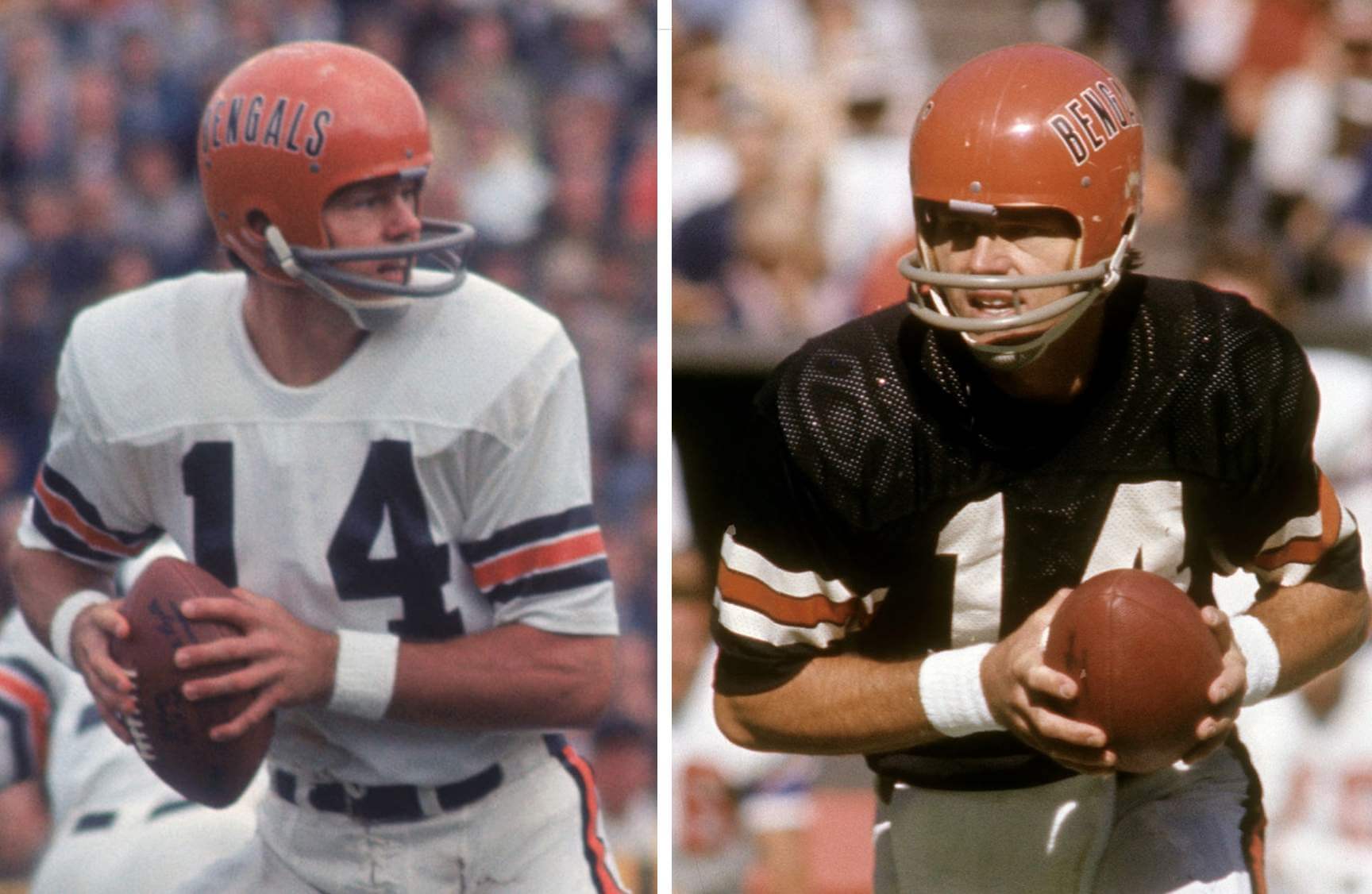 3. TV Numbers: From Trend-Buckers to Trend-Hoppers

From 1968 through 1979, the Bengals' jerseys did not have TV numbers. They added them in 1980, becoming the final NFL team to do so.
Eschewing TV numbers is a trend in the NFL at the moment, with the Chargers, Pats, and Rams all going that route. So if the Bengals' new set skips the TV numbers (as suggested by last month's leaks), Cincy would be joining the current trend but also coming full-circle and getting back to their roots.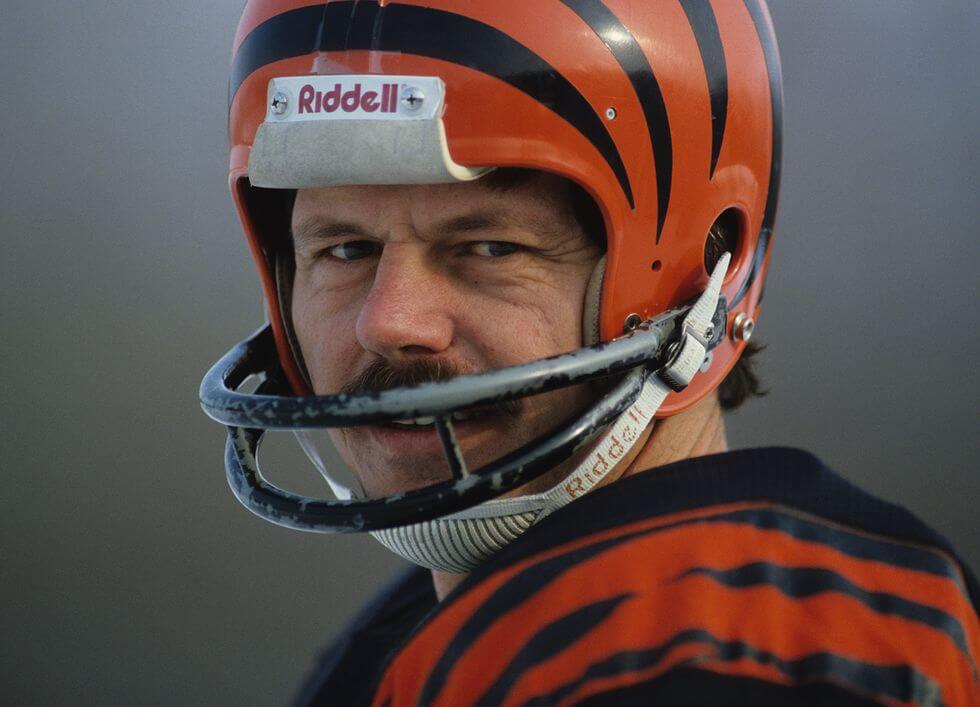 4. Kenny Anderson's Paint-Chipped Facemask

When the Bengals added TV numbers in 1980, they also changed their facemasks from grey to black. But quarterback Ken Anderson must have really loved his old grey two-bar mask, because the team apparently painted it black for him. Unfortunately, the paint routinely chipped off, so the equipment staff would repaint it, and then it would chip off again, ad uni-verseum.
Anderson even wore the chipped mask in Super Bowl XVI and in the Pro Bowl: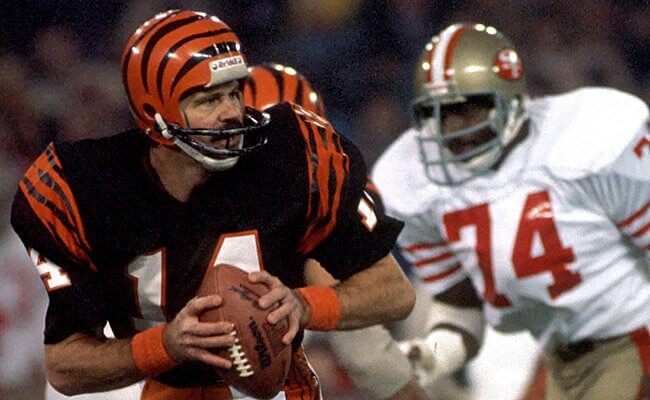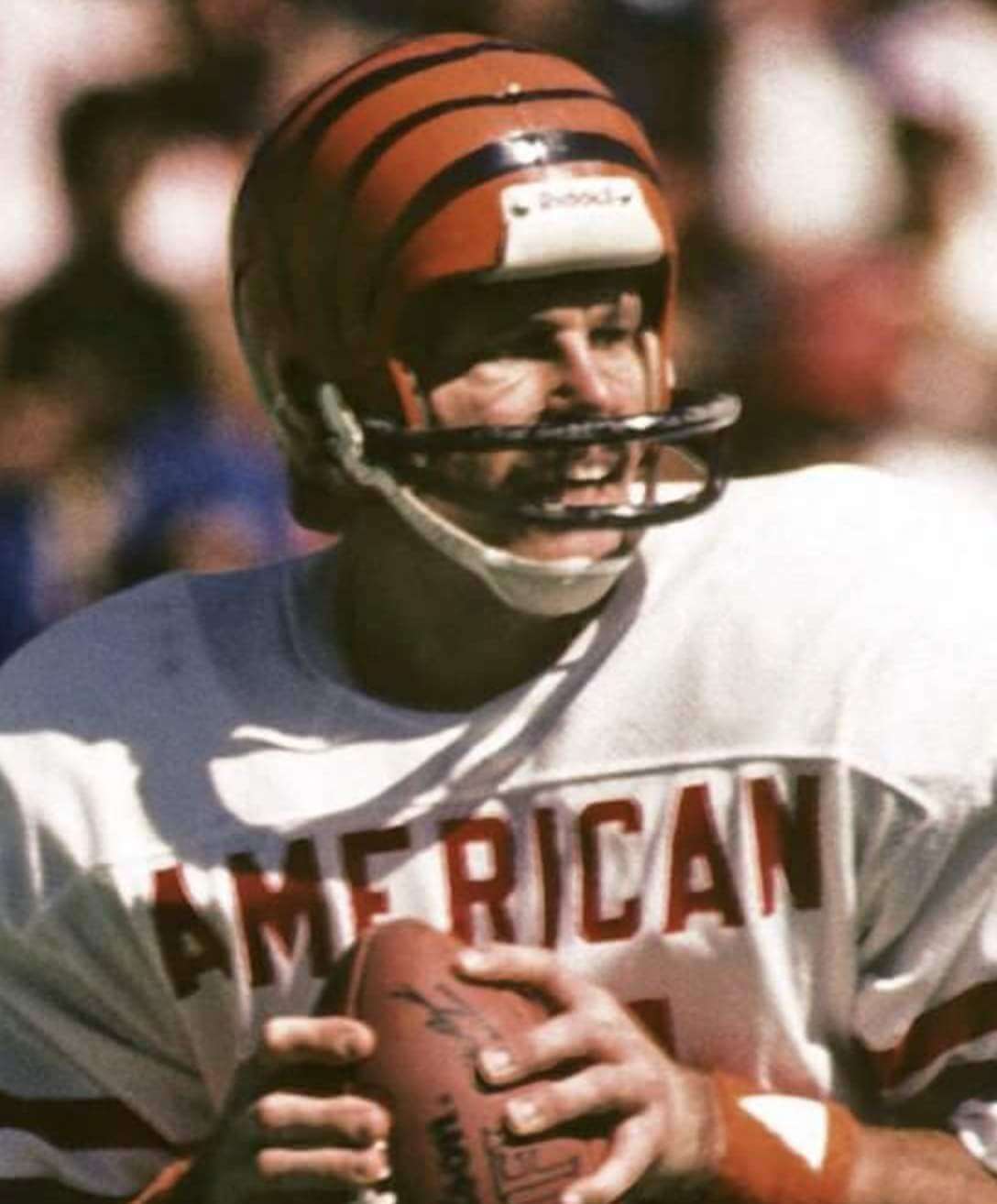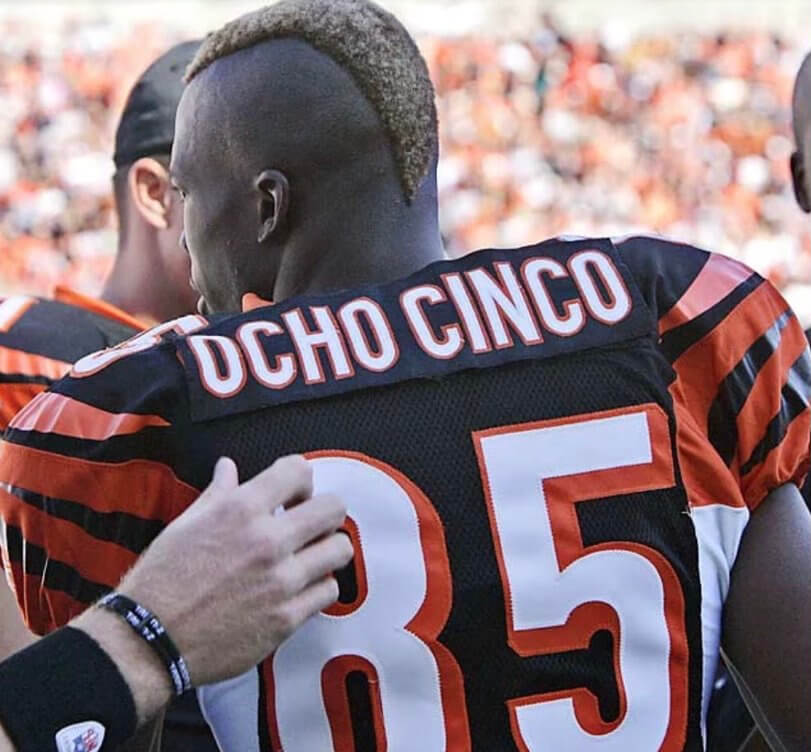 5. Chad Johnson's Velcro Nameplate

At one point during the 2006 season, Bengals wide receiver Chad Johnson came out for pregame activities wearing a cover-up nameplate that read "Ocho Cinco" (that's "eight five" in Spanish). Shortly before kickoff, teammate Carson Palmer (that's his hand in the photo shown above) reached over and removed the cover-up strip, revealing Johnson's usual "C. Johnson" NOB.
It's never been clear who made that cover-up nameplate for him. Was it Reebok? The team's equipment staff? Someone else?
Two years later, Johnson legally changed his surname to Ochocinco, so he was able to wear his nickNOB for real, although this time it was one word, not two: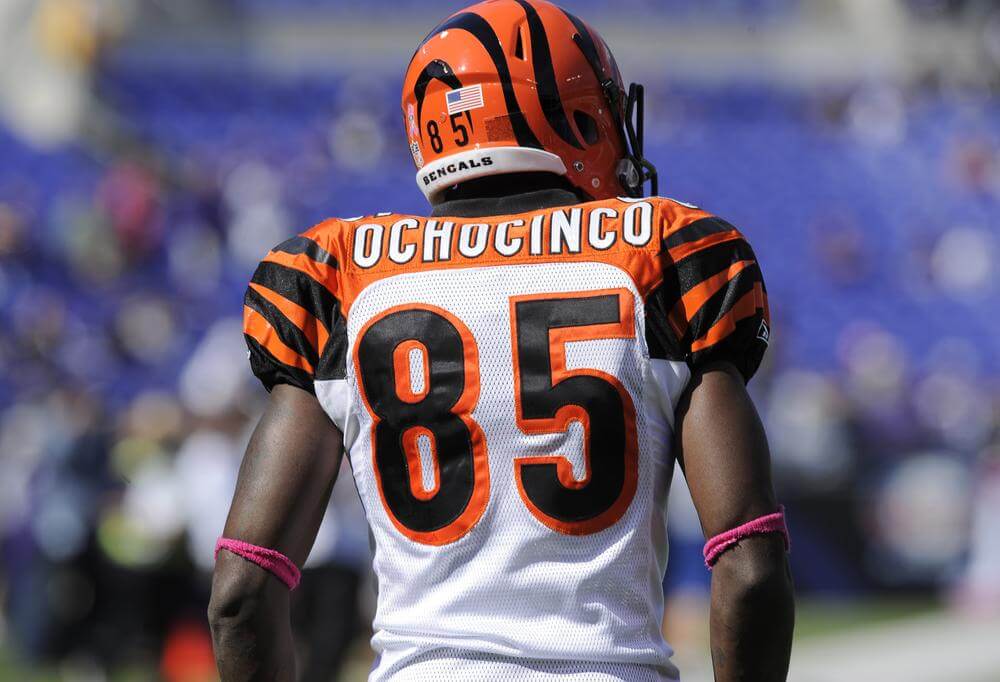 Footnote: After retiring in 2011, he legally changed his name back to Johnson in 2012.
———
If you want to see more about the Bengals' uniform history, check out this post that Phil did last month.
Update: The new uniforms have now been revealed: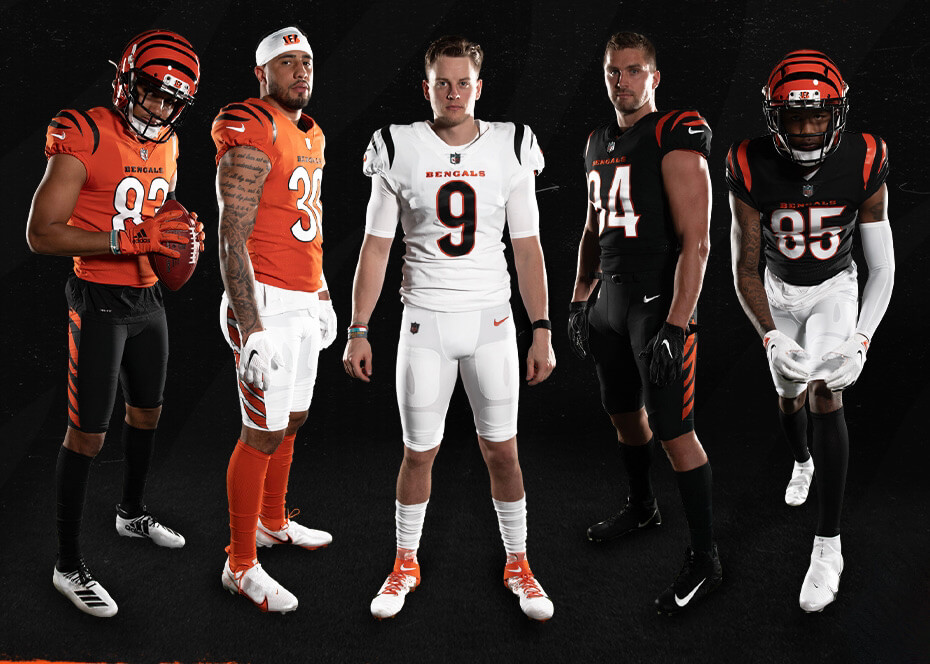 Again, I'll have a detailed assessment of them tomorrow.
• • • • •
• • • • •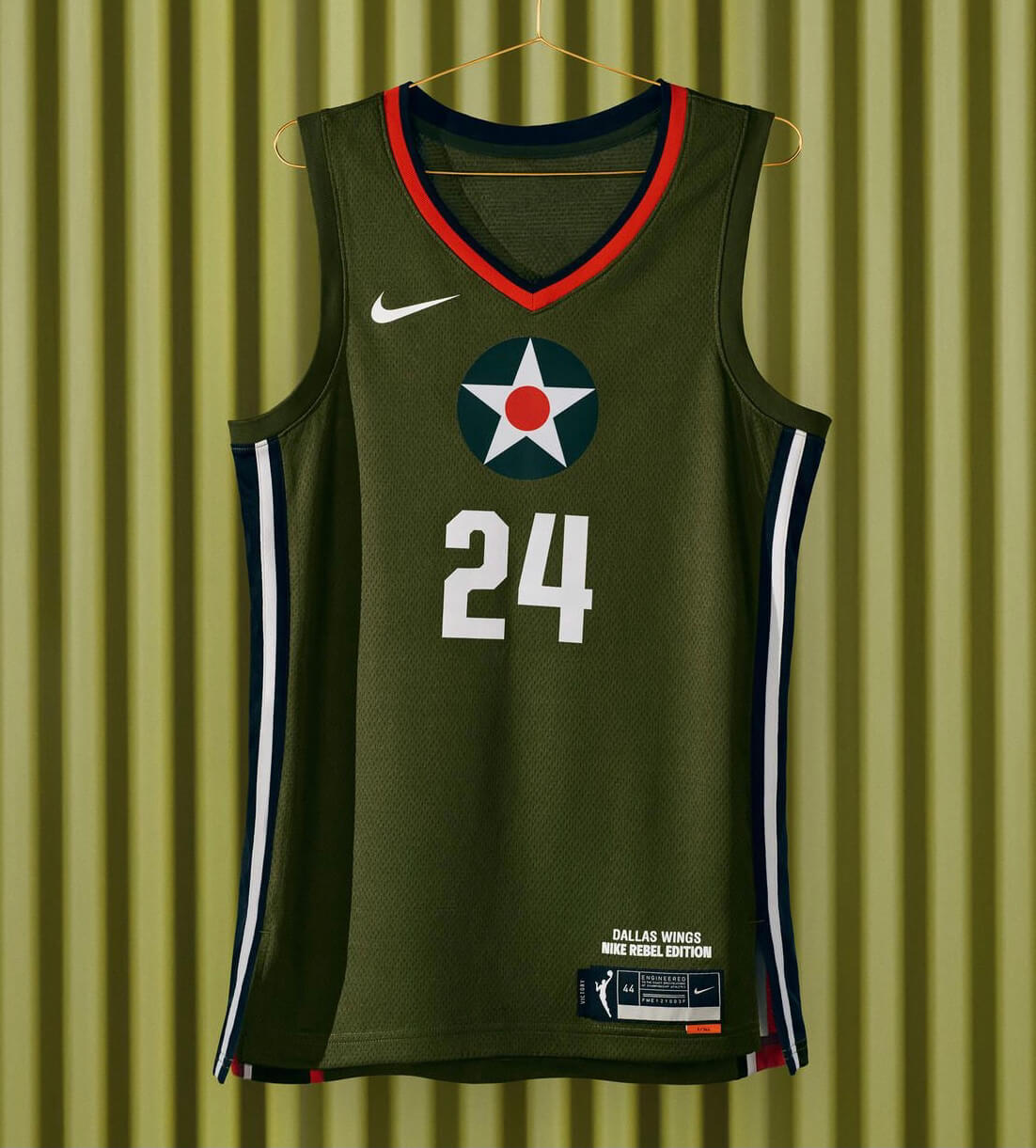 Weekend recap: I know many of you don't read Uni Watch on the weekends, so here are two developments from the past couple of days that you might have missed.
First, the WNBA's Dallas Wings scrapped their new alternate uniform, which had been revealed just a week earlier. The design, which is shown above, was conceived as a tribute to the Texas-based Women Airforce Service Pilots (WASPs), who tested aircraft during World War II so that male pilots would be free for combat duty.
Sounds like your typical Nike-driven piece of "storytelling": a military connection, rendered in olive drab with a Captain America-style insignia, described by Nike as being "Inspired by the stealth and ferocity of the World War II P-40 Warhawk — a plane manufactured in Texas and test-flown by Women Airforce Service Pilots (WASPs) — the uniform is set over a military-grade green field." Checks all the boxes, right? And of course this design was designated as the Wings' "Rebel Edition," a category reserved for uniforms with women's-empowerment themes.
Just one problem: The WASPs excluded Black women from their ranks. Not such a heartwarming story after all, eh? Imagine being a Black player and being told to wear this uniform!
This racist history is not some obscure footnote in WASP history. It comes up in several articles and is even mentioned on the WASP Wikipedia page, which states (citing this book):
While the total number of Black women applicants for WASP training is unknown, several African American pilots made it to the final interview stage, where they were all rejected. Mildred Hemmans Carter, another African American applicant, was asked to withdraw her application because of her race.
It's hard to fathom how the combined staffs of three large corporate entities — the Wings, the WNBA, and Nike — all managed to miss this, but they did. After the writer Jasmine Baker began raising a stink about it on social media, the uniform was eventually pulled on Friday.
This is what happens when you try to reduce history — history that is often very complicated, messy, and painful — to "inspirational" and "rebel"ious lifestyle branding via "storytelling." A good reminder that all the bullshit in those uni-unveiling press releases is often just that — bullshit.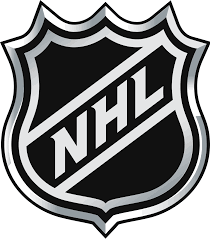 The other thing you might have missed over the weekend is the depressing news that the NHL could have jersey advertising by the 2022-23 season, the latest step in a determined march toward Idiocracy that the league has been taking over the past four months. Here's a handy timeline:
Dec. 22: NHL announces that teams will wear helmet ads for 2021 season as a one-year measure related to the pandemic.
Jan. 5: NHL announces that the league's four divisions will have corporate-advertised names this season. This too is touted as a one-year thing.
March 11: NHL Commish Gary Bettman says the helmet ads will "more likely than not" be retained beyond this season after all.
April 16: Sports Business Journal, citing multiple sources, reports that NHL jersey ads are a strong possibility for 2022-23.
This latest development feels particularly significant because the NHL, for all its other foibles, has kept the game sweater fairly pure. While other leagues have worn all sorts of camouflage and holiday-related uniforms, the NHL has restricted that stuff to pregame jerseys; while other leagues have put their makers' marks on the chest or sleeves, the NHL has kept it on the back. So the impending addition of jersey ads for this of all leagues feels extra-momentous — and extra-sad.
• • • • •
• • • • •
Click to enlarge
Blankety-blank: Reader Will Scheibler recently acquired this blank Islanders fisherman jersey on eBay. "The seller says it was obtained by the team's fabricator and was used to test different pressings, which explains the different sleeve number styles."
Interesting find! Big thanks to Will for sharing it with us.
• • • • •
• • • • •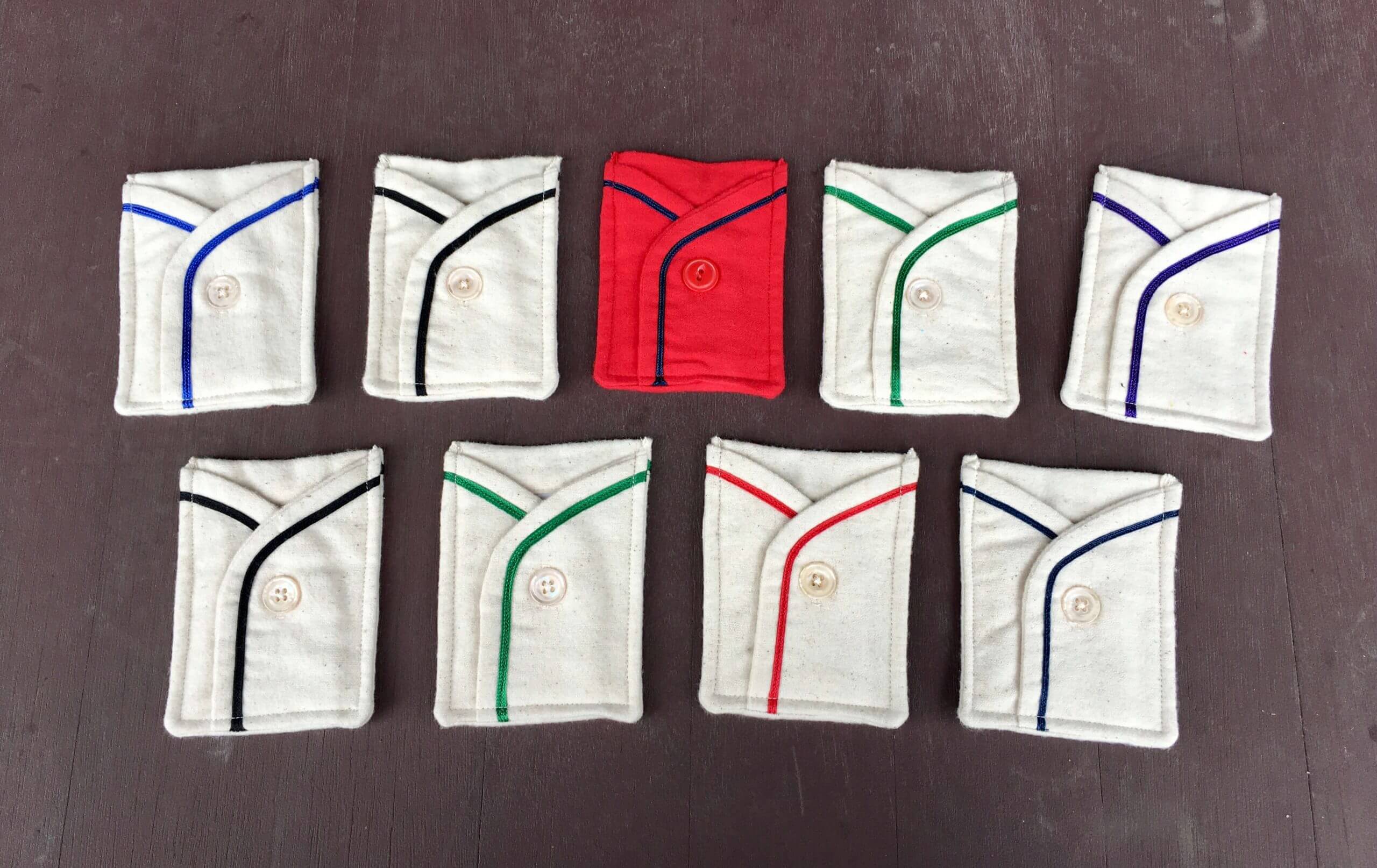 For all photos, click to enlarge
ITEM! April membership drive: Last Friday I showed you these sensational flannel card pockets made by the great Wafflebored. They all have No. 7 on the back, and the buttons are functional: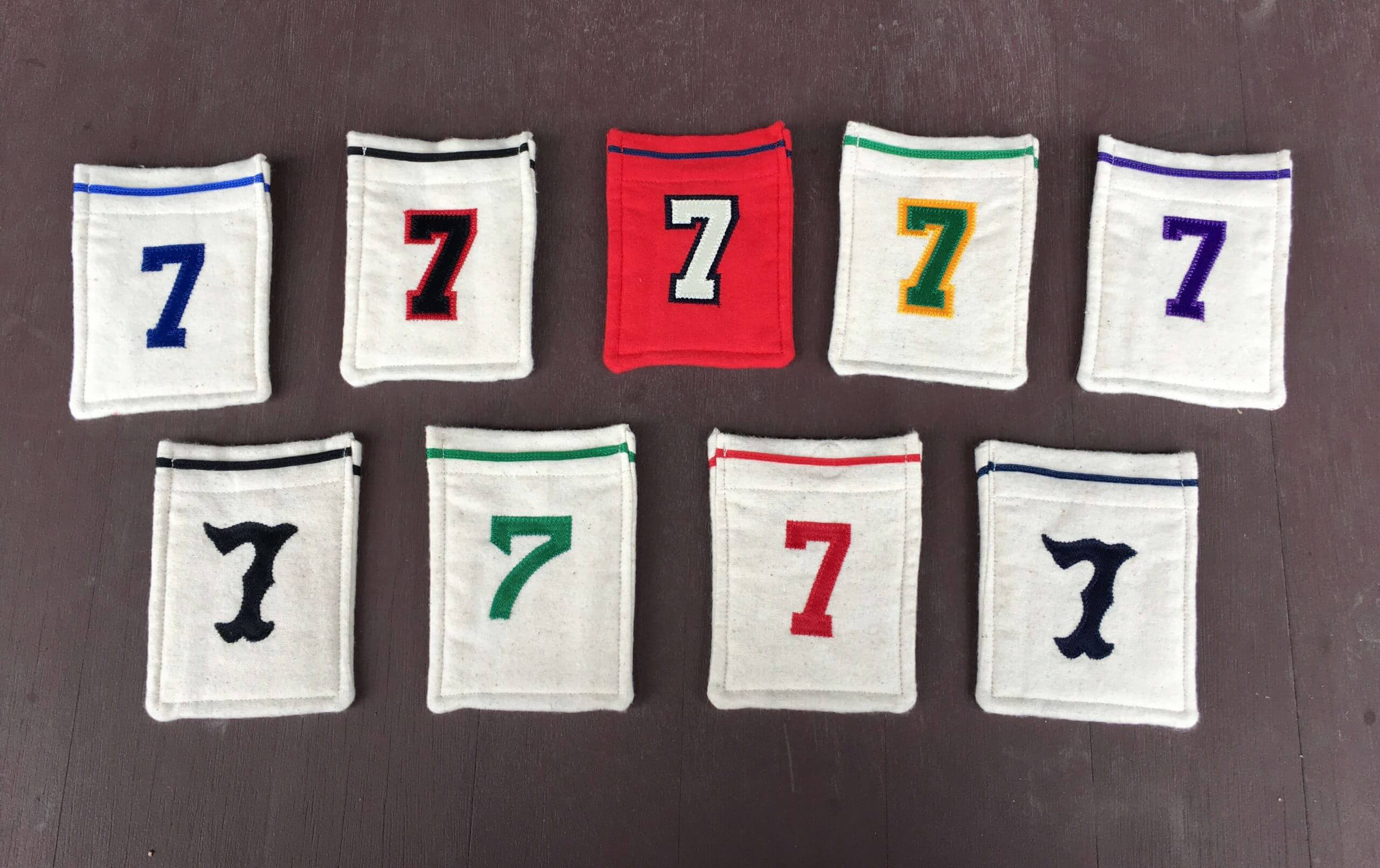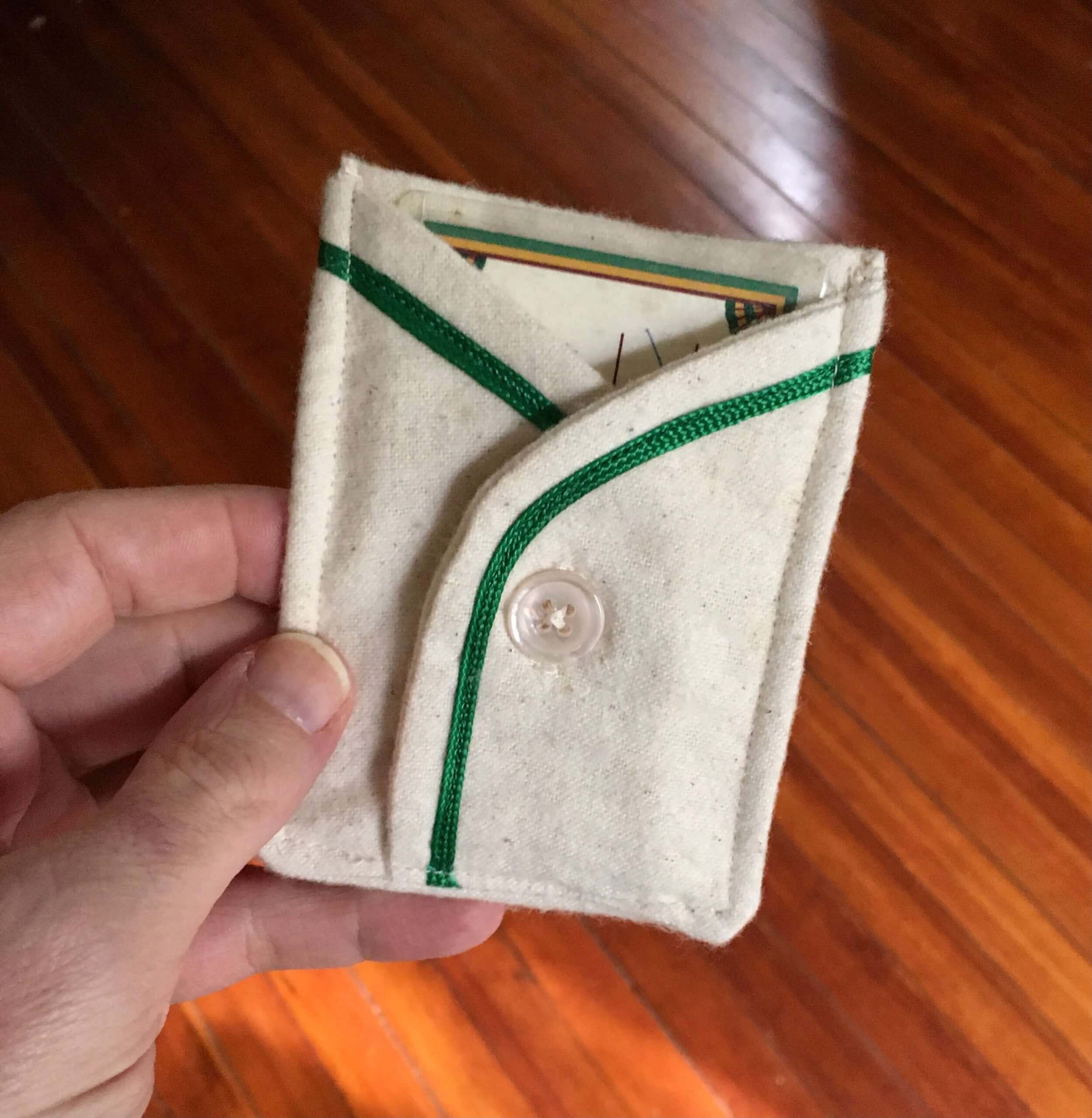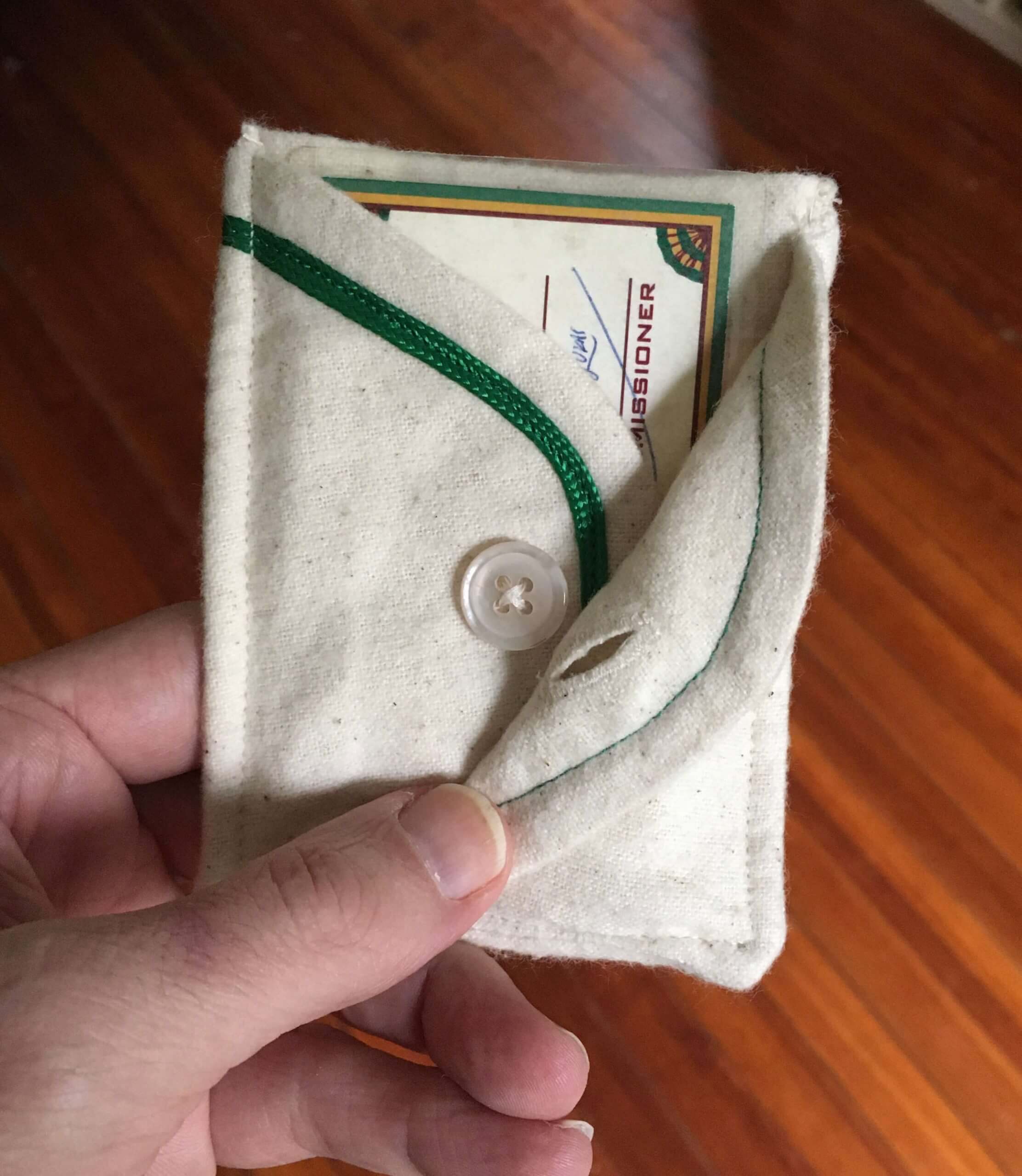 The purple one, obviously, will have a role on Purple Amnesty Day (four weeks from today!). As for the others, here's what we're going to do:
Out of all the membership orders that come in this week, I will randomly choose three enrollees to receive once of these pockets. So if you like, when you order a membership card this week, you can specify which pocket you'd prefer if you turn out to be one of the winners. I'll try to accommodate the winners' preferences.
That will leave us with five pockets remaining. I'll announce plans for them later in the year. Meanwhile, thanks in advance to those of you who order membership cards this week, and doubleplusthanks to Wafflebored for the amazing card pockets!
• • • • •
• • • • •
And speaking of membership cards: It's rare that we get a request for a card based on a uniform worn by a women's team, but that's the case with Ben Humphries's new card, which is based on the UK women's cricket team Southern Vipers. Awesome job by card designer Scott M.X. Turner to render the snakeskin background pattern!!
Ben's card is part of a new batch that's been added to the membership card gallery.
Want to see your own card in the gallery? Ordering a membership card is a good way to support Uni Watch (which, frankly, could use your support these days). And remember, a Uni Watch membership card entitles you to a 15% discount on any of the merchandise in the Uni Watch, Uni Rock, and Naming Wrongs shops, plus the discount also applies to our Uni Watch Classic Cap. (If you're an existing member and would like to have the discount code, email me and I'll hook you up.)
As always, you can sign up for your own custom-designed card here, you can see all the cards we've designed so far here (now more than 3,100 of them!), and you can see how we produce the cards here.
• • • • •
• • • • •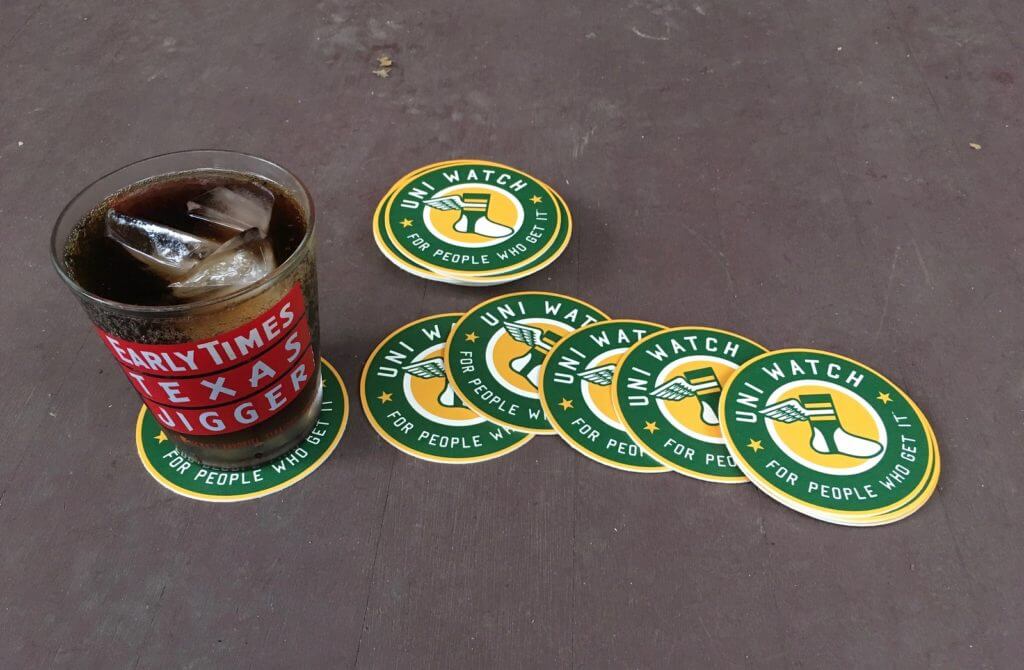 ITEM! Coasters back in stock: I have a few dozen of these great-looking Uni Watch coasters. They're made in the USA from sturdy pressboard and measure 3.7″ across.
As has been the case in the past, I'm selling these in groups of three coasters for nine bucks, including shipping. USA orders only, sorry.
To order, send me $9 via Venmo (use @Paul-Lukas-2 as the payee), Zelle (plukas64@gmail.com), or Google Pay (plukas64@gmail.com). If you want to use Apple Pay, a paper check, or well-concealed cash, get in touch and I'll give you the appropriate info.
After paying, email me with your shipping info. Thanks!
If you want to combine a coaster purchase with an order for a Uni Watch koozie, a trading card, a magnet, a seam ripper, or a chain-stitched patch, please email me and I'll give you a price that includes a combined shipping fee for the whole shebang. (Sorry, these are the only Uni Watch items I can combine into one shipment, because all our other items ship from separate locations.)
• • • • •
• • • • •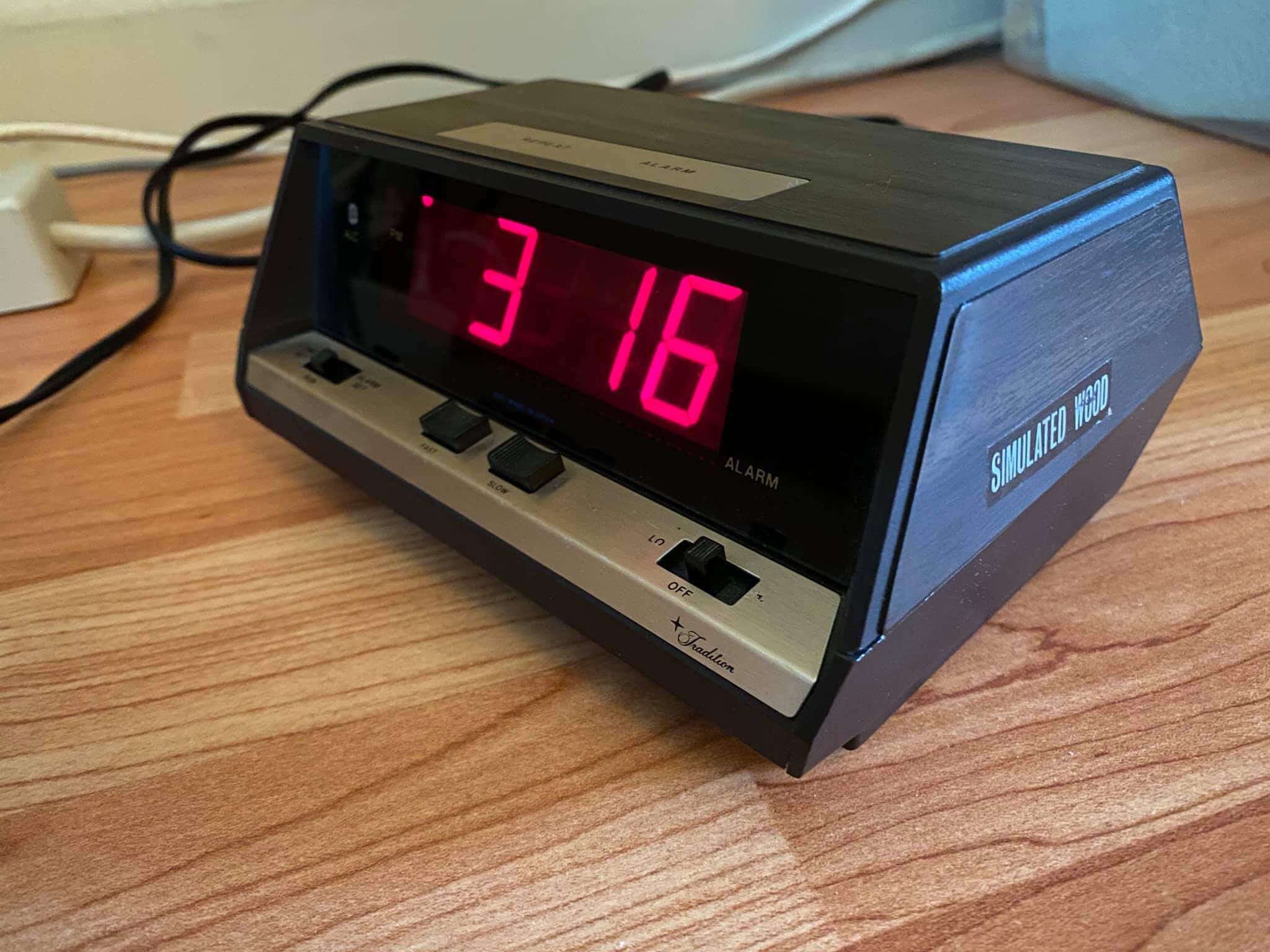 Click to enlarge
Too good for the Ticker: Our own Brinke Guthrie sent me this photo of a 1972 digital clock he recently scored on eBay. I cracked up when I saw the sticker on the side — and cracked up even more when I then deciphered the little script on the lower-right front panel. That's just too perfect!
As for the time shown in the photo, Brinke says that just happened to be the time on the clock when he took the pic, but it certainly has a strong sports pedigree. Funny coincidence!
• • • • •
• • • • •
The Ticker
By Jamie Rathjen

Baseball News: Today is Patriots' Day in Massachusetts. The Red Sox will play their traditional 11am game and wear their "Boston Strong" uniforms. … Speaking of the Sox, OF Alex Verdugo wore the team's red belt yesterday, instead of the blue alternate belt (from Jeff Wilk). … The Chicago Tribune ran a piece yesterday on the history of the White Sox's stadium (from Kary Klismet). … Blue Jays P Robbie Ray looks like he wears slimmer-cut pants than he did in 2019 with the Diamondbacks (from @jimr_drumr).

Hockey News: The Flyers held Hockey Fights Cancer Night yesterday for the first time since Oskar Lindblom returned from treatment for Ewing's sarcoma, so the team's warm-up jerseys all featured his number and NOB (from @_RF30). … Devils goalies Mackenzie Blackwood and Aaron Dell wore masks designed by essential workers during pregame warm-ups yesterday (from Wade Heidt). … The next two are from Ted Arnold: A Maple Leafs fan/collector devotes about 10% of his collection to late-'40s D Bill Barilko, including equipment and some of the wreckage from the plane crash in which Barilko died in 1951. … A worker helping to clean out Maple Leaf Gardens in 2003 preserved some letters from Leafs owner Harold Ballard. … Cross-posted from Grab Bag: Reader Troy DeCeuster is making NHL horse racing silks concepts, starting with six East Division teams. … The Canucks — back in action after a long Covid-related absence — have tweaked their helmet ad and, although it's a bit hard to see, added a "Canucks for Kids" telethon rear-helmet decal (from Iain McHugh and Wade Heidt, respectively).

Basketball News: A North Carolina high school renamed its basketball court after its long-serving girls' coach (from Kary Klismet).


Soccer News: Along with the black armbands for Minnesota United that we mentioned yesterday, both they and Seattle wore patches saying "Equality, Acceptance, Diversity" above the maker's mark.. … PRO, the officials' organization for all the North American pro leagues, is now outfitted by Capelli. MLS officials have new shirts with blue shorts instead of the usual black, but the deal only covers MLS even though at least some NWSL officials are PRO members. … In Germany, Borussia Dortmund revealed and wore a '90s-era fourth kit (from Germán Cabrejo). … Manchester United goalie Dean Henderson wore a cap that was a little small on him yesterday (from Max Weintraub and our own Anthony Emerson). … One of yesterday's games in England's Women's FA Cup featured West Ham United backup goalie Mackenzie Arnold entering as a midfielder and creating the extremely rare sight of an outfield player wearing No. 1. … The USL Championship's New Mexico United have a new third kit (from Ty Ortega and Phil). … Japan's Gamba Osaka are to wear a 30th-anniversary shirt. The red version also pictured is the goalie's shirt (from Jeremy Brahm). … Scottish club Motherwell's women's team debuted a new second kit in support of one of their charity advertisers.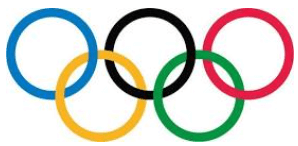 Olympics News: Mexico is holding a public vote on its opening ceremony outfit (thanks, Phil).


Grab Bag: Miami is to host a Formula One race starting next year with a track centered on Hard Rock Stadium. … NASCAR Cup driver Denny Hamlin, whose advertiser is FedEx, had a black ribbon decal on his car yesterday in memory of the victims of the shooting at the Indianapolis FedEx building (from Trevor Williams). … English rugby union's Bath Rugby have blue numbers on blue, white, and black hoops this season which aren't that visible from distance (from Josh Gardner). … Reader Troy DeCeuster is making NHL horse racing silks concepts, starting with six East Division teams. … A feminist sports podcast, Burn It All Down, did an episode on uniforms. … USC's baseball team criticized the university for allowing 5,000 fans to attend the spring football game this weekend, but only allowing player guests for a women's soccer game on Friday also at the L.A. Coliseum. The remaining outdoor spring sports teams, including baseball, all have similar restrictions.
• • • • •
• • • • •
Click to enlarge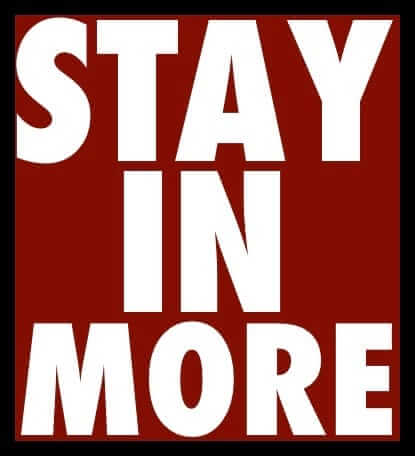 What Paul did last night: The Tugboat Captain and I recently got a hankering for jerk chicken, so we decided to make some last night. Jerk really needs to be grilled, not baked or roasted, so I brought our little mini-kettle up from the basement (even though it was too cold for outdoor cooking) and we enjoyed porch cocktails while the coals got hot.
We used this marinade recipe (really good — recommended). Here are some pics:
Nice, right? The Tugger made some collard greens, coconut-milk beans, and mango chutney as side dishes:
Reeeeeeaaaally good!
As always, you can see the full set of daily Pandemic Porch Cocktails™ photos — now almost 400 of them — here.