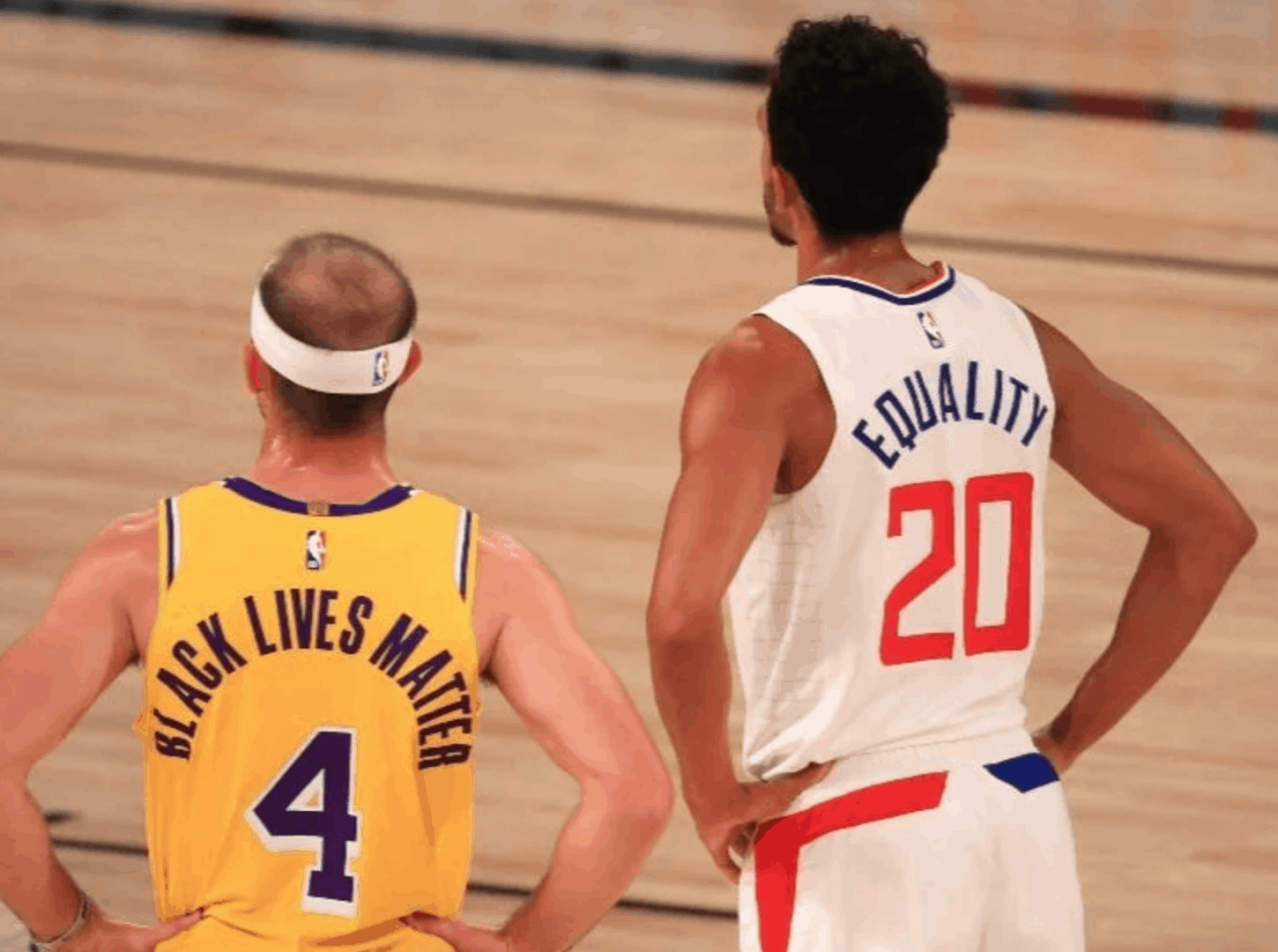 Back on June 19, I wrote a blog entry about how it looked like MLB was moving toward approving ad patches on uniforms for this season. (Thankfully, the winds soon shifted and uni ads were taken off the table, at least for now.) That entry prompted longtime reader Chris Weber to post the following comment:
I never thought I'd say this, but it's getting to the point where I have really lost interest in all organized team sports. Between the pandemic shutdown … the virtue signaling, and the ownership greed, I realize my life is too short to warrant such concern.
Since the topic of the day was uni advertising, it's presumably the "ownership greed" part of that critique that led Chris to post his comment. But for some reason — honestly, I'm not sure why — I was struck by his use of "virtue signaling" in that comment. And although Chris was talking about the sports world in general, not the uni-verse in particular, I've been thinking a lot about uniforms and virtue signaling over the past few months. Today I've decided that it's finally time to write about it.
I should say at the outset that I really dislike the term virtue signaling, at least as it's typically applied as a retort in political and cultural debates. First, it's largely just a form of name-calling that seeks to delegitimize a viewpoint instead of actually engaging with or refuting that viewpoint. Second, it's essentially an attempted form of mind-reading, since it asserts that the source of a particular viewpoint is insincere, which is something that's usually impossible to know. Third, even if the mind-reading attempt happens to be accurate — in other words, even if the person espousing the viewpoint in question really is insincere — that's not particularly relevant because, as I never tire of pointing out, the message is what matters, not the messenger. Just because someone is insincere doesn't mean they're wrong.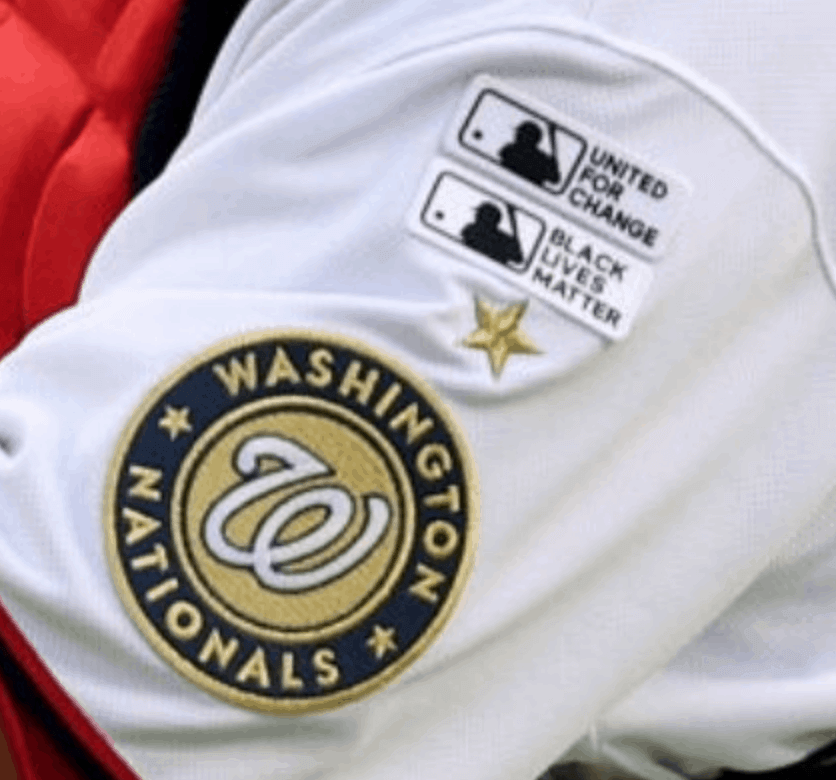 But what if we were to strip "virtue signaling" of its current cultural baggage and define it in a more straightforward and literal way — say, "communicating one's belief in a virtuous cause or sentiment"? When viewed in that context, it's hard to dispute that there's been an unprecedented amount of virtue signaling going on in the uni-verse this summer. From activist appeals for racial justice to salutes to health care workers, uni-driven reminders that the sports world cares about the Real World — and is part of the Real World — have been everywhere. The NBA has had social justice messages in place of NOBs and on the court; MLB has had Black Lives Matter sleeve patches and mound logos (although, for the most part, only for the first day or two of the season); the NFL has had racial justice messaging on helmet bumpers, end lines, officials' caps, and more; college football teams are wearing a wide variety of racial justice patches and helmet decals, and some players are using messages in place of their NOBs; English soccer teams have used their uniforms to support racial justice and the National Health Service; we'll apparently be seeing social justice messaging in college basketball later this fall; and on and on.
I'm using "virtue signaling" as a shorthand term here. You could just as easily call it civic engagement, or community outreach, or promoting worthy causes. But whatever you want to call it, we're seeing an extraordinary amount of it this year. It's become the new normal.
Here's my question: Is that the kind of uni-verse we want? Or, like Chris Weber, do you find it to be a turn-off?
But wait — before you answer that question, keep in mind that virtue signaling has been part of the uni-verse for a long time now. Here are some pre-2020 examples — some very recent, others going back more than a century: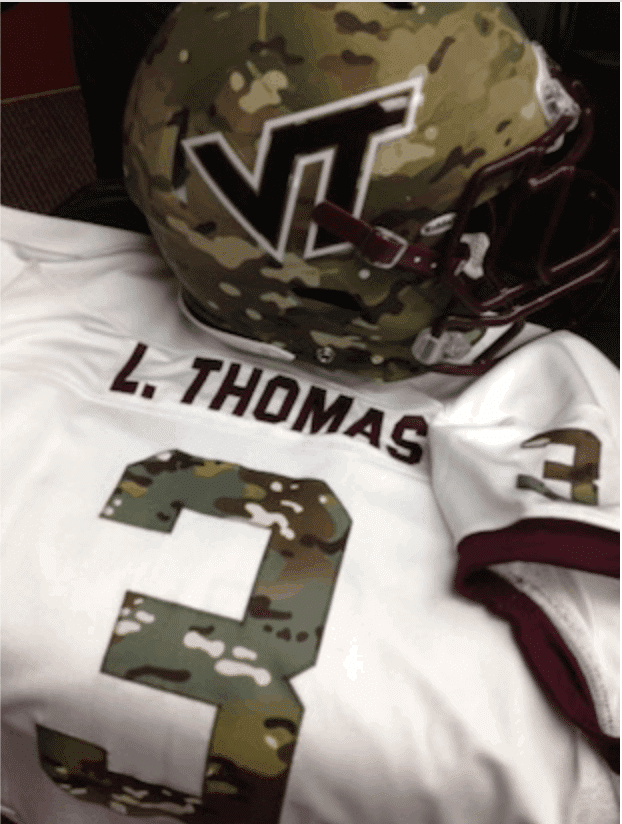 • Wearing camouflage uniforms (or military branch logo decals, or the names of fallen service members, or other things in that vein) for military appreciation is virtue signaling.
• Wearing stars/stripes-themed uniforms for various holidays is virtue signaling.
• Supporting a war effort by wearing red, white, and blue armbands or Hale America patches or American flag patches is virtue signaling.
• Having players who are war veterans wear the "ruptured duck" patch is virtue signaling.
• Wearing pink for breast cancer awareness (or wearing any other color or symbol for awareness of any other disease or disorder) is virtue signaling.
• Wearing rainbow-patterned uniforms or using rainbow-patterened equipment to support the LGBTQ community is virtue signaling.
• The NFL's annual "My Cause, My Cleats" promotion is virtue signaling.
• Wearing first responder caps and "We Shall Not Forget" patches on Sept. 11 is virtue signaling.
• Wearing special uniforms for Black History Month is virtue signaling.
• Wearing turquoise uniforms for Native American History Month is virtue signaling.
• Wearing patches or ribbons or decals to honor the victims of hurricanes, mass shootings, space shuttle disasters, highway collapses, bombings, wildfires, and other tragedies is virtue signaling.
• Wearing a recycling logo patch for Earth Day is virtue signaling.
• Wearing poppies for Remembrance Day is virtue signaling.
• Wearing a uniform with Braille lettering to support the blind, or sign language lettering to support the deaf, is virtue signaling.
• Certain "storytelling"-based alternate uniforms, such as the Memphis Grizzlies' Martin Luther King Jr.-themed uni and the Oklahoma City Thunder's uni honoring the victims of the 1995 OKC bombing, are virtue signaling.
(We could go further and say that having MLB players wear No. 42 for Jackie Robinson or No. 21 for Roberto Clemente is virtue signaling, and ditto for Negro Leagues throwback uniforms, but at least those worthy causes are sports-related. For now, let's restrict our discussion of virtue signaling to messages regarding non-sports-related causes or events.)
That's a pretty long list. I'm guessing most of you like some items on the list more than others. (Me too.) That's because most of us have different ideas about what does or doesn't constitute virtue, and different comfort levels with certain types of causes or sentiments being promoted on uniforms. But at their most basic level, all of the gestures on that list are saying the exact same thing: "This is a worthy cause, or at least a worthy sentiment. We support it, and so should you."
Here's a thought experiment: If forced to choose, would you prefer that all of the examples on that list take place — the ones you like and the ones you dislike — or none of them? In other words, would you prefer the world we have now, or would you prefer that the uni-verse, as the saying goes, stick to sports?
But wait — before you answer that question, here's something to think about: When rock and roll was invented back in the 1950s, almost all of the songs were about girls, dating, cars, dancing, school, clothes, and so on. Then, in the early to mid-1960s, a bunch of new artists like Bob Dylan, the Beatles, and many others began to write about politics, racial equality, social justice, opposing the Vietnam War, and so on. You might say they were virtue signaling. Many fans of the earlier rock style, unhappy with the new lyrical content, complained that the artists should avoid social protest topics and "stick to music."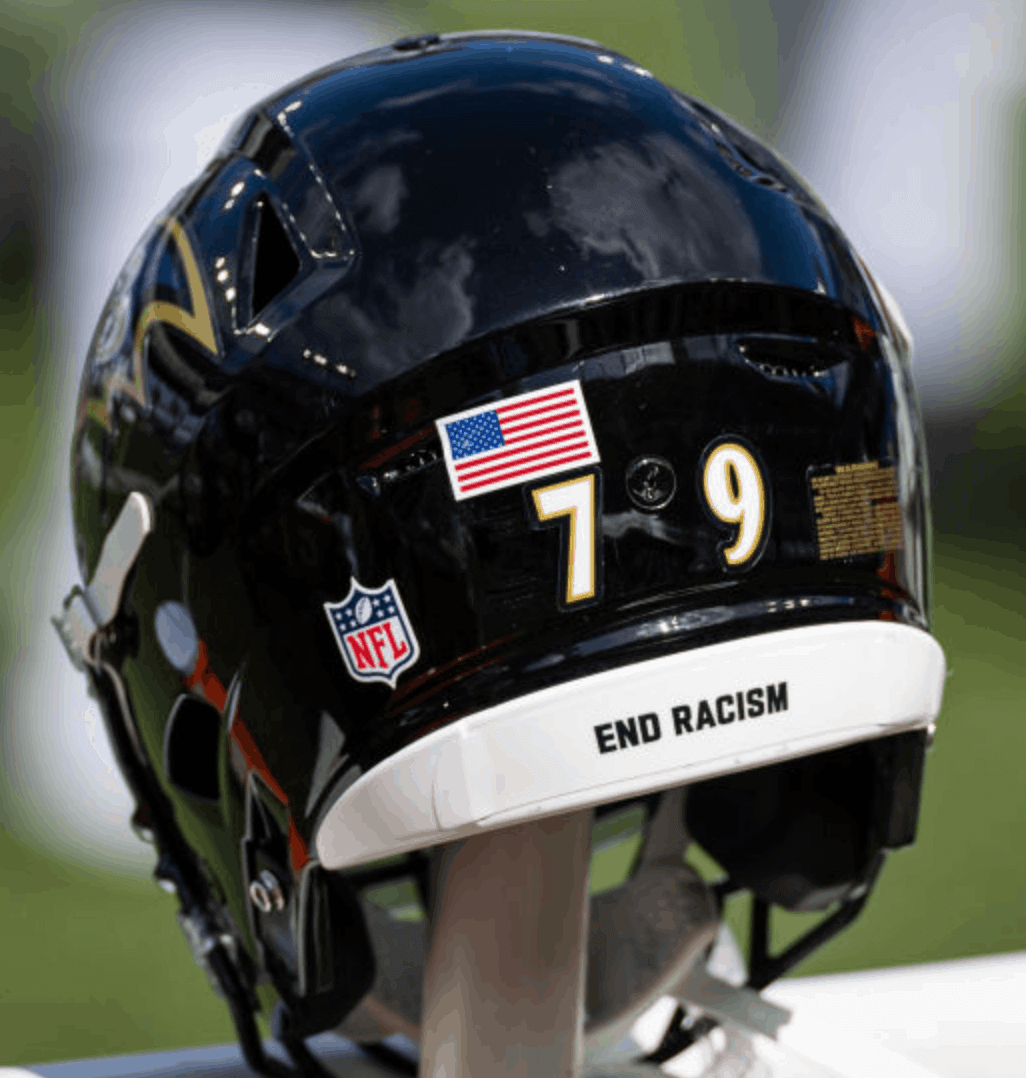 Just as pop music began engaging with weightier subject matter as songwriters began wanting to express themselves more seriously, it seems to me that a lot of the virtue signaling we're seeing in the uni-verse these days is about athletes wanting to express themselves. Not only are NBA and NFL players choosing the messages and names we see on their jerseys and helmet bumpers, but the availability of those messaging programs came about largely because the two leagues' respective unions insisted upon it as a condition for playing during the pandemic. Similarly, the wildcat strike that took place across the sports world in late August was a form of players expressing themselves about the shooting of Jacob Blake by police in Kenosha, Wis.
I realize some people may not care too much about what an athlete thinks about non-sports topics (honestly, I don't care that much myself). But for better or worse, that's the reality we've built — all of us — by making athletes into celebrities. Those jillion-dollar salaries didn't come out of nowhere — we help pay for them every time we attend a game, watch a game on TV, buy team merch, and so on. A player weighing in on things that take place outside the stadium isn't all that different from a player choosing his walk-up music, or wearing a fancy outfit on his way to the arena because he knows he'll be photographed as he arrives, or wearing a particular T-shirt to the postgame presser, or sending a message to his millions of Instagram followers. Personally, I don't much care about any of that stuff, but that's the sports world we now live in, and we all helped build that world by being sports fans.
So: Do we want athletes to express themselves? Or, as one observer has said, do we want them to shut up and dribble?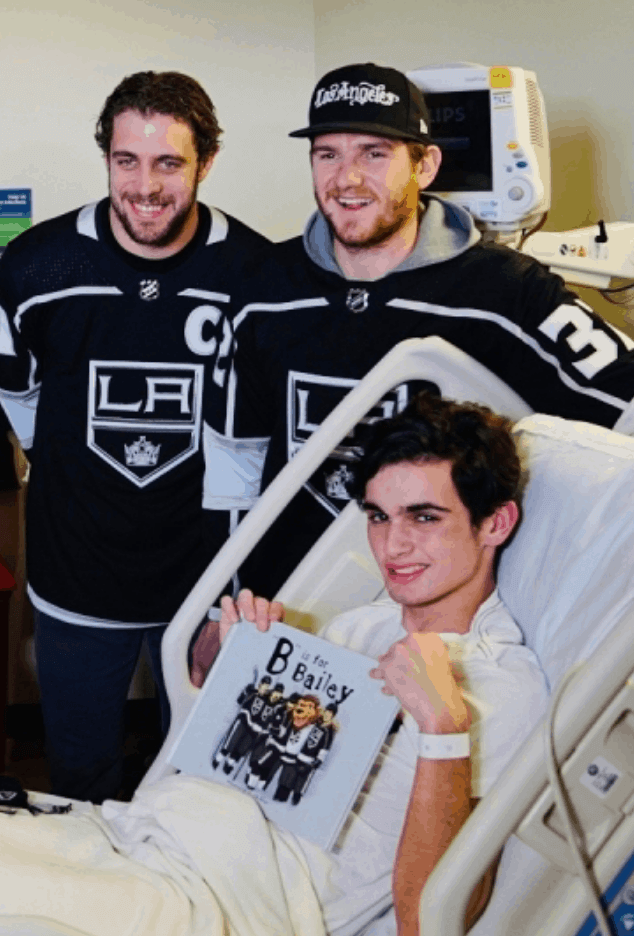 But wait — before you answer that, here's something to think about: We usually applaud athletes when they express themselves by getting involved in their communities, whether by making appearances at the local hospital's cancer ward, working with underprivileged kids, establishing their own charitable foundations, and so on (all of which could also be described as virtue signaling). Last month's wildcat strike began because the Bucks and Brewers felt the need to make some sort of gesture regarding the southeastern Wisconsin community in which they play, and many of the other forms of virtue signaling we're seeing this year are due to Black players feeling the need to speak up for the Black community.
Again, many people may feel more comfortable with some forms of community involvement than others, so it's worth repeating that same thought experiment I proposed earlier: If forced to choose, would you prefer to live in a world with the full range of community involvement by athletes — the kind you like and the kind you don't like — or none at all?
But wait — before you answer that, here's something else I've been thinking about. While I realize this probably isn't always the case 100% of the time, my experience is that the "stick to sports" people often explain their point of view by saying something like this: "I watch sports to escape the real world. I don't want to be reminded of it." But with all due respect to those of you who may have said or thought that, I don't think it's actually true. I think most of us are perfectly happy for the sports world to have real-world messaging as long as the message is one that we're comfortable with or approve of. There is no sports-related reason, for example, for a team to showcase a "veteran of the game" or to play "God Bless America," but many fans feel good about those forms of messaging because it reflects and reaffirms their values. Similarly, there is no sports-related reason for a team to have an LGBTQ Pride Night promotion, but many fans feel good about that form of messaging too, because it reflects and reaffirms their values. Both are examples of community outreach — and of virtue signaling.
So it's once again worth asking: If forced to choose, would you prefer a sports world with a wide range of acknowledgments of what happens outside the stadium — the acknowledgments of things you like and of things you don't — or none at all?
But wait — before you answer, let me take a crack at it myself, because I've been thinking about this virtue signaling stuff all summer, ever since Chris Weber posted that comment back on June 19. This essay roughly reflects the thought processes I've gone through while pondering the various sides of the issues. Here are a few conclusions I've come to:
• The difference between the sports world and the "real world" is largely a false distinction. Sports is part of the rest of the world, just like everything else. Sure, sports is escapist entertainment, but as I've been saying for many years, sports teams aren't just business entities — they're also civic entities, often cementing a common bond between generations and demographic groups. So it's makes sense that they'd want to be engaged on matters of civic interest.
• This year, obviously, has been extraordinary in all sorts of ways, both for sports and for everything else. Given the various epic historical storylines that have intertwined in 2020, perhaps it's not surprising that uniforms have featured an unprecedented amount virtue signaling this year. Whenever things get back to some semblance of normalcy, will the level of uni-driven virtue signaling return to pre-2020 levels? Or will this be one of those ratchet-like things, where the extent of the phenomenon goes in only one direction? Tough to say. (Update: Reader/commenter Tim Dunn notes that NBA commish Adam Silver recently said that the league's jersey and court messaging will likely be return to pre-2020 levels next season.)
• Until about five or 10 years ago, uni-driven virtue signaling tended to reinforce mainstream, establishment institutions: the military, first responders, major holidays, and so on. These institutions may be worthy of support, but they are not the only things worthy of support. Moreover, these institutions have not always been fair to, or their benefits shared equally by, certain segments of our society. The more recent shift toward uniforms recognizing things like LGBTQ rights, racial justice, and even Earth Day seems like a long-overdue corrective. (ESPN's Howard Bryant just wrote a new piece last week that touches upon that theme.) And as I wrote back in late March, the pandemic may help redefine our conception of heroes, which in turn may redefine which types of heroes are saluted on uniforms.
• That said, I have to say that I've found this year's uni-driven virtue signaling to be a bit much. Maybe it's because 2020 has been so exhausting on so many fronts. Or maybe it's just that the sheer volume of messages has watered down the effect — when every game or uniform has a "special" message, the result is that none of it feels special, at least to me.
So after all of that pondering, I'll ask myself the same question I asked all of you: If forced to choose, would I want a uni-verse with the full range of virtue signaling, or none at all?
I've gone back and forth on this. The way I'm feeling today, I'd probably say none at all. It's not so much that I want the sports world to stick to sports; it's more that I'd like the uni-verse to stick to uniforms. (Clemson football coach Dabo Swinney recently said something similar.)
But I also realize that's probably easy for me to say (and also for Swinney to say) because I'm a straight, white, middle-class male, so wanting the uni-verse to stick to uniforms is something of a luxury for me — a luxury that not everyone shares. If I were Black, gay, poor, or female (or any combination thereof), I might feel very differently about having my identity and my interests being championed on a high-profile sports uniform. Maybe it would mean a lot to me.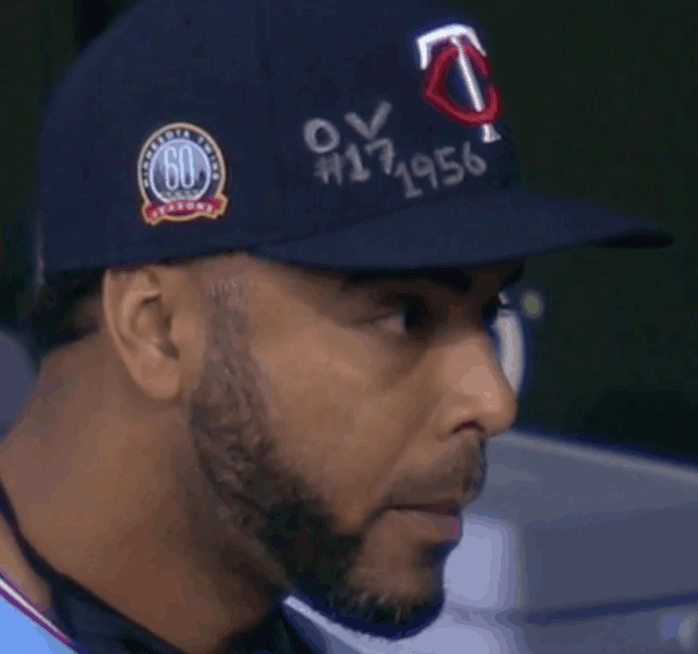 As if to underscore that point, just as I was working on this section of this essay, readers Pedro N. and Chris Weber — the same Chris Weber whose months-old comment prompted this essay to begin with — had an interesting back-and-forth in the comments section of a recent Uni Watch post. The topic was the cap-inscription tribute to Dominican baseball pioneer Ozzie Virgil by the Twins' four Dominican players. Here's a slightly edited/streamlined version of the exchange they had:
Chris Weber: I imagine the MLB players from Venezuela, Mexico, etc. will have similar tributes in short order. Who's to object? The precedent has been set. Educational opportunity for all fans, I guess.

Pedro N.: Would you object to Mexican or Venezuelan players having similar tributes? If so, please explain why? Or am I misinterpreting your comment?

Chris: Misinterpreted. … I'm concerned there is a point where tributes for ethnicities in sports can become diluted. For example, do we have MLB players all wear tributes for the Canadian contingent? Or the Australian? Or Curaçao? Do the sheer numbers matter? Should they? At some point, it loses its impact, wouldn't you agree? But again, at least there's the educational opportunity for fans to learn about the various pathfinders, regardless of their impact. How impactful each should be to matter is up for debate.

Pedro: I do agree with you to some extent [that] all tributes in sports may be reaching a point of becoming diluted (including tributes to ethnicities). But a key thing to remember is that this isn't MLB force-feeding us more "tributes"; it's a small group of players who took it upon themselves to honor someone they care about. From what I can tell, they didn't even make too big of a deal about it.

[Also], at least to my knowledge, Australians and Canadians haven't faced too much injustice in the U.S. because of where they're from. … That point matters to me — … [the Tigers] didn't even acknowledge that [Virgil] was Dominican [instead referring to him as Black]. For us minorities, having people learn about us and our history is important to us.
Another way to think about this is that uni-driven virtue signaling is similar to public monuments and street names — it's part of the collective story we tell about ourselves as a society. A lot of our feelings about those stories depends on who gets to decide which stories get told, and by whom.
One thing's for certain: There's no shortage of worthy causes out there. Even in baseball — the major sport with the most games per season — it would be easy for a team, if it were so inclined, to use its uniforms to virtue-signal for a different worthy cause or sentiment for every single game of the year. Obviously, we haven't reached that point yet, but it's certainly possible.
So I'll ask again: Is that the kind of uni-verse we want? I'm still wrestling with my own answer; you can go ahead and give yours now. (And thanks for listening through this lengthy piece!)
• • • • •
• • • • •

Click to enlarge
Infield flies: By now you probably know that a fly made a prominent and prolonged appearance on Mike Pence's head during last night's vice presidential debate. What you might not know is that this insect occupation took place 13 years — almost to the day — after another notable event involving uninvited arthropods: the famous 2007 ALDS midge invasion.
Coincidence? Tough to say! But it's worth noting that bug infestations occurring on 13-year cycles are not unheard of in the wild. I don't know about you, but I'm circling Oct. 9, 2033 on my calendar.
• • • • •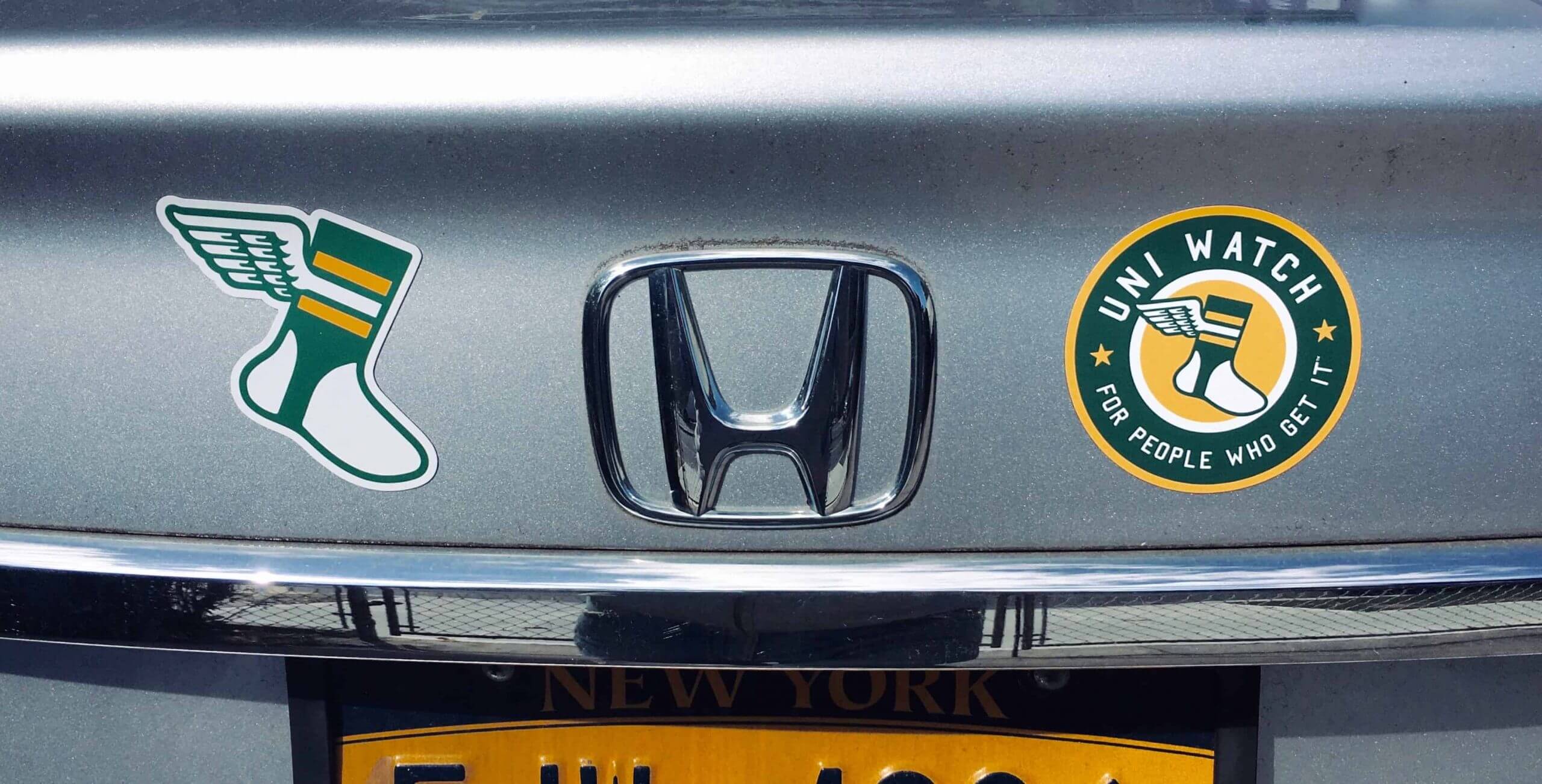 • • • • •
Click to enlarge
ITEM! Uni Watch magnets: I got a good deal on two small batches of Uni Watch Magnets! Perfect for sticking on your fridge, your car, your file cabinet, your locker, or wherever.
Both designs measure 3″ at their widest points. They're thin and flexible, so they'll conform to curved surfaces as well as flat ones.
I have 50 of the round ones and 30 of the stirrup-shaped ones. Update: The stirrup-shaped ones are now SOLD OUT. I may be able to get more at some point down the road. If you'd like to be notified when that happens, let me know.
I still have some of the round ones. Want one? Here's the deal:
1. Price: $3 plus $1 for shipping. Limit one per person.
2. Send me the proper amount via Venmo (use @Paul-Lukas-2 as the payee), Zelle (plukas64@gmail.com), or Google Pay (plukas64@gmail.com). If you'd rather use Apple Pay or a paper check, contact me and I'll give you the info you need. Sorry, no PayPal.
3. After sending payment, email me with your mailing address.
4. If you're outside of the USA, contact me so I can calculate the shipping charge and arrange an alternate form of payment for you.
5. If you want to combine your purchase with an order for a Uni Watch key ring, a trading card, a seam ripper, or a chain-stitched patch, please email me and I'll give you a price that includes a combined shipping fee for the whole shebang. (Sorry, these are the only Uni Watch items I can combine into one shipment, because our other items ship from separate locations, not from Uni Watch HQ.)
That's it. Thanks!
• • • • •
• • • • •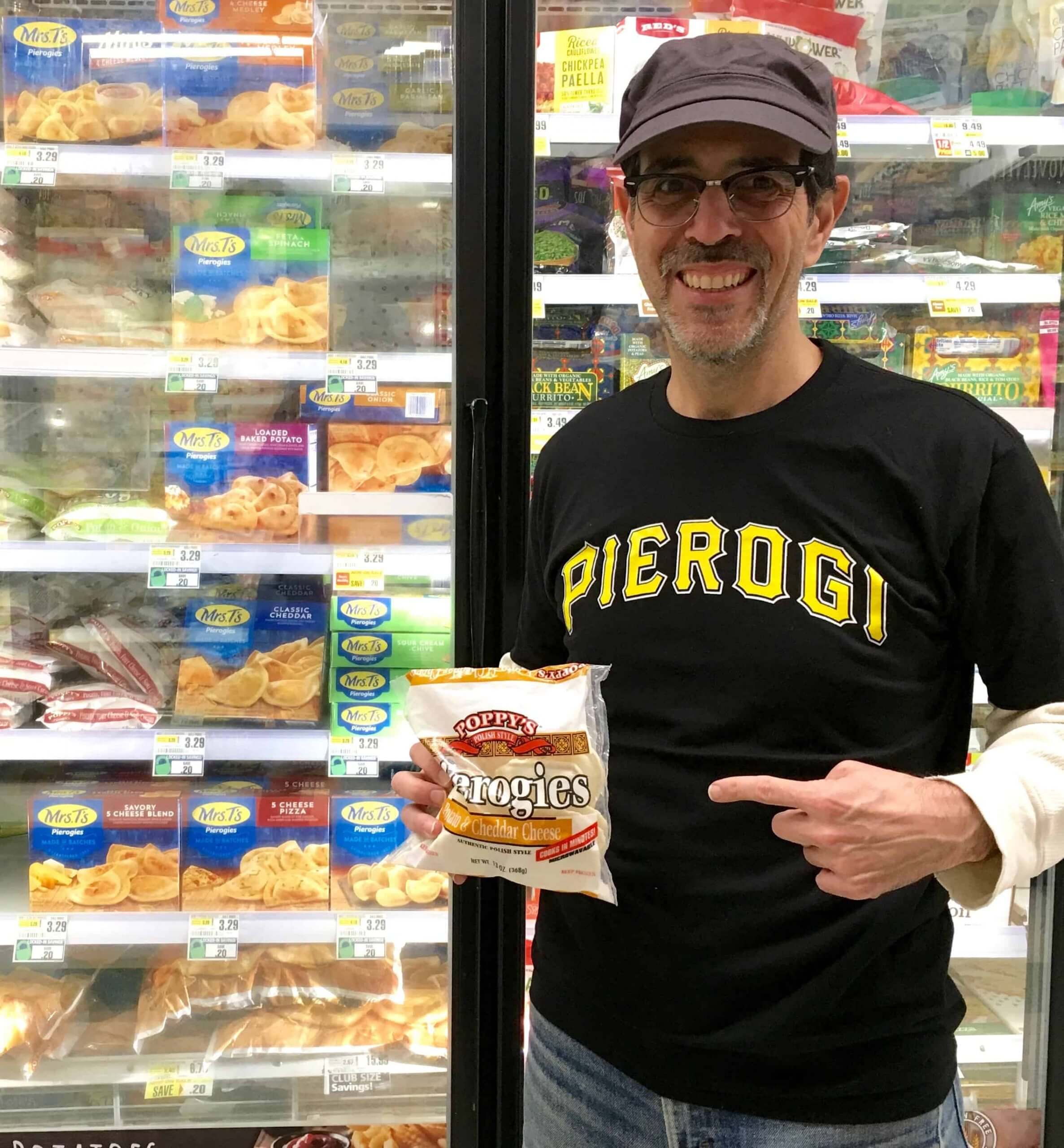 Happy National Pierogi Day! If you have somehow come into ownership of the shirt shown above, today is definitely the day to wear it (and also a good day to cook up some tasty pierogi!).
Of course, I can't fathom how you or anyone else would have acquired such a shirt. If you'd like to discuss that lamentable state of affairs, shoot me a note and we can talk about it.
• • • • •
• • • • •
The Ticker
By Alex Hider

Baseball News: Rays P Tyler Glasnow was wearing a belt with a palm tree on Tuesday night (from Kenneth Guckenberger). … Phillies RF Bryce Harper has been wearing the jersey of teammate J.T. Realmuto in an attempt to get Philadelphia's front office to re-sign the catcher (from Mike Chamernik). … The Class-A Fredericksburg Nationals have unveiled a "history wall" in their stadium (from Kary Klismet). … An exhibit focused on baseball jerseys will be coming to the Worcester Art Museum in Massachusetts (from Andy Greenlaw). … Edwin Bonner notes that when the Yankees and Royals met in the famous 1990 Deion Sanders/Bo Jackson matchup, a Royals trainer was wearing powder blue pants to match Kansas City's road uniforms, but was also wearing a royal blue BP jersey. … A small baseball park in Litchfield, Minn., has installed a row of seats from the old Minneapolis Metrodome (from @Natron44).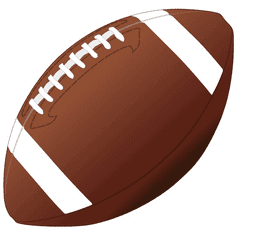 Football News: Syracuse will be wearing white helmets, orange jerseys and white pants when they host Duke on Saturday (from Jakob Fox). … Iowa state is going white-red-white this weekend (from Chad Lehman). … Maryland will be installing a larger video board in its stadium (from West Brown). … UNLV has added a white helmet to its rotation (from Mark Wallington). … Gardner-Webb is still working on scheduling a football season, but they've gone ahead and released photos of a new uni set (from Timmy Donahue). … Oregon made a custom football jersey for Portland Trail Blazers star Damian Lillard (from Paul Panganiban). … Reader Jon Dies was browsing online for vintage Ohio University apparel and found a 1994 jersey with a patch commemorating 100 years of Bobcats football. … Atoka High School (Oklahoma) has added a memorial decal for a local highway patrolman who died of Covid-19 (from Paul Deaver).

Hockey News: The Senators got Jeopardy! host Alex Trebek to help introduce their third overall pick on Tuesday (from Marshall Doig). … HC Traktor Chelyabinsk of the KHL wore one-off jerseys honoring World Cerebral Palsy Day yesterday (from Sy Hart). … New uniforms for the Macon Mayhem of the Southern Professional Hockey League (from @BringBackErk54).

Basketball News: According to the initial uniform scripting, the Lakers planned to wear their Kobe Bryant "Mamba" unis twice during the Finals — for Game Two and a potential Game Seven — but they've called an audible and will wear the black uniforms on Friday in Game Five as they try to clinch a championship (thanks to all who shared). … NBA reporter Mark Murphy says he was staying at a cabin in New Hampshire over the weekend located near where Celtics Hall of Famer Bob Cousy used to hold basketball camps. While there, he found an old Cousy-themed board game (from @HitTheGlass). … The NBA, which originally said its next season would start around Dec. 1 and then more recently said Christmas Day at the earliest, is now saying late January or February. That article also says the traditional fall-to-summer schedule may never be brought back, with a winter start date likely becoming the new normal.

Soccer News: The Athletic (hard paywall) has a deep dive on the new crest of 2022 USL Championship expansion club Queensboro FC after viewing the team's 110-page (!) crest explainer document (from David Raglin). … A couple of Manchester United notes from our own Anthony Emerson: The club signed RW Facundo Pellistri, who will wear No. 28. The team tweeted a GIF that shows how Pellistri will look in the team's 2020-21 kits. The club also signed LB Alex Telles, who will go FNOB. … The Swedish women's team Rosengård will wear pink uniforms in October for breast cancer awareness (from our own Jamie Rathjen). … Also from Jamie: New jerseys, which are made from sustainable materials, for the New Zealand. … Côte d'Ivoire has opened its new national soccer stadium (from Kary Klismet). … Back in May, Puma ran a Manchester City shirt design contest. Now the winning design has been revealed, although it won't be worn on the pitch (from Trevor Williams).

Grab Bag: The pandemic plus some internal scandals are threatening Nike's primacy in the running industry (WaPo link) (from Tom Turner). … Pharmacy chain Rite Aid has a new logo (from John Cerone). … New uniforms for German volleyball club Berlin Recycling Volleys (from Jeremy Brahm). … A few notes from Timmy Donahue: Elmhurst Ballet School students in Edgbaston, Birmingham, are wearing new uniforms made of sustainable fabrics from ocean waste and abandoned fishing nets, and a blog has revealed the "secret meanings" behind New York's subway signs. … Justice Rosalie Abella of the Canadian Supreme Court was wearing a sequined mask during court on Tuesday (from Mike Styczen). .. .New jerseys for France's national rugby union teams.
• • • • •