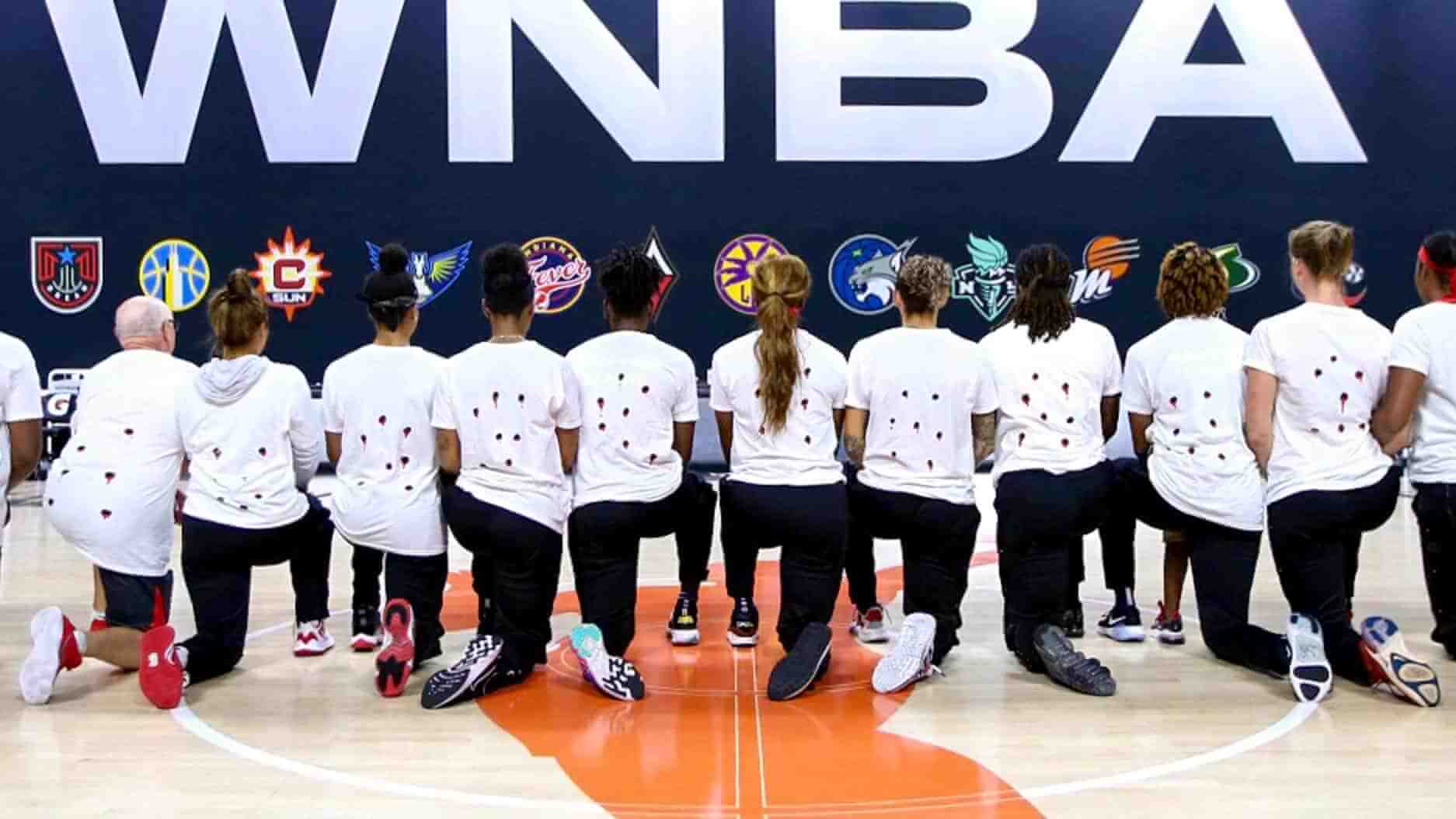 Click to enlarge
Paul here, making a rare August appearance. I had planned to run something else at the top of today's post, but the real world had other ideas. As you probably know by now, the photo above shows the WNBA's Washington Mystics, who last night knelt during the national anthem while wearing T-shirts spelling out the name of Jacob Blake, the recent police brutality victim in Wisconsin. The back of each shirt had seven red bullet hole marks, representing the seven times Blake, who is Black, was shot in the back by a Kenosha, Wis., police officer.
We've seen lots of teams, leagues, and players wearing various sorts of protest-related apparel in recent years. But none of it has been as powerful as those simple red bullet holes. It was a devastatingly effective visual statement — all the more so because the hole patterns were different on each shirt, suggesting that the marks were probably applied by hand with Sharpies or something like that, rather than being a mass-printed design. It captured all the chaos, misery, and dysfunction of 2020 in one exceedingly potent gesture.
After the anthem played, the Mystics and their scheduled opponents, the Atlanta Dream, walked off the court. The rest of yesterday's WNBA games were also scrapped. The WNBA clubs were among many pro sports teams and athletes that engaged in wildcat strikes yesterday as an extraordinary act of protest over the Blake shooting. Other strike participants included the following:
• In the NBA, the Bucks — whose home base of Milwaukee is about 40 miles from where Blake was shot, opted not to play their playoff game against the Magic. The other two NBA playoff games scheduled for yesterday — Thunder/Rockets and Blazers/Lakers — were soon postponed as well.
• In MLB, three scheduled games were not played. It began when the Brewers expressed solidarity with the Bucks by deciding not to play their home game against the Reds. Then the Mariners/Padres game was called off (the Mariners have more Black players than any other MLB club), followed by the Dodgers/Giants game (Dodgers outfielder Mookie Betts had already decided, with his teammates' support, not to play).
• In the NFL, Washington announced that today's practice has been cancelled. (The Lions had already cancelled a practice of their own on Tuesday.) Update: The Colts and Jets have also cancelled today's practice sessions.
• In MLS, five of yesterday's six scheduled matches were called off.
• In pro tennis, Naomi Osaka announced that she would not play today's scheduled semifinal match in the Western & Southern Open. Tournament organizers then announced that all of today's matches will be postponed.
• The work stoppages even extended to the TNT broadcast studio, where Inside the NBA commentator and former NBA player Kenny Smith tried to describe his feelings and then walked off the set on live TV:
.@TheJetOnTNT stands with the NBA players. pic.twitter.com/39Sby1D5kn

— NBA on TNT (@NBAonTNT) August 26, 2020
For now, only the Mystics have turned their protest into something uni-related, but I'm sure other teams will soon find ways to express their feelings on this issue via their apparel. In particular, I suspect we may be seeing a lot more athletes wearing shirts with simulated bullet holes on the back. At some point, maybe those shirts will seem rote, but I'll never forget the moment I saw them last night, and how it felt like a gut punch to my entire being.
(As an aside: You may have noticed that I referred to this as a strike, while many media reports — and, in some cases, the athletes and teams themselves — have referred to it as a boycott. "Strike" is the accurate term here, because the players aren't withholding their commerce; they're withholding their labor. There's a good analysis of the distinction between the two terms, and how they apply to the current situation, here.)
• • • • •
• • • • •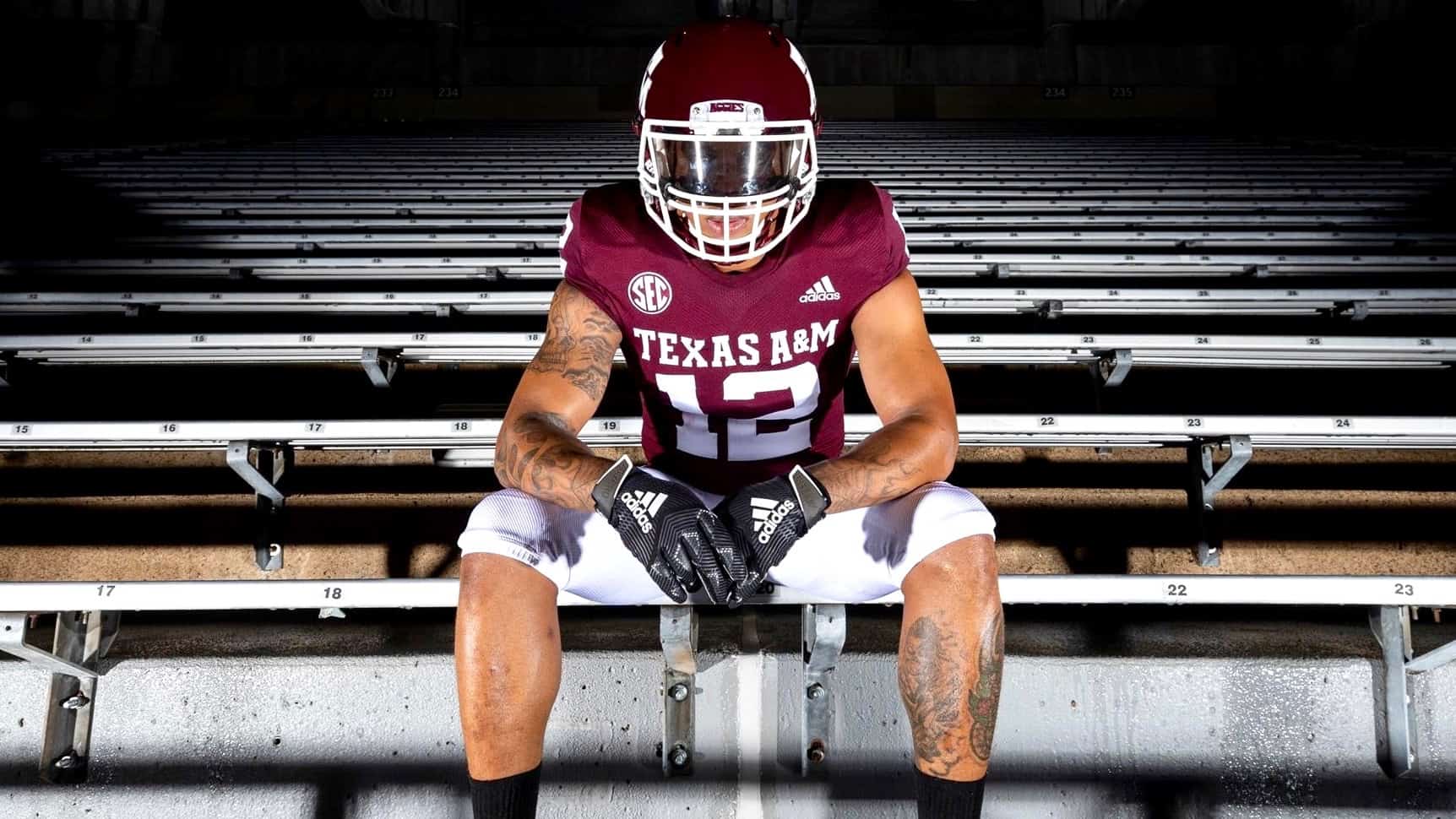 Click to enlarge
Time for the College Football Season Preview: Pandemic or no pandemic, and protests or no protests, it's almost time for college football, which means it's also time for the annual Uni Watch College Football Season Preview, where you can get all the uniform news for the five FBS conferences that are still planning to play this season (including the new Texas A&M uniforms, shown above). You can check it out here.
Meanwhile: I have a new project that I want to tell you about. But given everything that's happening right now — the protests, the hurricane, etc. — today doesn't feel like the right day for that. Maybe tomorrow.
Now here's Phil with the rest of today's content. — Paul
• • • • •
• • • • •
BC Throws a Hail Flutie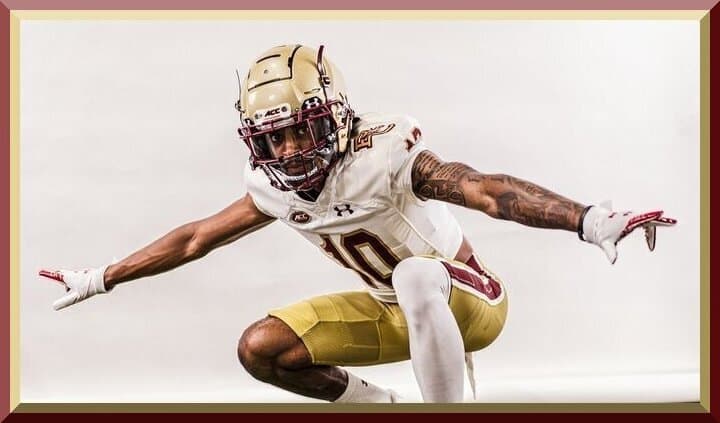 Phil here.
Yesterday afternoon, Boston College unveiled a "new" throwback uniform — more of a fauxback, actually — to the "Hail Flutie" 1984 look.
You guys remember the "Hail Flutie" right?
THEY'RE BACK 👀 pic.twitter.com/WyKavXWQZy

— BC Football (@BCFootball) August 26, 2020
The unis aren't quite the same ones worn by that special 1984 club, but they evoke the "feel" of the look. And there is even more good news: these won't be one-off specials; according to the team, they'll become a part of the regular rotation (the team will still wear its white jersey look, but the squad will mix in the fauxback on occasion).
Let's look at some more pics: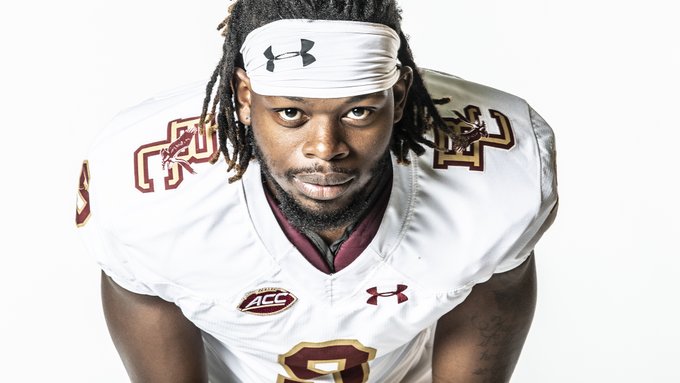 You'll note the "BC" logo on the shoulders — that was not a feature of the "Hail Flutie" set. (Interestingly, the Eagles did wear real 1984 throwbacks against Notre Dame in 2015).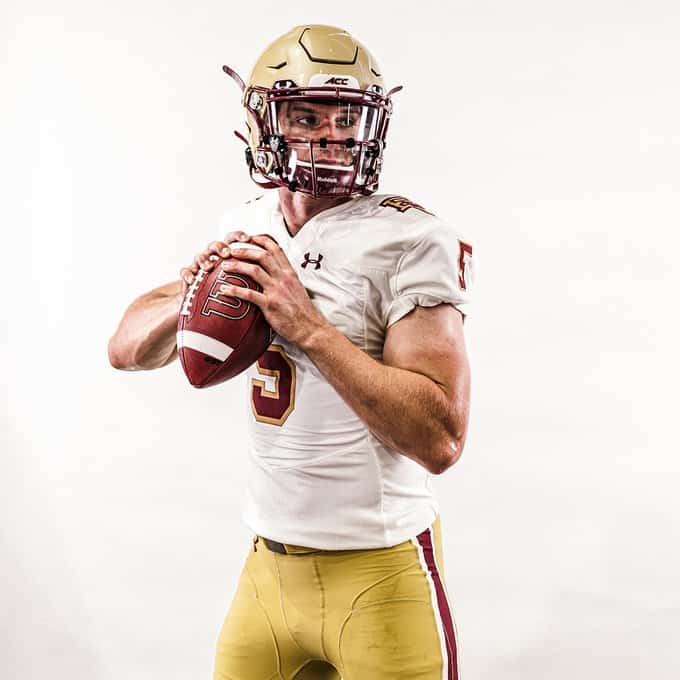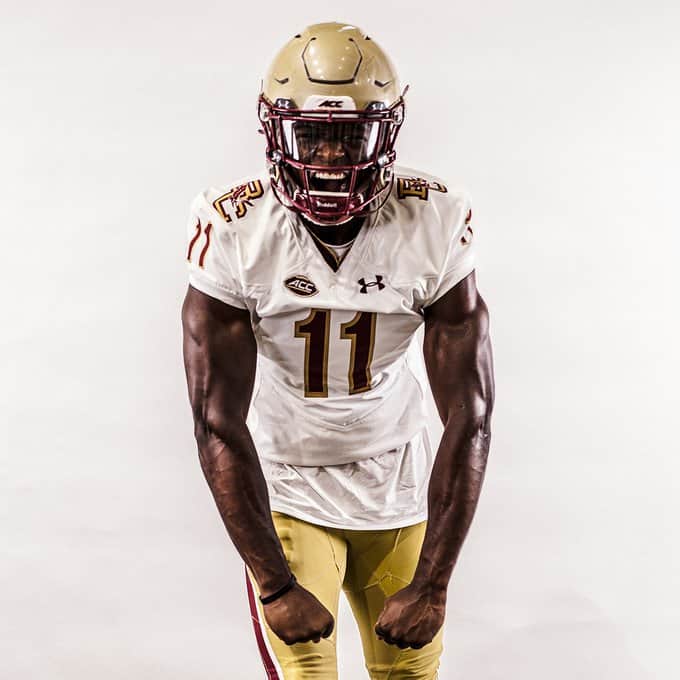 These unis also have no sleeve stripes, as the 1984 unis did.
You'll also note the team has removed the maroon stripe down the center of the helmet. The 1984 squad played without one as well.
The numbers are a maroon block font, outlined in "old" gold (the school says this uniform is returning to the "old gold" they once wore).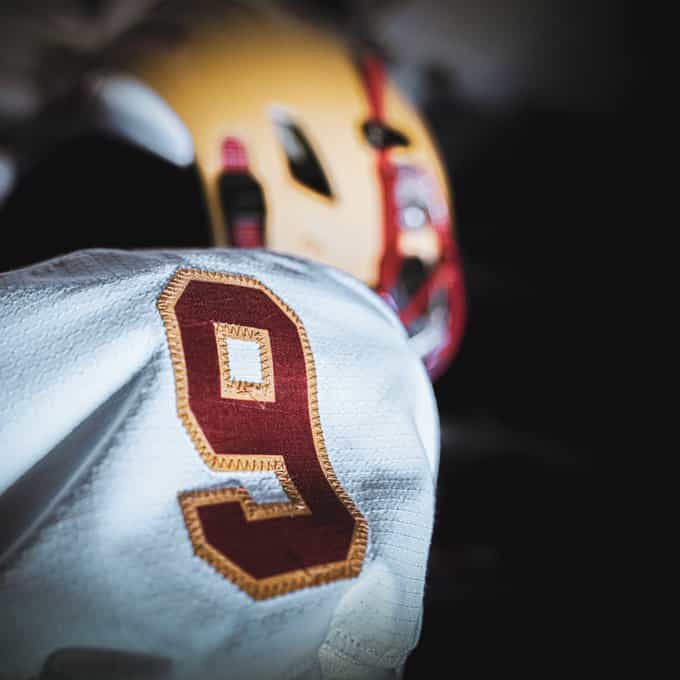 The interlocking "BC" is a retro logo, and as previously mentioned, it will be worn on the shoulders of the jersey. Here's a closer look: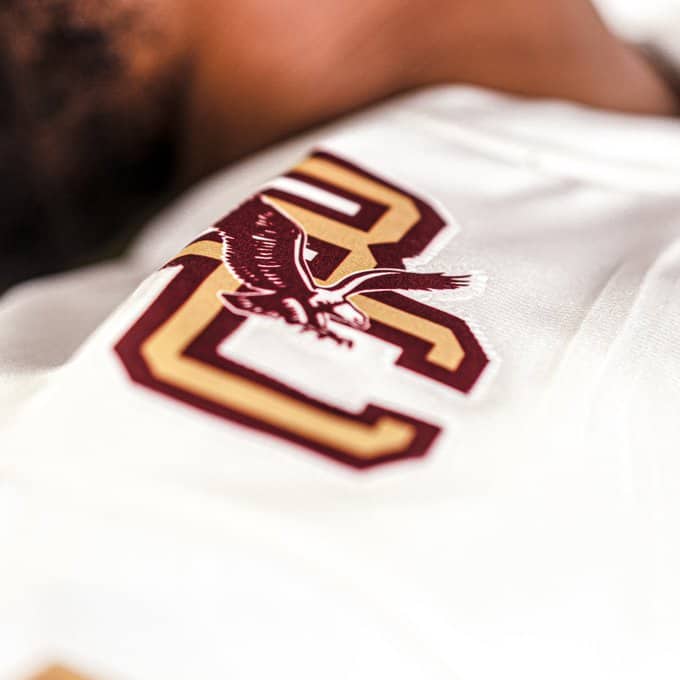 The old gold pants will have a white/maroon/white stripe.
I love the new uniforms — but I'm surprised the school is calling them "1984 throwbacks" because there are IMO too many differences between this and what that Miracle in Miami squad wore. Still, this is a welcome addition.
You can see more photos here.
If you're of a certain vintage (as I am), you remember that Hail Flutie like it happened yesterday. I wasn't a yuge college football fan back then, but I remember that game. BC led early but it was tied (I think at 31) after three, and then there were multiple lead changes in the 4th, obviously culminating in Flutie's desperation heave, referred to as the "Hail Flutie" (a combination of "Hail Mary" and "Doug Flutie" — perhaps obviously). I was home from college my freshman fall and I watched the game completely hungover. Anyway…
What do you guys think of the throw fauxbacks?
• • • • •
• • • • •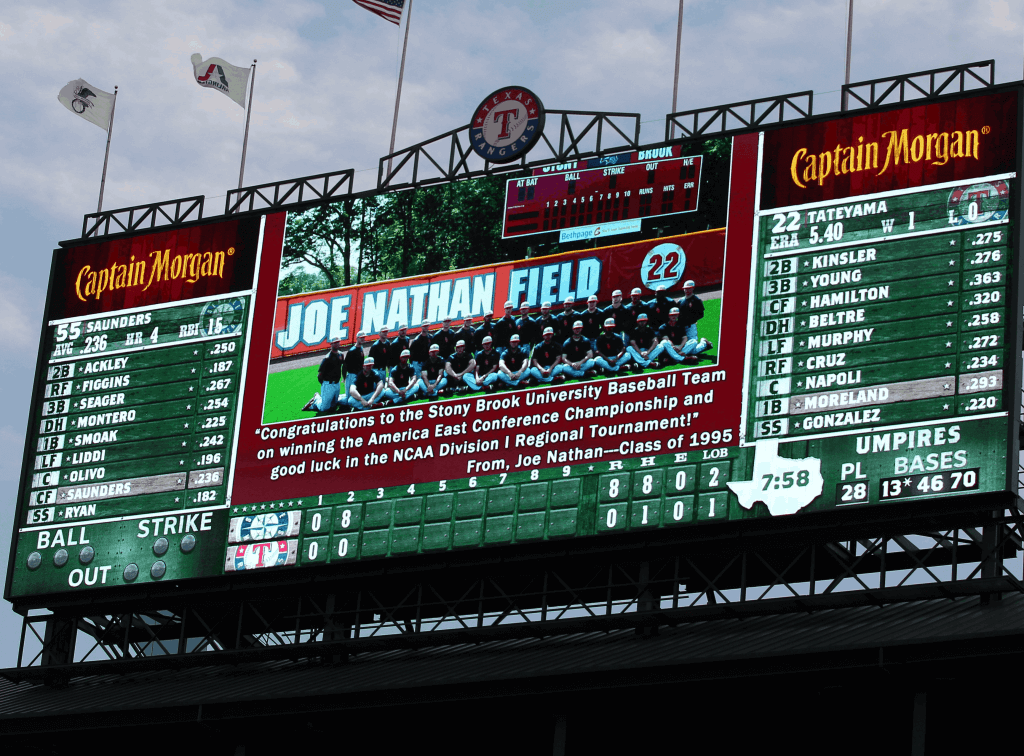 Guess The Game…
from the scoreboard
Today's scoreboard comes from Robert Andrews.
The premise of the game (GTGFTS) is simple: I'll post a scoreboard and you guys simply identify the game depicted. In the past, I don't know if I've ever completely stumped you (some are easier than others).
Here's the Scoreboard. In the comments below, try to identify the game (date & location, as well as final score). If anything noteworthy occurred during the game, please add that in (and if you were AT the game, well bonus points for you!):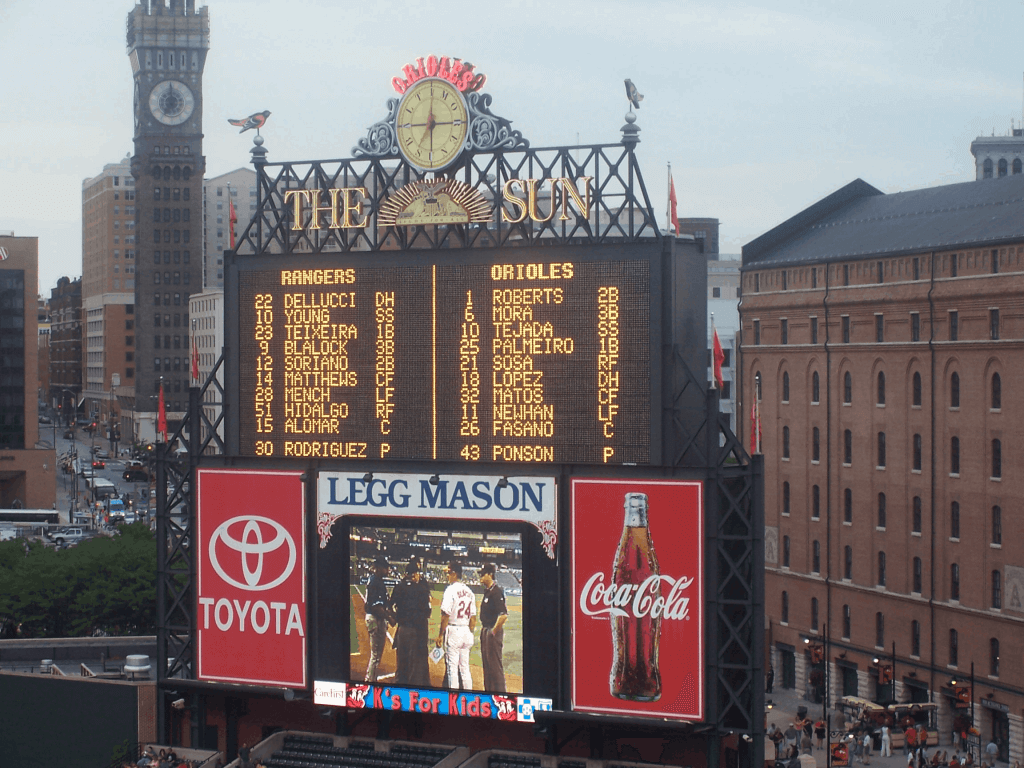 Please continue sending these in! You're welcome to send me any scoreboard photos (with answers please), and I'll keep running them.
• • • • •
• • • • •
St. Peter's Peacocks Rebrand
If you aren't familiar with the St. Peter's Peacocks, don't feel bad — I wasn't either, until Cullen Lasso of Varsity Partners reached out to me to note the school's athletics teams had undergone what he called a "full rebrand." You can see some of the new unis below: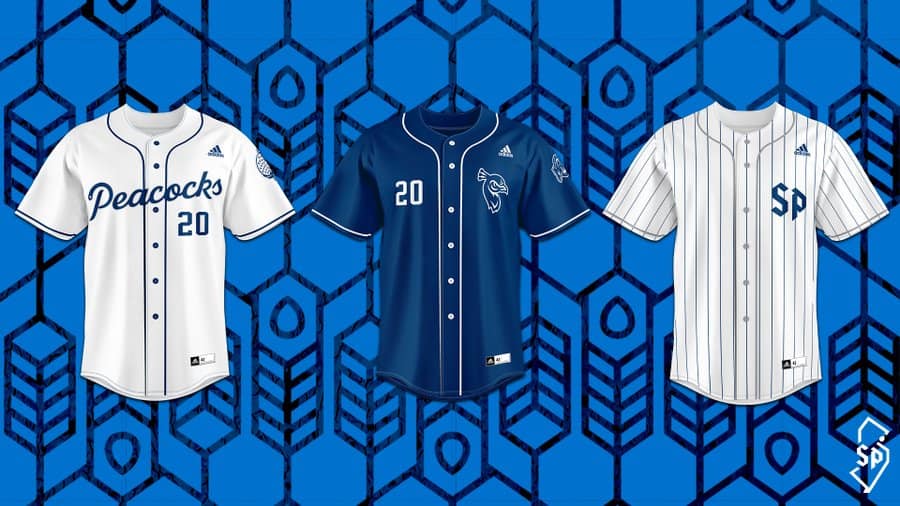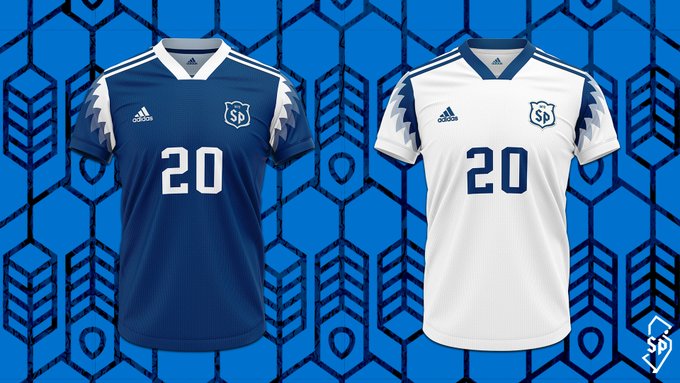 They even produced a hype video:
Through the hallowed halls of @saintpetersuniv, our and run deep…

New style; same strut. Introducing the revamped visual identity of Saint Peter's University Athletics #StrutUp pic.twitter.com/K1aox3iTl2

— Saint Peter's Athletics (@SPUAthletics) August 25, 2020
Their "new visual identity includes a fresh take on our peacock mascot, a brand-new monogram, an updated wordmark, a unique typeface and a variety of new spirit marks."
In addition, "The project mission was to create a simplified identity system that evokes the hard-working spirit of our community while harnessing the energy of the fanbase to build on an established legacy and tradition… one that goes back nearly a century!"
There's lots more information about the rebrand of the logo and typefaces and such in this thread.
What do you guys think?
• • • • •
• • • • •
The Ticker
By Alex Hider

Baseball News: ESPN and Bleacher Report both used old Brewers logos in connection with stories about the team's decision not to play last night (from Geoff Poole and Jakob Fox). … White Sox C James McCann says he won't wear the catching gear he wore during Lucas Giolito's no-hitter on Tuesday night ever again. He also said the team would dig up home plate for him as a keepsake, and Giolito will be given the pitching rubber (from Ryan Andrew). … Josh Segal wants to know if this New Hampshire Fisher Cats cap was ever worn by the team on the field. Anyone have any info for him? … Here's another report regarding the use of cardboard cutout fans at MLB games (from John Cerone).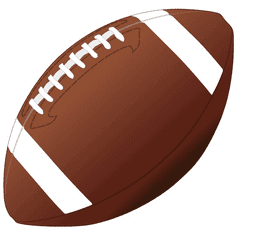 Football News: Raiders coach John Gruden had players wear the numbers of some of the franchise's best players during Monday's practice (from Kary Klismet). … Bucs DT Vita Vea has already worn out the number on his practice jersey (from Wayne Koehler). … Geoffrey Nunberg, a linguist and frequent guest on NPR's "Fresh Air," died earlier this month. Since the late '90s, he had called on Washington to change its team name, and even testified on behalf of a group of Native Americans to the Trademark Trial and Appeal Board (from Adam Herbst). … Man, check out the giant rear helmet bumper on Dan Marino's helmet (from @NFL_Journal). … The jersey worn by Bills K Scott Norwood during his infamous 'Wide Right' kick from Super Bowl XXV up for auction (from @HelmetAddict). … Ricky Auferheide spotted a Smart car in New Orleans that was modeled after Ohio State's helmet. … With one of yesterday's sub-lede's on the RoughRiders, reader Jeff Moulden says, "Did you notice #4 is wearing a helmet without the front 'nose bumper' that usually has a team name or manufactures name. This is the first time I have seen this on a player since the early 80's. You can see the ends of the stripes that are generally tucked under."

Hockey News: Canucks C Elias Pettersson accidentally pulled off Vegas D Alec Martinez's glove during Tuesday night's game. Pettersson promptly tossed the glove back to Martinez (from Mike Chamernik). … We've already got some concepts for potential Seattle Kraken goalie mask designs (from Kary Klismet). … New uniforms for the ECHL's South Carolina Sting Rays — which mirror those of their parent company, the Capitals (from Jamie Rathjen).

Basketball News: The Hornets will be getting new uniforms next season (from Phil). … Speaking of the Hornets, At The Hive has determined the team's BFBS "Buzz City" uniforms to be the best in team history (from Kary Klismet). … Also from Kary: This blog tracks the uniform history of the Nets, from New York to New Jersey to Brooklyn. … Graphic designer Mike Joseph mocked up a Suns concept that includes social justice messaging.

Soccer News: Juventus' new third jerseys for 2020-2021 have been officially unveiled (from Phil). … New uniforms for FC St. Gallen of the Swiss Super League (from @MrBudziszewski). … Jamie Rathjen has a couple kit unveilings from England: Coventry City of The Championship and Hull City of League One.

Grab Bag: Couple of anniversary logo-related notes from John Cerone: Twin Peaks, a chain of lodge-themed sports bars, has a 15th anniversary logo, and the Local 825 Chapter of the International Union of Working Engineers has a 100th-anniversary logo. Also, he sends along this New York Times story (soft paywall) about new Girl Scout uniforms. … We've got several submissions from Kary Klismet: New logos for the National Junior College Athletic Association; new athletics logo for Cape Girardeau (Missouri) school district; and hatmaker Stetson has a new logo. … Dinosaur Bar-B-Que, a legendary BBQ spot in Syracuse, New York, has a new logo (from Timmy Donahue). … Also from Timmy: Mid-State Technical College in Wisconsin is seeking the public's input on what to name its new Cougar mascot. … New logo for Crespi High School in California (from Damon Hirschensohn). … The Heartland Collegiate Athletic Conference (an NCAA DIII conference in Indiana, Ohio, and Kentucky) has new logos. One of the schools in that conference, Hanover College, also has a new logo (from Derek Linn).
.
• • • • •
• • • • •
And finally… looking forward to Paul's NCAAFB preview! It's always my second favorite column he writes (the first being the annual Baseball preview).
Before I get to yesterday's photo — once again I want to pass along thoughts and prayers to everyone in Laura's path. I had a hunch this one might develop into something awful as soon as I looked at the Gulf's temps. It could end up being worse than Rita (which hit roughly the same area back in 2005, our worst hurricane season to date — and this year could being even more active!).
I had to head to my condo Tuesday, but came back out to the summer place yesterday afternoon, in time for an hour of kayaking and a four mile walk — when I take my usual route, one of the nice breakups of street walking is a small park located between two roads, which is a small nature trail, with tons of fowl about the ample waters. Thre are a shit ton of ducks, some geese and a pair of swans among other birds I don't recognize. Like the four birds seen here (that's a swan in the pond — it's the four birds in the foreground). Anyone know what those are? I think they're a type of goose, and they look like a cross between a duck and a goose.
And as is often the case, even on a totally sunny day (which yesterday was), often a layer of clouds builds up on the horizon at sunset, so we don't really get a sunset, but often the color of the sky in the gloaming is even more incredible. It was pretty good yesterday: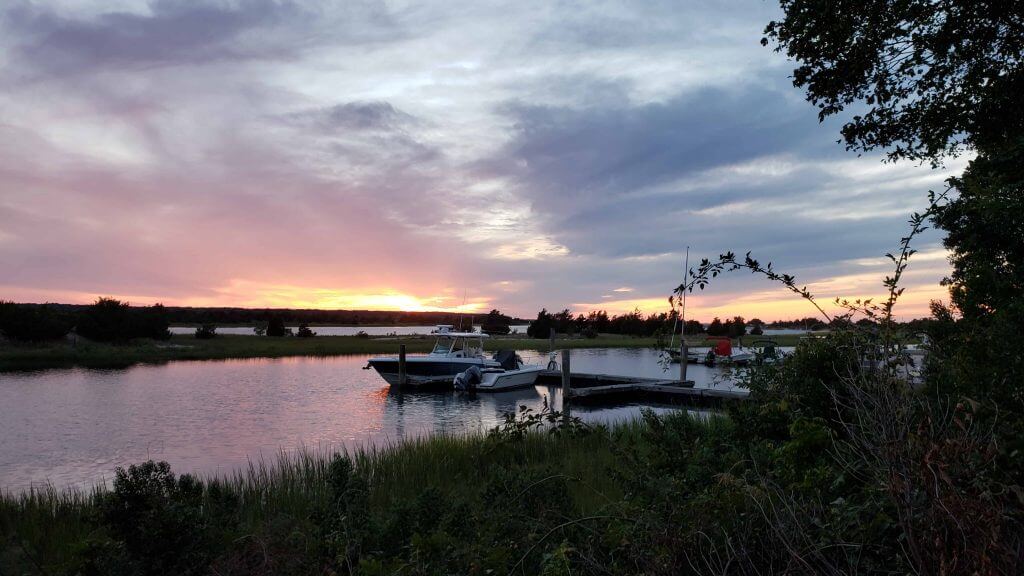 There was an absolutely incredible post-sunset sky last year after a lighting storm. I'll share that one either tomorrow or Monday.
That's all for today — I'll catch you tomorrow.
Peace,
PH