When I was growing up, I'd sometimes hear my parents' friends or other grown-ups say things like, "Yeah, we built that house 10 years ago" or "We're tired of living in an apartment, so we've decided to build a house." At the time, I thought the people in question were, you know, literally building their own houses with their own labor and sweat. Eventually I learned that most people who talk about "building a house" aren't building anything at all. They're just paying for someone else to build it.
I thought about that recently when I was back-and-forthing on Twitter with a guy who designed a really nice infographic. Only he didn't say he designed it — he said he built it. I asked him, out of curiosity, why he chose that term, and he said it was just a personal quirk.
Fair enough. But the reason it got my attention is that I've noticed lots of people who work in digital media using this type of language lately. Some of them, like the guy I was talking with on Twitter, are designers who say they've "built" various graphics. I've also encountered an increasing number of editors, including some who I work with, who say they're going to "build" a page for a given article.
To a certain degree, this is nothing new. It's long been common parlance, for example, to say you're "building a website" (and websites that aren't yet finished are often referred to as "under construction"). It's also true that "build" is often used in various metaphorical ways — we build relationships, build social bridges, build businesses, and so on. Still, the more traditional use of "build" refers to the physical world — that's where we get the term "the built environment."
In any case, the use of "build" by digital designers and editors strikes me as an interesting linguistic trend. I'm not necessarily opposed to it (as I am to the overuse of "rebranding" and "gear" and "sponsorship," for example), but I do think it's worth exploring.
My take: As fewer and fewer of us work with our hands — a situation brought about by the digital revolution and the long-term decline in American manufacturing — we've increasingly fetishized the blue-collar work experience. The increasing use of "build" and its variants reflects that longing for, and appropriation of, hands-on authenticity. If you "design" something, you're a geek who sits at a computer; if you "build" something, you're a rough 'n' ready construction worker who uses steel and concrete and bricks and heavy machinery. Or at least that's the implicit message.
It's interesting that President Trump's core of electoral support appears to have come from blue-collar workers — in short, people who build things. Trump himself likes to say, "I build things." But of course he doesn't actually build anything. Much like those grown-ups I overheard when I was a kid, he just pays other people to do the building for him. (I don't mean to single him out in that regard. Other real estate developers talk the same way.)
Do I think people who work in the digital realm are intentionally using "build" to make themselves sound more like construction workers? No. But I do think it's the kind of subtle trend that reflects something larger about where we are — and, perhaps more importantly, where we aren't — as a society.
And hey, it works! The first time I heard one of my ESPN editors say he was going to "build" the page for one of my columns, I have to admit there was something very appealing about it. The editor suddenly sounded like he had all sorts of build-y competencies I hadn't previously been aware of, and I felt like I was in very capable hands. That's the seductive power of language.
Has anyone else noticed the increased use of "build" in digital settings? Have you used this type of language yourself? Discuss.
•  •  •  •  •
LAST CALL for Larry's shirt: Today is the LAST DAY to order our latest limited-edition T-shirt in the Uni Watch Artist's Series, which was designed by the great Larry Torrez (aka Eltee of DC). In the spirit of his Meatscots caricature series, he's imagined a fictitious Japanese baseball team called the Kyoto Yakitori, whose mascot is a baseball-playing samurai with a sword that serves as a baseball bat and as a yakitori chicken kebab skewer (click to enlarge):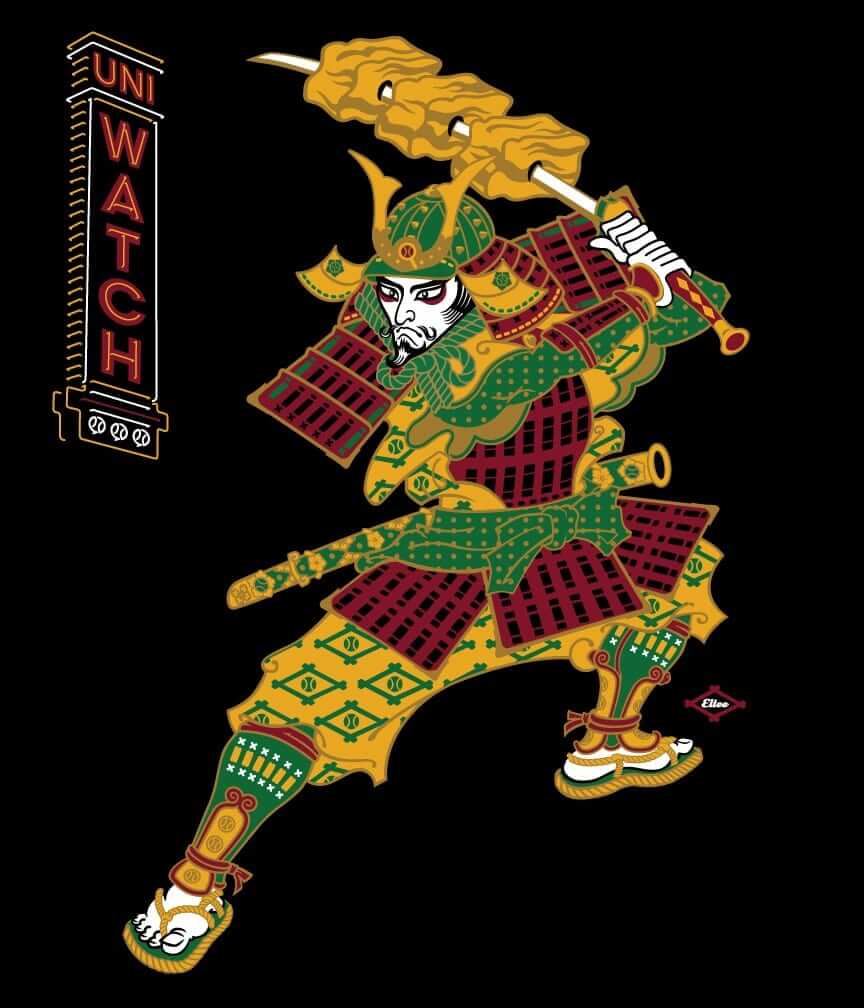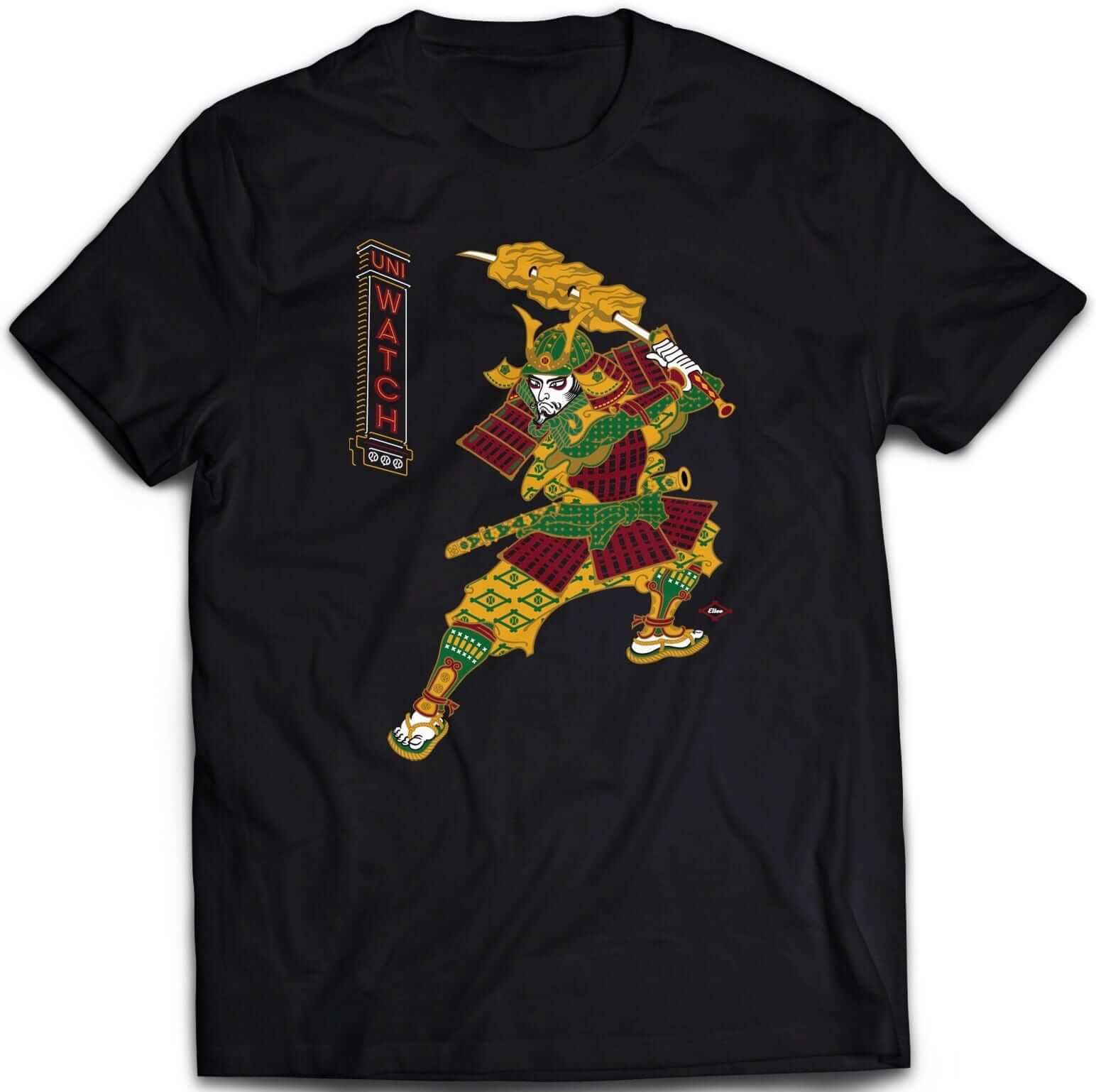 It's available in three different black short-sleeve options (two of which come in sizes up to 5XL) and one long-sleeve option (up to 5XL). plus I've also made the design available as a sticker.
The shirt is available here through 11pm Eastern tonight. My thanks, as always, for your consideration.
•  •  •  •  •
LAST CALL for the Raiders contest: Today is also the LAST DAY for my ESPN design challenge to redesign the Raiders for their move to Las Vegas. Full details here.
•  •  •  •  •
The Ticker
By Paul, Pinch-Hitting Today for Mike

Baseball News: Yokohama Stadium in Japan, home of the Yokohama BayStars, will be using a bullpen car this season (rare non-UNC-related submission from James Gilbert). … Arizona gave its new athletic director a baseball jersey with the wrong number font (from @AZJoshM). … Beautiful striped stirrups — but brutal logo-creeped sanitaries, ugh — for Northern Illinois. White Sox-esque logo, too (from @Barstool_NIU). … The Binghamton Rumble Ponies' new mascot will be named Rowdy. … Recent Detroit Red Wings call-up Evgeny Svechnikov wore an Expos cap in the locker room yesterday (from Philip Dentler). … The Lexington Legends and West Virginia power will become the Hatfields and the McCoys later this season (from @t_rex20_). … Cleveland wore their Wahoo caps last night — except for pitching coach Mickey Callaway, who wore the block-C cap (from Joseph Giordano). … The lettering on Mariners P James Paxton's NOB could use a bit of help. … Gary Cieradkowski, who you may remember as the designer/illustrator behind the excellent Infinite Card Set project, has started publishing a baseball journal called 21, and it's gorgeous. Great illos, great production values. Good writing, too, including a feature on the 1956 LA Angels' uniforms. You can see some spreads here, and you can order a copy here. … Orioles 3B Manny Machado has been wearing custom cleats that include Skittles embedded inside the footwear and engraved initials of himself, his wife, and his dog (from Will Shoken). … There's now a Big Papi Lego statue at Fenway Park (from Robert Brashear). … Those Dodgers socks with the misaligned stripes are back. … The Mets Hall of Fame at Citi Field, which for the most part is a very good facility, is currently exhibiting a badly era-inappropriate Tom Seaver jersey (from Shannon Shark). … Here's a good view of the Nats' 3D helmet logo.

NFL News: Potentially major news out of New Orleans, where Saints WR Michael Thomas posted an Instagram photo that seems to indicate that the team is finally ditching the neck roll collar. … Rawlings has renewed its licensing agreement with the NFL for tailgating products.

Hockey News: Penguins G Marc-André Fleury had to black out the logo on his iTech neck guard to NHL corporate partnerships. Douchebags. … This was in the baseball section, but we'll put it here as well: Recent Red Wings call-up Evgeny Svechnikov wore a Montreal Expos cap in the locker room yesterday (from Philip Dentler). … It appears that the Czech Republic will wear 1947 replica sweaters — like, actual knit sweaters, not just "sweaters" as a synonym for jerseys — against Sweden in the first period of a game during the Carlson Hockey Games. Close-up photo here (from Rob Yasinsac). … Here's a new one, at least to me: The goalie on Finland's women's team complained about the pins anchoring the net at the World Championships (from Tris Wykes).

Basketball News: New Era has created an eco-friendly Trail Blazers cap. Additional info here. … New logo for the Brazilian basketball confederation. … "Conan O'Brien recently did a Tinder-inspired skit about the Washington Wizards," says Robert Anderson, "and the uniforms they used were comically bad."

Soccer News: New secondary jersey for the Chicago Red Stars. The design is based on the Chicago city flag (from @GuySmileys and Steve Johnston).

Grab Bag: New cricket uniforms for Somerset (from Michael Sprake). … Former NFL player Shawn Springs now runs a company that makes lacrosse helmets (from Tommy Turner). … Zachary Hughbanks reports that USA Rugby has inked a new uniform deal with Adidas. "This is the first time they've had a 'mainstream' company supply their kit," adds Eric Bangeman. "For the last decade, it has been BLK, Canterbury, and Kooga." … Here's what some of the top runners will be wearing in this year's Boston Marathon. … My friend Tony was doing some vintage shopping and turned up this amazing New York Golden Gloves warm-up top. The zippered sleeves are to allow for boxing gloves! … Some Kashmiri boys were arrested yesterday for playing cricket in the Pakistani national team's uniforms. … In this interview, the veteran luchador Mano Negra explains how his character was based on the John Carlos/Tommy Smith black glove salute at the 1968 Mexico City Olympics (from Mark Coale). … People attending today's Honorary Starters Ceremony at Augusta will receive this Arnie's Army pin (from James Gilbert).