There's a word that has become increasingly prevalent when people refer to new uniforms. It's a word I see being used in various media outlets, on Twitter, and even in the comments section of this website you're reading right now. The word is "rebranding," and its spread throughout the uni-verse needs to stop. Now.
Why don't I like the use of "rebranding" as it pertains to uniform design? One thing at a time:
1. The term is usually used inaccurately. The vast majority of sports "rebrandings" are actually redesigns. Let's take a few examples:
• Does the Browns' new look qualify as rebranding? No way. They have the same team name, the same colors, the same rooting section (the Dawg Pound), and, except for some very nuanced tweaks, the same helmet design. They pretty much stand for the same thing they've always stood for — no-frills, Rust Belt football. (That's assuming you think a football team can "stand for" anything besides playing football, which I'd say is iffy at best anyway.) Yes, they have new jerseys and new pants — and that's called a redesign. So why do people insist on calling it a "rebrand"? In part because they like using that term (more on that in a sec) and in part because they like to fool themselves into believing that a uniform redesign automatically signals a new era, or even a renaissance, in the team's on-field performance (a rebrand serving as a reboot, so to speak), even though it usually doesn't.
• What about the Dolphins — did their recent makeover qualify as a rebrand? It's true that they changed their helmet logo, but not radically — they kept the sunburst motif. They also kept their team name, color scheme, and basic visual approach. The changes were clearly evolutionary and incremental. This is not a rebrand; it's a redesign.
• When the Diamondbacks changed from purple/teal to red/black, was that a rebrand? There's more of a case to be made here, since they changed the color scheme, radically changed their wordmarks, and put a nickname on the home jerseys. But they also retained the "A" and "D" logos (albeit in the new color scheme), maintaining a sense of continuity. I'd still call this a redesign, although I wouldn't argue too hard with someone who called it a rebrand. This one could go either way.
• When the Devil Rays changed to the Rays, that was a rebrand. New team name, new colors, new logos, new imagery focus (the sunburst instead of the fish) — in short, a new identity. That can legitimately be called rebrand. Most uniform changes don't come close to this level of identity makeover and are therefore just redesigns, not rebrands.
2. "Rebranding" has that jargon-y feel that seduces people into thinking they know more about a given subject — in this case, marketing — than they actually do. If someone talks about a team's "new uniform design," he sounds like a geek (or a Uni Watch reader, which is basically the same thing); if he talks about the team's "rebrand," he sounds more worldly, more sophisticated. Or at least that's the idea. But as noted above, most of the people who toss around the term "rebranding" have no idea what the term actually means, and even less of an idea of how corporate marketing works. Which brings us to"¦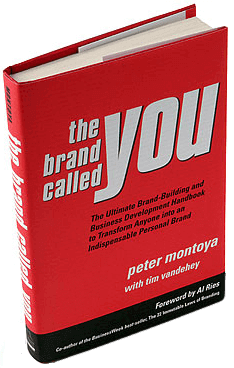 3. The increasing use of "rebranding" helps to legitimize the spread of corporate-speak in a world that's already awash in way too much corporate verbiage. It's bad enough that we have to hear about "branding" in politics (the "Republican brand," Hillary Clinton's "personal brand," blah-blah-blah) and, increasingly, in everyday life (the notion of having a "personal brand" is now taken seriously, or even as a given, by a distressing number of people), all of which contributes to the idea that the entire world can be viewed and assessed through the lens of market forces and business practices. That idea is not only patently false, it's also bad for our culture as a whole.
4. You know how every new uniform now features embedded "stories" about the typography being at a 37-degree angle, or the side striping being based an architectural detail, or all that other crap that everyone will forget about 10 minutes after the end of the unveiling event? If you call this stuff "design," it would get laughed out the room (as it should); if you call it "branding," then it's more like, "Ooooh, you're telling a story, ahhhhh, how sophisticated." In other words, the use of "rebranding" gives cover to all the extraneous bells, whistles, and other bullshit that's ruining sports design these days. This isn't branding, people — it's just design, and in most cases it's bad design.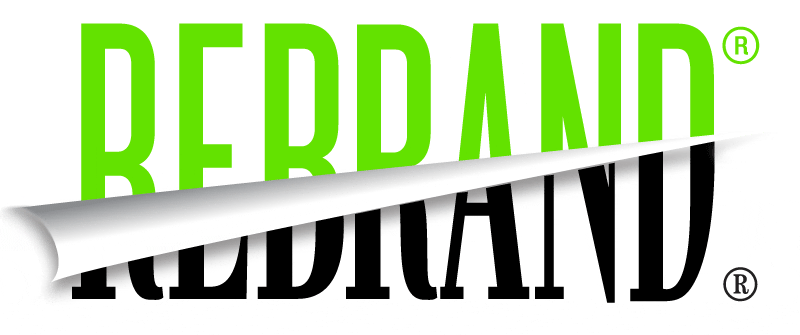 5. As I briefly mentioned in the Browns example above, the whole notion that a sports team can "stand for something" other than, you know, a bunch of athletes playing a game is pretty dubious. Are there teams that have developed legitimate brand profiles? Sure — the Yankees come to mind, for example (they stand for hubris disguised as an uncompromising demand for excellence). But most teams are just teams. Even if you think of them as brands, a uniform change certainly doesn't qualify as a rebrand; it's just a redesign.
Look: Branding is, for the most part, about lies and deception. It's about presenting a false image (the Wizard of Oz) that lures people into buying something less exciting than that image (the man behind the curtain). Brands are not your friends — they're just illusions. Branding is a real phenomenon, but let's save the term for situations to which it actually applies.
• • • • •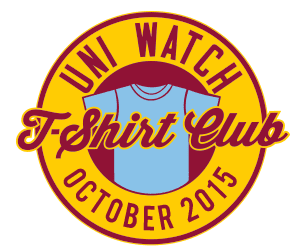 T-Shirt Club reminder: In case you missed it earlier this week, the the Uni Watch T-Shirt Club's latest design is now available for purchase. As we discussed last week, it's the powder blue design, which looks really good now that we've added the gold outlining (click to enlarge):
An important note: If you go to the ordering page, you'll see that we're offering three different T-shirt brands, each of which has its own shade of powder blue. American Apparel is the lightest shade and Teespring Premium is the darkest, with Gildan in between. Here's a photo of the AmApp and Teespring fabrics (click to enlarge):
So compare the color shades, and also use the sizing chart for each brand, to choose the shirt that's best for you.
• • • • •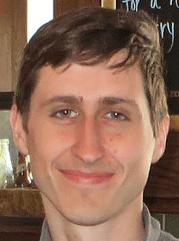 Mike's Question of the Week
By Mike Chamernik
My brother and I have plans to attend Saturday's Twins/White Sox game at Sox Park. I checked the promotional schedule, and the Sox will hold "Halfway to St. Patrick's Day," an annual event that honors the city's South Side Irish. The Sox will wear green-pinstriped jerseys and green caps.
It should be fun to see the Sox green-clad that evening, if only for the novelty. I don't believe I've ever attended a holiday-themed sporting event before.
My question is, what are some of your favorite and least favorite holiday-themed jerseys from over the years? I haven't really cared for the NBA's Christmas Day unis from the last few years, but the 2015 offerings look really sharp. I'm excited for that day.
• • • • •
The Ticker
By Mike Chamernik

Baseball News: The Royals set a team attendance record this season. The fan who officially broke it received a 2,477,701 NOB jersey (with No. 15 on the front and back) that was signed by the team. … Check out these 1996 Expos World Series phantom tickets. They're even in French! … Hank Aaron wore a Mets cap during batting practice at an old timers game in 1979 (from Ferdinand Cesarano).

NFL News: The Browns' orange numbers on their brown jerseys make it hard for coaches to identify players when they watch game film (from Thomas Moore). … The Washington Post is holding an NFL mascot bracket, based on who readers think would win in a fight. The champion will have to be the Titans, right? They're divine beings, which are much more powerful than a ram or Texan. To sidestep any potential issues, Washington is represented by a Hogette and the Chiefs by a wolf. Also, the Chargers aren't some electrity-conjuring menaces; nope, they are Dodge Chargers (from John Gagosian). … A site ranked all 32 NFL logos. It's like what Grantland did with the NBA two days ago, only with considerably less thought. … A few people sent this in: Mitchell & Ness made a graphic with the best players to wear each number from 00 to 99. No. 6 threw me off, though, because I thought it was a misspelled Jay Cutler jersey. Nope, it's Kevin Butler. … The Bears wore orange number practice jerseys yesterday. The look mimics the "Monsters of the Midway" throwbacks they will wear on Sunday against Green Bay (from Tom Juettner). … The Seahawks have a couple things going on with Starbucks (which is Seattle-based, of course). The coffee chain is giving out cup sleeves with 12th man jerseys on them, and it is selling gift cards with Hawks logos on them (from Jamin Svendsen and John Przebieglec, respectively). … Also, Seattle residents can get Seahawks-themed library cards. … Browns WR Terrelle Pryor switched to No. 17. … A designer mocked up some team concept helmets (from Phil). … The Jets will wear white jerseys for their first three home games. … After a year in Oakland, WR James Jones returned to the Packers this week. TE Richard Rodgers gave him back his No. 89. … I don't know the context of this logo, but here's a moose mashed up with Flying Elvis.

College & High School Football News: New helmet stickers for Pitt (from Robert James). … Air Force will wear 1985 throwbacks on Saturday. … It takes a little bit of time for Utah's equipment staff to apply decals onto the Utes' black matte helmets. Here's what they'll wear on Friday (from Landon Freter). … Fresno State will do a blackout against Utah next weekend (from Phil). … Toledo has more than a dozen uniform combinations. … Here's a look at Syracuse's all-orange unis. … Arkansas' Blytheville Chickasaws, a high school team, has some creative helmets (from Larry Morris). … Fans wanted to see Colorado State's helmet stickers. … Nashville's Hillsboro High School has two-toned uni numbers. The school's nickname is also the Burros (from Tony Shiffman).

Hockey News: New dark jerseys for the SPHL's Pensacola Ice Flyers (from Ryan Bohannon). … Connor McDavid, the Oilers' No. 1 overall draft pick this year, is the first notable hockey player to sign an endorsement deal with Adidas.

Soccer News: The club 1860 Munich unveiled Oktoberfest-inspired Lederhosen uniforms. … Wayne Rooney was awarded a No. 50 jersey to commemorate the 50 goals he's scored for England, which is a team record (from Graham Clayton).

NBA News: Bulls F Nikola Mirotic is Montenegrin and plays for Spain in international hoops. After a loss to Serbia in EuroBasket this weekend, a fan waved a Serbia flag in his face while he was leaving the court, and Mirotic ripped it apart. More details here.

College Hoops News: New shorts for Indiana? Last year, the Hoosiers had thicker red stripes at the bottom. … New white uniforms for Baylor. … New throwbacks for Western Kentucky.

Grab Bag: New logo for fashion company DKNY. Here's how nonsensical my brain is "" whenever I see that acronym I fill it out to stand for Donkey Kong New York. Why? I don't know. … Apple execs have a fondness for wearing purple. Paul just cranked up his Zune in disgust. … New logo for Chicago's Moody Bible Institute (from Aaron Telecky). … The Eugene (Ore.) School Board is considering a five-year, $300,000 deal with Nike, where the company would outfit its high school teams (from Phil). … A Russian volleyball player wears a mask to protect a broken nose (from Jeremy Brahm). "¦ Golfer Michelle Wie now has rainbow-colored hair.
•  •  •  •  •
Reminder: Phil and I will be at this gallery show devoted to sports-centric design, curated by longtime Uni Watch pal/ally Todd Radom, tonight. We expect to be there from about 6:30-8:00pm. Hope to see you there.