On Saturday, the day after NBA owners voted to go ahead with uni ads for the 2017-18 season, Uni Watch reader Mike Wissman sent the league an email criticizing their decision. Yesterday he received a form letter from a "Fan Relations" representative, as follows:
Thanks for contacting us regarding NBA jersey sponsorships.

The NBA Board of Governors approved the sale of jersey sponsorships, beginning with the 2017-18 season, as part of a three-year pilot program. The sponsorship patch will appear on the front left of the game jerseys and measure approximately 2.5 inches by 2.5 inches.

We believe that jersey sponsorships will more deeply engage our partners without negatively impacting the competition on the court, and the additional investment will help grow the game in exciting new ways. We appreciate that many fans have a deep admiration for the NBA's traditions and a strong connection with our uniforms.

We're always thinking about innovative ways the NBA can remain competitive in a global marketplace, and we are excited to see the results of this three-year trial.

Thanks again for writing us. We appreciate your sharing your views.
Okay, so it's your basic soulless corporate form letter. The one interesting thing about it is the incessant repetition of the word "sponsorship(s)," which appears four times in the first thee paragraphs.
This is not a new trope for the NBA. Commissioner Adam Silver, for example, has repeatedly referred to Kia, which had an ad patch on this year's NBA All-Star jerseys, as a "sponsor." And of course the use of "sponsor" in the sports world is not limited to the NBA. People who follow soccer often refer to "jersey sponsors" or "kit sponsors"; companies that buy the naming rights to a sports venue are sometimes called "stadium sponsors" or "arena sponsors" or "naming sponsors"; companies are also referred to as "sponsoring" a certain part of a stadium; and so on.
I've sometimes lapsed into using this language myself, but I'm not going to do it anymore. Because let's be clear: These are not sponsors, and we should stop calling them that. They are advertisers.
It's understandable why people like Adam Silver and his "Fan Relations" representatives would want to use the term "sponsor" instead of "advertiser." Why? Because "sponsor" is a nice-sounding word, and when used accurately, it usually (but not always) describes a person or organization providing a nice service. It has much more positive connotations than "advertiser" (which, incidentally, appears exactly zero times in the form letter that the NBA sent out).
In short, a sponsor is an advocate that provides essential support. Sometimes that support is financial, sometimes not. Here are some non-financial examples:
• When you want to join an exclusive club and need a current member to vouch for you before you're allowed to join, that member is a sponsor.
• When your boss tells his boss that you've been doing a good job and deserve a raise, your boss is acting as your sponsor.
•  When my ESPN editor tries to convince the higher-ups that one my articles should get more prominent play on the ESPN website, he is acting as my sponsor.
• When you're in AA and you have someone who looks after you and makes sure you don't mess up, that person is a sponsor.
• When a legislator proposes a bill and shepherds it from subcommittee to committee to the floor of the legislative body, that legislator is the bill's sponsor.
Now let's look at some financial examples of sponsorship, including some from the sports world:
• When a corporation provides funds from its do-gooder budget to a nonprofit or volunteer cultural group, that corporation is a sponsor.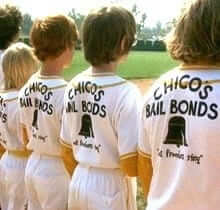 • When a local business provides funds for a Little League team to purchase its uniforms and equipment in return for the players wearing the business's name on their jerseys, that business is a sponsor.
• When a company like Nike provides funds and resources for an amateur athletics association, that company is a sponsor.
• When a government provides funds, arms, and tactical support for a militant group, that government is a sponsor (which is where we get the term "state-sponsored terrorism").
And so on. What do all of these examples — financial and non-financial — have in common? This: Without the support of the sponsor, the person or thing being supported would likely fail, or cease to exist, or not have come into existence in the first place.
Leaving aside Little League and the like, the companies buying space on soccer jerseys and renaming stadiums aren't providing essential support. If those companies disappeared or withdrew their funds, the team would still be able to afford the jerseys and the stadiums would still keep running just fine. These companies aren't sponsoring anything — they're just advertising. Maybe you're okay with those forms of advertising and maybe you're not, but it would be nice if we could at least describe them accurately.
I've found myself discussing this issue with several people lately. Longtime Uni Watch reader Cork Gaines, for example, who does a great job writing about sports for Business Insider, recently told me that the advertiser/sponsor distinction is something he's trying to be more aware of these days. But not everyone agrees. When the issue came up during an email back-and-forth that I was recently having with a reader (a reader, I should add, who is very articulate and thoughtful in his writing), his response was, "Eh, this is really just semantics."
But it's not just semantics, and it's not just a tomato/tomahto thing. It's language, and language matters. And you know how you can tell it matters? Because you can hear people like Adam Silver and his "Fan Relations" representatives steadfastly using "sponsor" all the time instead of "advertiser." They know "sponsor" is a warmer, fuzzier term, a term that sounds like it's based in fellowship and partnership and goodwill, not in commerce or greed. The repeated use of "sponsor" is just another form of marketing spin — a subtle one, and therefore a particularly insidious one.
Can sponsorship and advertising coexist or overlap? Definitely. That local business sponsoring the Little League team is an advertiser and a sponsor. In fact, here's a little story about how the overlap between advertising and sponsorship has affected me personally: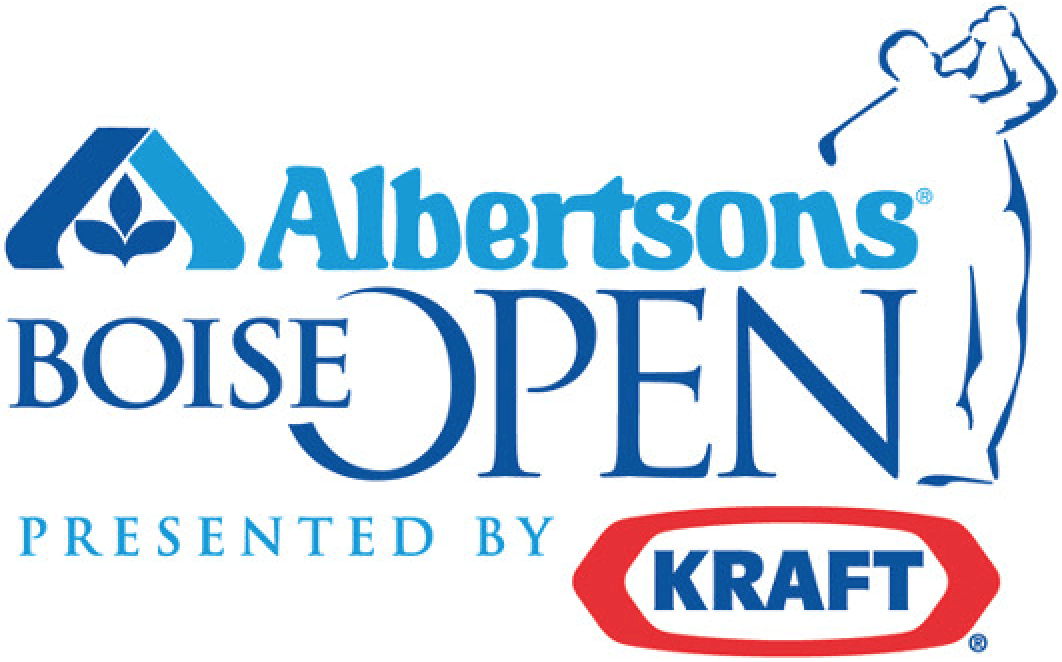 As some of you may recall, back in 2014 I wrote a bunch of articles for the design website re:Form (yes, it's an awkward site name, I know). If you look at any of those articles, you'll see "Presented by BMW" near the top of the page. That was an ad, sure, but it was more than that, because BMW was literally sponsoring re:Form — without BMW, the site would not have come into existence. BMW made a six-month financial commitment to the site, and at the end of those six months they decided not to renew their support. Medium.com, which owned the site, tried to recruit a new company to take BMW's place, but they couldn't find one. So that was the end of re:Form. The site was shut down (although at least the content was kept available), the editor lost her job, and I lost a place to write about cool design topics. The phrase "Presented by [Whomever]" is often just another bogus euphemism for advertising, but in this case "Presented by BMW" was the literal truth. That's sponsorship.
I realize many of you don't find the encroachment of advertising and corporate culture as problematic as I do. But if you don't have any problems with advertising, then you also shouldn't have any problems describing it accurately by calling it, you know, advertising, instead of mistakenly calling it sponsorship. And for those of you who share my concerns, we should all be calling advertising what it is. No matter which side of the debate you're on, the debate will be a lot more fruitful if we define our terms accurately. Using inaccurate terms just clouds the issue — which, I'm fairly sure, is exactly what people like Adam Silver and his "Fan Relations" representatives want. #NoUniAds
•  •  •  •  •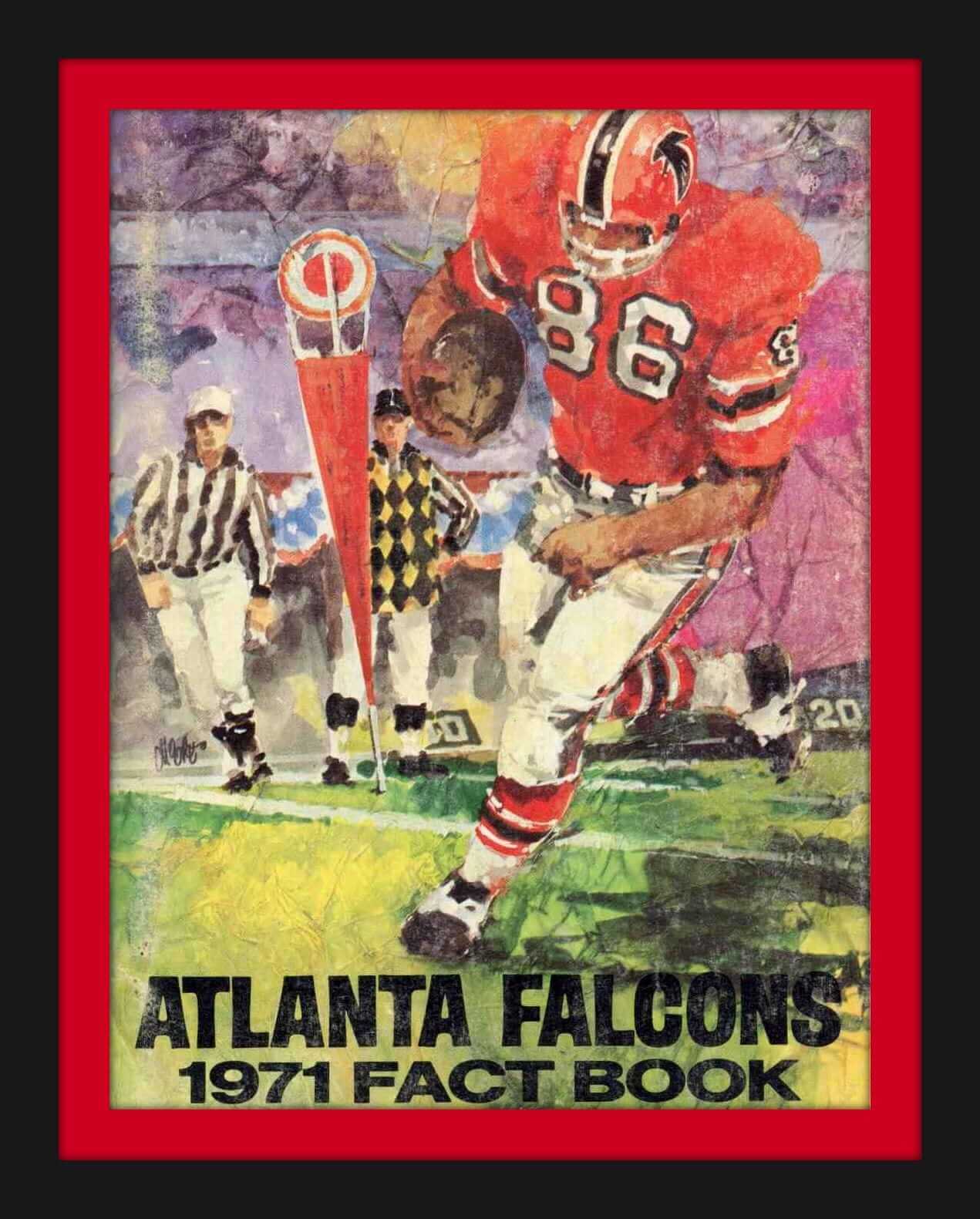 Click to enlarge
Collector's Corner
By Brinke Guthrie
Even though we're well into the MLB season, and we've got postseasons for hockey and hoops underway, there's never a bad time for some retro NFL here at Collector's Corner. Take a look at the artwork on this 1971 Atlanta Falcons fact book, for example — good stuff! Tight end Jim Mitchell on the cover, by the way.
Now for the rest of the week:
• If you recall, Phil had this Astros Signature story a couple of weeks back, and it included a never-worn prototype cap. So of course New Era is now selling that cap. And is just just me, or does this cap/logo look like it belongs to a Kwik-E-Mart store? Astro-Mart, maybe?
• Golden State Warriors fans, you can wear this vintage Starter jacket to Oracle Arena to watch your team steamroll its next victim.
• Nice artwork on the cover of this 1971 Kessler Football Fans guide.
• Also from 1971, a clean set of Denver Broncos book covers from NFL Properties. I had a Cowboys binder like these, but don't recall the book covers. (I di recall making book covers by cutting out grocery bags, however.)
• How about this Bucco Bruce helmet plaque. Even though he's unfairly attached to the Bucs' winless debut season, don't you think he'd look good instead of those pewter outfits with the digital clock numbers? But of course.
• With the Rams back in L.A., it's the perfect time to wear this Rams NFL Alumni shirt.
• Sorry, but speaking as a former Big Red Machine fan, Tony Perez just does not look right wearing Expos colors, like on this 1977 Expos Media Guide. [Brinke, which pains you more: Perez in an Expos uni or Pete Rose in an Expos uni? "" PL]
• Great logos on these: the 1977 NL Green Book and AL Red Book.
• Good-quality 1970s Miami Dolphins gym bag right here. Love the 1970s facemask design.
• Here's a plaque kinda thing for the 1971 Cowboys Super Bowl win. I distinctly remember this one — I wondered why there was no facemask! Yes, I Got Itâ"¢ even at age 11.
•  •  •  •  •
The Ticker
By Mike Chamernik

Baseball News: The Red Sox wore their "Boston" home whites for yesterday's Patriots' Day matinee. … The Kane County Cougars will wear a jersey featuring portraits of military personnel on the shoulders (from Ricky Schumaker). … A Silicon Valley sports-tech company produces a Smart Bat, which has sensors in its handle that measures hand speed on a swing and impact. The bat will be hitting the market soon and is currently used for practice. Mike Trout used it in Spring Training this year (from Jason Ricles). … The Columbia Fireflies have neon jerseys (from LA Urban Legend). … Pete Rose turned 75 a few days ago, so his high school alma mater, Western Hills in Cincinnati, honored him with 1963 throwbacks (from Steve Colyer, the assistant varsity baseball coach at the school). … Orix Buffaloes will wear summer festival uniforms with outer space nebulas and the city colors. Scroll down on the link for images. Here's how the site, through a rough Japanese translation from Google, described the unis: "Hot season came. Orix Buffaloes, the summer of the big event. Eighth year of this season, infinite door is opened. Koero the wall! Koero yourself! Break on through! Now Let's go, to a new dimension. Yobiokose, the instinct to fight. In a special uniform to hold six days who designed the I think, will wear the director Coach players" (from Jeremy Brahm). "¦ There was a rain delay at last night's Twins game, so the Target Field video board showed the Wild's playoff game (from Tony Tengwall). "¦ Due to a technological glitch, the bat on a Cardinals player's jersey looked green during the broadcast of last night's game. "¦ Auburn has some new alternate uniforms that aren't so great. Worst detail: the school logo on the kneecap. "¦ Giants broadcaster Duane Kuiper apparently had some problems last night with the D-backs' new road charcoals (from @sflunatricfringe). "¦ Royals great George Brett appeared in a 1978 episode of Fantasy Island wearing teammate Tom Poquette's jersey (from @HOVG).

NFL News: A Maryland artist created Tampa-themed cleats for Draft prospect Vernon Hargreaves III. The cornerback wore them during the NFL Combine and his pro day (from Matt Baker). … Browns DL Danny Shelton is changing his number from 71 to 55 and is promising fans who bought his old jersey that he'll do something to make it up to them (from Andrew Jenkins).

College Football News: Oregon State is awarding practice helmet stickers for success in the weight room and the classroom (from Phil). … For its spring game, Oklahoma State put black decals on helmets for black team and orange for orange (from Justin Mitchell). … A graphic artist made a BFBS Michigan Jordan Brand alternate uni concept (from Andrew Cosentino). … Russ Havens put together a collection of 1950s Pac 12 ticket stubs, featuring the California teams. Both Russ and I enjoy how the tickets depicted opposing schools.

Hockey News: The Flyers hung a memorial banner outside the Wells Fargo Center for team founder Ed Snider. They also stenciled his initials into the ice behind the net (from @walkerdb7). … The Sharks gave away teal T-shirts for last night's game. Unclear if they purposely went retro with the old logo (from Ryan Walters). … No photo, but a 57-foot Lightning logo made out of doughnuts will be on display in Tampa this morning. … Some players still get upset when people step on the team logo on the carpets in the dressing room.

NBA News: The Celtics are suffering from the Curse of the Black Trim. They have lost all eight times they've worn their black-trimmed "Boston" alts in the postseason over the last decade. PG Isaiah Thomas says the team will wear its traditional roads tonight against the Hawks (from Pete Wells). … Here's a pretty good depiction of the Warriors' complex logo in a soda case display (from Sean Barbante). "¦ Kevin Durant continues to wear his sock-obscuring sneakers. "¦ NBA commish Adam Silver thinks Nike will take the league's uniforms "to another level."

Soccer News: Arsenal's 2016-17 home shirt has apparently leaked (from Phil). … The New England Revolution wore these Boston Marathon warm-up shirts on Sunday (from Tim Cross).

Grab Bag: Yesterday's Boston Marathon had a logo for 50 years of women participants. … Print copies of a re-created mid-1970s NASA graphics manual are now for sale. They can also be downloaded as a PDF for free (from Brinke). … A panel of design experts discussed how instant feedback from social media influences logo design. … Eric Bangeman says that the jerseys for the Northwest Side Narwhals, a youth rugby club, have arrived. "I know that purple is unloved at Uni-Watch HQ, but going with purple means we will never clash with another team or referees as we are the only youth program in Illinois wearing purple," Eric says. "Note the dual maker's marks: BLK on the front and Rugby Athletic, from whom we ordered, on the back." I'm just amazed that we have youth rugby, and not but 10 miles away from me in Chicago. … New logo for Google Play Music.