Commenter LoseRem recently started a lengthy thread here on the site by saying he was disappointed in New Yorkers because of "the lack of Mets gear" being worn around town during the World Series. Yes, that's an absurd sentiment (which we've already discussed at length, so let's please not relitigate it today, thanks), but it got me thinking: When did team merch like jerseys, caps, and T-shirts become known as "gear"?
You hear "gear" being used all the time: "Fans are decked out in their Cubs gear" or "Gonna break out my LSU gear for this Saturday's game" or whatever. I certainly don't exclude myself from this trope — I've definitely used "gear" when referring to team merch.
"Gear" is a very appealing word. It evokes thoughts of buckles buckling, snaps snapping, straps strapping things into place. When you "gear up," you're a rough 'n' ready commando preparing for a battle or some other arduous task, or maybe you're a skilled professional brandishing the tools of your trade (camera gear, carpenter's gear, etc.).
But that's the thing: Team merch isn't "gear" at all — it's just clothing. And fans wearing team merch aren't "gearing up" or going into battle or strapping on a tool belt — they're just playing dress-up. I understand why it's seductive to refer to team merch as "gear," but that's basically an exercise in fantasyland thinking.
As you can see from the ads that I've scattered throughout this entry, "gear" is also a corporate marketer's dream term. An overpriced polyester shirt doesn't seem quite so overpriced if it's "gear," which is all the more reason to view the term with suspicion.
I first heard "gear" used when referring to team merch in 1999, when the Braves were burying the Mets in the pennant race and Braves third baseman Chipper Jones said New York fans should "get out their Yankees gear" because the Mets' season was effectively over.
Or at least that's how I remembered Jones's quote. But when I looked it up the other day, I found that what he actually said was, ""Mets fans can go home and put on their Yankees stuff" (or, depending on the media outlet, "Now all the Mets fans can go home and put their Yankee stuff on"). So there was no use of "gear" there — I had somehow mentally inserted it at some point over the years, which is an indication of how pervasive the term has become. But! In a 2009 piece about Jones's farewell season, New York Times writer Jack Curry led with, "Ten years ago, Chipper Jones invited Mets fans to go home and change into their Yankees gear." So Jones is now retroactively thought to have been talking about gear even though he didn't actually say "gear."
(Odd coincidence: What Jones actually said ["stuff"] and what I mistakenly thought he said ["gear"] were the titles of two very similar — and similarly dreadful — magazines that both launched right around the time he gave that quote. Hmmmm.)
Anyway: As you know, I think the world would be much better off if team merch weren't available for sale and if fans didn't wear it. I'm fully aware that many (perhaps most) of you disagree with me on that point, but how about this: Let's at least call these items what they are, which is clothing or apparel or merch. It's not "gear" — never was, never will be. I hereby propose a moratorium on that term as it relates to team merch and will do my best to observe and enforce that moratorium here at Uni Watch.
I know, I know: Many of you no doubt think this is crazy, or just annoying. But language matters, and the language of the uni-verse should be of interest to all of us — especially when it's being used to sell us stuff.

•  •  •  •  •
ESPN reminder: In case you missed it yesterday, my annual college basketball season preview is up now on ESPN.
• • • • •
T-Shirt Club launch: The Uni Watch T-Shirt Club's design for the December — the ugly sweater design — is now available. We're offering it in three formats: a standard short-sleeve tee (American Apparel or Teespring Premium), a long-sleeve tee, or a sweatshirt. I love how it turned out and can't thank my Teespring partner, Bryan Molloy, enough for the sensational design (click to enlarge):
The little "flaws" in the knitting, the stirrups and magnifying glasses, the slightly ragged NOB lettering — it's so awesome! This might be my favorite design of the entire year.
This shirt will be available through next Tuesday, Nov. 17. Again, you can order it here.
My thanks for everyone's enthusiasm for the T-Shirt Club throughout the year — it's been a fun project. We'll likely continue it in 2016, but in a different format. More details soon.
• • • • •
The Ticker
By Paul

Baseball News: Here's a 1989 shot of the Bush clan wearing MLB merch — that's George H.W. and George W. in Rangers caps and Jeb in a Cubs jacket. "¦ A 2016 Mets calendar mistakenly shows Jason — not Jacob — deGrom (from Chris Flinn). "¦ Speaking of the Mets, good news at Shea, where the insipidly named Pepsi Porch is being de-Pepsi-fied. "¦ Here's ace DIYer Wafflebored's latest retro-styled necktie. "¦ New uniforms for the Kane County Cougars (from Jim Hanke). "¦ Can a ribbon have a font? Sort of, if it's a "Boston Strong" ribbon patterned after the Red Sox font (from Kyle Geralds).

NFL News: Bills coach Rex Ryan, whose son plays for Clemson, wore a Clemson helmet to a press conference yesterday. "¦ Here's a head-spinning graphic showing the year-by-year visual progression of every NFL team's logo (if your vision get blurry, blame Mike). "¦ The Bengals will wear their orange alts next Monday night (from Jon Schroeder). "¦ The Jets and Bills will play the first Color Rash game tomorrow night, and here's a look at the new facemasks that the Jets will be wearing.

College Football News: Here's one blogger's top five reasons why Texas should keep its throwbacks (thanks, Phil). "¦ Here's the story behind Florida's white helmets from last weekend (from @DaveDoop).

Hockey News: Helmet poppies for the Canucks. "¦ New pads for Hurricanes goalie Eddie Lack (from James Gilbert). "¦ The Kings wore their gold throwbacks last night. Interestingly, they're also planning to wear them for a road game in Boston on Feb. 9 — the 50th anniversary of the franchise's founding (from Brian Rowland). "¦ The Blue Jackets keep coming up with these awesome promotional posters. Boy are they good! You can see more of them here. "¦ Remembrance Day uniforms for the Kitchener Rangers.

NBA News: Some great old uni photos in this article on Sweetwater Clifton (thanks, Phil). "¦ The NBA's Xmas Day ball features a snowflake-ized version of the league logo. "¦ World Series of Poker player Joe McKeehan wore an Allen Iverson jersey while playing last night (thanks, Mike).

College Hoops News: More ridiculous color names and and "story"-based uniforms, this time from Seton Hall, who should just call their new uniforms "blue" and "grey" and be done with it (from Phil). "¦ New court design for Jacksonville State (from Jake Scott). "¦ Here are the N7 designs for Oklahoma State and New Mexico. "¦ William & Mary has new uniforms and a new court design (from Andrew Ryder). "¦ Here's the 2017 Final Four logo.

Soccer News: More national team unveils, this time for Wales, Spain, the Czech Republic, Spain, Northern Ireland, Austria, Switzerland, Russia, and Italy's keeper. "¦ Here are all of the confirmed kits so far for Euro2016 (thanks, Phil).

Grab Bag: Lots of cool uniforms on display in this slideshow covering 25 years of the Iowa state volleyball championships (from Jesse Gavin). "¦ easyJet's new flight attendant uniforms are covered in LEDs. "¦ NC State has inked a six-year extension of its apparel deal with Adidas. "¦ Two MLB-sponsored golfers won their respective tournaments last weekend (from Jake Patterson). "¦ New lacrosse jerseys for the NLL's Saskatchewan Rush (from Lloydguy82).
• • • • •
Holiday thoughts: With Veterans Day being observed today in the United States and Remembrance Day in Canada, the UK, and many other countries, Newsday has published a strong piece by an Iraq War veteran who says the "patriotic pageantry" at sporting events has gone too far and lost its meaning. It's both thoughtful and thought-provoking — highly recommended. (My thanks to reader Brian Wulff for bringing it to my attention.)
My best wishes to all who are observing the holidays, and to all veterans.
• • • • •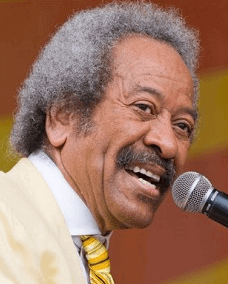 Classy gent: Word began circulating yesterday that the great New Orleans R&B pianist, songwriter, and producer Allen Toussaint had died. If you know who he was, then you know what a huge loss this is; if you've never heard of him, you almost certainly know his songs, which were covered and made into hits by countless pop stars, including Ernie K-Doh, Lee Dorsey, the Rolling Stones, the Pointer Sisters, Glenn Campbell, Warren Zevon, and many more. He was the kind of artist for whom the term "an American original" was created, and a genius to boot. He'll be missed.
I saw Toussaint play several times over the years, both in New Orleans and here in New York, most recently two summers ago at Lincoln Center. I never got to meet him or shake his hand or anything like that, but that Lincoln Center show was preceded by a live appearance in a small room where he was interviewed by the singer Nona Hendryx, and I was sitting just a few feet away from him. You could tell he was a class act — smart, dignified, articulate, a pro's pro. He'd just been awarded the National Medal of Arts at the White House the month before, and it was hard to imagine a more deserving recipient.
Toussaint looked vibrant and healthy during those Lincoln Center appearances two years ago. He was 75 at the time, and I remember thinking, "He's gonna be one of those guys who keep playing until they're 90." Wrong again — dang. R.I.P.