For all of today's images, click to enlarge
Like many people, I often don't like the way I look in photos. But I love the way I look in this caricature, which was whipped up by reader Larry Torrez, who's a professional artist (and who you may know in the comments section as Eltee of DC). I don't actually wear biker shorts when I'm biking, but if I did, that's definitely how they'd look. So cool!
That's not the only caricature of me that Larry's done. He also depicted me in his version of a Uni Watch baseball uniform:
Once I saw that one, I asked Larry if he could change the uniform to match the one we used for our recent T-Shirt Club design (plus I suggested a few other tweaks), and he happily obliged:
Fun, right? I love Larry's style, which clearly draws upon retro influences but still feels fresh and contemporary. There's also an obvious intelligence in his work — his illustrations feel very, very smart. I think it's safe to say that I've never looked better than I do in these renderings.
With that in mind, Larry has created a set of characters called Meatscots, which are classic sports mascots with two adjustments: Each one has a meat theme, and each one now has my face. The result is a crew of mascots that reflect my love of sports graphics and carnivorism.
The first one is really simple — meet Mr. Meat:
This one, obviously, is based on Mr. Met. I love that Larry used the Meats script from my theoretical T-shirt design.
Next up we have a take-off on the Brewers' old Barrel Man character:
Naturally, those are bratwursts on the platters.
The next one is based on the Padres' classic swinging friar character:
"I chose to merge the 1969 version of the friar with the 1996 update," says Larry. "For the meat, I decided to go with a hambone, mostly because it worked better graphically than a turkey or chicken leg. I also added the Padres' old 'Taco Bell' cap for a bit of additional local flair." And he added the green stirrups, which of course I love.
For the last one, Larry chose a somewhat more obscure mascot — this old Washington Senators character, which the team used in the late 1950s: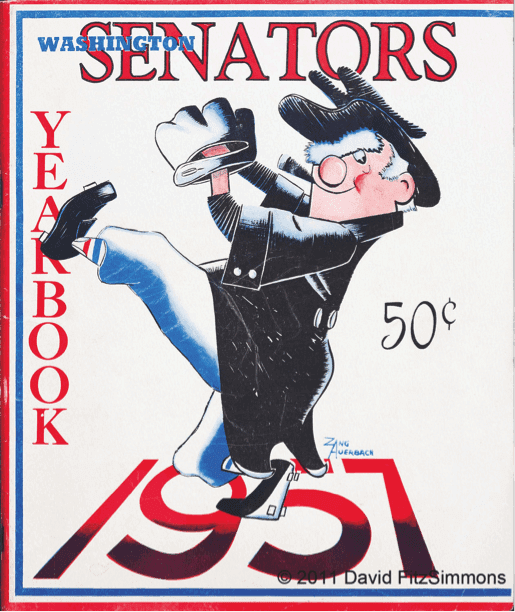 The character, which was designed by Zang Auerbach (Red's brother; for further info, look at the next-to-last paragraph of this blog post), shows an old-fashioned United States senator. Here's the Meatscots version:
"I took some liberties with the original artwork, such as cleaning up the cleats and glove, changing the stirrup colors, and adjusting the fedora to fit Paul's head," says Larry. "I also moved his pitching arm to show off the meat offering. Speaking of which: For the meat, I chose the ubiquitous (at least to DC residents) half-smoke — similar to a hot dog, but usually larger and spicier, often half-pork and half-beef, smoked, and served with herbs, onion, and chili sauce. I prefer brown mustard on mine and, so that's reflected in the artwork."
(I told Larry that it looked weird to see myself throwing right-handed, so he flopped the image to create a lefty version. But I think the righty one feels better, for reasons I can't quite explain.)
And there you have it — the Meatscots. Good stuff!
"The images were made using Adobe Creative Suite (Illustrator and Photoshop)," says Larry. "I wanted the artwork to reflect the spirit of the original compositions and be infused with a bit of humor. I also wanted to mimic the traditional 2-D process of spot color and airbrush work. As a bonus, I gained an appreciation of how these images came to be, not to mention how well they stand up over time. They still work today."
Nicely said. Big thanks to Larry for including me as the face of this project, literally. It's definitely the most fun I've ever had by looking at myself.
One footnote to all of this: Back in my former life, I edited a book about caricatures. But I'd never been caricatured myself until now. An enjoyable and interesting experience.
•  •  •  •  •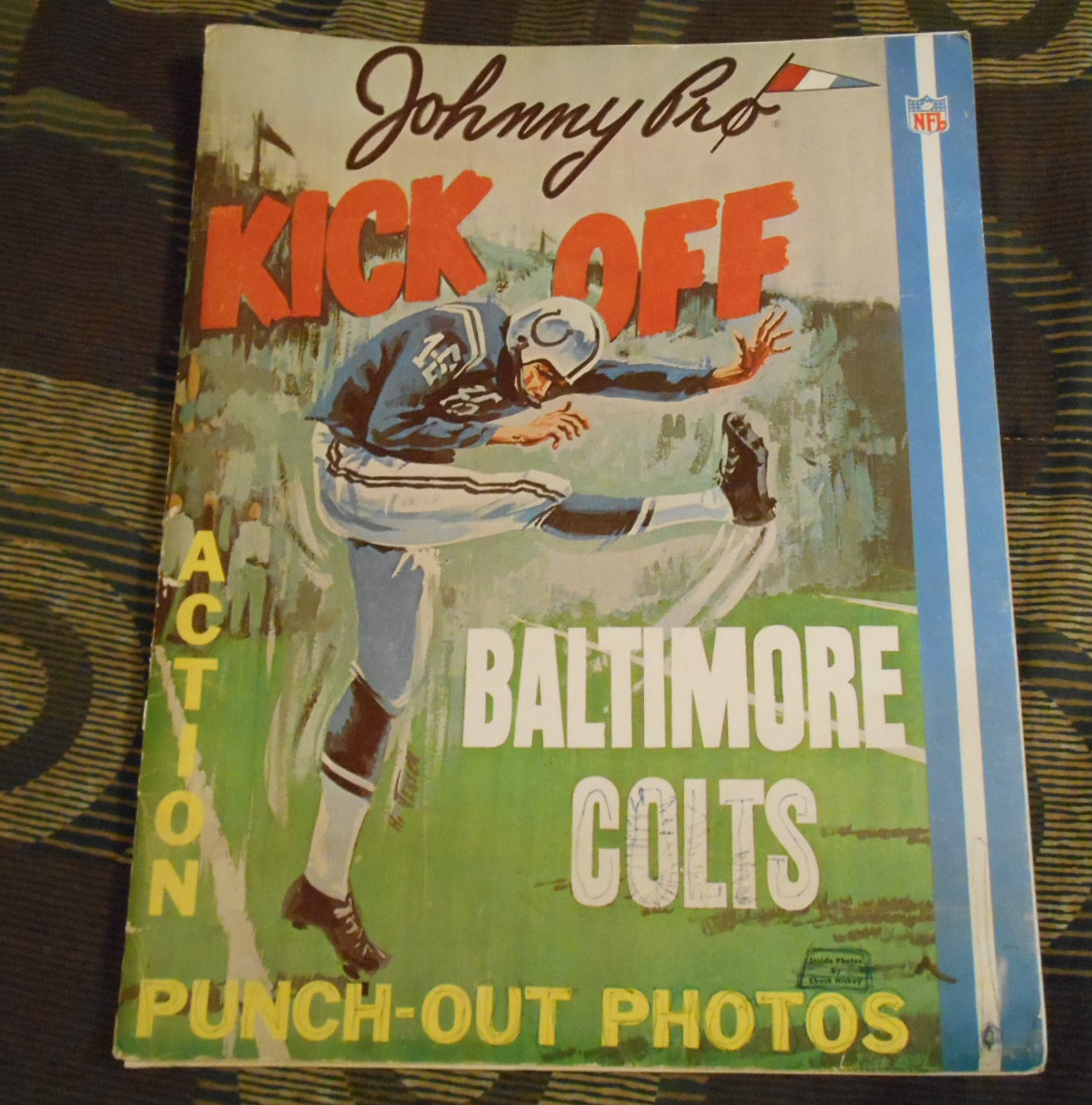 Click to enlarge
Too Good for the Ticker: Our own Brinke Guthrie, always on the lookout for good Collector's Corner material, spotted something really cool yesterday: the 1960s Baltimore Colts punch-out photo album shown above. Check out how cool the punch-out images are (click to enlarge):

You can see additional photos at this eBay listing (which ends on Sunday night, which is why Brinke sent it to me now instead of holding onto it for next week's Collector's Corner installment).
Brinke says he's never seen an item like this before, and neither have I. We're both wondering if similar albums were made for other NFL teams, but so far we haven't turned up anything. In any case, it's a very cool item. Here's hoping it ends up with a Uni Watch reader.
•  •  •  •  •
Click to enlarge
PermaRec update: The woman shown above is named Jessica Ferber, and the photos scattered around her are part of a large stash of materials that she acquired after the death of a homeless man. Those materials led her down a deep rabbit hole, very similar to my own journey with the old Manhattan Trade School report cards. It's a great story — get the full scoop over on Permanent Record.
• • • • •
The Ticker
By Mike Chamernik

Baseball News: The White Sox printed phantom tickets for the 1982 World Series. The Sox finished six games back in the AL West that year. … Georgia Tech softball has tequila sunrise alts. The team wore them last year, too (from J.R. Gray). … No photo, but Brewers OF Domingo Santana wore No. 3 yesterday. He normally wears No. 16. .. Orioles and Phillies went orange-vs.-red and the Mets and Yankees went blue-vs.-navy yesterday (from Andrew Cosentino). … The Pirates are bringing back the pillbox caps, and Buster Olney argues the case for the return of Stargell Stars. Unfortunately, only the first few paragraphs of the piece aren't behind a paywall. … New home uniform for South Carolina. Darren Stoltzfus notes that the set looks a lot like the Gamecocks' football unis. … The Diamondbacks have a lot going on the year. The latest development is striped socks. Also, D-Backs prospect Gabby Guerrero bats bare-handed, just like his uncle, Vladimir. … Matt Smith coaches the baseball team at Higley High School in Arizona and his players wear striped stirrups. … Rusty Smith's 11-year-old son plays on an Expos Little League team. "We've tried hard to stay close to the original," he says. "Still waiting on the white and red jerseys." … If you think UMD makes creative use of the Maryland flag, check out the baseball jerseys for Washington College, a D3 school (from Kevin Connor).

NFL News: If you sort the Falcons' roster by number you see that the team has five guys named Matt (and a tackle named Jake Matthews). I hope newbie Matt Schaub picks a single digit number to continue the trend (from Brinke). … A sports fan and artist custom-paints and sells his own football helmets. A gallery of Hard Hedz Custom Helmets can be seen here (from John Ogle). … "My now-wife and I gave ourselves a two-day mini-vacation in downtown Seattle," writes Markus Kamp. "We took the occasion to visit Paul Allen's Hendrix-inspired EMP Museum. I wasn't expecting (but was not surprised by) a new Seahawks exhibit, which featured a few cool displays." Markus provided captions for each photo in that gallery, so check it out. Also, the reason for his mini-vacation was because he got married this past Sunday, March 6. "Our original plan for announcing it to family and friends was by a picture of matching custom Sounders jerseys lettered with JUST MARRIED and the day's date. As one should come to expect from the modern corporate sports world, they arrived a day late. Still a fun pic!"

Hockey News: The Flyers' first uni set had odd-looking "1" numerals. … A Flyers fan created a clever customized Shayne Gostisbehere jersey. The defenseman is known as Ghost Bear, a play off his name (from Matthew Solly).

NBA News: Phoenix wore Los Suns jerseys last night. Here's the complete uniform set (from Phil). … Stephon Marbury teased a new set of illuminating sneakers as a part of his Starbury line. … Two good NBA art galleries on Behance: a collection of 1997 posters and current players as Monstars from Space Jam.

College Hoops News: UTEP (previously Texas Western) wore 1966 fauxbacks last night. … DePaul, my alma mater, continues to wear black alts with illegible NOBs (from Schlomo Sprung). … A Minnesota high school has Indiana-esque candy-striped warm-up pants. … Louisville used to have a neat dunking cardinal logo. Well, not quite dunking — it's like he's doing a Lew Alcindor-style pseudo dunk. … We've all seen players wearing protective masks after suffering facial injuries, but Rhode Island's Jarvis Garrett, who recently sustained a broken jaw, has what is probably the craziest mask ever seen on a basketball court. … Here's the floor design for the First Four game in Dayton. … Also, the court for the ACC tournament uses three different shades of hardwood. "It looks good, all natural," says John Muir. "And fairly low-clutter from logos."

Soccer News: Here's what the Ukraine will wear for UEFA Euro 2016. … Swedish women's club FC RosengÃ¥rd won the fight to wear the Pride flag on its uniforms (from Phil). … A couple players in the Champions League switched shirts at halftime yesterday (from Greg Dewulf).

Grab Bag: NC State is celebrating the 50th anniversary of Carter Finley Stadium (from Drew Johnson). … New logo for Principal Financial. … A new "Made in Wisconsin" logo will promote products produced in that state.