A good Saturday morning everyone — I hope you've all had a pleasant week.
As you guys are no doubt aware, once the full set of seven MLB "City Connect" (CC) uniforms were unveiled in 2021, I ranked them, and then I followed that up with a new ranking for the 2022 CC uniforms. I never did do a combined ranking for all fourteen…until now. But I'm getting a bit ahead of myself.
Back in early August, reader Michael Cooperman approached me with this:
Wanted to get your thoughts on something — I don't have a fully formed idea yet, but aside from running a marketing and PR firm, I also teach a couple marketing classes at Cal Lutheran University here in the LA area, as does my business partner. As a result, we have access to the opinions of 50-75 marketing students, maybe more depending on if I want to reach out to a few other professors or even past students.

I was trying to think about how to incorporate Uni Watch into my classes — I actually had Nick Francona speak last year, so I thought about inviting you or Paul as guest speakers to talk about sports marketing (successful and not).

I was ALSO trying to think if there's a way we could use these 20-year-old marketing students from an opinion perspective — for instance, you have YOUR rankings of the city connect uniforms — here's how they compare to our marketing student panel – or something like that.
A few e-mails later and Mike decided he'd get the opinions of around 100 of his students, and more specifically, their rankings of the fourteen CC unis released to date, and hoped to compare those rankings to mine. Fast forward a few weeks, and what I have for you today is, I think, one of the more fun articles I've done in a while. After conversing with Mike, I did end up ranking the full fourteen uniforms (and you can see those below), and you can see how those compare to the rankings of his students. But there's more…much more. After reading Mike's piece, I'll include the survey he gave to his students (and which I took as well), so that you can add your own rankings of the CC uniforms — and hopefully we can do a follow-up at some point to see how Uni Watchers of all ages rank the unis.
I've gone on long enough, so I'm going to turn this over to Michael right now. Enjoy!
• • • • •
California Lutheran University Students Rank City Connect Uniforms
by Michael Cooperman
Like many of you, I love talking logos and uniforms. As a marketing and market research practitioner my favorite days are the days where we get to talk design. And as an adjunct professor at California Lutheran University, my favorite class of the year (I teach two marketing courses) is the one where we talk about design principles and branding, including discussing good and bad logos and logos with easter eggs.
So, when I saw Phil's rankings of the 2021 and, more recently, the 2022 MLB City Connect uniforms, I poured through the listicles! And, like you, while I invariably find joy in a few of these uniform marketing programs (thank you to the death of the 1-shell rule for bringing back Pat Patriot), most of them feel unnecessary, like the jingoistic July 4th caps or the Memorial Day uniforms which just feel like an annual money grab. In fact, we had Nick Francona speak in one of my classes last year about this very topic (thank you Uni Watch!).
However, as someone who makes a living analyzing and building marketing programs, I had to step back and ask myself a simple question.
Why?
Why does this program exist? MLB needs younger fans.
We've all heard baseball called slow, traditional, and stodgy. As baseball fans, we love the sport's quirks and traditions, from stirrups and catcher's gear to the 7th inning stretch and ballparks with weird juts and giant walls. It doesn't fit our frenetic, overstimulated culture.
MLB recently approved changes to speed up the game, but they want to attract younger fans, and City Connect is an approach to do so.
Forgive me if I'm mansplaining MLB's challenges, but as much as we may love to hate the 800-lb gorilla of sports uniforms that is Nike, I give them credit for developing a strategic program to attempt to cure what ails MLB.
So, I reached out to Phil and Paul with a simple thought. We should gather the opinions of a young, diverse set of consumers — like those students in my class.
We surveyed students to understand how they felt about the City Connect uniforms. Were they aware of the program? Did they like the unis? And to MLB's unstated goals, would they buy the merch? 78 people responded to the survey (minus Phil), and the results were quite interesting. Dr. John Garcia, our colleague, helped us generate and validate the insights. Full disclosure, there are biases with college students in Southern California at a small, private university, so these respondents don't reflect a national population, which is fine.
Here are 5 compelling things we learned:
There was Agreement at the Top AND Near the Bottom of the Uni Rankings
The White Sox uniforms were overwhelmingly the favorite City Connect uniforms, with the highest overall rating of 700 (on a scale of 1000) in City Connect Uni Ranking Index. On a 1 – 10 scale, with 10 being highest, 41% of respondents rated the ChiSox uniform a 9 or 10. The next highest total? The San Diego Padres at 28%, followed by the Diamondbacks at 24%. Who else liked the White Sox unis? The men in the survey rated the White Sox unis very highly. "Super Fans" (respondents who rated themselves a 5 on a 1-to-5 scale of baseball fandom) rated the White Sox unis a 9 out of 10 (vs a 6 for non-fans). And perhaps most importantly, the students and Phil were aligned in ranking the White Sox the #1 City Connect uniform for the combined 2021/22 rankings.
Interestingly, students and Phil have some agreement on the worst uniforms, the Giants and Astros.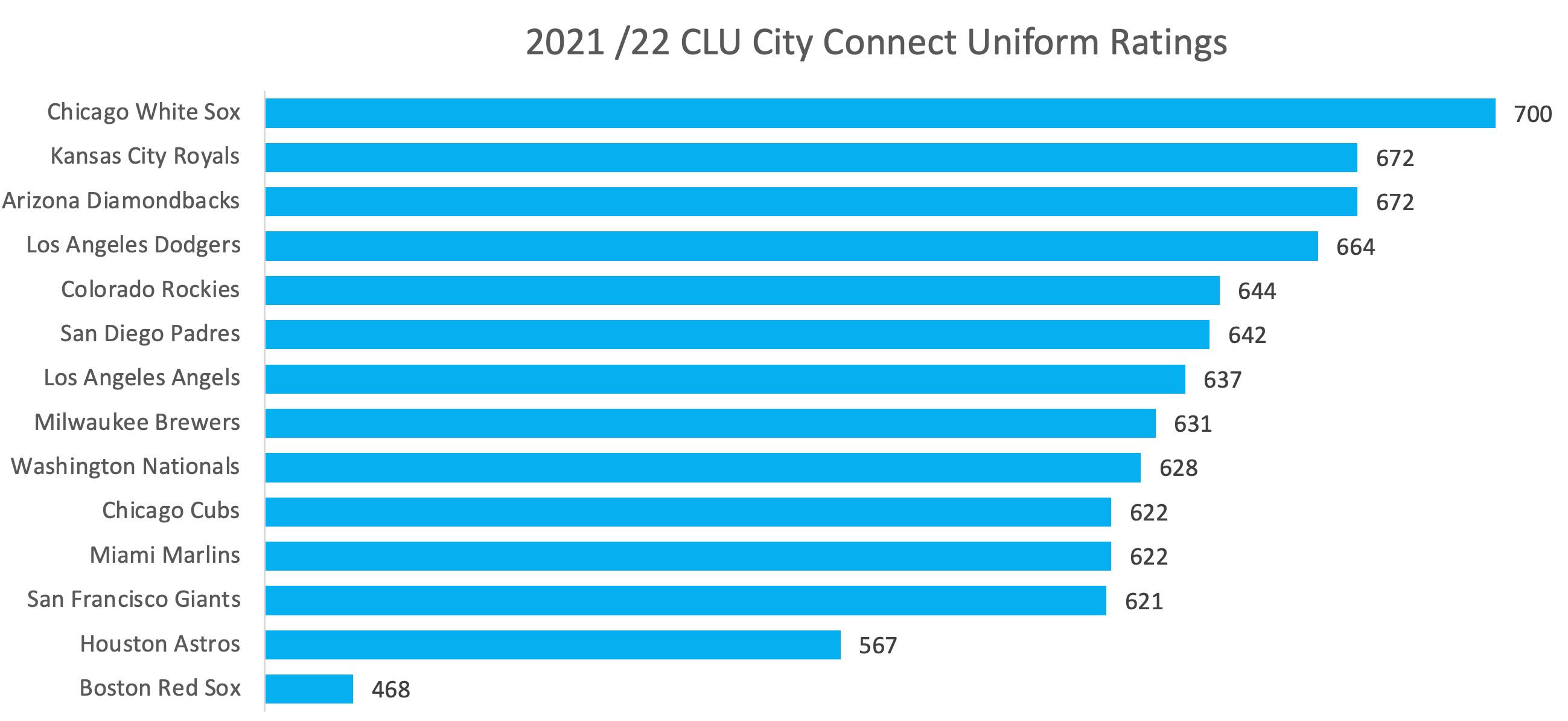 Violent Disagreement on One Team…
…and it was my beloved Red Sox. No team got more hate and less love from the students than the Red Sox. The students ranked the Red Sox uniforms dead last by a mile. I chalk it up to the fact that most of them didn't know the inspiration for the uniform, but hey, that's a communication problem! And while the students hated the BoSox unis, Phil loved them, ranking them second in his combined rankings only to the South Siders. Though not to the same degree, there was also disagreement on the Royals, who ranked second in the student rankings, while Phil had them ranked 11th out of 14.
Polarizing Padres
No team had higher variability in their ratings than the Padres. Those students who liked them cherished them, and they rated them especially high among those who play a sport in college. However, the Friars also got an above-average amount of "hate" (which we defined as a rating of 1, 2, or 3). The only teams that got more hate than the Padres were the Red Sox and Astros.
One student commented, "The color change of the Padres uniforms is amazing." While there were clearly others who agreed, the polarized opinion had a major impact on their overall ranking.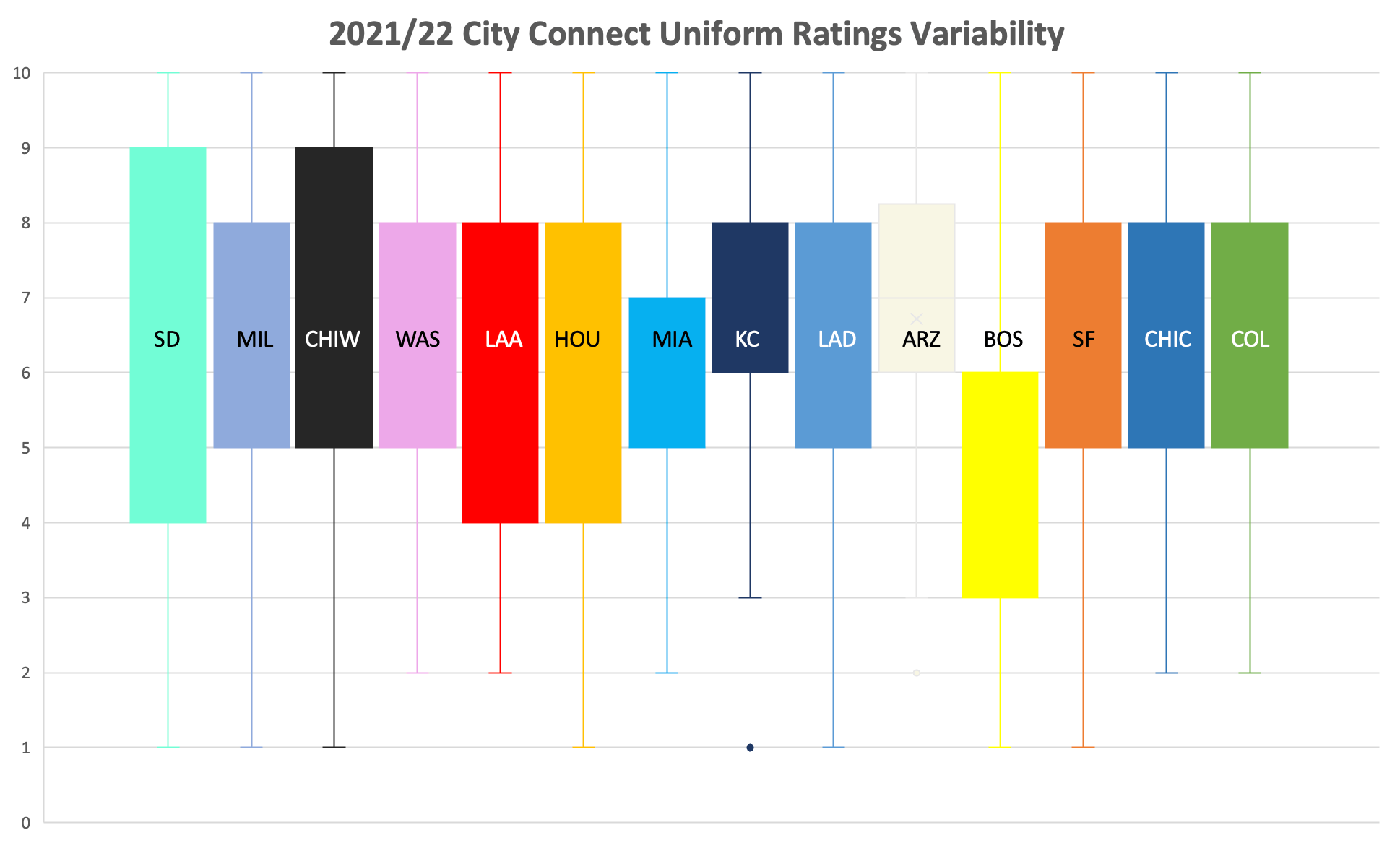 Is Polarization Bad?
City Connect can't achieve universal love. When we compare "love" (a rating of 9 or 10) to "hate" (1, 2, or 3), the White Sox rank in the "Love" quartile (above average love, below average hate). Padres are the only team with above-average love and hate, which would categorize them as Polarizing. Is Padres' performance bad?
The Padres uniforms create an emotional response, which is what marketers strive for. What do you not want? You don't want the Red Sox result, which is mostly hate. You DEFINITELY don't want indifference (below average love and hate), because at least when they hate you, they feel SOMETHING.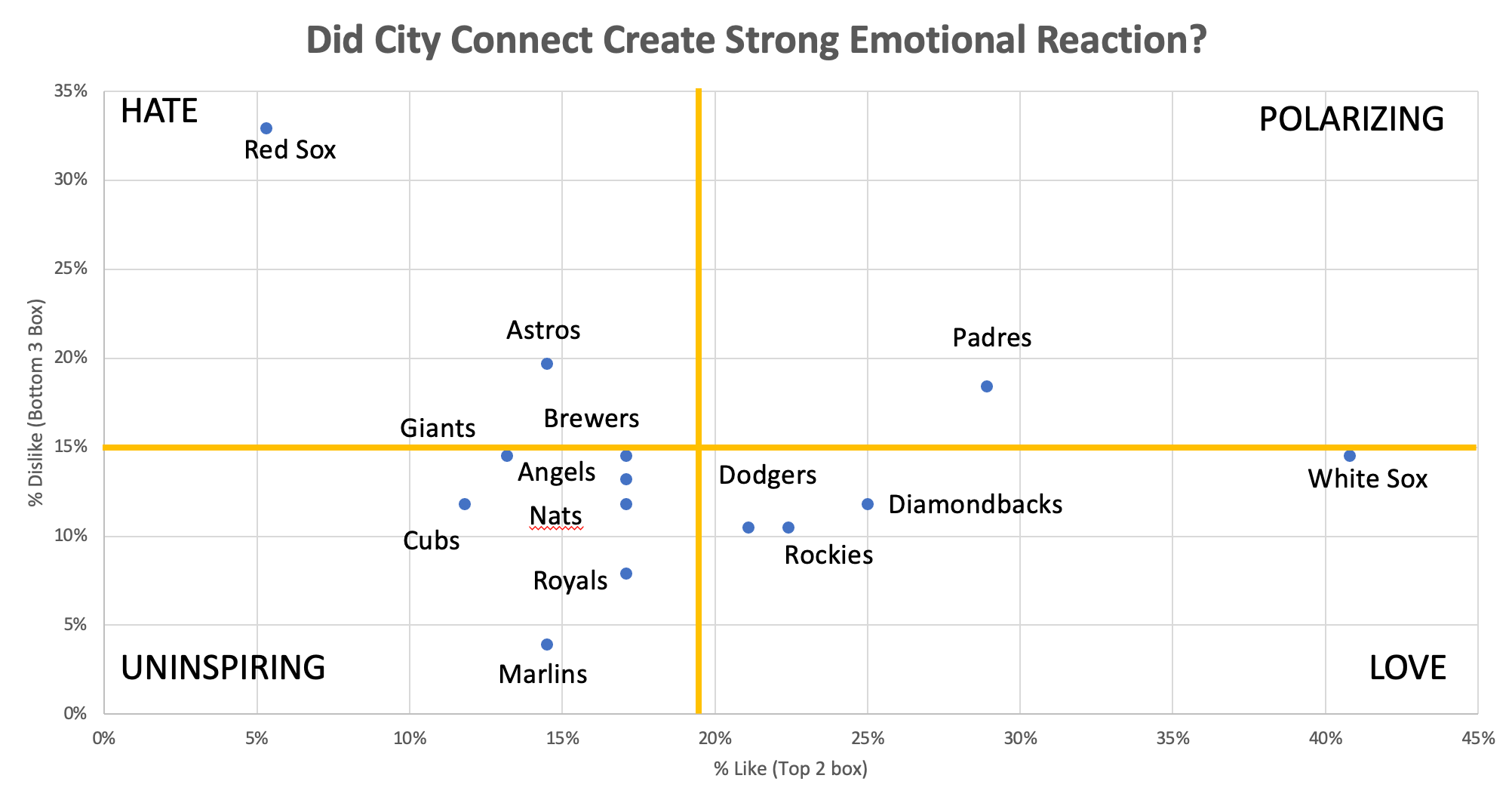 So, Who are the "Winners" and "Losers" from the First Two Years of City Connect?
Winner — MLB: So, says this survey. Only 37% of respondents knew about City Connect uniforms before the survey, and 3 own one. Depending on consumers' awareness of these uniforms, this could be good or bad for MLB. Nearly 40% said they'd buy a jersey after seeing these uniforms. Thus, City Connect jerseys increase the likelihood of buying merchandise.
Loser — MLB Marketing Department: Less than 40% awareness among the consumers you want to court? That's not great. Put more marketing dollars behind this program!
Winners — White Sox and Padres: Both teams are competitive this year and they have a lot of love for their new threads. That's double good news for fans.
Losers — Red Sox, Marlins and Cubs: It's great to be loved. It's not great to be hated. It's REALLY not great to be invisible. And the students think they are boring.
The Final Tally: Uni Watch vs. CLU Rankings Comparison
Ultimately, we see that while hard core fans may appreciate some of the nuances and inspirations of the jerseys, the younger demographic is really looking for something cool and fun. What will be REALLY interesting is when we do this again next year when all 30 MLB teams have revealed their City Connect jerseys.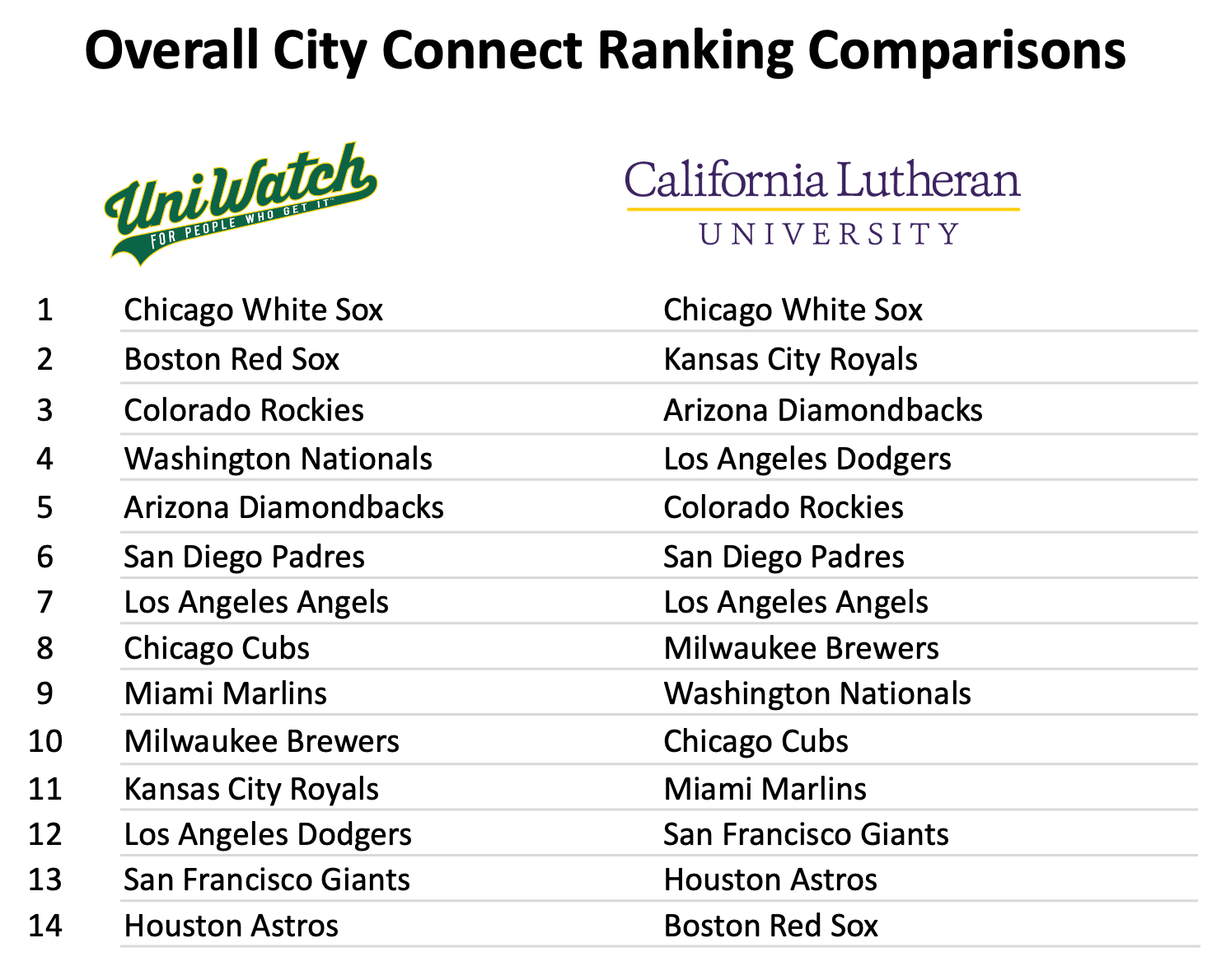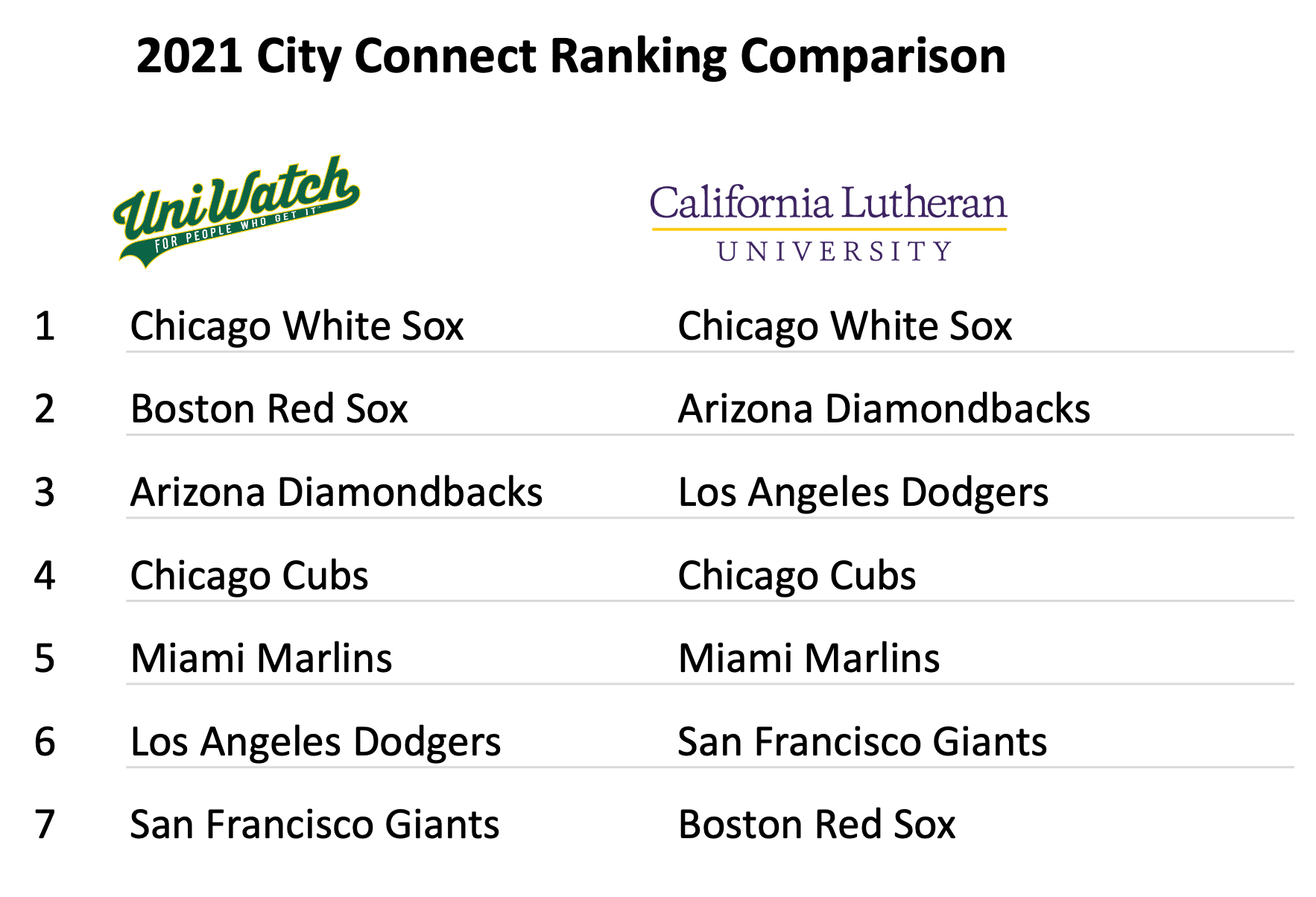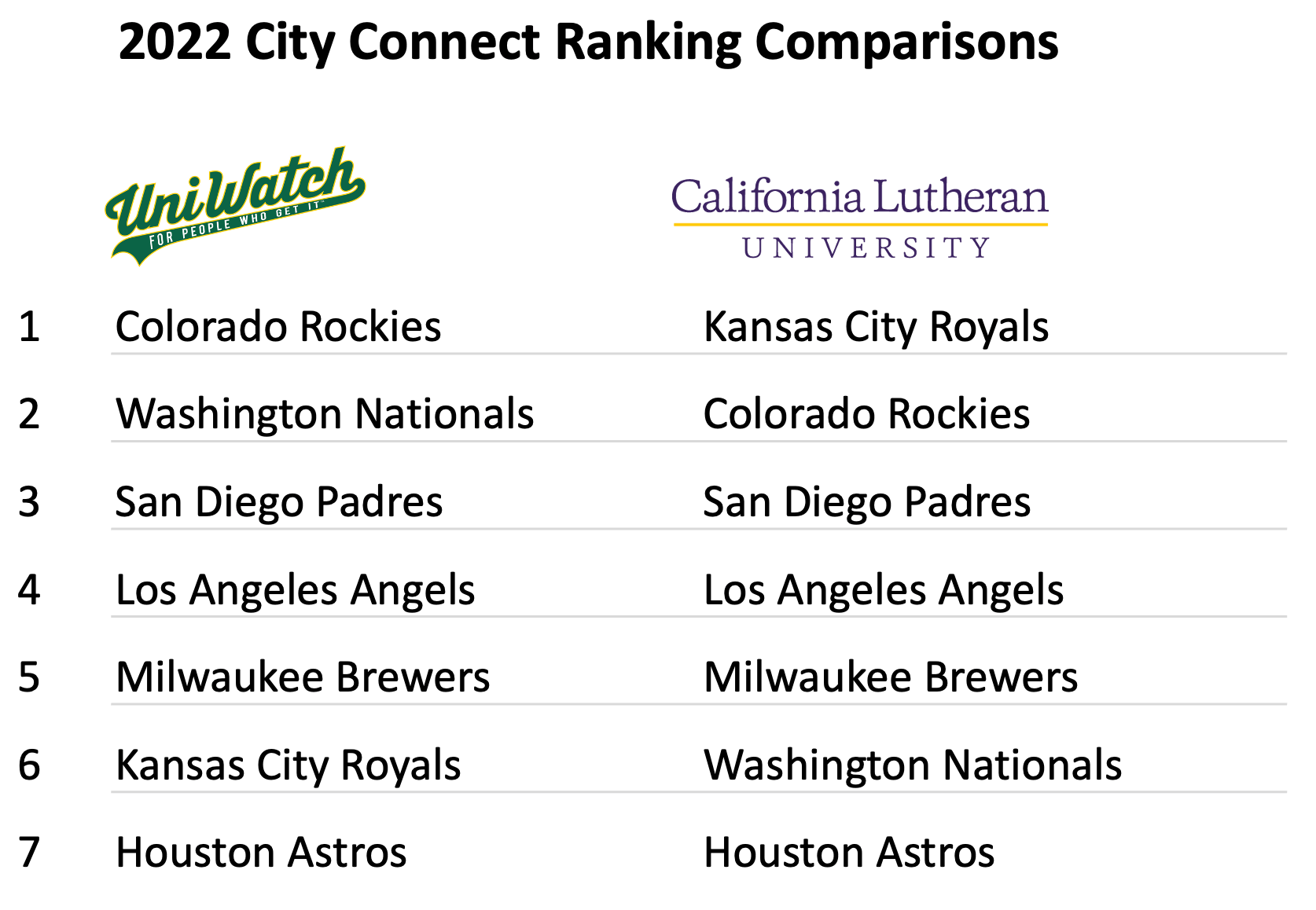 One Last Thing
Last weekend, I attended a Padres game where they sported their City Connect gear. The Padres REALLY leaned in on these uniforms. Their helmets. Their cleats. The tape around their wrists. Even their digital displays. I observed plenty of fans wearing the classic Padre brown.
The second most common uniforms? Not the blue and orange. Not the blue and white. The City Connect unis. The mint and pink. Considering the Padres history of uninspiring uniforms (post-80's through pre-20's), maybe this shouldn't be a surprise. Padre fans have embraced ONE non-traditional color — why not another?
• • • • •
Thanks Mike! I'm glad this proved to be a great experiment for you and your students, and I'm actually quite surprised at how closely (and not) their opinions of the CC unis matched up with mine. Great stuff and hopefully enough Uni Watchers will take the survey to have a follow-up on this down the road.
So — if you made it this far, you're ready to give your own CC rankings!
Take The CC Ranking Survey Here
I'd love to hear your thoughts (and also get your own rankings) in the comments below.