[Editor's Note: Paul is on his annual August break from the site. Deputy editor Phil Hecken is in charge from now through the end of the month, although Paul may be popping up here occasionally.]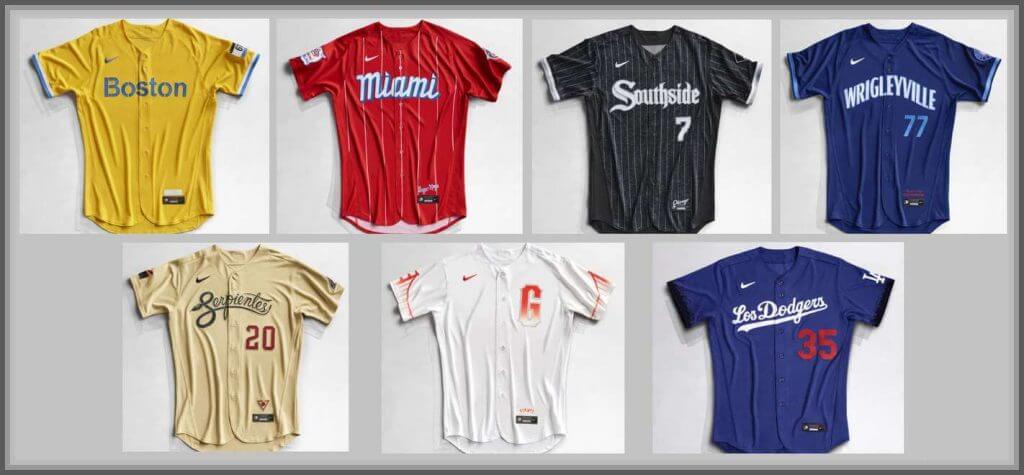 By Phil Hecken
Follow @PhilHecken

A good Thursday morning to you all. Hope everyone's doing well and getting ready for the penultimate weekend before Laborious Day. I'm going to try to keep today's lede short, as Paul has his next Bulletin piece going live this morning — link and more info follows directly.
I've already had a lot, over the course of the past several months, to say about the "City Connect" (CC) uniforms — and I'll have a lot more to say about the whole concept at another time, but today, I'm going to simply rank the uniforms from best to worst. I've mentioned one cannot really "judge" the uniform without the stupid word salads rationales behind the uniforms — and that's true to an extent — but today they'll be ranked solely as on field uniforms. In other words, if you'd never seen a baseball game before and simply saw these uniforms in game play, which team had the best and which team had the worst?
#1: Chicago White Sox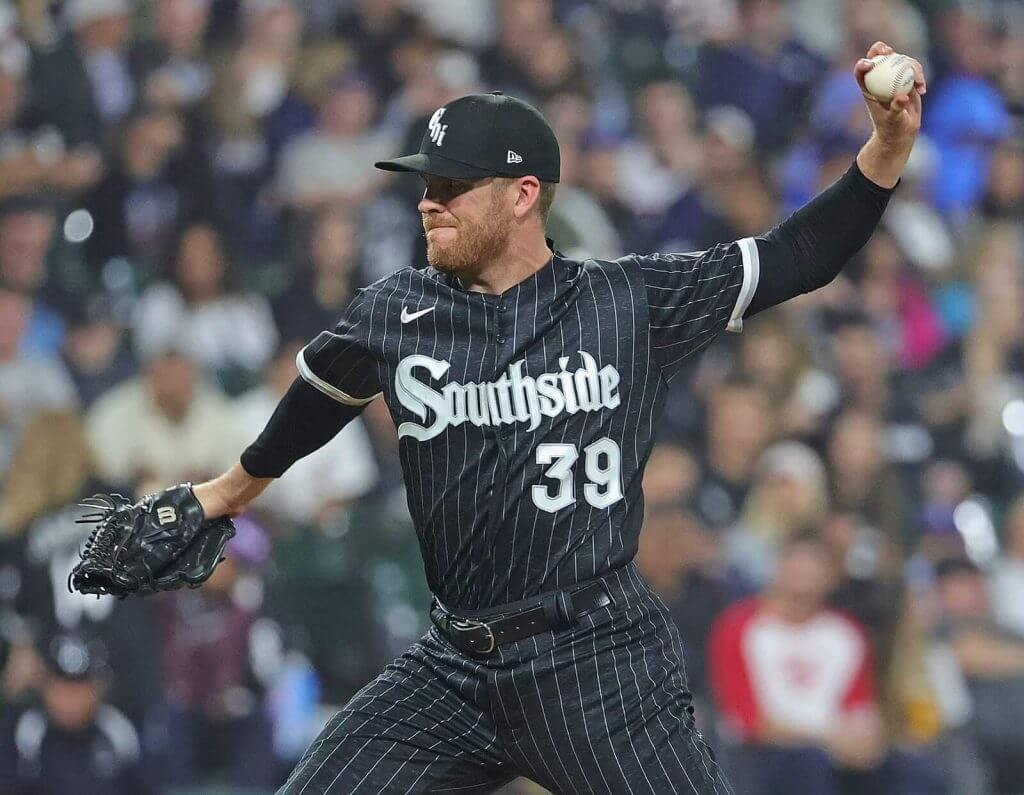 I definitely think there is a place in baseball for a black (or very dark gray) pinstriped uniform — which does have historical precedent in the Negro Leagues — and this one is well done. I might relegate it for Sunday Night games (or at least night games in the summer), but otherwise it's a fresh look and a solid uni. I would not feel the same way if the team had paired it with white pants.
__________
#2: Boston Red Sox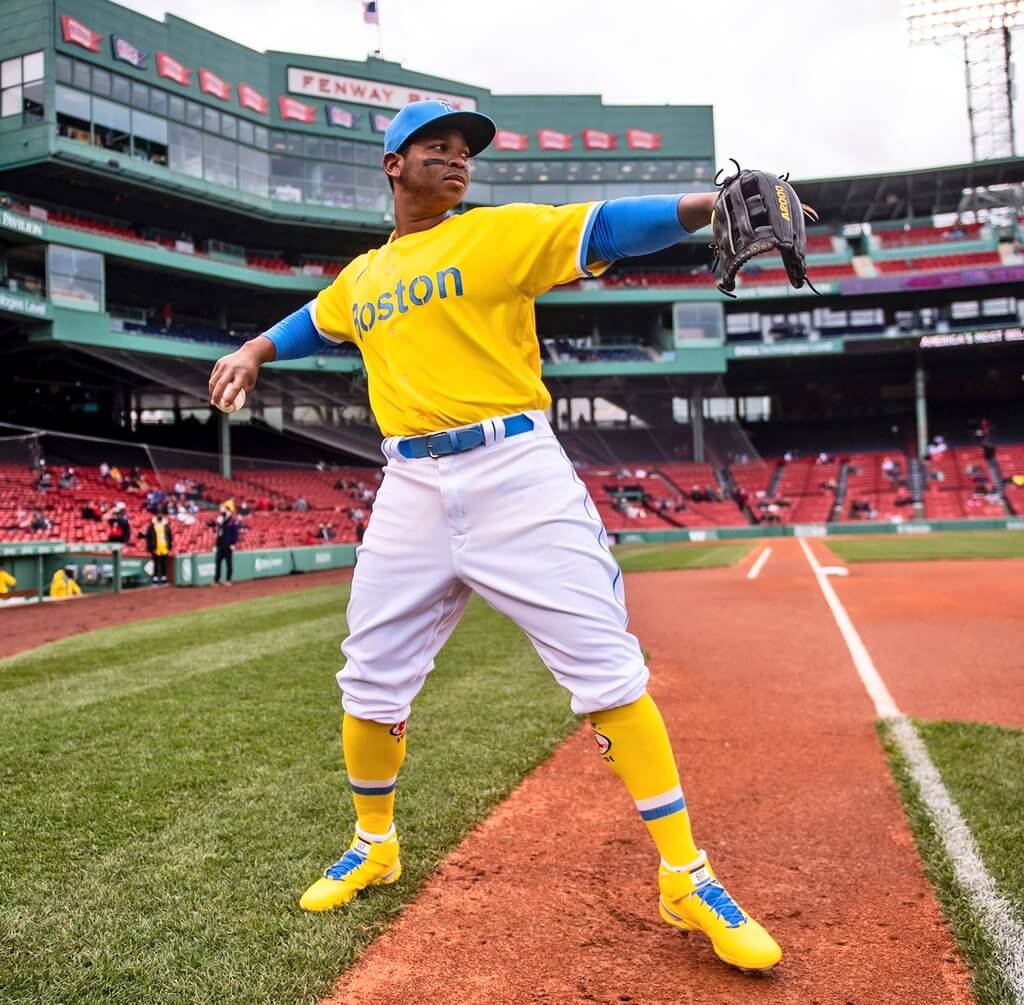 Divorcing myself from any history and tradition (and of course the nickname) and looking solely at this as a uni, I loved this. The powder blue and gold pair well together, and aside from making this a mono-gold uni, I think the white pants are really the only color that doesn't hurt the look in the least. Baseball needs more bright and pastel colors (enough with the navys and darker reds already!), and this one is a breath of fresh air!
__________
#3: Arizona Diamondbacks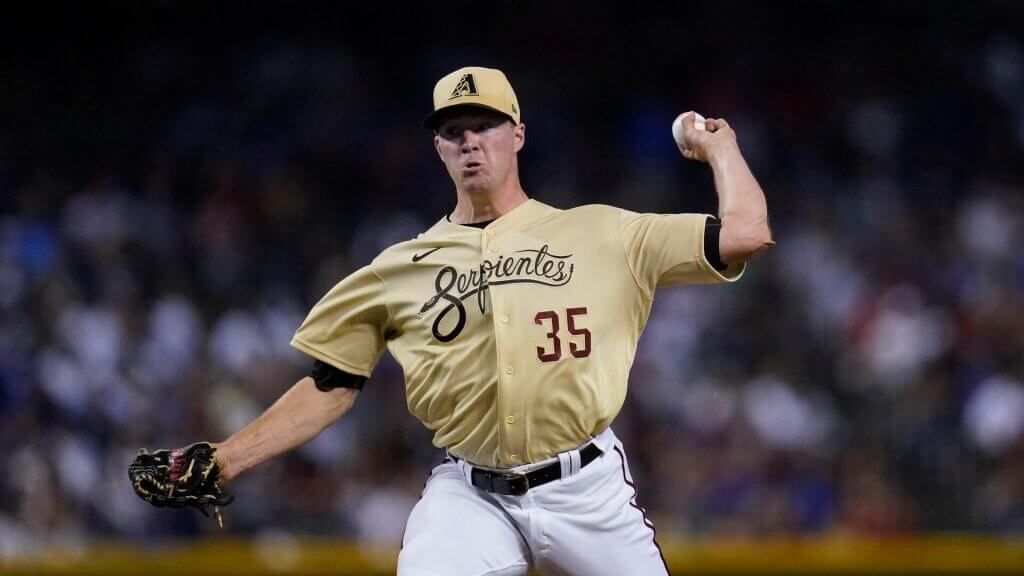 This one could have used Sonoran sand (or whatever color that cap and jersey are) pants, but other than that it's a nice uniform. In fact, I think an all sand uni (similar to what the Padres wore back in the day) would be a great road uni, breaking up the mostly gray (and a couple powder blue) unis in the game today.
__________
#4: Chicago Cubs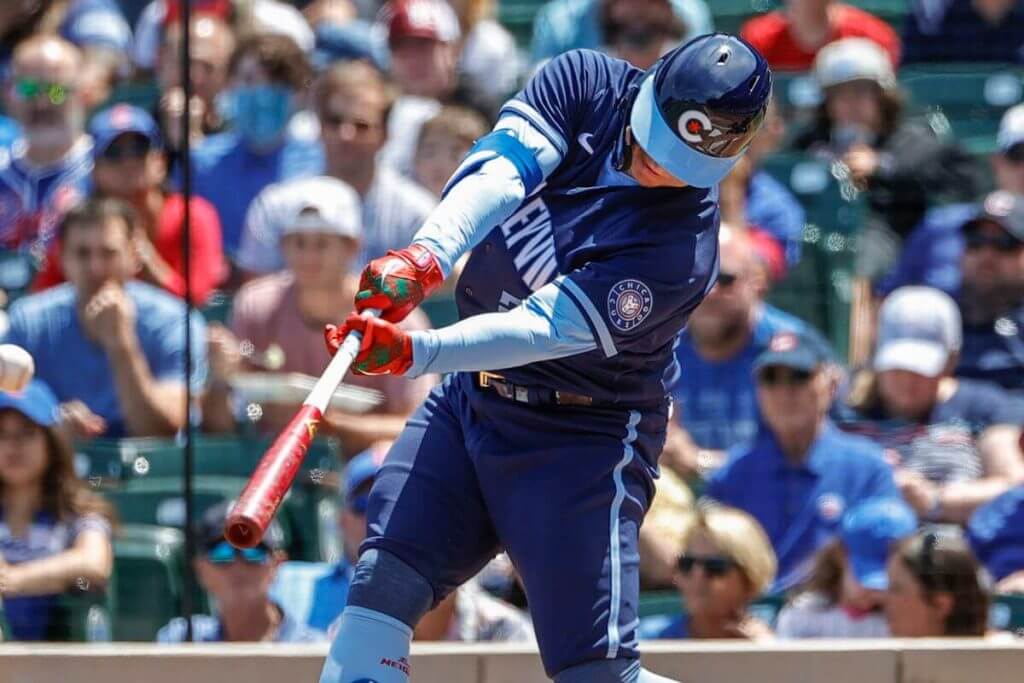 Like a black, pinstriped uni, I think there's a place in baseball for a solid navy (road please!) uniform, and this one is nicely put together. The powder accents complement the navy base well, and now that the team has custom helmets for this (the team initially wore their regular royal helmets), I think the look has real potential.
__________
#5: Miami Marlins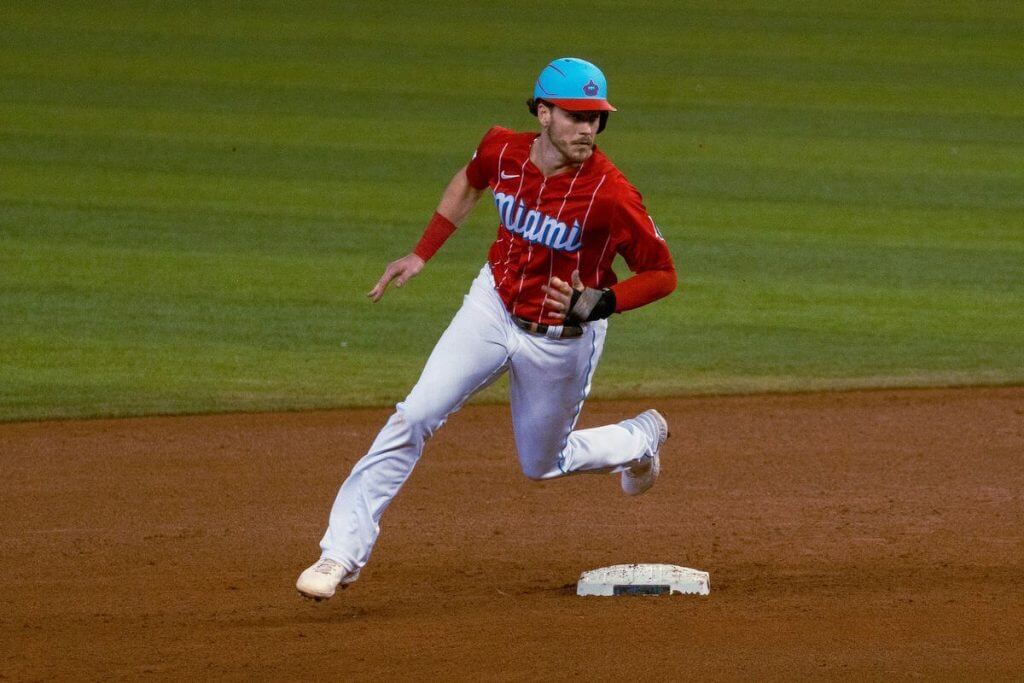 I know a lot of you liked this, but until the Giants and Dodgers unveiled their CC unis, this one was my least favorite. I figured it would stay at the bottom of the list…until the Giants and Dodgers unveiled their CC unis. I'm not a fan of the powder and red, and the pinstripes on the jersey are annoyingly wide (and truncate at the shoulders/arms).
__________
#6: Los Angeles Dodgers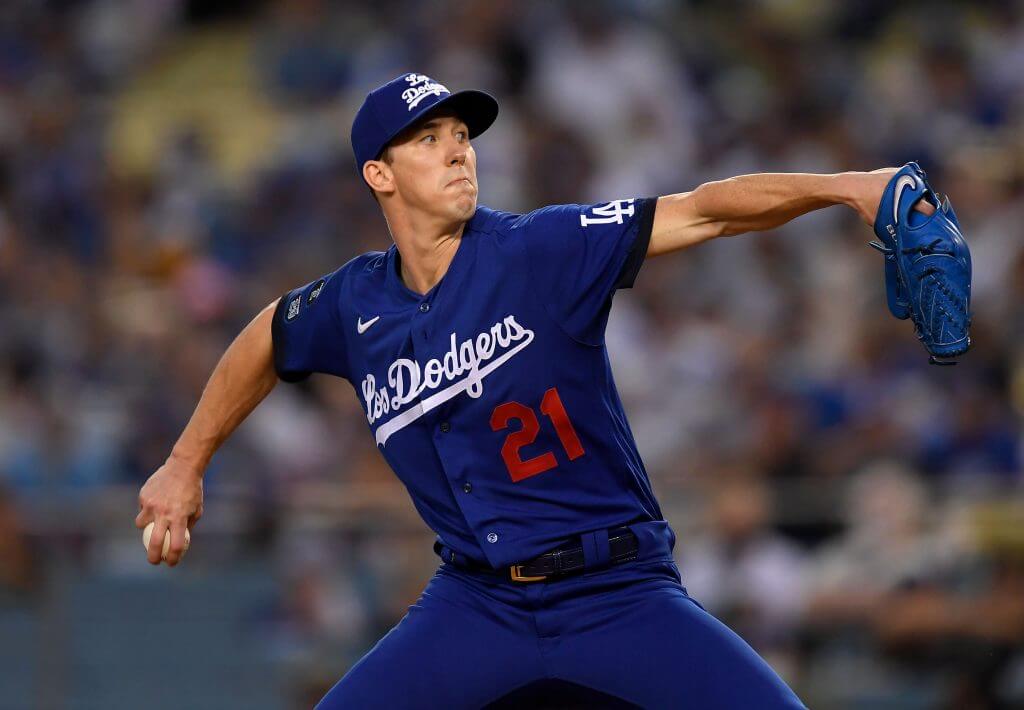 We don't need two teams with dark blue full uniforms (these are supposed to be "royal" but they look darker than that on the field), and the Cubs already fit that bill. The red front numbers are hard to read (a white outline would have helped), and that cap. Ugh — double stacked script just doesn't work.
__________
#7: San Francisco Giants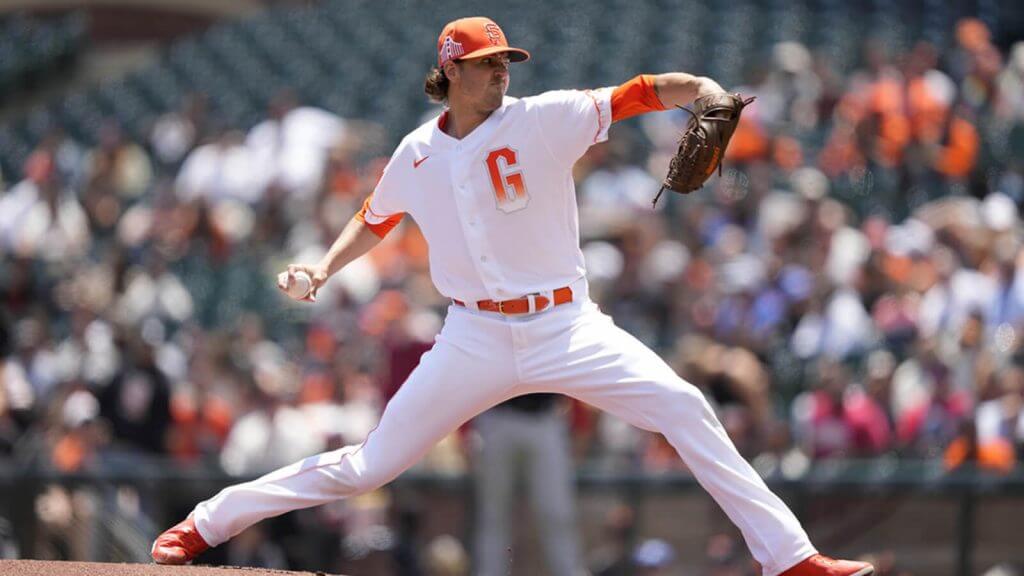 In their attempt to tell a story and be clever, the designers failed in perhaps the most important purpose a uniform serves: legible uniform numbers. I otherwise didn't hate this uniform, but that design flaw relegates these to the bottom of this list.
__________
And there you have it: my CC uni rankings. Feel free to disagree in the comments below!
• • • • •
• • • • •

Bulletin update: Paul here. My latest Bulletin article is a think piece that addresses a question that's been on my mind: Is the rapid rise of legalized sports gambling good or bad for uniforms? Those of you who've subscribed to my Bulletin content should already be seeing this article in your in-boxes. Everyone else can check it out on my Bulletin page.
On a completely different matter, I want to give a birthday shout-out to one of the uni-vere's key figures: SportsLogos.net founder and Unified podcast co-host Chris Creamer. Enjoy your special day, buddy!
Okay, now back to Phil.
• • • • •
• • • • •
Phoenix Suns Introduce "Aztec" Uniform Concept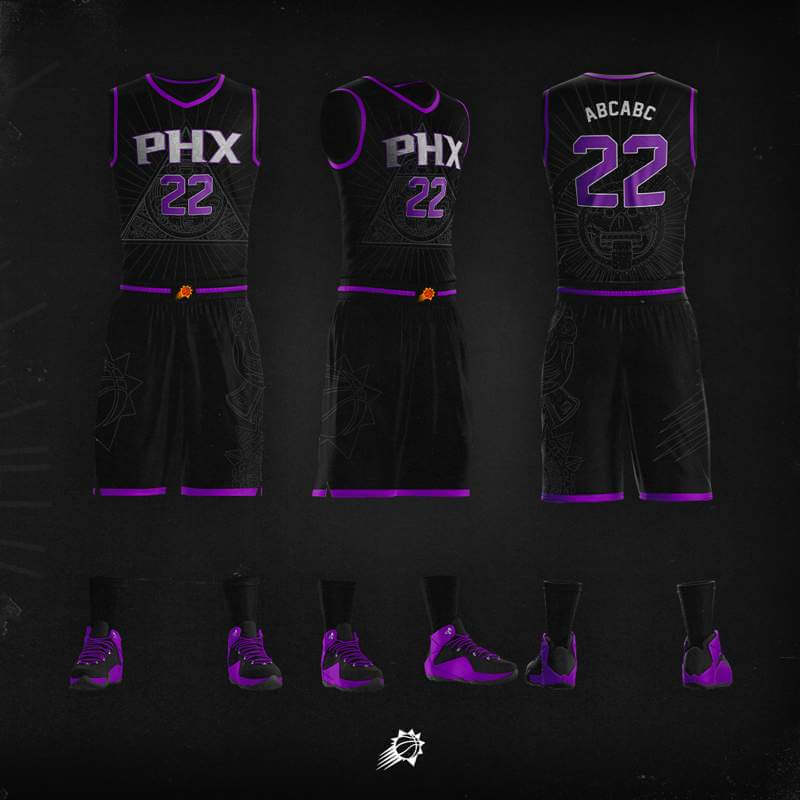 On Wednesday morning, the Phoenix Suns unveiled a new "Aztec" uniform concept on Twitter. The idea behind it is a "tribute to early ancestors of The Valley, our Mexican and Mexican-American fans." They added, "and the warrior spirit we bring to battle everyday." Ooooph.
I'm not sure a team has ever introduced a "concept" uniform before — or whether this has any real chance of actually becoming an official uniform. But as it has the gravitas of coming from the team's official Twitter account, I suppose it's entirely possible.
In that same tweet, the team asked followers for their thoughts.
Per this article:
The design features a triangular Aztec Sun Stone on the chest within the "PHX" logo. According to Suns officials, the Sun Stone symbolizes deities working together as one. The jersey also features rays surrounding the Sun Stone, representing heat and unity coming from "The Sun."

The shorts have armor with a jaguar, depicting that "those who bear the armor are ready to strike and attack at any time." The Aztec Death Stone is on the back of the jersey, depicting warriors who look at death in the face. According to officials, it also represents an "all-or-nothing" mindset in battle.

"Stepped in symbolism, the uniform boldly blends the grit, unity, and history of the Aztec civilization, harnessing the prowess and battle-hardened strength of its people and the influence it has had on Latin culture for centuries."
Discounting the cringeworthy marketing-speak (and seriously, in this day and age, isn't this "warrior" and "battle-hardened strength" verbiage bucking the current trends away from using Native Peoples' naming conventions and imagery? Yes, I know SDSU is called the "Aztecs" and feature similar iconography in their uniforms, but still…), I wonder if this will ever see the light of day.
Anyway, here are some additional looks at the "concept" uniform: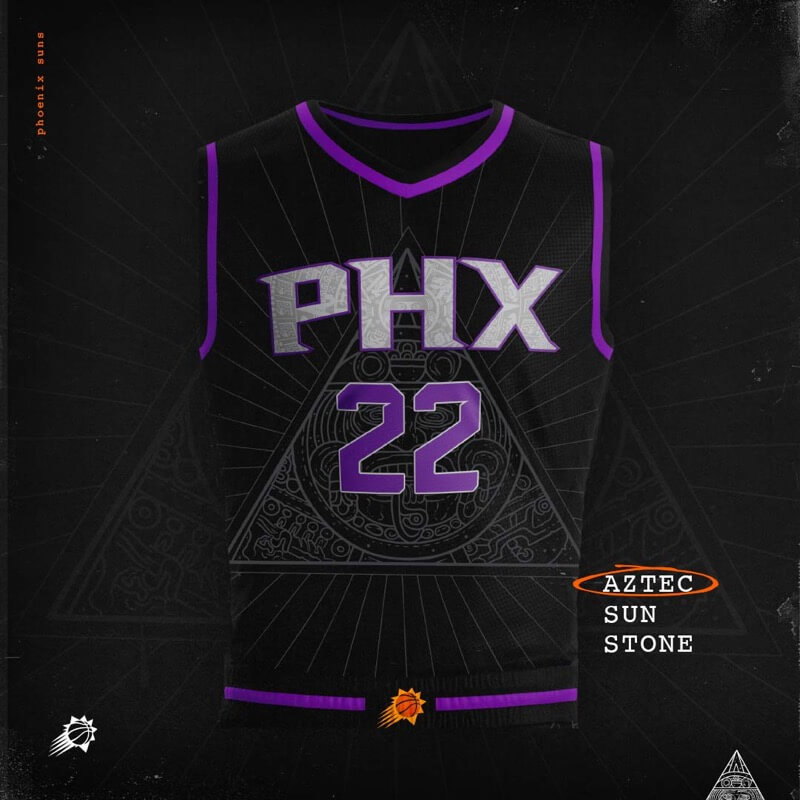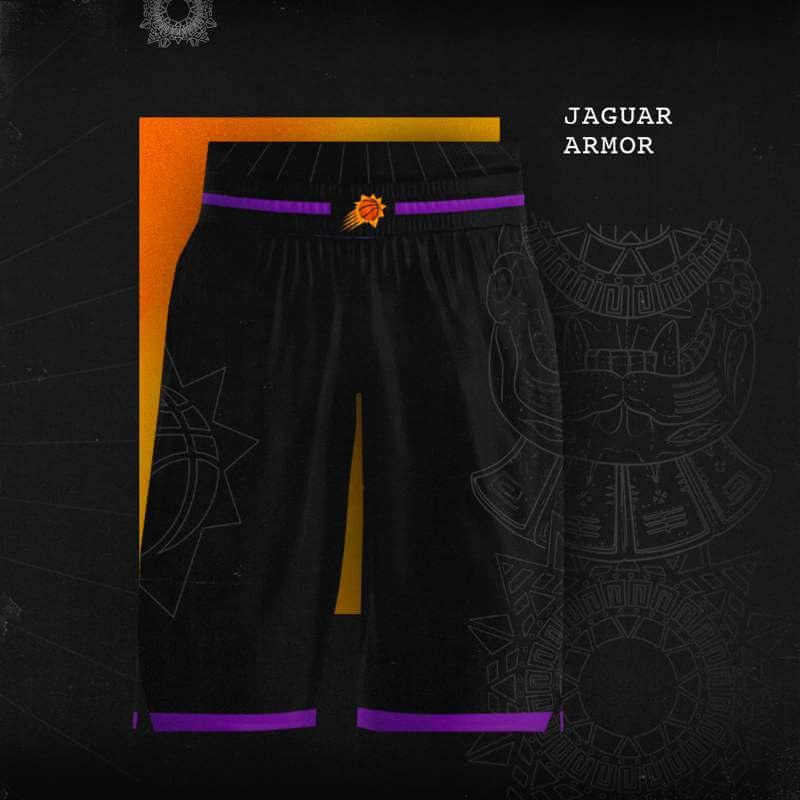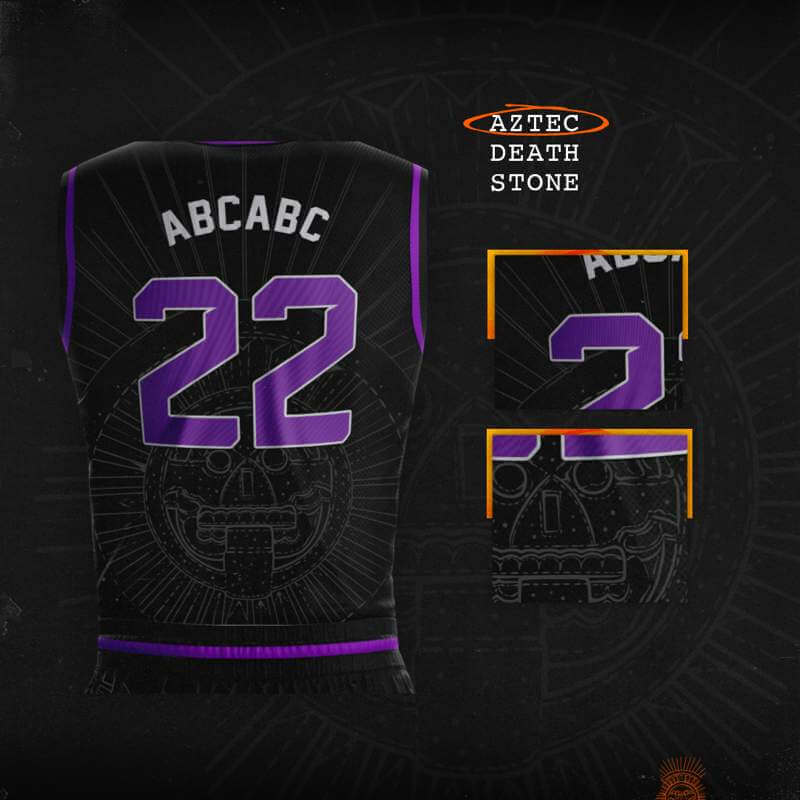 I'd be interested on hearing your thoughts on these.
• • • • •
• • • • •
Toronto Blue Jays Fan Club, 1979

In case you missed it on Monday, long time reader/contributor Walter Helfer shared with us some of his incredible correspondence with Marc Okkonen (scroll down), which was very generous of him to share. But he wasn't done!
Walter also shared various items he received from the Toronto Blue Jays — as you'll see, Walter was an early fan of the (then) new club, and he requested they send him anything that might be great for a new fan of the team — and man did they oblige! I'll let Walter take it from here.
• • • • •
Dear Phil,

In 1979 one of my favorite American League teams was Toronto, an expansion club with scads of room for improvement and an opportunity to create a bandwagon. I wrote to the front office and asked if they could provide anything to an early fan.

Boy, did they provide! Stickers, rosters, player signatures, pocket schedules, a ticket order form, and a souvenir list (from which I bought the patch shown}. The detail I appreciate most is the one-color logo on the signature copy, with its horizontal lines standing in for the red leaf and baseball.

Of the 1977 expansion twins, I thought Toronto owned the marketing game, as Seattle fought a more-desperate battle for identity; it was hard for them to shake the idea they were merely a contractual obligation to replace the Pilots."

Thanks for the opportunity, guys!

-Walter
• • • • •
Thanks Walt — and just what did they send? Check it out!!!!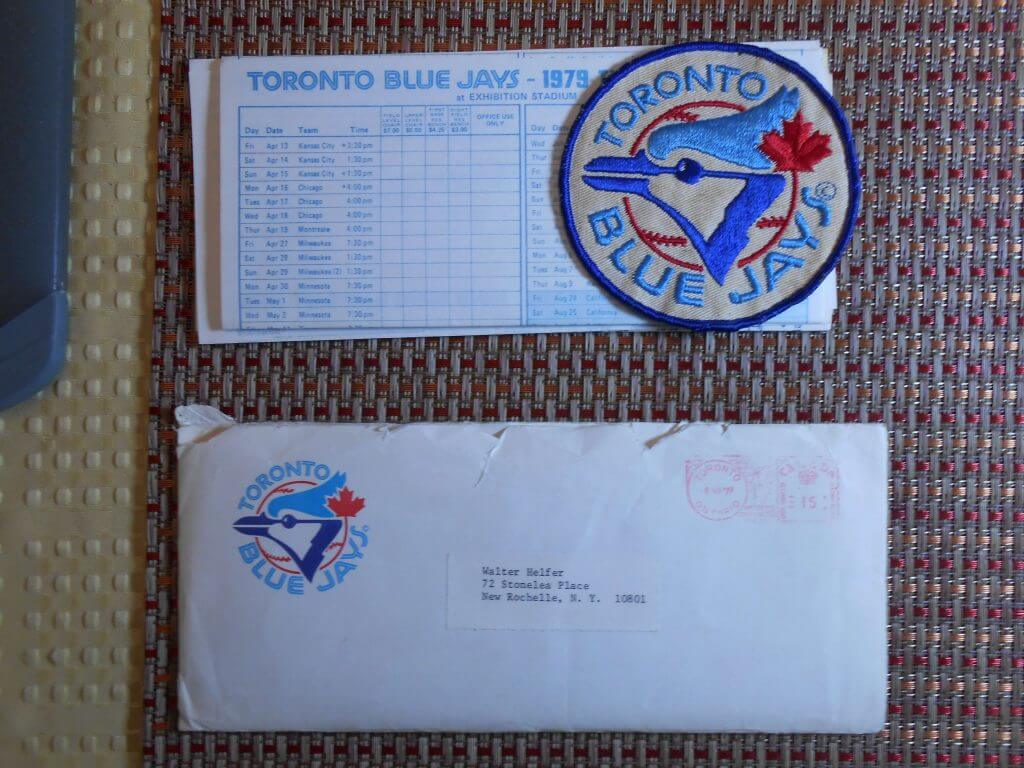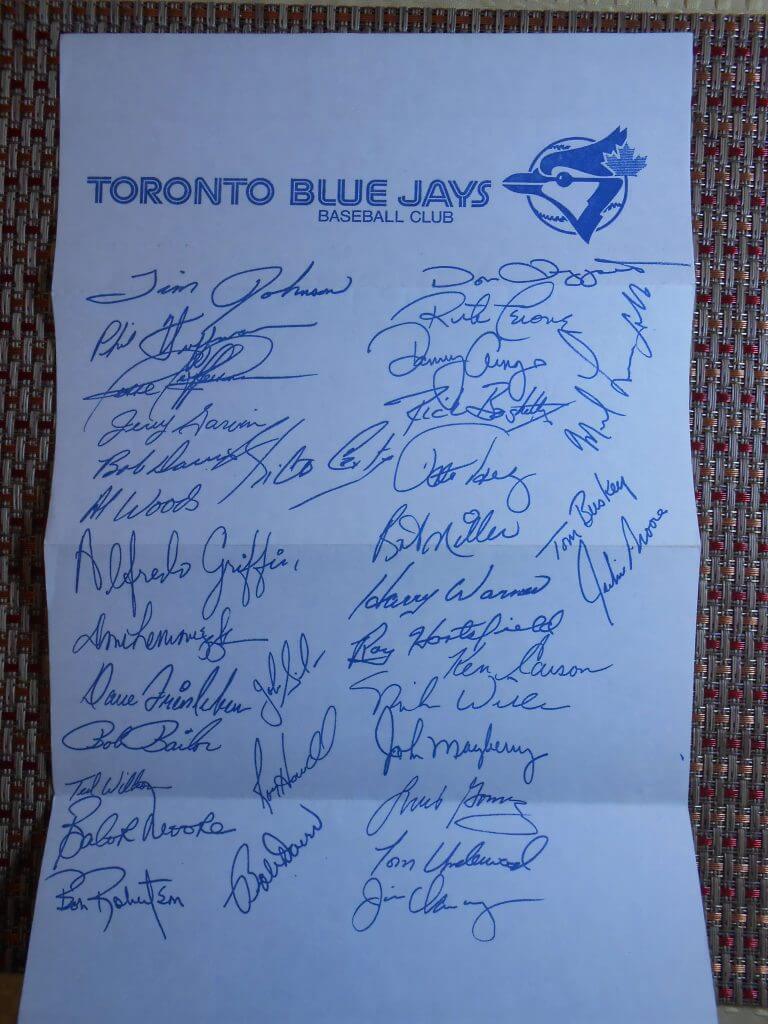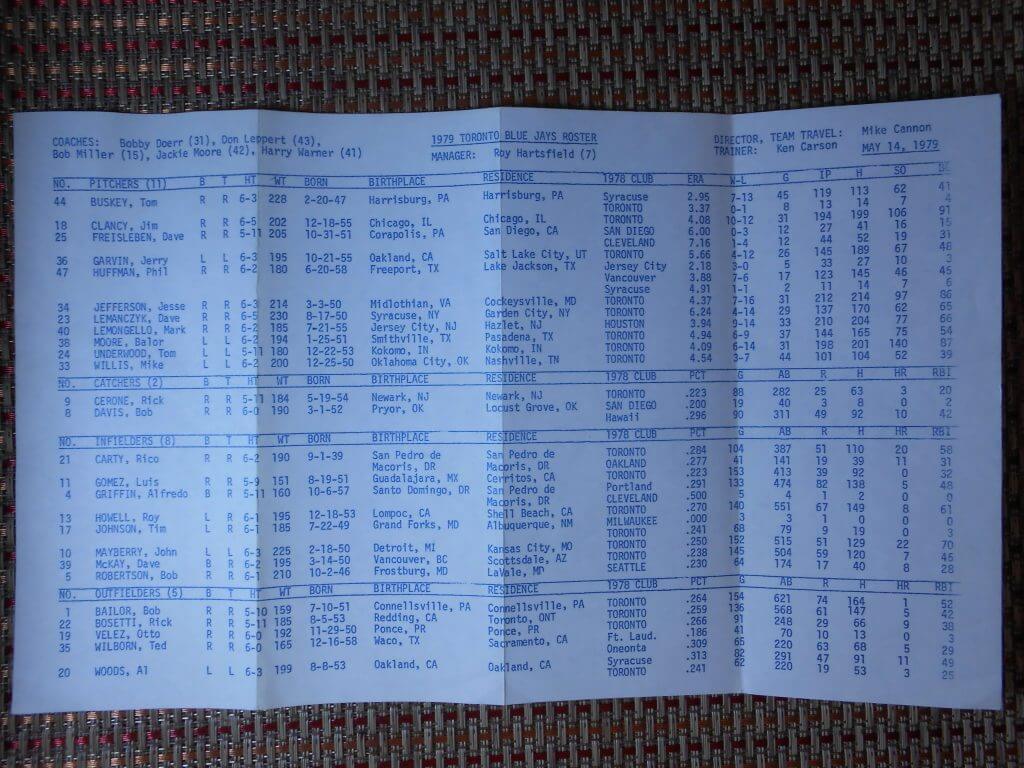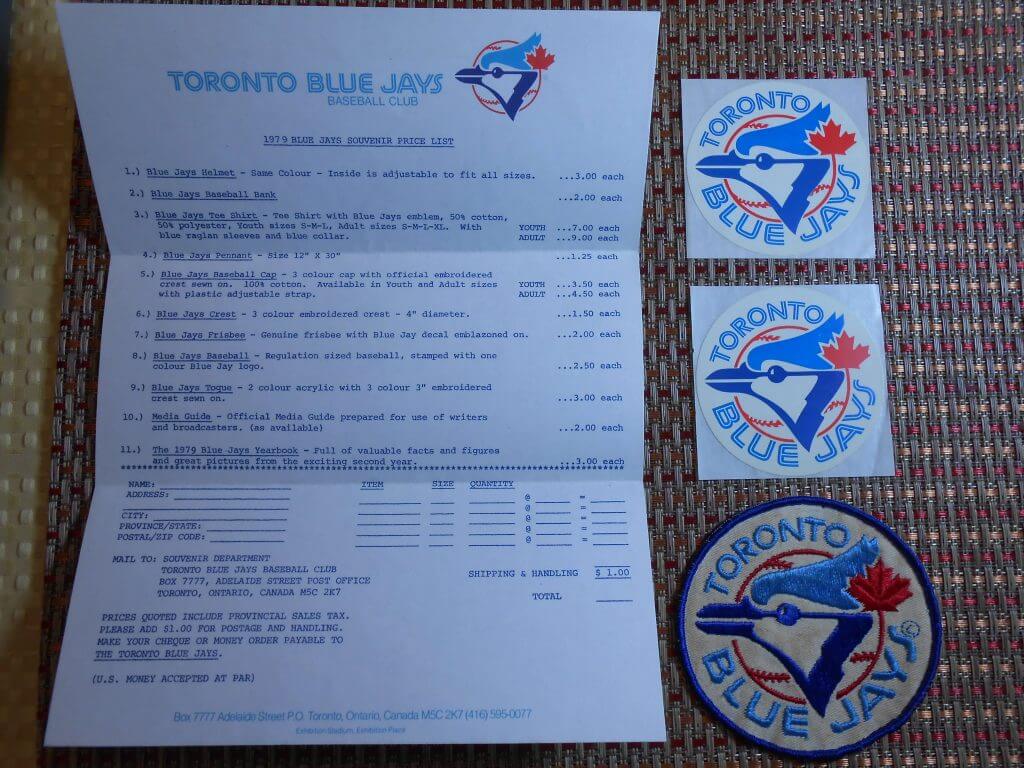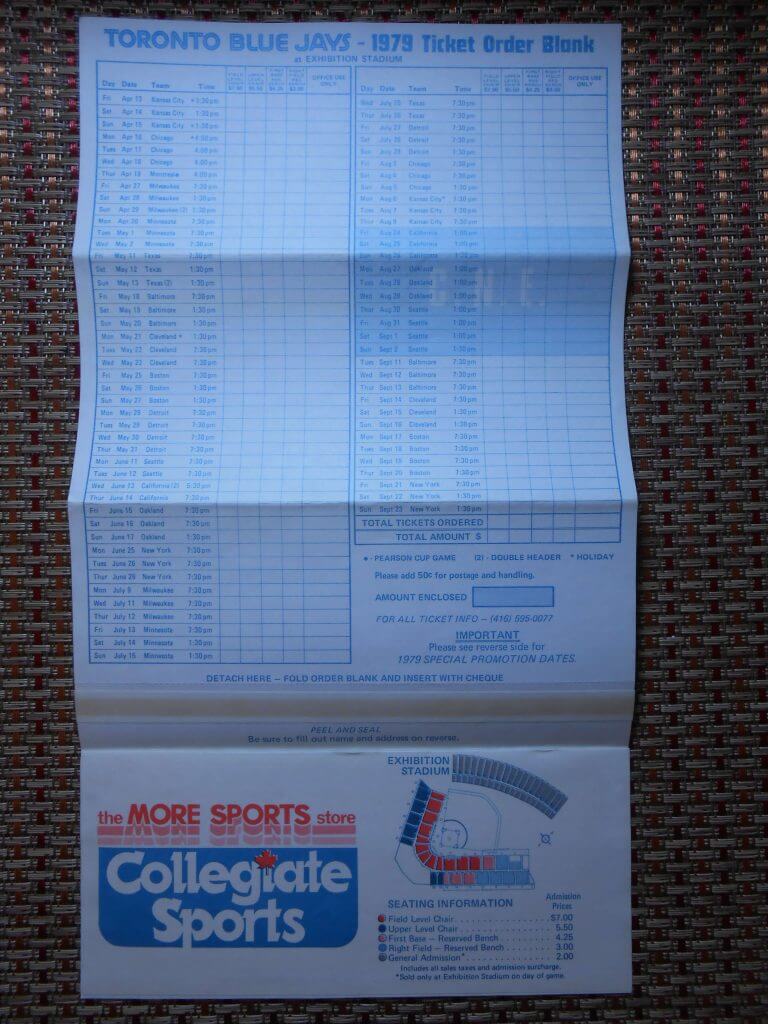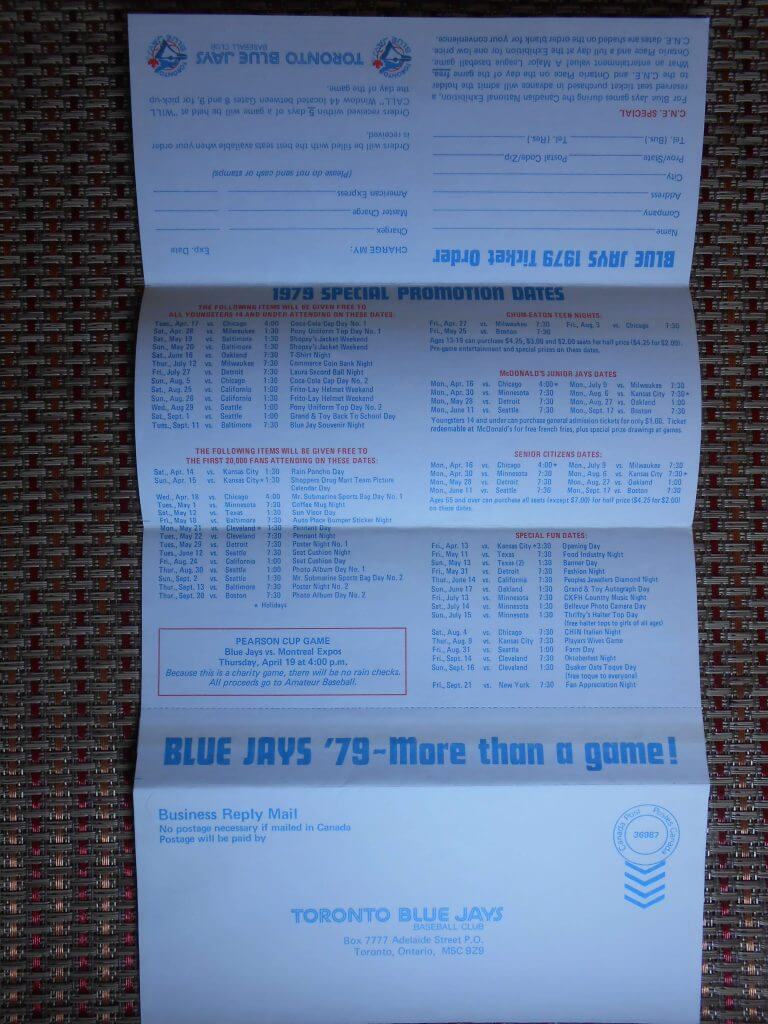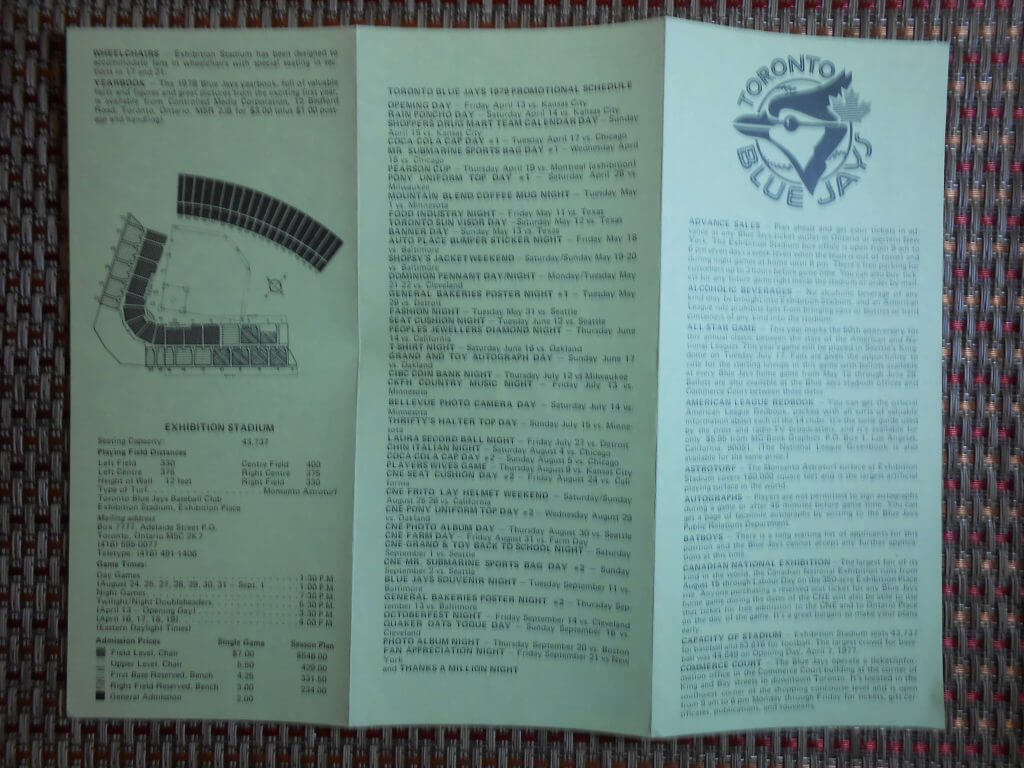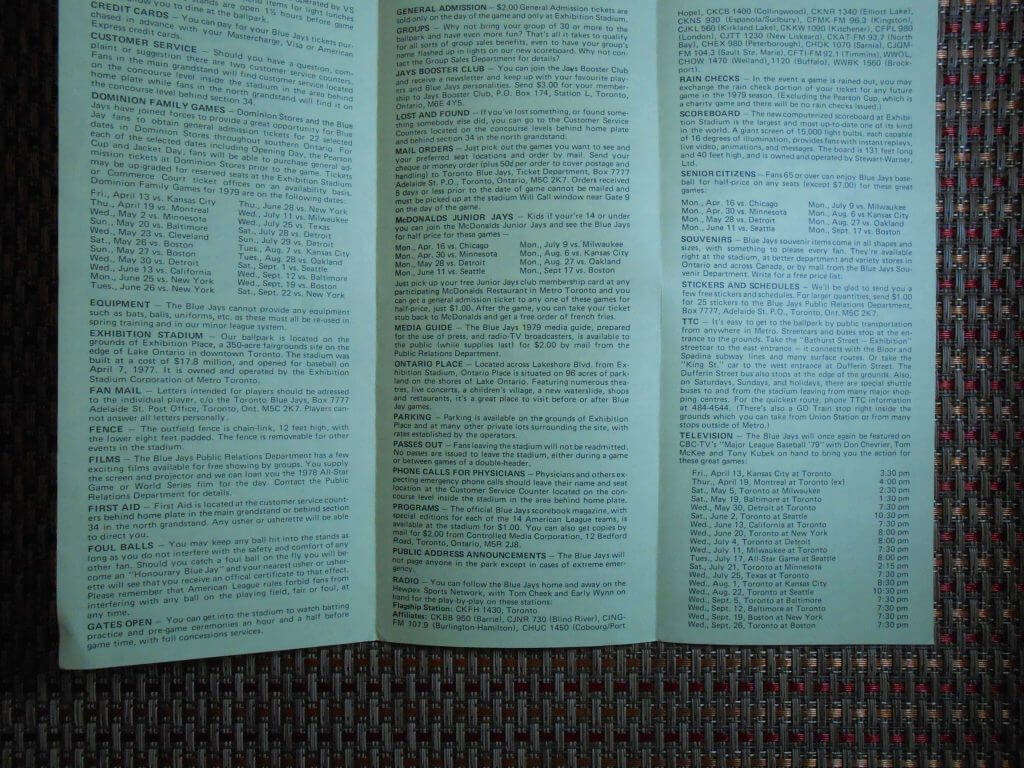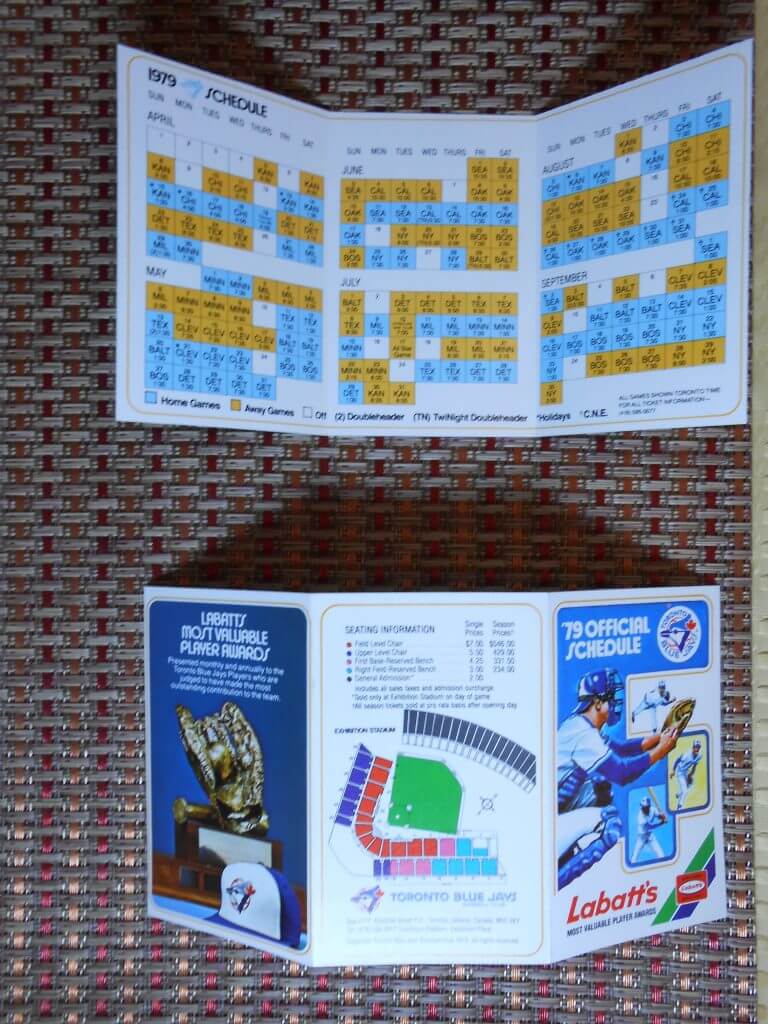 • • • • •
How great is that? Big ups to Walter for sharing these wonderful Blue Jays ephemera after all these years and for having the wherewithal to save them all!
• • • • •
• • • • •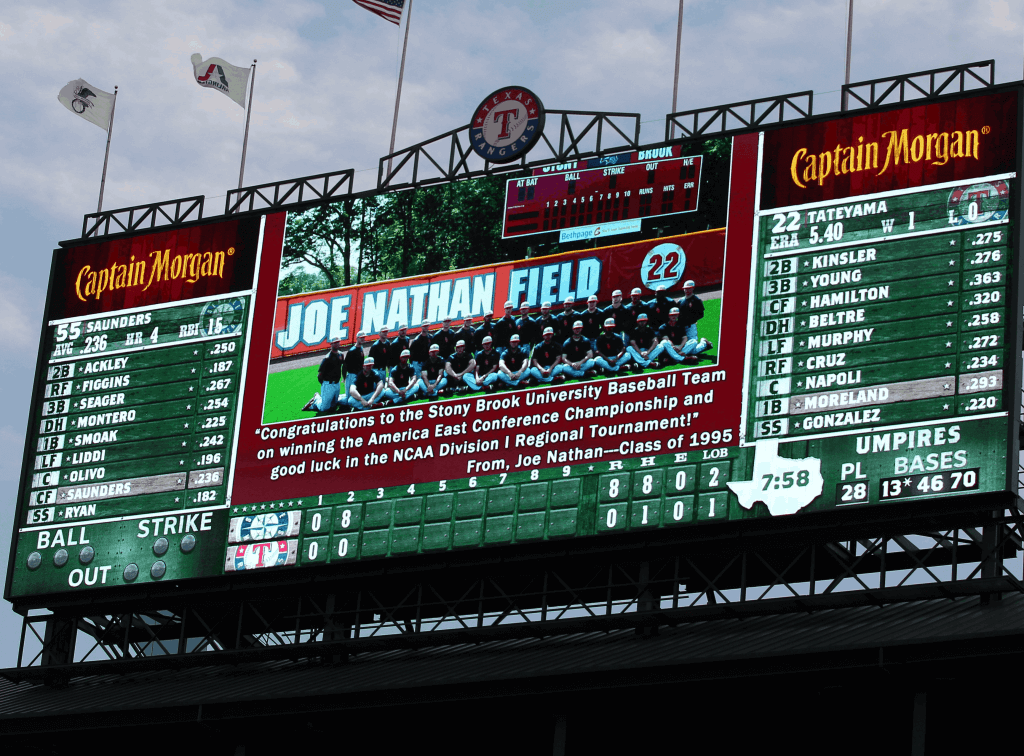 Guess The Game…
from the scoreboard
Today's scoreboard comes from Graham Clayton.
The premise of the game (GTGFTS) is simple: I'll post a scoreboard and you guys simply identify the game depicted. In the past, I don't know if I've ever completely stumped you (some are easier than others).
Here's the Scoreboard. In the comments below, try to identify the game (date & location, as well as final score). If anything noteworthy occurred during the game, please add that in (and if you were AT the game, well bonus points for you!):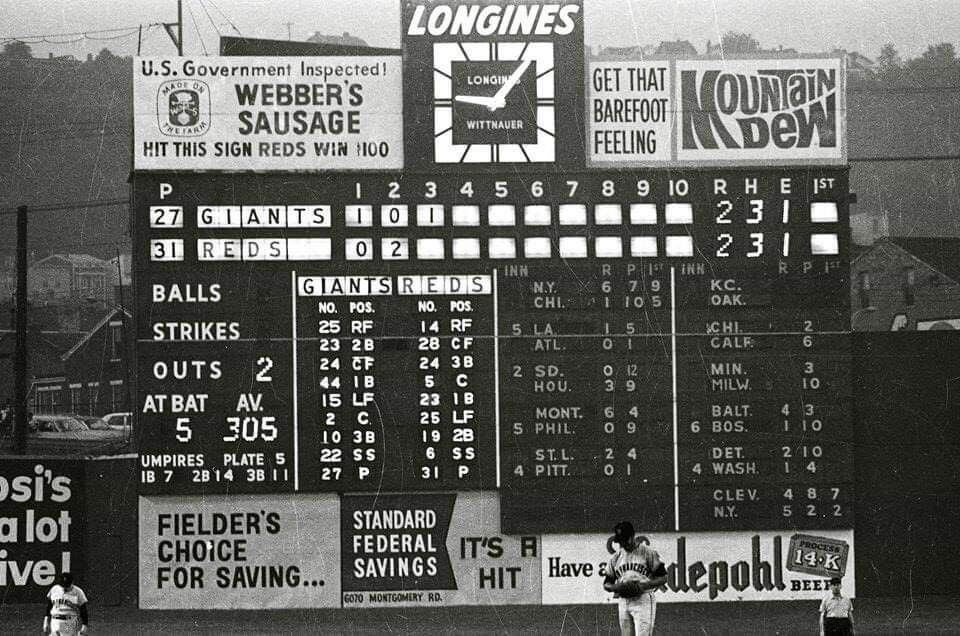 Please continue sending these in! You're welcome to send me any scoreboard photos (with answers please), and I'll keep running them.
• • • • •
• • • • •
The Ticker
By Anthony Emerson


Baseball News: The first base umpire during last night's Red Sox/Twins game at Fenway was wearing a snapback cap (from Phil Pane). … Also posted in the hockey section: The Durham Bulls will wear Hurricanes-inspired unis for Hockey Night on Sept. 10. … The Ballpark in Arlington has a new corporate name (from @heyvittas).

NFL News: The Bills have released their game-day pin collection, and the design for the Pats game in December strongly implies that the Bills will be wearing throwbacks for that game (from Mike Monaghan). … Cardinals rookie wideout Rondale Moore paid P Andy Lee to take No. 4. Lee is now wearing No. 14 (thanks, Brinke).

College/High School Football News: Illinois has unveiled new home unis. … WKU have new mono-white alternates (from @The_Real_Kub).

Hockey News: Sharks G Adin Hill's new mask design goes after the Seattle Kraken, depicting a shark swimming with a squid in its mouth (from Brandon Weir). …  Also from Brandon: The Red Wings have revealed some uni numbers for their new players. … Cross-posted from the baseball section: The Durham Bulls will wear Hurricanes-inspired unis for Hockey Night on Sept. 10.

Soccer News: Red shorts have returned to Southampton's repertoire after several years, but they have black numbers even as their jerseys have white numbers, creating an odd clash (from Mike Miller). … Everton have incorporated Prince Rupert's Tower — the building depicted on their badge — into their custom typeface used in cup competitions. Unfortunately, the effect was inconsistent at least during last night's match, as Lucas Digne's number did not include the tower motif (from @jayappletree).

Grab Bag: French rugby team Stade Toulousain have a new kit, inspired by their 1996 kit. … Fast food restaurant Raising Cane's has a 25th anniversary logo (from John Cerone).
• • • • •
• • • • •
Uni Tweet of the Day
Now we know what happened to Nike's second attempt to remake the Jags…
Bobcats home opener uniforms!! 💪🏾🔥🏈 pic.twitter.com/9GEDUJ5BKT

— SFCC Bobcats Athletics (@BobcatsSFCC) August 24, 2021
• • • • •
• • • • •
And finally… that's gonna do it for today. Big thanks (again) to Walter for sharing that 1979 Blue Jays stuff! Hope birthday boy Chris Creamer enjoyed it. Happy B-day Chris!
Everyone have a good Thursday and I'll catch you back here tomorrow.
Peace,
PH