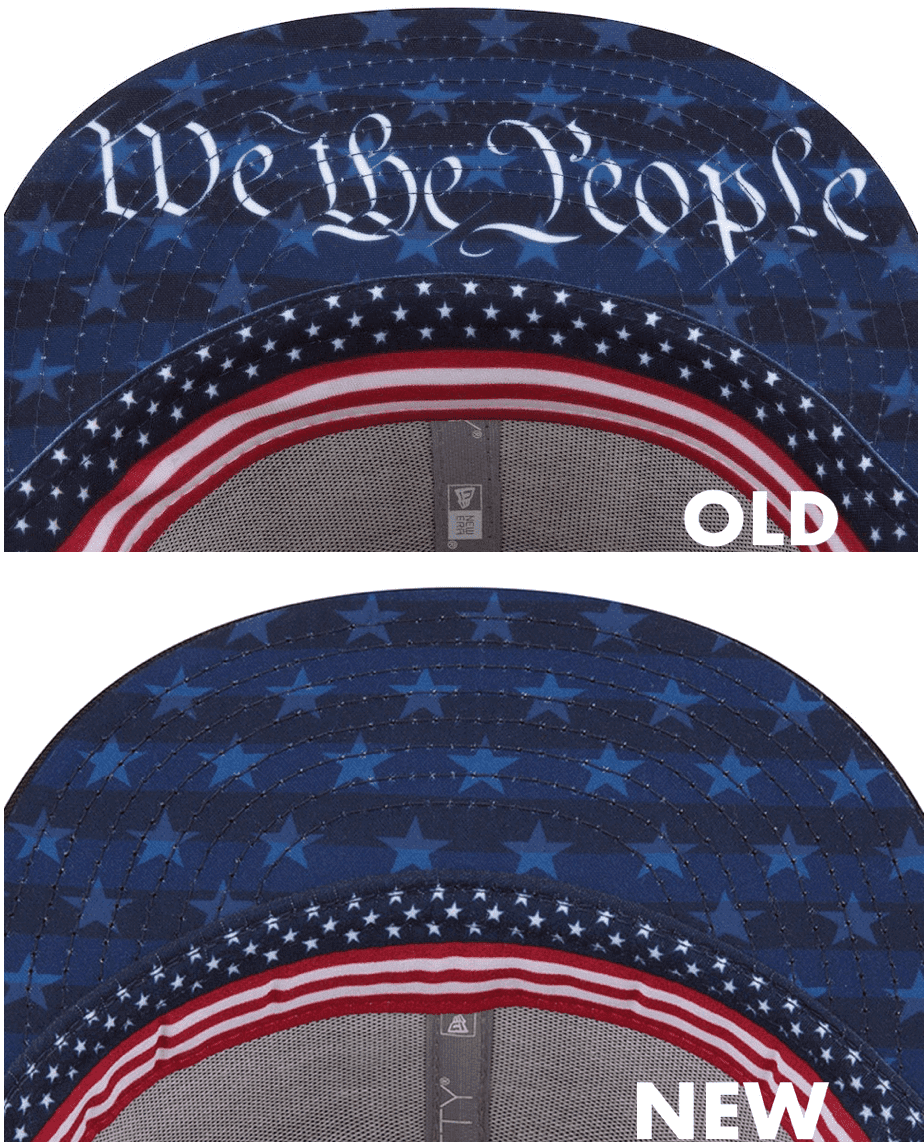 Interesting MLB development yesterday, as follows: As you may recall, when this season's holiday merch — er, uniform designs — were announced back in March, the Independence Day caps had "We the People" printed on the underbrims. As I pointed out at the time, that's bad civics and bad history, because Independence Day celebrates the ratification of the Declaration of Independence, while "We the People" is from the preamble to the Constitution (which was ratified 12 years after Declaration). But hey, who cares about historical accuracy or our nation's founding documents when you have a merchandise program to run, right?
Now it turns out that they've done an about-face. The caps are now available for retail sale, and as you can see above (and can click to enlarge), the wording has been removed from the underbrim. Kudos to MLB for listening to the feedback and making this change. Of course, a better solution would be to scrap the holiday gear altogether, but at least this year's caps will serve as a monument only to bad design, not bad history.
A few additional notes:
• The Blue Jays' version of this cap was originally slated to have a maple leaf and the word "Canada," but both of those elements now appear to have been scrapped.
• At least some of the non-authentic retail caps, like these flex-fits, still have "We the People" on the underbrim. Those won't be worn on-field, and I generally don't care about retail merch, but it's disappointing to see that MLB is still willing to spread bad history and bad civics on the retail level.
• It's interesting to see that they were able to make this change in two and a half months. We're always hearing that things have to be set up way in advance because of supply chain issues and so on, but in this case they changed the design fairly quickly. Hmmmm.
(My thanks to @racerx8579 and Matt West for their contributions to this section.)
• • • • •
[adrotate group="2″]
• • • • •
Click to enlarge
Who is that masked man? Georgia third baseman Aaron Schunk broke his nose after colliding with a guardrail while chasing a foul pop on Sunday. Not only was Schunk back on the field for yesterday's game, but he was pitching. (In addition to being the starting third baseman, he's also one of the team's top relievers.) UGA trainers rigged up a protective mask for him, and good for them for not putting a swoosh on it.
Schunk also wore the mask while batting. Here's how it looked with his batting helmet: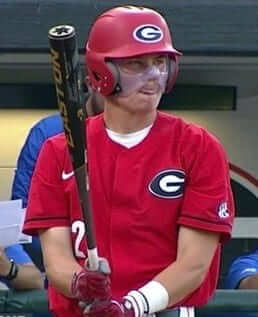 (My thanks to Chris Mycoskie for letting me know about this one.)
• • • • •
[adrotate group="2″]
• • • • •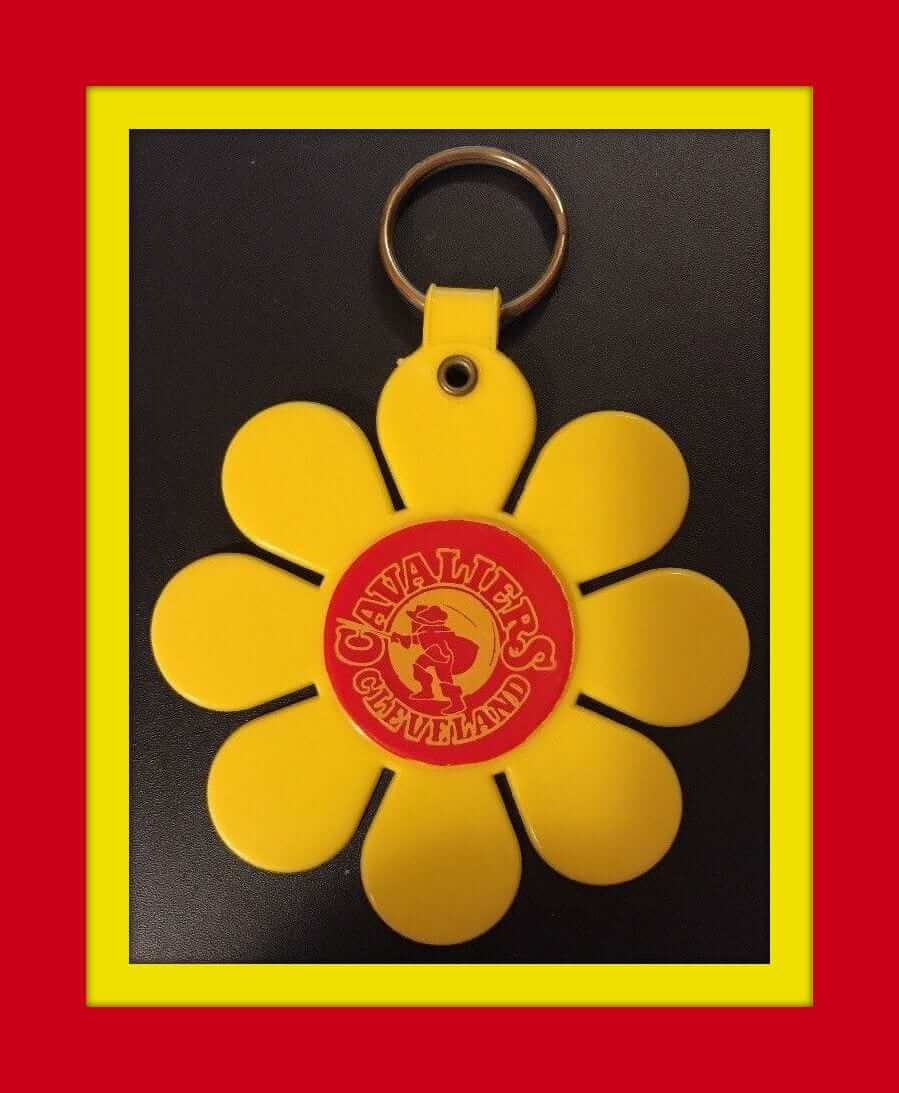 Click to enlarge
Collector's Corner
By Brinke Guthrie
After a brief two-week stay on the Uni Watch Facebook page, Collector's Corner is back in action on the Mothership. The Warriors and the Cavs are battling (again) for the NBA title, so get your groove on (if you're a Cavs fan, anyway) with this flower power key ring! The Cavs started with this logo​ ​in ​their first year, ​1970-71.
Now for the rest of this week's picks:
• ​Paul, are you required by law to have a front plate on your cars in New York? If not, this 1960s "Mets and Me" license plate might be just the thing for you! (Unfortunately, New York does require a front plate. Too bad. — PL)​
• ​This glossy, enameled San Diego Chargers belt buckle says "1971" on the item itself, which must have been when NFL Properties licensed them, since the Chargers weren't wearing blue hats yet in '71.
• We have here an early-1970s Phillies desk plaque, made by Kentucky Art Plaques of Morehead, Ky.
• From the 1970s, this Dolphins serving tray looks to be in perfect shape.
• This Minnesota Vikings pennant was part of a mail-in promotion from Coca-Cola. The seller says 1960s but the NFL shield had pinstripes during that decade.
• Balitmore Colts fans will want to add this button to their memorabilia collection.
• Plenty of vintage NFL logos to be seen on this 23-pin set.
• Speaking of pins, is this Los Angeles Angels logo a classic or what.
• This 1960s Pittsburgh Steelers bobblehead is in great shape (and also has helmet logos on both sides, oops).
• Ah, another one of those cool Sears bulletin boards from the 1970s, this time for the Chicago Bears.
Seen an item on eBay that would be good for Collector's Corner? Send any submissions here.
• • • • •
[adrotate group="2″]
• • • • •
Click to enlarge
Raffle reminder: Illustrator Alex Bennett is currently raffling off two of his new "Football Mishmash" posters (shown above) to a pair of lucky Uni Watch readers. Full details here.
• • • • •
[adrotate group="2″]
• • • • •
Click to enlarge
KRC update: The latest installment of Key Ring Chronicles is about a personal alarm device (the black thingie on the left side of the photo). Check it out here.
• • • • •
[adrotate group="2″]
• • • • •
The Ticker
By Alex Hider

Baseball News: The Yanks and Tigers played their Jackie Robinson Day make-up game last night, with all players wearing No. 42 (from @Fantasy_Lens, photo credit Jeff J. Snider). … Rays draft pick Matthew Liberatore was wearing the team's new fauxback cap after he was drafted last night (from Eric Wright). … Here's another story about Brewers fans not finding the "mb" in the ball-in-glove logo, because ya gotta keep that content churnin' (from Phil). … The Rochester Red Wings will be wearing 1980s throwbacks on Sunday. … USA Baseball recently changed its regulation for youth baseball bats (NYT link) — a change that has left parents footing the bill for new bats. … Birmingham High School (California) wears some slick stirrups (from Matt Shevin). … The Niagara Expos, a youth team in the Buffalo area, has their own take on Montreal's old logo (from @Milpool______). … The logo for the MLB draft has an apostrophe catastrophe. They apparently had the same problem last year (from Phil). … MiLB.com's Ben Hill, who specializes in writing about eccentric minor league promotions, has written a good piece about last week's Brannock Device Night promotion in Syracuse. It includes another photo of Paul throwing out the first pitch (from Phil).

NFL News:  The Jaguars' stadium has a new corporate name (from Brinke). … The Broncos will wear their Color Rash uniforms at home — on a Sunday — for the first time this upcoming season (from Phil). … The Rams will wear their throwbacks and Color Rash uniforms a total of three times this season, with the goal of avoiding their navy blues completely (from Chris Cruz). … The Packers have posted an interactive uniform timeline on their website in honor of their 100th anniversary. … Reader Luca Capparucci from Rome, Italy, recently bought this 49ers shirt and wants to know if it's a knockoff. Can anyone help him out? … RIP Dwight Clark. A while back, we had a great breakdown of the famous photo of Clark making The Catch.

Basketball News: Do the Knicks have a blue jersey in the works? Check out the jersey that they recently gave to singer Khalid — white numbers instead of orange. … Friend of the site Todd Radom has identified the designer of one of the NBA's best jerseys of all time: the Warriors' "The City" look. … ICYMI, the NBA has released its Draft Day caps (from Colin). … The Sarpy County Swim Team in Nebraska is using a version of the old Timberwolves logo (from Andrew Cinnamon). … The official NCAA March Madness Twitter account shared an awesome evolution video of every Final Four logo (from Hayden Kay).

Grab Bag: Rep The Squad, the "Netflix for jerseys" company that has advertised here on Uni Watch, is shutting down after less than a year in business (from  Al N. Kreit). … Earl Campbell, Nolan Ryan, and Hakeem Olajuwon all wore No. 34, and all were inducted into the Houston Sports Hall of Fame last night. Each received his own ring with No. 34 (from Ignacio Salazar). … It may not be a helmet cart or a bullpen cart, but we can all get behind muffin cars (from Max Weintraub). … A company in Cincinnati repurposes old basketball courts into keepsakes. … The University of Chicago track team, which is outfitted by Adidas, includes a freshman sprinter named Nike Reid (from Tris Wykes).
• • • • •
Happy birthday to our own Jamie Rathjen, who compiles the Tickers that run on Mondays. Enjoy your day, Jamie!