[Editor's Note: Paul is on his annual August break from site (although he's still writing his weekly Bulletin column and may pop up here on the blog occasionally). Deputy editor Phil Hecken is in charge from now through the end of the month.]
A good morning Uni Watch nation. It's hump day!
I'm once again joined by UW stalwart Walter Helfer, who's back to finish his intricate look at the Major League Baseball teams who sported pullover jerseys, which became de rigueur once baseball began to change from wool flannel uniforms to polyester. About a week and a half ago, Walter graced us with Part I of his overview, and today he'll give us his Top 10. Now…let's take a final look at Walter's…
• • • • •
Greatest Hits of the MLB Pullover Era (Part I)
by Walter Helfer
I began following baseball in the '70s, a singular age in professional sports where experimentation and color triumphed briefly over tradition. Of baseball's 30 teams, 23 wore pullovers and I rank my favorites from worst to first.
__________
#10. 1977 San Francisco Giants
Why it's great: THAT AMAZING LETTERING. Orange jersey was occasional home uniform, too. Orange sanitaries; white cleats.
Why it's not: Could have been the basis of a great grey uniform. Vertically-arched player names came a year later.
__________
#9. 1980 Seattle Mariners
Why it's great: The blue-yellow-blue pattern is repeated consistently all over the uniform, right up to the 3-color player names. The team doubled down on its excellent trident logo.
Why it's not: One year of fancy player names was enough; they were gone in 1981. A white-paneled hat was warranted, given the complexity of the hat emblem.
__________
#8. 1976 Cleveland Indians
Why it's great: Navy jerseys with white pants created iconic Indians' color scheme. Hat still commands attention. "Greek Diner Takeout Coffee Cup" lettering looks like the typeface on wooden National Park signage.
Why it's not: Red shoes were perhaps a bridge too far. Team's won/loss record was atrocious.
__________
#7. Pittsburgh Pirates
Why it's great: Giddy and ready for fun. The appearance of "We Are Family" and "Stargell's Stars". Black and yellow are my favorite team colors.
Why it's not: Vertical pinstripes and horizontal hat stripes? They must not have checked their Garanimals' tags. Taste was not a consideration; run it past Alexander Julian, next time.
__________
#6. 1976 Milwaukee Brewers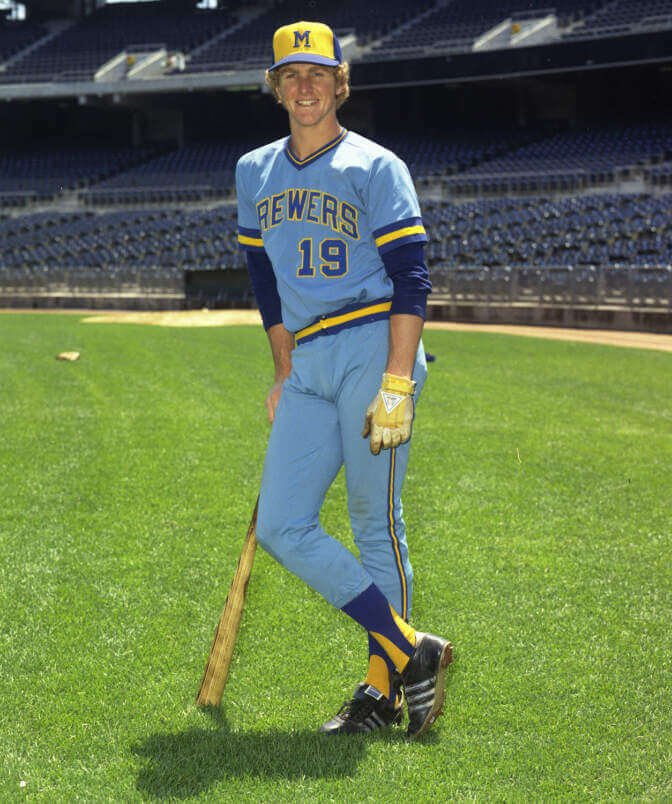 Why it's great: Deepest shade of robin's egg blue in MLB. Hat with yellow panels became Milwaukee tradition on away uniforms. Vertical arching on chest script. Number on the back; NO NAMES. Simplicity.
Why it's not: Good Lord did this team suck out loud. Unwatchable baseball.
__________
#5. 1980 San Diego Padres
Why it's great: Tortillas, taco sauce, spicy beef, and sour cream; is anybody hungry, yet? Festive hat with gold "Mission Bell" design. Vertical arching of player names. Gorgeous V-neck mitering. 3-color University Gothic numbers.
Why it's not: When San Diego finally became ready for prime time, the crucial V-neck and Sansabelt had been jettisoned. This jersey was not meant for buttons.
__________
#4. 1977 Toronto Blue Jays
Why it's great: One of history's greatest logos. Pleasing color scheme. Cohesive numbers and letters. Centering the insignia on the jersey front was a genius move.
Why it's not: A hazy night in Spring Training deprived us of the original TORONTO lettering. You can see the difference right away.
__________
#3. 1976 California Angels
Why it's great: Best ever V-neck trim. One of baseball's better sleeve patches. McAuliffe numerals…front and back! Stunning hat. Sparkled under the lights.
Why it's not: They never appeared to play in prime time. I'm an East Coaster, dammit! Nolan Ryan couldn't seem to lead this bunch to success.
__________
#2. 1977 Houston Astros
Why it's great. Pure imagination. The pants are just as outside-the-box as the jersey. And the hat still managed to command attention over the whole outfit. No away uniform needed to be made.
Why it's not: We were denied the pleasure of that orange road uniform which purportedly remained on the drawing board. The Stros' poor play cemented the canard that Houston was a gimmick team playing inside a gimmick stadium.
__________
#1. 1972 Oakland Athletics
Why it's great: Each color is used equally, simultaneously focusing attention on the head, torso, legs, and feet. Bursts of color at the ankles, jersey, and hat. The A's played like champs, making these uniforms iconic. The doubled trim at the sleeve ends. The great Expos-style number on the chest was a one-year feature.
Why it's not: We were denied the pleasure of seeing the solid-green uniform with professional tailoring.
• • • • •
Thanks, Walter! Great stuff as always. Please give Walter a big "THANKS" in the comments below for this thought piece and all his other contributions to the site!