[Editor's Note: Paul is on his annual August break from site (although he's still writing his weekly Bulletin column and may pop up here on the blog occasionally). Deputy editor Phil Hecken is in charge from now through the end of the month.]
A good Wednesday morning, Uni Watch nation! I hope everyone is having a good week as we hit humpday. Thankfully, it was pretty quiet on the uniform front yesterday, after some major big news on Monday.
Today I'm joined by reader Colin Williams, who has penned a really terrific article today. When you think of Pittsburgh sports teams, you'd be forgiven if you think they all wear black and gold (of course, those are the main colors of Pittsburgh's flag, and the major sports teams have all adopted those colors for their uniforms). But teams from Steel City have a deep and rich history that does not involve the use of black and gold. And Colin has taken a really deep dive into them. I'll let him take it from here!
• • • • •
Beyond Black and Gold: Ranking Pittsburgh's Other Teams
by Colin Williams
As a fan who Gets It™, it can be a real treat to live in a sports city with a unified color scheme. Pittsburgh, where I live, is one of the only non-college-towns with such visual harmony, and it totally works here. Black and gold go great together, and the city's three major-league teams and one minor league soccer club all use the colors of our city's flag differently and mostly to great effect. While I'm a dyed-in-the-wool Cleveland sports fan (and Florida graduate, go Gators!), I'll readily admit Pittsburgh's current teams have an aesthetic edge on the teams I usually root for.
However, of the aforementioned four franchises, only one—the Steelers—started out black and gold. The other three began their lives with different color schemes, though they found their greatest success in classic Pittsburgh colors. Meanwhile, the city boasts several also-rans and two storied Negro League franchises with an aesthetic legacy all their own.
Let's take a look at the less-heralded fashions and visual disasters of Pittsburgh sports history. For the sake of brevity and clarity, I'm going to stick to Pittsburgh professional sports—our universities' aesthetic heritage is worth its own writeup someday. I'm also omitting the hockey Pirates and Yellow Jackets, who played mostly in traditional Pittsburgh hues. I've tried to rely on a combination of the color choices themselves, their use in design and typography and how they look on the field with a dash of how they played to rank the ten-ish non-black-and-gold, or "NBG," franchises who've called the City of Bridges home. What follows is my highly subjective take on Pittsburgh's best- and worst-dressed NBG teams overall, starting with the latter and working up from there.
__________
10. Pipers/Condors (1967–68, 1969–1972)
There's been plenty of debate locally as to whether or not Pittsburgh would support another basketball team. Without picking a side, I do think it's fair to wonder if pro basketball failed in its first attempt here in part because of poor design.
In the heady early days of the American Basketball Association, the Pittsburgh Pipers were dominant, led by former Globetrotter and future Hall of Famer Connie Hawkins to 54 wins and an eventual title.
The team's initial aesthetics were less stellar. Using an inexplicable blue-and-orange palette and what appears to be an off-the-rack logo conspicuously similar to the Baltimore Bullets' contemporaneous marque, the Pipers did next to nothing to foster a Pittsburgh visual identity, and the team then promptly alienated the city in which they'd won by leaving for Minnesota.
One year after the ill-advised move, with "nowhere else to go" per Terry Pluto, the team returned, sticking with the lifeless Pipers moniker and colors before a sugar company bought them and made the decision to switch things up. With a range of regional options to choose from including steelmaking, native wildlife and a rich history of innovation, the team settled on… the condor, a bird of prey native to the Western United States.
The new avian name was paired with a ketchup-and-mustard color scheme and cartoonish new logo. Rather than take flight, the Condors nosedived, failing to make the playoffs and posting abysmal attendance numbers. The owners sank money into a marketing campaign and logo redesign, but it wasn't enough—after a disastrous second season as the condiments Condors, the team folded. They were not only Pittsburgh's historically worst-looking NBG team, but—early success aside—one of its worst, period.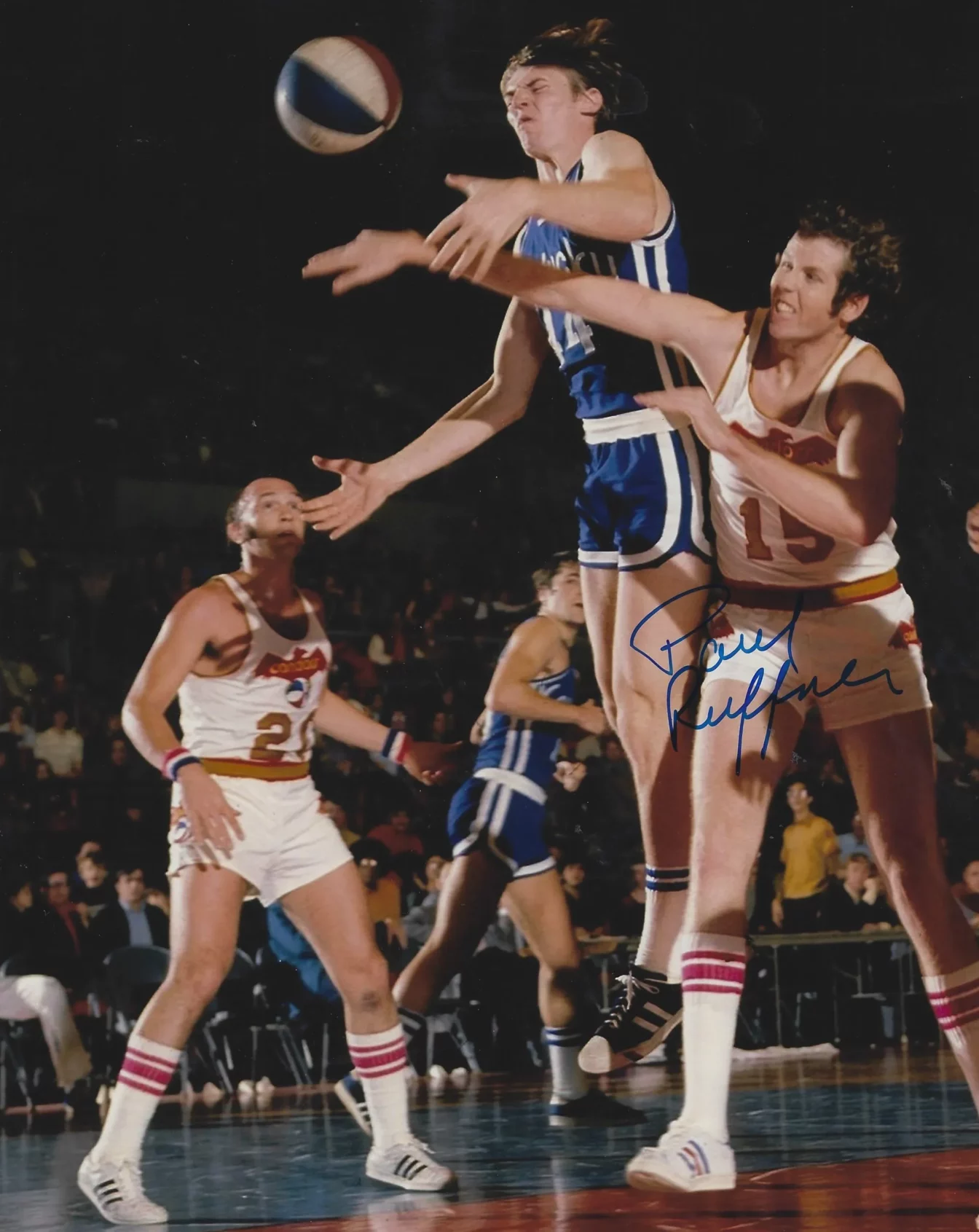 Pretty much the 1971–72 Condors in a nutshell.
__________
9. Riverhounds (1998–2018)
Soccer has an important and growing place in the Pittsburgh sports landscape, and the Riverhounds have been one of the main drivers of that growth. Like their major-league peers across the Monongahela, the Hounds now stick to Pittsburgh dogma and play mostly in black and yellow, with a home look not dissimilar from Borussia Dortmund of the Bundesliga.
However, the Hounds' original look was a far cry from the slick soccer aesthetics of the current team. When then-Riverhounds FC began play in the USL Pro, which was at the time the third step in the evolving US Soccer pyramid, in 2005, they wore dull, polo shirt-like black jerseys with white stripes and a red-and-orange (later blue-and-brown) cartoon dog crest:
After a gradual shift from NBGs toward more traditional Pittsburgh colors by way of some Everton blue, the Hounds eventually rebranded to Pittsburgh Riverhounds SC, complete with a black-and-gold crest packed with local design flourishes. With a gorgeous little stadium, growing youth academy and stronger visual identity, the Riverhounds SC of today is a far cry from the scrappy semi-pro team that was playing in high-school football stadia in boring Umbro shirts back in the early aughts.
__________
8. Maulers (1984, 2022–?)
The Pittsburgh Maulers were always going to be between a rock and a hard place in terms of uniforms, to say nothing of on-field success—the Steelers are one of the NFL's most decorated and (arguably) aesthetically sublime, so there's almost no way the city would've accepted a second team in classic black.
When all was said and done, the USFL's Pittsburgh Maulers would opt for a color scheme consisting of purple, "Renaissance Red" (actually dark orange), gray and white. These colors could seem a bit odd on paper—though Clemson uses a similar palette, it leans heavily on orange—but the on-field look wasn't terrible. By sticking to traditional striping, the Maulers made lemonade from lemons, turning their clearance-shelf color scheme into something surprisingly cohesive. Unfortunately, their lone spring season was underwhelming, and the team folded when the USFL—urged on in part by then-team owner Donald Trump—decided to move to a fall schedule.
I was curious to see if they'd resurrect the old color scheme when it was announced that the USFL was coming back with a nominally Pittsburgh franchise in 2022. They did, committing to actual orange instead of "red" for their odd first season in Birmingham, AL. However, the uniforms failed to live up to their distant predecessors, deploying garish "shoulder pad" yokes with an inset purple collar and the old silvery pants with a wide purple stripe in what can only be described as an arena-league move: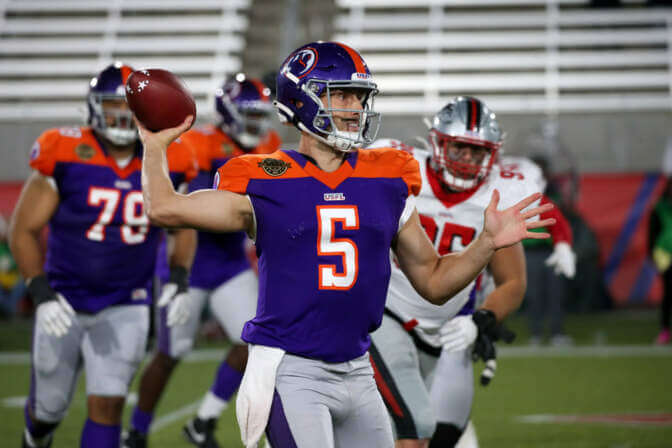 We'll see if when the Maulers return in 2023 if they'll keep this less-than-ideal NBG set and redeem themselves after an inaugural season as woeful on the field as off.
__________
7. Hornets (1936–56, 1961–67)
With a credible claim to being the birthplace of pro hockey, Pittsburgh's history in the sport is much deeper than the Penguins' status as an expansion franchise would imply. The Pittsburgh Hornets inherited the legacy and some personnel from the aforementioned Yellow Jackets and another team further up this list when they took the ice as a Detroit Red Wings farm team in the fall of 1936. Like their parent club, they wore red and white at home, their sweater bearing an austere gothic P.
As their initial league, the International Hockey League, evolved into the AHL, the Hornets began tinkering with their NBG look. Stars appeared on the sleeves. The first elements of black and gold crept up in the logo. In 1951, the Hornets switched to black-and-gold home uniforms and shortly thereafter made two successful runs at the Calder Cup. When their home ice, Duquesne Gardens, was demolished to make way for housing and a restaurant, the Hornets hung up their black and gold jerseys and called it a day.
When the new Civic Arena opened five years later, the Hornets reemerged, once more as a Red Wings farm team. For their home look, they wore light blue with gold and white accents and the skating hornet from the prior iteration of the team. Perhaps fealty to the Red Wings won over, but they again opted for red and white with starred sleeves on the road. As the NHL planned its Pittsburgh expansion, the Hornets secured one final piece of hardware with a third Calder Cup victory wearing mostly white at home and red away, ending the longest tenure of any non-Penguins hockey team in the City of Bridges. It would take the Penguins some time to equal the success of their NBG predecessors.
The Hornets' home jerseys (1961–63) and road jerseys (1964–1967).
Whatever their record, the Hornets' aesthetics overall were kind of a mess, not least because there was never much hornet-y about them to speak of. Blame it on the Red Wings, the sleeve stars or the color collision of their early '60s home jersey, but there's just too much going on here and not enough to hang your hat on. Like many teams on this list, it's worth noting that financial considerations probably contributed to the choices this minor-league team made, but from a purely aesthetic standpoint it's all quite disjointed.
__________
6. Alleghenys/Pirates (1891–1948)
By far the oldest franchise on this list, the Pittsburgh Pirates as we know them now are a feast for the eyes. However, the team that started as the Allegheny City Baseball Club only adopted black and gold as its primary colors in 1948 after a lengthy period wearing baseball's more traditional red, white and blue. Other early local teams like the Burghers seem likely to have been outfitted similarly, though visual evidence is scant.
The Buccos adopted their moniker before the turn of the century and stuck it on their uniforms in 1912 (vertically, as can be seen above). The vertical lettering and early gothic P on caps are nice, as is the '30s-era red script. However, the Bucs were inconsistent in their look, and more fundamentally, the patriotic colors just don't feel very piratical. Even though the team won two World Series in their NBG duds, the club's golden age clearly belongs to the spiky black-and-gold designs that have been the basis of their unis since 1948. That said, perhaps an occasional throwback to the Honus Wagner look would be good for the team's on-field performance?
__________
5. Shamrocks (1934–35)
The International Hockey League actually hosted two local teams in the 'Burgh during the 1920s and '30s: the Yellow Jackets and the Pittsburgh Shamrocks. True to their name, the hockey team played in bold green and white unis during their lone season on the ice.
After buying up talent and concocting a plan to share home ice with the Yellow Jackets, the Shamrocks got off to a shaky start. Ownership eventually played musical chairs with players and coaches before the season ended somewhat ominously with the cancellation of the Shamrocks' final fixtures during the Great St. Patrick's Day Flood in March of 1936. The Shamrocks would never take the ice again, with the team's remaining assets purchased by a local theater magnate and folded into the new Pittsburgh Hornets.
While the green and white uniforms are striking, particularly given hockey's red- and black-heavy tendencies these days, they feel rooted in Irish cultural traditions that form just one piece of Pittsburgh's cultural quilt. The home whites including the city name is a minus, and the green P jerseys are rather plain (see above) despite the nice colors and sleeve striping. This is an eye-catching set that's ultimately a little superficial, a cute footnote in Pittsburgh's complex hockey history.
__________
4*. Pittsburgh Athletic Club (1895–1904, 1907–09)
The Western Pennsylvania Hockey League has been noted as the early 20th century's premiere hockey competition and the first to feature the player salaries and trading antics we now take for granted. Several teams competed over the 13-year existence of the league, some sticking around for a while and others folding after a season or two. Among these were the red-and-black Duquesne Country and Athletic Club, the similarly named Duquesne Athletic Club, who at various points wore brown or maroon; and the Pittsburgh Athletic Club, who went on to be the league's most successful.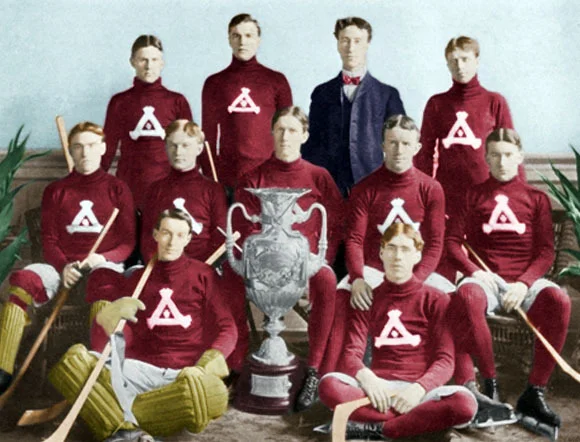 The solid-color sweaters and contrasting leather guards of the day work nicely together, and the logo is clever and unique, using an A-shape perhaps representing the Three Rivers or Pittsburgh's Golden Triangle with a little keystone in the middle. It's almost as effective with the colors reversed.
The reason for the asterisk in this ranking is the uncertainty of many clubs' visual identities at the time—some doubtless wore what was available or cheap, changing logos or color schemes for marketing or supply-chain issues or other reasons lost to history. Putting these considerations aside, and given that the black and gold precedent hadn't yet been set, the Pittsburgh PAC's sweaters and overall look is simple and effective. Consider them a stand-in for the other good-looking WPHL teams who didn't make this list.
__________
3. Crawfords (1931–38)
The Craws were funded by Pittsburgh cultural empresario and numbers man Gus Greenlee to be the best in the Negro National Leagues, and for a time they were exactly that. Greenlee not only paid handsomely for the likes of Josh Gibson, Satchel Paige and James "Cool Papa" Bell (whose life makes for great reading), he also built a stadium in Pittsburgh's Hill District that came with night lighting and a brick façade. As a final flourish, Greenlee made sure the Crawfords rode in style in a custom-painted bus that matched their crisp home white jerseys with red twill P's on the left breast.
When the authorities took interest in Greenlee's less above-board revenue streams, he was eventually forced to sell the team, but not before they won two league titles. Their look was consistent over the years: red script, sometimes with navy accents, on home whites and grays. Occasionally, the Craws also sported pinstripes. With their red caps and connection to local jazz oasis the Crawford Grill, the Craws were one of Pittsburgh's most iconic teams in their day. The Pirates have thrown back to the Crawfords on occasion, and they look fantastic when they do. Were it not for their reliance on baseball's somewhat tired traditional colors (said as a diehard Guardians fan!), the Craws would rank one spot higher on this list.
__________
2. Penguins (1967–1980)
I can already hear the howling in the comments, but hear me out: the Pens' blue jerseys look really good, actually.
Unlike the Hornets, the black-and-gold skating penguin logo works here without the red accents throwing things off. The powder blue also makes sense, mimicking penguins' home habitat. When the Penguins switched to a darker blue and ringed the logo with the team's wordmark, even that looked good, with nice contrast and distinctive, powder-blue quadruple striping, like ice floes against the dark waters of the Antarctic coast (their '70s look was admittedly less effective).
As the above photo depicts, the main reason people don't like these is that bad things seem to happen when the Pens wear them, and we Pittsburghers are a superstitious lot. That said, despite all the many takes decrying these as cursed or just plain ugly, they're objectively attractive if considered as a third look. In the age of Reverse Retro, and given the seemingly inevitable creep of soccer aesthetics and yearly jersey "leaks," I say embrace this splash of color embedded in the team's first 13 years in the 'Burgh. It's less forced than other ideas, and they'll win in them eventually, right?
__________
1. Homestead Grays (1912–1951)
In addition to being really, really good at baseball, the Homestead Grays looked exactly like a classic baseball team should, down to their stirrup uniformity.
Their crisp home whites and oversized, whimsically spindly chest logo are immediately legible, and the '30s-era headspoon is a nice accent that keeps things from getting too monotonous despite the monochrome name, as can be seen on the Bucs' cream-colored throwbacks.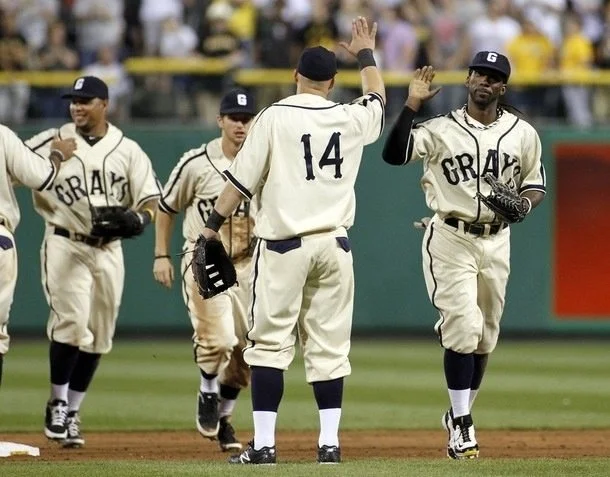 All of it just screams "baseball," whether plain or pinstriped. Even the Grays' more conservative looks, such as the below uniform they wore while splitting time between Forbes Field and Griffith Stadium in Washington, DC in the mid-1940s, is instantly recognizable without being overly fussy.
The Homestead Grays, aesthetically and athletically, were the Yankees of Negro League ball. Like the Crawfords (who employed many of the same athletes at various points in history), they boasted at least as much talent as any competitive team in then-segregated Major League Baseball when they were at their best, and that's not even accounting for white teams' massive financial advantage.
__________
Honorable mention: Phil-Pitt Steagles
Though the Steagles were a team shared between Pittsburgh and Philadelphia due to wartime demands for able-bodied young men, they were pretty classy looking during their lone season of record as the "Phil-Pitt Combine," with various combinations giving them a Packers-esque aesthetic. Bonus points for the seeming mixing and matching of Eagles and Steelers leather helmets.
Those are one writer's picks for Pittsburgh's best NBG uniforms! Have your own spicy takes, disagreements or additions to this list? Let me know in the comments.
Colin Williams is a music journalist, fiction writer and director of The Incline newsletter.
• • • • •
Wow! Thanks, Colin. Tremendous depth and insight as well as great historical knowledge in that piece. I know I thoroughly enjoyed it and I'm pretty sure the readers will as well. Please let him know what you think down in the comments below.