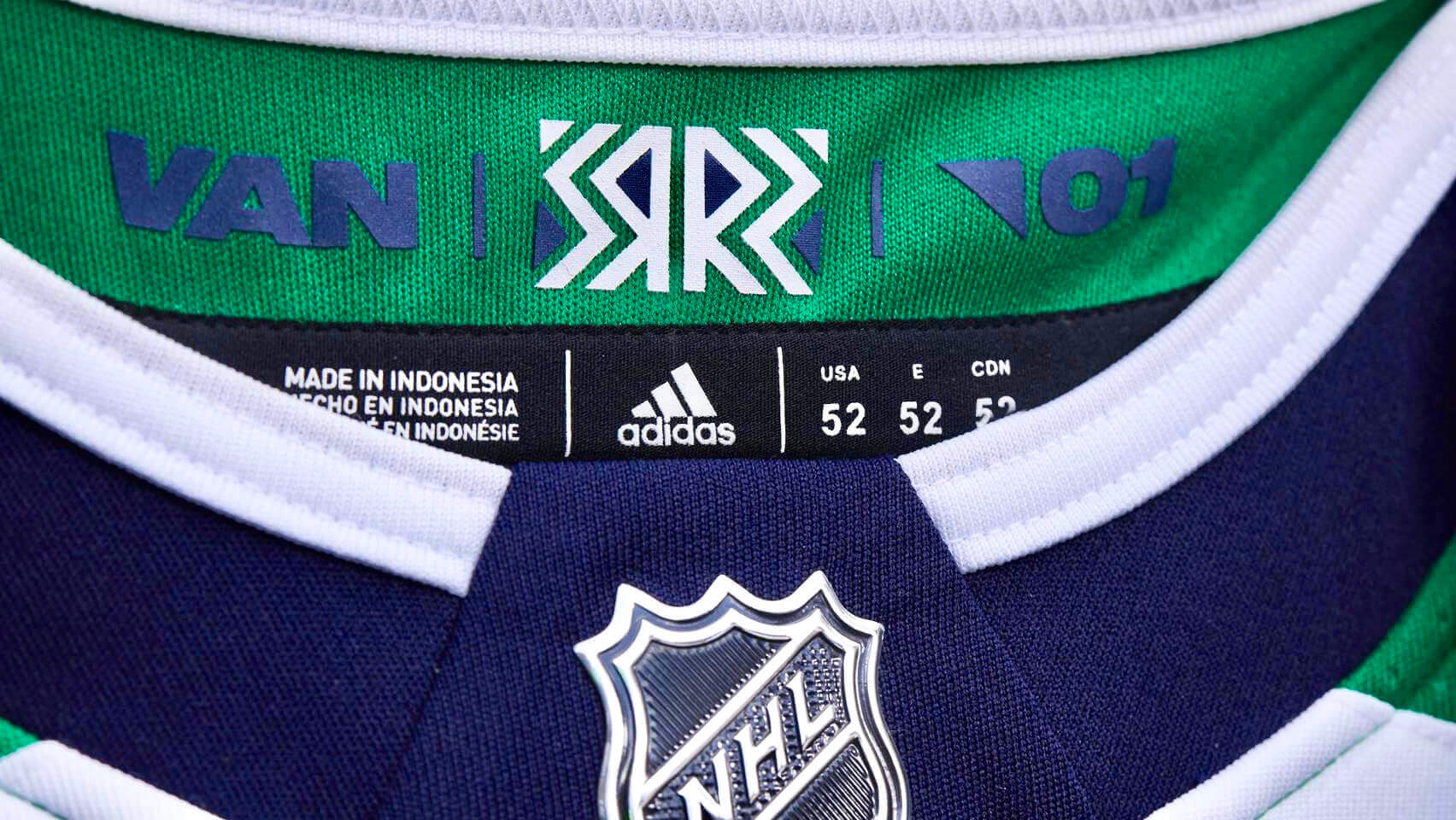 Frankly, I thought this was already common knowledge, but Icethetics confirmed yesterday that the NHL's Reverse Retro program, which launched last season but did not return this season, will be revived next season.
The key nugget of info in the Icethetics report is that some teams will be "bending the definition" of ЯR, which sounds like code for "a lot of these designs will have no particular reason to exist, but we need to move more retail product so we're just gonna throw some shit against the wall and see what sticks."
For the record, I was a fan of the original ЯR program. My only gripes were (a) it didn't work so well for some teams, especially the ones that don't have a deep uni-design history (Red Wings, Leafs, etc.), so some of the unis felt forced, and (b) some of the designs were so good that it made no sense to scrap them after just one season. That second gripe also applies to the NBA's City program, which I suspect is what ЯR is going to resemble going forward.
There's already some chatter about what some of the designs will be. The Avs' version, e.g., will reportedly be based on the old Colorado Rockies (the NHL Rockies, not the MLB Rockies), and I'm sure we'll be hearing more about other teams' designs in the weeks and months to come. Stay tuned!
• • • • •
• • • • •

Today's real lede: Last week on Bulletin I looked at teams that moved but didn't change their names. The week before that, I looked at teams that changed their names but didn't move. This week, in the third and final installment of this series, I'm assigning grades to teams that changed their names as the result of a move (like the ones shown above). You can check it out here on Bulletin. Enjoy!
As I recently mentioned, this will be my last Bulletin article that's publicly available to all. Starting with next week's article, my Bulletin content will be accessible only to paying subscribers. The price is $4 a month or $35 for a full year. This revenue will also help support operations here on the blog.
You'll need a Facebook account in order to pay for a subscription (I know, I know). You can sign up for your paid subscription here, although it's fine if you'd rather wait until the first paywalled article is published next week. And you can learn more about what you'll get for your money here. Thanks!
• • • • •
• • • • •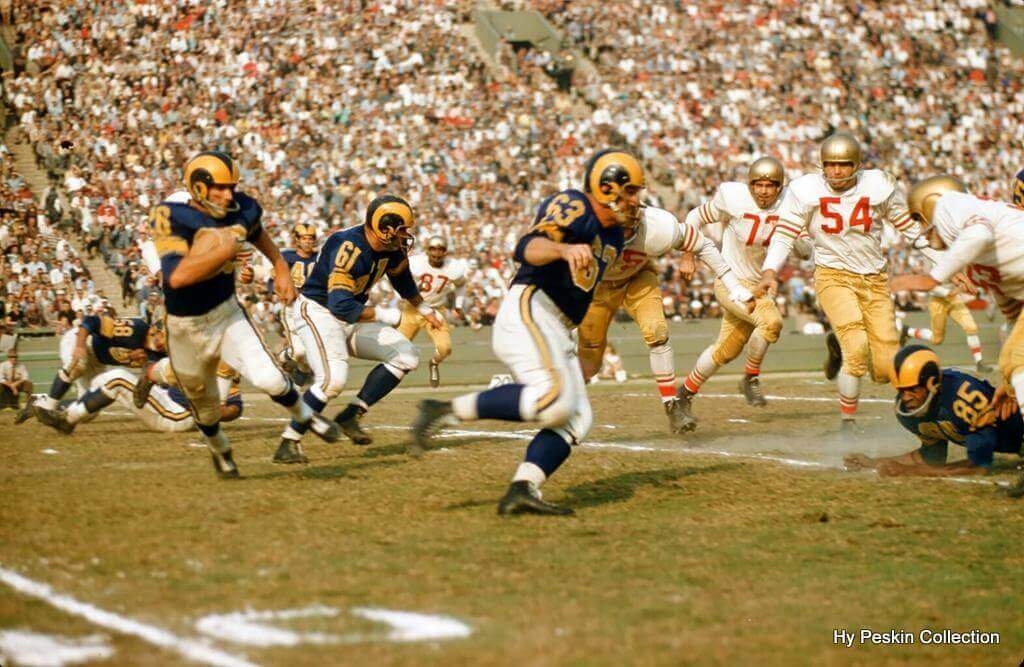 Click to enlarge
Getting ready for Sunday: With the Rams and 49ers getting set to face off this Sunday in the NFC Championship Game, here's a great photo of those same two teams facing each other in a 1957 game. I particularly like the Niners' gold-red-gold sleeve striping (here's a better look at it), a one-season-only element that I wish they'd bring back.
Meanwhile: Mike Summo, who is quickly developing into one of our most entertaining digital artists, has whipped up a new set of old-school TV graphics for this Sunday's games (click to enlarge):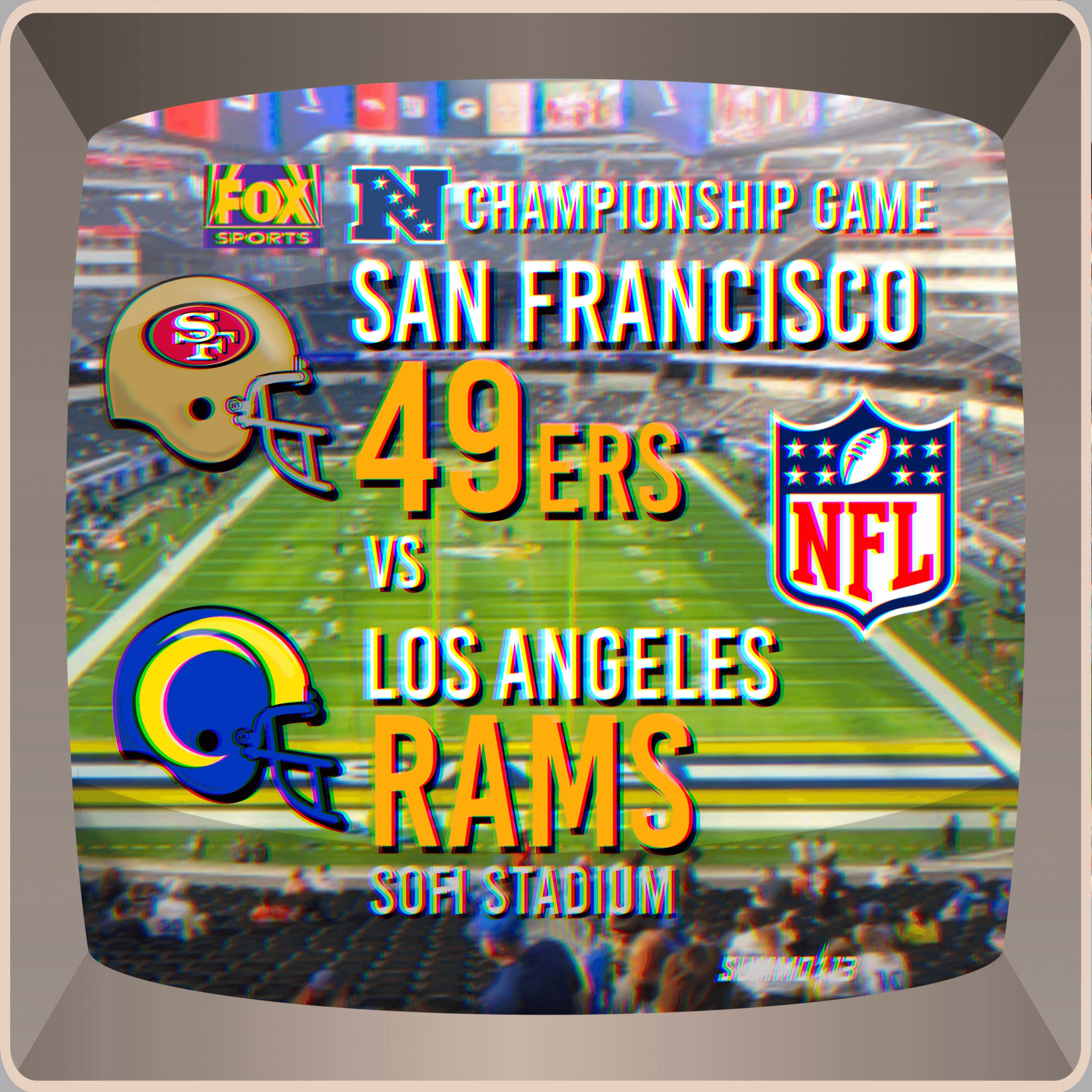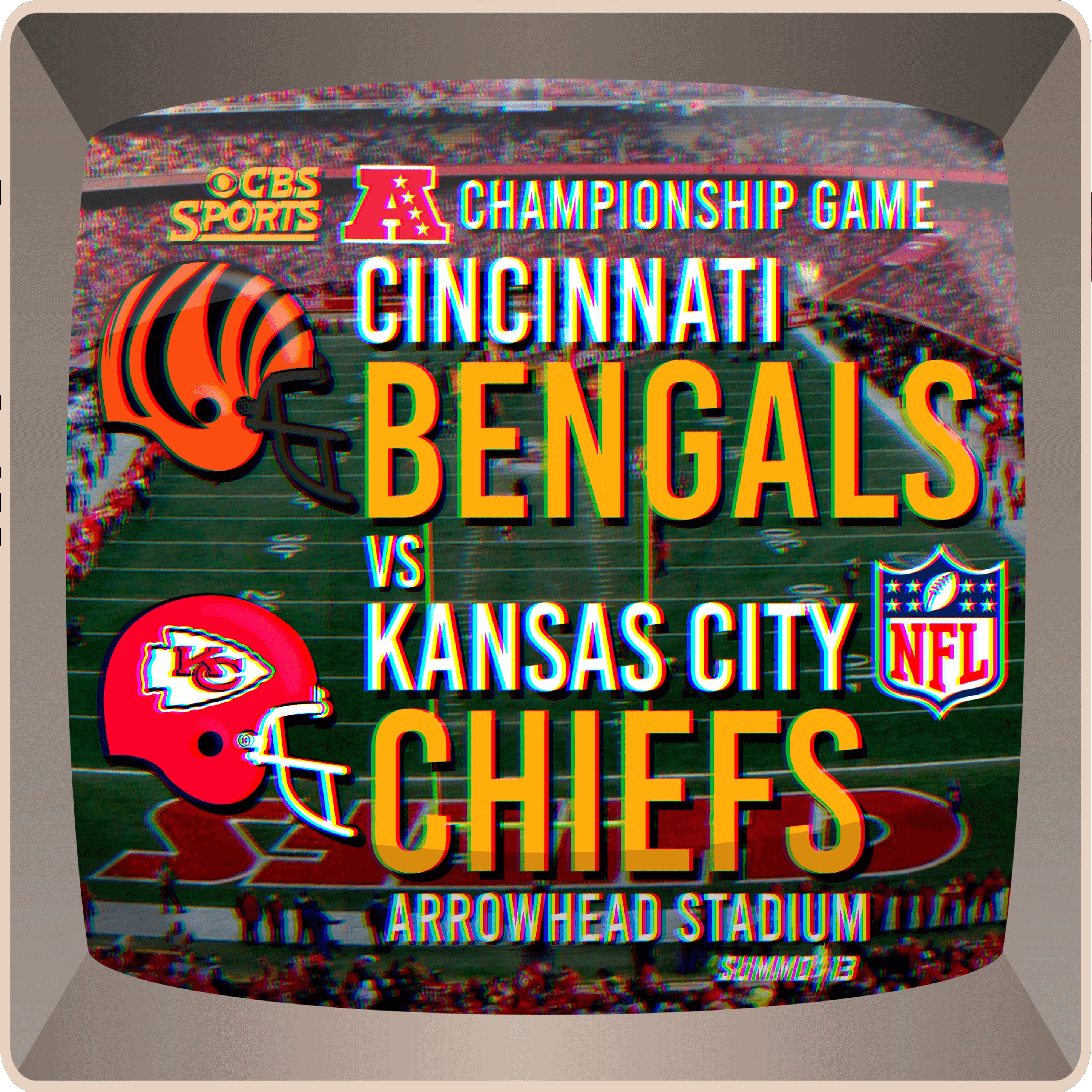 In addition, Jason Von Stein has produced his weekly NFL illustration, and it's a doozy. He actually worked me and the Tugboat Captain into this one — see lower-right (click to enlarge): I love all of this. Go Niners!
(Big thanks to @jpnoblejr for the 1957 photo.)
• • • • •
• • • • •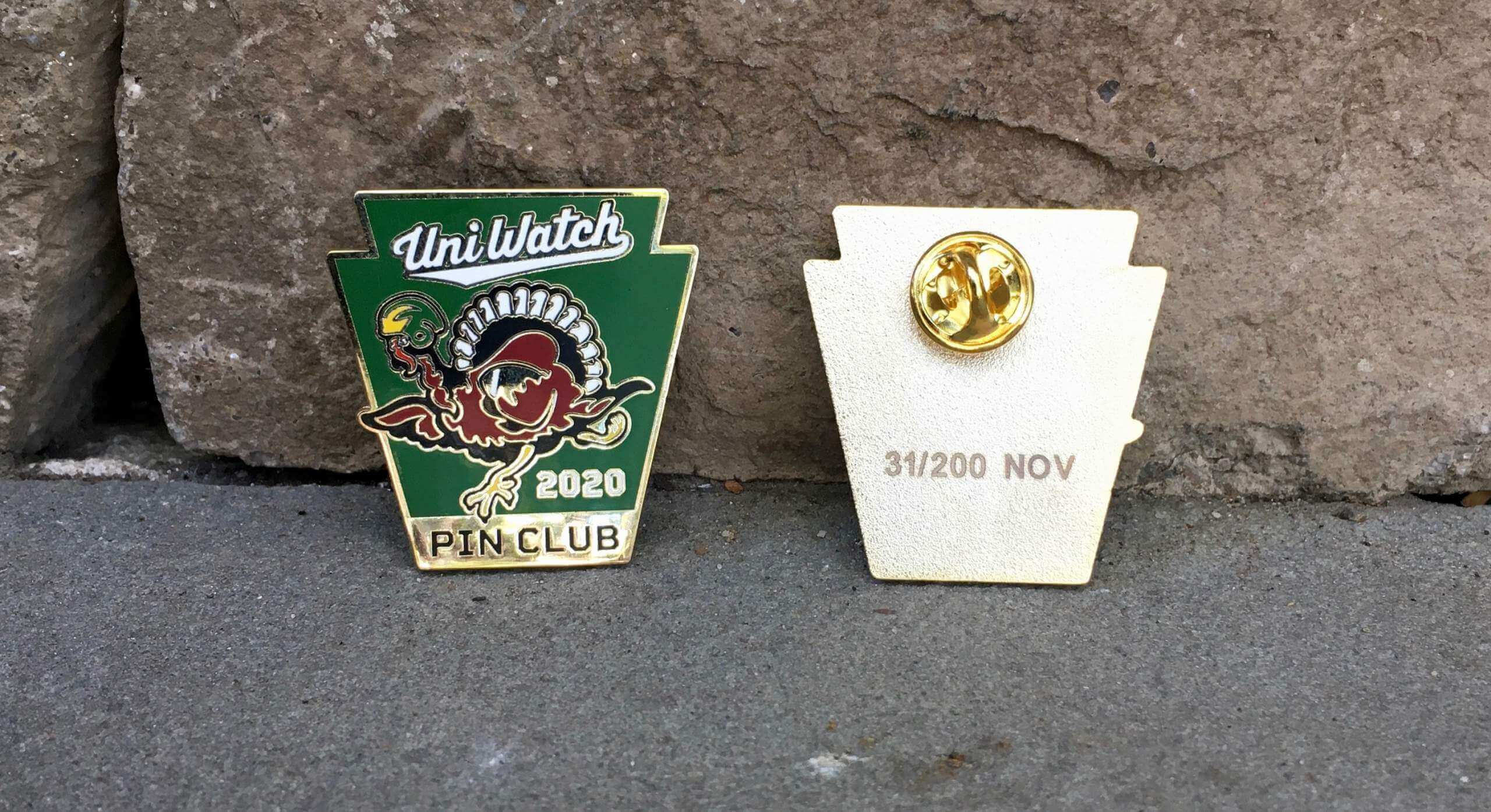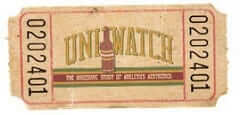 ITEM! Pin raffle: Reader Tim Bullis has an extra November 2020 Uni Watch pin and is generously offering it to a lucky reader, so I'm going to raffle it off today.
This will be a one-day raffle. USA mailing addresses only. To enter, send an email with your mailing address to the raffle in-box by 8pm Eastern tonight. One entry per person. I'll announce the winner tomorrow. Big thanks to Tim for making this one possible!
Meanwhile, Tim also donated the cap that we raffled off yesterday. The winner of that one is Noah White. Big congrats to him!
• • • • •
• • • • •
The Ticker
By Paul

Baseball News: In a seriously gross development, the MLB-partnered Pioneer League has sold the league's own name to an advertiser. … Our own Brinke Guthrie was watching an episode of the 1970s TV police show The Streets of San Francisco whose storyline included a Giants/Atlanta game at Candlestick. Brinke got screenshots of a ticket stub, guest star Andrew Duggan wearing a Giants cap, and an Atlanta player in the team's old "feather" uniform (but no batting helmet). … New uniforms for the Double-A Midland RockHounds. … Absolutely spectacular chest script on this 1950 American Legion uni. … The Northwoods League's Battle Creek Bombers will henceforth be known as the Battle Creek Battle Jacks (thanks to all who shared). … Wayne Gretzky in a No. 99 Dodgers jersey? Sure, why not. … Oh baby, check out this set of early-'70s MLB team posters that Jimmy Lonetti assembled. … New advertised stadium name for the Frontier League's New York Boulders.

Pro Football News: Following up on an item from yesterday's Ticker, Illinois State Redbirds men's basketball team wore BFBS alternates last night. The shorts featured a basketball-playing redbird clearly patterned after an old logo originally used by the NFL's Chicago Cardinals and St. Louis Cardinals (from @CardsandCustoms). … Ross Hazlett was looking at game-used jerseys worn by Browns QB Baker Mayfield and noticed that they were all tailored with asymmetrical sleeves. "The right side has an actual sleeve, while the left has just a sleeve cap (more like a lineman-type jersey)," he says. "Looking back at other jerseys of his, this seems to be just a 2021 thing, so maybe it had something to do with all the issues he had with his left shoulder." … Ravens DB Anthony Levine wore a blue collar cosplay outfit to announce his retirement yesterday (from @evanthevoice). … When the revived USFL debuts on April 16, Fox and NBC will simulcast the first game. … Love these vintage Rams and 49ers jersey tags (from John Turney). … Hall of Fame DL Charles Haley played for the 49ers from 1986-91. For most of that time, he wore the team's standard grey facemask, but there was a period in 1990 when he wore a different mask with a much darker color — not quite black, but close (from Carlos Jalife). … While looking at Haley photos for that last item, I discovered that 49ers DL Jim Burt also had a darker facemask in 1989 — not as dark as Haley's, but definitely darker than the team's usual grey. … Say it with me, people: There is no such thing as a "jersey combo."

Hockey News: Flyers D Keith Yandle became the NHL's all-time "ironman" on Tuesday night by playing in his 965th consecutive game. He marked the occasion by having "965" printed on his gloves (from Wade Heidt). … Also from Wade: The Canucks wore their gorgeous Lunar New Year pregame jerseys on Tuesday night. There was also a commemorative pregame puck design. … The Caps last night became the latest NHL team to support mental health awareness by wearing a "Hockey Talks" helmet decal. Additional info here (thanks, Jamie). … New BFBS jersey for Alabama's men's club team (from Matt Sammon). … Cross-listed from the baseball section: Here's an old shot of Wayne Gretzky in a Los Angeles Dodgers jersey.

College Hoops News: Cross-listed from the NFL section: The Illinois State Redbirds men's team wore BFBS alternates last night. The shorts featured a basketball-playing redbird clearly patterned after an old logo originally used by the NFL's Chicago Cardinals and St. Louis Cardinals (from @CardsandCustoms). … I'm not sure when this photo is from, but it shows Nebraska men's with four out of five players on the court wearing JrOB (from Carl Hungus). … Ohio State women's is giving out this very cool "Dribbling Brutus" flag tonight. … Arkansas and Ole Miss men's went red vs. blue last night (from @HogFlashbacks). … Contrary to — or at least in addition to — what we reported in yesterday's Ticker, it appears that some NCAA coaches are indeed wearing "Coaches vs. Cancer" sneakers this season (from James Gilbert).

Soccer News: Both teams in yesterday's Heart of Midlothian/Celtic game in the Scottish Premiership wore warm-up shirts supporting a suicide-prevention charity. The move was prompted by the recent death of a 13-year-old Hearts fan (thanks, Jamie). … A lifestyle brand is highlighting endangered species by creating concept sports teams, beginning with a soccer team whose excellent logo features a pair of birds from Chicago (from Austin Chen). … New home shirt for Brazilian side Palmeiras (from Ed Zelaski).

Grab Bag: Interesting offset numerals for the uni number on this old roller derby uniform (from Ed Kozak). … The UK's Netball Superleague's Severn Stars have new kits. "I'm slightly fascinated that the Velcro straps (which the bibs showing the player's position are attached to) are white on the orange design and black on the black design," says our own Jamie Rathjen). … Dave Kuruc spotted this nice vintage curling jacket at a Toronto thrift shop. … New police uniforms for Columbus, Ohio. … The Wells Fargo Center in Phily recently hosted eight events in eight days, including games for the 76ers, Flyers, Wings, Villanova hoops, and more. You can see all the makeovers in this fun time-lapse video (from @PhillyPartTwo). … Unusual new city logo for Florence, Ala. Additional details here. … The NLL's New York Riptide will honor "everyday heroes" with their uniforms on Saturday (from Wade Heidt). … Really interesting article about how new technology is creating enhanced audio of tennis matches so visually impaired fans can still enjoy following the action.