Well, at least the Puppy Bowl was good.
Man, what a stinker of a Super Bowl. On the plus side, it was a good-looking uni matchup. But the game had only a few uni-notable aspects, most of which we already knew about in advance and two of which can be seen in the photo shown above.
First, by wearing this year's Super Bowl patch, Bucs quarterback Tom Brady extended his record for wearing the most jersey patches in NFL history. (Kudos to our own Anthony Emerson for that outstanding piece, which originally ran last spring.)
Second, see that Under Armour logo on Brady's glove? Yesterday's game may have been the last time we'll see that logo on an NFL field. That's because, as was reported last week, Under Armour is ending its deal with the league, which means its logo will no longer be permitted to appear on gloves and cleats. Players with UA endorsement deals, like Brady, can still wear the company's gear, but not with visible maker's marks.
Third, down judge Sarah Thomas — the first woman to be part of a Super Bowl officiating crew — also became the first Super Bowl official to wear a snapback cap instead of the standard fitted cap: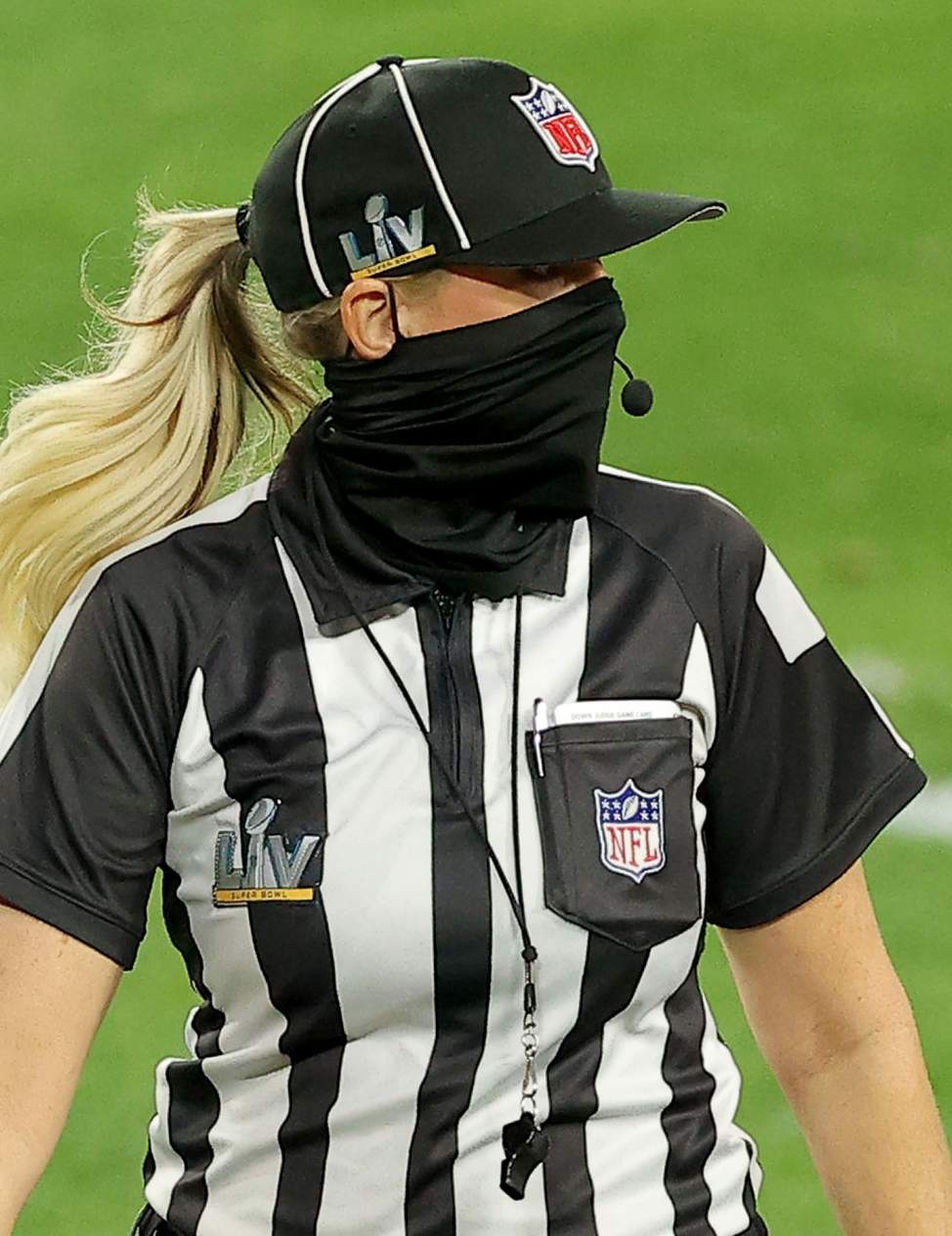 We already knew in advance about all three of those things. There was one legitimate piece of new uni news, but it wasn't even visible on the field, as the Chiefs revealed a few hours before kickoff that they had added their season-long rallying cry, "Run It Back," to their inner collar:
Super Bowl threads 🔴 pic.twitter.com/0z7SZnEUEC

— Kansas City Chiefs (@Chiefs) February 7, 2021
Aside from that, the game was completely uni-uneventful. But there was a cringe-y bit of corporate theater that unfolded during the postgame celebration, when Brady — who's still under contract to UA, at least for now — tried to hide the Nike logo on his base-layer shirt:
This sure looked like a conscious effort by UA athlete Tom Brady to cover up a Nike swoosh. Coincidental on the day UA exits their NFL contract? @UniWatch? @darrenrovell? pic.twitter.com/fpvp5j2ZWs

— MLP (@Pappy_Hour) February 8, 2021
That whole thing makes me queasy.
And that's a wrap for this bizarre NFL season. Congrats to the Buccaneers and their fans. With the Bucs' win, white-clad teams are now 14-3 over the past 17 Super Bowls.
Looking ahead to next season, here's what we know so far:
• The Bengals will have new uniforms (but their helmets will remain unchanged).
• The Browns will celebrate their 75th anniversary with a commemorative logo (which will presumably be worn as a patch and/or helmet decal) and a new throwback.
• The Falcons will take No. 44 out of circulation in honor of Henry Aaron.
• The Rams have indicated that they would like to add a new alternate, although it's unclear to me whether that's definitely happening.
Most importantly, here's hoping we've all been vaccinated by the fall, so that next season can be played in full stadiums.
• • • • •
• • • • •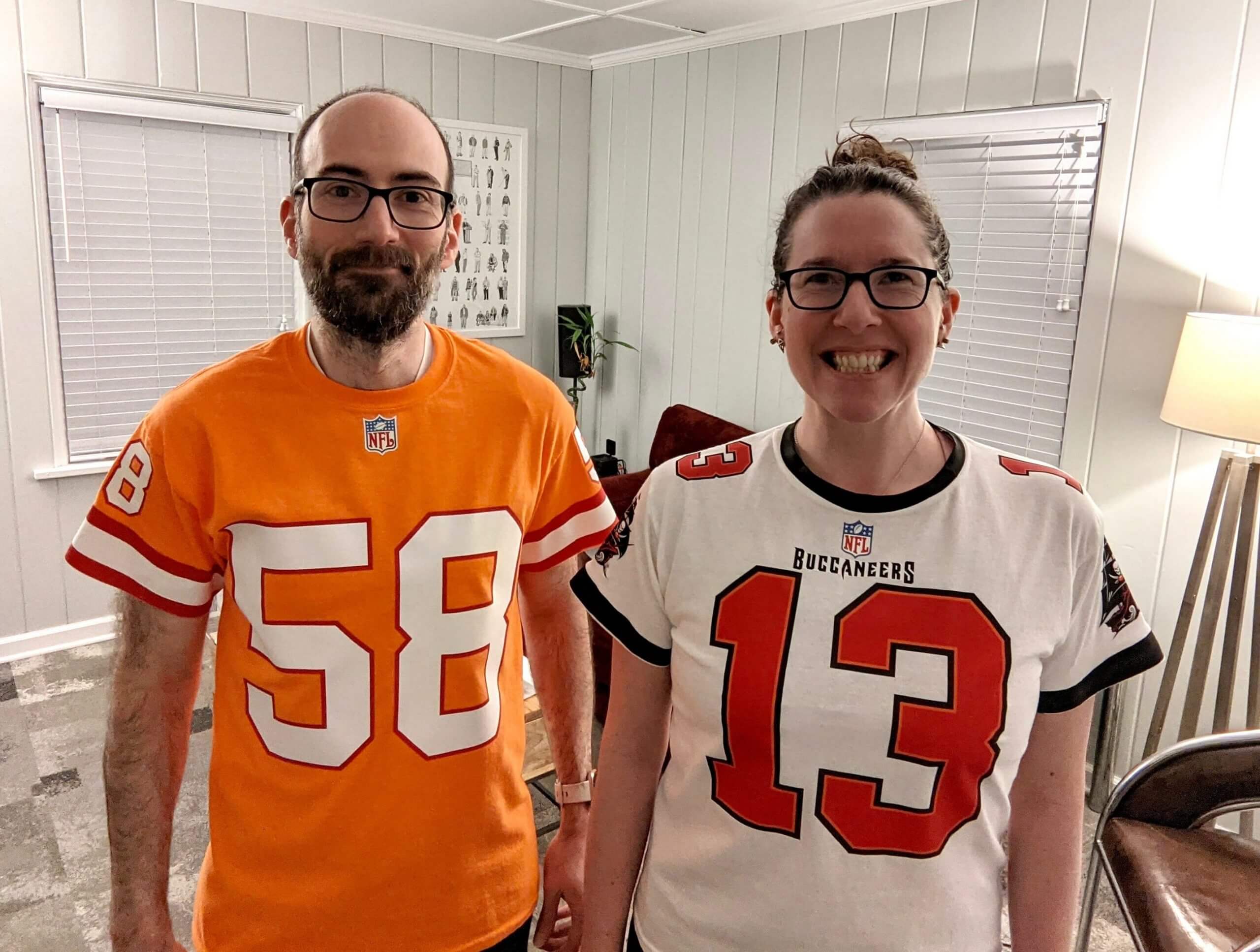 Click to enlarge
A Uni Watch Super Bowl tradition: As longtime readers may recall, one of our annual rituals is that reader Steve Spiecher makes himself some DIY Super Bowl jerseys by using T-shirts and iron-on transfer paper. This was his 10th year making these (here are the ones he made in 2012, 2013, 2014, 2015, 2016, 2017, 2018, 2019, and 2020) — an impressive benchmark! As you can see above, this year he went for the Bucs, making a Shaq Barrett Creamsicle throwback for himself and a Mike Evans jersey for his wife, Anne.
Here's how they looked from the back, along with some of the iron-on graphics: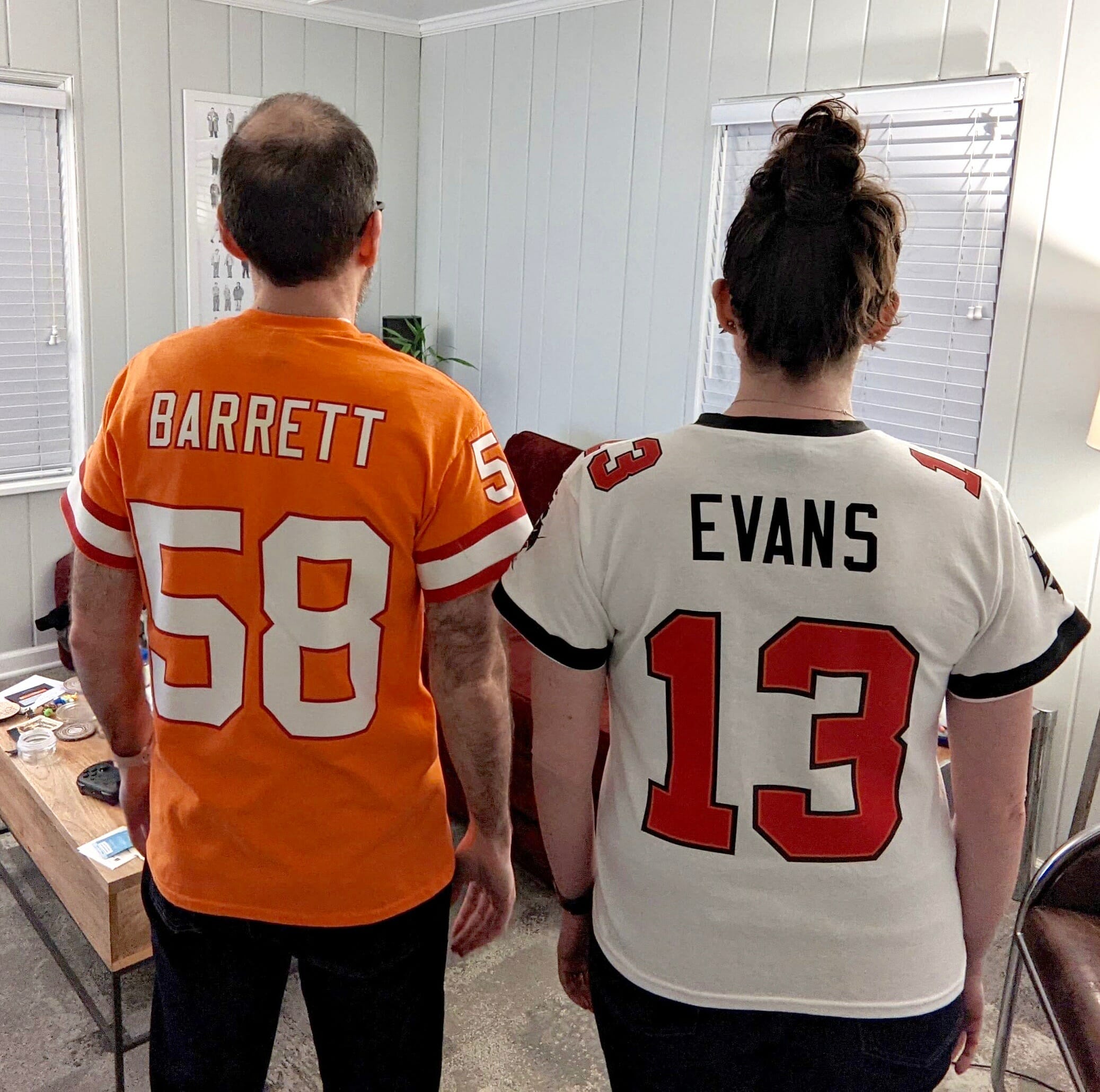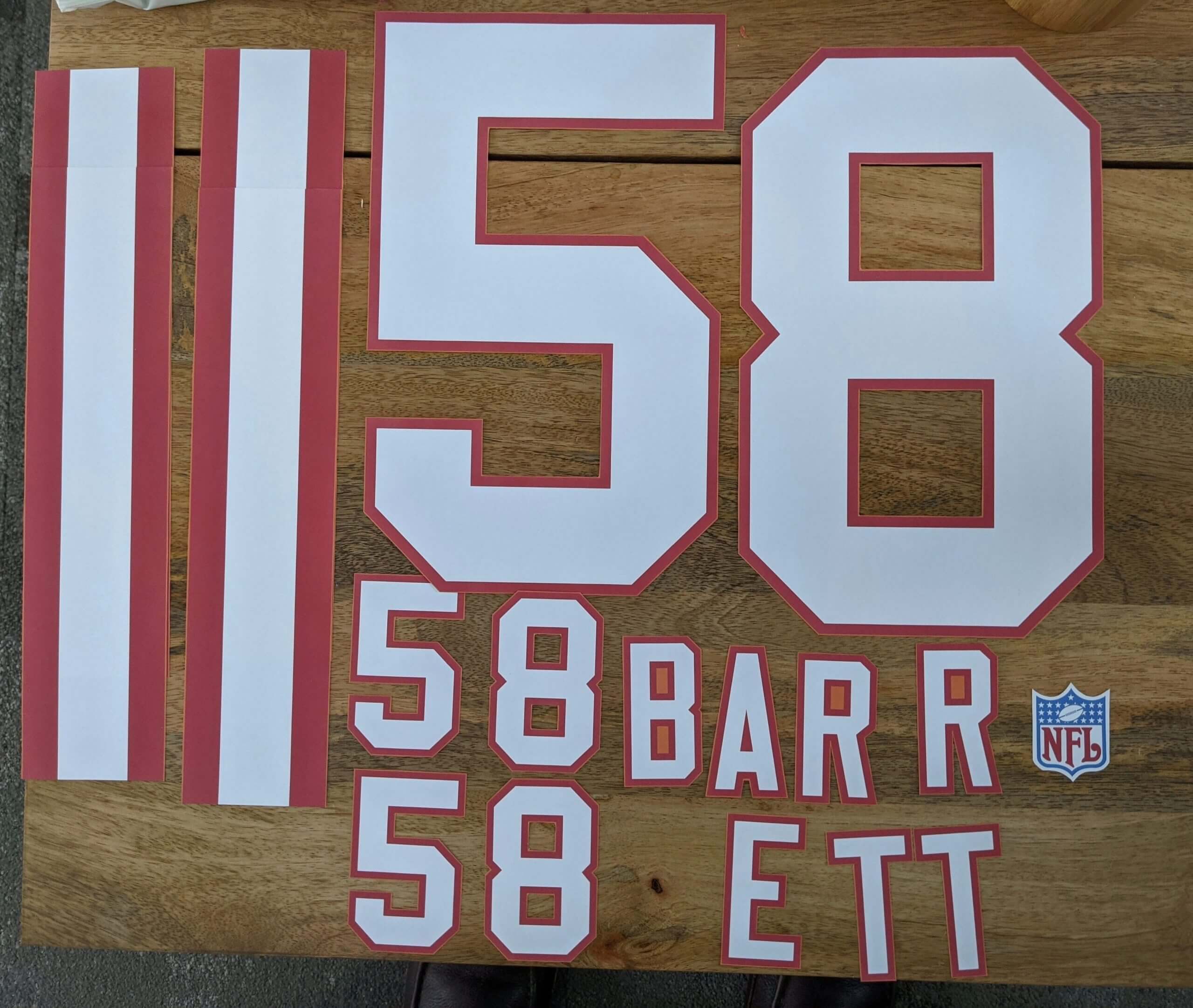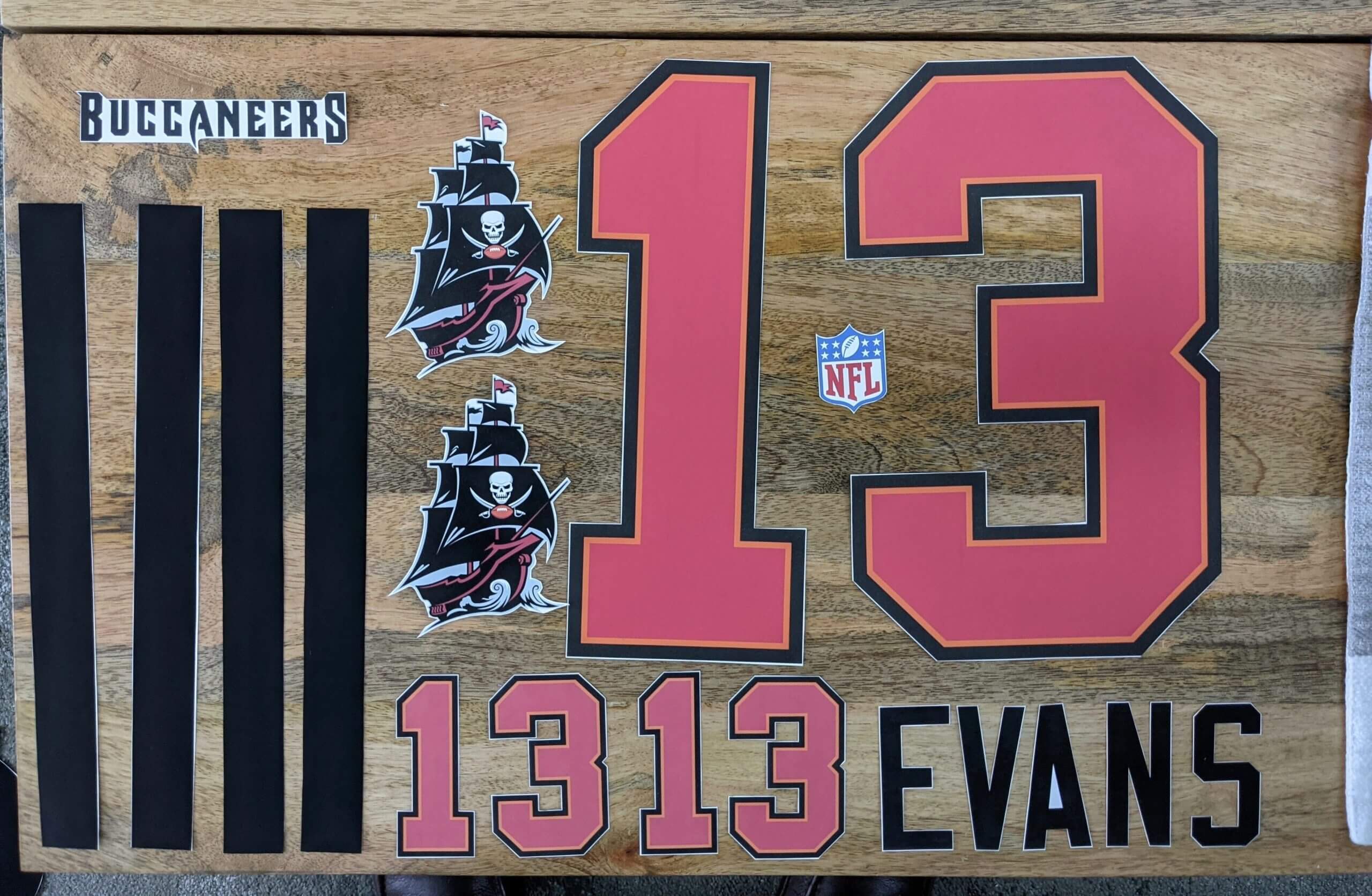 DIY projects always make me happy. They're basically the spiritual opposite of soulless shit like Brady covering up his logo. Keep it up, Steve!
• • • • •
• • • • •
Culinary Corner: For about 35 years now, I've used the same three ingredients in my chicken wing sauce. The two obvious ones, which pretty much everyone uses, are Frank's Red Hot Sauce and butter; the third one, which I learned from a bartender while I was in college, is mustard. Granted, the sauce comes out a little different each time I make it, because I just eyeball the ingredient amounts, but the results are usually within a pretty narrow flavor range.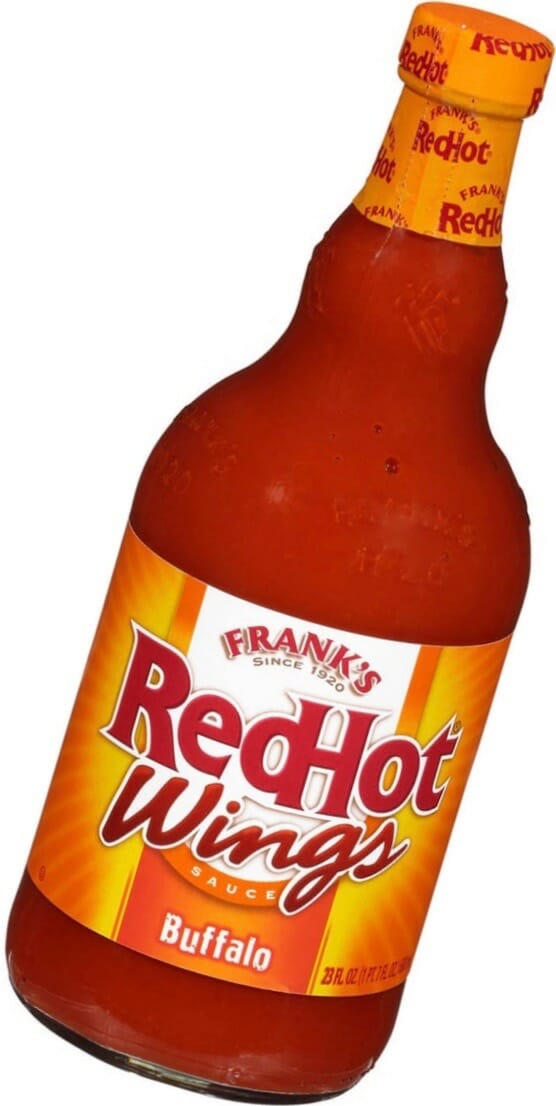 At some point I noticed that Frank's came out with a sauce made specifically for wings. I didn't pay much attention to it — figured it was for lazy people who, you know, couldn't be bothered to add some butter to the regular Frank's. Whatever.
On Friday I went grocery shopping and picked up some wings and some Frank's for Super Bowl Sunday. But for some reason, this time I lingered over the wing-specific variety. I assumed they couldn't put real butter in a shelf-stable product, so what did they put in it?
I grabbed a bottle off the shelf and looked at the ingredients, one of which was listed as "natural butter type flavor," which for some reason I found hilarious. Like, if it had simply said "butter flavoring," or "butter extract," or "that shit they put on popcorn at the movies that they call butter even though it's just some sort of flavored oil that we all know is gross but we keep asking for it anyway," that would be one thing. But "butter type flavor"? It was like a self-parody. I actually hooted out loud right there in the condiments aisle.
I decided that this called for some sort of taste test, so I bought a bottle of the regular Frank's plus a bottle of the wing-specific stuff. When I made my wings yesterday, I mixed up a batch of my usual sauce and also heated up some of the premixed stuff. I tossed a few wings in each variety and then asked the Tugboat Captain to give me one wing from each batch without telling me which was which.
I took a bite of one and thought, "Either I made a really weak batch of sauce, or this is the premixed stuff." Then I sampled the other one, which was like an old friend — "That's definitely my sauce," I said. The Captain confirmed that I was correct.
As for the premixed sauce, it's not terrible, but I was surprised by how bland it was. For those of you who've worked in the restaurant biz, I'm curious: Do eateries typically make their own wing sauce, or do they just have industrial-sized vats of the premixed stuff?
• • • • •
• • • • •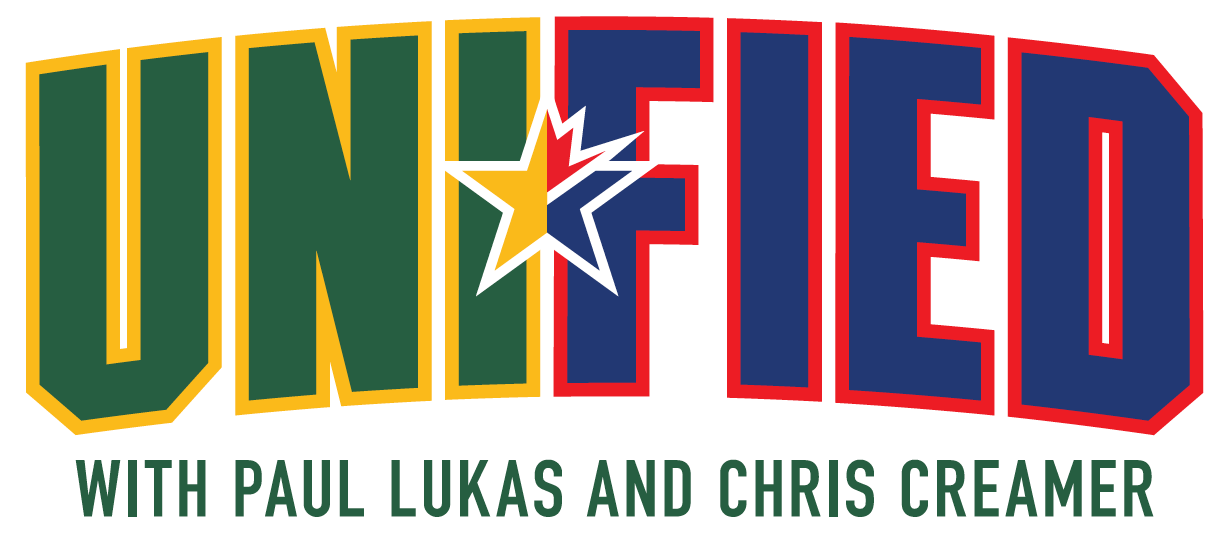 Podcast reminder: In case you missed it late last week, I've partnered with SportsLogos.net founder Chris Creamer to create a new podcast, called Unified. You can listen to the first episode, and subscribe to future installments, on Apple, Google, Stitcher, TuneIn, and Spotify, or just use the player below:
You can also check out the video version of the episode, which is on Chris's YouTube channel:
The episode's show notes are available on the podcast's new website, plus you can follow us on Twitter.
We should have the second episode later this week, probably on Thursday.
• • • • •
• • • • •
The Ticker
By Jamie Rathjen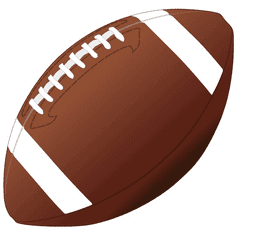 Football News: One of NPR's podcasts examined the significance of Whitney Houston's famous performance of the national anthem at Super Bowl XXV (from Kary Klismet). … Reader Jim Jeitler's 10-year-old nephew Nick DIYed a Tyreek Hill jersey. … A New York bakery got in on the Super Bowl fun with these custom loaves of bread (from Mike Chamernik). … A mural of '70s Edmonton QB Bruce Lemmerman was discovered in a Canadian family's basement. "Unfortunately, the mural creator did not use the proper shade of gold," says Wade Heidt. … Russian sportswriter Slava Malamud tells a story in this thread about a tournament for under-19 national teams that the NFL used to run in the week before the Super Bowl. The story is worth it on its own, but the uni-related tidbit is that Russia got black and gold uniforms with white helmets, which by coincidence are the colors of Russia's flag for part of its imperial era (from @SDubs35). … Texas A&M has chosen the collie that will eventually become their new Reveille mascot (from Kary Klismet).

Hockey News: Avalanche G Philipp Grubauer has a Nordiques-themed ЯR mask (from Wade Heidt). … The Predators wore their ЯR navy helmets in practice yesterday (from Taylor Crabtree). … The ECHL's Wichita Thunder wore throwbacks of an earlier Wichita team in the Central Hockey League, the Wichita Wind (from @ekdodge93). … Multiple readers had trouble reading the AHL's Henderson Silver Knights' numbers and NOBs. … Cross-posted from the basketball section: New York Knicks G Immanuel Quickley came to yesterday's game wearing the Rangers' ЯR alternate (from Alan Kreit). … The Kings now have three players whose last names are variations of "Anderson" (from Jakob Fox).

Basketball News: Also listed in the hockey section: Knicks G Immanuel Quickley came to yesterday's game wearing the New York Rangers' ЯR alternate (from Alan Kreit). … The entire NCAA Division I women's tournament is being held in San Antonio and nearby cities. … Color-vs.-color women's college games from yesterday included North Carolina/NC State (from James Gilbert) and Kansas/TCU, in which Kansas wore pink (from Mauricio Gómez Montoya). … Other women's college teams that wore pink or pink accents included both Louisville and Notre Dame.

Soccer News: Tottenham Hotspur wore warm-up shirts yesterday supporting the anti-racism charity Kick It Out, which they said was motivated by recent incidents of racist abuse of Black players. Roughly six such incidents have occured in the past two weeks targeting Black players for Chelsea, Manchester United, and Southampton, often after they made mistakes leading to goals. … Many Polish clubs have geographic features, like rivers or mountains, in their names. For example, Wisła Kraków's name includes the river Vistula (from Ed Żelaski). … Scottish clubs St. Mirren and Kilmarnock both wore second kits against each other on Saturday. … The Netherlands' Vrouwen Eredivisie is getting a new name — that is, likely including an advertiser — and modified logo on Wednesday. … San Marino's federation and national teams have new logos. … A group of recovered gambling addicts and others affected by them wrote a letter to 11 clubs in England and Scotland about their use of gambling ads on social media, often in starting lineup announcements. There are others that do so besides those, and eight of the 11 clubs also wear the ads on their shirts. … In 1986, the Major Indoor Soccer League's Tacoma Stars signed Steve Zungul, one of the sport's all-time great scorers, and at his introduction he got a shirt with "Lord" as the NOB, a reference to his "Lord of All Indoors" nickname (from Kenn Tomasch).

Grab Bag: Three more AFL Women's teams, other than the usual two of Carlton and the Western Bulldogs, wore pride guernseys: Adelaide, Brisbane, and Geelong. The remaining teams wore rainbow-trimmed socks. … The U.K.'s Netball Superleague's Strathclyde Sirens have two new kits. … Here is an overview of various countries' military aircraft roundels (from Zachary Bevins). … George P. Shultz, who variously served as Secretary of State, Labor, and the Treasury in several presidential administrations, and who died over the weekend at the age of 100, was a Princeton grad who famously had the school's tiger mascot tattooed on his butt. … Following up on an item from yesterday's Ticker: The NYPD says it has disciplined an officer who was shown on video wearing political patches on her uniform, a violation of departmental guidelines. … Williams College students and alumni have taken to social media to express their disapproval of the school's recently updated visual identify (from Kary Klismet).
• • • • •
• • • • •