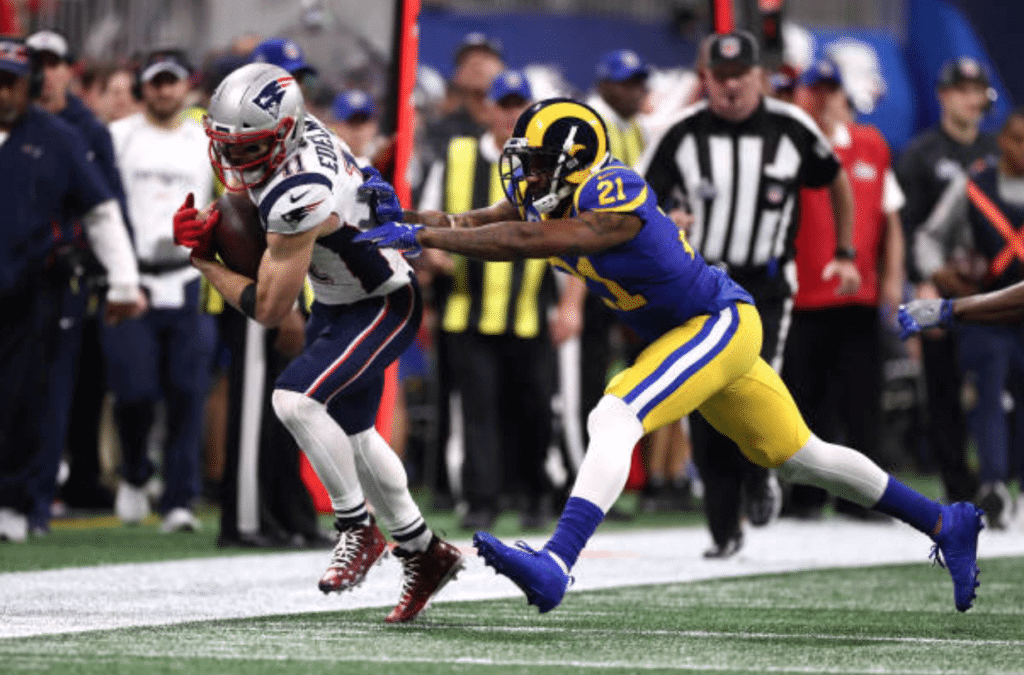 Well, at least the Puppy Bowl was good.
Not only was it a boring game, it was a very uni-uneventful game. The most uni-notable player was Rams defensive back Aqib Talib, who had a seriously messed-up sock situation going on (see above).
A few other game notes:
• Speaking of Rams hosiery, wideout/return man JoJo Natson's blue socks seemed to merge with his blue spatting tape, plus he wore one blue glove and one yellow glove (click to enlarge):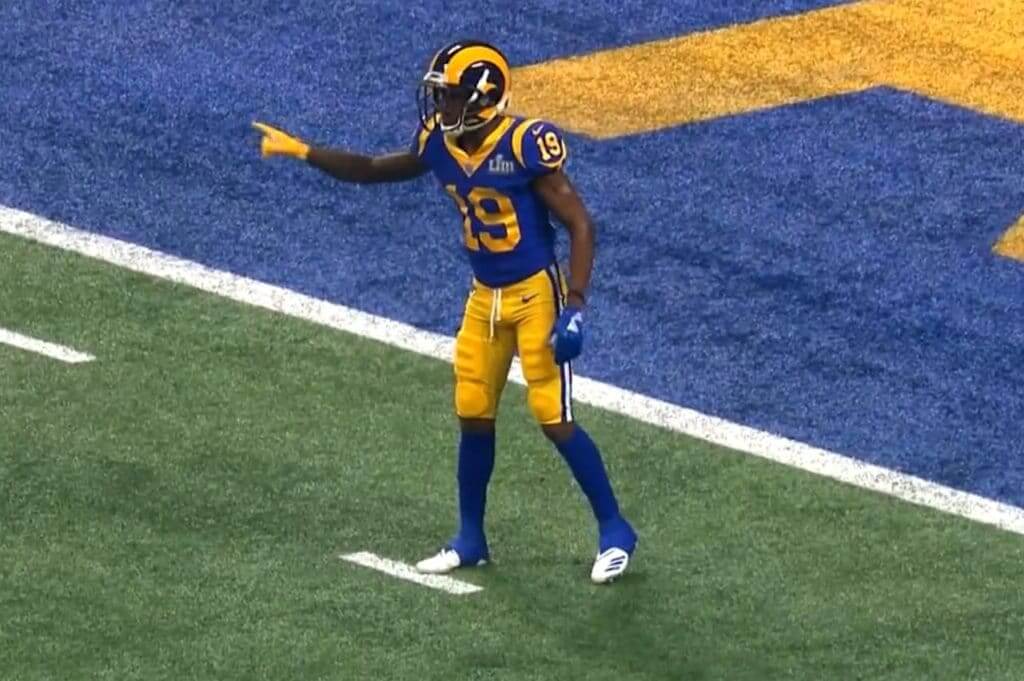 • Pats quarterback Tom Brady wore his Riddell VSR4 helmet for the final time. Starting next season, that helmet is no longer eligible for on-field play.
• Prior to the game, Eagles defensive lineman Chris Long was named the latest winner of the Walter Payton Man of the Year Award, so he'll wear the Payton patch on his jersey starting next season, just like Saints quarterback Drew Brees, Panthers linebacker Thomas Davis, Cardinals wide receiver Larry Fitzgerald, Giants quarterback Eli Manning, and Texans defensive lineman J.J .Watt.
• After the game, someone tried to break into the New England locker room while wearing a stolen security jacket:
A man just tried to break into Pats locker room with a stolen security jacket pic.twitter.com/qaVdVbcseU

— Sports Illustrated (@SInow) February 4, 2019
And that's a wrap for the NFL season. The next significant NFL uniform news will probably be the unveiling of the Jets' new uni set, which is expected to take place sometime in the spring. (I can confirm that the leak that's been circulating lately is not legitimate.)
Also, next year's uniforms will feature that crummy NFL centennial logo as a jersey patch, so that'll be something new (and the Bears are reportedly planning a new throwback for their own centennial). Speaking of which, the league teased the upcoming centennial celebration with a pretty good commercial featuring lots of visual signifiers:
Now let's just hope they don't use that gold football.
(My thanks to Mitch Goldenberg and our own Brinke Guthrie for their contributions to this section.)
• • • • •
• • • • •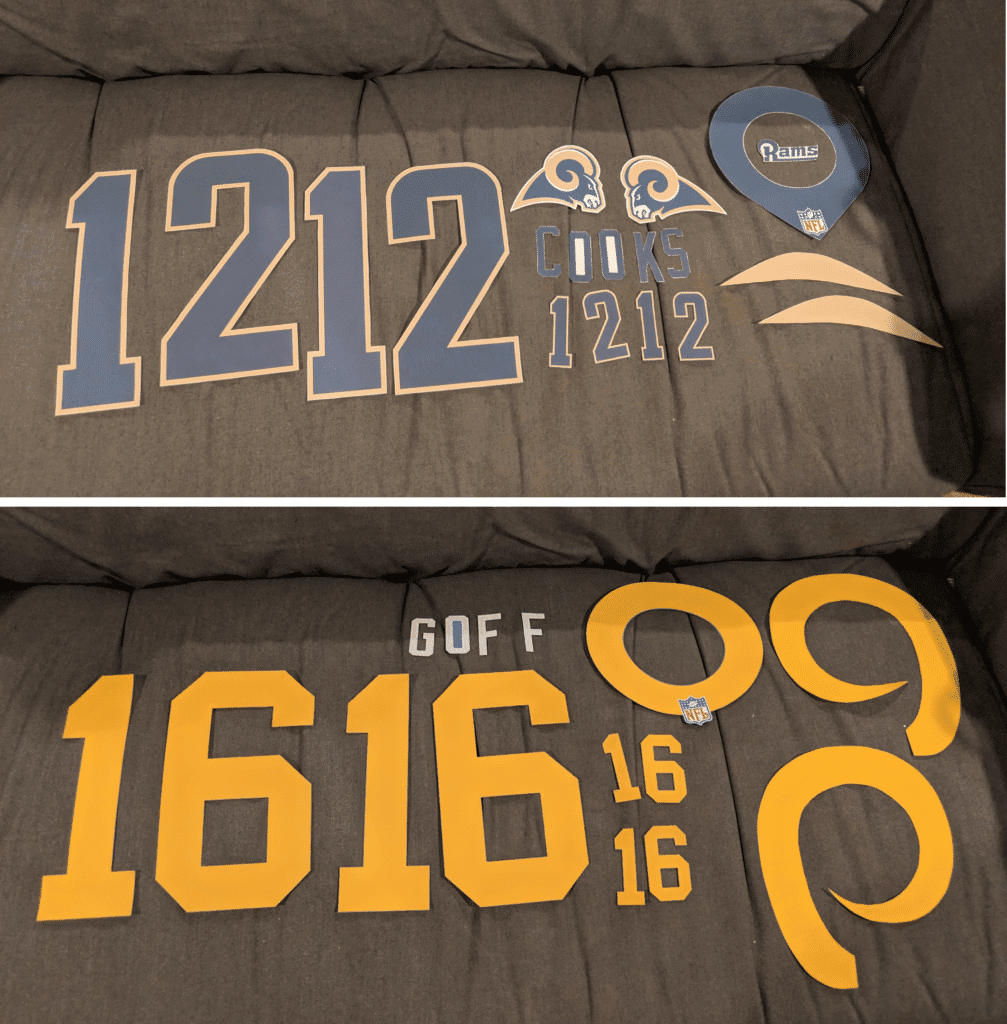 Click to enlarge
Super Bowl DIY projects: Reader Steve Speicher always makes himself some jersey-themed DIY T-shirts for the big game (you can see some of his previous efforts here, here, here, and here). This year he was rooting for the Rams, so he made two Rams shirts — one based on their white jersey and another based on their throwback jersey. Here's how they turned out (click to enlarge):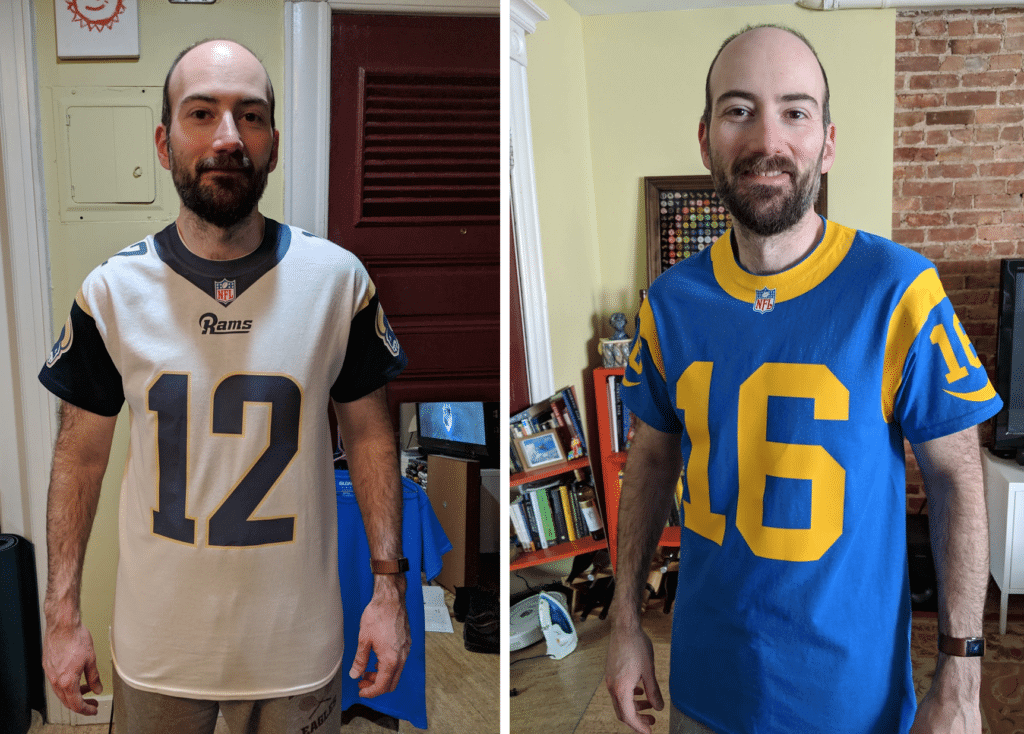 Not bad, right? "The ram horns on the blue were the most difficult aspect of these, as it took me some rework to get them to look decent," says Steve. "Also, a big thank you to my mom, who stitched those blue sleeves onto the white shirt. I'm not happy about the outcome of the game, but the shirts came out as some of the best I've done."
Meanwhile, reader Dave Williamson's kid DIY'd himself his own Todd Gurley shirt (click to enlarge):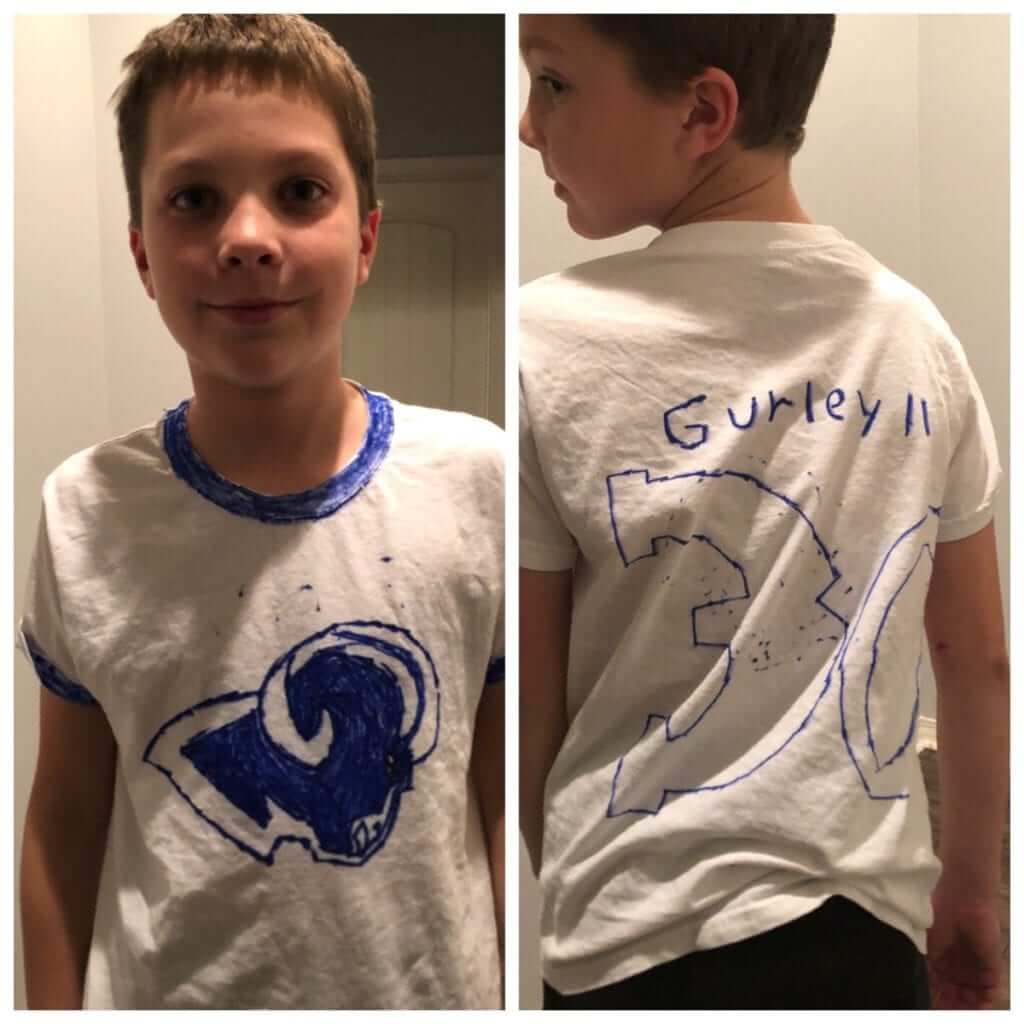 I love this. There's more inspiration and heart in that kid's shirt than in a million overpriced polyester shirts. Good for him!
• • • • •
• • • • •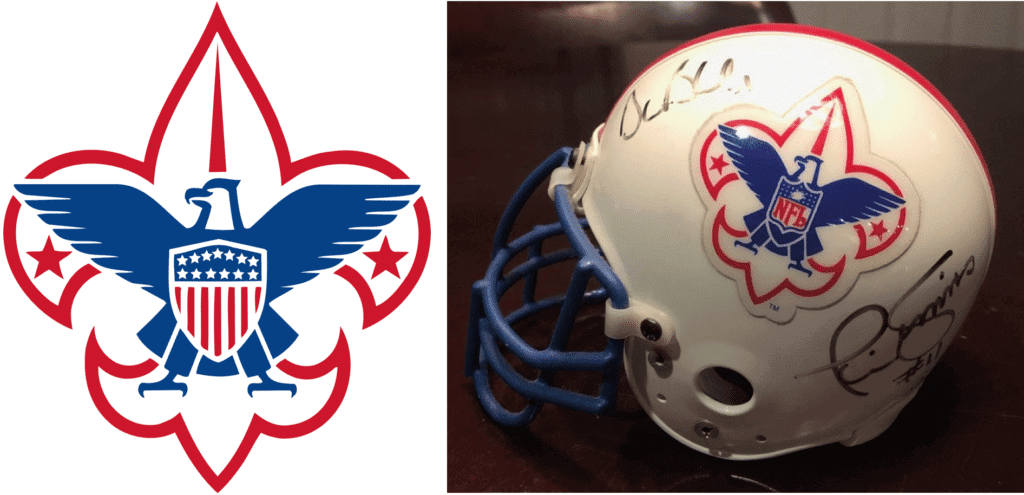 Click to enlarge
BSA/NFL mashup: On the left is the logo for the Boy Scouts of America; on the right, a photo of mini-helmet that reader Chris Quinlan posted yesterday on Twitter. As you can see, it features the BSA logo, but with the shield of stars replaced by the NFL logo. I've never seen anything like that before.
"We got it in 2003, at an academic honors football banquet for my brother when he was in Pop Warner," says Chris. "It was hosted by Phil Simms and Drew Bledsoe [both of whose autographs can be seen on the helmet], with Frank Kush as a guest speaker [his autograph is on the other side]."
Chris says his brother wasn't involved in the Scouts, so it's a bit of a mystery how this mashup logo came about. Very interesting, though!
• • • • •
• • • • •
See ya in the funny pages: My friend Nate sent me this comic book cover yesterday. Said it was published in January 1970, and the cover artist was Tony Tallarico. I hadn't seen it before. Looks sweet! I poked around on the internet to see if I could find some of the interior pages but came up empty. Does anyone have a copy of this?
• • • • •
• • • • •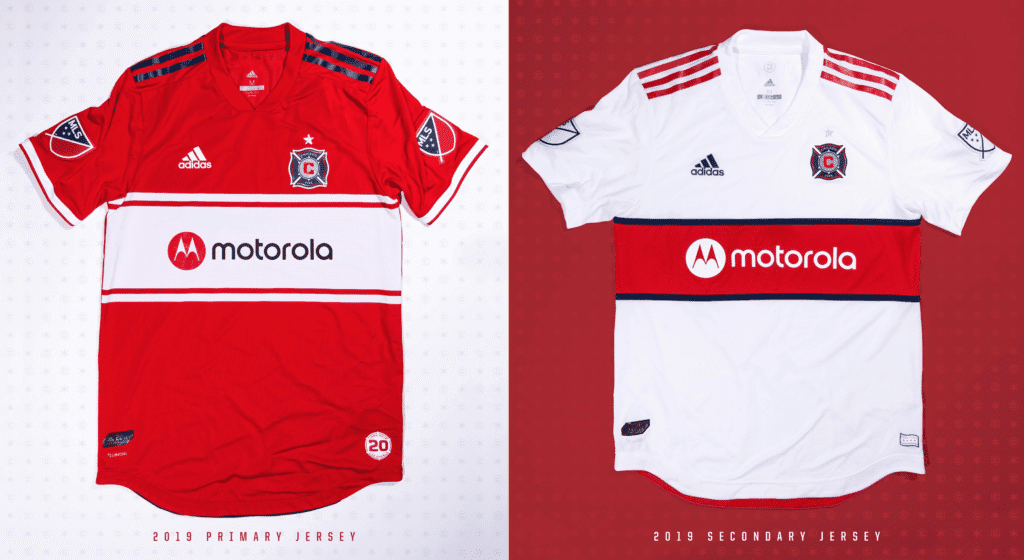 Click to enlarge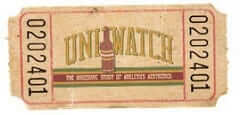 ITEM! New raffle: The Chicago Fire are generously offering one of their new jerseys for a Uni Watch raffle. The lucky winner will be able to choose either the primary red design or the secondary white design, both shown above. You'll also get your choice of size, from S to XXL.
To enter, send an email to the raffle address by this Thursday, Feb. 9, 7pm Eastern. One entry per person. I'll announce the winner on Friday. Good luck!
• • • • •
• • • • •
The ultimate cold-weather dish: Twice in the past five nights, I've been out and about with other people in bitterly cold weather. On both occasions, we ended up eating at French bistros. In both cases, I figured I'd probably get steak frites. But in both cases, I changed my mind when I saw they had cassoulet on the menu. (The photo shown above is the cassoulet I had at Olivier Bistro in Park Slope on Saturday night.)
Man, it's just the perfect dish for cold weather — rich, homey, filling, comforting. And so many distinct flavors and textures! Duck confit, pancetta, sausage, white beans — so good!
I've never made cassoulet myself (I helped a bit when a friend was making it at his house, I think in 2007, but he did most of the work). That's definitely going to change before this winter is over. Coming soon, or at least soon-ish, to Culinary Corner!
• • • • •
• • • • •
The Ticker
By Jamie Rathjen

Baseball News: More MLB St. Patrick's Day hats are beginning to appear. … During a 1992 NFL game, Atlanta Falcons Andre Rison wore a World Series cap as a shout-out to his erstwhile teammate Deion Sanders, who was playing with the Braves in the 1992 World Series at the time. Rison inscribed Sanders's Braves and Falcons uni numbers on the cap, along with his "Prime Time" nickname (from Douglas Ford). … The Wisconsin Historical Society posted a picture from the Wisconsin State League, an early 20th-century minor league (from R. Scott Rogers). … New throwbacks for Lafayette.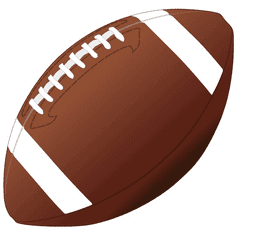 Football News: Looks like we haven't seen the last of NFL games being played across a dirt baseball infield after all, because the Raiders will reportedly play their 2019 home games in the San Francisco Giants' ballpark (from several readers). … Cross-listed from the baseball section: During a 1992 game, Falcons WR Andre Rison wore a World Series cap as a shout-out to his erstwhile teammate Deion Sanders, who was playing with MLB's Atlanta Braves in the 1992 World Series at the time. Rison inscribed Sanders's Braves and Falcons uni numbers on the cap, along with his "Prime Time" nickname (from Douglas Ford)…. The Smithsonian released a short documentary about the humble football helmet (thanks, Phil).

Hockey News: Providence held a Pinktober-in-February game Saturday against Vermont which from a uni-related perspective consisted of only the officials wearing pink. "Go Cats," says my brother Nate Rathjen. … Also, I don't know if we've mentioned Providence's hockey-playing friar logo. … The AHL's Charlotte Checkers also did Pinktober in February, except their jerseys had a backwards Hurricanes logo sleeve patch; the logo always appears with the black half on the left (from Matt Campbell). … Two Canadian universities, the University of Québec at Trois-Rivières and Carleton, played an outdoor game at Saint-Tite, Que., in a stadium that hosts a rodeo every year (from Wade Heidt). … Also from Wade: the QMJHL's Québec Remparts wore throwbacks for the 50th anniversary of the league, which counts a different franchise of the same name among its founders.

Basketball News: Wake Forest G Aaron Spivey had his shorts on backwards yesterday (from Rob Ticktin). … Purdue wore throwbacks against Minnesota (from @jffdmrly). … Maine wore blue alternates against New Hampshire, who wore darker blue. … New Bulls SG Timothé Luwawu-Cabarrot wears No. 7 (from Etienne Catalan).

Soccer News: The NWSL's Seattle Reign are to move to Tacoma, Wash., for next season because of a lack of suitable stadiums in Seattle — they played at the city's 70-year-old high school football stadium — and renamed themselves Reign FC with the corresponding removal of "Seattle" from their crest. … From the same league, the Chicago Red Stars are having a design contest for this season's scarf (from Steve Johnston). … Manchester United wore their usual combo for European competiton of red/white/white against Leicester City (from Josh Hinton). … English League One teams Coventry City (sky blue) and Gillingham played a mono-blue-vs.-mono-blue matchup. … Italian team Inter Milan wore NOBs in Chinese for Chinese New Year.

Grab Bag: Formula One team Sauber were renamed after their advertiser, Alfa Romeo, marking the first time since 1985, when the manufacturer stopped running its factory team, that a team with the Alfa Romeo name will be on the F1 grid. … In rugby union, Italy and Benetton fly-half Ian McKinley, who played his first Six Nations game this weekend, always plays with a pair of goggles after losing sight in one eye during a game in 2012. … Here's a website devoted to one guy's collection of air-sickness bag designs (from Steven Lobejko).
• • • • •
[adrotate group="2″]
• • • • •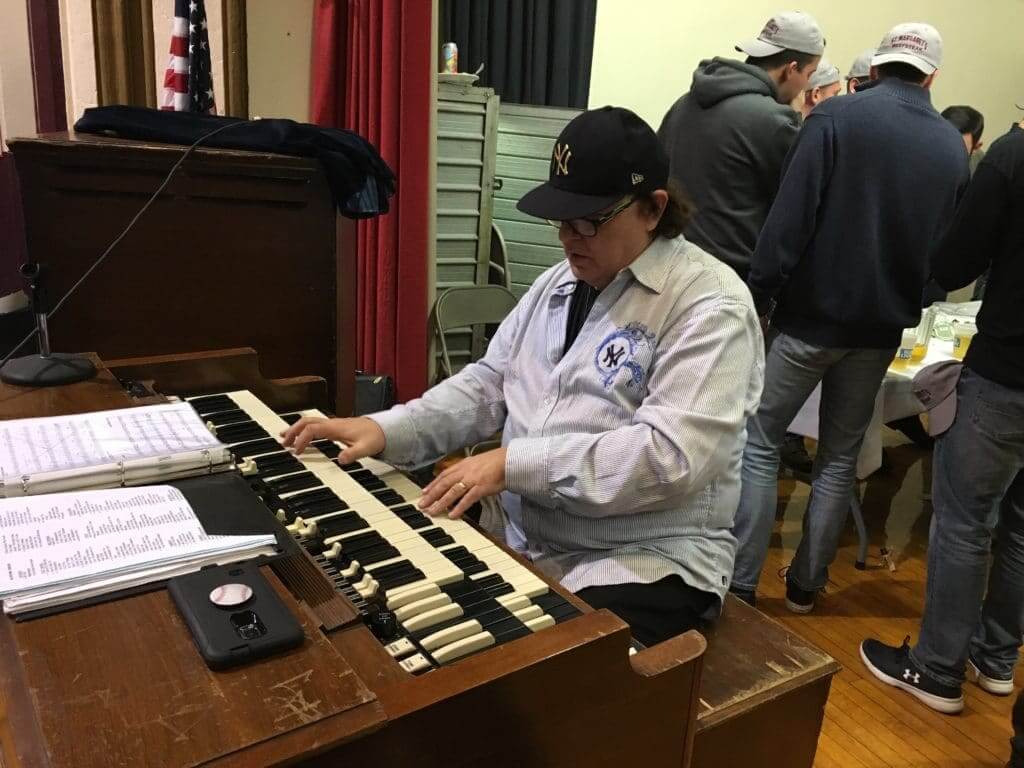 Click to enlarge

What Paul did last night Friday night: On Friday night I was lucky enough to be one of 500 men who packed into the gymnasium at St. Margaret of Cortona School in the Bronx, which was holding its 50th annual beefsteak fundraiser. Just like at any beefsteak, there was the usual assortment of beef, beer, and fun, plus they had some very nice giveaway caps, but the added attraction of the St. Margaret's beefsteeak is that Yankee Stadium organist Ed Alstrom always shows up and plays.
As you can see in the photo above, Alstrom was wearing an interesting Yankees shirt. In this video clip (which will give you an idea of how crowded the scene was), you can see that the shirt also had an MLB logo in an unusual spot:
There was more music later in the evening — with some amazing uniforms to boot — when the New York Police Department's Emerald Society gave us an excellent bagpipe performance:
Looking forward to attending this same beefsteak again next year!