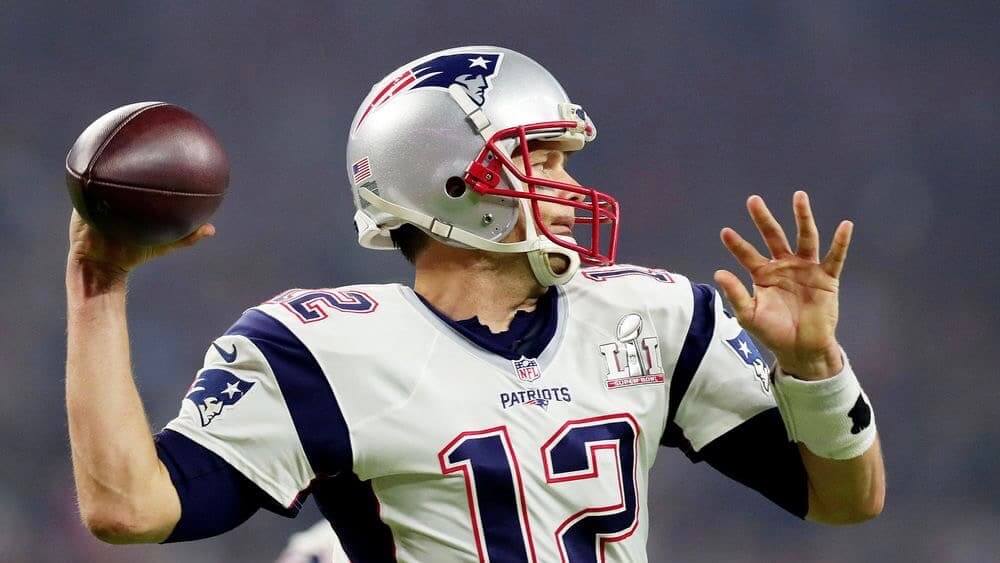 [Editor's Note: Anthony Emerson, who compiles the Tickers that appear on Fridays and Saturdays, has written a sensational guest entry for us today. Enjoy. — PL]
By Anthony Emerson
Tom Brady is one of the most decorated players in the history of American professional sports. He's the only player in NFL history to have played on six Super Bowl-winning teams; he's won three MVPs, four Super Bowl MVPs, been an All-Pro five times; you get the drift.
But Brady has also been decorated in another way — a way that has gone unacknowledged until now but is of particular interest to us here at Uni Watch. While there's no official recordkeeping on this, my research indicates that Brady has worn 20 distinct jersey chest patches during his career — almost certainly the most in NFL history.
Brady's patch total is all the more impressive because the the Patriots — the team with which he spent his entire career until recently signing with the Buccaneers — have never worn captaincy patches. By comparison, Peyton Manning wore 18 patches during his NFL career, but nine of those were different captaincy patches — including camouflage, pink, and so on — which padded his total. Brady hasn't had that luxury. If New England had worn captain's patches during his tenure, his league-record patch total of 20 would be even higher. (And since the Bucs wear captain's patches, now it presumably will get higher.)
Brady has played in nine Super Bowls, so that's nine patches right there. His prodigious patch prowess has also benefitted from the Patriots' habit of celebrating Super Bowl Championships with patches during the next season's home opener, which added another five to his total. He's also worn a Gene Upshaw memorial patch (which he was wearing when he infamously received his ACL injury in Week One of the 2008 season); a Patriots 50th-season patch; an AFL 50th-season patch; an NFL International Series patch (twice, but we'll count it as one, since it was the same patch both times); a memorial patch for Myra Kraft (the wife of Pats owner Robert Kraft); and a Pro Football Hall of Fame 50th-anniversary patch.
To put that in perspective, Brady's 20-year NFL career has included just five patchless seasons: 2000, 2002, 2006, 2010, and 2013. Here's a look at all 20 of his patches, one at a time:
1. Super Bowl XXXVI
Brady's first patch was, of course, a Super Bowl patch, as he marshalled a team that had gone 5-11 the previous season to a title against the "greatest show on turf." Fun fact: The logo for that Super Bowl was originally supposed to be a New Orleans-themed design, but it was changed following the Sept. 11 attacks.
———
2. Super Bowl XXXVIII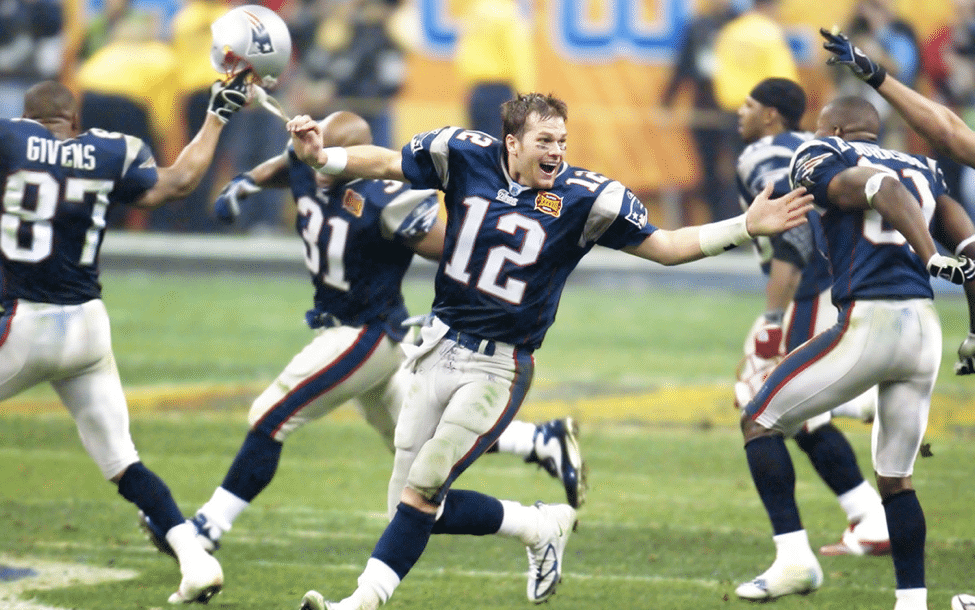 This is my favorite Super Bowl logo — and not just because it was for the first Super Bowl I stayed up and watched in its entirety. I love the colors, which made it pop on both the Pats' navy and the Panthers' white. The space-inspired design evokes Houston and has a bit of the collegial, fun-loving feel that is totally gone from the NFL now.
———
3. Super Bowl XXXVIII Champions (2004 Week 1 vs. Colts)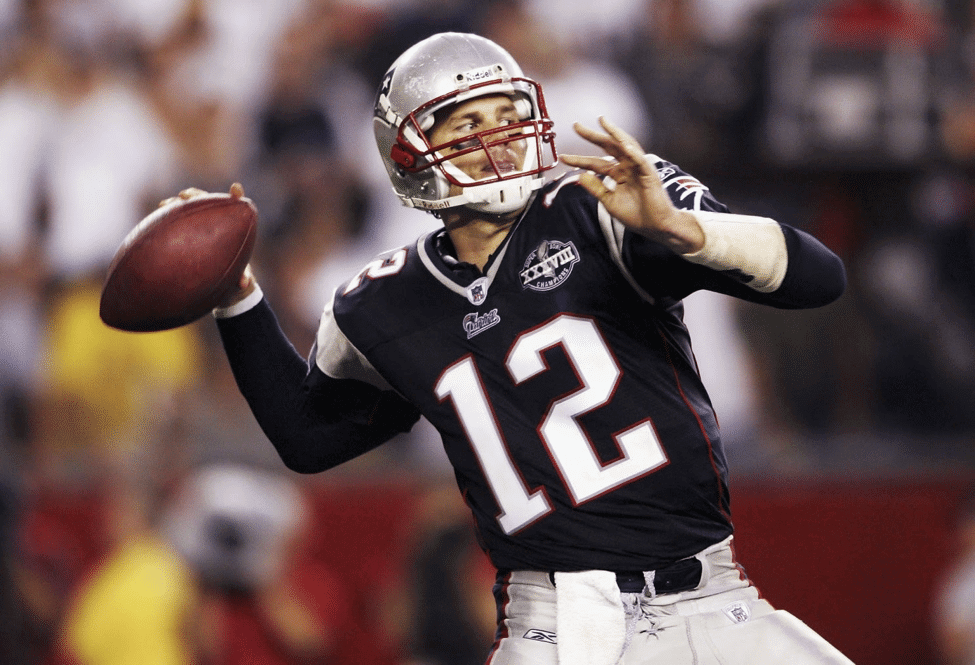 The Patriots' — and the NFL's — first-ever championship patch was somewhat drab and boring, depicting the Roman numerals over the Lombardi Trophy and bracketed by "Super Bowl Champions."
———
4. Super Bowl XXXIX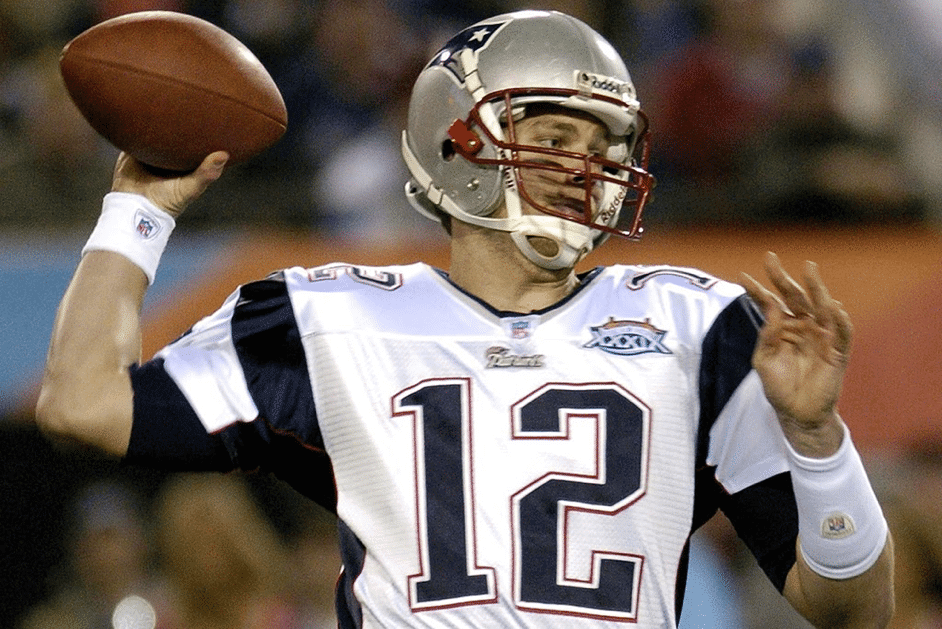 The design of Super Bowl XXXIX's logo was inspired by Jacksonville's Main Street Bridge, one of seven spans in the city. I love this logo now, but at the time I thought it was nothing special. Of course, I never imagined the NFL would stop doing unique logos for Super Bowls.
———
5. Super Bowl 39 Champions (2005 Week 1 vs. Raiders)
This patch is similar to the one worn after the Pats' Super Bowl XXXVIII championship, but with the Roman numeral swapped out. I think the typeface used for "XXXIX" is at least inspired by the one used on the Super Bowl logo itself.
———
6. Super Bowl XLII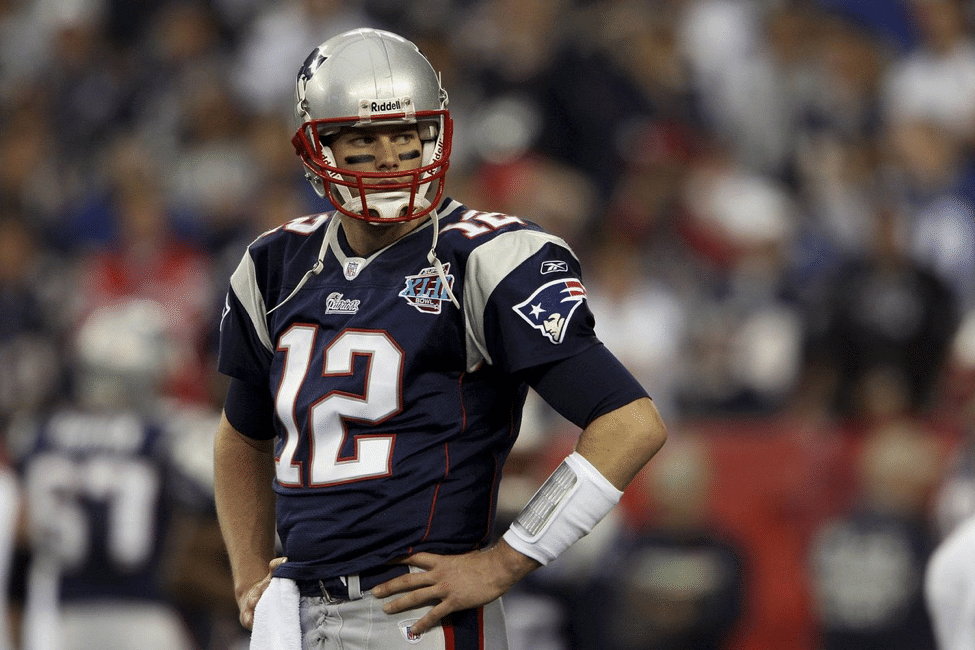 The last of the unique Super Bowl logo patches. The patch's shape sort of evokes Arizona, where the game was played, although many people at the time thought it looked like a sliding minivan door. Okay, now let's never mention this game again.
———
7. Gene Upshaw Memorial (2008 Week 1 vs. Chiefs)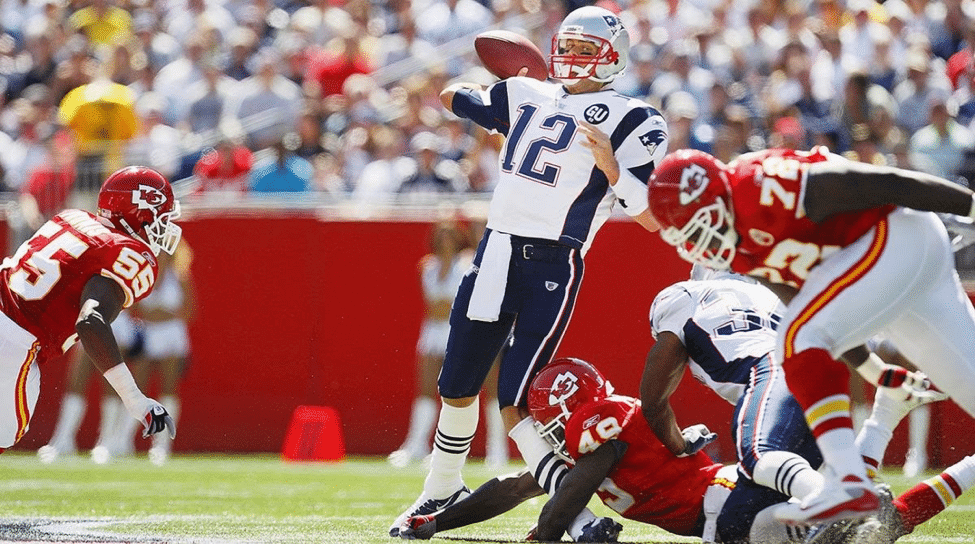 Apologies to my fellow Pats fans for two painful images in a row. Every team in the league wore the "GU63" memorial patch for NFL Players Association president Gene Upshaw during Week 1 (though Upshaw's former team, the Raiders, kept it for the entire season, and the other teams converted it into a helmet decal).
———
8. Patriots' 50th season (2009 season)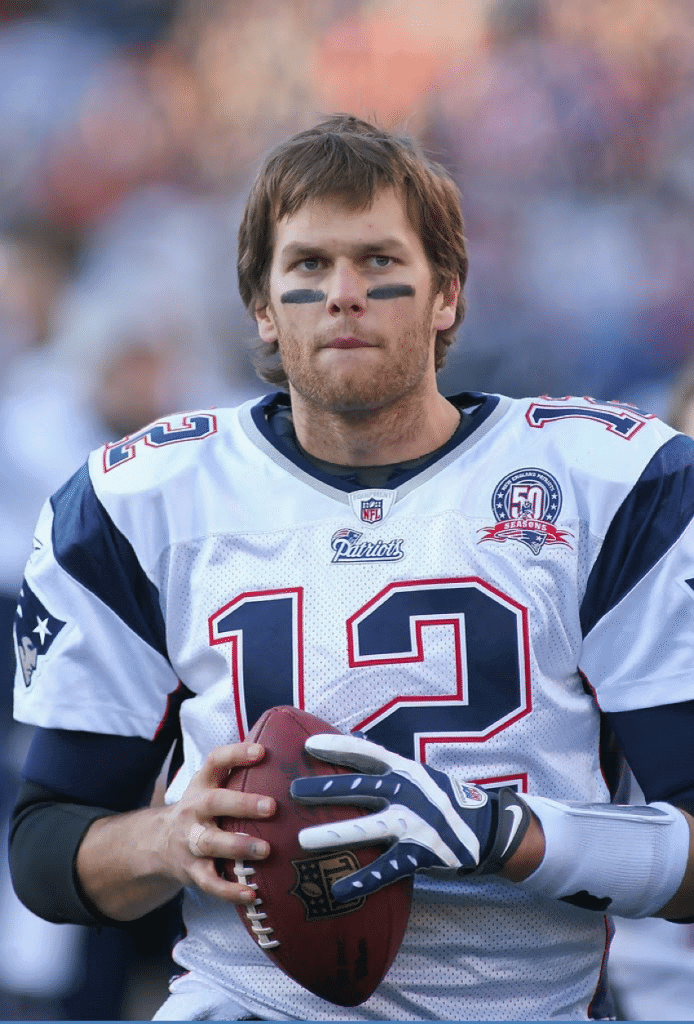 Brady didn't play in the Pat Patriot era, but he did manage to wear Pat for an entire season — Pat was just trapped inside an anniversary patch. Not a particularly inspired patch design, unfortunately.
———
9. AFL 50th season (2009 Weeks 1, 5, 6, and 15)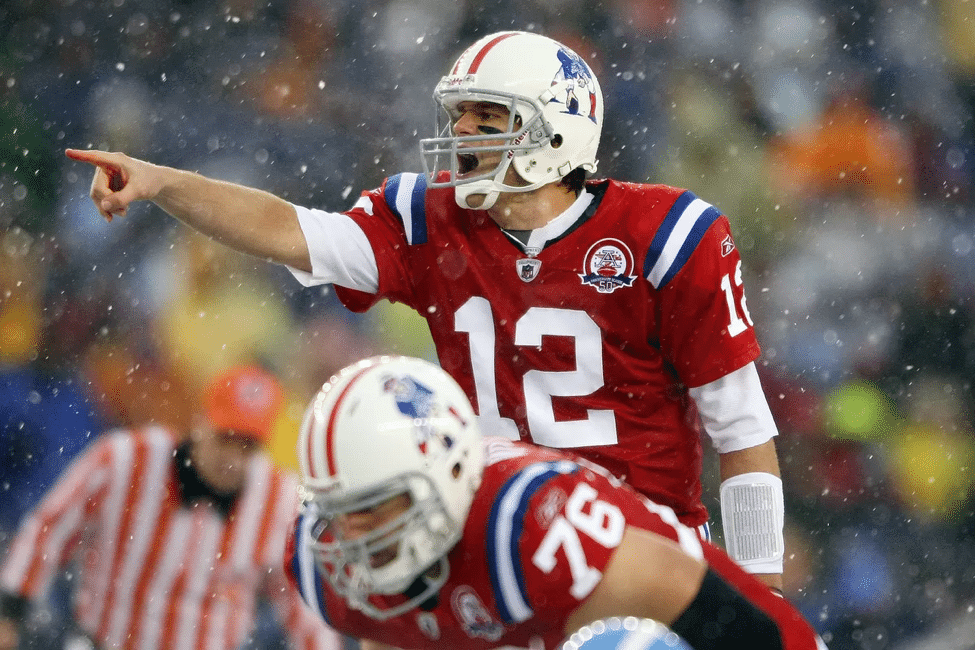 The above photo is from probably the best-looking game of Brady's career. From the Pats' unis, to the Titans' unis, to the refs' unis, to the Foxborough snowfall — a visual feast. Brady wore those patch-clad throwback unis and their even more gorgeous road counterparts a combined four times in 2009.
———
10. NFL International Series (2009 Week 7 vs. Buccaneers)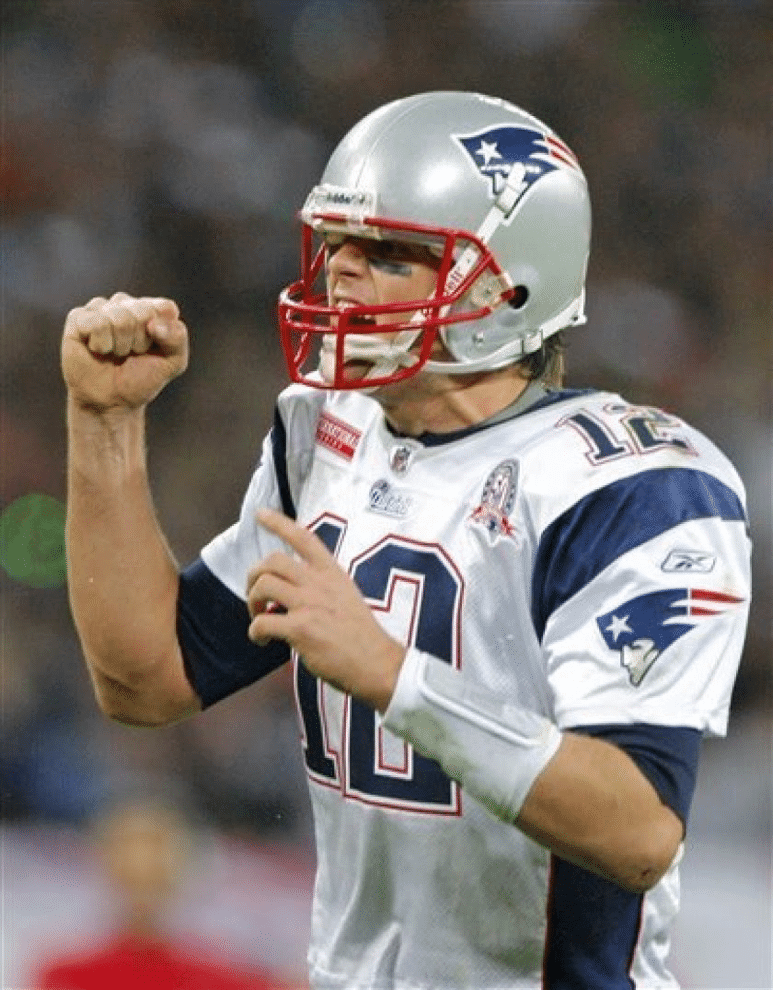 This game, played in London, marked the first time Brady wore the red "NFL International Series" strip. (Fun fact: Brady later wore this same patch for a London-based game against the Rams in 2012. The NFL stopped using the patch for overseas games after that.)
———
11. Myra H. Kraft memorial (2011 season)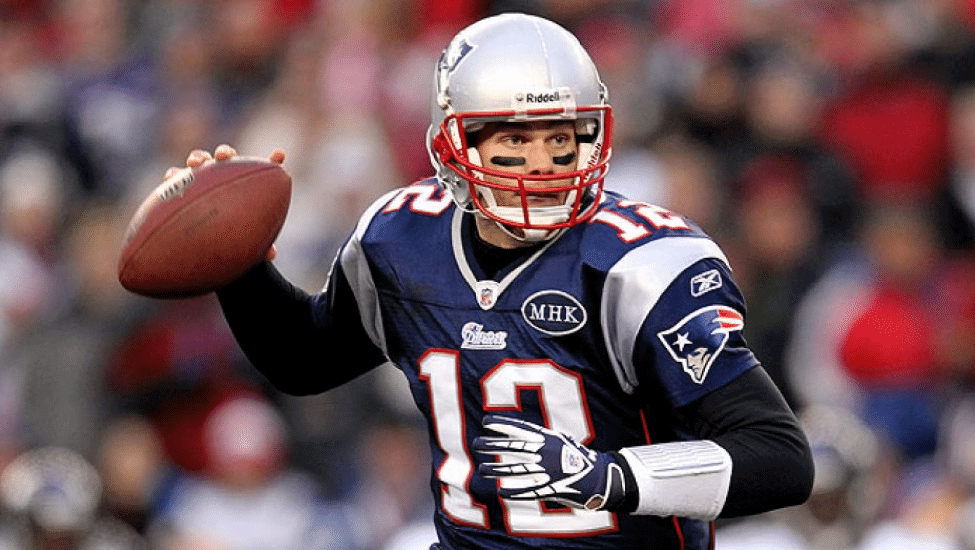 Following the death of Patriots matriarch Myra Kraft in the summer of 2011, the team honored her with a patch — the first memorial patch in Pats history. While Myra had little to do with the football operation, she was ever-present by her husband's side during the first 15 years of Robert Kraft's ownership tenure. 
———
12. Super Bowl XLVI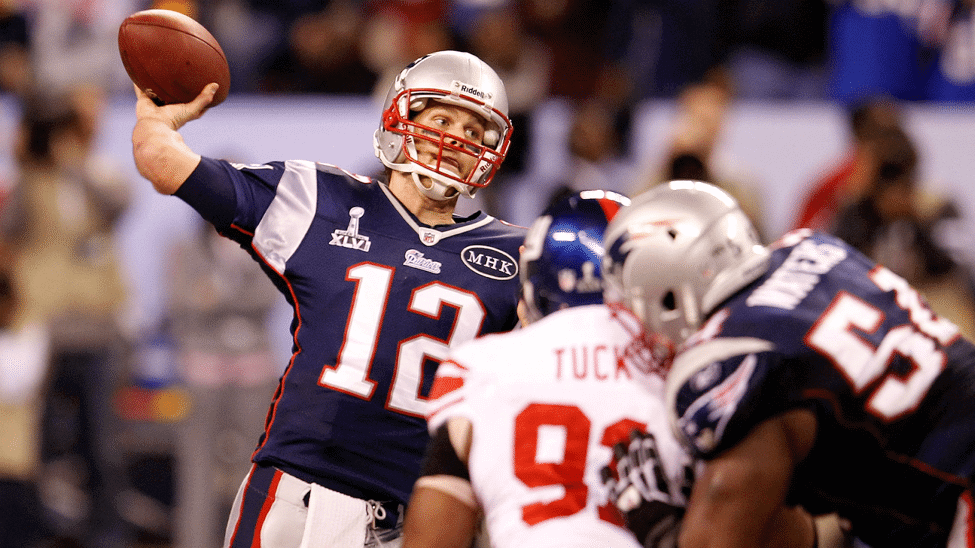 The second straight Super Bowl loss to the Giants, and the first time Brady wore the generic Super Bowl logo shape.
———
13. NFL Hall of Fame Anniversary (2012 Weeks 14 and 15)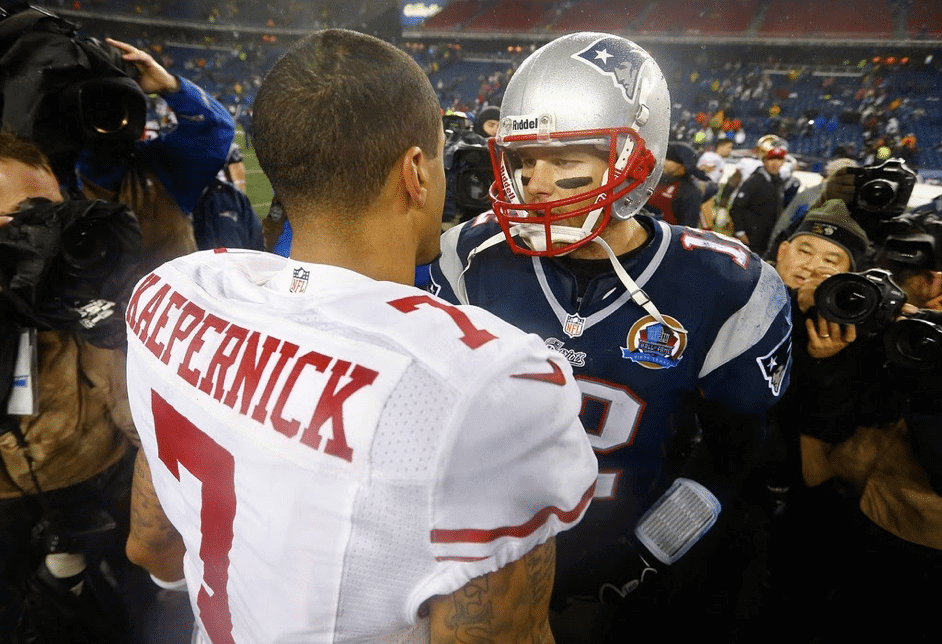 All 32 teams in the league wore a patch honoring the Hall of Fame's 50th anniversary for two weeks late in the 2012 season. 
———
14. Super Bowl XLIX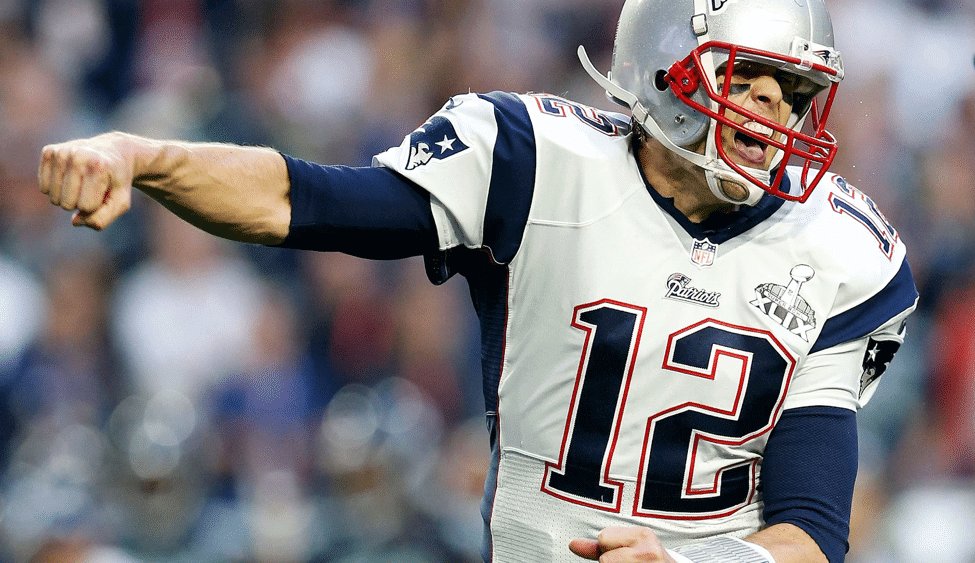 I own a Rob Gronkowski jersey with this patch on it. This patch is slightly different than the one worn in Super Bowl XLVI (aside from the change in Roman numerals), as this one features an outline of University of Phoenix Stadium behind the Lombardi trophy.
———
15. Super Bowl XLIX Champions (2014 Week 1 vs. Steelers)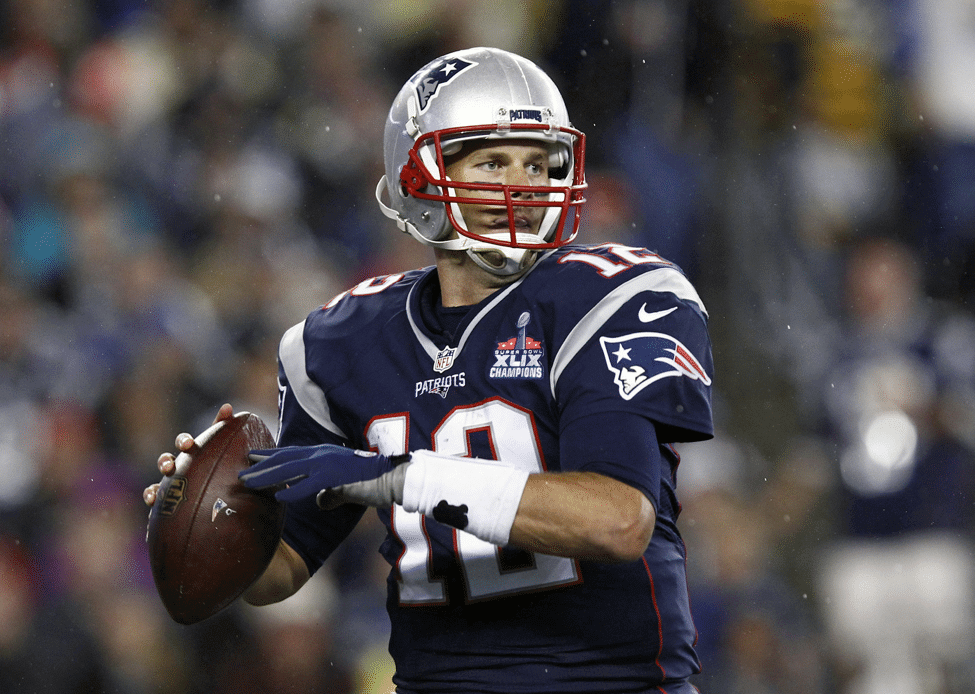 The Patriots finally livened up their championship patch, adding more color. The red ribbon kinda-sorta looks like University of Phoenix Stadium, so this patch design was likely influenced by the Super Bowl logo itself.
———
16. Super Bowl LI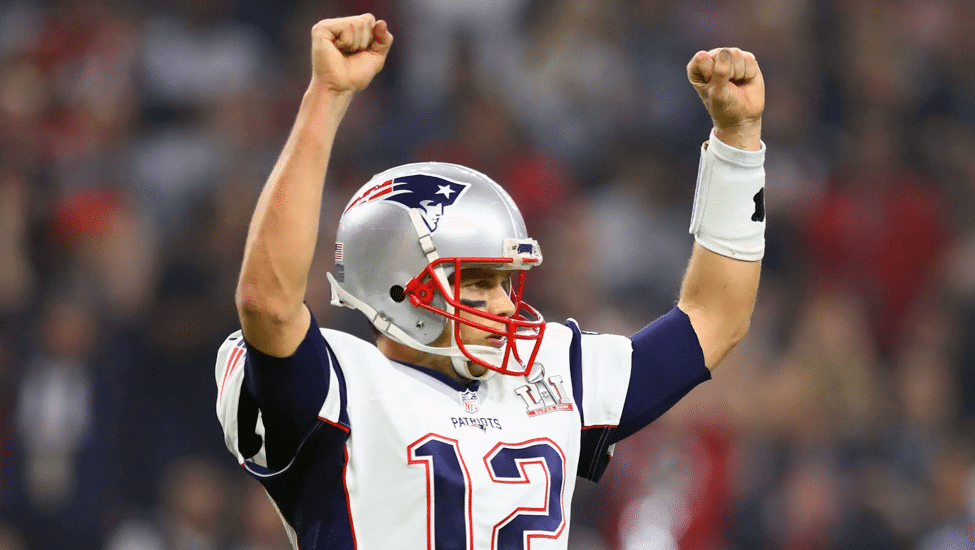 This season ushered in a new Super Bowl logo template, with the Lombardi Trophy depicted between the "L" and the succeeding numeral(s). The red tint on this logo looked much better on the Falcons' uniforms.
———
17. Super Bowl LI Champions (2017 Week 1 vs. Chiefs)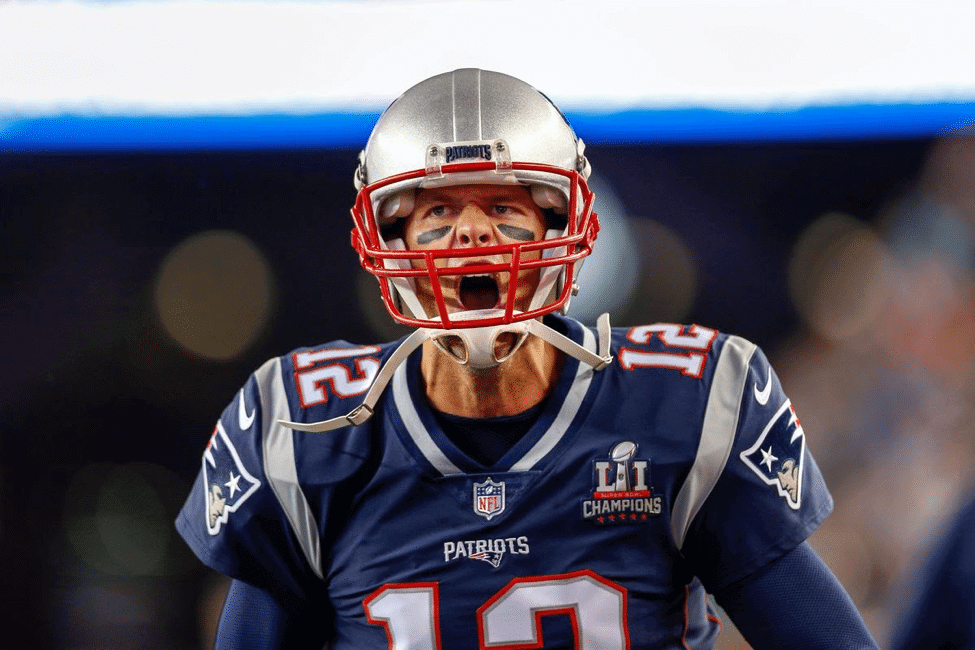 The Pats kinda got lazy here, basically just using the Super Bowl logo, and adding the word "Champions" with five stars. I love the star motif, but not the rest of it.
———
18. Super Bowl LII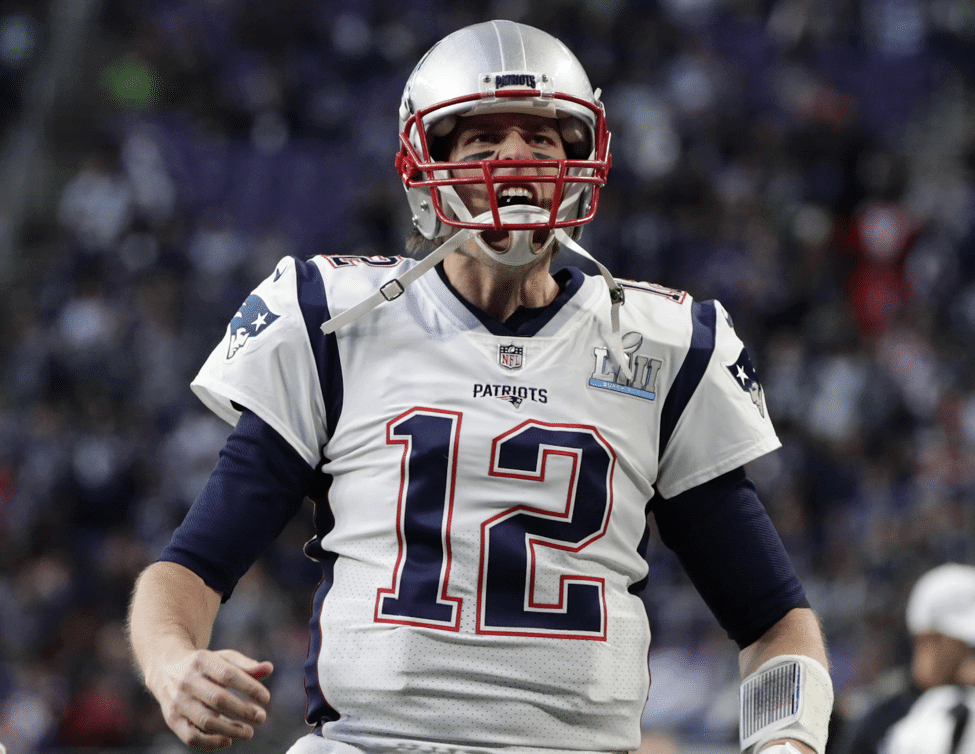 It's the same logo as LI, but another I and a bluish tint. Next.
———
19. Super Bowl LIII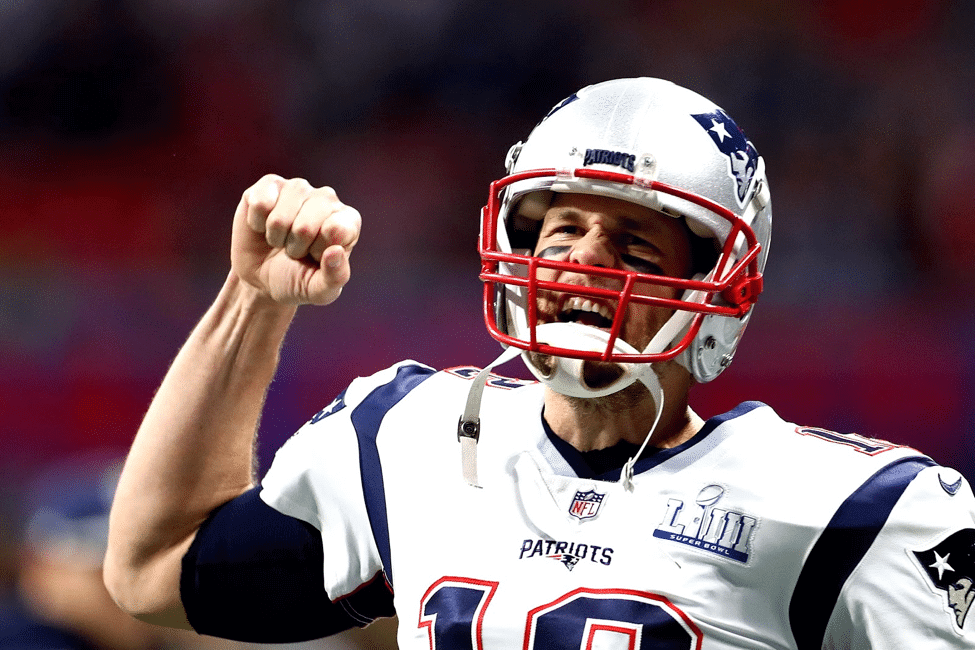 Third verse, same as the first, but with another I. Next.
———
20. Super Bowl LIII Champions (2018 Week 1 vs. Steelers)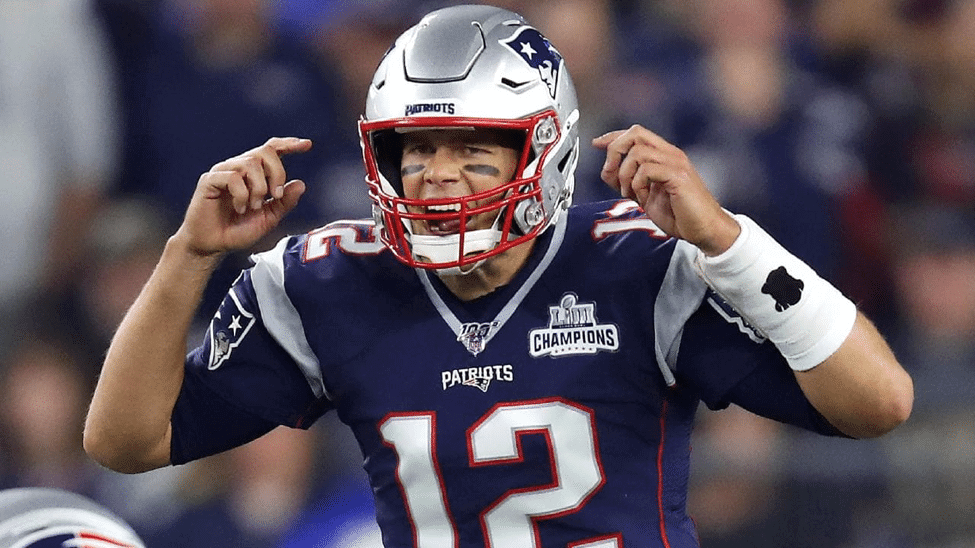 Similar to the Super Bowl LI championship patch, but with another star and an updated Roman numeral. Also, the negative space on the plastic isn't transparent like the LI patch — it's white (a downgrade, in my opinion).
———
Paul here. Please join me in thanking Anthony for this superb piece of work. Such a great topic — wish I'd thought of it myself!
As Anthony mentioned near the beginning of the piece, there are no official records about patches, so it's possible that something may have slipped through the cracks during his research. If you know of any additional patches that Brady wore, and/or of any other NFL players who could rival Brady's patch total, feel free to let us know.
Meanwhile: Who would hold the patch record in the other Big Four leagues?
• • • • •
• • • • •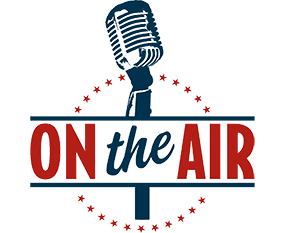 Uni Watch on the air: Big day for Uni Watch on the airwaves yesterday. First, in the morning, I appeared on The Dan Patrick Show. You can see that segment above.
Later, in the early afternoon, I appeared on Cleveland Browns Daily. You can hear that segment by skipping ahead to the 25:56 mark here.
Meanwhile, Phil was interviewed yesterday by The Sports Network Radio. You can check that one out here:
• • • • •
• • • • •
Click to enlarge
Browns on the brain: In the midst of all the Browns hubbub yesterday, I opened up a pack of peanut M&M's, and I swear these were the first two that came out of the bag.
After I tweeted that photo, the best responses came from @yeah_good_okay, who said, "I thought there was a one-shell rule." That quip gets Uni Watch's highest rating!
• • • • •
• • • • •
Membership update: Eight new designs have been added to the membership card gallery (including Rhys Bangeman's, which is based on his high school rugby club jersey), as we continue to work our way through the recent spike in orders.
Ordering a membership card is a good way to support Uni Watch (which, frankly, could use your support these days). And remember, as a gesture of comm-uni-ty solidarity, the price of a membership has been reduced from $25 to $20 until further notice.
As always, you can sign up for your own custom-designed card here, you can see all the cards we've designed so far here (now more than 2,500 of them!), and you can see how we produce the cards here.
• • • • •
• • • • •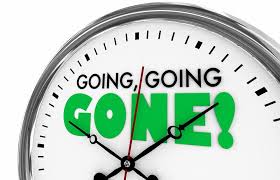 Inventory running low: I'm running low on certain merchandise items and have no way to restock them due to the pandemic. If you're interested in any of the following, I suggest moving quickly:
• For the Uni Watch Classic Cap, I have ample supplies of sizes 7 and 7-7/8; I have only three 7-1/4s and three 7-1/2s; and everything else is sold out. I have orders in place for new inventory, but Ebbets Field Flannels' factory is currently shut down, so there's no telling when those orders will be filled. If you want one of our remaining sizes, you can order here.
• I have one red seam ripper and three white seam rippers. Everything else is sold out. I ordered 100 new rippers a month ago, but they're coming from China, so who knows when they'll arrive. If you want one of the ones I still have on hand, you can order here.
On the plus side, Teespring continues to operate normally, so everything in the Uni Watch Shop and the Naming Wrongs Shop continues to be available. And remember, you can save 15% on anything in those shops by using the checkout code COMMUNITY.
• • • • •
• • • • •
The Ticker
By Anthony Emerson

Baseball News: ESPN's Tim Kurkjian has named the greatest player ever to wear the uni numbers 1 through 55. I'm sure people will have more disagreements the higher the number (from multiple readers). … Check out the socks on the 1898 University of Tennessee baseball team! Someone convince the Vols to bring these back! (From Kary Klismet.)

NFL News: Reader Moe Khan notes that the Nike logo on the pre-2015 Browns unis was brown on the white jerseys and white on the brown jerseys. Now it's orange on both. … The league is sending draft caps for all 32 teams to the 58 prospects who are participating remotely in the draft, so that they can still put it on after being drafted. Rumors that Paul is sending each of them 32 seam rippers could not be confirmed at press time (from Patrick Finley). … Steve Sillers made himself this awesome Cowboys-themed cowboy hard hat, complete with a Dymo label and green dot! … Reader Paul Rizzo writes in: "When I was a kid, I asked my parents to order some Broncos playing cards, thinking they were trading cards and I had very few Denver players. The attached shows what I received. I loved the colorful cards and they are my go-to playing cards to this day." … Based on this audio clip, it sounds like the Chargers' new Color Rash uni will be mono-navy — something like this. We'll find out for sure on Tuesday, when they're slated to present their new uni set (from Geoff Fienberg).

Hockey News: Ohio Hockey Digest is asking readers to vote on which high school in the state has the best hockey sweater (from Ben Kelly).
.

Hoops News: Here's an excellent, if brief, video showing a number of early Charlotte Hornets logo and jersey variations. … It looks like Georgetown might be adding a new throwback to the mix (from @bryanwdc). … While watching 1994 Dream Team highlights, Bryan Beban noticed that the Angolan national basketball team went country name on back and last name on front. Bizarre! Also note that the front numbers and back numbers are different fonts.

Soccer News: Ever wonder why in some countries centrebacks tend to wear No. 6, while in others it's No. 4? This YouTube video goes into different numbering methods of different countries, and how they evolved (from Ben O'Connell). … Barcelona's fourth kit has leaked. In case you're wondering, yes, it does bear a close resemblance to their primary kit (from Josh Hinton). … Union Omaha of USL League One has unveiled their new kits. Here's a video explaining the new kits as well (from multiple readers). … The Athletic has published a tribute (paywalled) to Piero Gratton, who designed Roma's famous wolf badge, among others (from Darin Doughty). … Scottish side Aberdeen have cut a tribute to the UK's National Health Service into the Pittodrie Stadium grass (thanks, Jamie).

Grab Bag: The home jerseys of the MLL's reborn Philadelphia Barrage have been revealed (from @PhillyPartTwo). … Sam Houston State has unveiled its new athletics logo set (from Mike Lucas). … Here's another article about a sportswear company, Savage Apparel out of Richmond, Va., pivoting to PPE production during the pandemic (from Tom Turner). … And another one: Kokatat, out of Arcata, Ca., is doing the same thing (from @mikeobs). … Allan Jennings sends along this 1960 film about marketing. It's not sports-related, but it is fascinating. Highly recommended. … New logo for the Rugby Federation of Bahia state in Brazil (from Kary Klismet). … Also from Kary: Wichita State has received permission to demolish 74-year-old Cessna Stadium — home of the Shockers' track and field teams — and replace it with a smaller, multipurpose venue. … The U.S. military is advising current and former servicemembers not to turn old uniforms into homemade facemasks, especially not uniforms treated with fire retardants or insecticides (from Timmy Donahue).
• • • • •
[adrotate group="2″]
• • • • •
Click to enlarge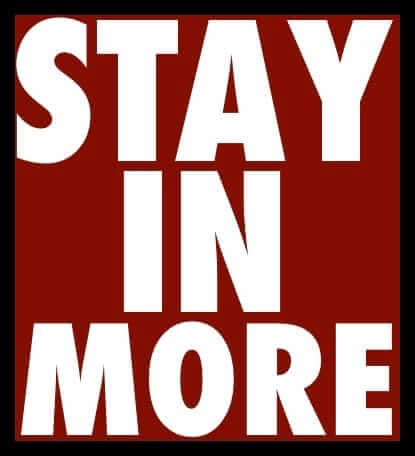 What Paul did last night: Bud again for me yesterday evening, and a vodka gimlet for the Tugboat Captain. I love the splash of color provided by our neighbor and his daughter across the street.
After cocktails, we went inside for dinner (the Captain makes really good chili), and then I checked in for a Zoom lecture/presentation by Danny Fingeroth, author of the recently published biography of Marvel Comics founder Stan Lee. This was originally scheduled as a live event (part of a long-running weekly series of comics-related lectures at the Parsons School of Design that I've been attending for years), but of course that wasn't possible, so they turned it into a Zoom thingie. In a nice touch, Fingeroth used Dr. Strange's sanctum sanctorum as his Zoom background: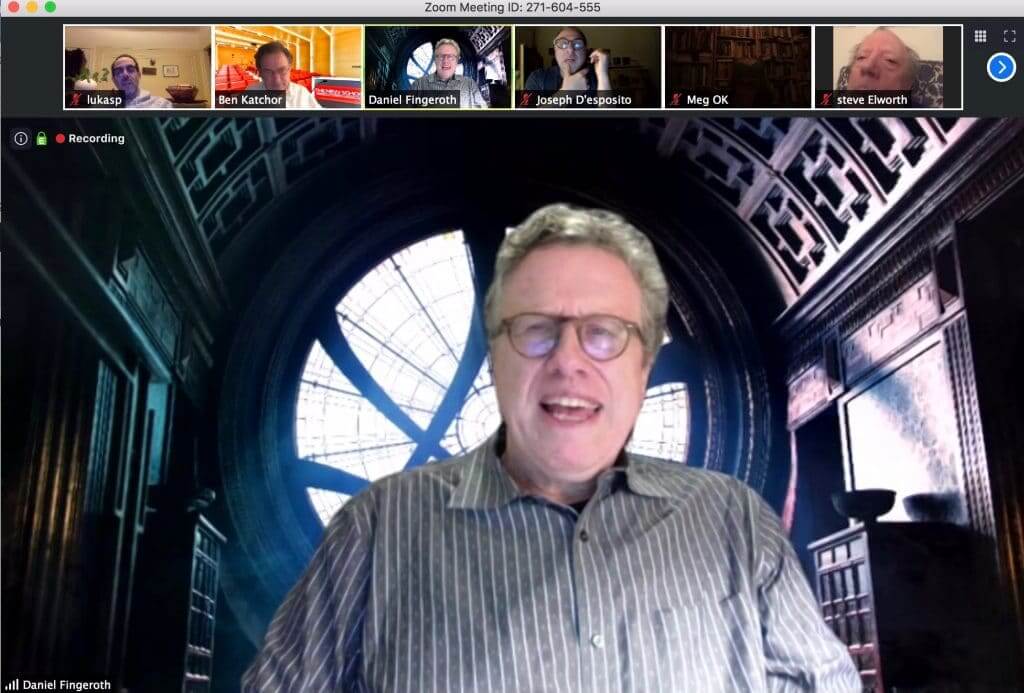 The presentation lasted 90 minutes and was really interesting! Not as much fun as being there in person and walking around the corner for drinks afterward at our favorite Spanish taverna, but still a nice diversion, which I definitely needed.
• • • • •
Our latest raffle winner is Patrick Archer, who's won himself a membership card. Congrats to him, and thanks again to Jay Palmer for sponsoring this one.
Everyone stay safe and sane this weekend. Enjoy Phil's Saturday and Sunday content, and I'll see you back here on Monday. Peace. — Paul