Good morning! Greetings from Uni Watch HQ, where all three inhabitants continue to be healthy and safe. Hope things are also well at your home.
The Chargers finally debuted their new powder blue jerseys yesterday in Tampa, as the Bucs once again opted to wear white at home (additional photos here). It's a good look for the Chargers, but I'm pretty sure it would be even better with the yellow pants. Maybe we'll get to see that combo on Oct. 18, which is the next time they're slated to wear the powder blue tops.
One thing that's been bugging me a bit about the Chargers' new set, though: As you can see in the photo shown above, the lightning bolts on the pants are a bit underwhelming compared to previous versions. I'd like to see the bolt be a bit longer, and/or with more points. This is, admittedly a nitpick, but the bolts on the pants can look sooooo good when they're rendered properly. The current version isn't quite doing it for me.
In other news from around the league yesterday:
• Speaking of teams debuting new uni combos, the Rams wore blue over yellow for the first time (for this and most subsequent other photos in today's post, you can click to enlarge; lots of additional Rams game photos here and here):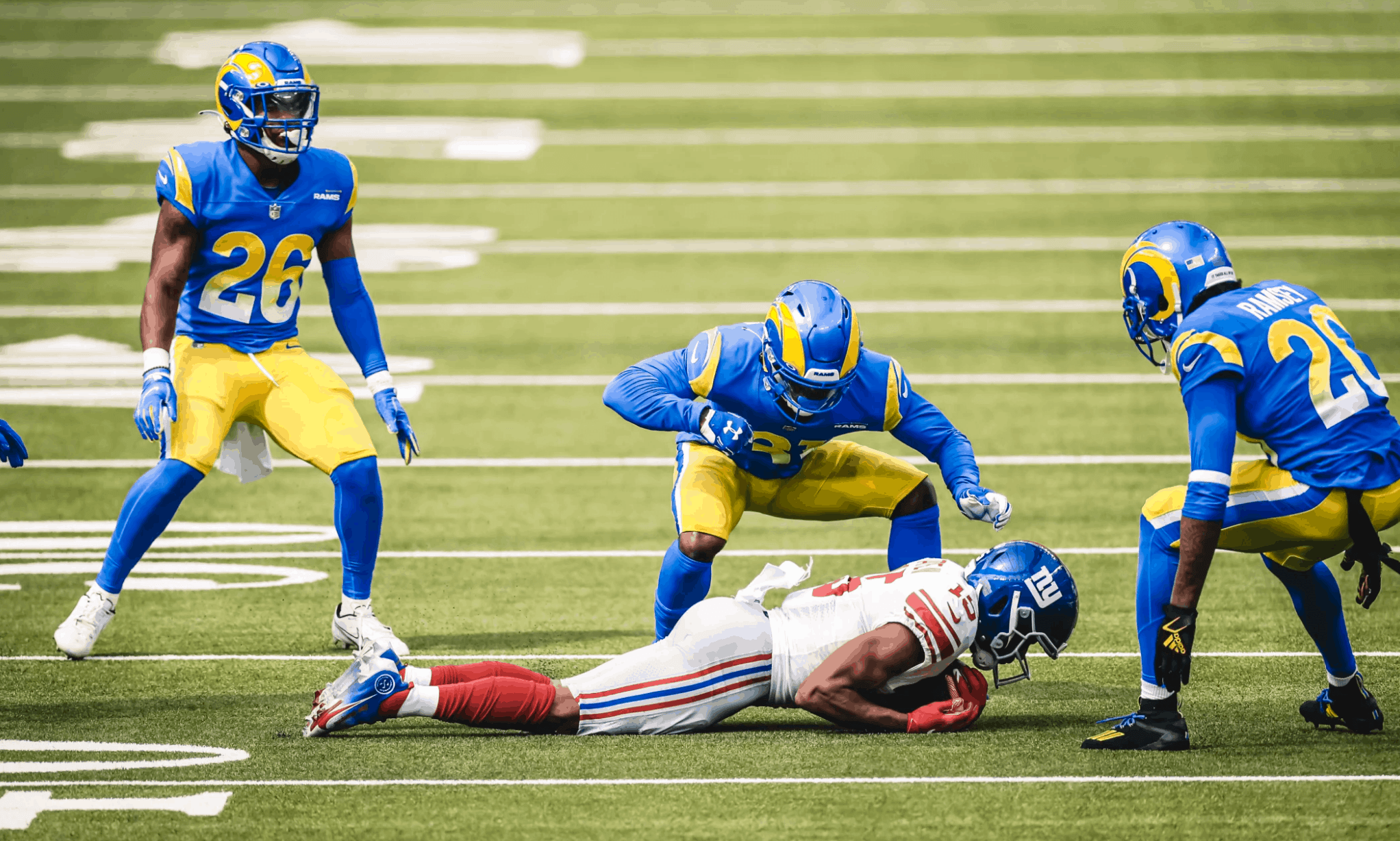 It looked okay — certainly better than the dishwater look — but there are still so many things I dislike about this uni set (the helmet horns, the gradient numbers, the pants striping, the chest patch, etc.). Also, the colors look almost too vibrant, if that makes sense — it's like they feel synthetic, plastic, oversaturated. Overall, this set just doesn't work for me.
• Speaking of the Rams: For their first home game, they had their ram's-head logo at midfield. But for yesterday's game, they used their "LA" logo:
ICYMI @jalenramsey got his first career sack 😈

📺: FOX pic.twitter.com/CTpT7sxWBj

— Los Angeles Rams (@RamsNFL) October 4, 2020
• Astonishingly, the Bears still haven't added a memorial patch or decal for Gale Sayers. When they didn't do it last week for a road game in Atlanta, I thought maybe they were waiting to debut it at home. But they were home yesterday, and still no patch or decal, so it appears that they're simply not going to do it. Very, very surprising.
• In other Bears news, they wore their orange alternates: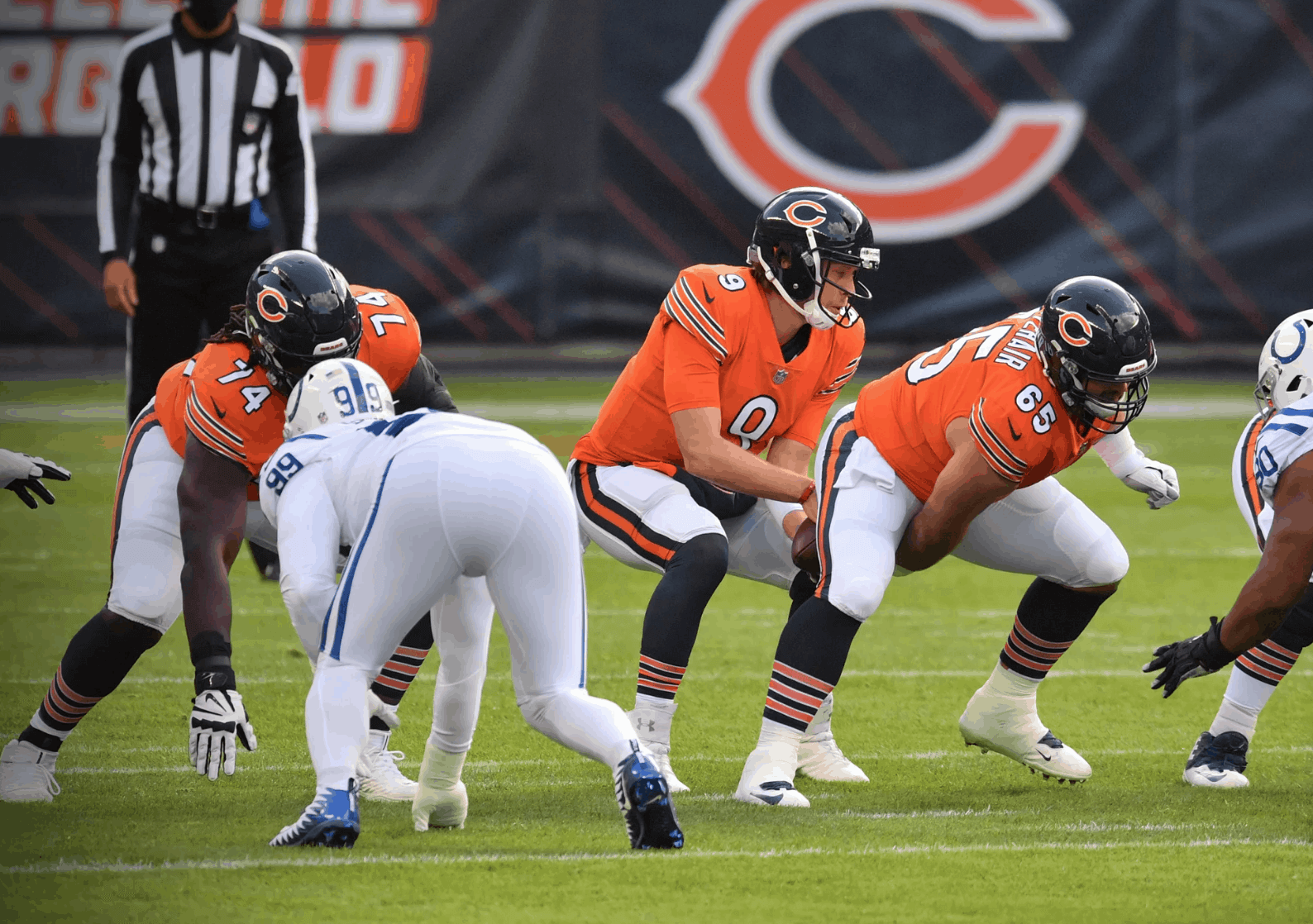 • In that same game, Colts offensive lineman Quenton Nelson's shoulder stripes tapered to a point in the back: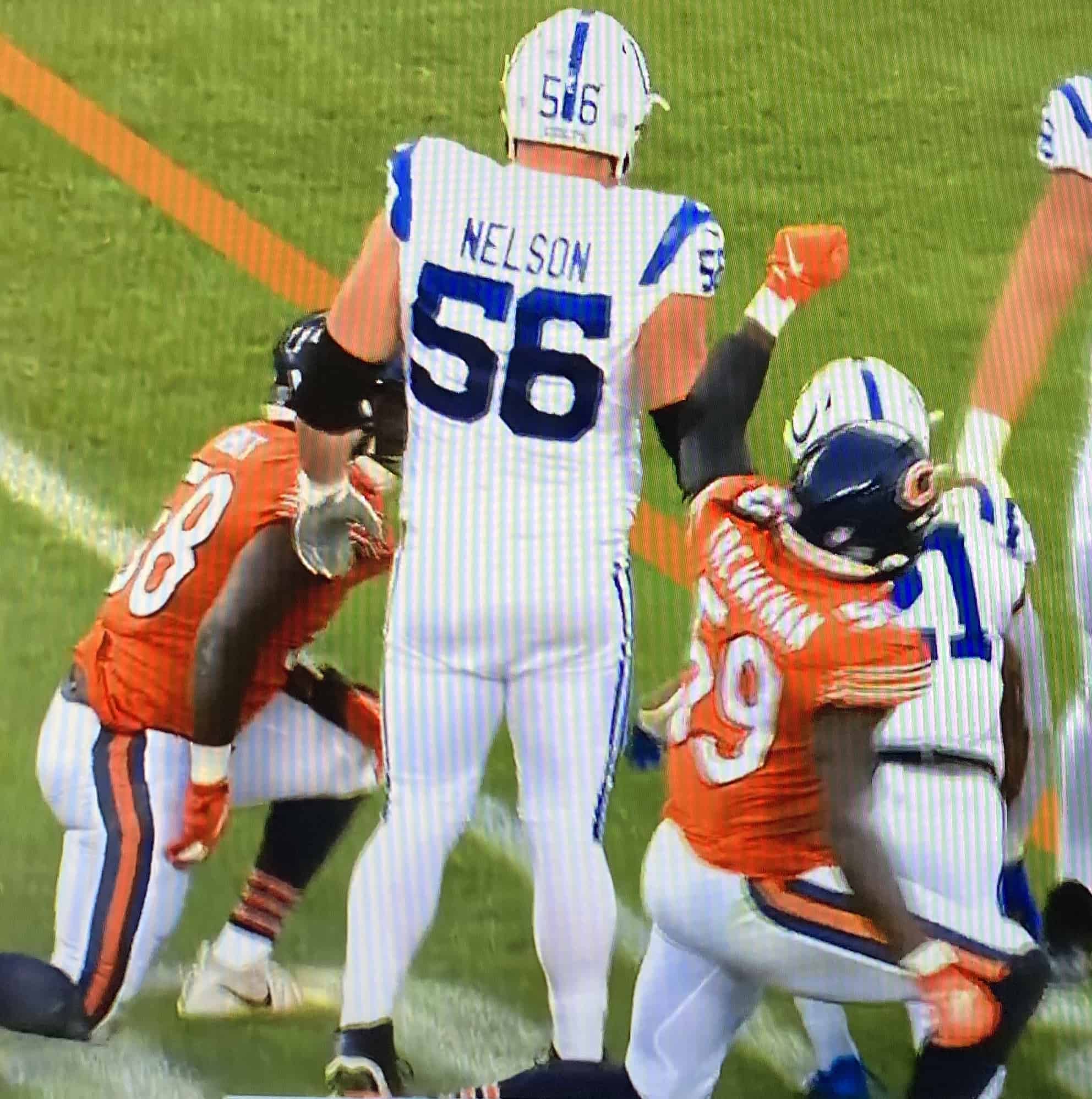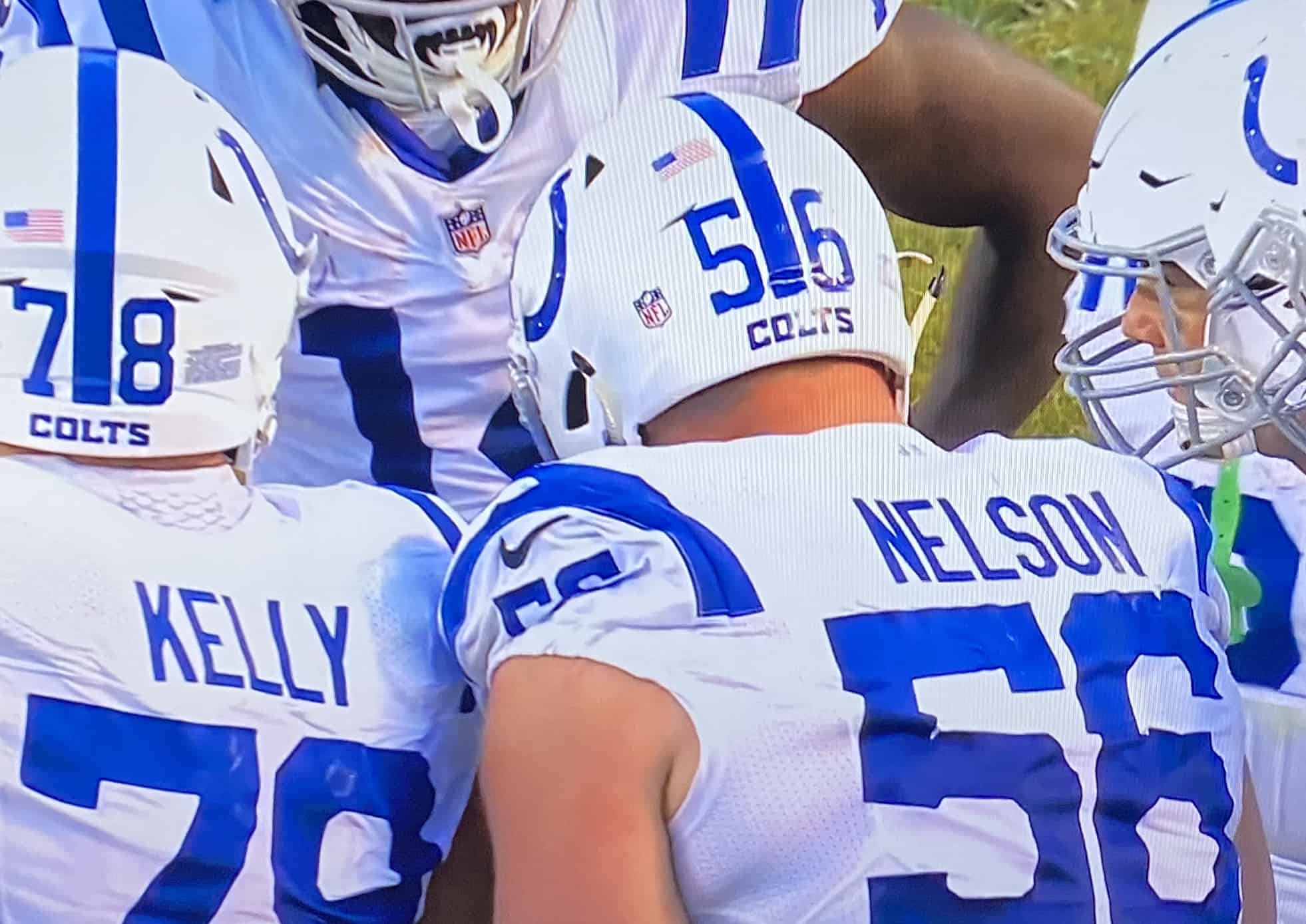 • Since the season has now moved into October, there were lots of rainbow-themed accessories to promote the league's "Crucial Catch" cancer-awareness initiative. In addition to the usual assortment of rainbow-patterned captaincy patches, waistband towels, and so on, there was a new element — visor tabs: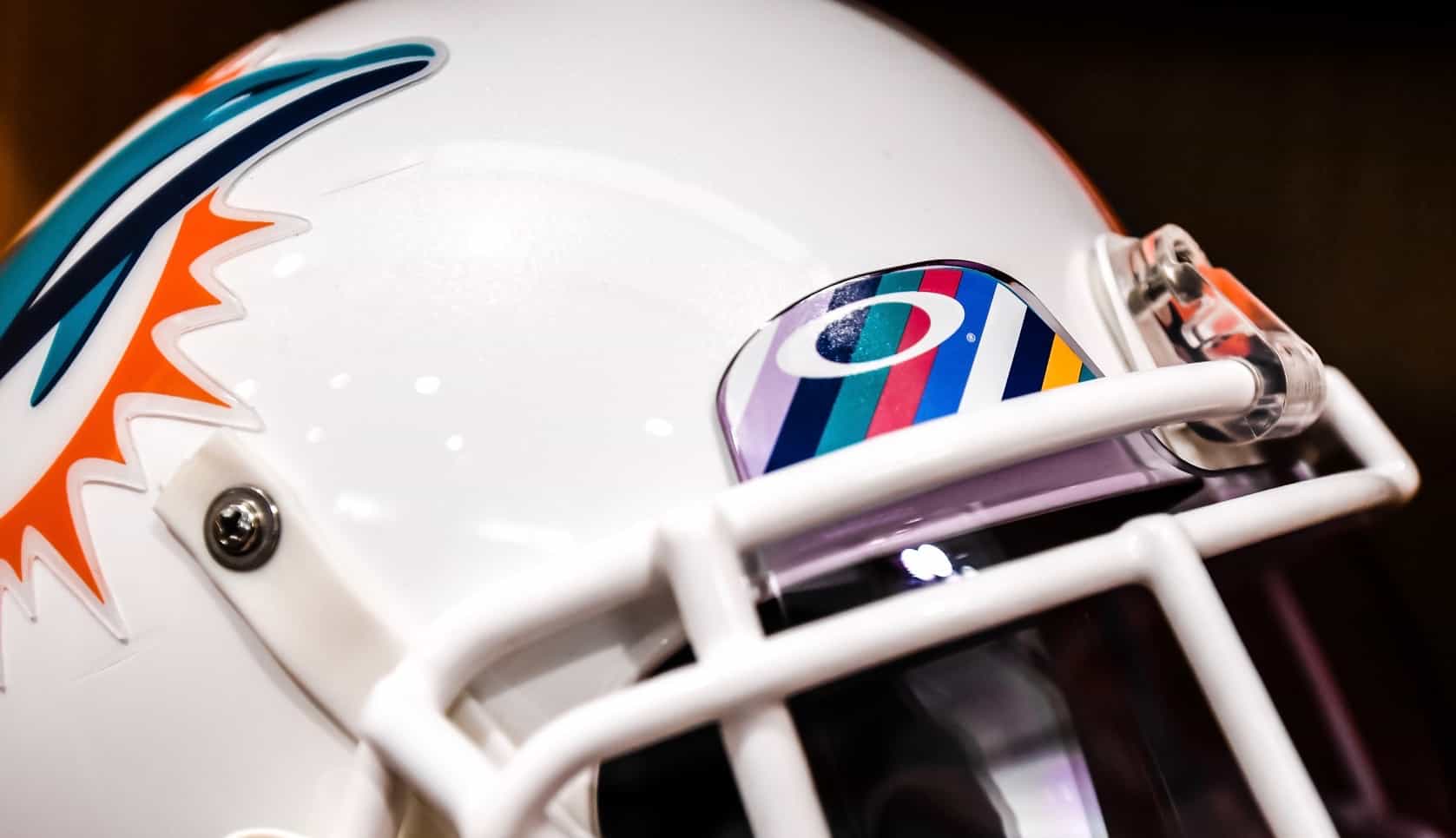 The rainbow tabs weren't universal across the league, or even within individual teams. During the 49ers/Eagles game, for example, I saw some Niners players with the rainbow tabs and others with the standard Oakley logo creep.
• In what I assume was also a cancer-awareness move, Saints running back Alvin Kamara had — get this — pink hardware on his helmet, instead of the usual silver: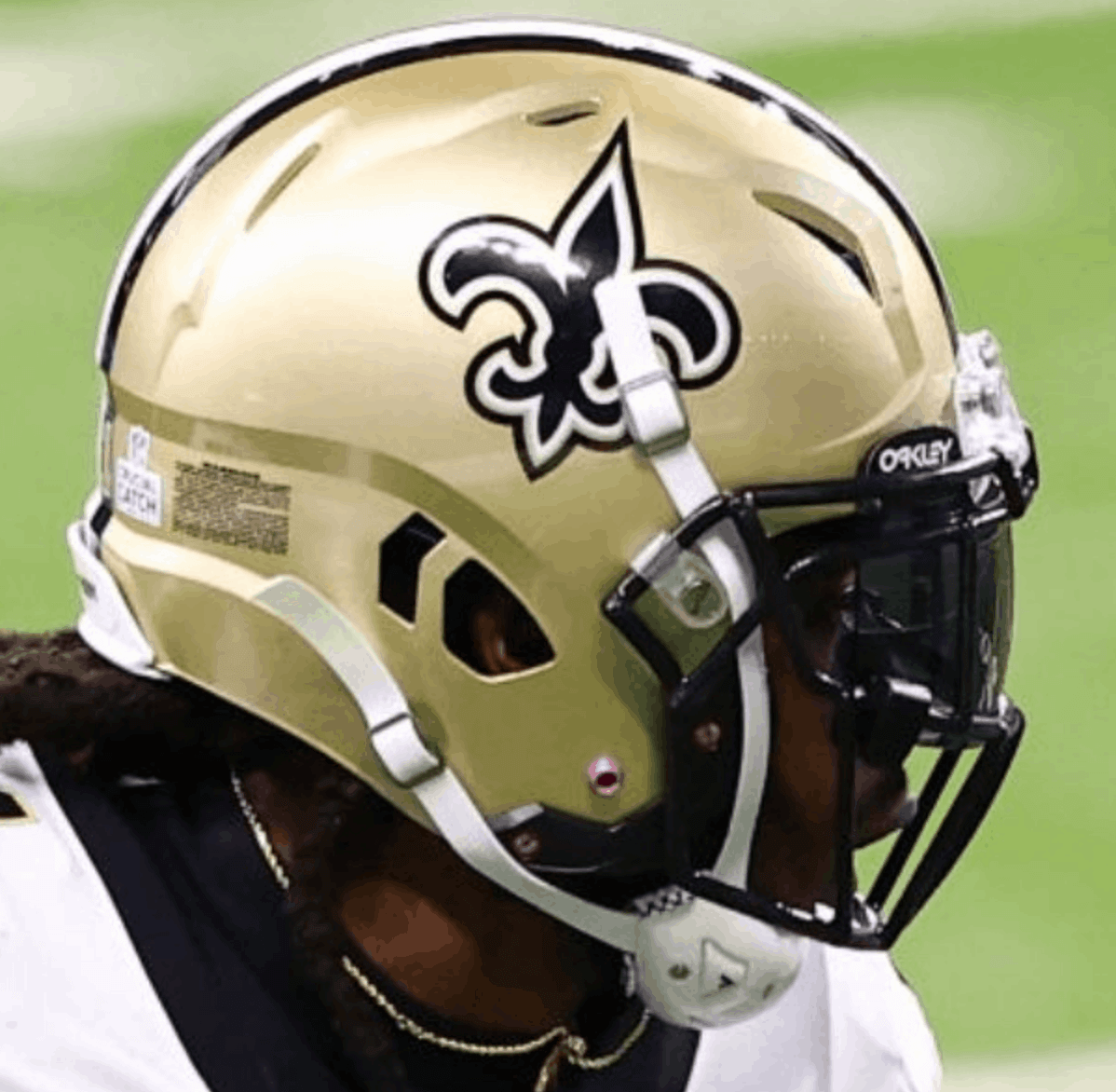 Two other things you can see in that photo: First, the NFL logo rear-helmet decal was replaced yesterday by the "Crucial Catch" logo decal. And second, not only did Kamara not have rainbow-themed visor tabs, but his tabs carried the Oakley wordmark instead of the Oakley "O" logo. Not sure I've ever seen that before.
• The Browns went mono-turd: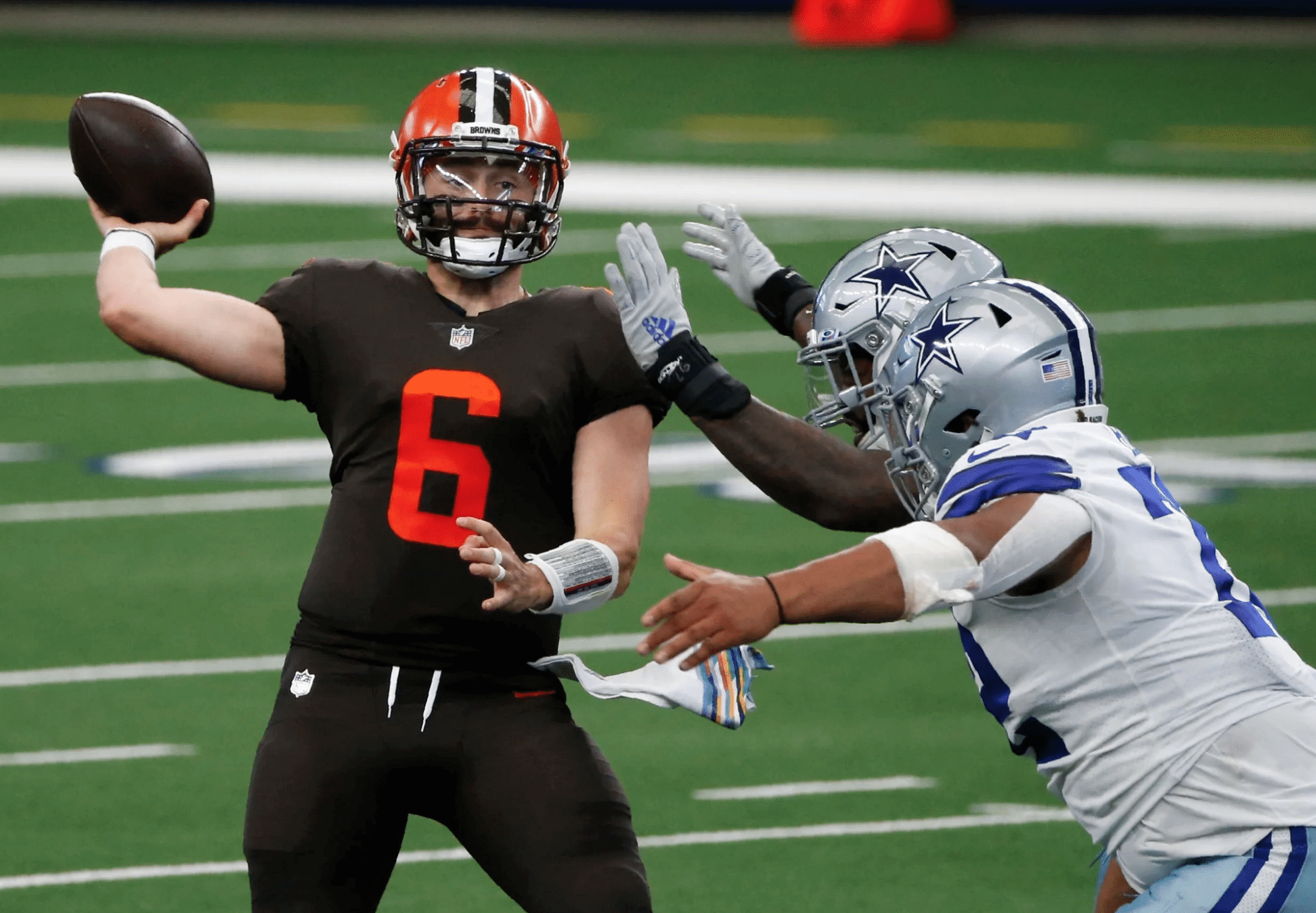 • With the Dolphins wearing white at home, the Seahawks paired their navy jerseys with their grey pants (additional photos here):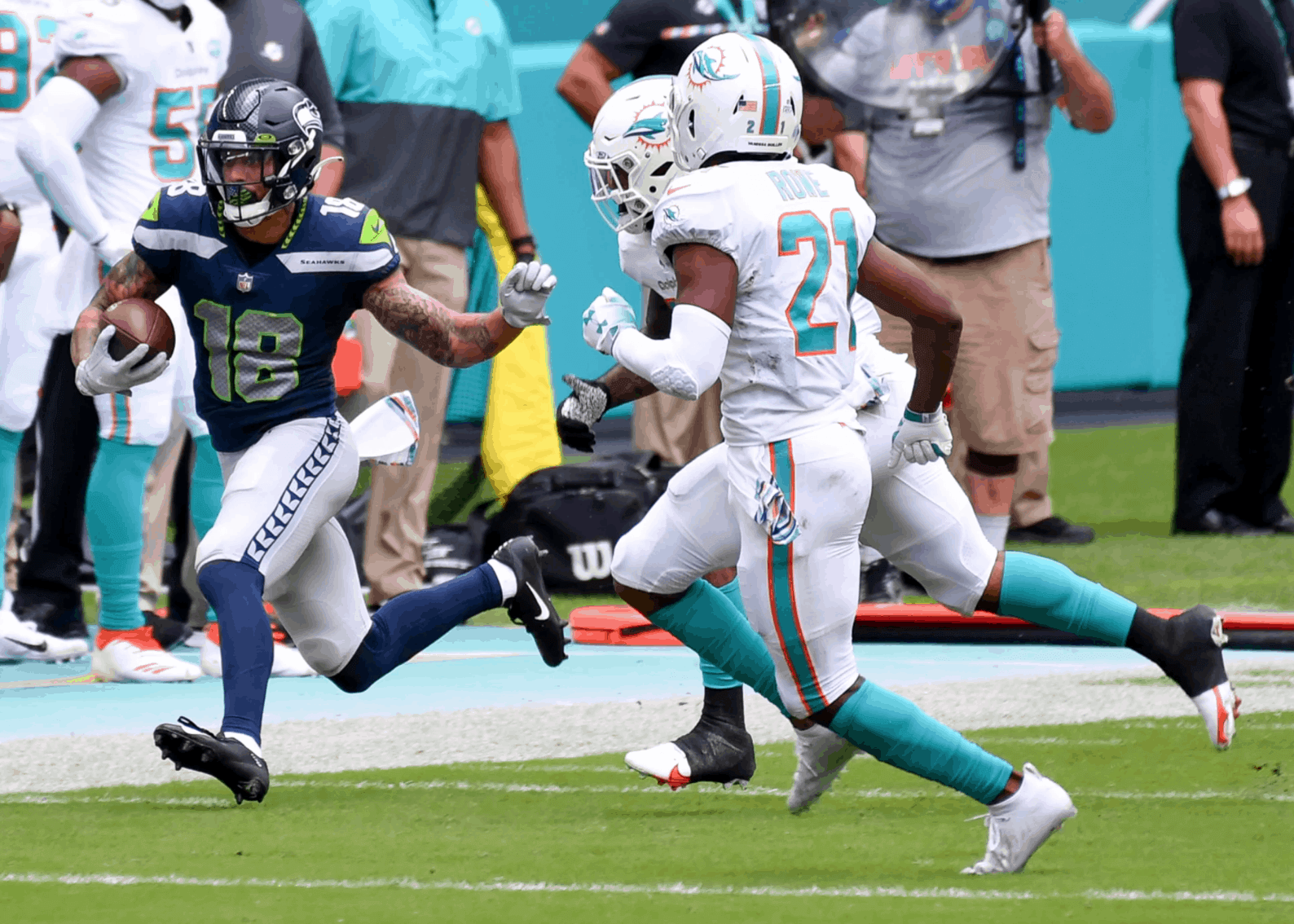 According to the Gridiron Uniform Database, the last two times Seattle wore navy over grey were in playoff losses to the Cowboys in January of 2019 and to the Panthers in January of 2016. The last time they wore navy/grey in a regular season game was way back in Week Two of 2014. So yesterday's combo was a rare event!
• Ravens coach John Harbaugh was wearing a gaiter with an old Ravens logo that's rarely seen these days: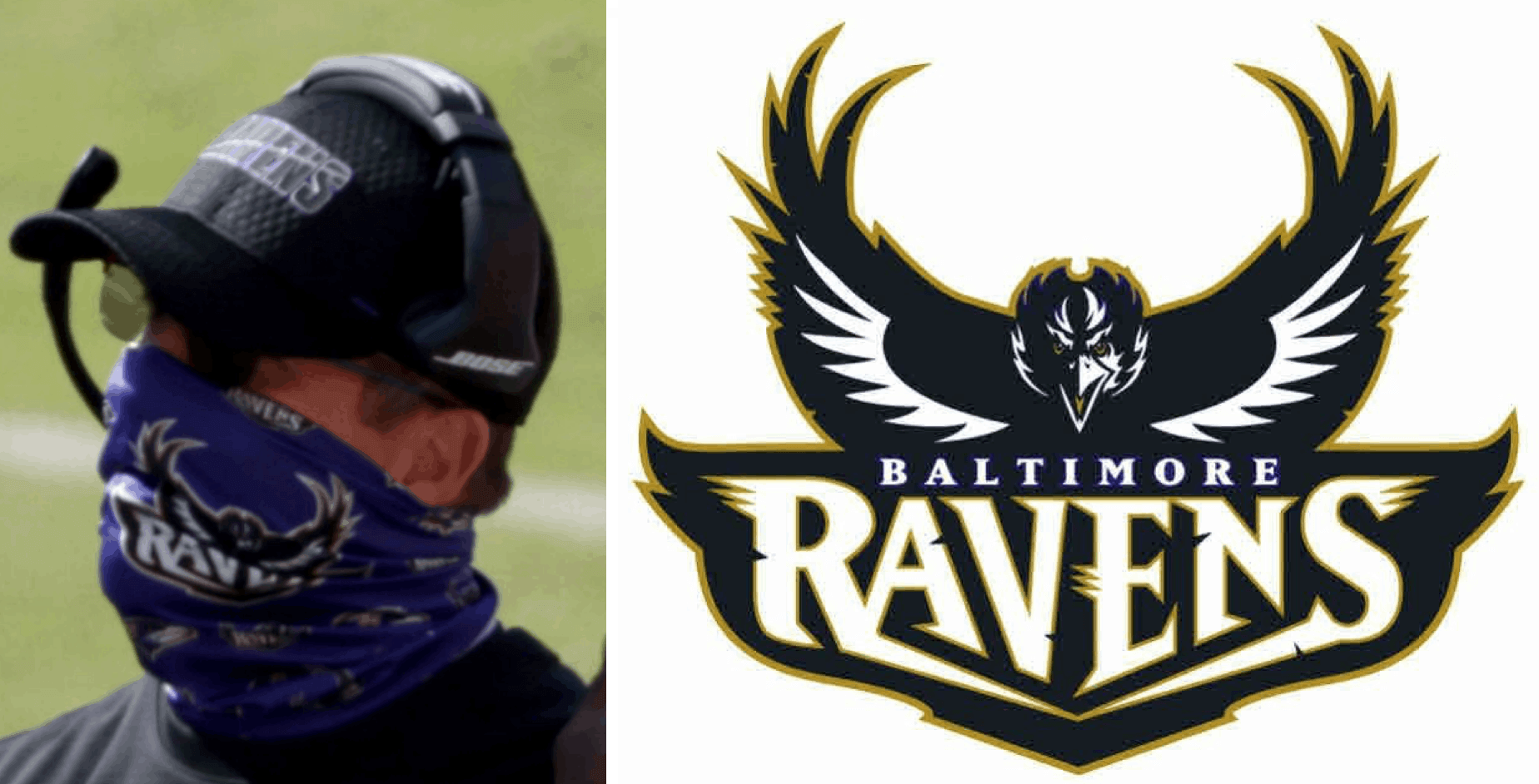 According to SportsLogos.net's database, that logo was used from 1996-98. (And just to be clear, it is not the original helmet logo that was scrapped due to a copyright dispute. That was a completely different design.)
• In that same game, which was hosted by Washington, Washington coach Ron Rivera, who's receiving treatment for squamous cell cancer, was surprised to find that the team had set up a stadium seating section with about 400 cutouts depicting his friends and family members, all of whom are offering their support (additional info here):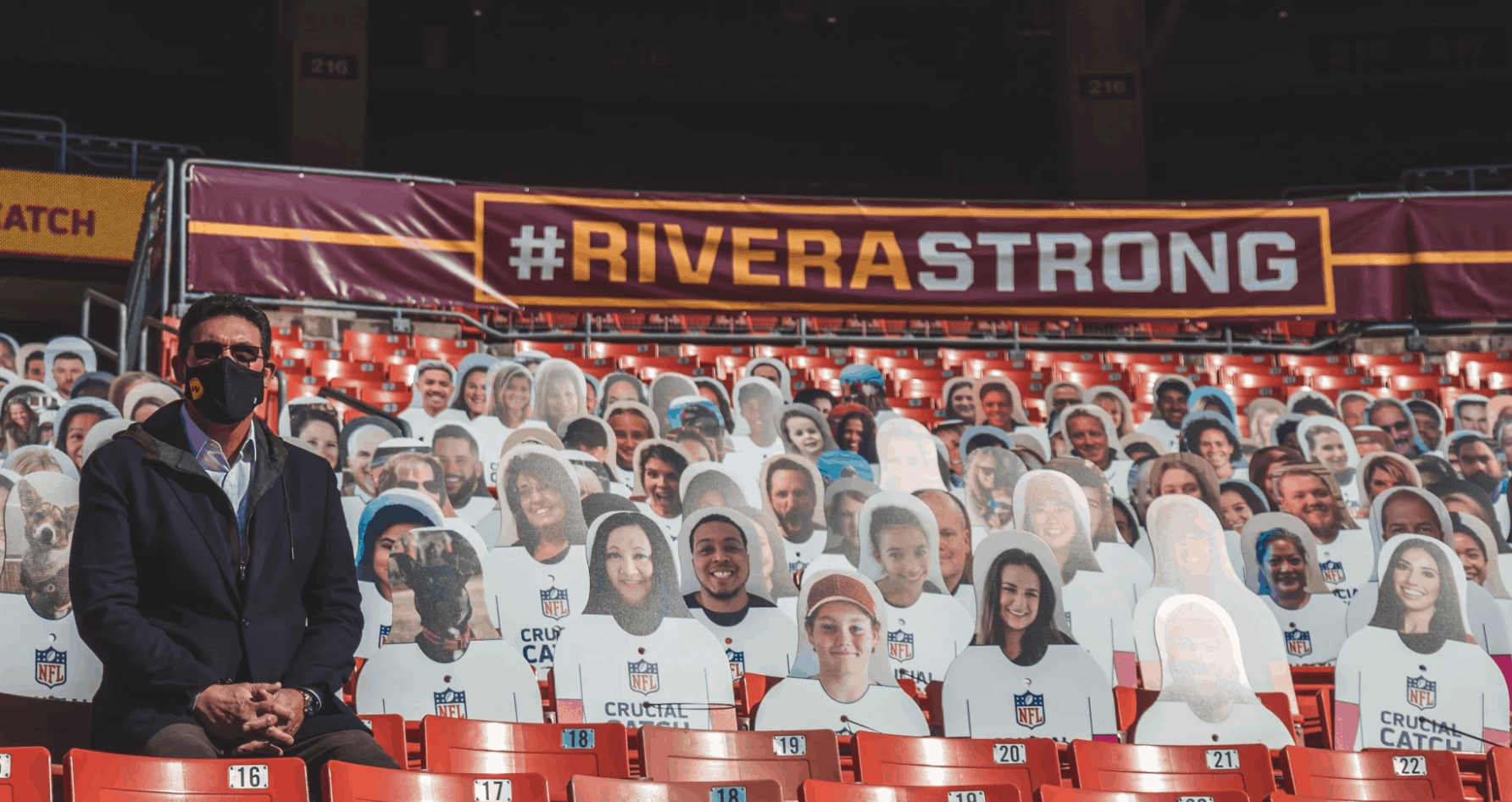 • Remember last week's blog post about Oxford Pennant creating banners for Bills victories? Buffalo won again yesterday, so the latest banner was on display after the game:
Successful business trip to Vegas! ✈️ pic.twitter.com/fFRInZIEfb

— Buffalo Bills (@BuffaloBills) October 5, 2020
• In addition to the aforementioned Dolphins and Bucs, two teams wore white at home: the Panthers and, of course, the Cowboys.
(My thanks to all contributors, including Nick Allen, Cory Estrain, Jakob Fox, Kurt Rozek, and @TheWEAG, plus a special shout-out to @HelmetStalker for catching Alvin Kamara's pink helmet hardware — a Hall of Fame-worthy spot!)
• • • • •
• • • • •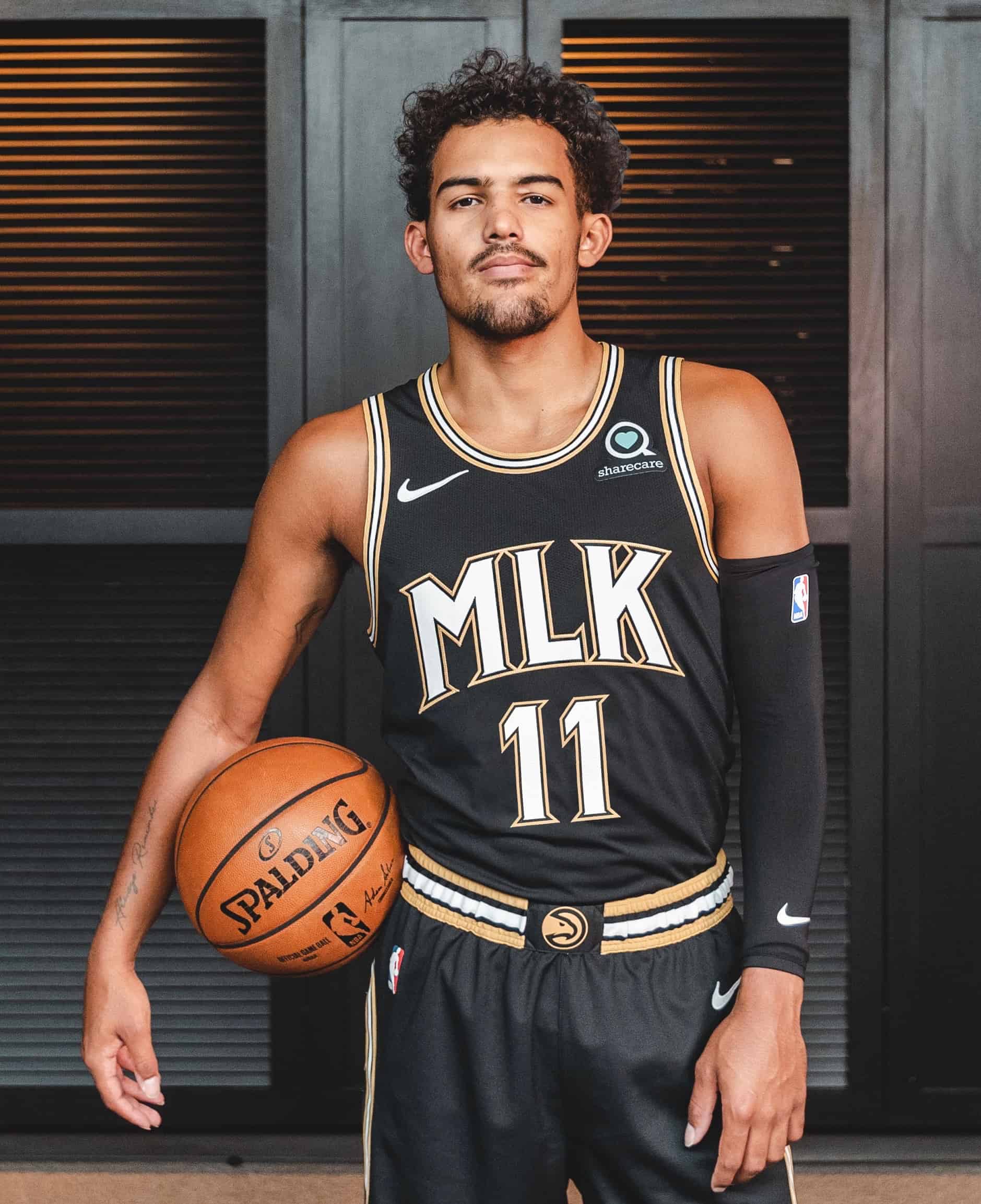 Click to enlarge
More NBA news: The Hawks last night unveiled their new City alternate, which is a tribute to Atlanta native Martin Luther King Jr. The uniform, which was produced in conjunction with the King estate, will be part of the team's new uni set, the other components of which were unveiled back in July.
Here's an infographic that breaks down the uniform's various elements (click to enlarge; additional info and photos are available here, and still more info is available here and here):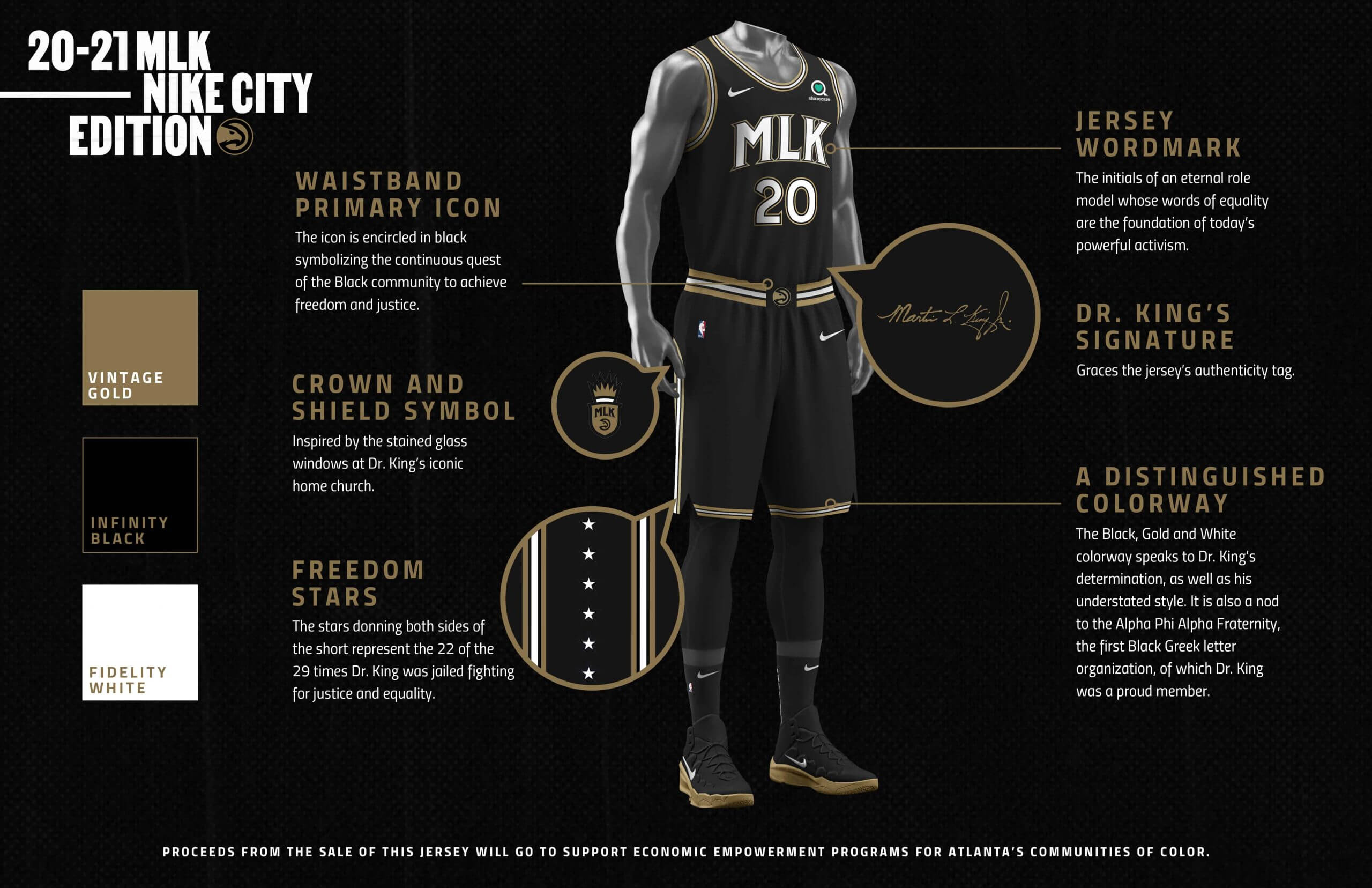 Proceeds from retail jersey sales will be donated to support economic empowerment for Atlanta's communities of color.
The Hawks are the second NBA team to have an MLK-themed uniform. In 2016-17, the Grizzlies had an alternate uni based on the Lorraine Hotel in Memphis, where King was assassinated and which was later converted into the National Civil Rights Museum. The following year, they had another King-based uni, this one based on signage from the 1968 Memphis Sanitation Workers' strike, which King organized.
Meanwhile, as long as we're talking about the NBA: Last Thursday we saw a shirsey showing the 1990s tie-dye throwback that the Nets will be adding to their uniform rotation next season. Now, thanks a new retail leak, we can see the actual jersey.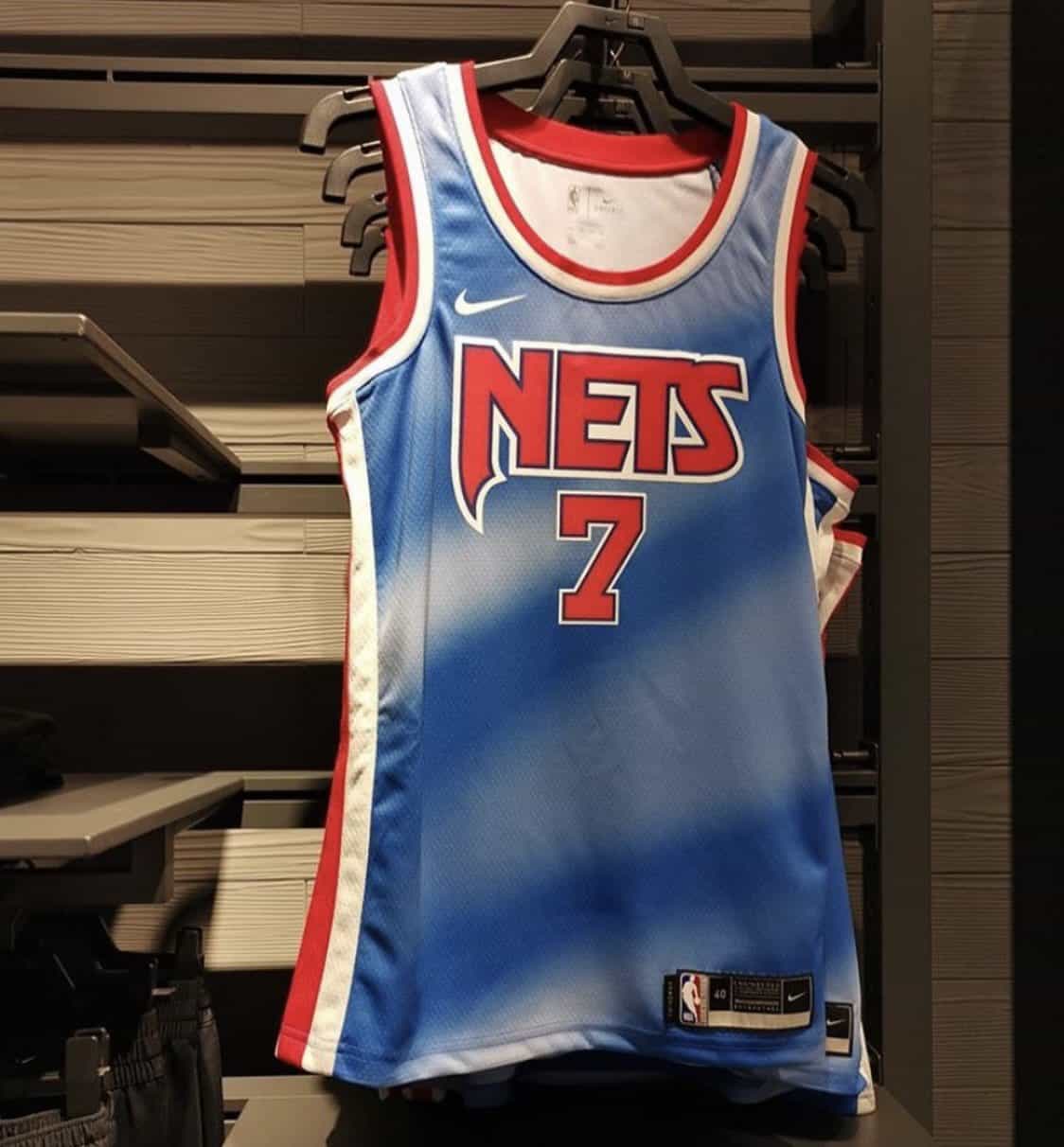 Can't say I was ever a fan of this design, but I understand why some people feel a certain "so bad, it's good" nostalgia for it.
(My thanks to Mike King for the Nets item.)
• • • • •
• • • • •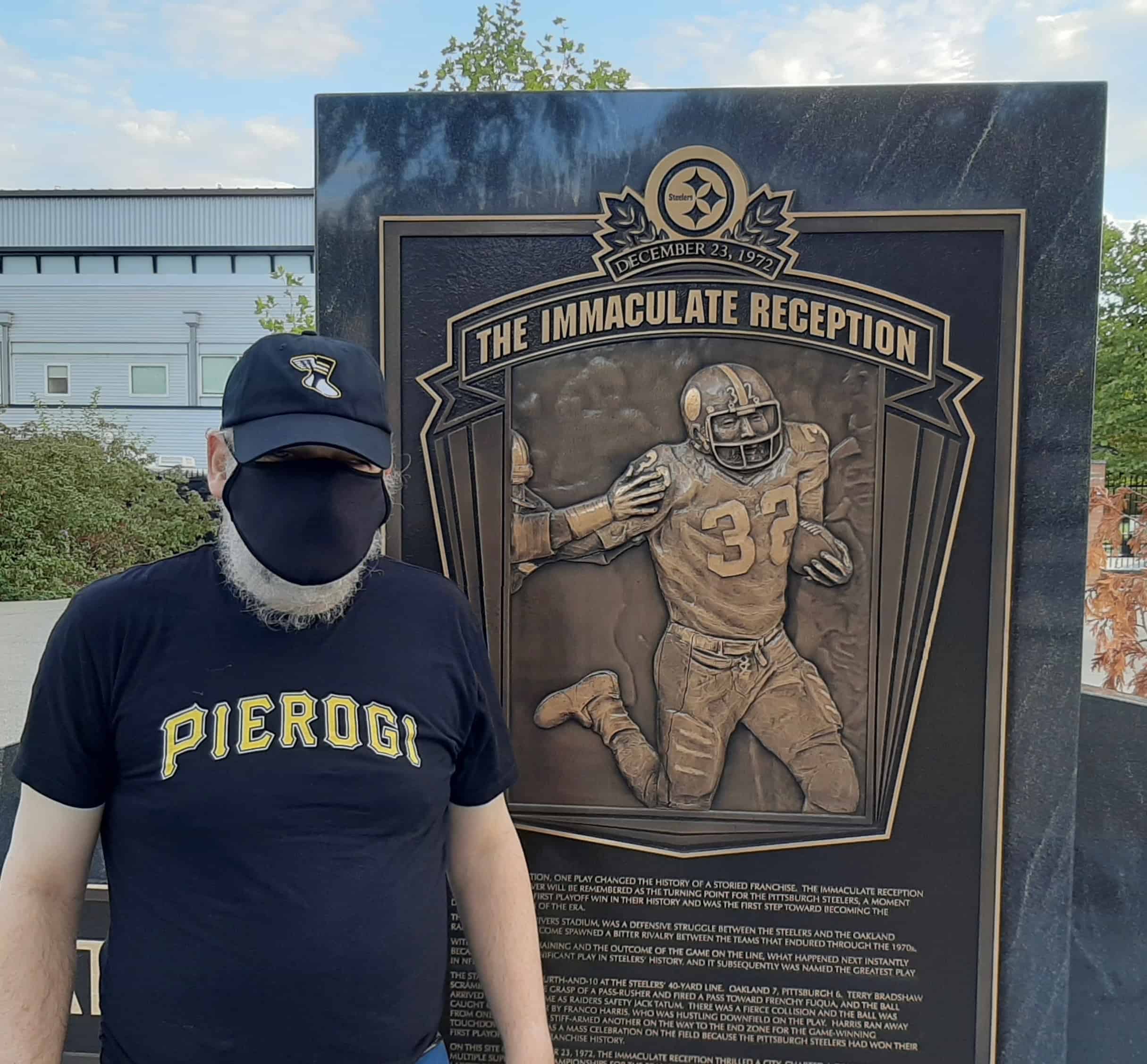 Photos by Tom Wolper; click to enlarge
ITEM! Meet the Uni Watch Team — Jerry Wolper: Most of you don't know this, but Uni Watch has a proofreader (and definitely needs one, given all the typos I make!). That person is longtime reader Jerry Wolper. After each weekday entry is posted, Jerry reads through it and emails me with the mistakes he's found. I never asked him to do this — he took it upon himself to start doing it several years ago, free of charge. Every now and then I stump him with a clean post, but that's rare, so I'm grateful for his eagle eye.
Jerry lives in Pittsburgh, so I recently sent him one of our new black/yellow Color Remix caps. He had his brother Tom shoot a few shots of him wearing it at various Pittsburgh sports spots, like the one shown above. Here's one more: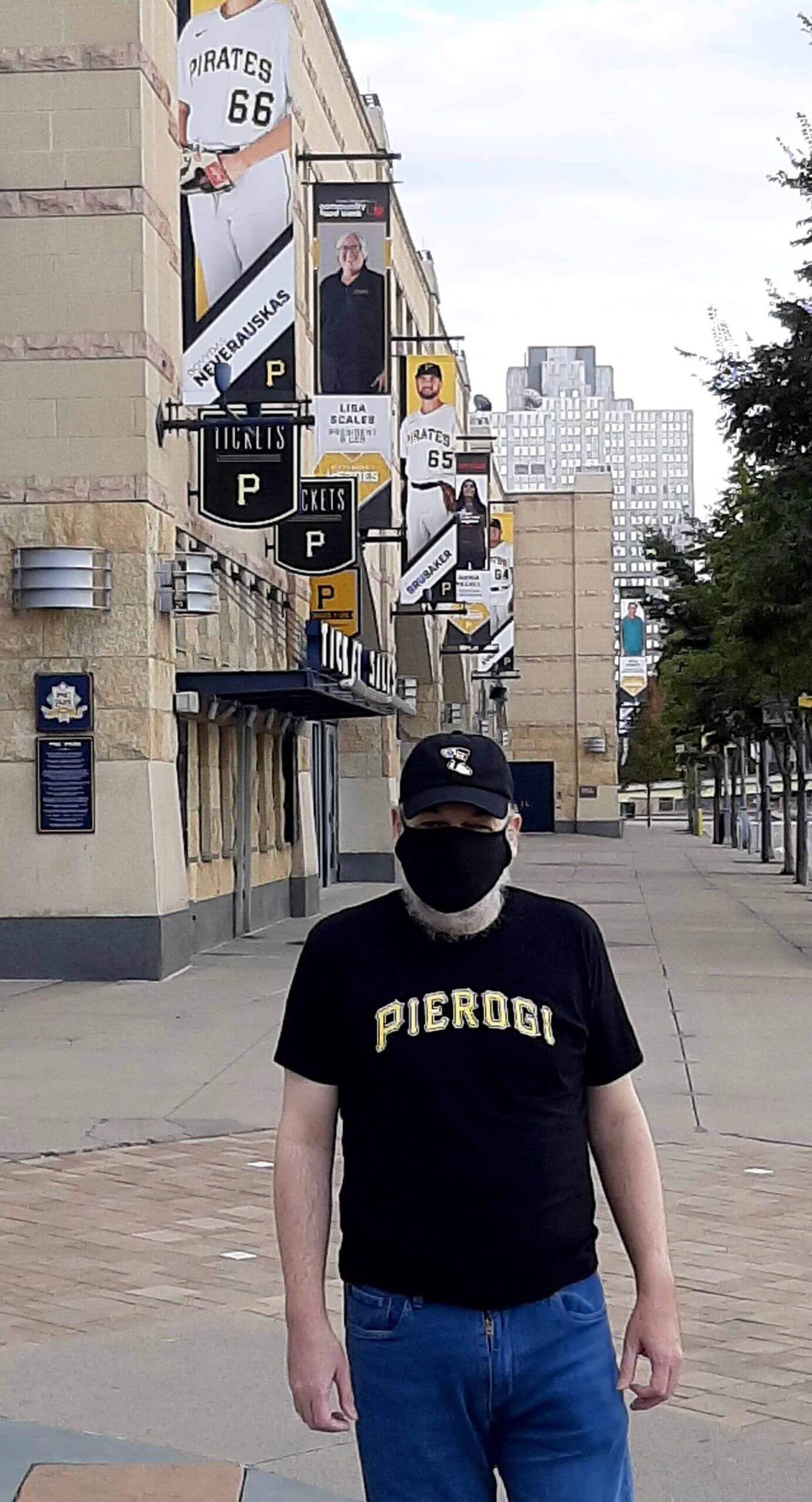 That hat fits right in, no? Nice!
Wondering what Jerry looks like under that mask? Here's a shot of him in an old Hershey Bears jersey, taken at a Uni Watch party in Pittsburgh back in 2009: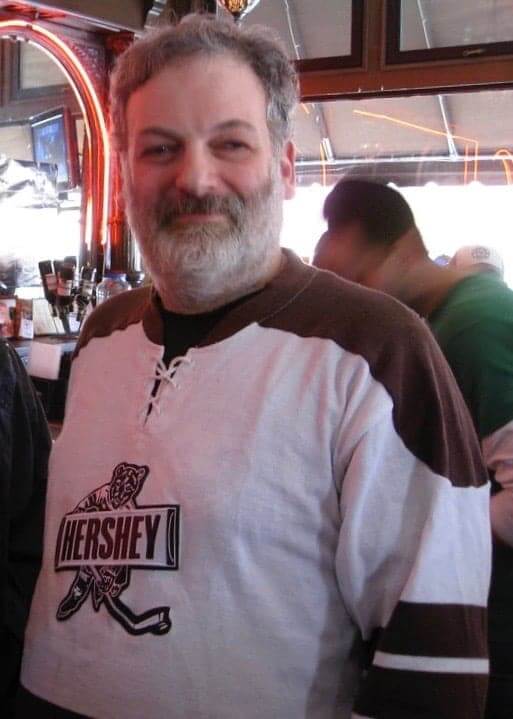 Hope to see you in person again when circumstances allow, Jerry. Thanks again for all your friendship and assistance — next round's on me.
(Incidentally, I'm not sure if Jerry's T-shirt choice was influenced by this, but Oct. 8 — that's this Thursday — is National Pierogi Day!)
• • • • •
• • • • •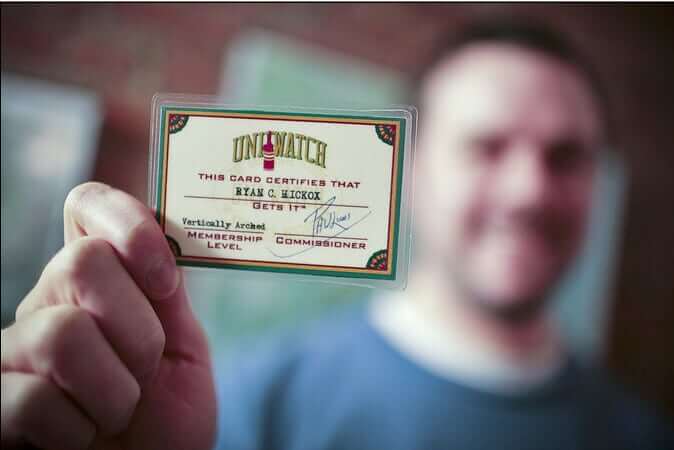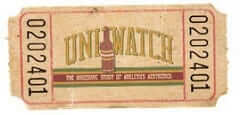 ITEM! New membership raffle: Longtime reader/pal Mike Engle has generously donated funds to cover a membership card, with the stipulation that it should go to a first-time membership enrollee. So if you're already a card-carrying member, please sit this one out.
This will be a one-day raffle. No entry restrictions other than the first-timer stipulation. To enter, send an email to the raffle address by 8pm Eastern tonight. I'll announce the winner tomorrow. Big thanks to Mike for sponsoring this one!
• • • • •
• • • • •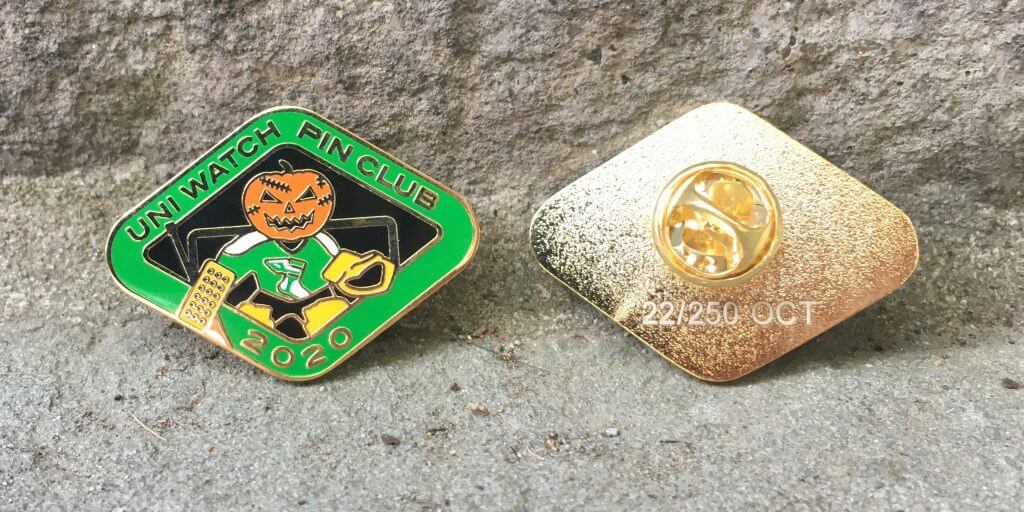 Click to enlarge
October Pin Club reminder: In case you missed it late last week, the Uni Watch Pin Club's October design is now available. As you can see above, it features a jack-o'-goalie (complete with Gerry Cheevers-style stitch marks on his face!). It was produced in a limited/numbered edition of 250 pins; as of this morning, only 77 are remaining. You can order yours here while supplies last.
Need to get caught up? Here are our January, February, March, May, June, July, August, and September pins. (Sorry, April sold out!)
• • • • •
• • • • •
The Ticker
By Jamie Rathjen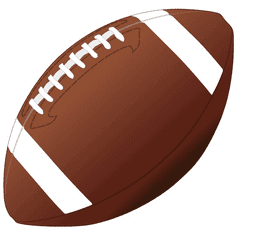 Football News: The Bears may not have any sort of uni-memorial for RB Gale Sayers, but his alma mater, Kansas, picked up the slack over the weekend with a No. 48 on the field and a new statue (from Ryan Grimes). … The FCS's Dayton has new uniforms, though they're not playing this fall (from Nick Gregor). … UNC appears to have had a gingham check pattern on its uni numbers in 1955. "Yearbook photos confirm this on all jerseys, front and back," says James Gilbert.

Hockey News: The Junior A British Columbia Hockey League's Prince George Spruce Kings added a memorial helmet decal for former captain Chad Staley, who passed away earlier this year (from Wade Heidt).

Basketball News: The jersey patch for the WNBA Finals, which began on Friday, goes above the NOB, just like its NBA counterpart does.


Soccer News: English Championship club Derby County revealed and wore a pink and black third kit which is breast cancer-related, but presumably is to be worn throughout the entire season. … Meanwhile, West Ham United's Women's Super League team wore their pink shirts for the first time. … French club Montpellier is another one that annually does pink shirts in October. … New shirts or kits for Australia's Adelaide United, Brisbane Roar, and Newcastle Jets. … Scottish Premiership team Livingston wore a black-gold-gold mashup of their two kits to solve several color clashes, including that opponents Dundee United apparently didn't want to change at home to help them out. New signing Jay Emmanuel-Thomas and his possible "JET" NOB, which we mentioned here last week, wasn't in the squad. … Queensboro, an expansion USL Championship team to start playing in Queens in 2022, apparently is to reveal something, like colors or a logo, on Tuesday (from Alexander Ganias). … A 12-year-old English boy has been making Bundesliga stadiums out of Lego (from Jeremy Brahm).

Grab Bag: Cycling team EF Pro Cycling revealed an intentionally bizarre jersey for the Giro d'Italia, which started on Saturday, since their normal jersey is pink and would be the same color as the leader's jersey. There is also an accompanying time trial helmet, and the team cars carry on the theme. … Brazilian men's national volleyball team player Lucas Saatkamp has been wearing a mask on the court while playing with his club team, Taubate Funvic, after teammate Bruno Rezende tested positive for Covid on Friday (from Jeremy Brahm). … Speaking of masks, NYC police officers have been warned by higher-ups that they'll be disciplined if they don't mask up. Many officers have ignored the mask regulations so far.
• • • • •
• • • • •
• • • • •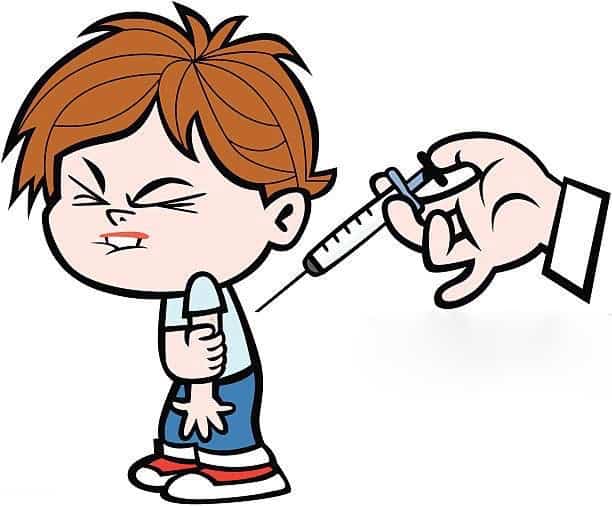 Good day for injections last Friday, as I got my annual flu shot in one arm and a shingles vaccination in the other. A win-win!
I've said this before but it's worth repeating: Getting a flu shot is always a good idea — not just because it helps to protect you, but also because it helps build herd immunity that protects all of us. In my case, I happen to have asthma, so the flu could literally kill me. Getting your flu shot helps lower the risk for me, and for others with chronic respiratory disorders. If you've already gotten your shot, thank you!
Looking forward to a Covid shot once it becomes available. Vaccines work! — Paul