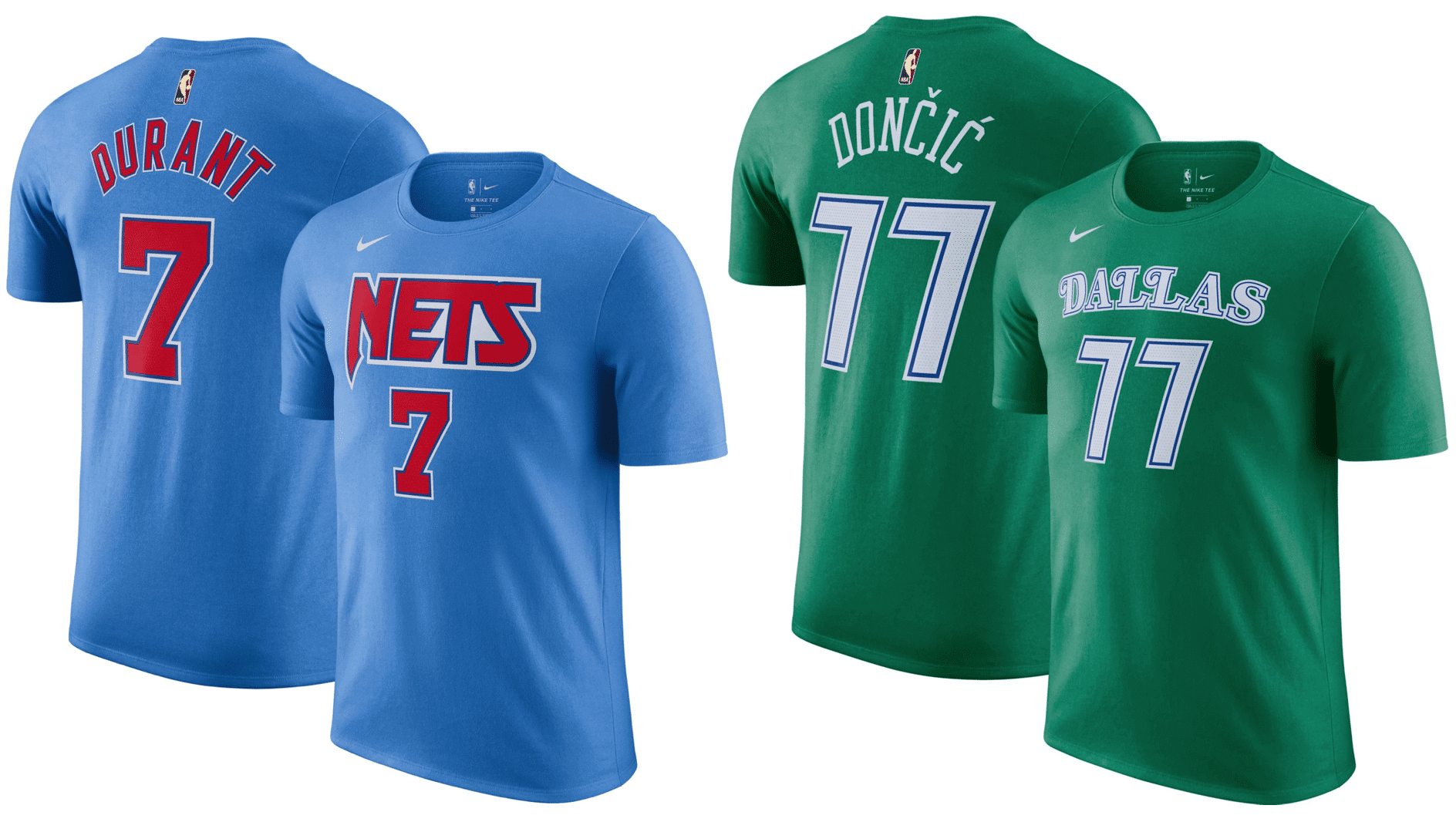 The NBA Finals finally began last night (more on that in a minute). But meanwhile, throwback designs for next season are continuing to leak via the appearance of retail shirseys. Yesterday Dick's began selling T-shirts based on the Nets' infamous 1990 "tie-dye" design and the Mavericks' 1980s green uni. While neither leak has yet been confirmed, prior experience strongly suggests that we can expect to see both of these designs on the court next season as throwbacks.
The tie-dye Nets treatment had been hinted at a few months back, when Nets point guard Kyrie Irving was spotted wearing a pair of the shorts.
These Nets and Mavs leaks follow the similar shirsey-based leak of a 1960s Lakers blue throwback, which was quickly confirmed as legitimate by SportsLogos.net's Chris Creamer. I expect Chris will likely be confirming the legitimacy of the Nets and Mavs leaks soon.
Meanwhile, as the NBA Finals got under way last night, it occurred to me that the rear jersey treatments — which for many players featured a lengthy social justice statement, an NOB, the gold championship tab, and the newly added Finals logo — may have been the busiest in league history: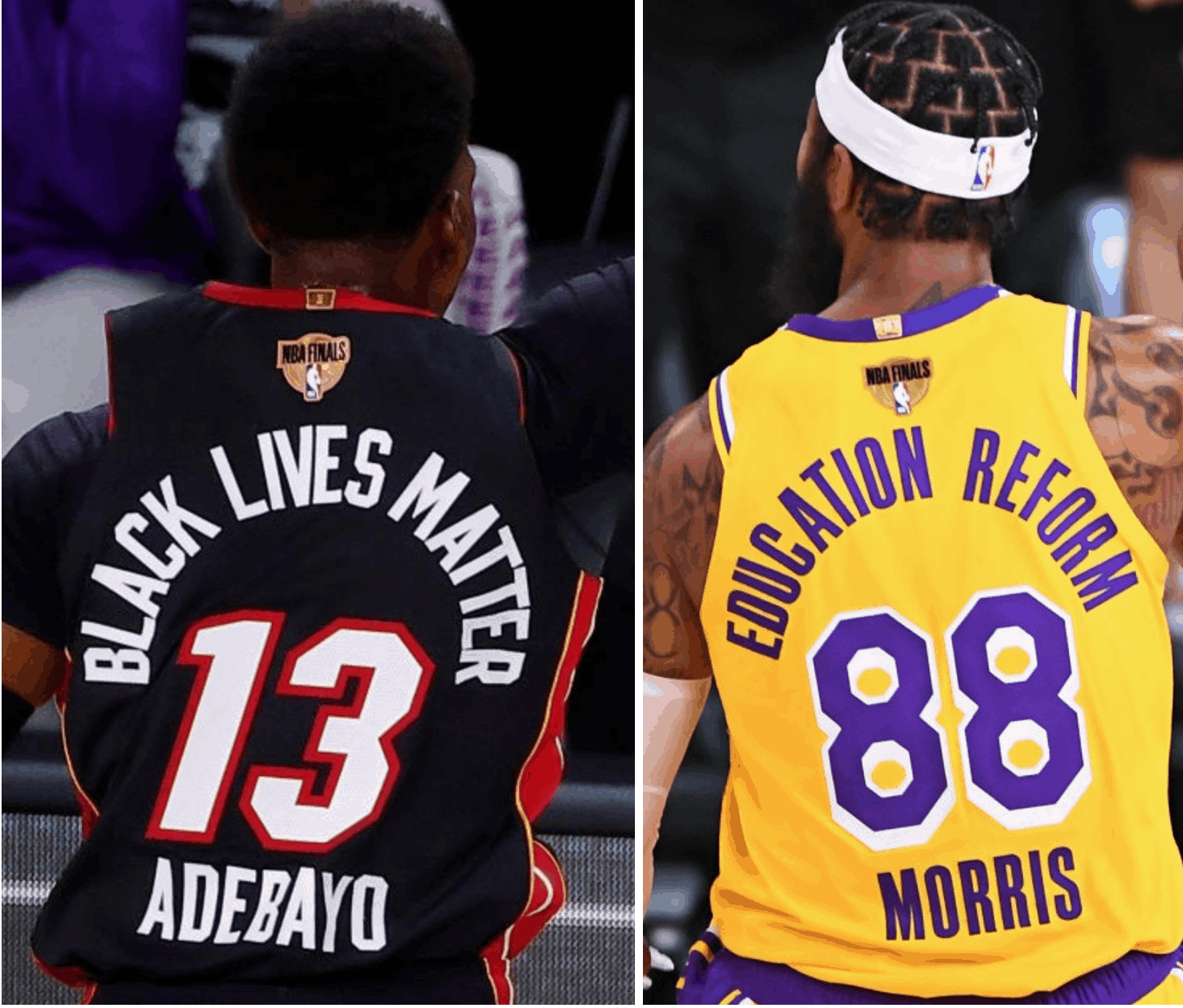 The jersey fronts were also quite busy, especially for the Lakers, since (a) they have the Kobe Bryant memorial patch and (b) the black David Stern memorial strip was much more visible on their jerseys than on the Heat's black jerseys: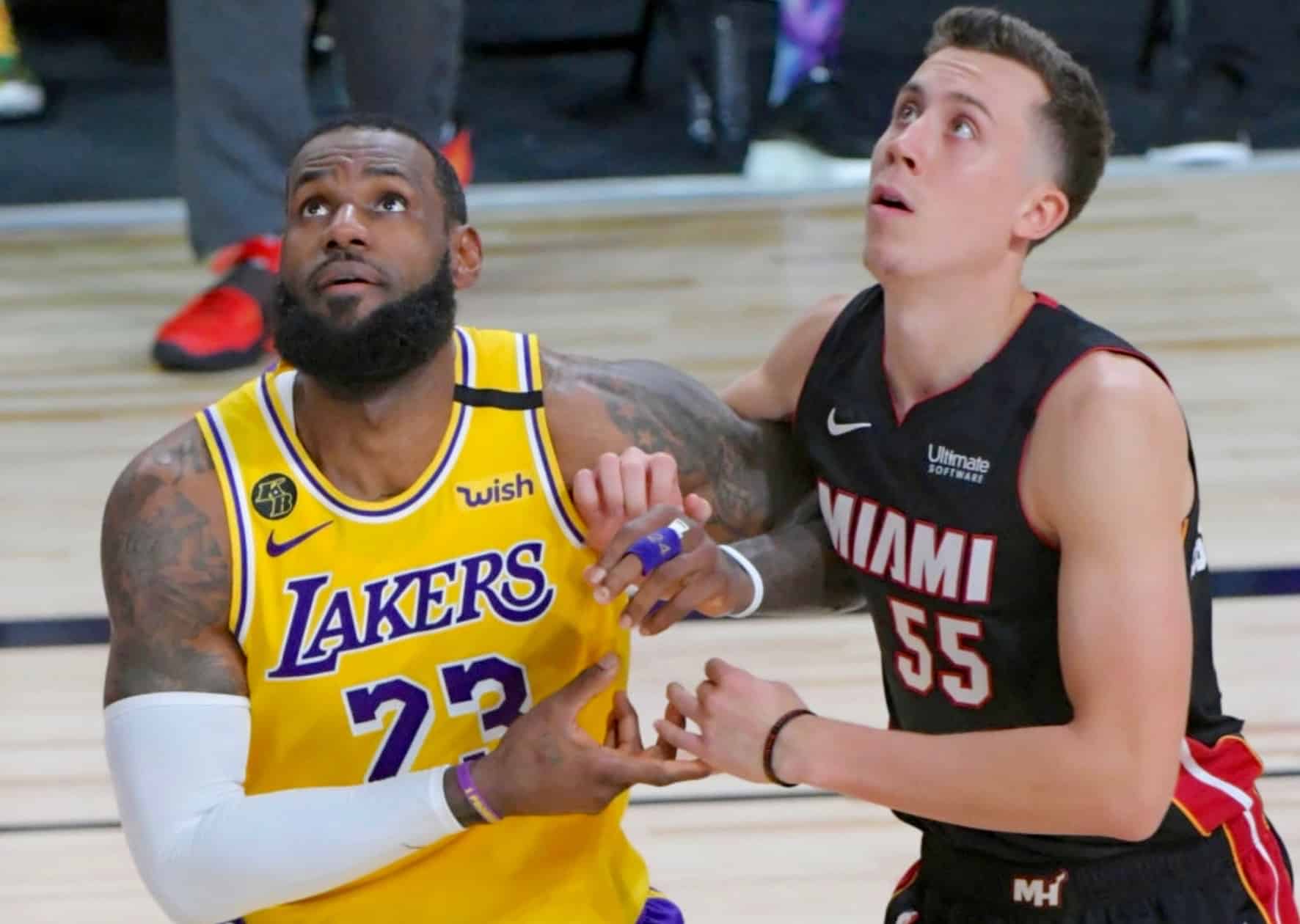 Add it all up and I think we can safely say that these uniforms had more flair and gewgaws than any previous uniforms in NBA Finals history.
(My thanks to @StaticShaq and @letsopolis for their contributions to this section.)
• • • • •
• • • • •
MLB playoff update: Has there ever been a better-looking MLB postseason pitcher than yesterday's starter for the Padres, Chris Paddack? Unfortunately, he kinda sucked, giving up six runs, all earned, in two and a third innings. But hey, if you're gonna stink out the joint, you might as well look really good while you're doing it.
From a hosiery heroics perspective, Paddack's prodigious and prevailing postseason predominance is likely to remain unchallenged until Friday or Saturday, when Pablo López's turn comes up in the Marlins' rotation. San Diego and Miami would both have to advance all the way to the National League Championship Series in order for us to have a potential Paddack/López pitching matchup (the two teams are on opposite sides of the N.L. bracket), but that's what I'm hoping for!
In other MLB postseason uni news:
• Padres second baseman Jake Cronenworth's 3D helmet logo appeared to be warped or bent: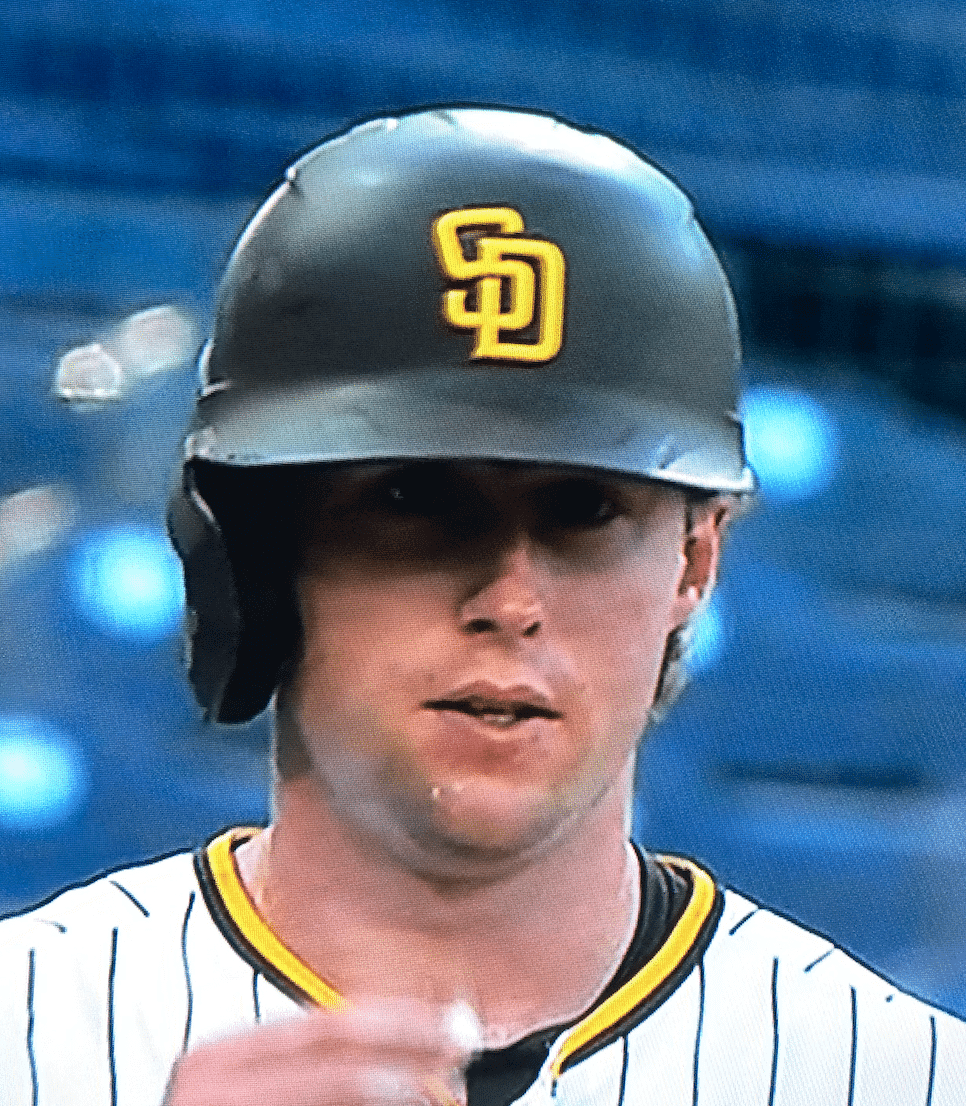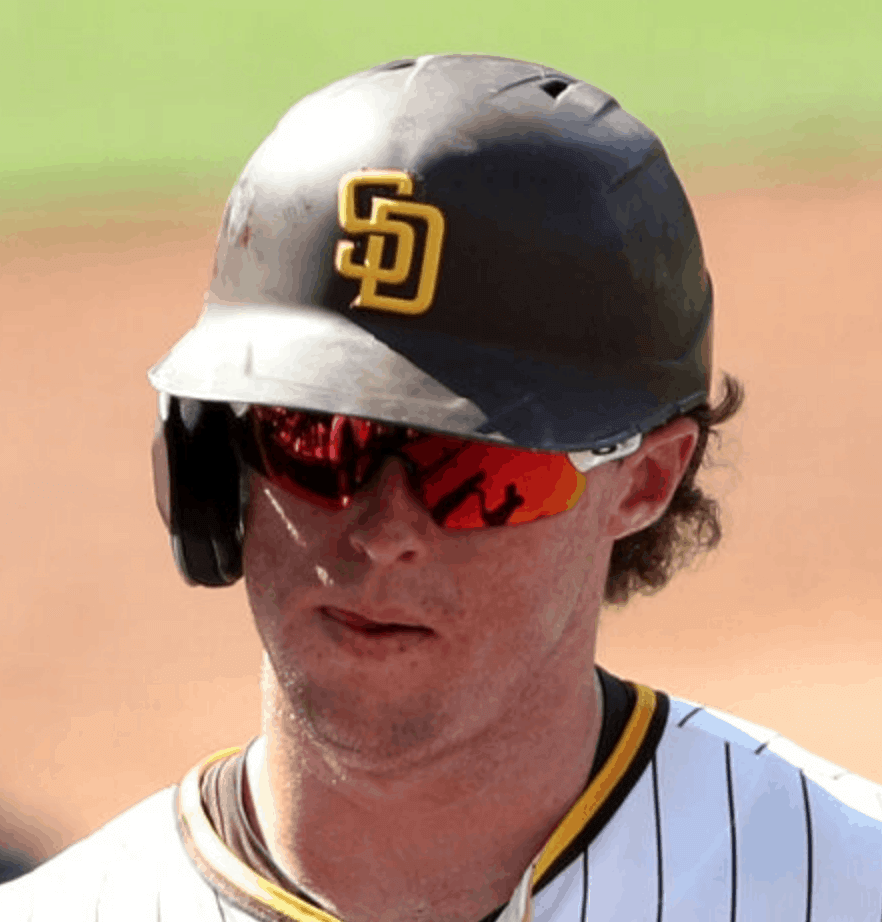 • The Astros and Twins went color vs. color:
• Prior to the A's/Chisox game, the umpiring crew met at home plate, removed their caps, and bowed their heads together: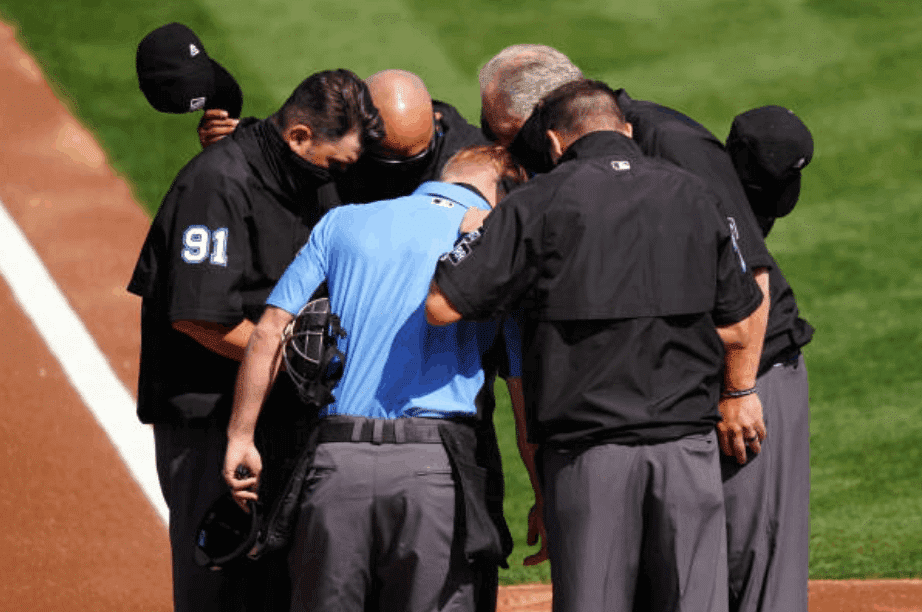 It looked like they were praying, but I'd never seen that before (maybe I just never noticed..?), so I posted the photo on Twitter and got lots of responses confirming that they were indeed praying. I've been watching baseball for nearly half a century now and had no idea that this was a thing.
• Earlier, prior to that same game, White Sox shortstop Tim Anderson was tossing around an NFL football: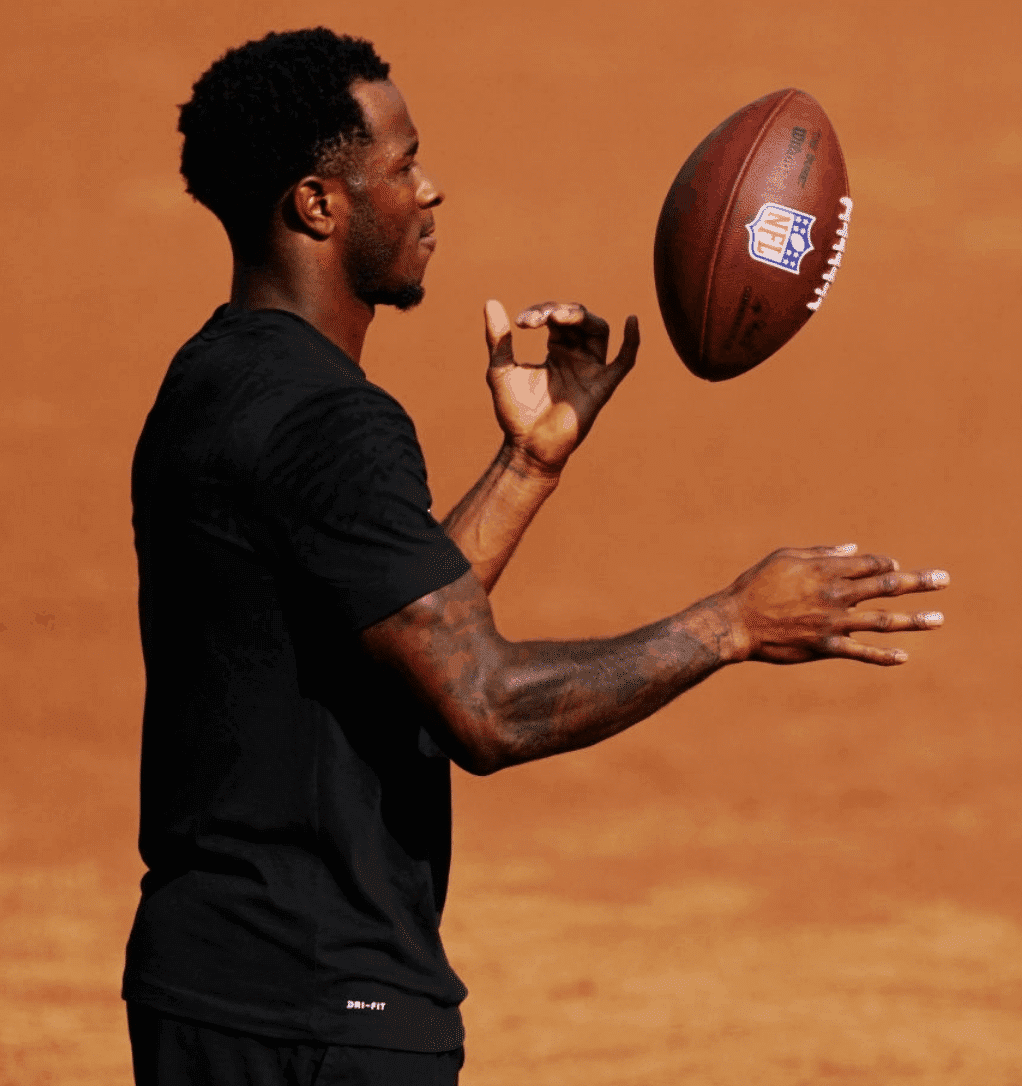 That's the new, 2020 version of the NFL ball, complete with the full-color shield. (Also: Anderson appears to have seriously long fingers!)
(My thanks to Brad Phillips for the Padres helmet logo item.)
• • • • •
• • • • •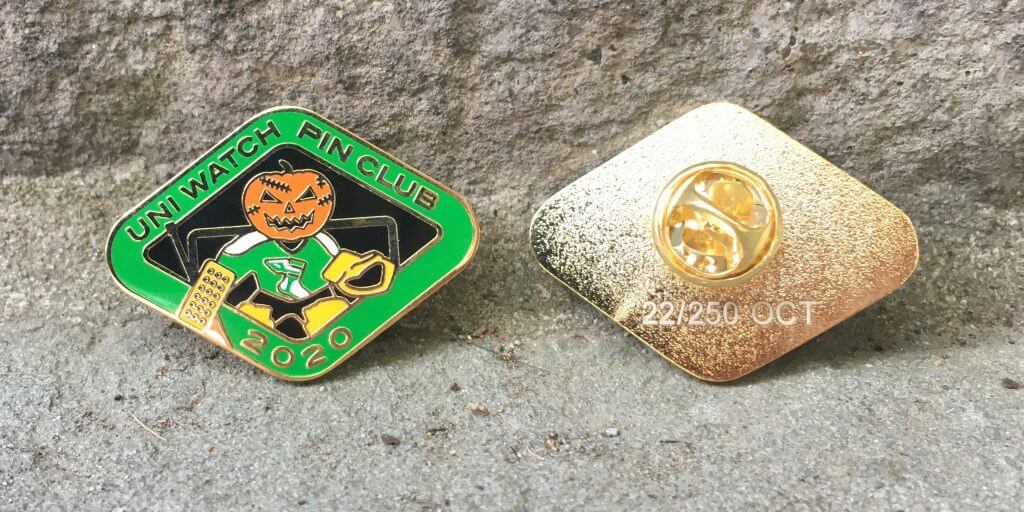 Click to enlarge
ITEM! October Pin Club launch: Today is the first day of October, which means it's time for the Uni Watch Pin Club's latest design. Somehow Todd Radom and I had gotten this far into the year without doing a hockey-based design, so we combined hockey and Halloween by coming up with a pumpkin-headed goalie. Dig the Cheevers-style stitch marks on his face!
This design was produced in a limited/numbered edition of 250 pins. You can order yours here.
Need to get caught up? Here are our January, February, March, May, June, July, August, and September pins. (Sorry, April sold out!)
Meanwhile: As you may recall, last year we did a Uni Watch Press Pin to coincide with the start of the World Series (in fact, it was the success of that pin that prompted us to do the Pin Club program this year). We will have another press pin this year — look for it to launch later this month. That pin is separate from the Pin Club, and you won't need to purchase it in order to qualify for the Pin Club's "collect 'em all" bonus pin (although of course we hope you'll consider it — I think you'll really like the design once you see it!).
Speaking of which: We'd like to get at least a ballpark sense of how many people have been collecting 'em all. If that's you, and if you plan to purchase the remaining pins to complete the year-long collection, shoot me a note. (No need to provide any documentation or proof — that will come later. For now, like I said, I'm just trying to get a ballpark sense of how many people we're talking about. Thanks!)
• • • • •
• • • • •
Who was that masked man? Remember when a mask was for protection against broken bones, not against microscopic viruses? Someone has compiled a good video showing NBA players wearing those protective masks on the court. Good stuff!
While we're at it, here's another NBA video of interest, this one showing a Heat uniform unveiling from 1999:
(My thanks to Mike Chamernik for both of these clips.)
• • • • •
• • • • •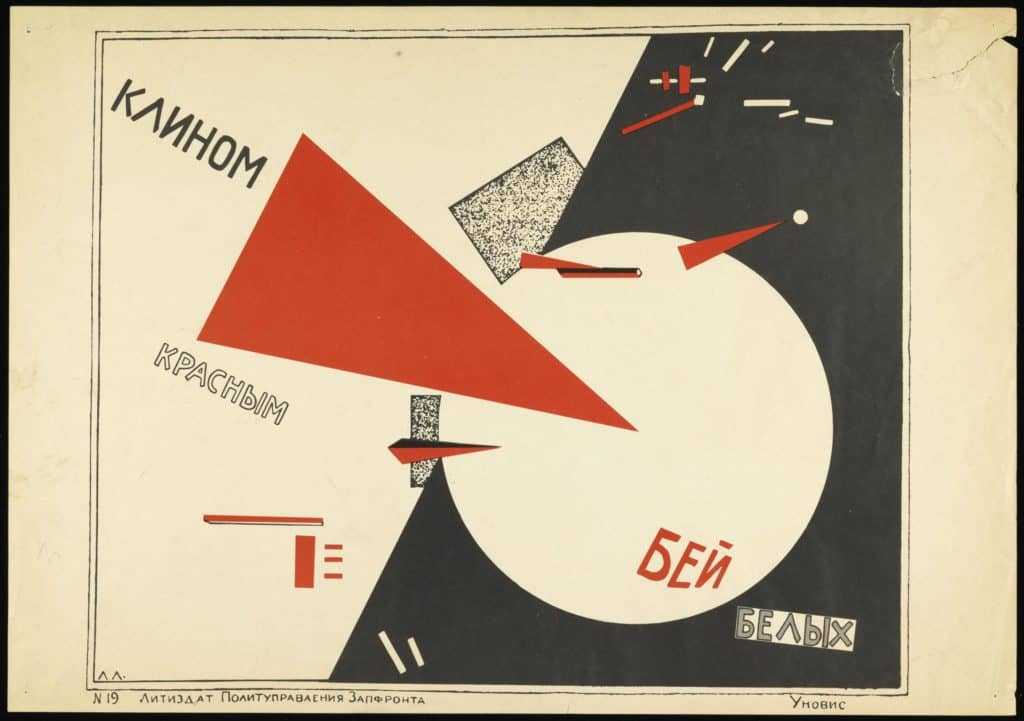 Click to enlarge
Uni design meets poster design: If you're a fan of graphic design history, or just 20th century art, then you probably recognize the image above as Beat the Whites with the Red Wedge, a highly influential 1919 constructivist propaganda poster by the Russian artist El Lissitzky (you can read more about it here and here). Why am I showing it here on the blog today? Because the Belarusian club Vitebsk has used it as the basis for their new shirts (click to enlarge):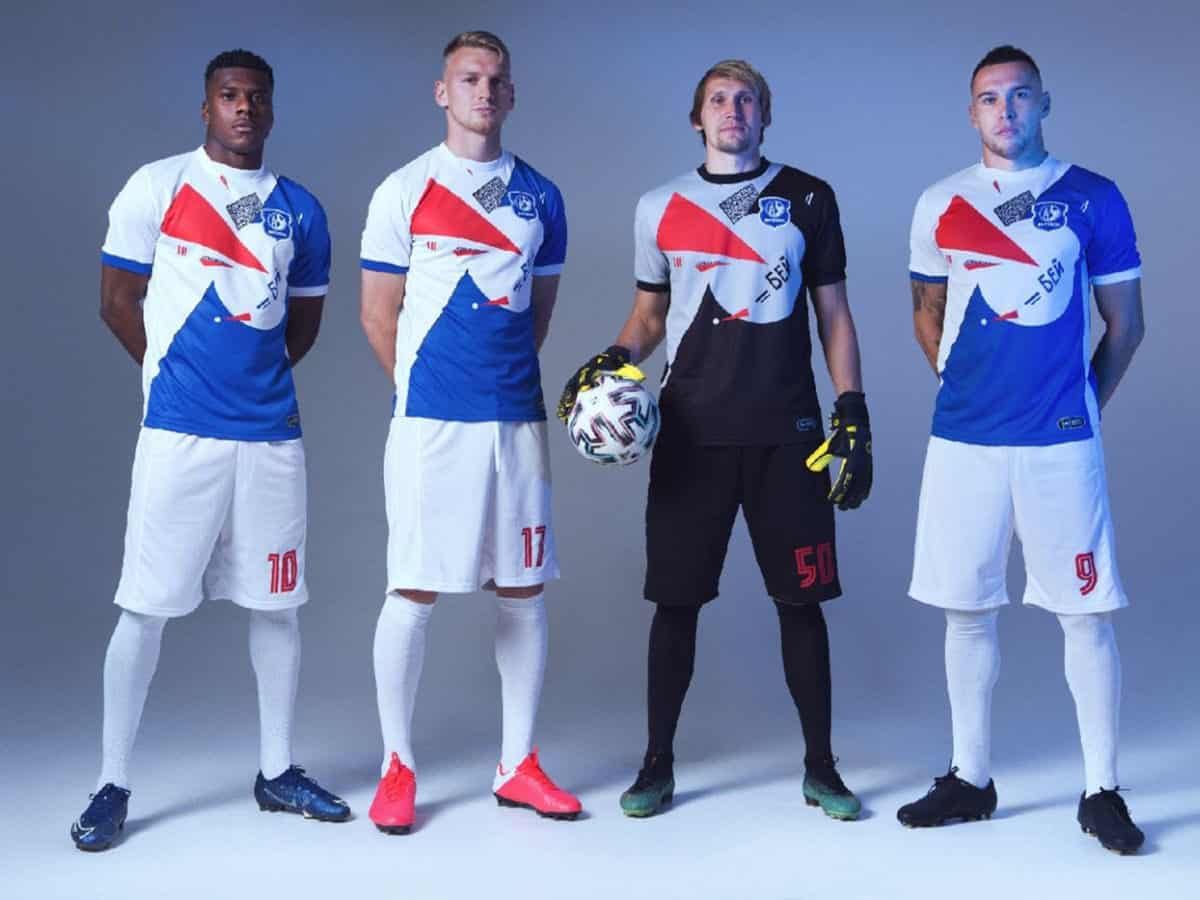 And why did they do that? Because El Lissitzky lived in Vitebsk during his childhood. Pretty cool historical reference!
(Big thanks to Ed Zelaski for this one.)
• • • • •
• • • • •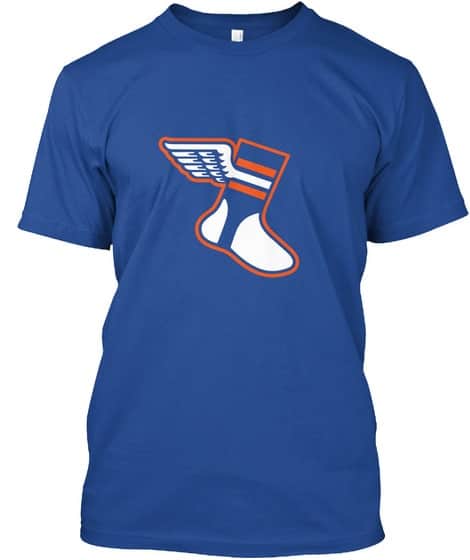 ITEM! Color Remix T-shirt raffle: Reader Zach Pearce ended up with an extra Uni Watch Color Remix T-shirt — the royal/orange design, in Medium — and has generously offered to let me raffle it off, so that's what we're going to do today.
This will be a one-day raffle. American mailing addresses only. To enter, send an email with your shipping address to the raffle address by 8pm Eastern tonight. One entry per person. I'll announce the winner tomorrow, and Zach will then mail out the shirt to the winner.
Big thanks to Zach for sponsoring this one!
• • • • •
• • • • •
The Ticker
By Paul

'Skins Watch: Video of the Zoom panel discussion about Native American imagery in sports that I participated in back in August, arranged and hosted by Baruch College, is now available for streaming. … Ay yi yi: In the early 1960s, the Minnesota Vikings staged a publicity photo featuring three of their players dressed up as Indians and "setting an ambush" for the Dallas Cowboys. Shameful (from Jimmy Lonetti). … Social Circle High School in Georgia has decided to keep calling its teams the Redskins and will also keep its Native American logo/mascot (from David Clemons). … As of last last week, the CBS TV affiliate in NYC was still using Chief Wahoo in its score ticker (from @retailrich).

Working Class Wannabes™: During last Thursday's Dolphins/Jaguars game, broadcaster Troy Aikman called Miami QB Ryan Fitzpatrick "a blue collar quarterback." Fitzpatrick, in case you've forgotten, played college ball at Harvard (from Wes Muniz). … An article about the Gardner-Webb baseball team says the imagery in the team's locker room "evokes the core principles of the Gardner-Webb baseball program — Selfless, Relentless, Blue Collar." … Baylor's women's soccer coach says Iowa State is "an athletic and fast, tough, blue-collar team." … An article about the Wilmot High School football team in Wisconsin says the team has "a solid blue-collar work ethic up and down the roster." … An article about the Kentucky football team says the Wildcats have a "hard-nosed, blue collar mentality." … The best man at Yankees infielder DJ LeMahieu's wedding says LeMahieu is "just a bring-your-lunch-pail-to-work kind of guy, kind of blue collar." That article also includes the term "work ethic" three separate times, plus it quotes LeMahieu himself recalling a time he "just had to really dig deep and grind." Bingo! (From @DaveGH2P.) … A high school football coach in Florida described an opposing team as "a middle-of-the-state, tough, blue collar football team." … A recap of a high school football game in West Virginia says Chapmanville High "got a blue-collar effort from running back Jaxson Turner." … New York Giants coach Joe Judge, asked after last Sunday's loss about his team being 0-3, responded with a series of laughable blue-collar clichés. … An article about a high school football team in Iowa refers to "that blue-collar work ethic," "put[ting] in the work we consider blue-collar," "hav[ing] a blue-collar work ethic," and more. … Although I didn't hear this myself, Twitter-er @_swfit24 says MLB broadcaster Alex Rodriguez referred to Yankees OF Brett Gardner as a "blue collar guy" last night.

Baseball News: Reds P Trevor Bauer is giving away his cleats from yesterday's start (from Griffin Smith). … Here's an interesting story about how Denver's old Mile High Stadium used a water-driven hydraulic system to slide the grandstand back and forth to accommodate different field dimensions for baseball and football (from Kary Klismet). … NLCS and World Series games will take place with a limited number of live fans in attendance. … Check out this Dodgers logo mug with a football instead of a baseball. LA Times NFL writer Sam Farmer says it's from when the NFL had its eye on Dodger Stadium as a potential venue in the late 1990s (from Jeff Ash). … Former Cy Young winner Denny McLain — the last pitcher to win 30 games — is selling off a bunch of his memorabilia (from Tom Konecny).

NFL News: The NFL, having already fined four coaches for not wearing masks on the sidelines, is now threatening to take away draft picks from teams whose coaches don't comply. … Cross-listed from the baseball section: Here's an interesting story about how Denver's old Mile High Stadium use a water-driven hydraulic system to slide the grandstand back and forth to accommodate different field dimensions for baseball and football (from Kary Klismet). … Here's a nice little 1960s video clip of Bears QB Billy Wade warming up at Wrigley Field, complete with the ivy-covered wall in the background. … Here's what 16 NFL teams' helmets might look like if they were designed for the online game Destiny 2 (from Jeff Wilk). … Browns C and NFL Players Association prexy JC Tretter wants all NFL teams to use grass fields in order to reduce injury risks. … The Jags will be going mono-white this Sunday. … Cross-listed from the baseball section: Check out this Los Angeles Dodgers logo mug with a football instead of a baseball. LA Times NFL writer Sam Farmer says it's from when the NFL had its eye on Dodger Stadium as a potential venue in the late 1990s (from Jeff Ash).

College Football News: The Military Bowl has a new presenting sponsor advertiser (rare non-Houston-related contribution from Ignacio Salazar). … Iowa State going mono-BFBS this week. … Minnesota WR Rashod Bateman will wear No. 0 this year to symbolize zero tolerance for racism (from Erick Kriewaldt).

Hockey News: In 1962, the Niagara Falls Flyers wore hard hat-style helmets on the bench — but not on the ice — to protect themselves from debris thrown by fans in Montreal. You can scroll down on that link for some additional info (from Wade Heidt). … Although the NHL draft is being held remotely, the league is sending caps for 31 teams to potential first-round picks, so they wear their new team's logo, whatever it turns out to be.

Basketball News: Whoa, check this out: Former president Barack Obama's high school basketball jersey is up for auction (from @1NepC).

Soccer News: "Usually I don't consider soccer NOBs to be Ticker material, because players can basically wear whatever they want as long as it's some part of their name, which leads to lots of variations of abbreviations, spelling, and punctuation," says our own Jamie Rathjen. "But when Scottish Premiership team Livingston signed striker Jay Emmanuel-Thomas on Wednesday, the shirt he held up in his reveal picture had his initials, 'JET.' I think the use of initials is a new one. I'll try to see if it's actually his NOB this weekend." … Also from Jamie: Two new shirts for Australia's A-League and W-League's Western Sydney Wanderers.

Grab Bag: Good piece on how moving the French Open to autumn has changed what the players wear (WaPo link) (from @jmj_fisher). … Speaking of the French Open, yesterday's broadcast coverage included some odd scorebug shenanigans. … Here's a look at the history of the Ferrari logo. … New 100th-anniversary logo for the University Interscholastic League, which administers athletic, musical, and academic contests for public schools in Texas (from David Wiechmann). … Bristol Motor Speedway may be converted to a dirt track for a NASCAR Cup race next year (from Christopher Hickey). … Here's a Dallas-centric website's picks for the best and worst jerseys in the city's history (from @OrsonMcFeathers). … New rugby union kits for Italian side Benetton Rugby (from Jeremy Brahm).
• • • • •
• • • • •
Click to enlarge