It's a big day for NBA uniforms, as the Grizzlies, 76ers, Knicks, and Nets have all made uni-related news. Let's start in Memphis, the Grizzlies have unveiled of a new alternate uniform honoring history's greatest American, Martin Luther King Jr. (click to enlarge):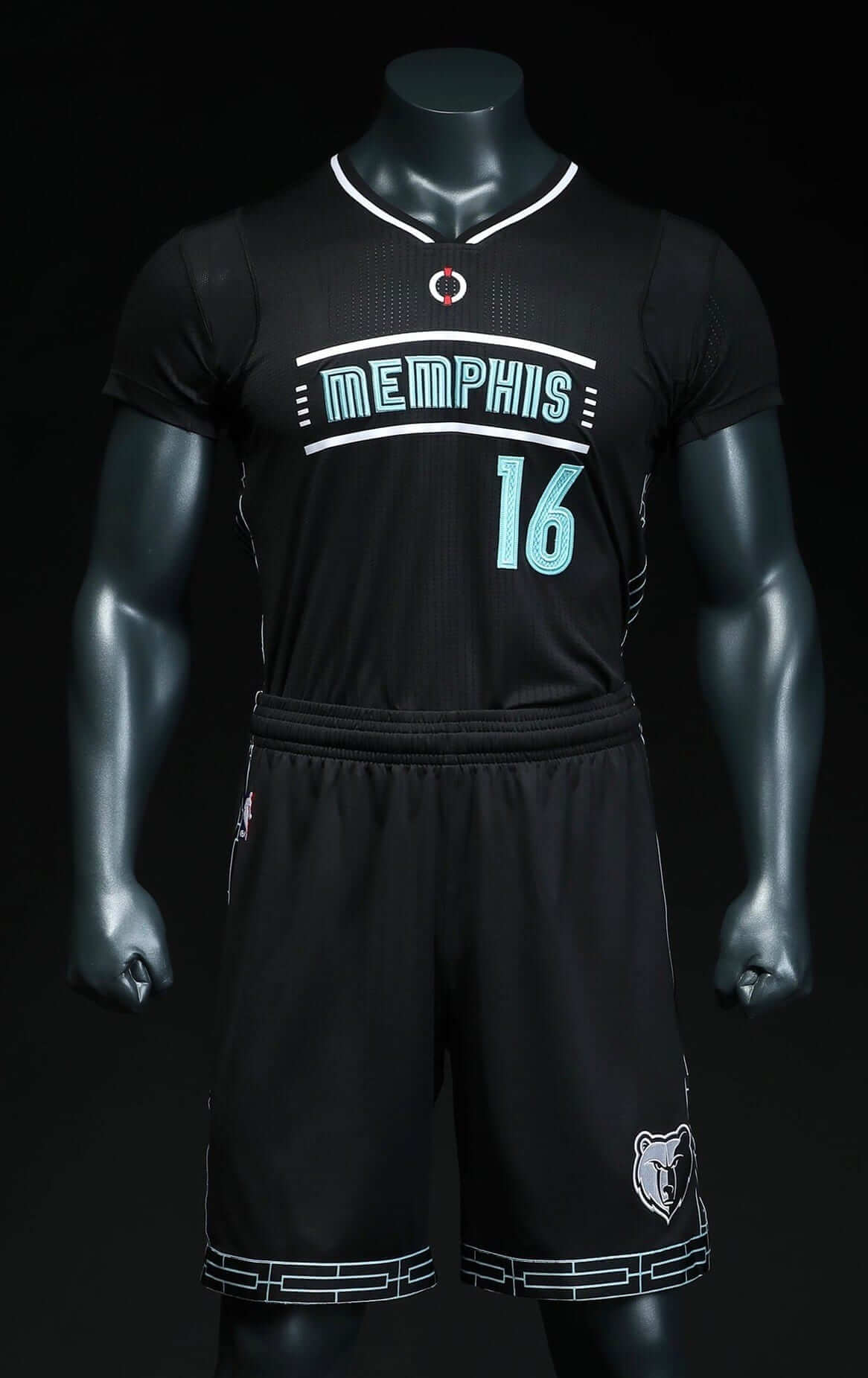 The uniform includes many visual references to the Lorraine Motel in Memphis, where King was assassinated in 1968. It was later converted into the National Civil Rights Museum, which is where the uniform was unveiled last night. Among the details:
•  The chest lettering is based on the motel's sign.
•  The icon above the chest lettering, at the base of the collar, was inspired by the memorial wreath that was hung outside Room 306 — King's room — after his murder.
•  If you look again at the wreath photo, you can see that the motel's railing design served as the inspiration for the trim on the shorts (which also runs up the sides of the jersey).
As you know, I generally take a pretty dim view of uniforms with "storytelling" elements. That's because they usually seem forced, like someone in the marketing department said, "Okay, you have to include at least four storytelling elements, and so far you only have two, so come up with two more!" The reality is that most uniforms don't have a story to tell (or, perhaps more to the point, they don't have a story worth telling), but this one does — it's a history lesson. The details feel well-considered and well-executed. Too bad about the sleeves. Overall, though, nice job.
The uniform will make its on-court debut on Jan. 15 and then will be worn for various games during Black History Month in February. Additional info and photos are available here.
Meanwhile, over in Philadelphia, the 76ers will announce today that they're marking the 50th anniversary of their 1966-67 championship by wearing throwback uniforms for six Saturday home games (dates not yet finalized):
Thanks to various leaks, we've known about this throwback for a few months now, but this is the first time we've seen photos of it. Here's a side-by-side comparison of the throwback and the original uni:
The shades of blue don't seem to match there, although that could have to do with lighting, sweat, etc. And speaking of blue, the Sixers are using Pantone 294 for the throwback, instead of their usual Pantone 293. Here's a side-by-side of those tones — current blue on the left, throwback blue on the right: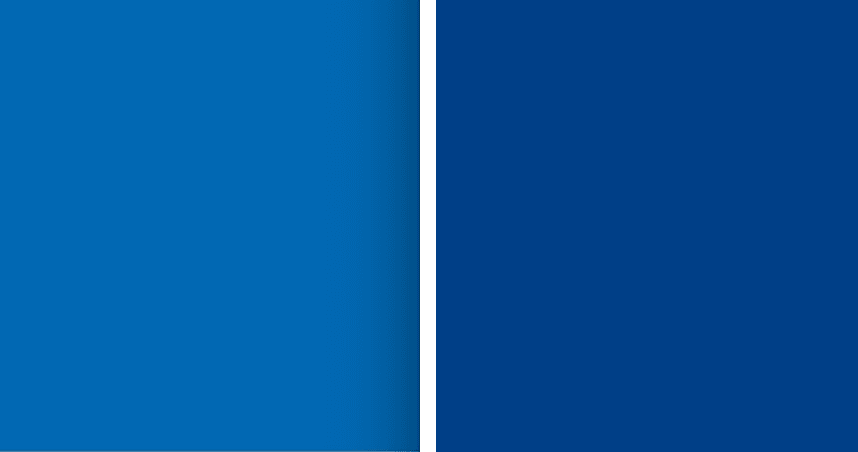 The throwback includes a commemorative patch, which I'm pretty sure was not shown on any of the leaked mock-ups that have been circulating, so this is our first look at it: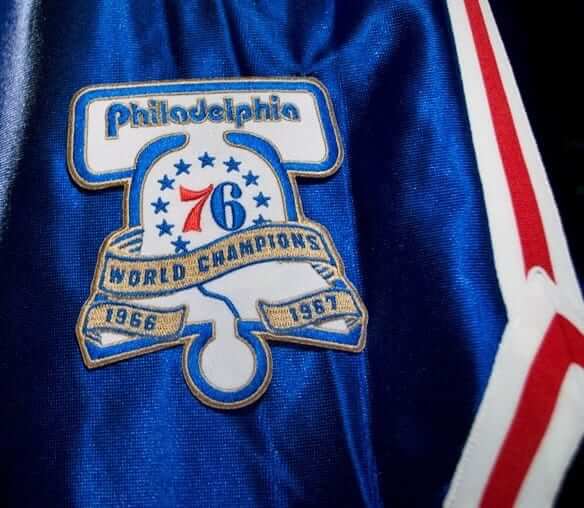 For the six throwback games, logo shown on the patch will also be used at center court:
Although not shown in that image, the center court design will also feature the signatures of all Sixers season ticket subscribers, which according to the team will be "the first time in NBA history that fan signatures will appear within the playing surface of an NBA court."
The team is also celebrating the 1966-67 championship team on its ticket stubs (click to enlarge):
Next up are the Nets, who've released a retro-themed alternate uniform (click to enlarge):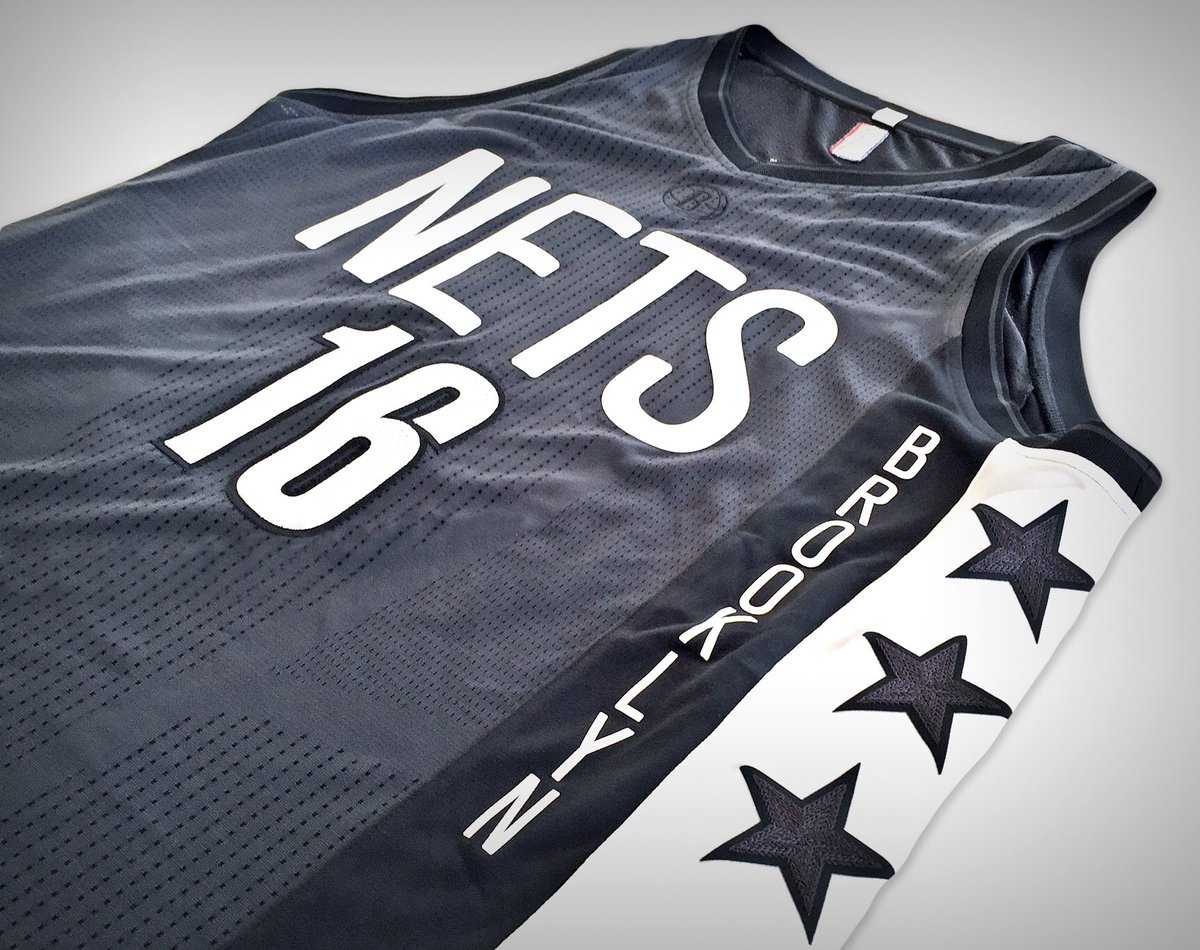 This is basically a dark version of this alternate uni, which they've had for the past two seasons. They'll wear this one for the home opener on Oct. 28, and for 12 additional games — some at home, some on the road. The dates are listed here, and there are additional photos here.
That press release, incidentally, includes some first-class corporate nonsense. For starters, it says that the five stars on the jersey "dually represent the team's fifth season in Brooklyn, and the five decades of the franchise." Compare that to the Grizzlies' MLK uniform and you can see the difference between real storytelling and bogus/forced "storytelling." And then there's this quote from team exec Brett Yormark: "By combining elements from the team's most iconic uniforms, we've created a modernized look that emphasizes our heritage and defines today's lifestyle brand." How does anyone say (or, more likely, type) that kind of thing with a straight face?
In happier news, the Knicks have a new 70th-anniversary throwback, which they introduced yesterday via a short video clip that's informative, entertaining, and blissfully free of corporate brandspeak:
Here's your exclusive look at our Hardwood Classic jerseys this year! 42 days until the opener! #NYK70 pic.twitter.com/W7B4zwP5zB

— NEW YORK KNICKS (@nyknicks) September 14, 2016
It's not quite as much fun as the throwback they wore last season, but it's still pretty good. It will be worn for eight games (six at home) — the dates are spelled out midway through the video.
•  •  •  •  •
And speaking of storytelling…: Shifting to college football for a sec, Arizona is hosting Hawaii this Saturday, and the Wildcats will be wearing a uniform that honors the USS Arizona, which was stationed at Pearl Harbor in Hawaii when it was bombed and sank by the Japanese on Dec. 7, 1941. Arizona and Hawaii, get it?
Okay, so it would be better if the game were taking place closer to Dec. 7, but the uniform is a good one. Much like the Knicks (see above), Arizona has put together a really good video that explains all of the details, although you might want to mute the soundtrack (and all the info in the video is also available in this PDF):
#WeRemember 🇺🇸

We will recognize, remember and honor the memory of the U.S.S. Arizona and its crew.#BearDown pic.twitter.com/ahkKMfkLKg

— #Forever65 (@ArizonaFBall) September 15, 2016
Lots of good stuff there. But ugh, that neck bumper — a glaring apostrophe catastrophe. Punctuation illiteracy strikes again.
•  •  •  •  •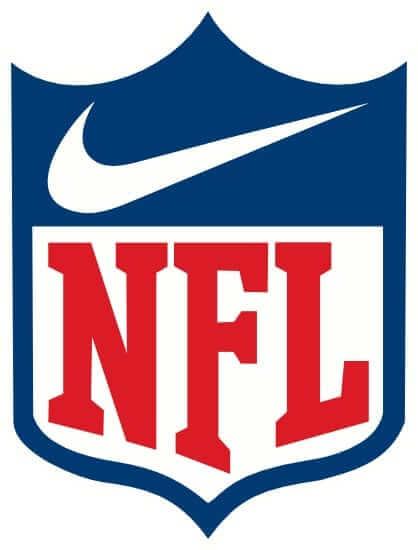 Madden-ing: Reader Josh Claywell was poking around on Madden yesterday and found the new Thursday-night uniforms for all 32 teams, with colored and white versions for most of them.
Normally I'd embed a slideshow here, but Flickr's slideshow function seems to be balky today, so instead I'll just link to the set of Josh's screen shots.
As you'll see there are no colored uniforms for the Bengals, Cowboys, Giants, Packers, Saints, or Raiders. Those are the teams that are wearing new white uniforms on Thursday nights. I'm pretty sure all the other white unis shown here (whether they're slated to be worn on Thursday nights this season or not) are just the teams' regular white unis.
Also, the Pats, Niners, and Steelers are all shown wearing colored pants with their white jerseys. That's because those teams don't have white pants in their wardrobe, and new Thursday-night white pants have not been created for them (at least not for this season).
In addition, reader Brian Spiess's son was playing Madden and got a good screen shot of what a Bears/Bengals game would look like (in reality, they're both facing other teams in Thursday-night games). He also confirmed that the Browns' white Thursday-night uni features their regular (i.e., awful) pants:
•  •  •  •  •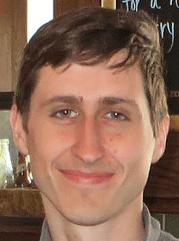 Mighty Mike: When not compiling our Tuesday and Thursday Tickers, Mike Chamernik has a day job at a trade magazine and also moonlights at the sports section of The Chicago-Sun Times (plus he's a just an all-around great guy). He recently had two articles in the Sun-Times: a preview of the Chicago Football Classic (an annual game between teams from two historically black colleges, played at Soldier Field) and coverage of the game itself.
Both articles are highly recommended. Congrats on the bylines, Mike!
•  •  •  •  •
Bacon update: I appeared on the radio show Marketplace yesterday, discussing my new Businessweek article about the nuances of bacon packaging. If you missed the article, it's available here, and the radio interview is embedded below. (I haven't actually listened to it myself — I hate hearing myself on the radio — but I'm told it sounds pretty good.)
•  •  •  •  •
Membership update: A new batch of membership cards was mailed out on Monday (including Jonathan Safron's late-'70s Cubs throwback treatment, complete with reverse pinstripes and vertically arched NOB lettering, shown at right), so those of you who've been waiting for your cards should have them momentarily. We're now fully caught up on orders.
As always, you can sign up for your own custom-designed membership card here, you can see all the cards we've designed so far here, and you can see how we produce the cards here.
•  •  •  •  •
The Ticker
By Mike Chamernik

Baseball News: The Orioles' new schedule revealed a 25th anniversary logo for Camden Yards. Paul has confirmed that it will be worn as a patch next season, complete with silver metallic thread for the ballpark's silver anniversary (from Scott Pika). … Check out this 1924 scoreboard. It looks like it was a Playograph, a scoreboard that, as Paul explored here back in 2009, displayed real-time out-of-town game updates (from John Muir). … Lots of stirrups were featured on last night's episode of Big Brother (from Chris Flinn). … They're expensive, but here are some pinstriped pencils in honor of Joe DiMaggio's 56-game hit streak (from Rob Ullman). … Great story here: A Texas man filled out a nearly 60-year-old Bazooka promotion card for a new baseball glove, and the Bazooka people honored it (from Brinke). … Remember Marlins OF Giancarlo Stanton's custom faceguard with the stylized "G"? Turns out he broke it right around the time he went on the DL last month. Now that he's back in action, he's wearing the standard face flap (from Mike McLaughlin). … Here's a great old Lou Brock sneaker ad (from Joel Paylor).

NFL News: The Bills will retire Bruce Smith's No. 78 tonight. Crews painted his number on the field yesterday. … The Cardinals will have "NJB" decals on their helmets in memory of Nancy Bidwill, the wife of owner Bill Bidwill. … Packers CB Damarious Randall wore long base-layer sleeves in 100 °F heat in Jacksonville last weekend. He says he wears long sleeves because it improves his range of motion. It's like the flip side of when Bengals linemen went sleeveless in -59 °F windchills to intimidate the Chargers in the Freezer Bowl in 1982 (from @HawksPacMan). … The Chargers will wear their powder blue alternates on Nov. 6 and Dec. 18. … Sean Marenkovic's girlfriend knitted a pair of very good-looking striped Browns socks. "She had to labor through them, as she is a Steelers fan," he says. … Also regarding the Browns, beck in 2006, Scott Bogunia put together a marketing brief (PDF) that featured a redesigned home uni. … The NFL Shop is forbidding customized jerseys with "Harambe" on the back. That was the name of the ape in the Cincinnati Zoo who was shot and killed back in May, and has since become the cause célèbre on the internet. Other leagues still offer Harambe jerseys, though (from Phil). … A Virginia couple decided to stake the fandom of their infant daughter on the outcome of Monday's Steelers/Washington game. … Here's a pamphlet that details uniform rules and violations for all 32 teams (from @manonwire22). … Giants WRs Odell Beckham Jr. and Victor Cruz will not be fined for their 9/11 cleats (from Phil). … What would a blue Thursday-night uniform for the Cowboys look like? Perhaps like this.

College and High School Football News: Louisville painted a Muhammad Ali memorial behind one of the endzones. It's a butterfly with "Ali" in it (from @DaveDoop). … Virginia Tech will wear white at home with Navy template helmets this Saturday (from Andrew Cosentino). … Here's more on Miami's new merit decals (from David Leiphart). … Minnesota also awards helmet stickers (from MKE_Gopher). … In reaction to North Carolina's House Bill 2, a measure seen as anti-LGBTQ, the ACC will move its title game out of Charlotte. … Marshall will wear a West Virginia-shaped helmet decal as a tribute to victims of flooding in the state this summer (from @cDubya242). … A small town in Michigan has been having an annual pink-uni game, for cancer awareness, for nine years, and it's become a big part of the community (from Joe Hollomon). … Here's this week's uni combo for Florida Atlantic.

Hockey News: The Predators will now wear gold helmets for every home game, instead of only on Saturday home games (from Nick Griffin). … New uniforms for the Toledo Walleye. … New jerseys for Michigan State (from MikeTPhD). … The Sharks will give away a Warriors-colored jersey.

Basketball News: A Portland coffee shop made Trail Blazers-themed ice cream sandwiches. … The Bucks' Mickey Johnson went double-decker FNOB for a time in the 1980s. Marques Johnson did the same (from Reinis Lācis). … Kentucky revealed a new home jersey with checkerboard-patterned side panels (from Drew O'Neal). … Tony Parker recently hosted a basketball game on top of a glacier in Switzerland.

Soccer News: Here's a collection of all of the home, away, and third kits in the UEFA Champions League this season (from Josh Hinton). … Portland Timbers CB Steven Taylor normally wears No. 27, but for some reason he wore 72 last night.

Grab Bag: The ACC is the latest athletics organization to pull out of North Carolina due to the state's anti-LGBT law. … The James Bond 007 logo has evolved since the early 1960s (from Brinke). … ESPN has inked a deal to televise the Drone Racing League. The uniforms appear to be black T-shirts with the team names (from Jay Wright). … Here's how the British Army's uniforms have changed since the redcoat days (from Mark de Socio).