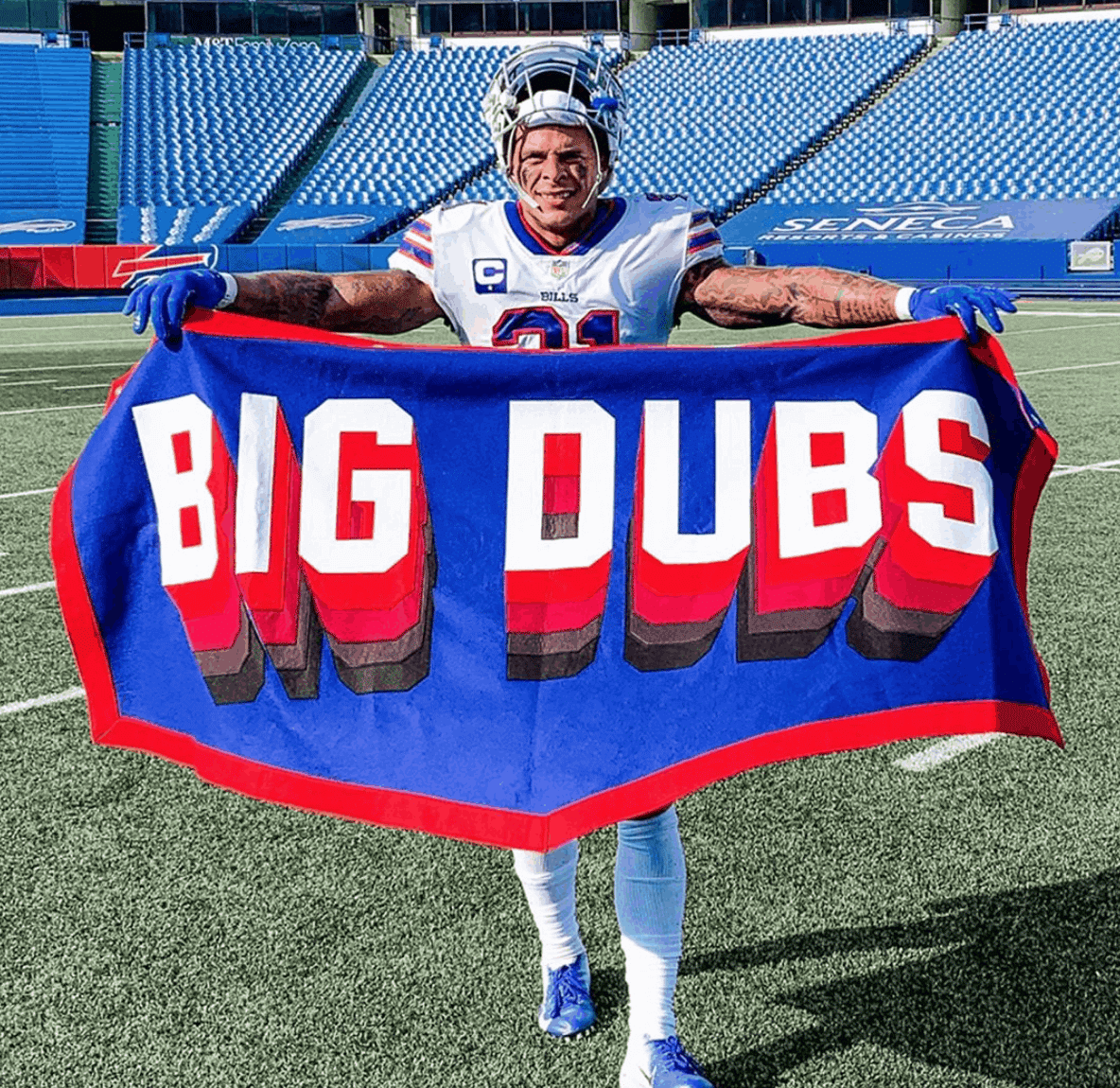 For all photos, click to enlarge
Following the Bills' victory over the Rams on Sunday, safety Jordan Poyer posed with a large felt banner that read, "Big Dubs."
This was the third straight week that a Buffalo victory had been punctuated by players displaying a banner. The previous Sunday, after the Bills beat the Dolphins in Miami, linebacker Tyrel Dodson and defensive end Darryl Johnson held up a banner that said, "Stay Hungry":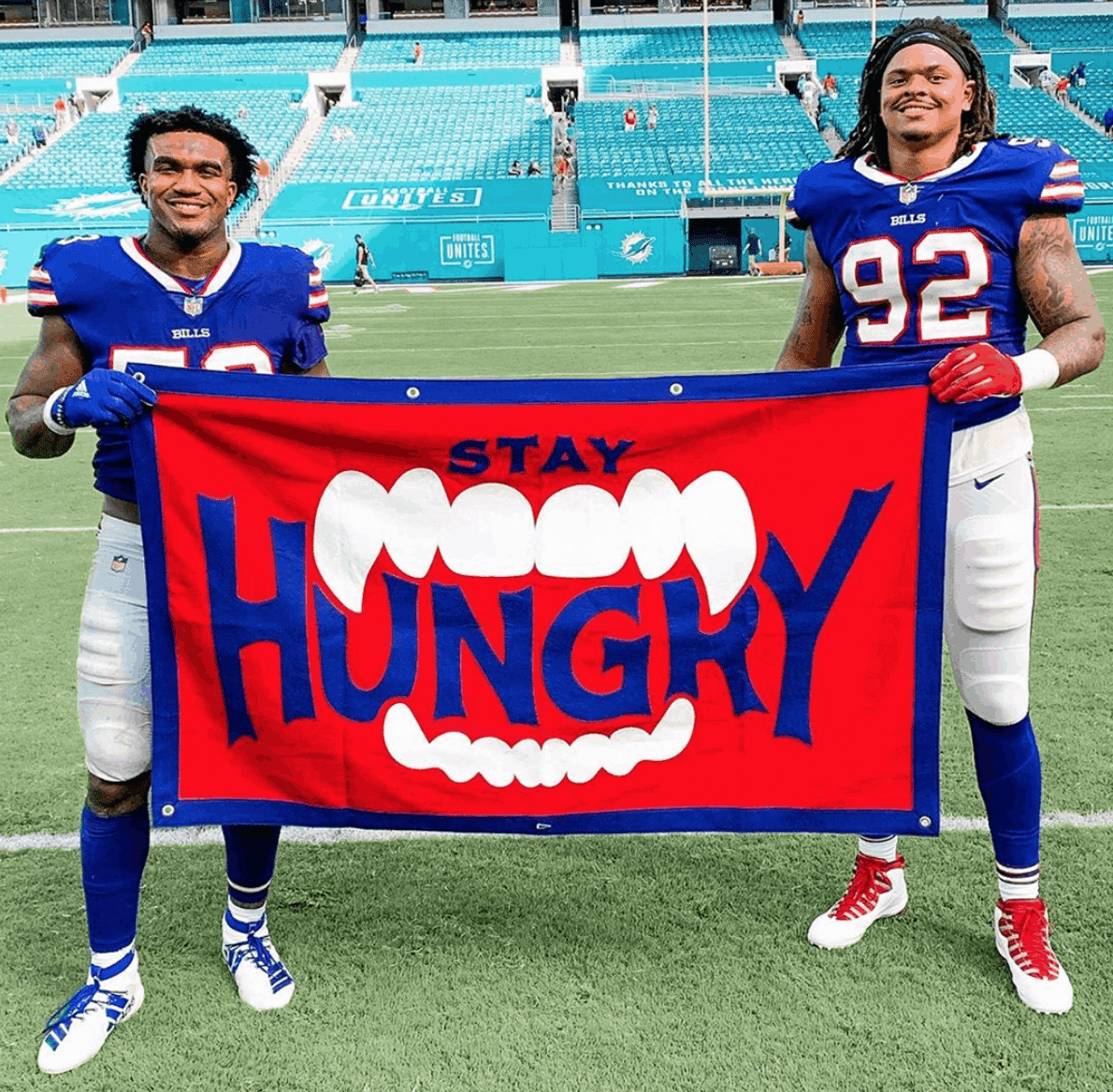 And after the team's season-opening win against the Jets, wide receiver Andre Roberts and punter Corey Bojorquez held up a small, simple banner that said, "Keep Buffalo a Secret":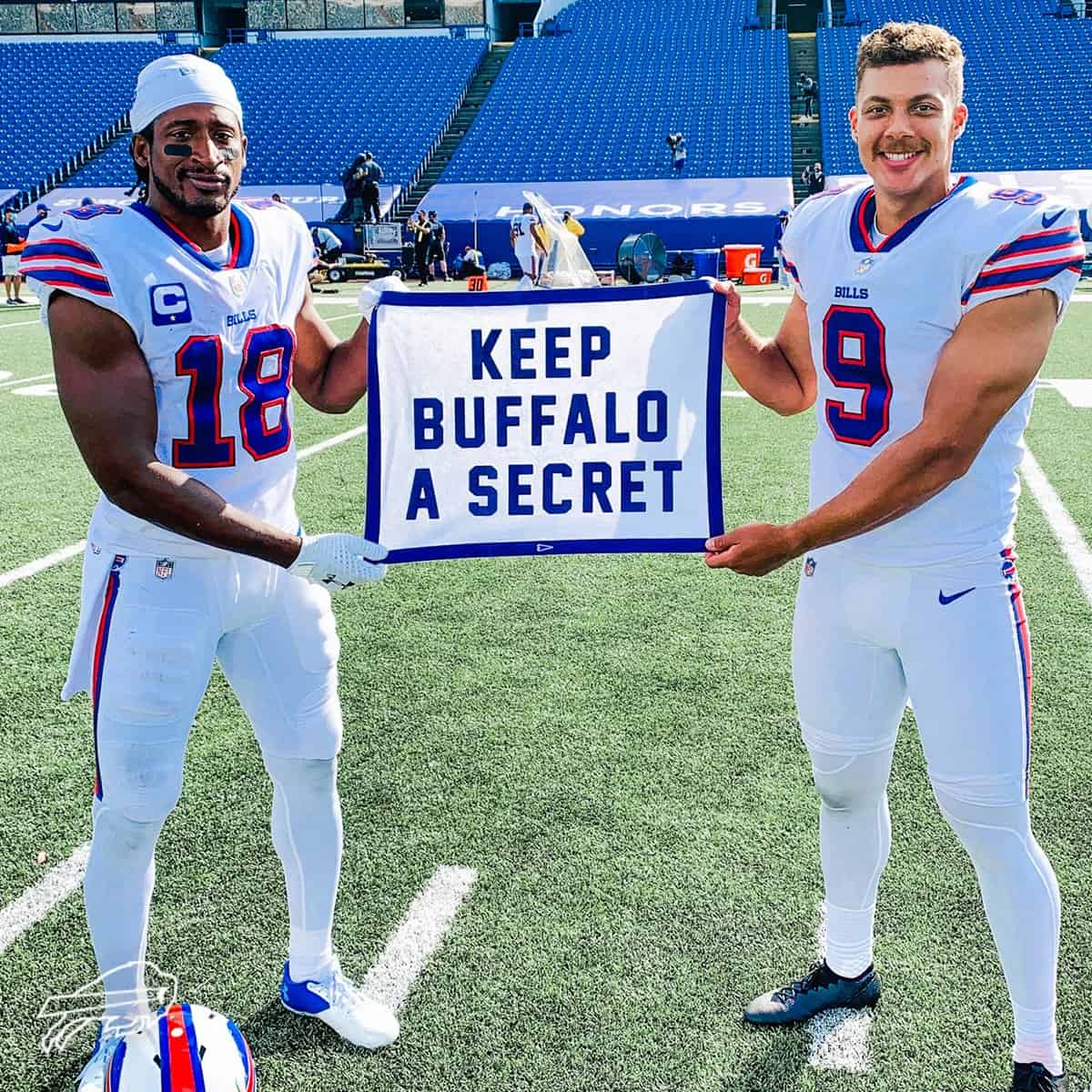 Those banners were all made by Oxford Pennant, the small Buffalo-based company that you may be familiar with from their occasional ads on Uni Watch and/or because they make our Uni Watch pennants. They've partnered with the Bills for something really, really nice, which I'm going to tell you about today.
But before I go further, I want to make it clear that although Oxford Pennant currently has an ad in our right-hand sidebar, today's blog post is not the result of any sort of quid pro quo. Oxford co-founder David Horesh and I have long supported each other because we're fans of each other's work — simple as that.
Speaking of which: The banners that the Bills players have been posing with are part of an interesting project between the team and Oxford. At the beginning of each week, Oxford's brain trust talks with the Bills' creative staff and social media team to come up with a slogan or theme for that week's game. The goal is to have the idea settled by the end of Tuesday. Oxford then creates a banner based on that idea and gets it to the Bills in time for that week's game. If the Bills win, the players pose for postgame pics with the banner, the Bills post the pics on social media (and tag Oxford, of course), Oxford makes banner-themed merch available on their website, and then the whole process repeats the next week.
If the Bills lose — well, that hasn't happened yet this season. But Horesh tells me that if the banner design is an evergreen, as the first three of this year have been, it could be carried over to the following week. If the banner is more game-specific (like if it referred in some way to the opposing team or city), it could become a phantom — produced but never to see the light of day.
Oxford doesn't have an NFL license ("And we don't want one — too expensive, too many restrictions," says Horesh), so the banners can't include the Bills' team name or logo. That's a limitation, obviously, but it's also somewhat liberating, because it leaves Oxford free to explore less obvious themes and designs. At some point, Horesh says, he expects the 2020 Bills to develop their own character and identity, which will lend itself to narratives that can be presented on the banner. For now, though, he's still waiting for those narratives to present themselves.
There's something really nice about how improvisational and fun this all seems. In a sports world where so many things feel corporate and calculated, here's an NFL team allowing a small, local company (only 22 employees!) to make things up on the fly. The whole thing is also mercifully free of branding: If you look closely and squint, you can barely see a tiny Oxford Pennant logo (basically an itsy-bitsy triangle) at the base of two of the banners — a refreshingly low-key maker's mark.
This is all a nice opportunity for Oxford Pennant, but it also reflects really well on the Bills. How many Big Four teams would be willing to do something like this? Good for them — here's hoping they keep their unbeaten streak going this Sunday, when they travel to Vegas to play the Raiders. I look forward to seeing what Oxford's cooking up for that game.
• • • • •
• • • • •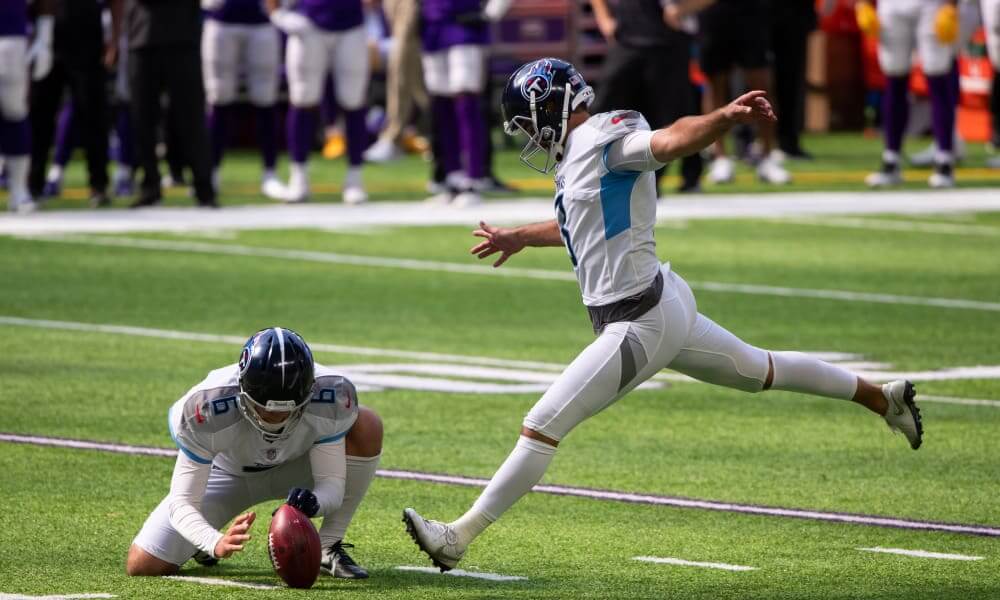 Click to enlarge
NFL follow-ups: Notice anything unusual about this photo of Titans kicker Stephen Gostkowski from Sunday's game against the Vikings? He had no sock on his kicking foot! That was by design — after an erratic first two weeks of the season, he went sockless on Sunday as a slump-buster move. Paid off, too — he kicked six field goals in as many attempts, including three from more than 50 yards out (!).
Another item I missed from Sunday: When the Bears brought reserve quarterback Nick Foles off the bench in the third quarter of their game against the Falcons, he was wearing a tinted visor (click to enlarge):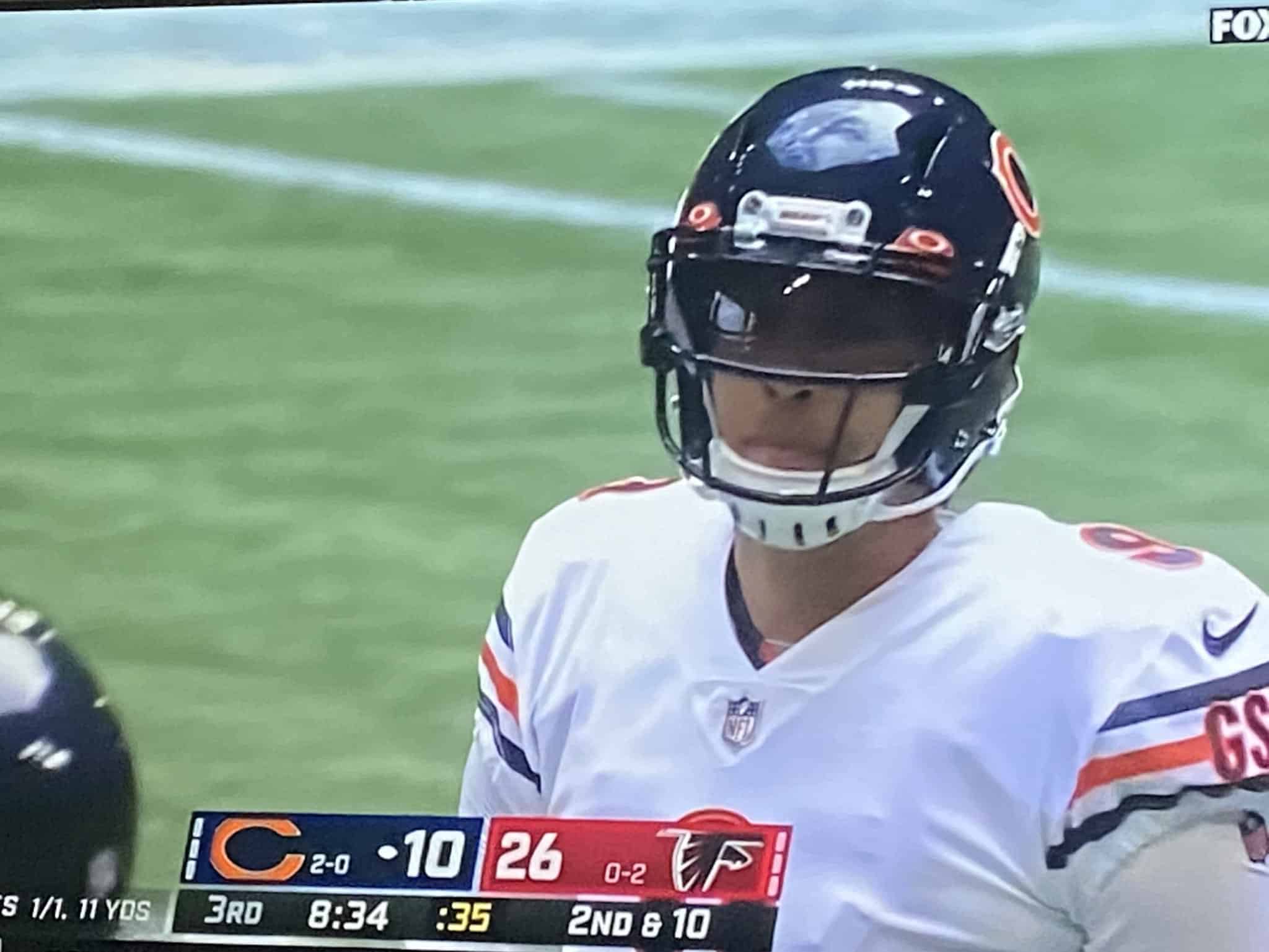 He removed the visor after his first series and played the rest of the game visor-free.
Foles has worn a clear visor before, but I don't recall him wearing a tinted one prior to Sunday's game. In fact, I can think of only two other NFL quarterbacks who've ever worn tinted visors — Michael Vick and Jim McMahon — so Foles has now joined a very select group. Are there any others I'm missing? (Update: Twitter-er @PFTsponge points out that Colt Brennan also wore a tinted visor, but only in preseason games. He never appeared in a regular season game.)
The Bears named Foles as their new starter yesterday, so his visor situation will be something to keep an eye on going forward.
(My thanks to Jerry Wolper and Bryan Dufour for their contributions to this section.)
• • • • •
• • • • •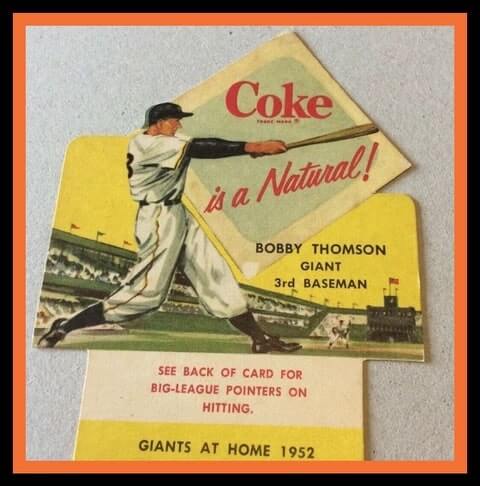 Collector's Corner
By Brinke Guthrie
Follow @brinkeguthrie 
Leading off this week with what I think was some type of Coke soft drink carton insert, judging from its shape. This is a New York Baseball Giants 1952 home schedule, featuring the previous season's hero Bobby "The Shot Heard 'Round The World" Thomson. Note: "See Back of Card for Big-League Pointers on Hitting!" 
Now for the rest of this week's picks:
• We all know the current sad state of the Los Angeles Rams' look — no need to elaborate. What we'd rather look at is this classic 1970s Rams poster. Those unis were a thing of beauty. Well … maybe in five years, right?  
• From reader Dan E., how about this nice-looking 1980s Montreal Expos cardigan sweater. And as long as we're talking about the 'Spos, let's toss in this 1980s Expos jacket.
• We go back to 1969 for this set of five Chicago Cubs frosted glasses. you get three of Randy Hundley, and one each of Billy Williams and Ernie Banks. What, no Ron Santo or Glenn Beckert?
• Also from 1969, this 1969 World Series ceramic coaster is sponsored by your friends at Chrysler, and here we have a Baseball Stars stamp album. (No stamps, though. And no team logos!)
• One more for the Cubbies, going back two years earlier to 1967: The "retro" art themes they used for their game program covers were so great!
• "Match up with your favorite team" is the slogan on this 1970s set of Detroit Tigers matches.
• This is a Boston Red Sox Jimmy Fund membership card, dating back to 1959. (More on the Jimmy Fund here.)
• Here's a vintage Pittsburgh Pirates Bat Boy Piggy Bank. Looking at other sites, this appears to be from the 1950s. 
• Terrific-looking NFL team logos on this 1970s Sears NFL blanket.
• One of my favorite logos ever is on display on this 1970s Cincinnati Stingers jersey.
• • • • •
• • • • •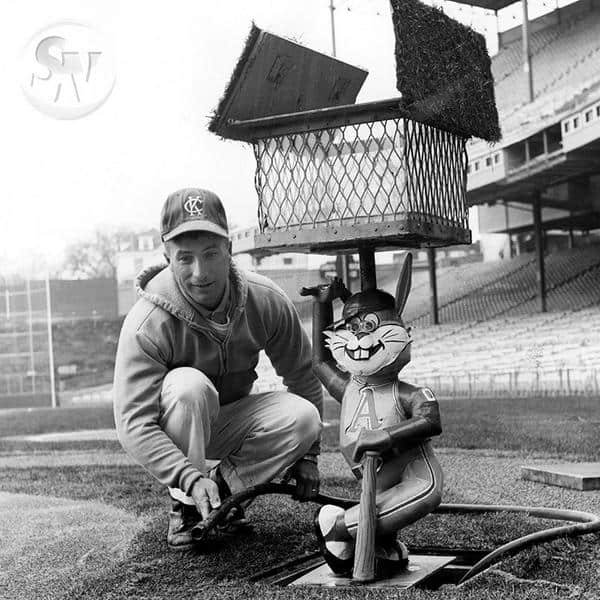 Too good for the Ticker: I assume most Uni Watch readers know about Harvey, the "mechanical rabbit" that popped up out of the ground behind home plate to deliver baseballs to the home plate ump at Kansas City A's games in the 1960s. (If not, there's additional info here.) The photo shown above is definitely the best photo of Harvey I've ever seen — a nice find by longtime reader Jeff Barak.
Incidentally, the human in that photo is George Toma, who went on to become the head groundskeeper for the Royals and eventually became the acknowledged industry expert in sports groundskeeping. He's still alive and is now 91!
• • • • •
• • • • •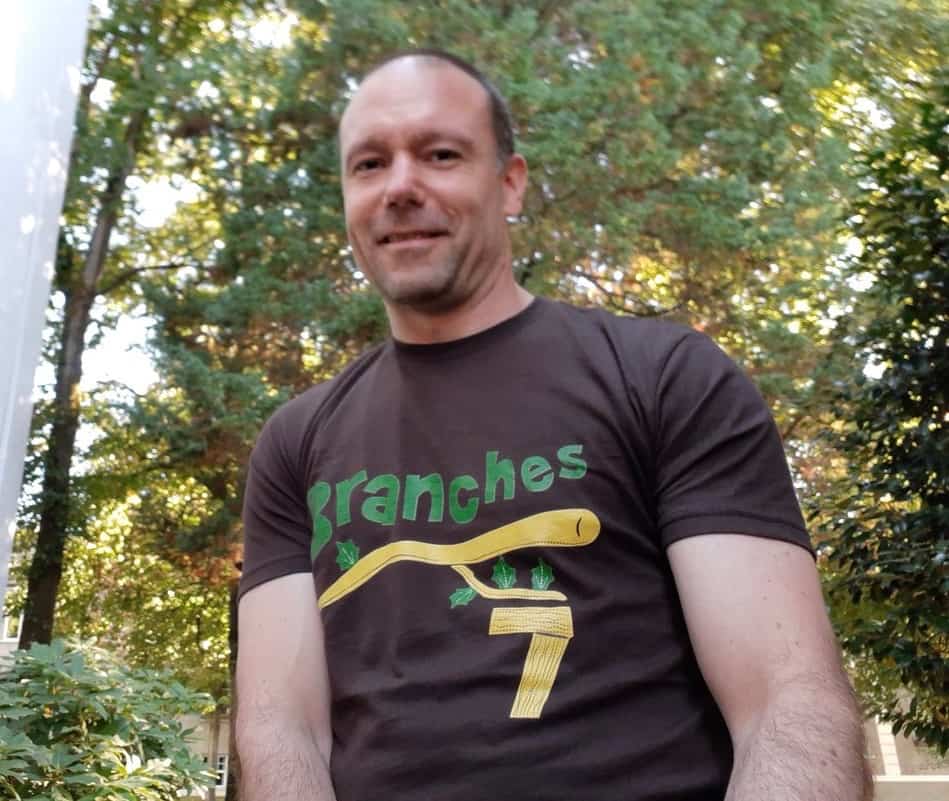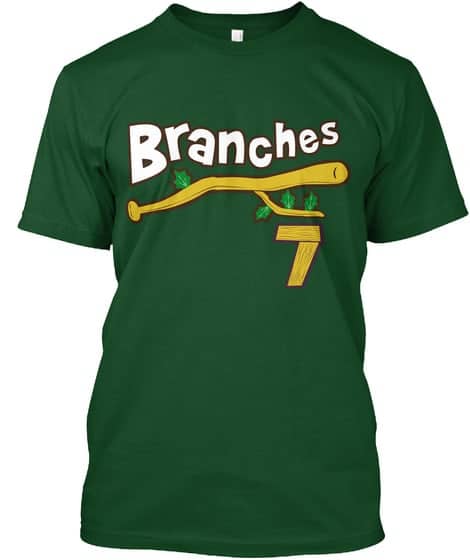 ITEM! Branches raffle: Who's that in the sharp-looking Brooklyn Branches T-shirt? None other than frequent Ticker contributor and comments section stalwart Wade Heidt! And now you can look as good as him, because Ron Ruelle, the guy who came up with the idea for the Brooklyn Branches, has offered to cover the cost of a Branches T-shirt, so I'm going to raffle that off today.
The winner will get to a choose any of the four Branches tees — home white, road grey, green alternate, or — Wade's choice — brown alternate.
This will be a one-day raffle. USA mailing addresses only. To enter, send an email with your Branches shirt choice, size, and mailing address to the raffle address by 8pm Eastern tonight. One entry per person. I'll announce the winner tomorrow. Good luck!
• • • • •
• • • • •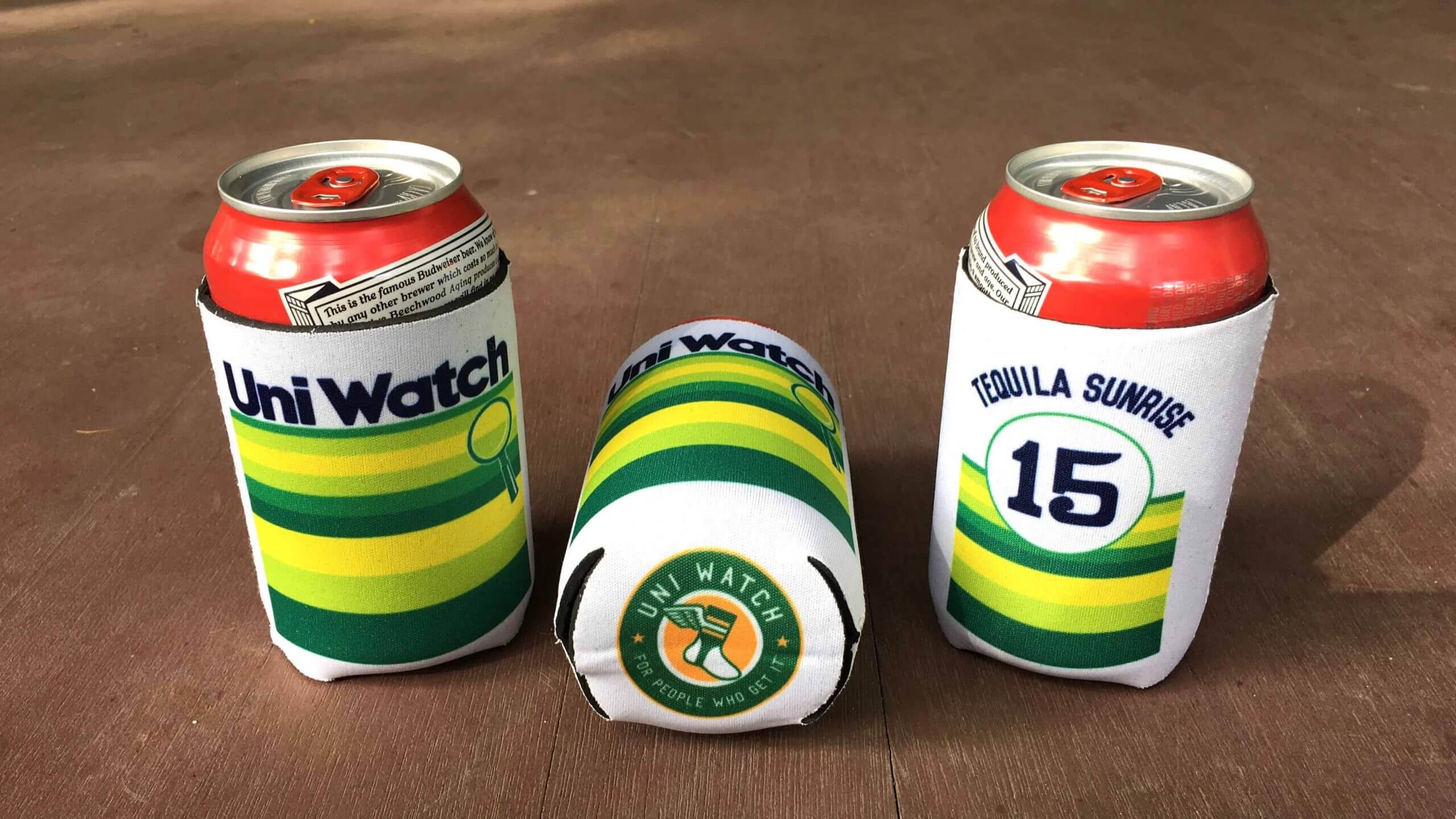 Click to enlarge
Koozies update: As of this morning, I have 10 remaining just one tequila sunrise koozies, which means they'll probably sell out today or tomorrow. So if you want one (or more than one), move fast. Update: Now sold out!
• • • • •
• • • • •
The Ticker
By Alex Hider

Baseball News: According to the Phillies, 48 fan cardboard cutouts were damaged by home run balls hit by Phillies players during the 2020 season. The players that hit those homers have signed the damaged cutouts and sent them back to the fans who paid for them (from John Cerone). … SportsCenter used outdated Padres and Brewers logos in a graphic yesterday (from @at_smithers and John Stark). … The Seibu Lions of Japan's Pacific League won their 3,000th game since moving to Saitama in 1979 and were presented with a signboard (from Jeremy Brahm). … MLB Jersey Numbers reports that the Mets assigned No. 15 to three different players in 2020, and three other MLBers were issued three different numbers this season (from Randall J. Sanders). … Also from MLB Jersey Numbers: 60 players became the first in their team's history to wear their number in a game in 2020, and another three debuted a number for the first time in MLB history.

NFL News: The Ravens wore their black alternate jerseys (but not black pants last night. They also went wtih black end zones but still had the letters "MO" printed in a separate color for deceased superfan Mo Gaba (from Gabe Cornwall). … The NFL unveiled the tie-dyed sideline caps teams will wear during October for the "Crucial Catch" initiative (from Andrew Cosentino). … Browns DE Myles Garrett recorded a sack on Washington QB Dwayne Haskins Sunday by pulling Haskins down by his undershirt (from Mike Chamernik). …  The Saints have selected an advisory agency that will help the team sell the naming rights to the Superdome after Mercedes-Benz's deal expires next summer. … A new mural of Bucs QB Tom Brady has gone up in St. Petersburg (from Mike Nessen).

College/Junior Football News: UCF has developed a crest merit system, which is personalized by name and position group and evolves as players win personal and team awards (from @CFBKnights). … Auburn added a memorial decal for former coach Pat Dye and a jersey patch for the school's social justice initiative, "Together We Will," on Saturday (from Clint Richardson). … An Alabama fan called a local TV station to complain that the helmet graphic used in the station's weather package had a number 16, even though the Crimson Tide claim 17 national championships (from Griffin T. Smith). … The ACC Tracker has been updated through Weeks 2 and 3. … The Quinte Skyhawks, the newest team in the Canadian Junior Football League, will begin play in the 2021 season (from Wade Heidt).

Hockey News: After the Lightning won the Stanley Cup last night, coach Jon Cooper wore a University of Virginia basketball national championship cap. "He wore it because the Lightning avenged an embarrassing first-round upset loss from last season, much like Virginia basketball won the 2019 title a year after losing to a No. 16 seed the season before," says Mike Chamernik. … Fargo North High School and Fargo South High School in North Dakota have combined to start a girl's hockey co-op. The team name? The Spruins — a mash-up of North's Spartans and South's Bruins (thanks to all who shared). … Italian club HC Bozen has added a COVID-19 mask to its fox logo (from Megan Brown).

Basketball News: Heat coach Erik Spoelstra played college ball at the University of Portland, so SF Jimmy Butler wore a modern version of Spoelstra's college jersey during the team's celebration after clinching a spot in the Finals (from Mike Chamernik). … The Bucks are selling a T-shirt that encourages fans to vote (from John Cerone). … On that same note, LeBron James has a new clothing line in connection with his "More Than A Vote" campaign (also from John Cerone). … Former Wizards G Gilbert Arenas claims he once wore orthotic inserts left behind by Michael Jordan after his retirement from the Wizards in 2003 (from Timmy Donahue). … New uniforms for the University of Arkansas at Little Rock (from Matt Snyder). … Cross-listed from the hockey section: After the NHL's Tampa Bay Lightning won the Stanley Cup last night, coach Jon Cooper wore a University of Virginia basketball national championship cap. "He wore it because the Lightning avenged an embarrassing first-round upset loss from last season, much like Virginia basketball won the 2019 title a year after losing to a No. 16 seed the season before," says Mike Chamernik.

Soccer News: Macarthur FC, a club in the Australian/New Zealand A-League, has unveiled new home and road jerseys (from @altimetr). … Russian fourth tier club FC Peresvet Domodedovo has a jersey with St. Alexander Peresvet's picture. Peresvet is a patron of the football club, which is linked with Orthodox Church (from Ed Żelaski).

Grab Bag: We've seen plenty of sports crossover jersey concepts, but I think this is the first time we've seen a NASCAR/football crossover (from Luis Fernando). … New logo for the Southeastern Lacrosse Conference of the Men's Collegiate Lacrosse Association (from Asa Domolky). … New logo for USA Curling (from Scott Rogers). … Louisville's field hockey team wore uniforms inspired by the Muhammad Ali jerseys worn by both the school's football and basketball teams in recent years (from M. Brinston Berry). … Mike Rosenberg found a Jewish charity drive that's offering a kippah made with a piece of clothing of Rabbi Menachem Mendel Schneerson, the final rabbi of the Chabad dynasty who died 25 years ago. "It reminds me of the sports cards that include a piece of jersey," Mike said. … Tennis players at the French Open have a lot of complaints about the balls (from Jason Hillyer). … The two candidates in last night's Montana senatorial debate both went without neckties (from James Beattie).
• • • • •
• • • • •