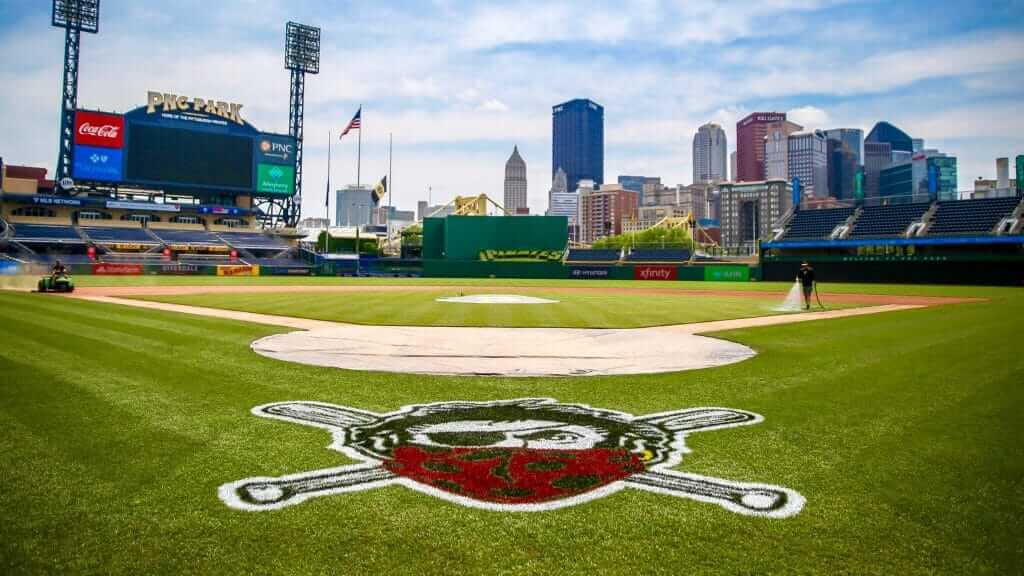 Good morning! Greetings from Uni Watch HQ, where all three inhabitants continue to be healthy and safe (and where, for the first time in a week, we're no longer under curfew, although it's not like we had big nighttime plans anyway).
Readers have sent me some interesting questions in recent weeks. Many of them have been about the state of the uni-verse once the sports world returns to action, and a few have been about me. Today I'll going to address some of those questions, FAQ-style.
These questions and answers assume that major pro and college sports leagues will resume play at some point this year. That's still not a foregone conclusion, of course, but let's pretend that it is, at least for today.
Here we go:
Since the NBA will be playing all its games in Orlando, will they create a generic court design or what?
There's been talk that teams could ship their home courts to Florida, although that would apparently present some significant logistical challenges. One all-purpose design, perhaps with the NBA logo at center court and assorted public health messages/icons in the secondary spots, seems more likely.
Same question for the NHL: Since all the games will be taking place in two as-yet-undetermined "hub" cities, what will they do about the ice design?
Good question! I haven't yet heard any chatter about this one, nor do I know how tricky it is to swap out an ice design as compared to a basketball floor. But considering how many other things the league will be dealing with (Covid testing, potential quarantining, etc.), an all-purpose design with the NHL logo seems most likely.
Do you think the combination of the pandemic and the recent protests will have any effect on how many uniform changes we see for the rest of the year, especially in college sports?
I think there are two separate issues here. First, there's the question of whether the pandemic has affected manufacturing capacity and supply chains in a way that could affect on-field and/or retail product. If so, that could lead to a 2020 redesign being postponed to 2021. A contact at one Nike-outfitted FBS school tells me that this could indeed be the case for his school's football team.
Then there's the question of optics: When our country is wrestling with two large crises, is "Hey, check out our new uniforms!" really the best thing to be saying?
Regarding the latter question, seven NFL teams decided to go ahead with their new uniform unveilings in the midst of the pandemic (but before George Floyd's murder and the resulting protests). I know at least two of those teams — the Browns and Falcons — pondered beforehand whether that was appropriate but ultimately decided it was okay.
But NFL uniform redesigns — which by rule can take place only once every five years and usually occur much less frequently than that — are much bigger deals than college football or basketball redesigns, which for some schools seem to take place nearly every season. And so postponing an NFL redesign would also have been a much bigger deal. In other words, I'm not so sure the NFL example tells us much about how college football and hoops will handle things.
But it's an interesting question. On the one hand, going ahead with things like new uniforms sends the reassuring message that the world is okay. On the other hand, it can also run the risk of seeming tone-deaf. I'm very curious to see how it plays out.
In any case, we'll likely start to get a better sense of things in about a month, which is when the wave of new college football uniforms usually begins to appear.
With teams and leagues losing tons of money, don't you think they'll try to make up that lost revenue by adding uniform ad patches?
I wrote about this issue last month. My take is that an increase in uni ads is unlikely.
What do you think about this idea of MLB possibly putting virtual ads on the field, including on the back of the mound?
To the surprise of exactly no one, I hate it. Fortunately, my favorite team has a very good pair of radio broadcasters.
Since fans won't be allowed to attend the games, there have been some reports that leagues might use fake crowd noise in the empty stadiums and arenas. What do you think of that?
I think there's a good chance they'll do it, but I wish they wouldn't. I may do a separate post about this in the near future.
A few months ago, in the most recent installment of Question Time, you said you thought sports leagues, once they returned to action, would wear some sort of patch or decal to acknowledge the pandemic. Do you think they'll do something similar to acknowledge the death of George Floyd and the resulting racial justice protests?
I think this can be looked at on three different levels:
• On the league level, I could see some sort of league-wide uniform gesture in the NBA and NFL. Those two leagues have high percentages of black roster representation (70% in the NFL, 74% in the NBA) and also have groups of black players who are highly engaged in pushing for progressive change. One of those leagues (the NBA) has a commissioner who has generally applauded those efforts all along, and the other (the NFL) has a commissioner who has historically been less receptive to such efforts but has now begun to change his tune. I think all of those factors point in favor of some sort of league-wide uniform gesture for those two leagues.
(One potential complicating factor for the NBA: After former commish David Stern died on New Year's Day, all NBA jerseys added a black memorial band for the rest of this season. If they keep that band and also add something for the pandemic and something else for Floyd, things could get crowded, especially with the maker's mark and ad patches.)
While I'm still fairly certain MLB and the NHL will have some sort of league-wide patch or decal for the pandemic, I think it's more iffy that they'd do something for Floyd and the larger protest movement. Maybe they'll combine both sentiments into one symbol..? We'll see.
I doubt the NCAA will do anything on a universal basis.
• On the team level, I think it's fairly likely that teams and schools in Minneapolis (where Floyd was murdered) and Houston (where he grew up) will wear some sort of patch or decal. Beyond that, I think it will likely depend on the leanings of a team's owner and/or the fan base and community.
• On the individual player level, I think we'll see many, many players wearing all sorts of racial justice messaging. Much of it will likely be informal and handwritten — on shoes and sneakers, on baseball caps, on NFL towels, on NBA headbands, on wristbands, on base-layer shirts, on eye black, you name it. And unless that messaging includes profanity ("Fuck Tha Police," e.g.), I think the leagues will allow it without any penalties or fines.
These patches and messages seem stupid. Will they accomplish anything or make any difference?
Will a patch on a uniform bring about racial justice, or police reform, or anything along those lines? No, of course not. Similarly, a patch commemorating a special event, or showing support for local hurricane victims, or memorializing a former player who's passed away, doesn't "accomplish anything" either, but everyone pretty much accepts those types of patches without questioning them.
In short: A patch of any kind becomes part of the historical record. It says, "We, as an organization, think this is important at this point in time, and we wanted you to know that about us." You can decide for yourself what that accomplishes or whether it makes any difference.
I noticed that your Twitter avatar now has black stripes where the yellow stripes would normally be. Is that related to the current protests?
Yes. I added those a little over a week ago. Just a small gesture in support of victims of racial injustice.
Why didn't you just put a black band around the logo?
I already did that for Memorial Day and didn't want to use the same gesture for two different things.
Honestly, no (not even baseball, which is my favorite sport and would normally be in full midseason swing right about now). I haven't watched any KBO games, any old games — nothing. And I've felt fine.
This has helped confirm something I'd long suspected: For me — and I want to make clear that I'm speaking only for myself here — sports had become like something between junk food and a narcotic. It felt good, but my consumption of it often seemed habit-formed and sometimes a bit less than healthy.
Of course, my relationship to sports is different than most people's, because writing about sports is the biggest part of how I make a living. So that may have something to do with my feelings about it. In any case, going cold turkey has been an interesting and largely liberating experience. Moreover, it hasn't made the slightest dent in my ability to keep producing Uni Watch posts. I'm fairly certain I could keep doing Uni Watch on a daily basis for a long time — like, at least two years — even if the sports world stayed shut down.
But I'm not rooting for that to happen. The sports world needs to come back for many reasons, not the least of which is that it employs thousands of people and generates economic ripples that provide livelihood for tens of thousands more (maybe even hundreds of thousands). In practical terms, the sports industry has become much like the banking and financial sector was in 2008: too big to fail.
And of course I realize many people, including many people reading these words right now, miss sports more than I do. So I want sports to come back for your sakes as well. Whenever the games eventually start up again, I'll be watching like everyone else. But I admit that a little part of me will also be sad, because I've enjoyed this little interlude.
• • • • •
• • • • •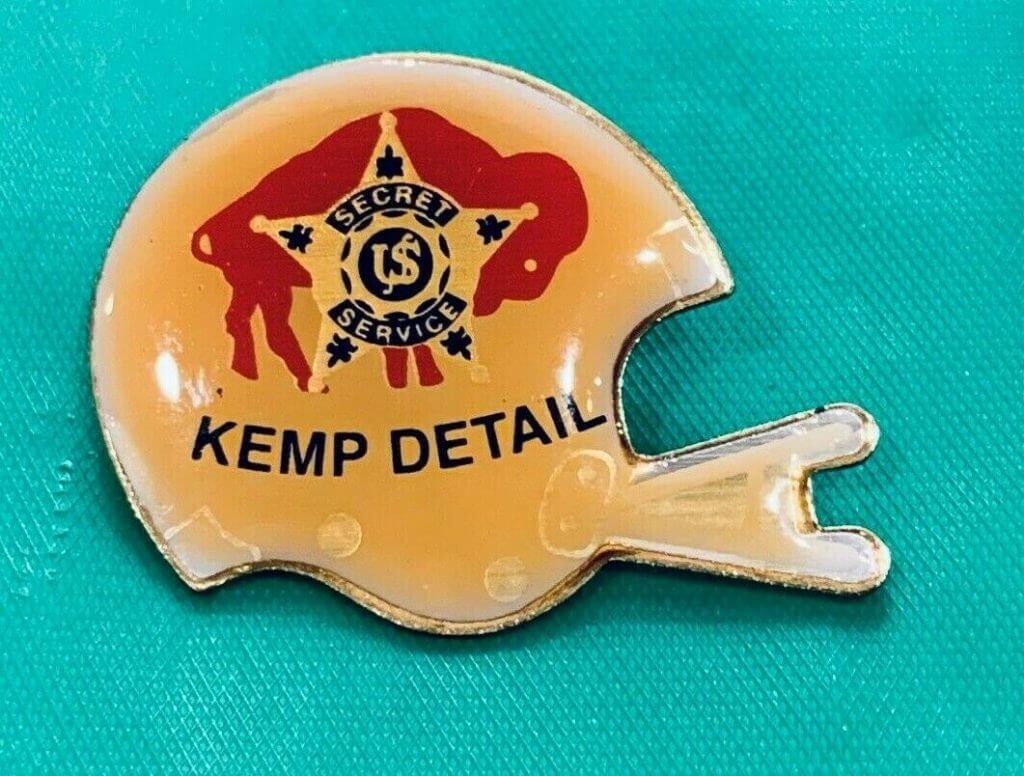 Click to enlarge
You learn something new every day: Here's something I didn't know until last week: Secret Service agents have a tradition of making and trading unofficial lapel pins whose designs related to the person they're assigned to protect. So in 1996, when Rep. Jack Kemp was running for Vice President (he was Sen. Bob Dole's running mate that year, but they lost to the Clinton/Gore ticket), agents assigned to Kemp created a pin featuring a Bills helmet, because Kemp famously quarterbacked the Bills in the 1960s. A cool and surprising place for uni-related imagery to appear. You can even buy that pin on eBay!
(Big thanks to reader/commenter JFinDC for schoolig me on this one.)
• • • • •
• • • • •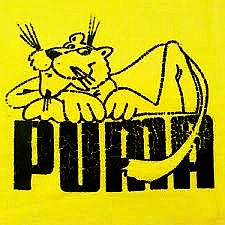 Photo by Charles T. Higgins, Philadelphia Evening Bulletin; click to enlarge
Hex-tra helping: Here's something else I didn't know: In 1970, after losing a bunch of players to injuries, the Phillies tried to change their luck by installing Pennsylvania Dutch hex symbols — a common sight in southeastern Pennsylvania — on top of their dugout. According to this article, the signs "were installed without injury," so that was an improvement right there.
(Big thanks to reader/pal Jeff Ash for this one.)
• • • • •
• • • • •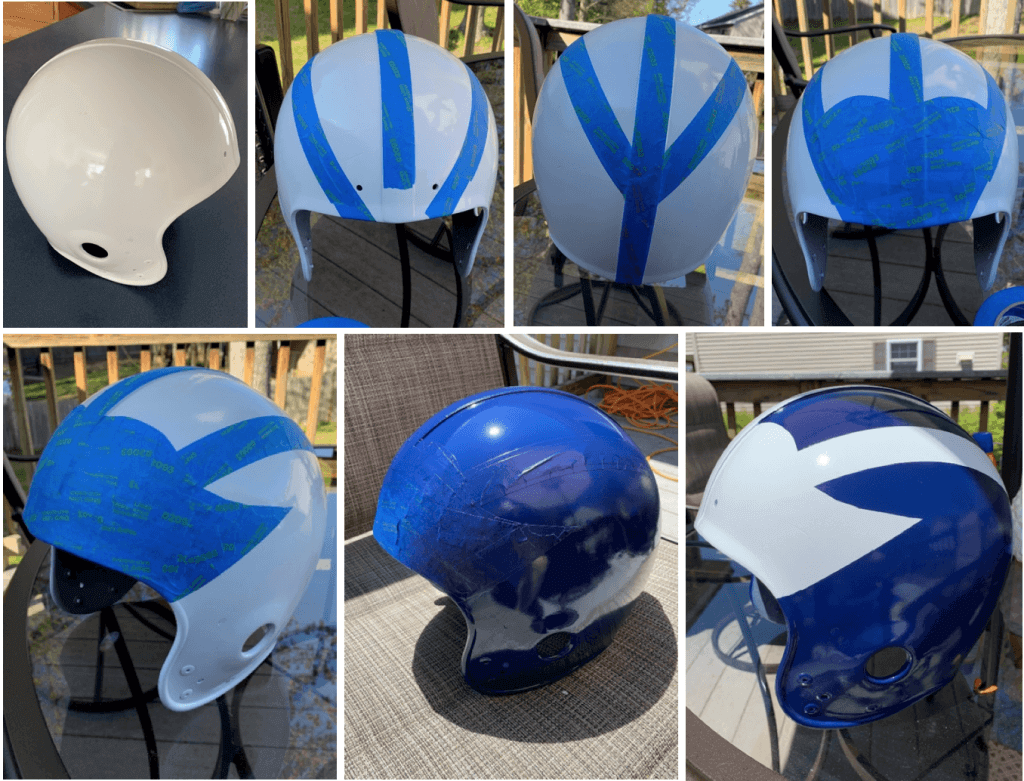 Click to enlarge
Here's the Maine thing: Uni Watch cap fulfillment manager Mark LaFountain is a man of many headwear talents. In addition to packing and shipping all of our Uni Watch cap orders, he also likes to make replica football helmets. He recently took up a friend's request for a re-creation of a 1953 University of Maine helmet.
Mark started with a Riddell VSR4 helmet that he sourced from a local middle school that was going to discard it. He then went through several rounds of sanding and priming, filled in some of the era-inappropriate drill holes, added masking tape to create the winged design that Maine used at the time, and then painted the helmet blue. Here's how it turned out (click to enlarge):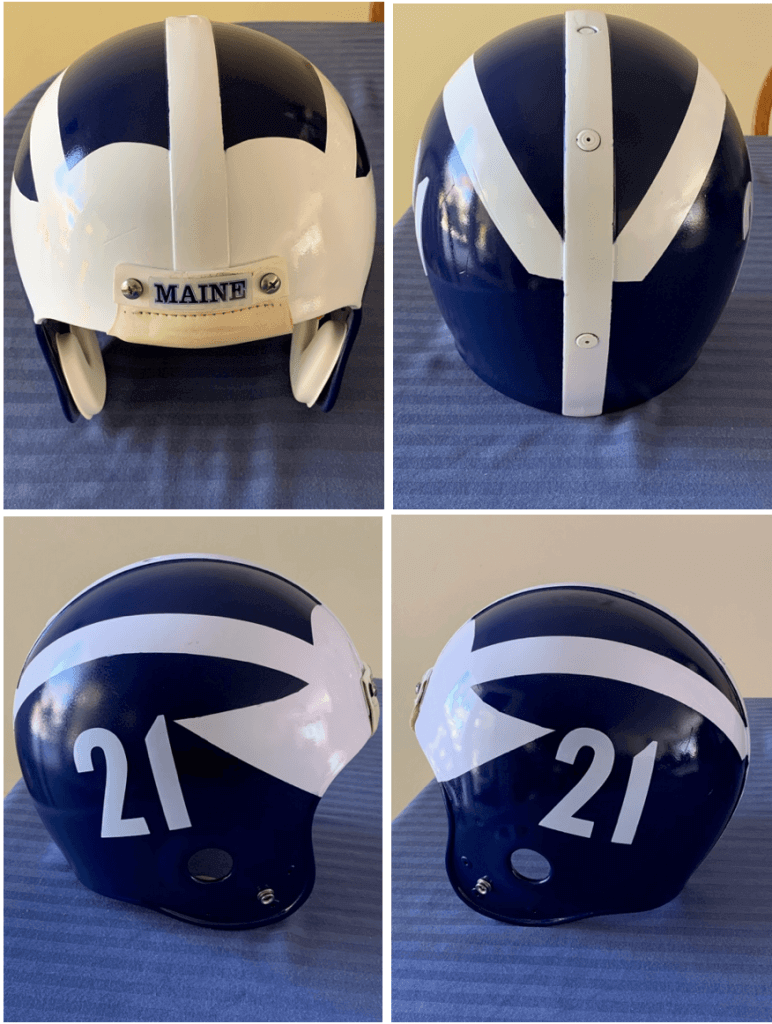 Nose bumpers like the one Mark used didn't yet exist in 1953, but Mark wanted to include the word "Maine" on the bumper panel so he decided to include it, even though it's technically era-inappropriate.
Nicely done, Mark.
• • • • •
• • • • •
Click to enlarge
Pin Club update: As of this morning, there are only 56 June pins left, which means we sold over 80% of the run in the first week. If you want one, move fast.
Remember, you can save 15% on the pins (and on everything else in the Uni Watch Shop and the Naming Wrongs Shop) by using the checkout code COMMUNITY.
My thanks, as always for your consideration.
• • • • •
• • • • •
Membership update: One of the fun things about this year's Purple Amnesty Day is that several readers, including Bob Andrews, ordered cards based on the purple tequila sunrise shirt that we sold for last year's Purple Amnesty Day. Very meta!
Bob's card — one of a whopping 13 designs that he's ordered over the years (thanks, Bob!) — is part of a new batch of designs, most of them nauseatingly purple, that's been added to the membership card gallery.
Ordering a membership card is a good way to support Uni Watch (which, frankly, could use your support these days). And remember, as a gesture of comm-uni-ty solidarity, the price of a membership has been reduced from $25 to $20 until further notice.
As always, you can sign up for your own custom-designed card here, you can see all the cards we've designed so far here (now more than 2,800 of them!), and you can see how we produce the cards here.
• • • • •
• • • • •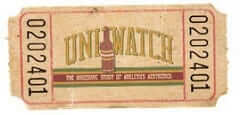 ITEM! Essential workers membership raffle: Reader Pete Graofalo has generously donated a membership for me to give away, with the stipulation that the raffle be open only to essential workers during the pandemic — healthcare workers, first responders, grocery workers, food deliverers, sanitation workers, transit workers, and so on — so that's what we're going to do today.
This will be a one-day raffle, and we'll be doing it on the honor system. If you're an essential worker, feel free to enter by sending an email to the raffle address by 8pm Eastern tonight. Feel free to let me know what job you have. One entry per person I'll announce the winner tomorrow.
If you're not an essential worker, don't worry — we have more raffles coming up.
• • • • •
[adrotate group="2″]
• • • • •
The non-sports franchise: On Saturday I filled out an absentee ballot for the upcoming New York State primary (something they're allowing this year due to the pandemic, even for people who will not be out of town). First time I've voted by mail since, I think, my freshman year of college in the fall of 1982.
Requesting, receiving, and using the absentee ballot was all smooth and straightforward, and I know that voting by mail is standard in several states, definitely the best option during the pandemic, and probably the wave of the future. Still, voting this way feels like a comparatively sterile civic exercise compared to voting in person. (That's easy for me to say, of course, since I've always had a fairly flexible schedule and lived in areas with a robust ratio of polling places to voters. I'm well aware that many of my fellow citizens, no doubt including some Uni Watch readers, are not as fortunate in either regard and that voting in person is therefore more problematic for them.)
On the plus side, I don't think I've ever enjoyed the luxury of shirtless voting before. And I didn't have to cope with the usual annoyance of the pen being oriented for right-handers.
• • • • •
• • • • •
Click to enlarge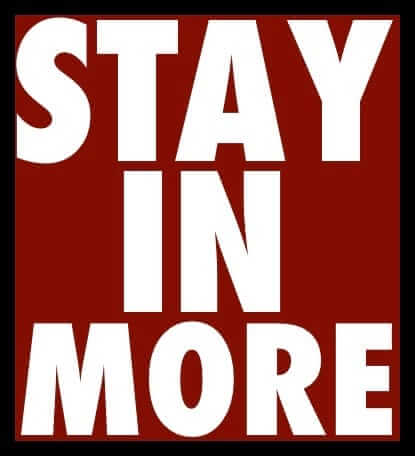 What Paul did last night two nights ago: I usually like to drink out of a small-ish glass. But as you can see in the photo above, I used a big-ish plastic cup on Saturday.
That's because Saturday was a hot, humid day — the first day that really felt like summer. I decided a while ago that on that day I would break out a special cup for the occasion.
Here's a closer look:
Cool, right? My friend Rex gave me a set of them for Christmas a few years ago. They're reproductions, not originals, but still fun. Obviously, I should have broken them out two days earlier, on June 4, to mark the anniversary of one of the greatest nights in sports history. But hey, there's never a bad time to celebrate clever and well-conceived promotions, am I right?
The branch is still there.
As always, you can see the full set of Pandemic Porch Cocktails™ photos here.
• • • • •
Sorry, no Ticker today because Jamie Rathjen had the day off for his birthday. The Ticker will return tomorrow. — Paul