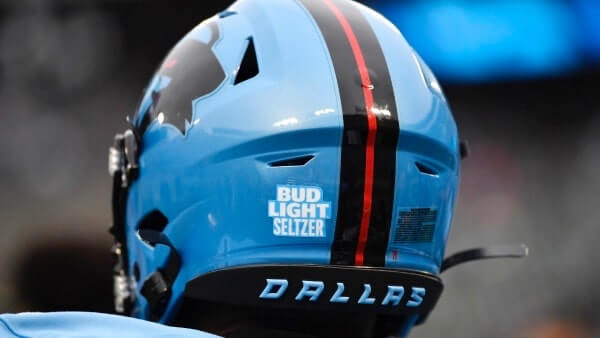 Yesterday, as a tangential issue regarding the Rams' new uniforms, I addressed the topic of whether their new jersey patches are a precursor to NFL uniform ads. (They're not.) Today I want to explore another aspect of uniform ads that lots of people have been discussing this week: Whether leagues can use uniform ads to restore the revenue they're losing due to the pandemic.
That idea began began circulating on Tuesday on NBC Sports's Pro Football Talk site, where PFT honcho Mike Florio suggested that the pandemic is providing the NFL with a golden opportunity to increase in-game advertising — including advertising on uniforms.
Florio began by citing a CBS Sports article that had been published earlier in the day. That CBS article included the following (apologies in advance for the large chunks of text I'm going to be quoting here):
Team sources agree that, in order to deliver value to [existing in-stadium] sponsors, the league must relax its advertising rules for this unique season. One rule in particular is the so-called "40-foot rule," which mandates teams cannot have local advertising in the space 40 feet above field level. (For context, the goalposts top out at 35 feet.)

It wouldn't be permanent, and no, it probably wouldn't make every existing sponsor happy. But it'd be a way to cover some of the losses. Some opportunities that the NFL hasn't fully tapped include giving sponsors placements:

• On the walls surrounding the field

• Using a tarp across empty seats in the lower bowls

• On the goalpost net, a very visible placement for field goals

• In-stadium virtual advertising that could be rotated throughout a game
But Florio then took the idea a step further, bringing up an idea that wasn't mentioned in the CBS article:
But why stop there? At a time when fans will be starved for sports, will anyone complain about, for example, the placement of ads on uniforms? Or how about a green-screen decal on the helmet that becomes a rotating advertisement during close-up shots?
Interestingly, Florio more or less admitted — admiringly! — that this would basically be a cynical way for the NFL to exploit the pandemic as a way to make uniform ads a permanent thing — sort of a "Let no tragedy go to waste" approach:
As the NFL tries to turn a negative into a positive, one very lucrative positive could be an opportunity to jump with both feet onto what had long been regarded a third rail for the NFL and embrace a proliferation of advertising, all in the name of replacing the revenue lost via the absence of fans.

And then, once fans are back and the bridge has been crossed, the new approach to advertising will simply continue, ostensibly to help further replace the revenue lost during the 2020 season. Then, after a few years of getting everyone used to it, the ads will just stay put.
Note the use of "ostensibly" there — he's basically acknowledging that the whole pandemic/revenue rationale would be bullshit, and he's encouraging them to shovel as much of that bullshit as possible.
A few hours after Florio's article appeared, Bartstool Sports's popular Starting 9 podcast tweeted this:
Turn the players into walking billboards, just get them back onto the field pic.twitter.com/fAfrewLgJ5

— Starting 9 (@Starting9) May 12, 2020
They didn't have any more to say about it than that, at least not in writing. I don't know if they discussed it on their podcast. (Anyone..?)
Now, as you all know, I'm very opposed to uniform ads. But that's not what I want to talk about today. Instead of addressing whether more uniform advertising would be good or bad, I'm more interested in whether these scenarios — scenarios in which uniform advertisers would suddenly flock to the NFL and MLB if given the chance — are actually plausible. Obviously, Florio and Starting 9 think it would happen, and I had enough back-and-forth with people on social media this week to get the sense that many fans think it's a slam-dunk as well. But is that actually realistic?
Let's review what we know:
1. When the NBA introduced uniform ads in 2017, many people (myself included) thought all 30 teams would hook up with advertisers fairly quickly. Instead, it took about a year and a half — and that was in the midst of a fairly strong economy.
2. As we learned from the anonymous CEO who I interviewed last week, many NBA teams are now seeking new uni advertisers, which suggests that the initial advertisers were not happy with the results.
3. The economic downturn caused by the pandemic has changed the advertising landscape, because advertisers are feeling the pinch just like everyone else. On Tuesday, for example (the same day Florio and Starting 9 called for more uniform advertising), The Wall Street Journal reported (paywalled) that television advertisers are set to cancel $1 to $1.5 billion in ad buys for the third quarter. As for how this might affect uniform ads, let's look back at this exchange I had with that CEO:
Uni Watch: [A]ll the potential advertisers and sponsors will be facing financial challenges of their own, and will probably be cutting back on their own marketing budgets, especially since so many consumers are out of work or at least cutting down on spending because the future is so uncertain, which means advertising probably won't provide the same kind of ROI that it did in the past, so we could actually see a decrease in sports sponsorships [due to the pandemic]. What's your take on that?

CEO: […] From an advertiser standpoint, or from a brand standpoint, when times get tough, your level of scrutiny on every dollar out the door gets more and more focused. You get super, super-tight on it. So if I know that my TV commercial is going to cost me X and make me Y, then that's a very certain thing. But when you start thinking about a patch on a uniform, that's much more about keeping your brand top-of-mind for people. It's a high-level awareness, but it's harder to quantify. So when you're a business, in a climate like this, you need to see performance right away.

Budweiser, Pepsi, Coke, those kinds of brands, they may need to just maintain top-of-mind awareness. But when you start thinking about brands that are in the business of retailing things — and that could be everything from a car down to a T-shirt — the further you get away from sales performance, the harder it is to justify.
In other words, the CEO said that a uniform patch — something that provides visibility but not a specific marketing pitch that generates measurable cause-and-effect sales results — would be harder for most companies to justify in the current economic climate.
4. Assuming these sports come back this year, there's some major fiasco potential. The low-grade fiasco (at least from the leagues' perspective, although it would be more calamitous for society at large) is that we see a resurgence of virus outbreaks around that country that makes sports untenable and forces the leagues to shut back down. Advertisers don't like that kind of uncertainty. Do you really want your company's logo to be associated with an abortive season tied to one of the worst calamities in modern history?
The high-grade fiasco would be if athletes start to test positive. Imagine two NFL teams facing each other on Sunday, and then two players — one from each team — come down with symptoms and test positive on Friday, and then SportsCenter finds the play where Player A tackled Player B and keeps showing it over and over in slow motion all weekend long while Scott Van Pelt says, "Right there, that could be the moment where the transmission of the virus occurred." Is that really the kind of setting where you want your company's logo to be prominently featured? You might not have thought of that, but I can assure you that professional marketers are thinking about it right now, and it's their worst nightmare.
———
When you add all of those things together, it doesn't seem at all certain that uniform advertisers would come flocking to the NFL or MLB, assuming such an opportunity were offered to them (which, let's remember, neither league has actually proposed). Is it possible that some companies would jump at the chance? Sure. Is it also possible that it might be a tough sell with few takers? Also sure. Either way, it's clearly not slam-dunk scenario, and anyone who claims otherwise — like, say, Mike Florio or the Starting 9 crew — is definitely talking out of his/her ass. That's my main point with this post, to remind everyone that all the armchair experts out there are either cranking out pointless coronavirus filler, exhibiting a serious lack of critical thinking, or both.
Meanwhile: I saw a lot of people responding to the PFT and Starting 9 posts with statements that more or less boiled down to "I don't like uniform ads, but I'd be willing to accept them if that's what it takes to restore live sports this year." Leaving aside the question of whether billionaire owners need to have their operations underwritten by more uni ads, I thought it would be interesting to frame that choice the way Florio outlined it — with the one-season ad experiment serving as a Trojan horse for ad-clad uniforms for perpetuity. So I set up a Twitter poll to see how many of my followers would be willing to accept a lifetime of NFL uni ads in return for a 2020 NFL season:
POLL: If you had to choose:

(a) NFL adds advertisers/sponsors to jerseys and helmets this season to make up lost revenue and then keeps the uni ads in 2021 and beyond

or

(b) no NFL games this season but uniforms remain ad-free in foreseeable future

Which would you choose?

— Paul Lukas (@UniWatch) May 12, 2020
Obviously, a poll of my followers is not representative of all sports fans, and all sports fans are not representative of the public at large, and so on. It's just a Twitter snapshot — no more, no less. Interesting, though!
(My thanks to @RustyFlynn, who was the first to point me toward the PFT article, and also to @SDubs35, who let me know about the Starting 9 tweet.)
• • • • •
• • • • •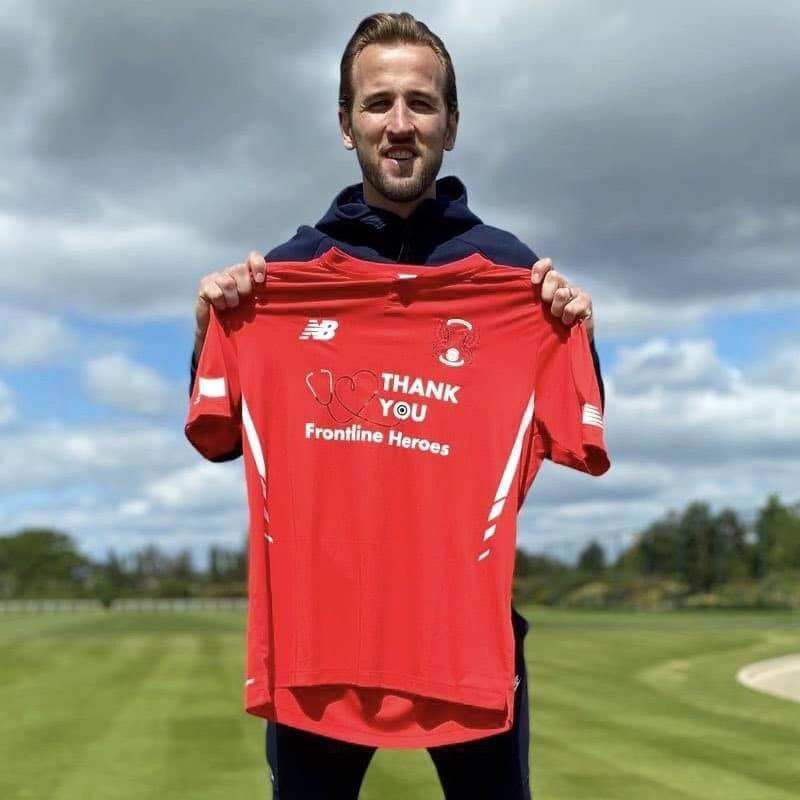 Soccer Star Buys Former Team's Ad Spaces
By Jamie Rathjen
Yesterday, English League Two team Leyton Orient revealed their shirts for next season with a coronavirus-related twist: In what the club said is the first arrangement of its kind, Tottenham Hotspur striker Harry Kane bought the front-of-shirt ad spaces on all three shirts and donated them to charities.
The first shirt (shown above) displays a message thanking National Health Service workers; the second shirt features the logo of Haven House, a local children's hospice; and the third shirt showcases Mind, a mental health charity that is already incorporated into the English Football League's number and NOB font.
Kane's relationship to Orient is that he was sent to the then-League One club on the first of four loans away from Tottenham for the last few months of the 2010-11 season, and secured his first professional start and goals there. If you're not familiar with the loan system, it allows clubs around the world to send players to other clubs for short periods, generally of up to one season, for various reasons while retaining the player under contract. In the U.K., loans are favored as a way for young players to gain experience in lower divisions with real pro teams, because club youth teams play most of their games against one another in competitions such as Premier League 2 and Scotland's SPFL Reserve League.
Most loanees' contributions to their temporary homes don't extend beyond their short loan spells, for which they might be at least fondly remembered if not signed by the team afterwards. But Kane decided to give back — an excellent gesture by an excellent player.
• • • • •
• • • • •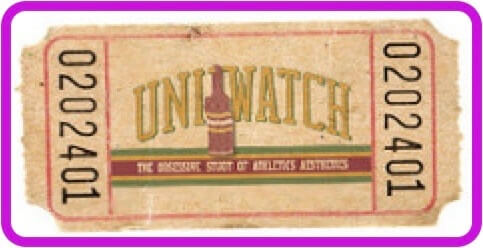 ITEM! Purp Walk preview and yet another raffle: Two days from now — Sunday, May 17 — will be the 14th anniversary of the very first post on this website. Per longstanding tradition that means it will also be Purple Amnesty Day — the one day of the year when I accept purple-inclusive membership card orders.
Only this year, due to the anniversary falling on a Sunday, I will accept purple orders on two days — May 17 and also May 18, which will be Purple Amnesty Day (Observed). So if you've been waiting to order a Ravens-, Rockies-, LSU-, or Northwestern-based membership card, you'll have a 48-hour window in which to do so — 100% more than our usual 24-hour window!
As usual, designer Bryan Molloy and I will also offer a special item of purple merchandise. Only this year, we will have two items, whoop-whoop! These will only be available on Monday — 24 hours, no exceptions! Just to whet your appetite, I'm going to show them to you now.
First up is a T-shirt. Although the website is hitting its 14th anniversary, Purple Amnesty Day itself is hitting its 10th anniversary, so Bryan and I wanted to commemorate that. Dig (click to enlarge):
Not bad, right? Bryan gets all the credit for the design concept, and also for sourcing the great purple-on-purple ringer shirt.
Here's a closer look at the front and back graphics:
This shirt will be available for 24 hours on Monday — midnight to midnight. After that, it will never be seen again.
In addition, we're offering this snapback cap:
The cap will also be available for that same 24-hour window on Monday. But the cap will become a Purp Walk mainstay — each year going forward, Bryan and I will create a new purple merch item (a shirt, a patch, a helmet, whatever) and will also bring back the cap for an annual 24-hour cameo. Think of it as an evergreen — or an everpurple.
If you like these two items, you're in luck, because reader Tim Cox — the man who came up with the whole idea for Purple Amnesty Day 10 years ago — has generously offered to sponsor a Purp Walk merch raffle for two lucky Uni Watch readers. The two winners will get to choose a cap or a T-shirt — their choice.
This will be a one-day raffle. To enter, send an email to the raffle address by 8pm Eastern tonight. One entry per person. I'll notify the two winners over the weekend, and they will have to claim their prizes during the 24-hour window on Monday — no exceptions!
Speaking of Purp Walk raffles, the two winners of yesterday's raffle are Dan Morgenthaler and Alex Weston, who've each won the chance to order a complimentary purple-inclusive membership card on Sunday or Monday. Congrats to them, and big thanks to reader Judy Adams for sponsoring this one.
• • • • •
• • • • •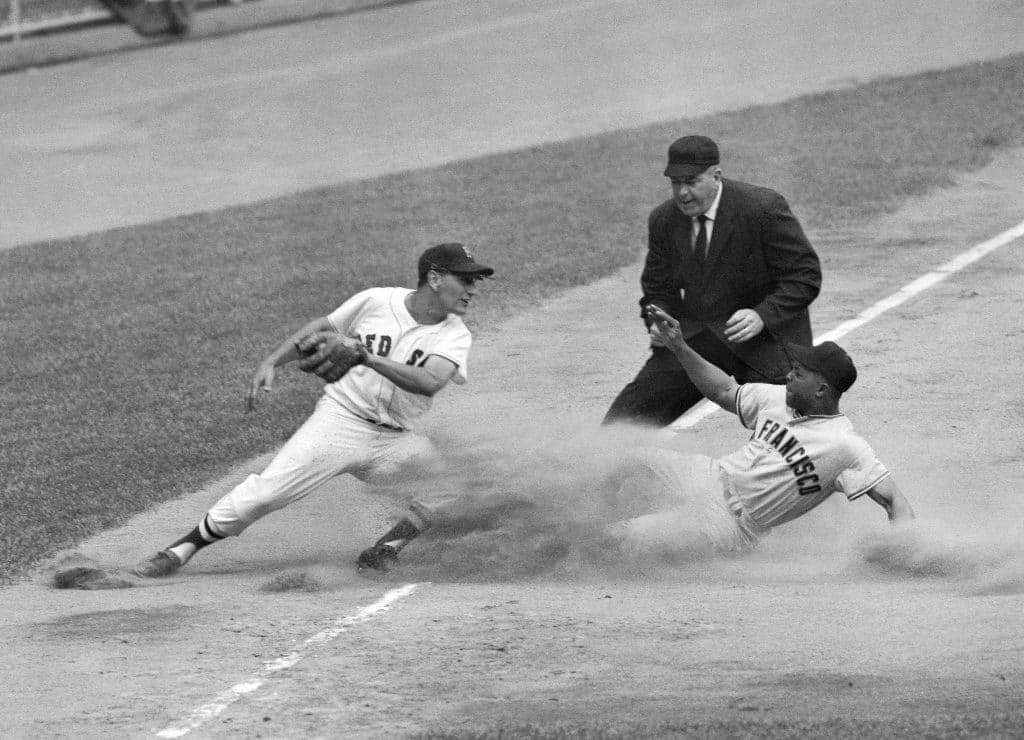 Click to enlarge
Too good for the Ticker: Oh baby, check out this shot of Willie Mays stealing third base during the 1960 All-Star Game — so good! That's Frank Malzone playing third base. Lots of uni-notable details:
• Sixty years later, the Giants still wear that road uniform, and the Red Sox still wear that same home uni!
• Mays was not wearing a helmet on the bases, as that was not required for baserunners at the time.
• Third base ump Tom Gorman was wearing a full wool suit and necktie — for a day game in July!
After I tweeted that photo, reader Clark Hare responded by posting this wire pic, which was taken just an instant prior to the other one (click to enlarge):
Man, my hand hurts just looking at Willie's left hand there. No sliding gloves in those days!
• • • • •
• • • • •
Click to enlarge
All dressed up and no place to go: I recently scored this vintage durene jersey on eBay. It'd be even better if it had a beagle mascot in the center, but the clipart slugger is still pretty sweet.
Blank on the back. It's the latest of several vintage jerseys in my collection that were made by Durack. Here's their label:
And speaking of new additions to my wardrobe, look what else just showed up:
Now I'm getting hungry….
• • • • •
• • • • •
Click to enlarge
Membership update: I recently featured reader David Swingle's early-1960s Reds-based membership card design. As you can see above, he's very pleased with the finished product!
As for that helmet David's wearing, he offers this little story:
That Reds plastic collectible helmet is one of many MLB helmets I owned when I was around 10 or 11 years old. My parents would buy one for me each time we took a weekend trip to our local JCPenney. I found my collection, which I believed was lost forever, in the attic of my childhood home a couple years ago. My siblings and I were cleaning out our parents' home shortly after my mother passed a couple years ago and there they were! They must have been in storage for at least 35 years. Brought back wonderful memories.
Isn't that nice?
Ordering a membership card is a good way to support Uni Watch (which, frankly, could use your support these days). And remember, as a gesture of comm-uni-ty solidarity, the price of a membership has been reduced from $25 to $20 until further notice.
As always, you can sign up for your own custom-designed card here, you can see all the cards we've designed so far here (now more than 2,700 of them!), and you can see how we produce the cards here.
• • • • •
• • • • •
Completely addictive: This video isn't new (it came out about six months ago), but I didn't learn of its existence until my friend Sunshine pointed me toward it yesterday. It's a video infographic that shows the top 10 best-selling music artists from 1969 through 2019, and it is absolutely mesmerizing. Once you start watching, it's hard to stop!
It's also really interesting to see certain artists and trends falling in and out of favor as the video moves along the timeline. Mainly, though, it's just a really satisfying animation — enjoy.
• • • • •
• • • • •
The Ticker
By Anthony Emerson


Baseball News: A group hoping to bring Major League Baseball to Nashville has applied for a logo trademark (from Kenneth Traisman). … Riverfront Stadium in Wichita, home of the Triple-A WindSurge, has some pretty neat bike racks (from @PhillyPartTwo). … Not uni-related, but MLB commish Rob Manfred described the coronavirus testing protocols that the sport is hoping to implement if and when big league baseball returns to the field.

NFL News: The Saints have a uniform history page on their website (from Justin C. Cliburn). … The Eagles announced their rookie uni numbers in a Twitter video. The weird thing is, the number font used in the video doesn't match the font the Eagles actually use on their jerseys (from Craig W. and Sam McKinley). … The Giants also released their rookie uni numbers. One notable number is G Shane Lemieux taking No. 66, and yes, that's a nod to Super Mario (from Neil Vendetti). … The new Hulu animated series Solar Opposites featured a character wearing a Rob Gronkowski Patriots jersey. The series premiered last week, but was originally produced back in 2018, before Gronkowski's first retirement (from Patrick Lenertz). … Rams P Johnny Hekker is wondering why fans can't buy his jersey in the NFL's online shop (from Chris Cruz). …  Here's a relatively in-depth article about the Rams uni history (from Kary Klismet). … Former Rams RB Eric Dickerson doesn't like the Rams' new uniforms because he thinks they look "soft," which he thinks is inappropriate for a "man's sport." Ironically, Dickerson was among the few NFL players ever to wear goggles on the field — wonder if anyone ever criticized him for being "soft."

College/High School Football News: The helmet on Tim Hasselbeck's ESPN set has a Boston College base and Colorado and Miami logo decals with Ohio State buckeye leaf merit decals. Tim, brother Matt, and wife Elisabeth all went to BC, while dad Don went to Colorado — which raises the question, why Miami and Ohio State? It can't be for his or Matt's kids, as they're all too young to be college age. Hmmm (great spot by Jack Long).

Hockey News: Warrior wanted to be ready while then-Senators D Erik Karlsson was being shopped during the 2018 NHL offseason, so they made a pair of gloves with each of in the colors of his most likely trade destinations. So while Karlsson ended up with the Sharks, "EK65" gloves were made in Predators colors (from Wade Heidt). … The San Francisco Chronicle used an outdated Sharks logo three times in graphics on their sports page.

NBA News: Here's a nice retrospective on a prospective 1993 Clippers redesign that never took. I can't be the only one who thinks they'd actually look better than they ever had if they had followed through with the redesign.

Soccer News: The NWSL's Seattle Reign — now known as OL Reign after being purchased by France's Olympique Lyonnais — were almost called the Seattle Sirens (paywalled) (from our own Jamie Rathjen). … New kits for Brazilian team Grêmio (from Ed Żelaski). … Also from Ed: New away kit for Northern Ireland's Cliftonville FC . … Maryland Bobcats FC, who play in both the NPSL and UPSL, have some pretty nice new kits (from @IcarusFCphl). … Umbro is upset that the Twitter account for Mexican team Cruz Azul photoshopped out their logo in an old photo. Umbro hasn't been Cruz Azul's kit provider since 2014, and Los Cementeros' kits are currently provided by Joma after a four-year spell with Under Armour (from Germán Cabrejo). …  The Columbus Crew have revealed a few more renderings of their new downtown stadium (from Wade Heidt and Kary Klismet). … Also from Kary: it appears Kim Jong-un's health scare has not halted the progress of renovations on Pyongyang's Yanggakdo Football Stadium. … Devin Mathias is running a poll to gauge public opinion on the best USMNT kit in history. Come on, Waldos!

Grab Bag: The Sun Belt Conference has released its new logo set, confirming previous leaks. … The US Olympic and Paralympic Museum has a new logo (from Timmy Donahue). … Milwaukee's PBA team now has a name — the Brew City Ballers — and a logo (from @mikeobs). … The University of Florida has offered its facilities to any MLB, NBA or NFL team that wants to train there (from Kary Klismet). … Here's a thorough and depressing assessment of how sportswriting may never recover from the pandemic (WaPo link).
• • • • •
[adrotate group="2″]
• • • • •
Click to enlarge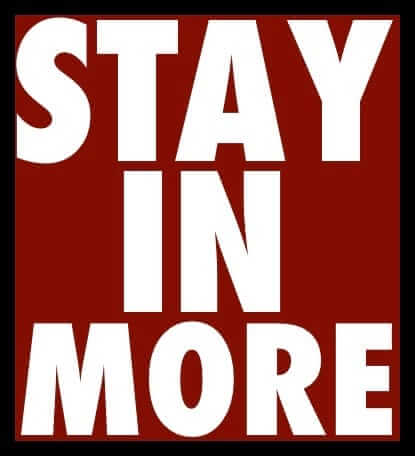 What Paul did last night: Our neighbor Jason was walking by yesterday evening. He's a nice guy and an interesting character, so we invited him to stop and chat for a bit. While we were doing that, the clock hit 7pm, so the Racket started. I said, "Jason, do you usually participate in this?" He said, "Oh, sure," and then nonchalantly pulled a pair of maracas out of his bag, like it was the most normal thing in the world. We laughed and he started maraca-ing, which was fun. (In the background, you can see our neighbor with the cymbals, who I recently mentioned, across the street.)
The branch is still there.
As always, you can see the full set of Pandemic Porch Cocktails™ photos here.
Have a great weekend. I'll check in on Sunday to mark the site's 14th anniversary, and then I'll have some special content on Monday for Purple Amnesty Day (Observed). See you then. — Paul