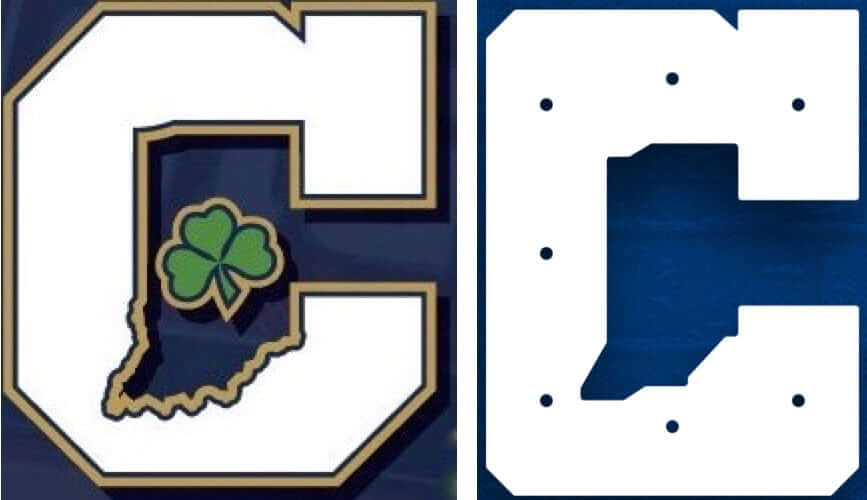 The Browns will unveil their new uniforms at noon Eastern today. While we're waiting for that, I want to follow up on something from the recent Colts unveiling, which we discussed yesterday.
Less than an hour after the Colts revealed their new secondary logo — the stylized "C" with the shape of Indiana in the center — a Twitter-er named @CoachKubuske accused the team of "ripping off" the design from a logo he had created for the football team at Cathedral High School — which is in Indianapolis:
Good to know that even though I'm in WI now, I can still contribute to life in Indy. Thank you @Colts for ripping off my logo for @CathedralFBall pic.twitter.com/wavUWBfwVF

— Coach Kubuske (@CoachKubuske) April 13, 2020
He later posted several additional tweets showing the Cathedral version of the logo being used on the school football team's Twitter account in early 2017, and then posted what he said was the original logo sheet that he had created in 2016:
Here is my original logo sheet and date of creation. pic.twitter.com/FZK1bIDvU8

— Coach Kubuske (@CoachKubuske) April 13, 2020
The similarity between the two logos was widely noted on social media, and USA Today and the Sporting News both had articles about it yesterday, but apparently nobody bothered to take the seemingly obvious step of contacting @CoachKubuske and getting his full story.
So I did that myself. I got in touch with @CoachKubuske — whose full name is Jere Kubuske — on Monday night and arranged an interview with him for yesterday afternoon. Here's a lightly condensed transcript:
Uni Watch: First, tell me a little about yourself. How old are you, where do you live, and what do you do for a living?
Jere Kubuske [shown at right]: I'm 38. I'm currently living just outside Green Bay, Wis. We just moved up here. My wife is actually the head softball coach at the University of Wisconsin at Green Bay. Just took the job last year. I'm a high school science teacher by trade, and a football coach. I've also been a school administrator for a couple of years now.
UW: What school do you currently teach at?
JK: Green Bay East High School, which is actually the original home of the Green Bay Packers.
UW: Coaching football for them as well?
JK: I wasn't able to coach football with them this past school year because of some scheduling issues. So I helped out just, you know, talking with some of their coaches on the side, but nothing in a formal position.
UW: But you you did coach and you also taught at Cathedral High School in Indianapolis, right?
JK: Correct. Yeah, I coached there for eight years, was a part of four state championships, which was awesome. We had a run of five state championships in a row. It's the winningest program in Indiana and has a lot of tradition. It was fun to be a part of. We've got guys playing in the NFL and at big-time colleges like Ohio State and Alabama. Well-known school, well-known program, and I was lucky to be a part of it.
UW: Were you the head coach, or an assistant..?
JK: Yeah, I was an assistant coach, mostly working with the defense. I also did all the special teams. And then kind of, you know, whatever else the coach head coach needed.
UW: Do people call you Coach K?
JK [laughing]: Yes, they do.
UW: What years were you working at Cathedral?
JK: Okay, so I started coaching there in 2011. And then I started teaching there in 2012. So overall I was there from 2011 until just this last fall — the fall of 2019 is when I left.
UW: When you created a cathedral logo with the shape of Indiana and the center, was Cathedral already using that same basic "C" by itself? In other words, were you modifying an existing logo of theirs?
JK: Right, exactly. So they so Cathedral — and you may know this story — but the Cathedral is known as being the original Irish in Indiana. And then Notre Dame, which is actually kind of a sister school to Cathedral, founded by the same Holy Cross brethren or whatever, they also then became known as the Irish and started using that leprechaun. Well, we borrowed the leprechaun from them and were using it for several years. And then there was kind of a cease and desist order out there, I think around 2010 — definitely before I got there — and so Cathedral had to stop using the leprechaun.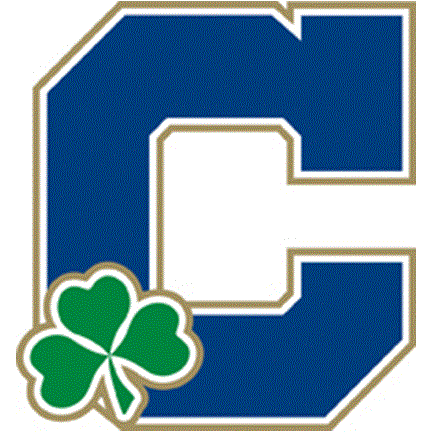 So, real quick, the marketing team came up with this kind of block-C, and then in the bottom-left corner there's a shamrock. So I was doing some sketches and doodling, and I was trying to come up with something that I thought would be kind of an interesting take on things, so I came up with that design with the shape of Indiana inside the C. I just tried to come up with something that was a little bit more unique, that stood out.
UW: What's your background in graphic design? Like, do you have a design degree?
JK: I'm self-taught. I learned how to use Adobe Illustrator on my own. And I was one of those kids, just like a lot of your readers, my brother and I were designing the logos and uniforms of teams when we were young. So it's something I've always kind of done on the side as a hobby. And then you know, once I got my hands on a computer, I started messing around with Photoshop. And then, probably around 2009, somebody who actually had a background in design saw me working on Photoshop one time and said, "Hey, have you ever used illustrator?" I was like, "No, I don't even know what Adobe Illustrator is." And he kind of showed me what it was and what it could do. And that's when things kind of opened up to me and I was able to really take off as far as graphic design goes.
So now I do some graphic design stuff on the side, mostly for friends. I've done logos for some nonprofits, one business for profit, and then I've done a couple of high schools that have have come and gone over the last decade or so. I was a football coach at Bemidji State for a couple years and they obviously have Division I hockey there, and one of their hockey goalies saw a beaver design that I had come up with and asked if he could use it on his mask the next season. So there's a little bit of everything as far as graphics and designs and logos, but I'm by no means a professional.
UW: When did you decide to tinker with the Cathedral logo?
JK: It would have been around Christmas of 2015 when I started really working on my designs and doing some different doodles. But when it would have been, like, officially created was February of 2016. I thought I might be able to use it for our football branding, and then if other people or teams at the school wanted to use it, obviously they could — I wasn't gonna say no.
UW: So it wasn't an official school logo where the school was using it overall, or the school district or anything like that.
JK: Correct. It was for the football team. And it was it wasn't the school that approached me — it was just something I was doing. And the head coach was super-supportive of me.
UW: It looks like the logo's first appearance on social media was for National Signing Day in 2017. Was it used in any other capacity outside of social media? Like on stickers, or caps, or T-shirts, or in any, like physical capacity? Or was it strictly digital? And if it was just digital, was it just social media?
Congratulations to all those seniors out there making a commitment to continue their football careers at the collegiate level. #NSD17 pic.twitter.com/Ffz1hWVM4Y

— Cathedral Football (@CathedralFBall) February 1, 2017
JK: We used it a ton on our social media. I also used it on some T-shirts for the lacrosse team and the women's lacrosse team. They used it on a couple of their T-shirts and warm-up shirts that spring as well. And then we used it on all kinds of signage down in our public locker room and on some of our fliers that we gave out that spring to prospective student-athletes.
UW: Did you trademark the logo?
JK: No. I had to stop using it — I'll explain why in a minute — so I didn't bother, because I thought that was kind of the end of it. I had trademarked a couple of logos that I did for some high schools back when I first started messing around with graphic design. I sent the money and went through the forms and stuff like that, but it was such a pain. And it's like, I'm not an official graphic designer anyways, so yeah, I didn't even think about it.
UW: Does the school still use the logo, even though you're no longer there?
JK: No. So late in the spring of 2017, the there was a change in marketing directors at the school. And the new person wanted to unify the branding of the school under the block-C with the shamrock in the corner. And so she brought me in, because she knew that I was kind of running the football team's Twitter page and was posting these things with these other logos on it. And she asked that I stop using my logo and start using only the official Cathedral logo. And from a marketing director's perspective, trying to create a brand, I completely understand why she wanted to do that and respected it.
UW: So the the heyday of your logo, if you want to call it that of this logo was pretty brief. Like, the window in which it was circulating publicly was all pretty much in the early part of 2017, right?
JK: Yeah, that is accurate. I made graphics for all of our guys who signed letters National Signing Day, put their new school's logo on it and then our logo with the block-C and the state of Indiana. You know, we're posting videos that have the logo and we were trying to push this pretty hard. So there was a lot going on, because we're trying to build a following. And just as we started to gain notoriety and get noticed, that's when the new marketing director kind of shut it down.
UW: What connection if any, did you or Cathedral have with the Colts during this period?
JK: Obviously, we're right there in Indianapolis. We have a former player of ours who plays for the Colts right now, Jack Doyle. We've used their practice facilities for practices in the playoff season. We use their indoor facility for seven-on-seven tournaments in the spring. You know, we're constantly tweeting at them, because we're trying to build notoriety and things like that. So the Colts were a pretty regular connection that we were trying to make.
Now, we weren't always necessarily making that connection because, obviously, they're a big NFL team and we're just a high school. But yeah, we were constantly reaching out to them through our social media and they still do — I mean, the Colts are big supporters of high school athletics in Indiana. In fact, the state championship — when you get the big state championship trophy, it's got a big Colts horseshoe on it, because they're the sponsors of the Indiana High School football tournament, essentially.
UW: When you saw the Colts new secondary logo on Monday, what was your reaction?
JK: I kind of laughed out loud to my wife. Then I showed it to her and asked her if it looks familiar. And she's like, "Didn't you do something like that?" And I'm like, "Yeah, that's essentially my logo." I mean, the fact that it even has the little notch near the top of the C — I mean, it could be a coincidence, I suppose, but it has to be a pretty big coincidence.
I was definitely surprised and taken aback, and that's why I decided to take to social media, because what other outlet do I have at this point?
UW: In your opinion, is there any chance that the Colts could simply have been unaware of your logo and come up with a similar design?
JK: Yeah, it wouldn't be far-fetched to say that. But also, I don't think would be far-fetched to say, you know, maybe they had seen it, since it was on social media so much. I mean, it definitely could have been out there for them to have seen at some point. I am not trying to pass judgment; I'm just trying to get the word out there that their logo may not be as unique as they thought it was, and that someone else may have created it.
UW: Have you been in touch with the Colts? And if not, do you plan to contact them?
JK: So I actually reached out to a lawyer first, just to see what steps, if any, I can take. I don't want them to actually stop using the logo — I mean, it's a great logo, it definitely speaks to their connection to the state and the city. But at the same time, it'd be nice to be recognized for it or, you know, be compensated for it if there was some type of infringement. And so, like I said, I've reached out to a lawyer. I do have a connection to the Colts' marketing department that I could use, in order to take some steps that way. But I wanted to at least get some legal counsel first.
UW: What what did the attorney tell you?
JK: We actually have a meeting set up this afternoon, after I get off the phone with you.
UW: Have you been in touch with anyone back at Cathedral to see what they think of all this?
JK: Not any of the officials at Cathedral — just some old colleagues, some coaching friends of mine. It definitely feels like they got ripped off. A lot of them think I should be flattered — you know, imitation is the greatest form of flattery and all that. Which, obviously, if that is the case, then I am. I mean, I jokingly said to those people, "Obviously the Colts like my logo more than the officials at Cathedral did." But again that's unfair, because like I said, I completely understand why they unified their brand the way that they did.
UW: Last question, which logo do you think is better?
JK: I appreciated some of the comments out there in social media where people thought theirs was a little clunky, that mine was a little bit cleaner. There's other people that thought that they didn't really like either one. You know, in my defense, I was trying to use what Cathedral already had and just kind of enhance it, rather than trying to start something new, but I think they both have their merits. I think they're both doing justice to the state of Indiana and trying to represent the good people there who support either the school or the NFL franchise. I think they're both good logos in their own right.
UW: That's very diplomatic of you.
———
The Colts did not respond to a request for comment. I'll post an update if I hear back from them.
Update, 3pm: Colts VP of Communications Steve Campbell just sent me the following statement:
We have great respect for our friends at Cathedral, and we would never purposefully take an idea from them to use as our own. That's just not how the Colts do business. The new Colts Indiana logo was an independent creation that was designed by the NFL, as are most team marks and logos, and was not designed locally. The Colts and the league were unaware of the other logo, and we wouldn't have moved forward otherwise. But we will look into the matter. Nonetheless, both the Colts and Coach Kubuske had the same goals at heart – promoting athletics and paying tribute to our home state.
• • • • •
• • • • •
Click to enlarge
Jackie Day: Today is April 15. Under normal circumstances, MLB would be celebrating Jackie Robinson Day, with all uniformed personnel wearing No. 42 to mark the anniversary of Jackie's debut with the Brooklyn Dodgers in 1947.
Obviously, that won't be happening this year, but reader Mike Wilson is nonetheless marking the occasion today with our Jackie-themed Uni Watch tee (which was the April design for the 2015 Uni Watch T-Shirt Club, don'tcha know), along with a Brooklyn Cyclones cap adorned with this month's Pin Club pin. Looking sharp, Mike! And RIP, Jackie.
• • • • •
• • • • •
Membership update: Sometimes we'll see a spike in membership orders for a particular design motif. That's current the case for the Patriots' mid-'90s blue jersey, which in the past two and half weeks or so has been requested by three different membership enrollees: Nick Lower, Mike Tucker, and now Bert Ayers (whose card is one of 15 new designs that have been added to the membership card gallery). I'm assuming this is because there's been a lot of chatter about that uni possibly being revived as a throwback. As I always say, the worst uniforms often make the best membership cards, and that's definitely the case here.
Ordering a membership card is a good way to support Uni Watch (which, frankly, could use your support these days). And remember, as a gesture of comm-uni-ty solidarity, the price of a membership has been reduced from $25 to $20 until further notice.
As always, you can sign up for your own custom-designed card here, you can see all the cards we've designed so far here (now more than 2,500 of them!), and you can see how we produce the cards here.
Speaking of memberships: Our latest raffle winners are John Bakaysa, Mike Boscaljon, and Wayne Boardman, each of whom has won himself a new membership card. Congrats to them, and big thanks to readers Matt Kirby, Lindsay Resnick, and Steve Fidrych for sponsoring this one.
• • • • •
• • • • •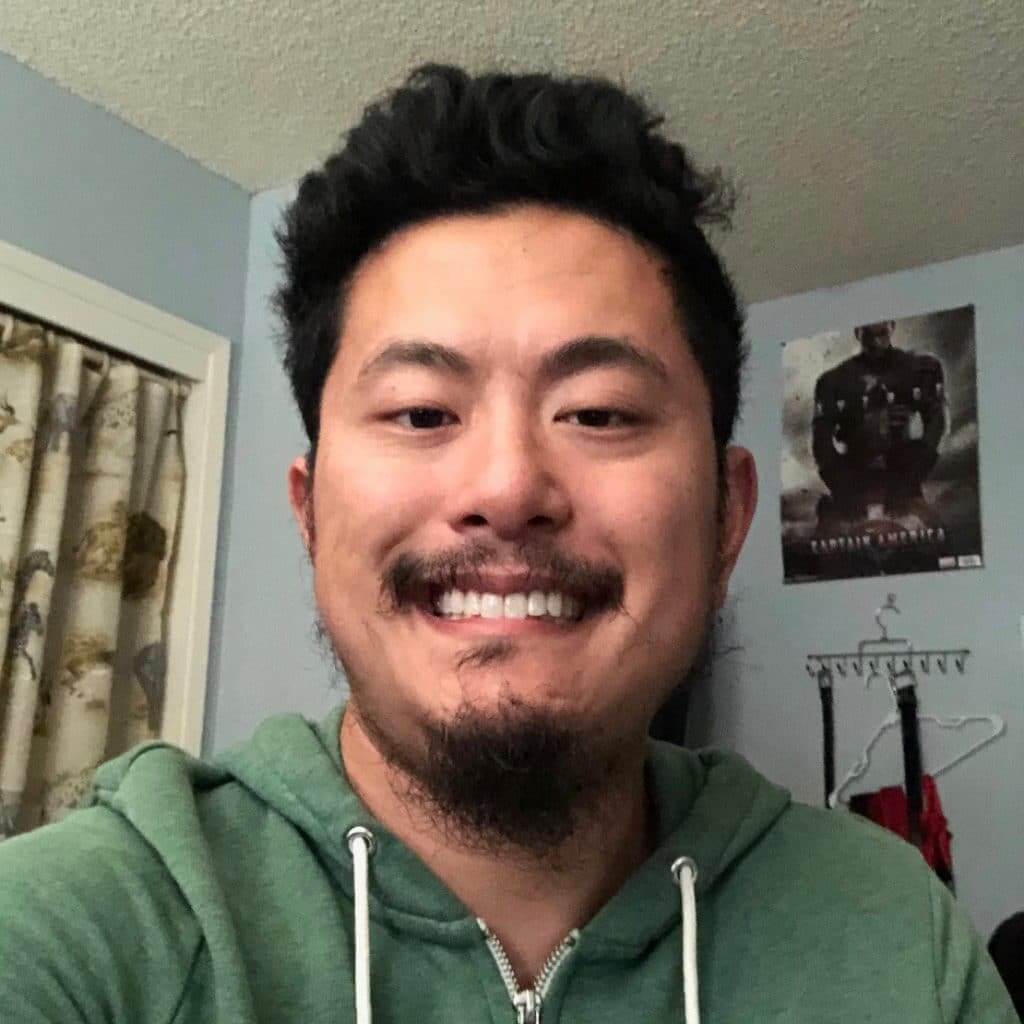 Meet the Uni Watch Team — Lloyd Alaban: The Tickers you read on Wednesdays (including today!) are compiled and written by Lloyd Alaban, who joined the Uni Watch team in the fall of 2018. Lloyd's work is aided by his special assistant, Captain, a two-year-old Siberian Husky/German Shepherd mix (click to enlarge):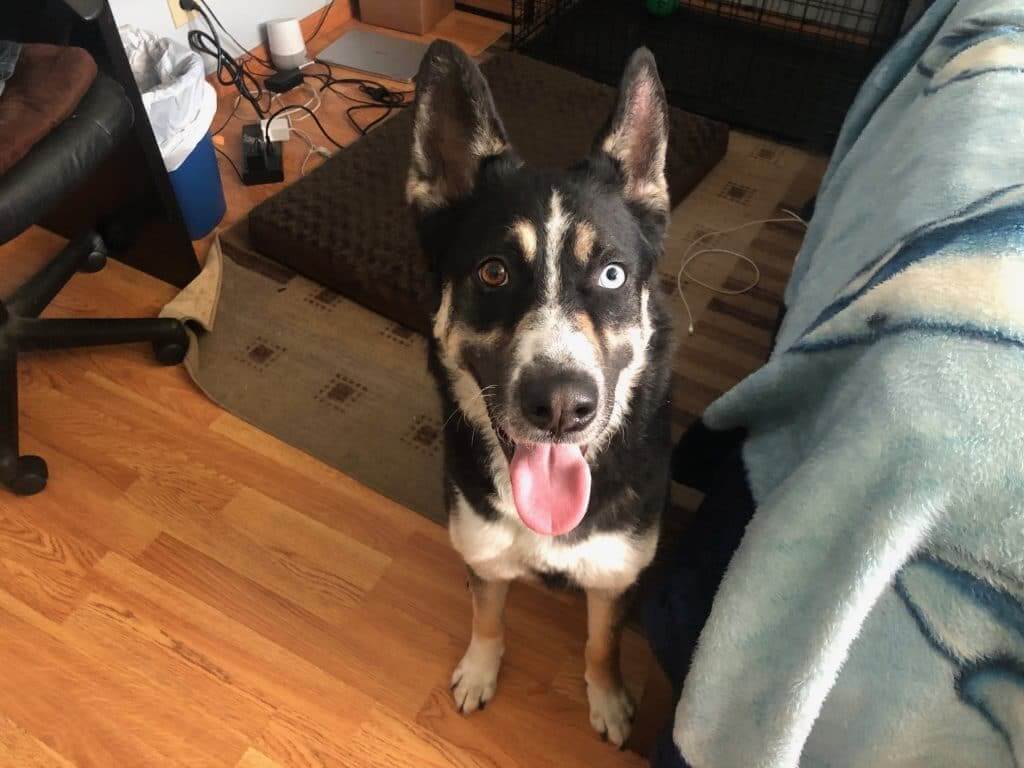 Here are a few words from Lloyd:
Hello from Milpitas, California, just minutes outside of San Jose (Go Quakes!). Ever since I got Captain, my room has become way messier than I've ever anticipated! I work here with my company-issued laptop (which is totally not being used for Uni Watch purposes, shhh):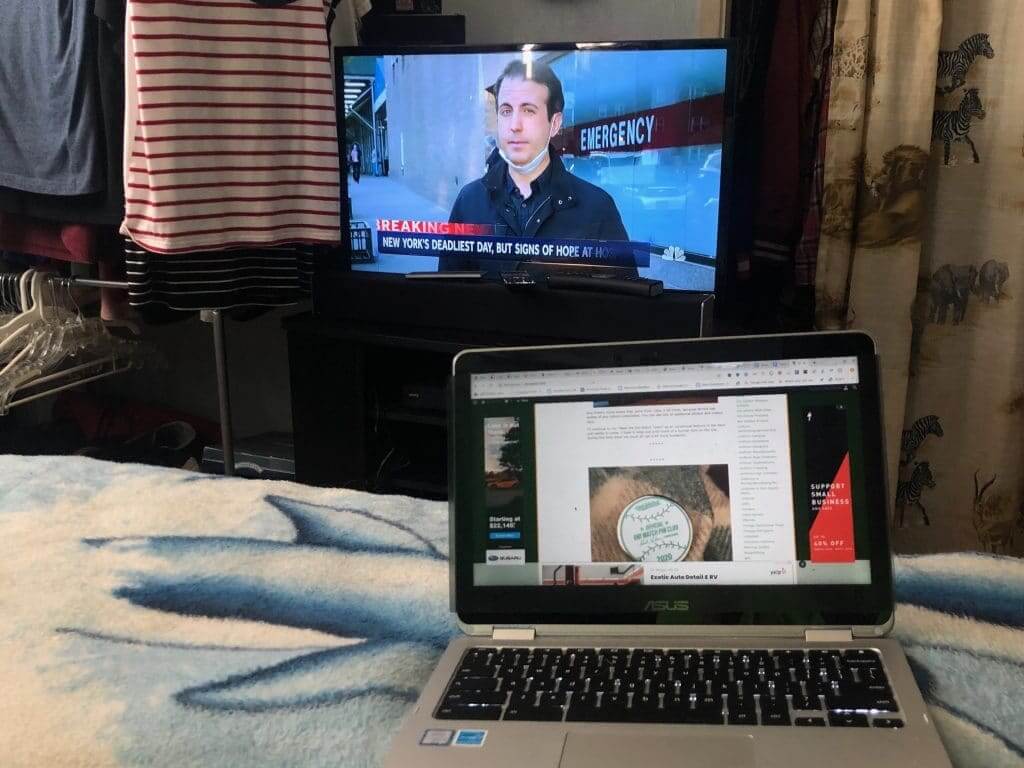 I have a lot of collectibles, including a Joe Pavelski figurine, a few Giants giveaway bobbleheads, a free baseball I received from the 2007 MLB All-Star Fan Fest in San Francisco, some Warriors and SJSU memorabilia that once held margaritas, some 49ers memorabilia, and some Captain America memorabilia.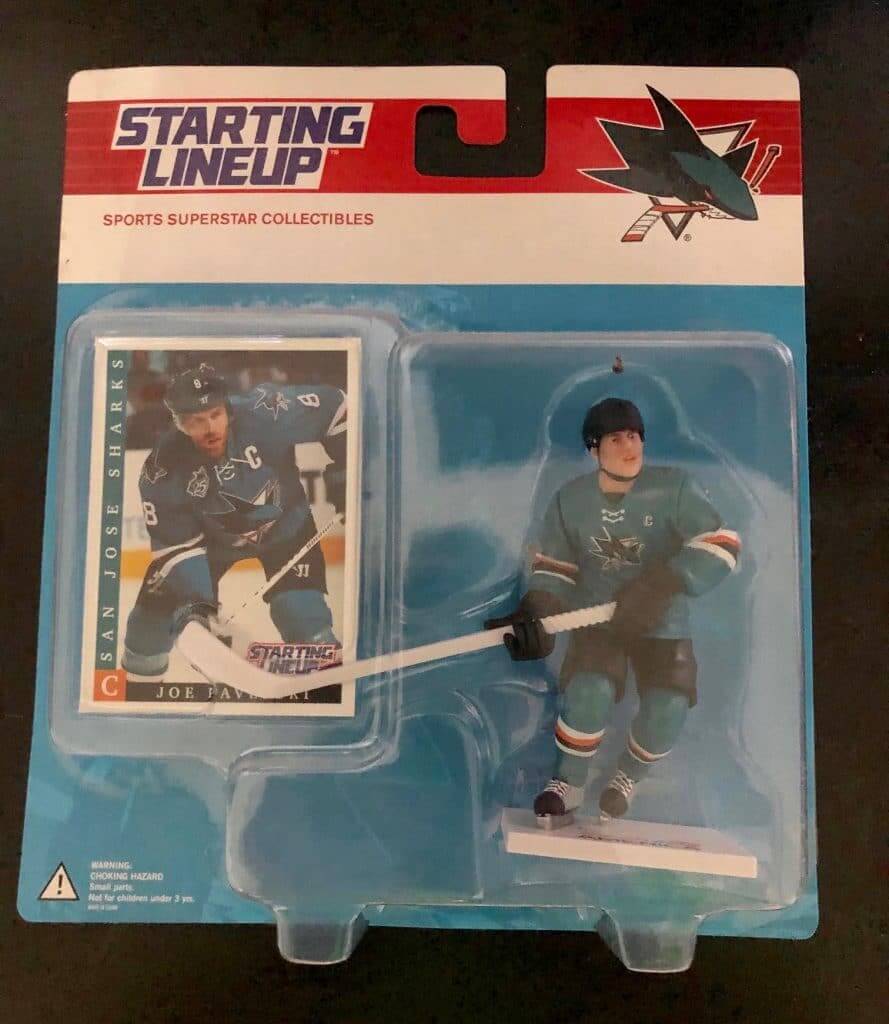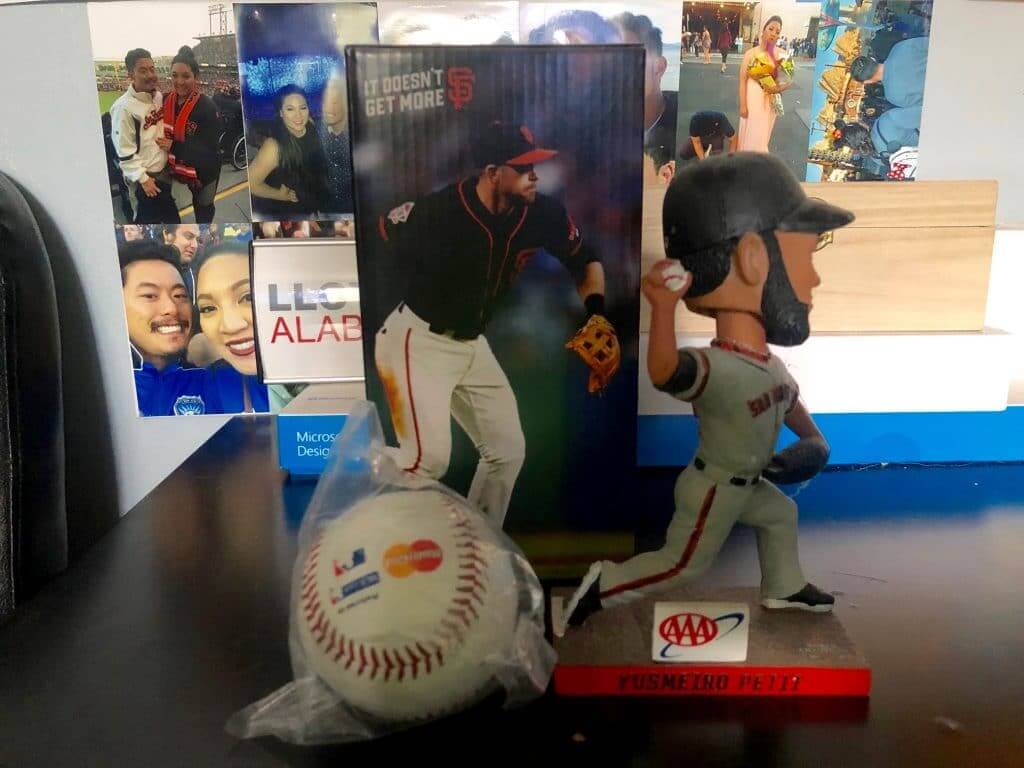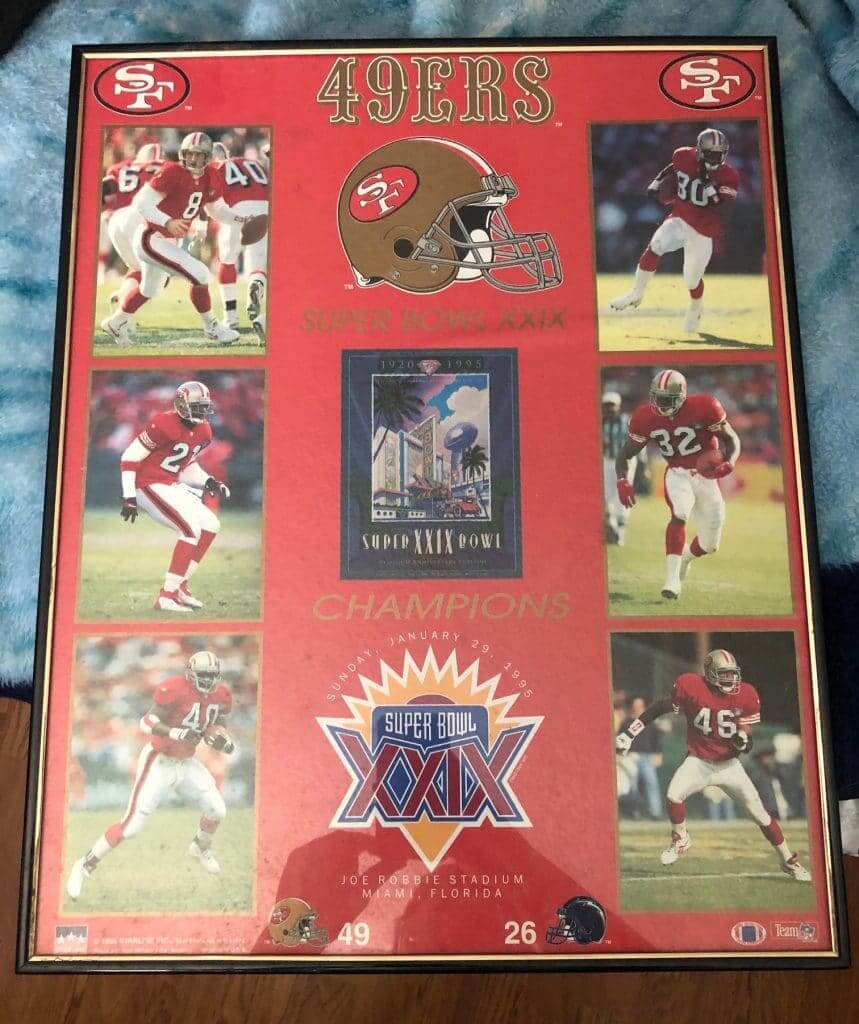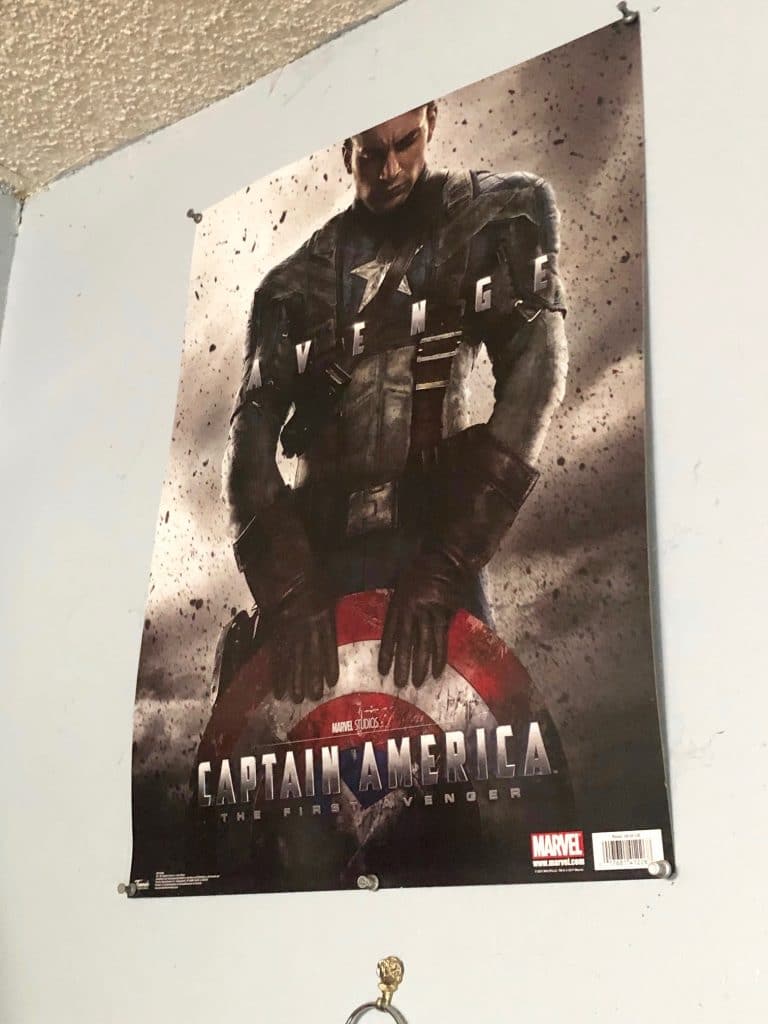 ———
Lloyd is one of the Uni Watch team members who I've never had the pleasure of meeting in person. I hope to remedy that during my next trip to the Bay Area (or during his next trip to NYC!). Thanks for all your hard word, Lloyd, and stay safe.
• • • • •
• • • • •
The Ticker
By Lloyd Alaban

Baseball News: The Wilmington Blue Rocks, affiliate of the Royals, released a new alternate jersey. … The Korean Baseball Organization has a pandemic-themed logo (from Jason Lai). … Here's the history of Salt Lake City's minor league teams in pictures (from Kary Klismet). … Case Western Reserve University professor Lydia Kisley comes to us with an interesting Indians-related item: "A Cleveland brewery, the Jolly Scholar, is having a favorite Indians vendor, Les "The Beer Guy," deliver their beer. You'll know he's coming with his signature "COLD BEER HERE!" during delivery." … Reader Brad (who didn't give his last name) was going through some old stuff and found three issues of a Padres scorecard/programs from the 1970s. … Here's a good look at the "Star Spangled Banner" 150th-anniversary patch that the Orioles wore in 1964.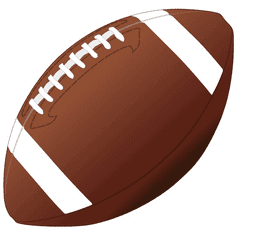 Football News: Reader Aaron Pinto found this alternate Falcons logo from New Era's Instagram page. The logo wasn't included with the Falcons' new uni release last week. … Here's a brief Falcons uni history (from our own Phil Hecken). … Also from Phil: Here's a sportswriter's ranking of the Patriots' uniforms. … The Oakland Raiders were originally supposed to be named the "Señors," with orange as part of their color scheme Here's a backstory (from Roger Faso). … Reader Nate Mueller has 3D-printed a face portrait of Chiefs QB Patrick Mahomes and is now in the process of painting it. Impressive work! … Ahead of today's Browns unveiling, here's a slideshow of the team's uniform history (from John Flory). … The Madden video game is now filled with Pizza Hut ads. … Lambeau Field has the Packers logo at midfield, of course. But they used to have the NFL logo. That's from a 1992 game (from Geoff Poole). … UCF is running a March Madness-style bracket to choose their best uni combo (from David Staples).

Hockey News: A sportswriter compiled a list of seven hockey trends — most of them uni- or equipment-related — that he thinks need to come back (from Wade Heidt).
.

Basketball News: New logo and uniforms for the New York Liberty of the WNBA. Here's the old logo for comparison. More details here (from Geoff Magliocchetti). … After the Liberty's unveil, the Atlanta Dream decided to take a swipe at the Phoenix Mercury on Twitter, and the Mercury responded back (from @HitTheGlass). … A sports store released the warmups the Kentucky Wildcats men's team would have worn had there been a March Madness tournament this year (from Michael Kinney). … A reader mocked up some facemasks to match some NBA teams' jerseys. Here are his treatments for the Central Division, the Southwest Division, and the Northwest Division (from Stephan Vasilev). … Pacers equipment manager Josh Conder recently bought a sewing machine, taught himself to sew, and has been making masks for the homeless (from @dbalke).

Soccer News: A Spanish company has made La Liga-themed facemasks. … The Republic of Ireland managed to wear a different shirt for every game in their qualifying group for the 1986 World Cup. One even featured a rare example of an ad — a small sleeve ad, and for a government agency — worn in a competitive international game (from our own Jamie Rathjen).

Grab Bag:The rebooted Philadelphia Barrage of Major League Lacrosse are unveiling their new home unis today (from Michael Barkann). … Here are some livery changes for Kyle Larson's eNASCAR team (from Nick Hanson). … Need to find a mascot from pretty much any Big Four (and more) sport at any level? Check out MascotDB (from Kary Klismet). … House Rep. Jennifer Wexton (D-VA) color-coordinated her mask with her blazer while she presided over the House pro forma session yesterday. … The Taiwanese internet went "pink" yesterday — an unofficial campaign to break gender stereotypes — following reports about a boy who refused to wear a pink mask to school for fear of being bullied (from Caleb Jenkins). … The Marines are rethinking their haircut policies during the pandemic (from Timmy Donahue).
• • • • •
[adrotate group="2″]
• • • • •
Click to enlarge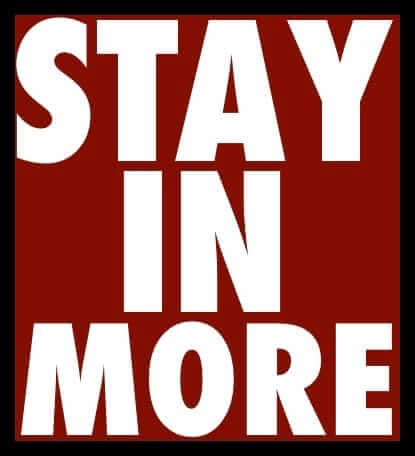 What Paul did last night: The Tugboat Captain sewed a few masks for a neighbor, who reciprocated by giving us some homemade sourdough bread, which made for a nice cocktail accompaniment yesterday evening.
We talked for a bit, and then headed inside because it was getting close to 7pm, which is when the Racket starts, and we didn't want to be outside for that. The Racket is a bunch of our neighbors clapping, banging on pots and pans, blowing whistles, and so on for five-ish minutes each evening. It's happening all over NYC (and maybe in other cities as well..?). The original intent, as I understand it, was to salute health care workers during the pandemic, but now it seems more like a broader gesture of solidarity and self-affirmation. Some people say it makes them feel really good during this difficult stretch.
The Captain and I aren't opposed to the Racket, but we've never felt inclined to participate in it either. We go back and forth about feeling guilty about that and feeling "Eh, whatever" about it. Maybe it's because we tend to be very selective joiners, or because we prefer the quiet of our porch time, or because we don't have kids (kids really seem to like the Racket), or, in my case, because I'm lucky enough to feel connected to the comm-uni-ty all day long and also get to express myself on this website every day, so I probably don't feel the same need for connection and expression that so many other people are feeling as they spend day after day cooped up indoors. It's an interesting phenomenon, and I've been asking myself what it says about me that I keep repeating, "We're all in this together" but also don't want to participate in the Racket (and also that I refer to it as "the Racket").
Are people engaging in the Racket where you live?
• • • • •
Enjoy the Browns unveiling today. I'll have full coverage tomorrow morning, of course. — Paul