Good morning! I had a post all ready to go for today, but then I woke up and discovered that an apparent Rams leak began circulating overnight, so we're going to talk about that instead.
First some background: A few days ago a fan account called RamsToday tweeted the following:
I've already seen the uniforms and I will say this:
– Gradient Numbers (home jersey only)
– Bone color away jerseys
– The horns remain on the helmet, but a modernized version (like you see it on the new logo)
– I think it looks really cool imo

— RamsToday (@RamsTodayIG) May 9, 2020
People on Twitter (and Reddit, and elsewhere) make all sorts of uni-related claims, of course. I didn't pay much mind to this one.
Last night, though, two images began making the rounds (click to enlarge):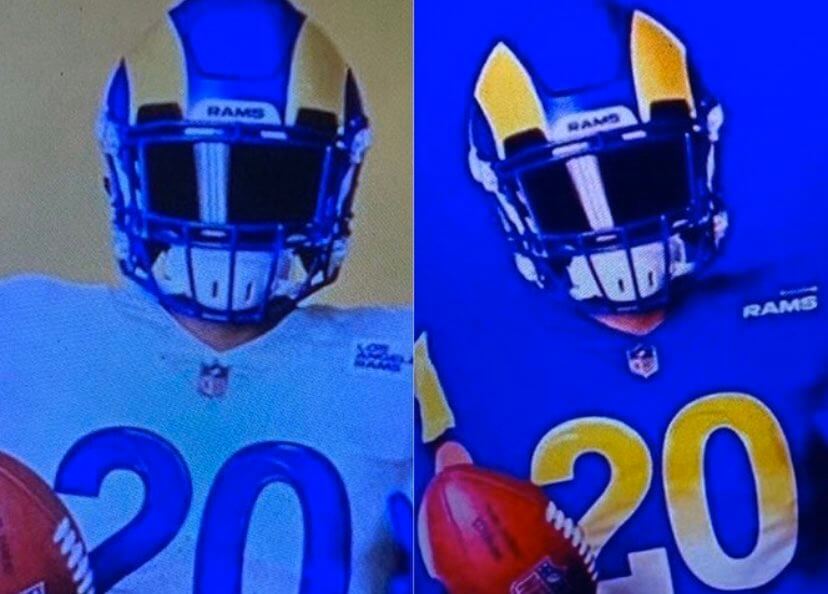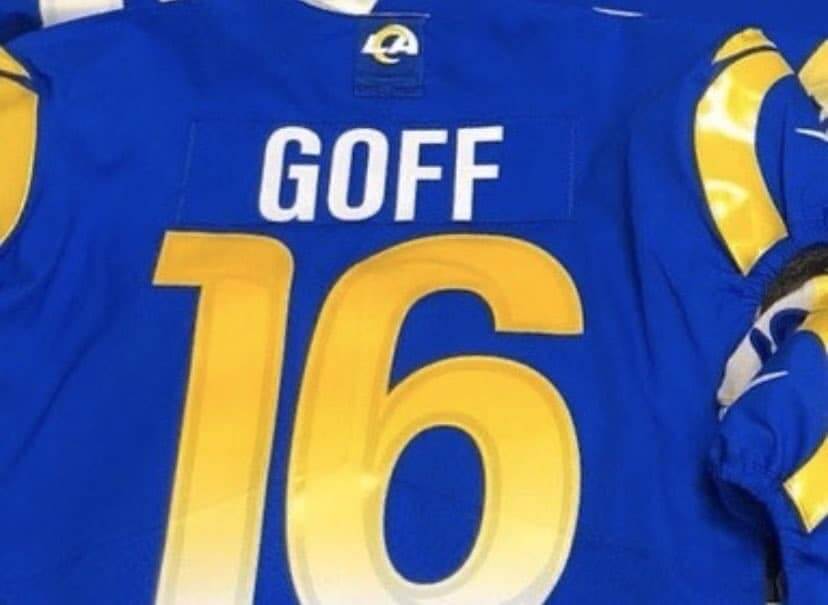 I do not know the original source of these photos. As is always the case with unverified leaks of unknown origins, my default mode is to be skeptical, because it could be just a Photoshop job (and before you say, "Boy, that looks legit to me!," let's keep in mind that "looks legit" doesn't actually mean much). The images appear to align, at least partially, with the RamsToday description, but of course a Photoshopper could have created the images specifically to match up with that description.
With those caveats in mind, here are some thoughts on these images:
•  The numerals appear to have the same segmented curvatures (presumably based on the Fibonacci spiral) as the horns on the new logo. That seems very much like something Nike would do.
• The gradation on the numerals mimics the gradation on the logo horn.
• Is the light-colored jersey white or "bone"? Tough to say.
• The wordmark on the upper-left shoulder of the road jersey (ugh) appears to match the wordmark that was released in March. Although it's hard to be sure, it appears that the lettering on the home jersey is just the team name and does not include the city name. Hmmmm.
• Those shoulder patches and also the team logo patch above the nameplate (ugh) both look like they've been applied rather clunkily and unprofessionally. By way of comparison, the Cardinals above-the-nameplate logo patch is cut to the shape of the logo — not cut as a square or rectangle. Hmmmm.
• Although it's hard to be sure, it appears that there are no TV numbers.
So: Could these be legit? Sure. Could they be the work of a Photoshopper looking to kill some time while under pandemic lockdown? Also sure. We don't yet know enough to be certain either way, but I expect we'll be learning more soon.
In short: Stay tuned.
Update: The Rams have now officially released their new uniforms, and it turns out that the leak was accurate:
🚨 2020 🚨

A new era in Los Angeles. pic.twitter.com/Qc8vv2mUd3

— Los Angeles Rams (@RamsNFL) May 13, 2020
More info here. I'll have more to say about the new designs tomorrow!
• • • • •
• • • • •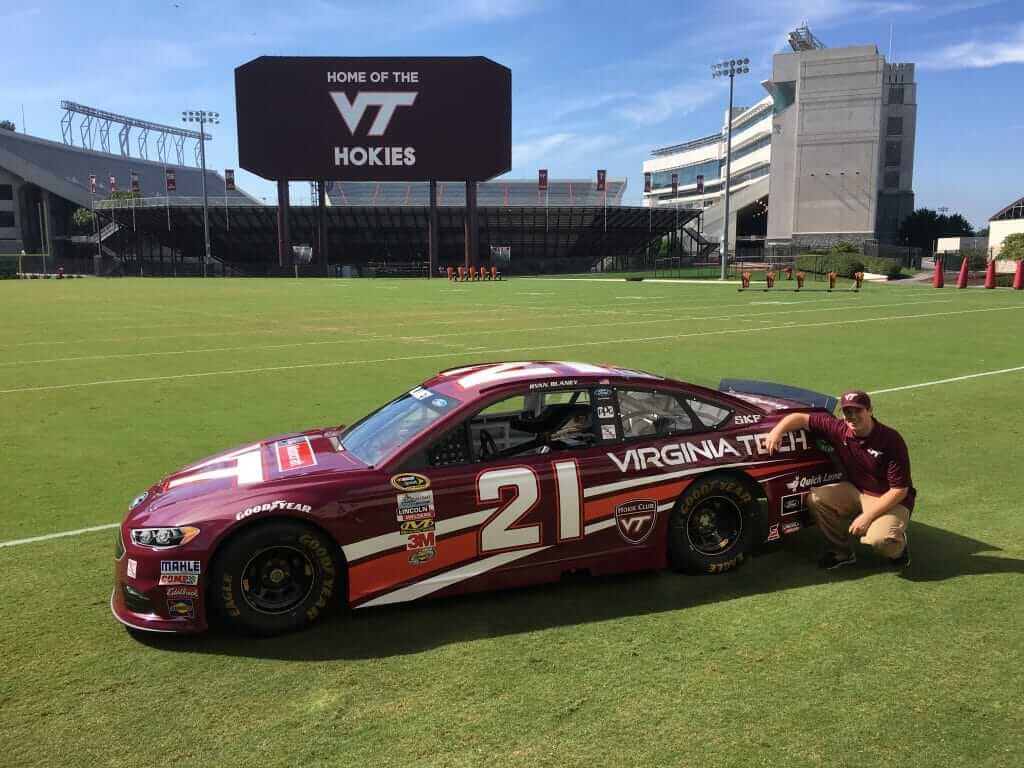 Click to enlarge
Membership update: In 2016, Uni Watch reader Clark Ruhland designed this Virginia Tech NASCAR car for the Wood Brothers racing team. He recently asked for a membership card based on that design — turned out great!
Clark's card is one of several that have been added to the membership card gallery, as we continue to work our way through the recent spike in orders (thank you!).
Ordering a membership card is a good way to support Uni Watch (which, frankly, could use your support these days). And remember, as a gesture of comm-uni-ty solidarity, the price of a membership has been reduced from $25 to $20 until further notice.
As always, you can sign up for your own custom-designed card here, you can see all the cards we've designed so far here (now more than 2,700 of them!), and you can see how we produce the cards here.
• • • • •
• • • • •
The Ticker
By Lloyd Alaban
Baseball News: Here's an article about the many different sleeve patches the Dodgers have worn in recent history (from Billy Ballas). … Check out this gorgeous vintage tequila sunrise Astros sweater that's available on Etsy (from Nathan Budziszewski).
NFL News: Rams WR Cooper Kupp will change his number from No. 18 to No. 10, the number he wore during his college career at Eastern Washington (from @fv_rob). … The Titans were originally supposed to be called the Pioneers. But when the name leaked, then-owner Bud Adams scrapped the idea (from Kary Klismet). … On Monday night, the NFL Network rebroadcast the 1994 Week 1 game between the Dolphins and Patriots. Pats WR Michael Timpson's jersey had his Flying Elvis logo facing the wrong direction on his left sleeve. … In the 1968 AFL Championship Game between the Jets and the Raiders, Raiders RB/TE Billy Cannon had a "bonus" Raiders logo on his helmet! (From our own Scott M.X. Turner.) … The Eagles had some font-inconsistency issues in 1973. … Also in 1973, the Rams changed their unis. The team was offered two different shades of royal blue for their helmets, with one of them being identical to the Broncos. The team decided the Broncos' royal was too light, so they went with the dark royal instead. Here are the blues side to side.
College Football News: In a recent interview on The Dan Patrick Show, Stanford head coach David Shaw said that he started wearing apparel with the school's tree-inclusive logo, instead of the plain block "S," because recruits frequently mistook the plain version for other schools' logos, including NC State and Syracuse (from Kary Klismet). … You may remember that last week athletes from a lot of different pro leagues put the names of healthcare workers over the NOBs on their jerseys. Virginia LB Charles Snowden has started something similar for UVa athletes, which he's calling "Hoos Your Hero" (from our own Jamie Rathjen).
Hockey News: A Twitter user has noted that the Flyers use two different primary logos: One for media and one for their sweaters (from Scott Ledered). … New mask for Canucks G Jacob Markstrom (from Wade Heidt). … Flyers G Ron Hextall was wearing a Canadiens base-layer shirt during the 1987 Canada Cup (from Bryan Palmer). … A YouTuber tried to find the ugliest jersey for each NHL team (from Scott Whitt).
Basketball News: Longtime reader Jeff Ash was going through some old stuff and found some 1980s ticket stub for a Harlem Globetrotters game at the Mecca in Milwaukee. The ticket was patterned after the arena's famous court design. Have any other fields, courts, or playing surfaces served as the basis for a ticket design?
Soccer News: Here's the fan vote winner for Scottish side Dumbarton's new shirt (from Ed Zelaski). … Today is the 40th anniversary of the wearing of one of England's most famous shirts (from our own Jamie Rathjen). … New kits for Dutch side AZ Alkmaar (from Josh Hinton). … For the latest in kit news from around the world, be sure to follow Josh's Twitter feed.
Grab Bag: The Bristol Bears of Premiership Rugby released a video with their new kit manufacturer, Umbro (from German Cabrejo). … A sportswriter in Iowa made a bracket of all the defunct Iowa high school mascots (from Aaron Telecky). … … New logo for the city of Fayetteville, Ga. (from Timmy Donahue). … Also from Timmy: The police department in Delano, Calif., debuted new badges and patches that honor past officers. … The remaining items in this section are from Kary Klismet: Here's how some mascots are dealing with the pandemic. … Businesses have started ordering branded masks and face shields with their company logos on them for their employees to wear as they start returning to work from the coronavirus lockdown. … Here's a behind-the-scenes look at Kansas State's "digital brand." … New logo for Central Baptist College athletics.
• • • • •
[adrotate group="2″]
• • • • •
Click to enlarge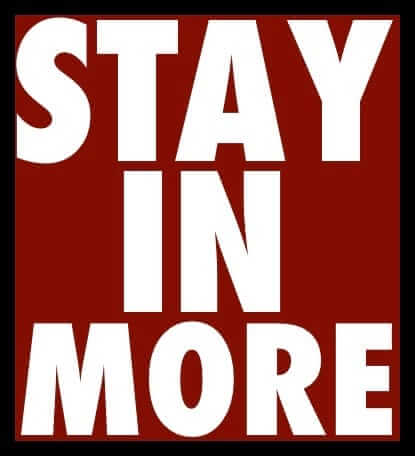 What Paul did last night: I biked a bit later than usual yesterday, which in turn meant that porch o'clock came a bit later than it usually does, which in turn meant we were still out there when the Racket commenced at 7pm.
As I've mentioned before, we don't really care for the Racket. But one thing we do like about it is that one of our neighbors — an elderly Orthodox Jew who lives across the street — often participates by standing on his stoop and hitting two big cymbals together! He does it at oddly timed intervals, which has a sort of comic-dramatic effect that we quite enjoy. I got this very bad photo of him yesterday (that's his wife standing next to him; click to slightly enlarge):
After the one-day champagne indulgence, we were back to beer and wine yesterday.
The branch is still there.
As always, you can see the full set of Pandemic Porch Cocktails™ photos here.
• • • • •
Raffle results: The three winners of the Purp Walk raffle are Craig Gunter, David Murphy, and Will Scheibler, each of whom has won a purple-inclusive membership card. I can't wait to see which designs they choose!
• • • • •
Special shout-out today to Phil. He knows why. — Paul