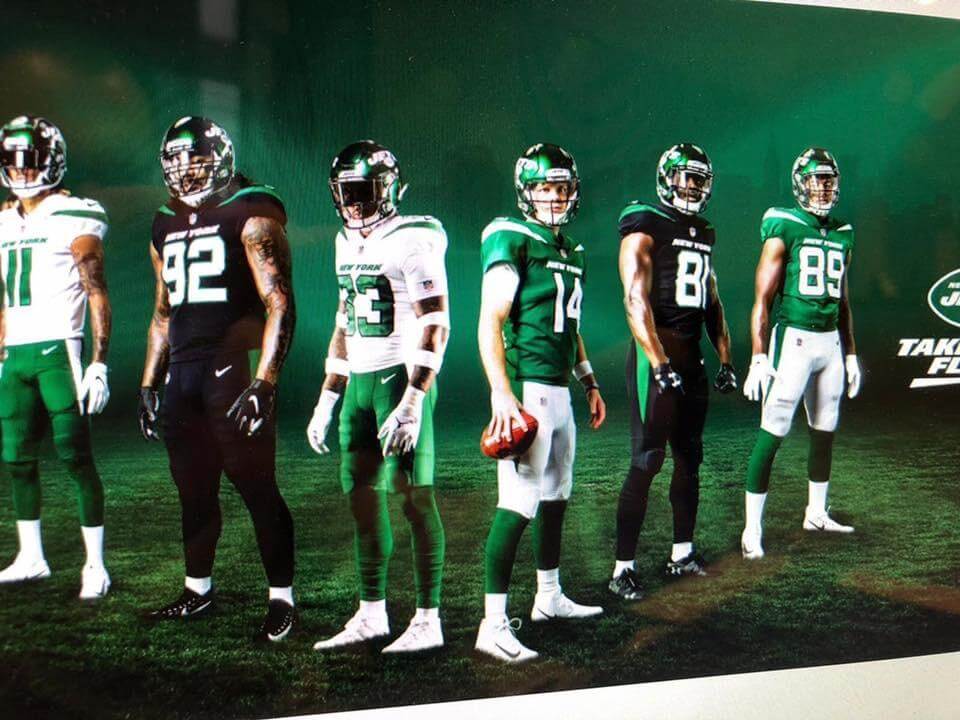 Click to enlarge
A new Jets leak, shown above, began circulating yesterday morning and the internet pretty much went bananas. I usually try to avoid discussing unverified leaks of questionable legitimacy, but this is pretty much a Jets day in the uni-verse because the official unveiling is this evening, so let's go ahead and discuss the alleged leak.
It's not clear, at least to me, who first posted the image, so we don't know the source. As soon as the image came across my radar, I checked with two sources I trust, both of whom basically said (I'm paraphrasing here), "It looks like what I've been told, but I can't say with any certainty that it's 100% legit." Both sources also pointed out some details that could argue against the image's legitimacy.
My position on this leak is the same as for any unsourced, unverified leak: It could be real, or maybe not. Until I know more, I'm maintaining a healthy skepticism.
Let's shift into virtual-Q&A mode (most of the questions and statements in bold are similar to, and in some cases direct quotes of, things I saw people posting on Twitter):
It sure looks legit to me!
Lots of people said this yesterday, including some media outlets and journalists that really should know better. I'm not sure what anyone means by "looks legit." That leak from January "looked legit" too, didn't it? But it was fake.
It must be real! Why would anyone post something like this if it was fake?
Some people like to plant hoaxes and get people talking.
It's way too elaborate to be just a Photoshop job. It must be real!
I'm not a Photoshopper, but several people who are Photoshoppers tell me that this image is very much in the realm of the Photoshop-possible. That doesn't mean it's fake; I'm just saying that there's nothing about it that rules out fakery.
We've heard from legitimate sources that the Jets would have a more Kelly-ish shade a green, and black alternate, and more. It all matches up! It must be real!
No, that doesn't indicate anything one way or the other. If you were creating a faked image to leak, you'd use that same legitimate info to reverse-engineer your fake.
Someone on the Jets said on Instagram that it's real! But wait, someone else on the Jets said it's not real. Now I'm confused!
I think it's safe to say that we shouldn't trust what team members have to say about something like this, because it could all be a misdirection to elevate (or preserve) suspense ahead of tonight's unveiling.
One of the players is wearing Under Armour cleats and gloves. Nike would never allow that — it must be a fake!
No, that has no bearing on anything. Under Armour is an approved on-field brand. If you look at past NFL unveilings, you'll find that players sometimes wear non-Nike gear. Look at this Jags unveiling shot from just last year, for example.
Why would Nike let players do that?
Sigh. It's not a Nike unveiling. It's a Jets unveiling. (And that other photo was a Jags unveiling.) You people really attribute far too much power to Nike.
So you're saying the Jets photo is real?
No, I'm saying that a player wearing Under Armour accessories doesn't indicate anything one way or the other.
I have a friend at Nike who says it's real.
Great. Please send me his name and contact info.
I have a source who says it's fake.
Great. Please send me his name and contact info. Then we can put him in touch with the Nike guy. I'm sure they'll have a lot to talk about.
You mentioned something about details that call the image's legitimacy into question. Like what?
1. Do these jerseys have TV numbers? It's hard to be sure — the numbers could be there on the shoulders, but the camera angle makes it impossible to tell. Not having TV numbers seems like it would be a big tell. Then again, the Patriots' Color Rash uniforms don't have TV numbers either, so there's some recent precedent.
2. If you look at the jersey collars, they appear to have the standard NFL logo, not the NFL 100 mark that we know teams will be wearing this season. Of course, they could have done the photo shoot before the NFL 100-inclusive jerseys were made, so this doesn't necessarily prove anything, but it strikes me as an eyebrow-raiser. (Similarly, the pants have the standard NFL logo, although we don't yet have confirmation that teams will be wearing the NFL 100 mark on their pants.)
3. Speaking of the collars, they appear more like the old Elite 51 collars, not the newer template with the little triangle, although it's hard to be sure about that.
4. The lengths of the various pants stripes seems very inconsistent. This is actually the thing I find the most troubling about the image.
5. The two guys in the foreground — safety Jamal Adams and quarterback Sam Darnold — appear to be the same height, or maybe Adams is even in a bit taller. In real life, Darnold is listed as being two inches taller than Adams.
6. The Jets' two big offseason acquisitions — linebacker C.J. Mosley and running back Le'Veon Bell — are not shown in the image. You'd think they'd want to showcase them, right? Of course, the photo could have been taken before those guys came on board.
7. We heard just a few weeks ago that the new uni numbers "kinda look like Oregon's." No sign of that here.
Okay, you've convinced me — it's fake!
I'm not trying to convince you of that. All I'm saying is that I don't know whether it's real or fake.
You just want to be negative. You hope it's fake!
Actually, I hope it's real, because I've already started writing something about it, just in case, and it would be nice to have that head start on tonight's article. But I honestly don't know if it's real, and I do know from past experience that it could be fake.
Let's say, for the sake of argument, that it's real. What do you think of it?
I'd rather wait until I know what the real design is.
You must be a lot of fun at parties.
I realize reality checks aren't as much fun as wild speculation or jumping to conclusions, but my job is to deal with reality, not fantasy. (Also, I'll be covering tonight's unveiling for Sports Illustrated, so they have first dibs on my opinion about the new uni set, whatever it turns out to be.)
———
Honestly, I hate leaks. Everyone goes bonkers and gets seriously stupid. Thank god the unveiling is tonight so the whole issue will be put to rest.
Speaking of which: The uni reveal is scheduled for 7:30pm Eastern. I'll be arriving at least an hour before then to take photos of the scene (watch my Twitter feed for juicy bits), do some reporting, enjoy the open bar with Chris Creamer and Todd Radom, etc. Once the actual unveiling happens, I will likely stop tweeting and stop looking at my email, because I'll have to start interviewing Jets and NFL people who'll be there and then write my SI story. (I've been told that there will be not be a media room where writers can work, so I'll have to either sit on the floor in a corner or find a nearby pub, grrrrr.)
Not sure exactly when my SI piece will go up (I've never covered breaking news for SI, so I don't know how quickly they process things), but I'd guess probably somewhere around 9:30 or 10. I'll tweet the link to the SI story, of course, and I'll try to have some sort of recap here tomorrow. See you then.
• • • • •
• • • • •
Click to enlarge
Bookended memorials: Here's one of the weirder NFL uni memorials that you might not know about. Late in the 1989 season, the Falcons began wearing a black "73" for offensive tackle Ralph Norwood. A few weeks later, for the final game of the season, they added an "83" for tight end Brad Beckman, creating an unusual bookend effect.
(My thanks to @JackyPucks for this one.)
• • • • •
• • • • •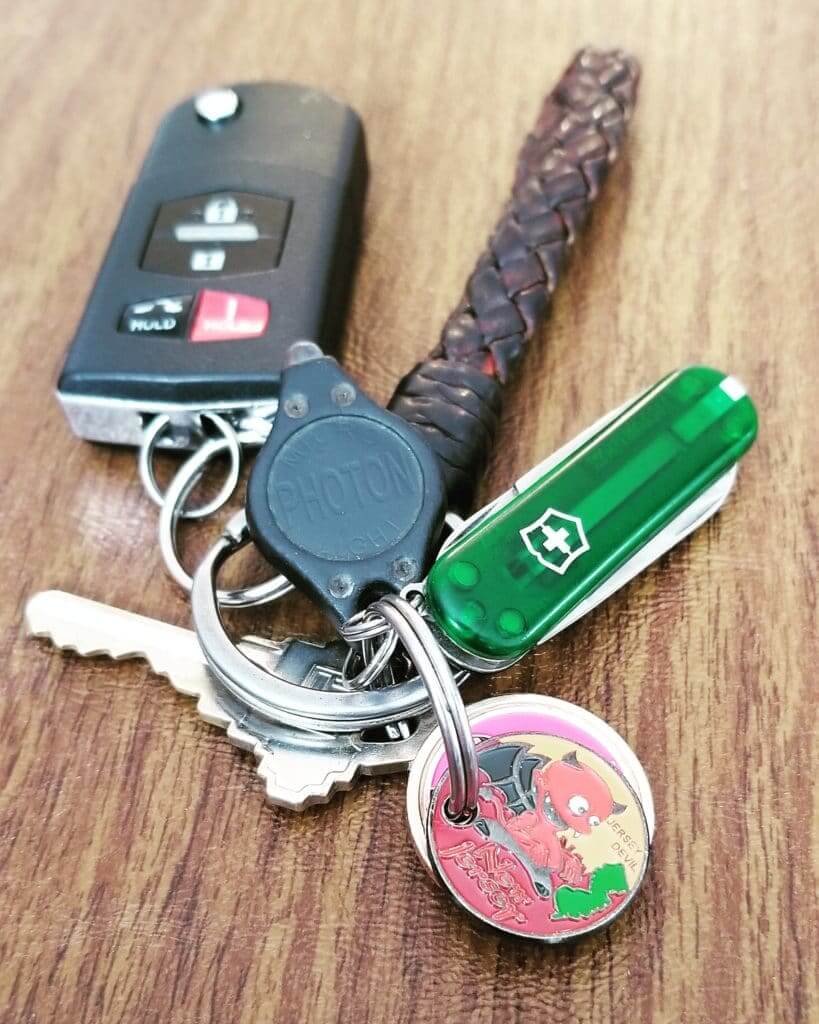 Click to enlarge
KRC update: The latest installment of Key Ring Chronicles is about a little New Jersey Devil coin. Check it out here.
• • • • •
• • • • •
The Ticker
By Paul

'Skins Watch: Sneaky move by Indians P Trevor Bauer, who has created a T-shirt that salutes Cleveland fans. The shirt's design features a word cloud shaped like Chief Wahoo (from our own Yianni Varonis).

Baseball News: One of the video boards outside of Nationals Park was rebooting yesterday morning. "That's pretty much the Nats' season so far," says William Yurasko. … Here's some 1929 footage of Tigers great Ty Cobb participating in a baseball exhibition in London and wearing a New York Giants cap (from David Sikula). … The radio show Marketplace did a segment on the Baseball Card Vandals, the guys who deface trading cards with sophomoric graffiti. The Vandals also have a new book, which I recently received a review copy of, so I'll be writing about that soon (from Andrew Cosentino). … Brewers P Freddy Peralta came up to bat with a blank batting helmet during yesterday's game against the Reds. … The Omaha Storm Chasers' April Fool's Day prank, about renaming the team as the Omaha Potholes, was such a hit that they're selling Potholes merch and actually goig ahead with a Potholes Night at the ballpark (from Chris Mattox). … Of all the organizations that would copy MLB's classic red-white-blue silhouetted-batter logo, about the last place I'd expect to do so would be the Cultural Services French Embassy in the United States (good spot by Clint Wrede). … Oooh, check out this awesome baseball jersey worn by the crew of the U.S.S. Lexington in 1936. More info here (big thanks to Kevin Rice). … Royals players had inconsistent belt colors yesterday. … Speaking of belts, Mets C Wilson Ramos has been wearing a belt that's orange in the front and blue in the back (from Mike Nessen). … Twins utility man Willians Astudillo's helmet keeps falling off when he swings. … Interesting moment at the start of yesterday's Red Sox/A's game as No. 50 led off against No. 50. … The D-backs have so many uniform combos that the players can't keep them straight (from our own Alex Hider). … The Jan. 7, 1955, edition of The Baltimore Sun had a good article about the Orioles' new uniforms (from Will Shoken). … Gee, ya think the Sultanes de Monterrey have enough jersey ads? (From Chris Richards.) … As we all know, the Pirates' home pants are white with black/gold piping. But SS Erik González's pants yesterday were piping-free. … Let's hear it for A's P Marco Estrada, whose cap last night didn't have the New Era maker's mark (from Samuel Lam). … Here's a look back at Columbus Clippers uniforms through the years (from @MiLBPromos).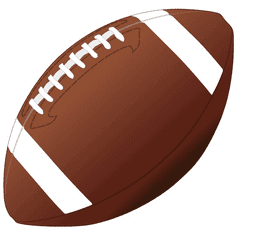 Football News: A talk show host on the Texans' radio station says he's heard that the team could have new uniforms in 2020 (from Tyler Johnson). … Mount Marty College starting a football program. Here is a prototype helmet (from Jay Wright). … Ohio State coach Ryan Day is apparently considering restoring grey to the Buckeyes' uniforms (from Mark Kunz).

NBA News: Yesterday's Ticker mentioned that Warriors G Steph Curry wore an Andris Biedrins jersey to the arena the other night. Turns out Biedrins loved that. … Newly acquired Kings G B.J. Johnson will wear No. 9, and new Knicks G Billy Garrett will wear No. 3. … A Minnesota man has found a trove of old Minneapolis Lakers photos from the early 1950s (from Keith Grinde).

Soccer News: "I was listening to a past episode of the podcast 99% Invisible and they interviewed a person who studies colors," says Derek Linn. "At approximately the 6:30 mark she talks about red vs. blue in English football and says that studies show teams wearing red tend to win more than they would be expected to. This also applied to combat sports in the 2004 Olympics. It's a really great listen." … Tottenham Hotspur's new stadium features commemorative corner flags. "That's something I've never seen before," says our own Jamie Rathjen. … Speaking of Tottenham, they've released a new kit with a special print for their first match at the new digs (from Josh Hinton). … While honeymooning in Indonesia, Grant Hewitt saw this kit for Bali United. "The white/black plaid on the leg is inspired by the local saput poleng fabric, symbolizing the yin and yang in their heavily Hindu culture," he explains. "And their jersey fabric has a sublimated face of Barong, who is the king of spirits and leads of the hosts of good." … The seven charter teams for the Canadian Premier League will unveil their kits today, with lots of "lifestyle influencers" in attendance, oh boy! (From Wade Heidt.) … The recent game between the women's teams of FC United of Manchester and the Sir Tom Finney Training Centre of Preston featured a pink ball (from Graham Clayton).

Grab Bag: An Idaho high school has been raising funds by selling pillows made from old band uniforms. … New logo for the Great American Duck Race in Deming, N.M. … New logo and name change for the Queens Public Library. … Tennis pro Roger Federer is reclaiming his personal logo from Nike. … NASCAR Xfinity Series driver Tyler Reddic will buck convention and superstition this weekend by driving a pink car. … The curling sheets at the University of Alberta have the house printed in Uni Watch colors! (Nice one from Buford Grimes.) … After I tweeted that curling photo yesterday, Steve Kaltenbaugh informed me that the Bucks County Curling Club near Philadelphia has a similar color scheme. … Check out the "NCAAction" logo on this old seat cover that Jimmy Roe found. Never seen that before. … Here are some mascot pictograms for the 2020 Paralympics (from Jeremy Brahm). … Patagonia, whose logo-clad vests have become standard workplace perks on Wall Street and in Silicon Valley, plans to become more selective about the companies it supplies, preferring to work with environmentally friendly firms (from Logan Irons). … Here are the IndyCar liveries for this weekend's race in Alabama. "Interesting that Colton Herta, at 18 years old, wins the last race at COTA in Texas to become the youngest IndyCar winner ever but still doesn't have a primary sponsor for the car," says Tim Dunn. … New name and logo for the Penn State lacrosse student section (from María Canales).
• • • • •
The winner of our latest one-day raffle is Shawn Dobbins, who's won a free Uni Watch membership. Congrats to him, and big thanks to Tim Walsh for donating this raffle prize. We'll raffle off another donated membership tomorrow, and yet another one next week.