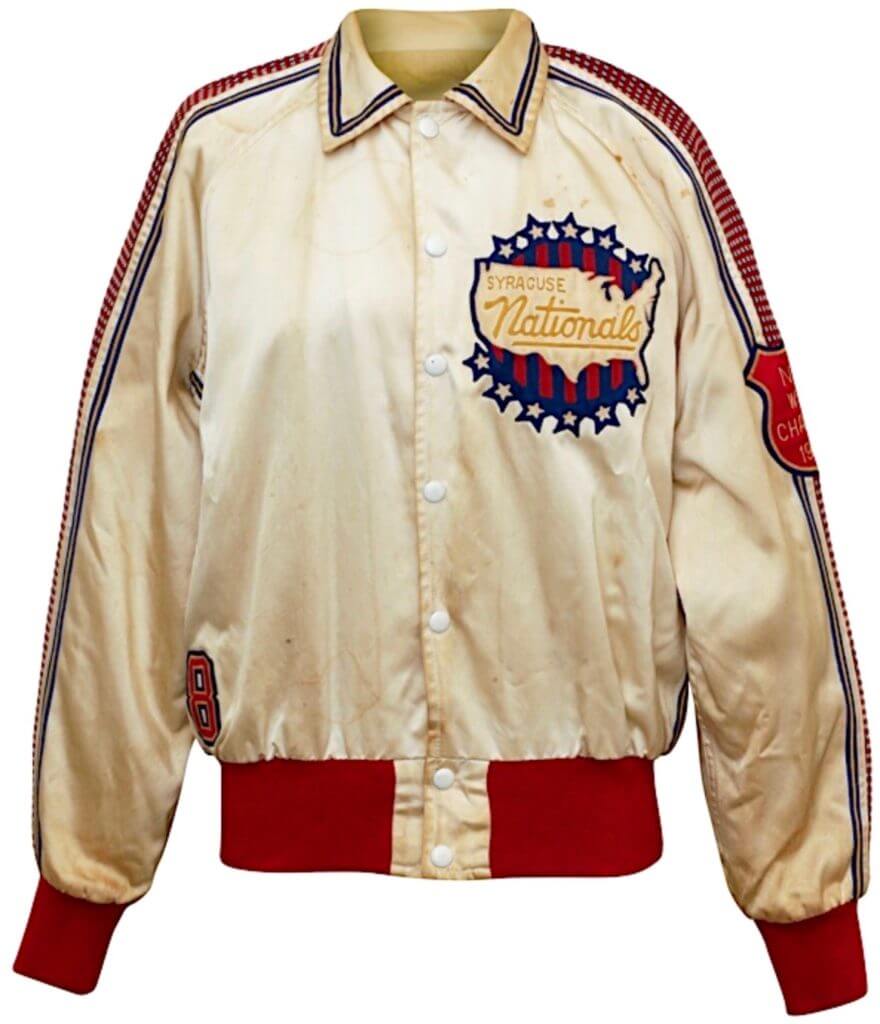 For all photos, click to enlarge
As you may have noticed in the left-hand ad rail, our friends at Grey Flannel Auctions are running another catalog sale. It includes the absolutely magnificent 1950s Syracuse Nationals jacket shown above. Everything about this jacket is awesome, from the chest logo and collar piping to the sleeve patch and interior tagging. Check this out: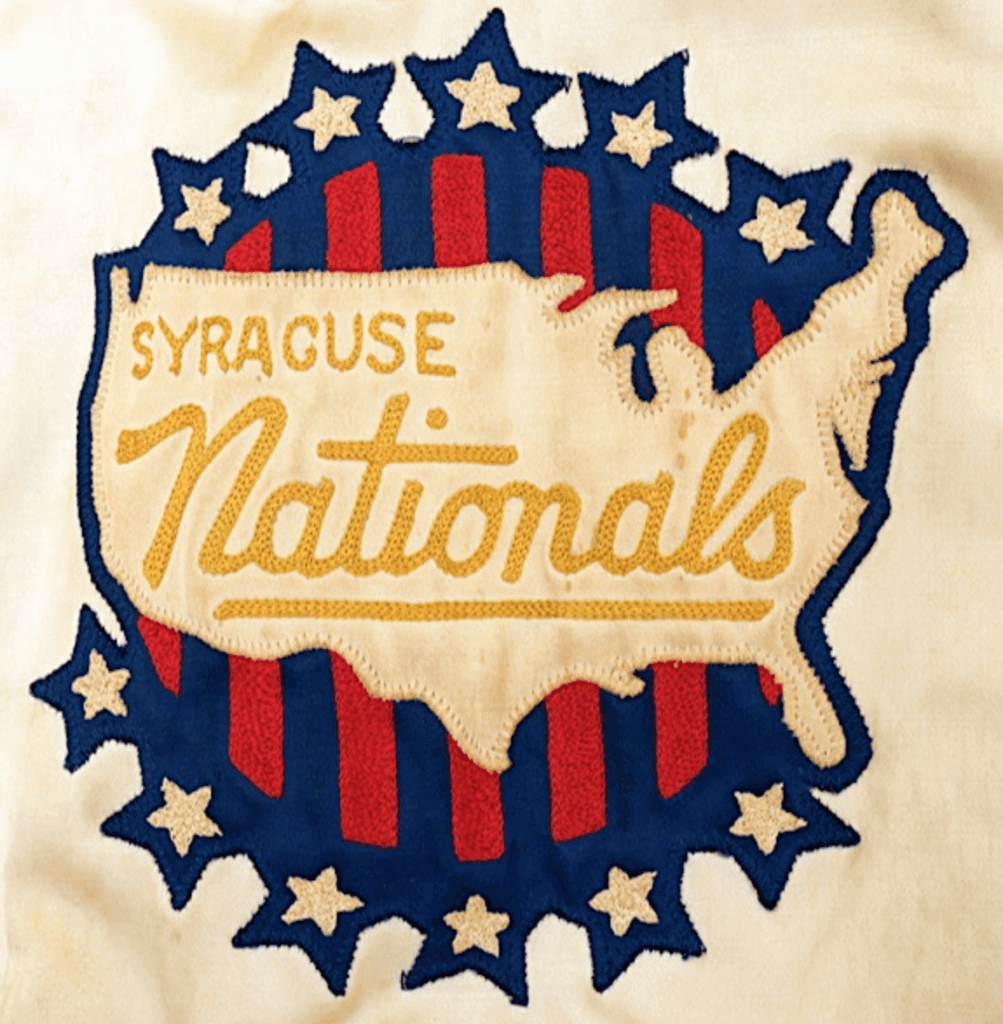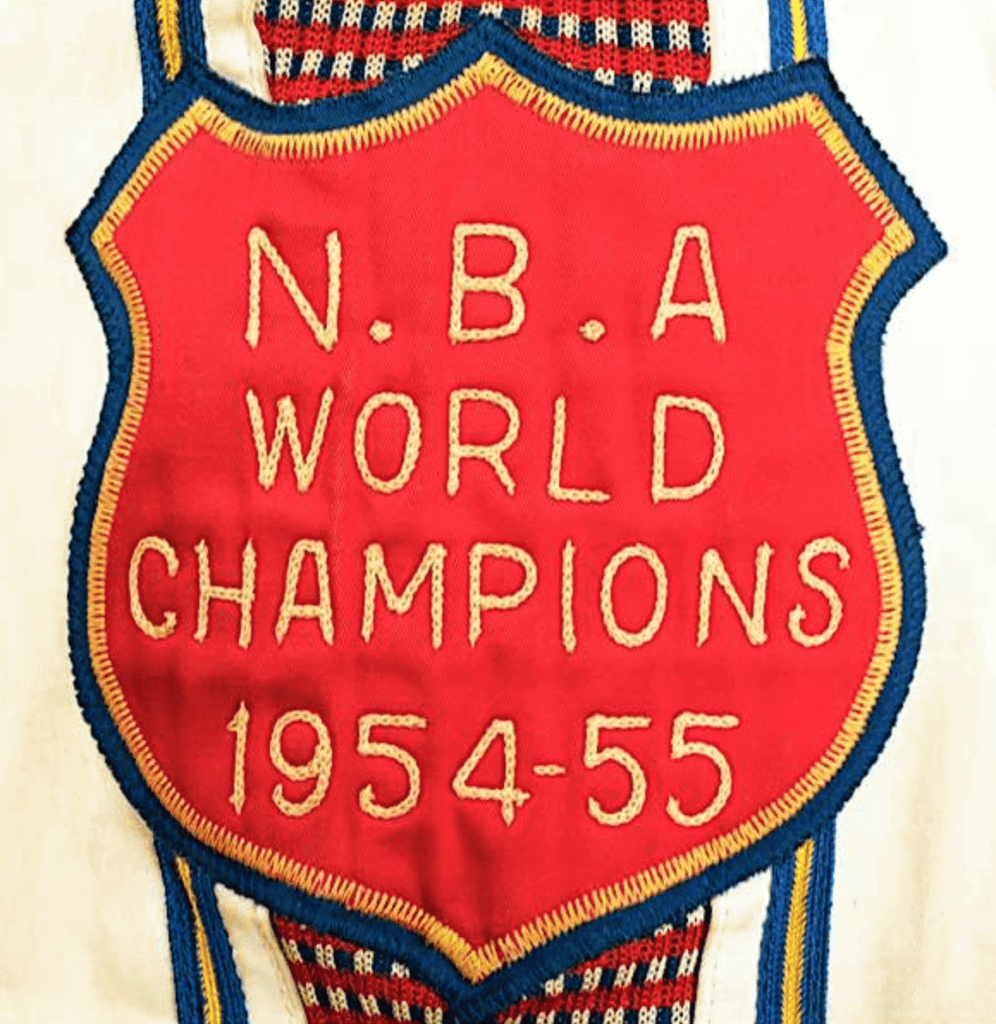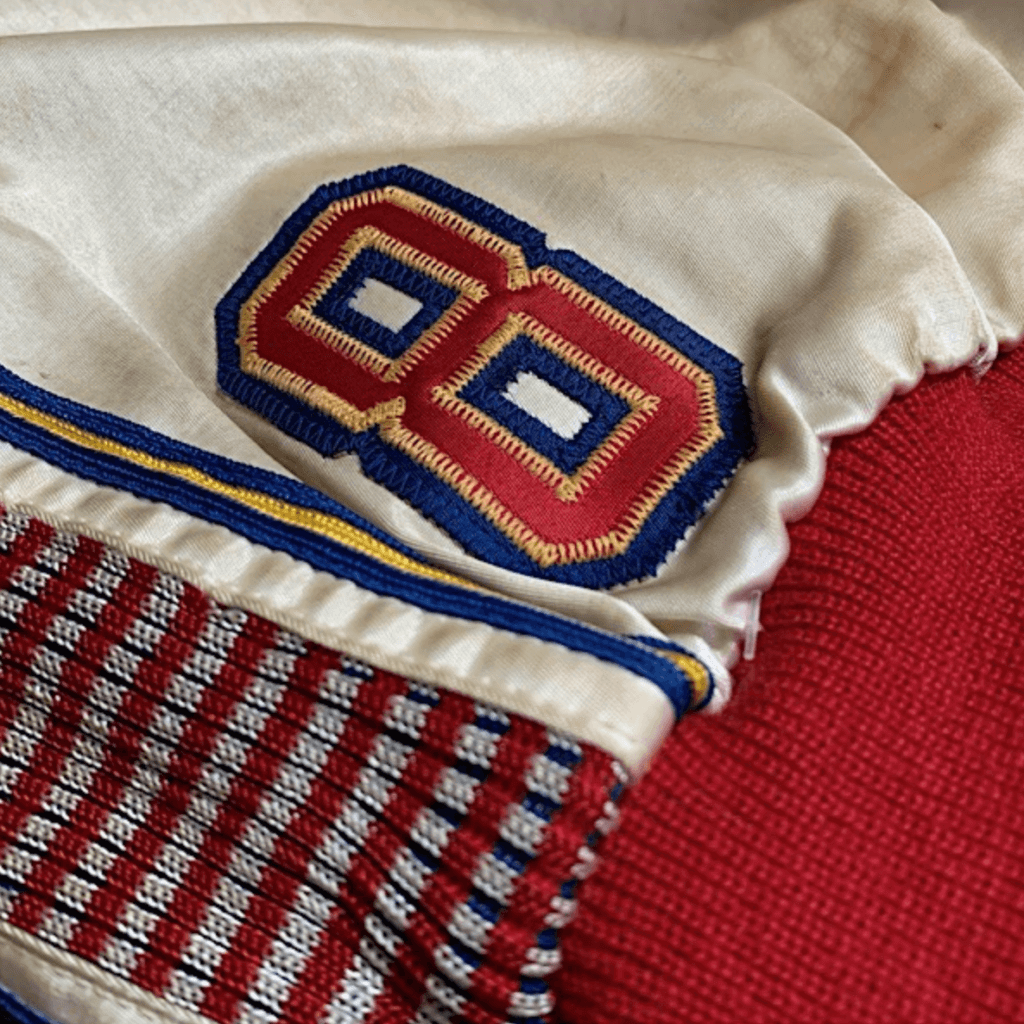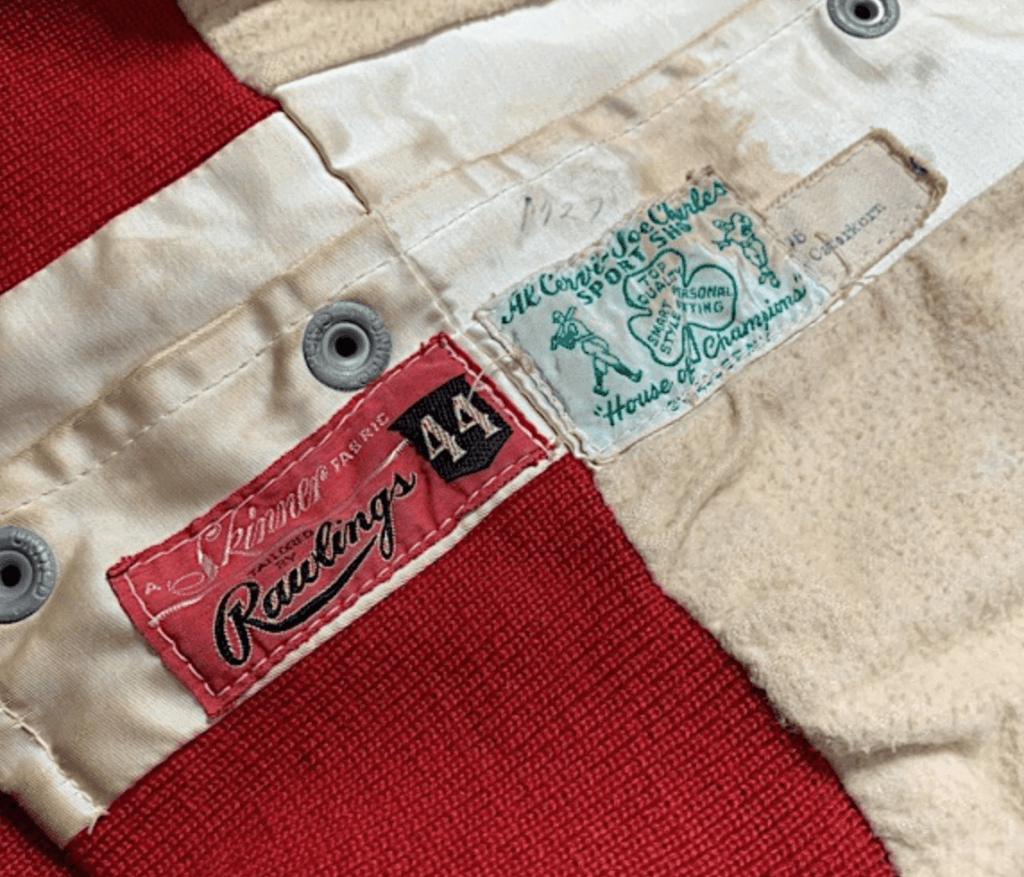 Pretty good, right? You can see more photos and info here.
Interestingly, this catalog auction also includes a really nice jacket from the team that the Nationals eventually became, the 76ers: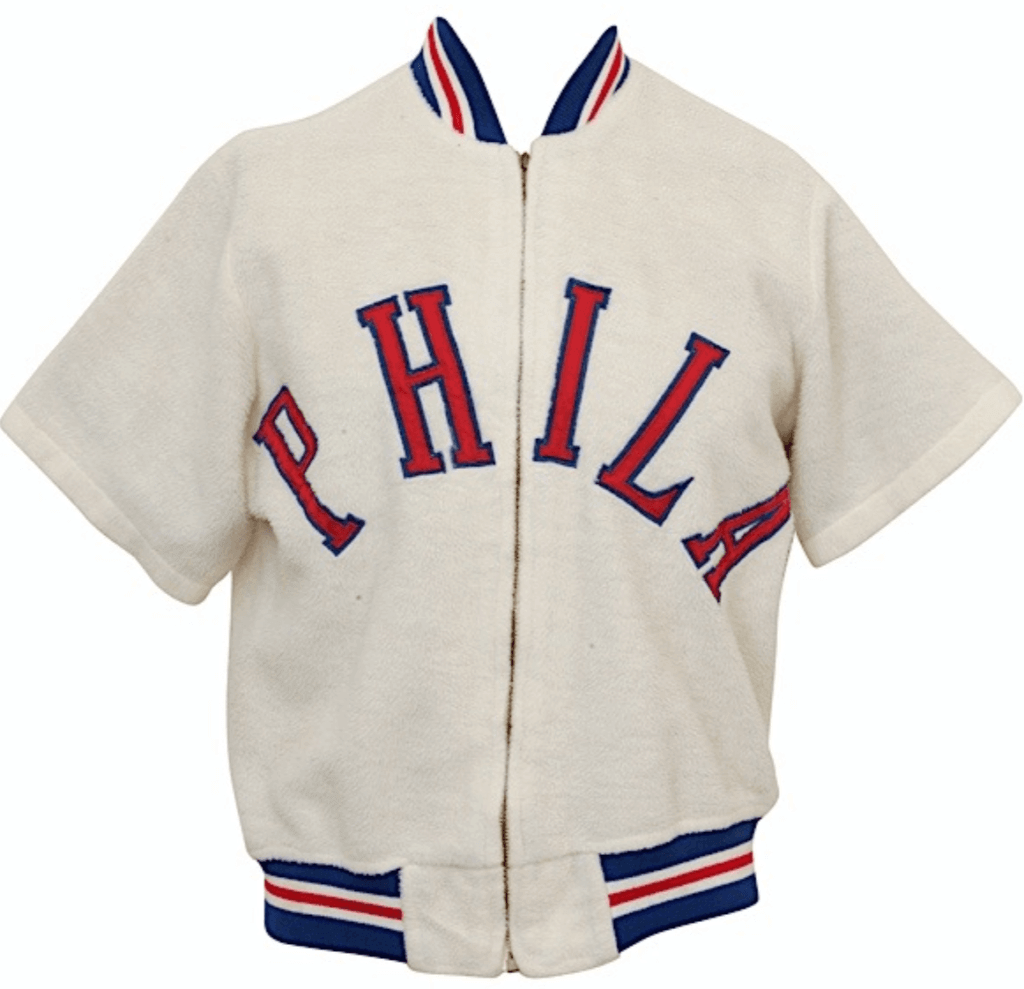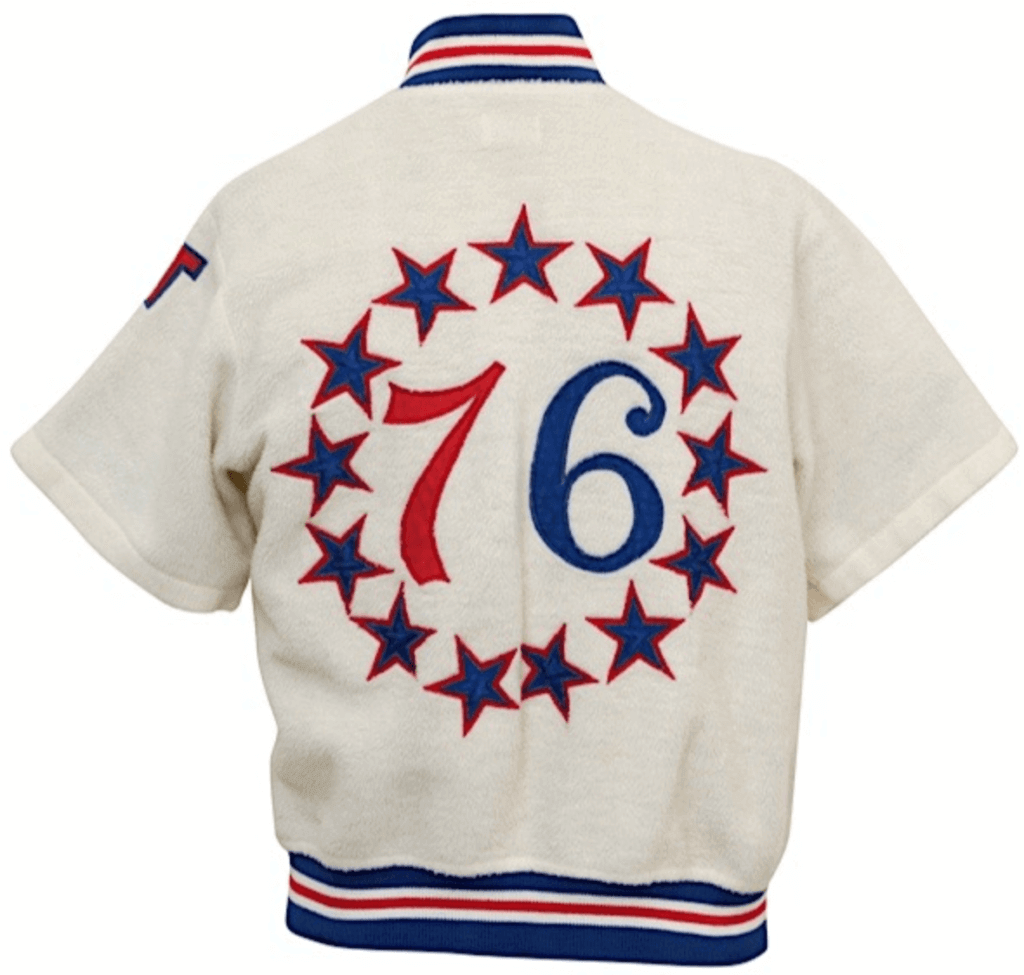 You can learn more about that item here.
Here are some other items that caught my eye this time around:
• Lots to like on this 1968 game-used Billy Williams Cubs jersey, including the rarely seen Illinois sesquicentennial patch.
• Oh man, how awesome is this 1928 photo album prepared for Cubs manager Joe McCarthy. A very unusual item!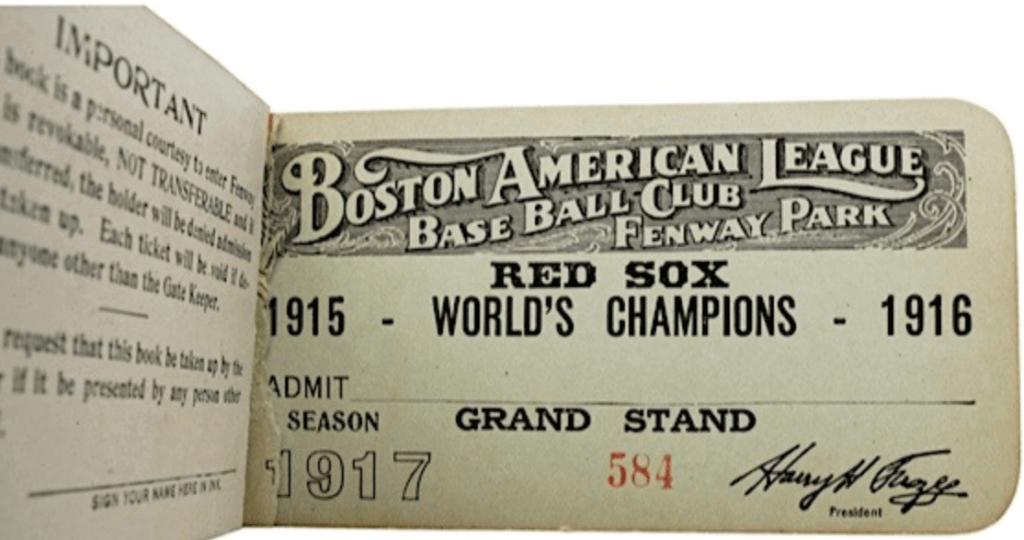 • Speaking of unusual, check out this 1917 Red Sox season ticket booklet.
• Love this 1970s Cal Angels jacket, which was made for owner Gene Autry. The big logo on the back is particularly nice.
• I never get tired of seeing these old Phillies jerseys with the giant chain-stitched numbers on the back. Here's another one — great stuff!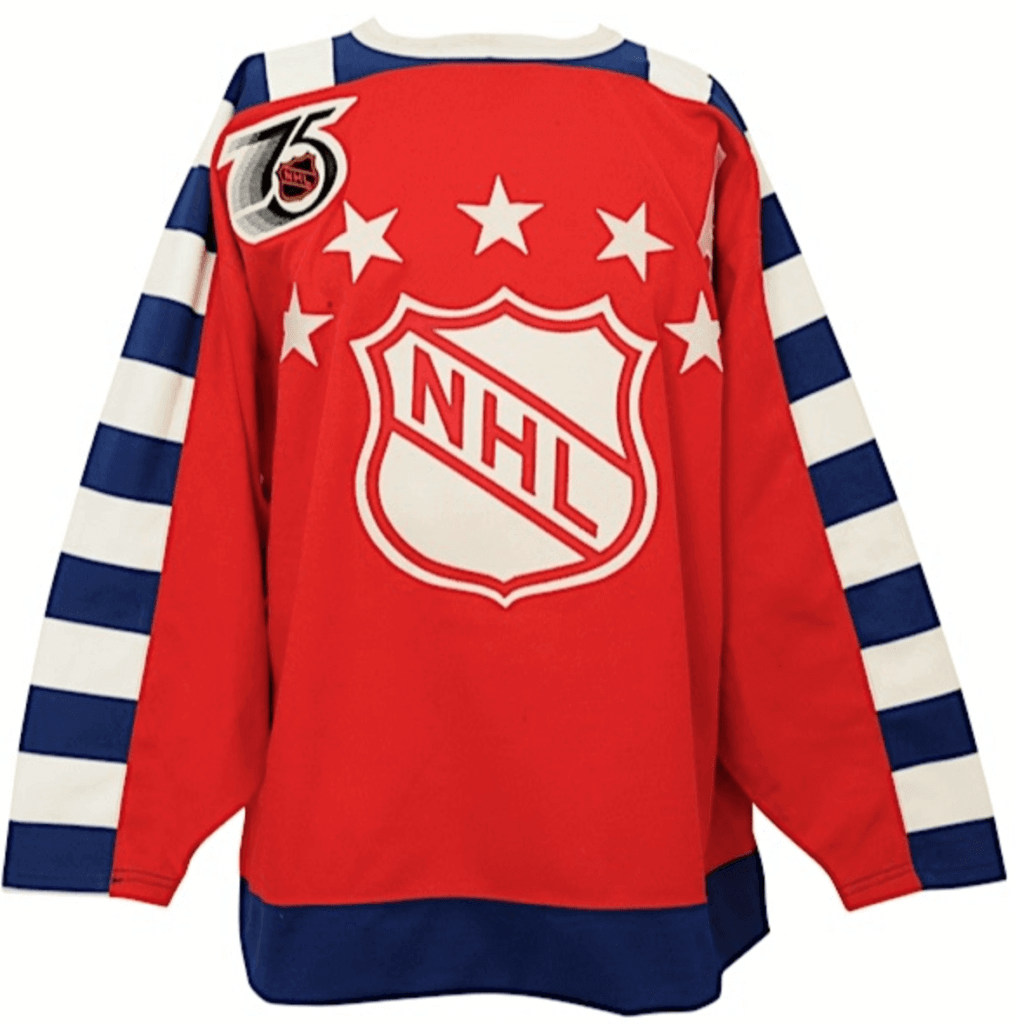 • Love this Brett Hull 1992 NHL All-Star Game jersey. So much better than the ones that the league recently unveiled.
• I've never seen an NFL sweater quite like this 1951 Doak Walker item. Note the city of Detroit 250th-anniversary patch, too!
• I like how the Gold Glove award is position-specific. So if you're a first baseman, like 1967 Gold Glover George Scott, your trophy will feature a first baseman's mitt.
Want to see more? You can browse through the full set of auction listings here.
• • • • •
• • • • •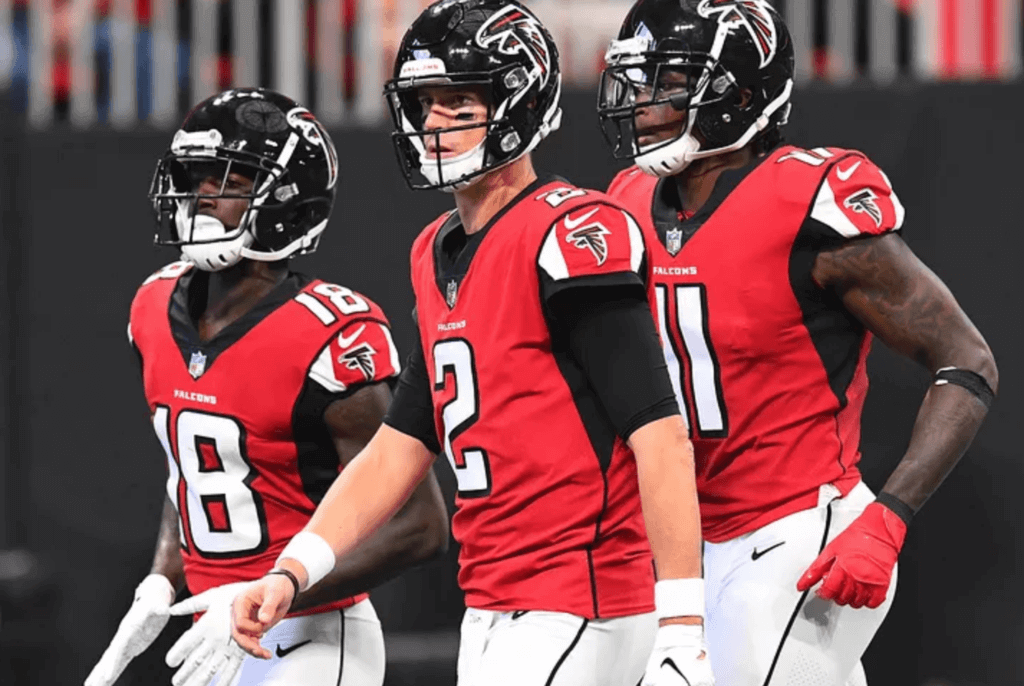 Nike to try to make Falcons' unis even worse give Falcons new look for 2020: The Falcons, who've had one of the NFL's worst looks for the better part of two decades, announced yesterday that they'll unveil a new uniform set sometime in April. The exact date has not yet been revealed.
I have to say, they've done a good job of keeping this news under wraps. I hadn't heard so much as a peep about it! So that makes at least three NFL teams that will be unveiling new looks this spring: the Browns, Rams, and Falcons. (Let's hope the Cardinals are another team with a previously undisclosed makeover in the works.)
Given the Falcons' current look, you'd think there's nowhere to go but up, right? But we've certainly seen that assumption tested before, so you never know.
• • • • •
• • • • •
For all photos, click to enlarge
House Divided update: Remember Ethan and Billie Hopkin, who have a "mixed marriage" because he loves the Cowboys while she loves the Packers? I heard the other day from Ethan, who shared this photo of customized pillows he recently ordered. "Interesting that the Cowboys one was rendered in their old font," he says.
He also got a white Packers version and a blue Cowboys version:
"I also found these awesome hats that look like the team's helmets," says Ethan. "Here we are on a recent trip to Colorado."
Good stuff, Ethan. Keep it coming!
• • • • •
• • • • •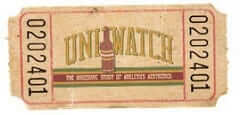 ITEM! Another membership raffle: Reader Rick Cuzzetto recently purchased a membership for me to raffle off, so we're going to do that today.
This will be a one-day raffle. To enter, send an email with your mailing address to the raffle address by 8pm Eastern tonight. One entry per person. I'll announce the winner tomorrow. B
Meanwhile, speaking of raffles, the winner of yesterday's Uni Watch pennant raffle is Will Lawson. Congrats to him, and my repeated thanks to Justo Gutierrez for sponsoring that one.
• • • • •
• • • • •
Click to enlarge
Pin Club update: People are starting to receive their January pins from the 2020 Uni Watch Pin Club. As you can see above, reader Bob Andrews put his on the strap of his binoculars ("Because I use them at games to watch unis," he says), along with his Uni Watch 2019 Press Pin. A nice pairing!
Reader Tim Dunn plans to assemble a pin-encrusted Uni Watch cap, and he's off to a good start with the January pin, the Press Pin, and our winged stirrup pin (click to enlarge):
And reader Andy Moeschberger has a really cool idea. He's put the press pin in the center of his bulletin board and is going to surround it with the 12 monthly Pin Club pins, creating a Uni Watch "pin clock":
Are you displaying your Pin Club pin in an unusual way? Feel free to send photos my way.
Meanwhile, if you want to order the January pin, you can order it here, and additional info on the Pin Club is available here. My thanks to everyone who's making this project so much fun!
• • • • •
• • • • •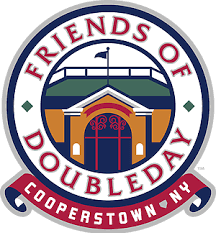 A couple of plugs: There are two worthy events that I want to tell you about:
• On Feb. 7-9, the Friends of Doubleday — that's a group headed by former Cooperstown mayor (and my former college buddy) Jeff Katz — will be holding the first-ever Hot Stove Weekend, which will include panel discussions with longtime Uni Watch pal Todd Radom, the MLB Network's Brian Kenny, Hall of Fame curator Tom Shieber, and sportswriters Jay Jaffe and David Roth. I was originally slated to take part in this one before a schedule conflict forced me to back out, but I can unhesitatingly recommend it, even though I'm no longer a part of it. You should go! Full details here.
• A friend of reader Gene Biros has a nonprofit called Jerseys of Hope, which collects used sports jerseys, has them cleaned, and then donates them to hospital patients. They're running a fundraiser in Cleveland on Feb. 22, with the local sports franchises donating jerseys for that event. For more information, or if you'd like to donate jerseys of your own, look here.
That's it. Thanks for listening.
• • • • •
• • • • •
The Ticker
By Lloyd Alaban

Baseball News: We reported on the Braves' stadium's new corporate name a few days ago. Here's what the park will look like with its new signage (from multiple readers). … When the Braves were in Milwaukee and bullpen buggies didn't yet exist, Milwaukee County Stadium used a Braves-branded motorcycle and sidecar to get pitchers from the bullpen to the mound. That's Cardinals P Hal Jeffcoat being escorted to the mound in a photo dated June 23, 1959 (from Alan Tompas). … New white front-panel hat for the U. of Arizona (from Josh Miller). … The Chicago Tribune published a guide for buying the best catcher's helmet. … Here's an interesting article about the oldest team names in minor league baseball (from Kary Klismet). … New alternate uniforms for the Chunichi Dragons (from Jeremy Brahm).

NFL News: The Titans will wear white over navy for Sunday's AFC Championship Game (from Titans Uni Tracker). … Construction of the Raiders' new stadium in Las Vegas has been plagued by issues with the translucent roof (from Kary Klismet).

College Football News: Reader Trayton Miller has updated his FBS uni tracker for the final time this season. Great work! … Here's a cool video on how footballs for many college programs get made (from Griffin Smith). … Left over from Monday's national championship game: Five of the first six College Football Championship winners (and five in a row) have worn white in the title game. The only winner in a colored jersey — Ohio State in 2015 — was the lower seed, and wore scarlet only because Oregon surprisingly chose white. This parallels the trend of white-clad Super Bowl winners.

Hockey News: The Kings have special logos for their "Father/Brother Trip" to Florida to face the Panthers (from Jakob Fox). … The Penguins' announcers dressed like Mr. Rogers for Pittsburgh Night last night (from Troy Caldwell). … This past weekend, the Penn State women's ice hockey team wore navy helmets at home against Lindenwood. They typically wear white helmets with a navy stripe (like the PSU football helmets) both home and away, as does the men's team. The men's team saves the all navy helmet for their third jerseys, which the women's team currently does not have as an option (from Jaymes Progar). … Here's what the Grand Rapids Griffins, minor league affiliate of the Red Wings, will be wearing for their Harry Potter-themed Wizard Night promotion (from Ian Lee). … The Huntsville Havoc of the Southern Professional Hockey League will be wearing newborn-themed uniforms on Saturday. All proceeds from the sale of retail jerseys will go to Huntsville Hospital (from @themeebs).

NBA News: F Gary Clark will wear No. 12 with the Magic and F Kenny Wooten will wear No. 45 for the Knicks (both from Etienne Catalan). … New alternates for the Rio Grande Valley Vipers, D-League affiliate of the Rockets. Also a misspelled NOB for G Sindarius Thornwell (from Jim Bob Breazeale).

College Hoops News: Michigan State women's debuted glow-in-the-dark unis last night (from @LifeAfterFlint). … Davidson wore their black alternates last night, forcing Richmond to wear white on the road. That made for a confusing score bug, with each team being rendered in their primary color (from Timmy Donahue). … Another observation from Timmy, this time concerning the Mizzou/Mississippi State color vs. color game: "Maybe it's just me, but Mizzou's jerseys and shorts seem to be two different shades of yellow." … Confusing score bug for Louisville and Pitt as well in their color vs. color game (from Josh Hinton). … Alabama is continuing their blue collar cosplay by giving out Alabama-branded hard hats to fans in attendance at tonight's game (from Clint Richardson).

Soccer News: New shirt advertiser for Chievo Verona (from Ed Zelaski). … Also from Ed: Here's an Athletic article about the death of mom and pop soccer stores (paywalled) in America, thanks to big names like Adidas and Nike. … From Josh Hinton: The new manager of FC Barcelona, Quique Setien, was given a commemorative shirt at his first press conference with his FullNOB and no number. … Keep up with the latest kit news from around the world by following Josh's Twitter account.

Grab Bag: Really small NOB lettering in this Chinese women's league volleyball final (from Jeremy Brahm). … Also from Jeremy: Here's our first look of the ticket designs for this year's Summer Olympics. … A new art exhibit (NYT link) in San Francisco reimagines the "tech bro" uniform of a Patagonia vest mixed with, among other things, Margaret Thatcher's scarf collection. … An angry mom went to her son's school admins in England after she learned that the school had changed its logo for the third time in 18 months, thereby requiring her to purchase new uniforms for her son with the updated logo (from Greg Franklin). … Yesterday we featured an item about the Department of Justice's 150th-anniversary logo. That reminded reader Eric Hoey that he too had received this key ring, which features the VA's 75th-anniversary logo. … New logo for a campaign by the Maine Department of Agriculture encouraging residents to shop local. … New kits for the Australian team in the Women's T20 World Cup. "BFBS at play there," says @j_foreigner.