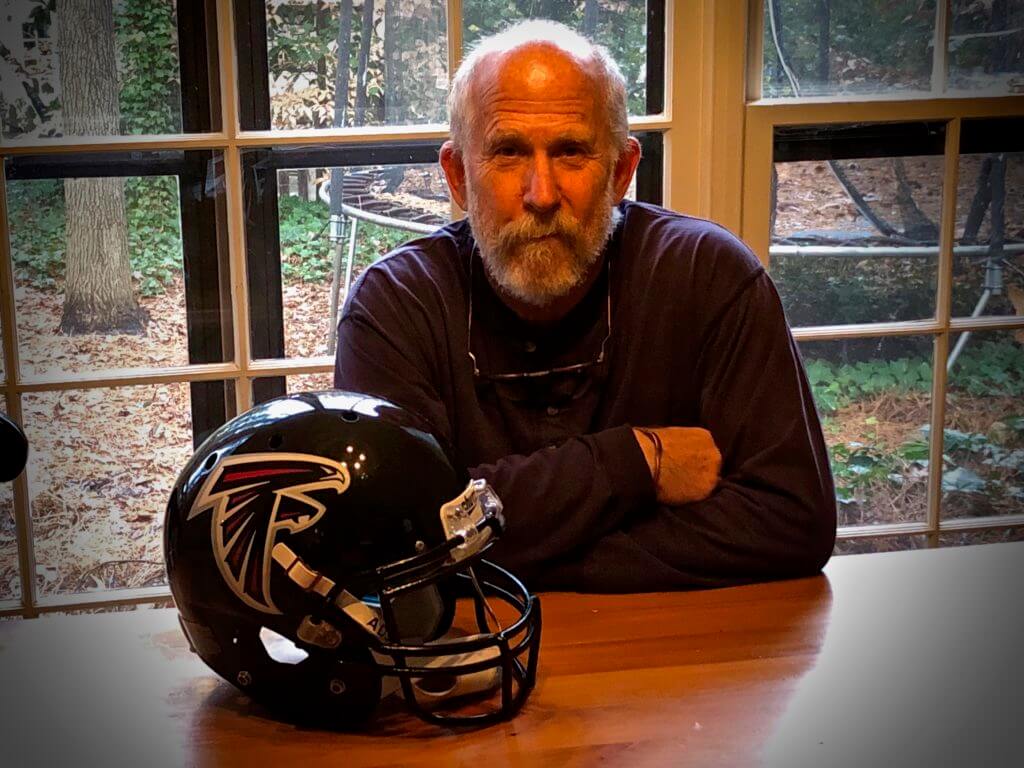 [Editor's Note: Today we have a guest entry from Brian Gunter, who's going to fill us in on his fascinating hobby of transforming old football helmets into new ones. Enjoy. — PL]
By Brian Gunter
I have an unusual hobby: I find old football helmets and recondition them to look like a new helmet of a particular team. It's fun to do, and they make great gifts (I once had a groom ask me to make UGA helmets for all five groomsmen). All in all, I've done over 60 of them over the past seven years.
The first step, obviously, is to acquire the helmet. I start by buying used, scratched, beat-up helmets on eBay. I stick to adult large sizes, because that's what most of the available logo decals are sized for. Early on, I could get a relatively nice helmet for about $20; now it costs more. I try to stick to the Schutt XP line, because most other helmet models have so many cavities, vent holes, and so on. that I can't sand them as thoroughly as I'd like and therefore can't get the spit-shined look I'm after.
Once I have the helmet, I need the proper paint color for the team whose look I'm re-creating. I have almost always used rattle spray cans from Home Depot or Walmart. There are enough flavors that I can do many different teams. However, there are some teams that have custom-mixed colors, including LSU, North Carolina, Green Bay, and Clemson. Home Depot at one time had a program called Team Colors, which had all of the NFL and the major college conferences' correct colors. But they could only mix it in latex (the rattle cans are enamel, which cures harder than latex). So to deal with the latex, I bought a power-sprayer. The latex cures much faster and sands more easily, but it doesn't form as strong a bond on the primed shells. Also, you need to be careful about decal placement, because if you peel it back a bit to adjust the positioning, the latex paint may give way.
Then I'll need the proper logo decals. These are all over eBay (there are tons of people doing this kind of thing). Once I have the helmet, the proper paint color, and the logo decals, it's time to begin the reconditioning process.
First, I remove the facemask, the interior padding, and all of the hardware used for the mask and the chin straps. Then I use a heat gun, some Goof-Off, and some razor blades to remove all of the decals, warning stickers, award stickers, and so on.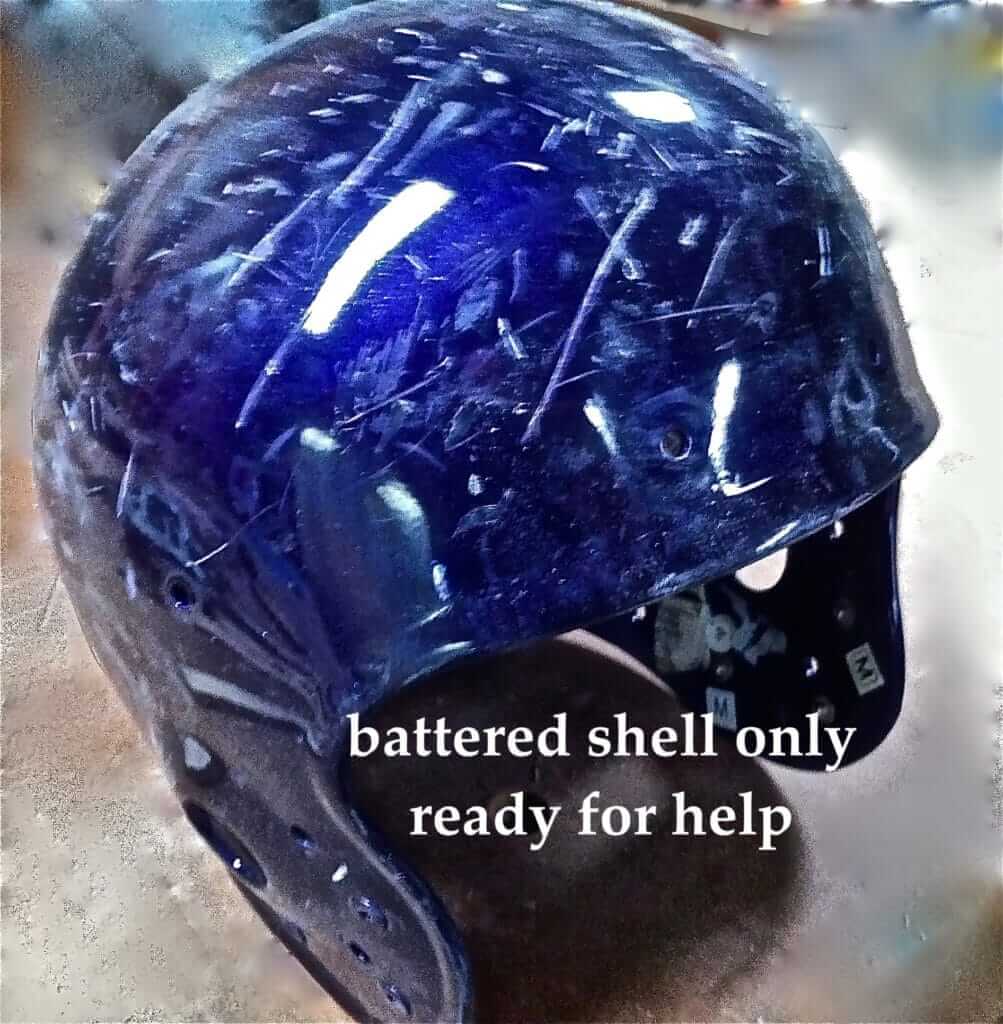 Next, I'll sand the entire shell. I'll use mostly medium grit, 100-120. If there are some pretty deep gouges, then I may spot-use 80 grit. But the entire shell gets the 120 grit, if for no other reason than to lightly scratch the glossy surface so the primer will adhere better.
After rinsing the helmet to remove any debris, I'll apply the first coat of primer, most often Rust-Oleum Filler Primer. I'll let this first coat dry completelym, and this will reveal all of the scratches, pit holes, etc. I then use a liquid resin from Turtle Wax (made for automotive painting) to fill in every single scratch, gouge or pit hole.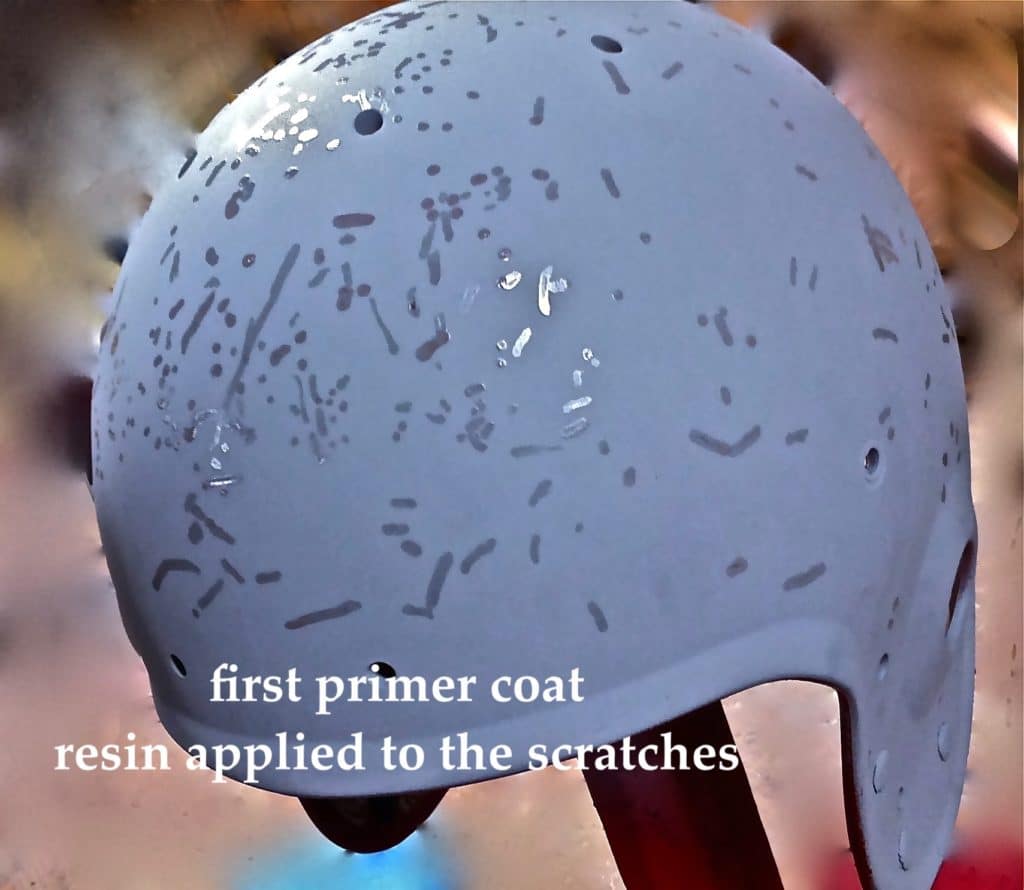 Once the resin dries, I'll do a second application to make sure everything will be "flat" when I sand again. Then I do another major sand job, using mostly 120 grit to level out the surface, and then a once over with 220 grit.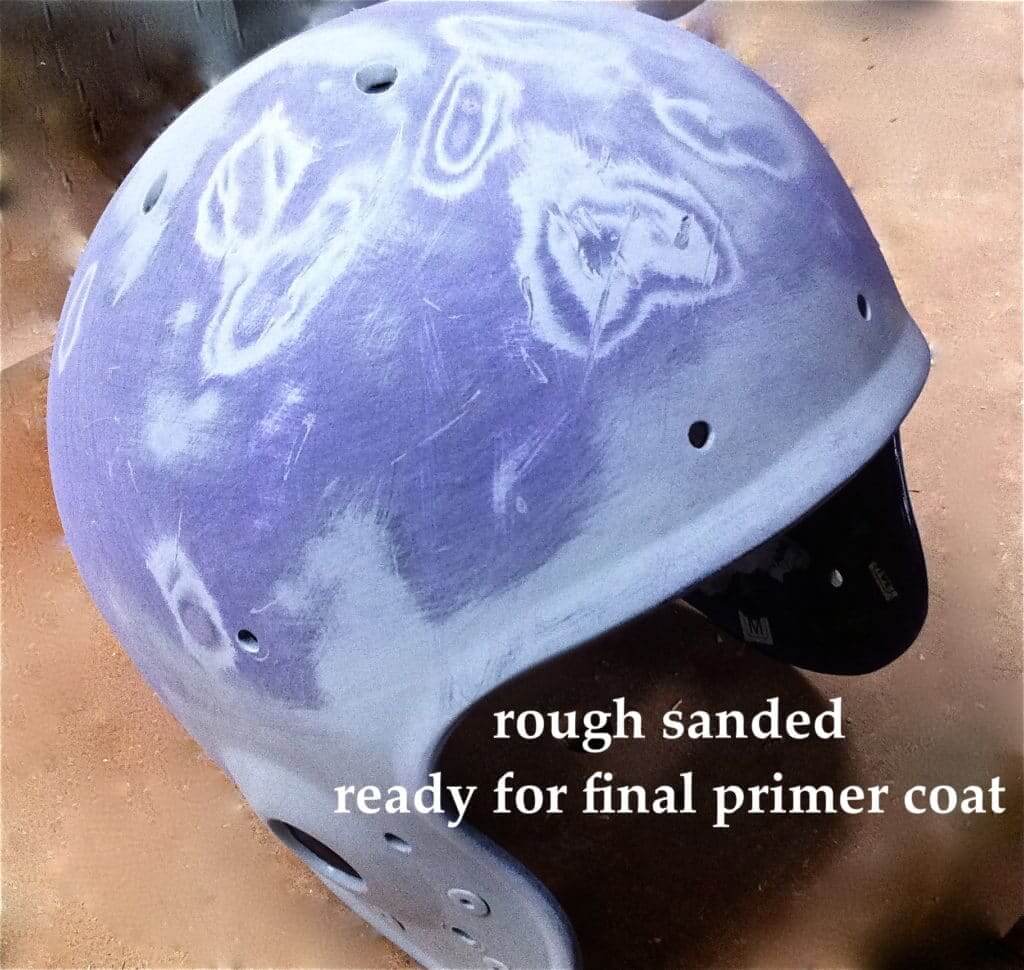 Another rinse and then the final primer coat, which should be relatively smooth. If so, I'll then mask off any interior Velcro (used to adhere the padding) and the snaps for the jaw pads, and then I'll prime and paint the helmet's interior. Then I'll wet-sand the exterior primer coat with 400 grit so I can start with a very smooth surface for the paint.
For the painting, I built a very rudimentary paint booth in my workshop. Very rinky-dink, but mostly effective.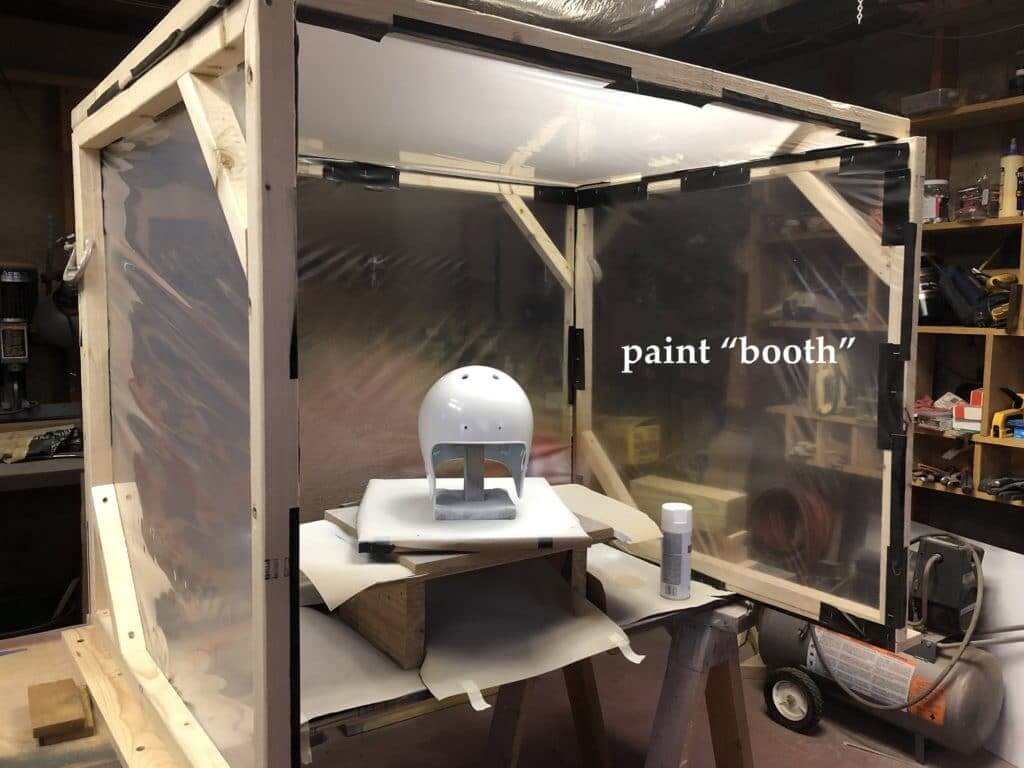 I'll apply a full can of spray color, which usually ends up being about a dozen coats — very light coats at first, then gradually building. The reason for so many coats is that when I wet sand the cured shell, I do not want to sand through the color.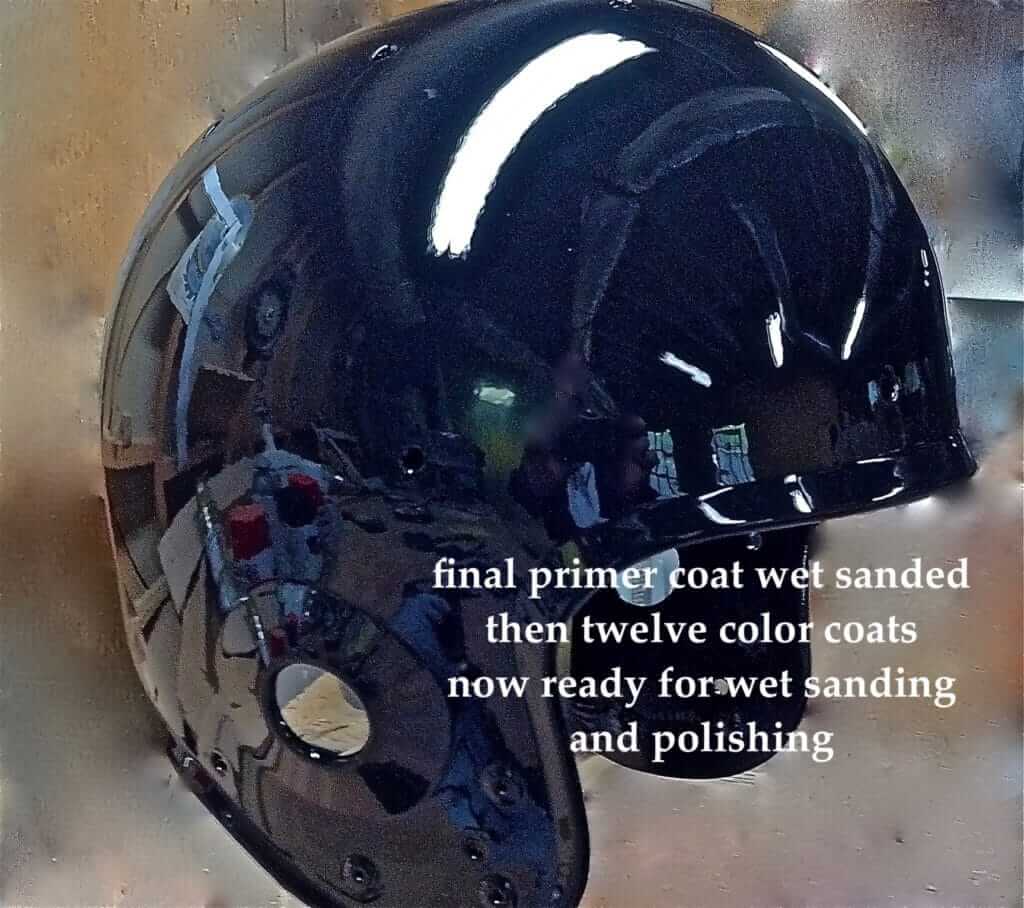 The paint must then be allowed to cure. If the paint is not fully cured when you start to sand, the layers will start to roll up and you'll have to start all over again, which means using a paint scraper to remove a dozen coats of paint down to the prime layer. The curing can take up to two weeks, maybe longer for Rust-Oleum enamel. To help shorten the process, I built a little warming box with an air filter on one end and a computer cooling fan on the other to move the air through the box. I lined the interior of the box with heavy duty aluminum foil and installed two light bulb ceramics — one 100-watt incandescent and one 150-watt incandescent — to provide heat to the moving air.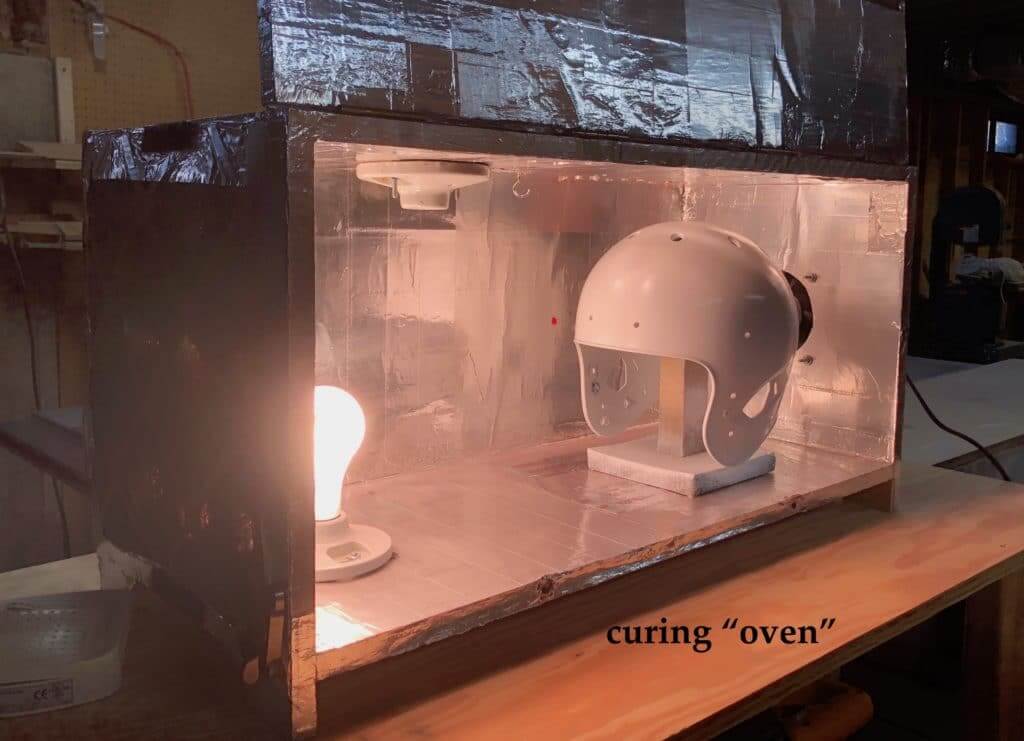 This can cut down the cure time about in half, so I usually keep the shell in the curing box for perhaps a week.
After the paint has cured, the goal is to make the surface as flat as possible, like glass, so the reflections will be sharp. A dimpled surface yields diffused reflections. I'll start the wet sanding with 400 grit, then 600, 1000, 1500, 2000, and then 3000. I should end up with a very smooth surface, but it will be dull, so then I polish it with 3M Finishing Compound, using a foam bonnet on a radial buffer.
There will always be some very small areas that aren't perfectly flat so the reflections aren't exactly pin-sharp, so I'll then apply about a dozen or more layers of clear coat — Rust-Oleum Gloss Clear enamel. After three more days in the curing box, another round of wet sanding all the way to 3000 grit, and another polish, I should have the finish that I want.
Now it's time to apply the decals. First are the stripes, if the team uses them. I use the vent holes as a guide to make sure the stripes are centered.
I'll then install the facemask, so I can align the other decals to the mask. I'll download several photographs of the team's helmet in actual use and use them as a guide for positioning the decals relative to the facemask, the ear holes, and so on. I make an actual-sized print of the decals on heavy duty printing paper, cut the copy to match the decal outline, and use this as a template to place the decal. Using blue painter's tape (so it will not leave any residue), I'll apply the template and adjust it to where it needs to be. I'll then mark the corners or any other noticeable place on the template and transfer these marks to the helmet using little arrows I've cut from the painter's tape. Then off with the template and, placing the marked corners of the actual decal to the arrows on the helmet, I'll apply the decals, making sure that I squeegee all of the air out from under the decals with my fingers.
I'll then apply the remaining decals — the warning label, the flag, the conference shield, any numbers, any award decals, the front and rear bumper decals, and so on.
The last step is to reassemble the interior padding. Done!
———
Paul here. Man — that is a seriously intense amount of work! Big thanks to Brian for his devotion to his craft, and for sharing it with us!
• • • • •
• • • • •
Click to enlarge
New MLS font: Yesterday's Ticker mentioned that MLS would have a new NOB/number font to commemorate the league's 25th season. It was supposed to be revealed in February, but we ended up getting our first look at it yesterday, thanks to FC Cincinnati's announcement that they'd acquired forward Yuya Kubo.
Obviously, I'm a total dummy when it comes to soccer, but I really like this font — especially the letters, and especially-especially the "O." Nicely done! (Now all of you soccer fans can tell me why I'm wrong and how I obviously don't know jackshit about this sport — which is true! Go for it.)
• • • • •
• • • • •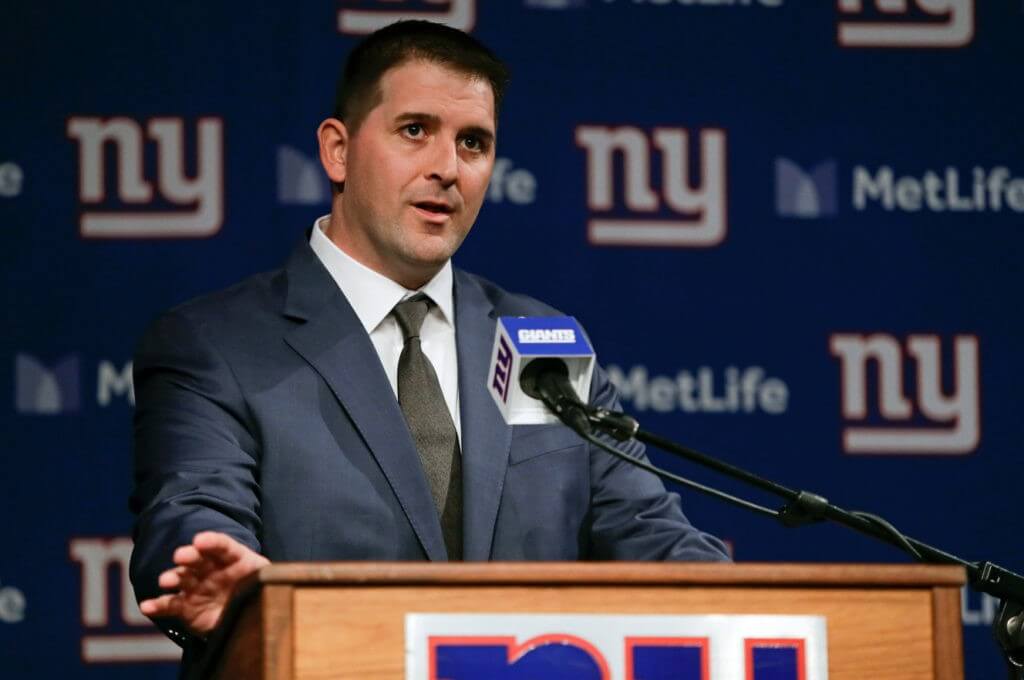 Blue collar bullshit, continued: The Giants yesterday introduced new head coach Joe Judge, who quickly established himself as the sports world's latest Working Class Wannabe™ by declaring, "I want this team to reflect this area. That is blue collar. It's hard work. It's in your face. We're not gonna back down from anybody. We're gonna come to work every day and grind it out the way they do in their jobs every day."
As I've written several times now — beginning in 2017 and as recently as last week — this is part of the sports world's ongoing fetishizing of the working class, which lately seems to be eclipsing the military fetish as the sports world's favorite role model.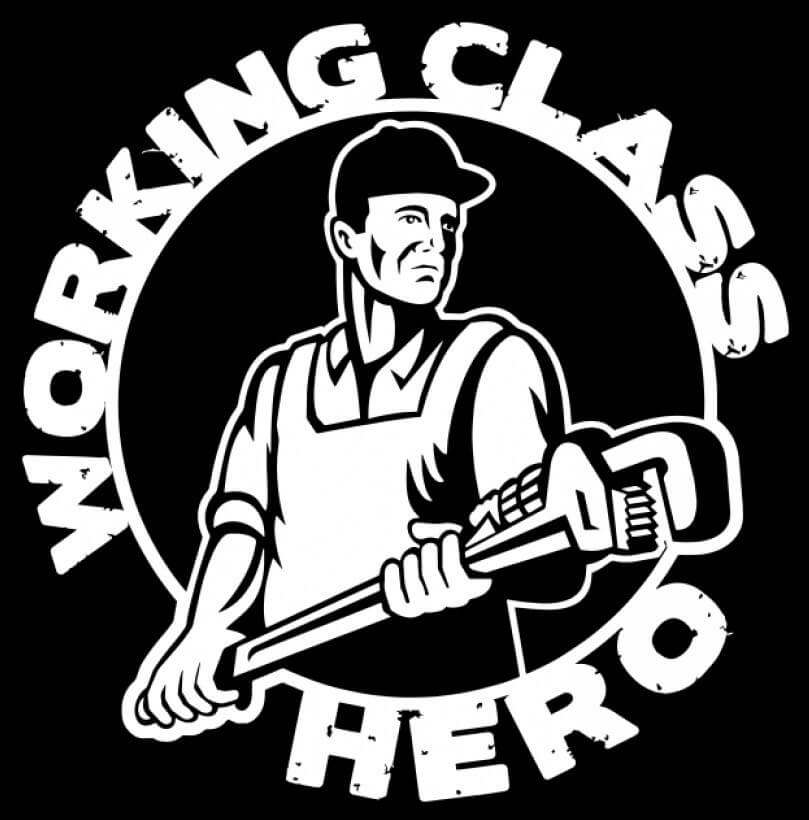 When I've written about this before, some readers have pushed back, saying that there's nothing wrong with honoring the work ethic of blue collar workers. I agree with that, at least to a degree. (I add the qualifier because there are lots of hard-working people — and also lots of very lazy people, for that matter — at every level of employment.) The problem, though, is that the sports world isn't "honoring" anything here. Are they throwing a "Living Wage Night" promotion? No. Are they offering discounted tickets to union members? No. I mean, think about it: When Judge talked about "blue collar" workers, he wasn't honoring those workers — he was honoring himself. He was essentially saying, "You know all those hard-working auto mechanics and construction workers and truck drivers and factory workers? I'm just like them. And our team is going to be just like them."
But that's somewhere between a fantasy and a patronizing caricature. Judge and his team may work every bit as hard as the hardest-working day laborer, but they have advantages that the day laborer doesn't have (and will likely never have). When Judge and his players finish their hard day of toil, for example, they can soak in the Jacuzzi and be tended to by a staff of professional trainers, masseuses, and therapists; they have 24/7 access to first-rate medical care; they never have to worry about making rent or paying their mortgage; they don't have to worry about the cost of day care or whether their kids are in a good school; they don't have to worry about the price of gas or car repairs; they don't have to worry that their pay will be docked if they miss work due to a doctor's appointment or a family emergency; they don't have to wonder what their work hours will be from week to week; they don't have to worry about going bankrupt if they lose their job; and they don't have worry that they might have to work until they drop because they'll never save enough for a comfortable retirement.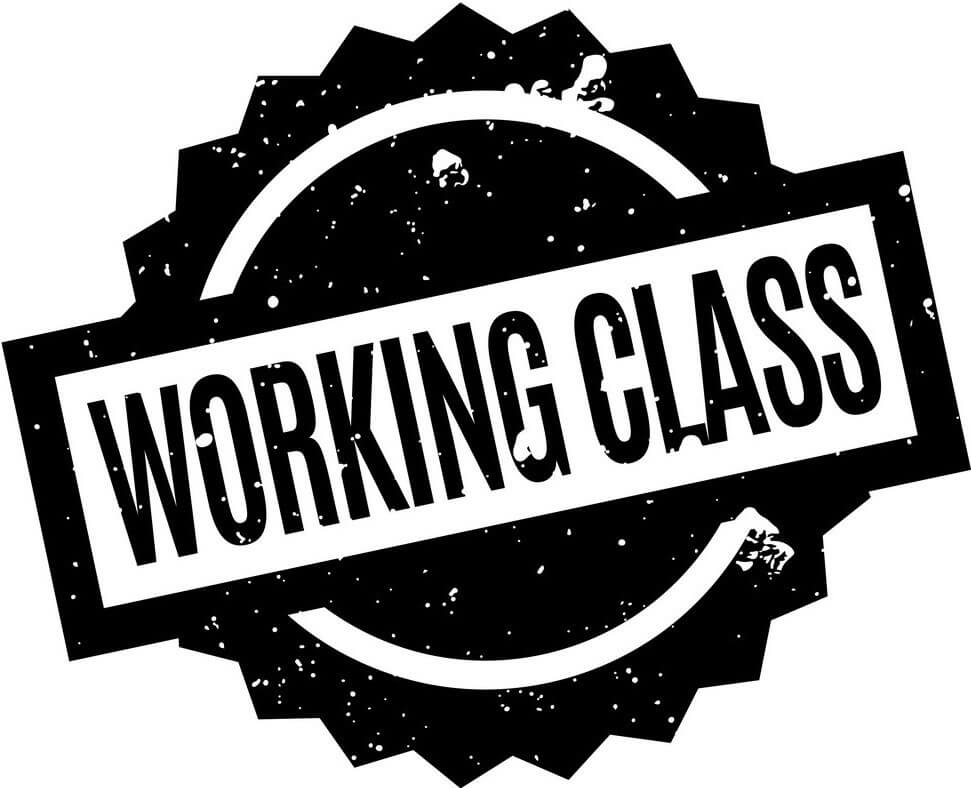 I'm not saying pro athletes and coaches don't deserve any of those perks. They're elite professionals who are literally the very best in the world at what they do. But you can't live that kind of life and then try to invoke the term "blue collar." That's just piggybacking on the perceived "values" of the working class without having to confront any of the real-world challenges of actually being working class. It's a class-based version of stolen valor. (At least Judge didn't engage in class-based cosplay by dressing up like an auto mechanic.)
Radical idea: Just say you're gonna be a rough, tough, physical football team and skip the blue collar bullshit — especially since real blue collar workers can't even afford NFL ticket prices.
Update: Just as I finished writing this section, reader Griffin Smith informed me that the Alabama basketball team routinely uses #BlueCollarBasketball as a social media hashtag and awards a construction hardhat to a player after each win (I guess lunch pails were unavailable):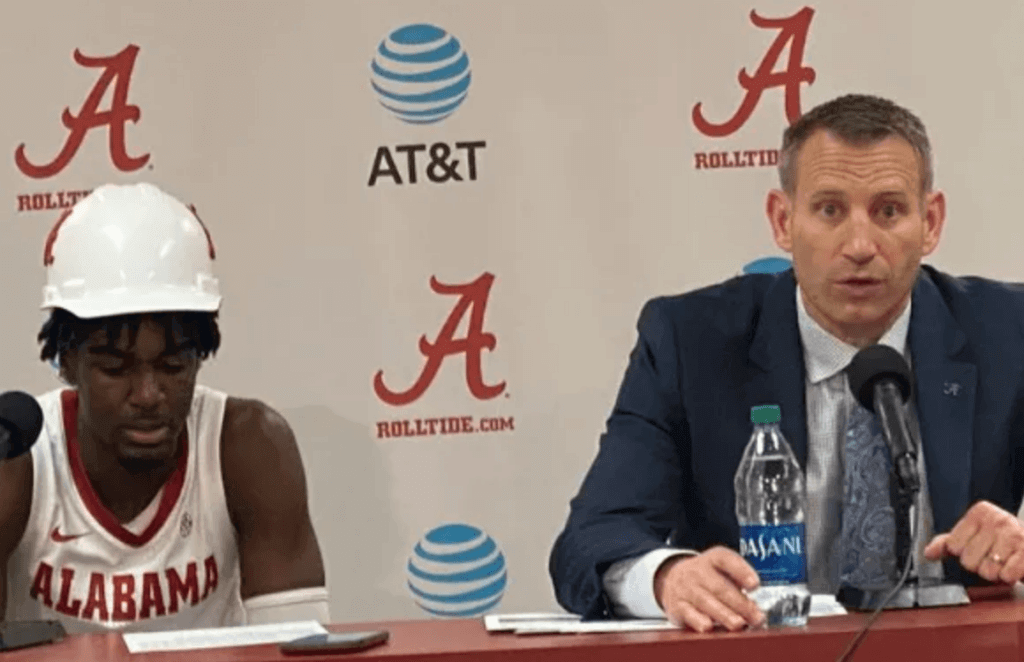 Seriously? Twitter-er @Turtleman12347 then informed me that this is nothing new for Alabama coach Nate Oats, who previously coached at Buffalo. And sure enough, Oats's Wikipedia entry includes the following:
Since taking over as Buffalo head coach, Oats added what the story called "a blue-collar element to his program that reflects Buffalo itself" — the coaching staff charts what it calls "blue-collar points," defined as any play that contributes to a win but is not recorded in a traditional box score, with examples including but not limited to pass deflections and taking charges. The player with the most such points in a given game receives a construction helmet.
I guess the blue collar thing now "reflects Alabama itself," eh?
Look, I totally get that selflessness and hard work are worthwhile values. But surely there must be way to teach those values without turning the realities of blue collar life into an oversimplified cartoon.
• • • • •
• • • • •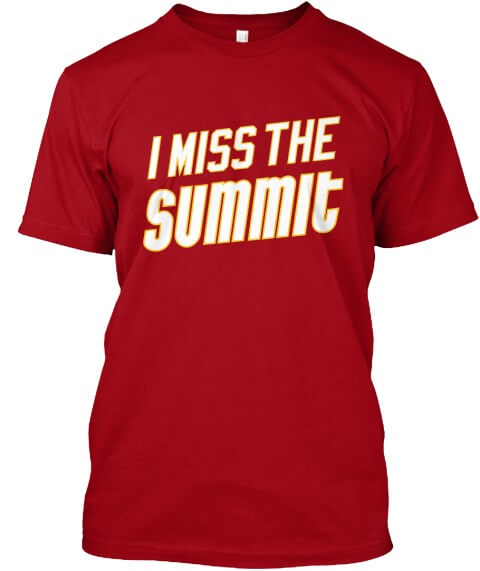 Naming Wrongs update: We had a few requests for Naming Wrongs shirts for the Summit in Houston, and designer Scott Turner absolutely knocked this one out of the park (yes, I'm mixing my sports metaphors there). It's available in red, white, and grey.
You can see the full range of Naming Wrongs shirts here.
• • • • •
• • • • •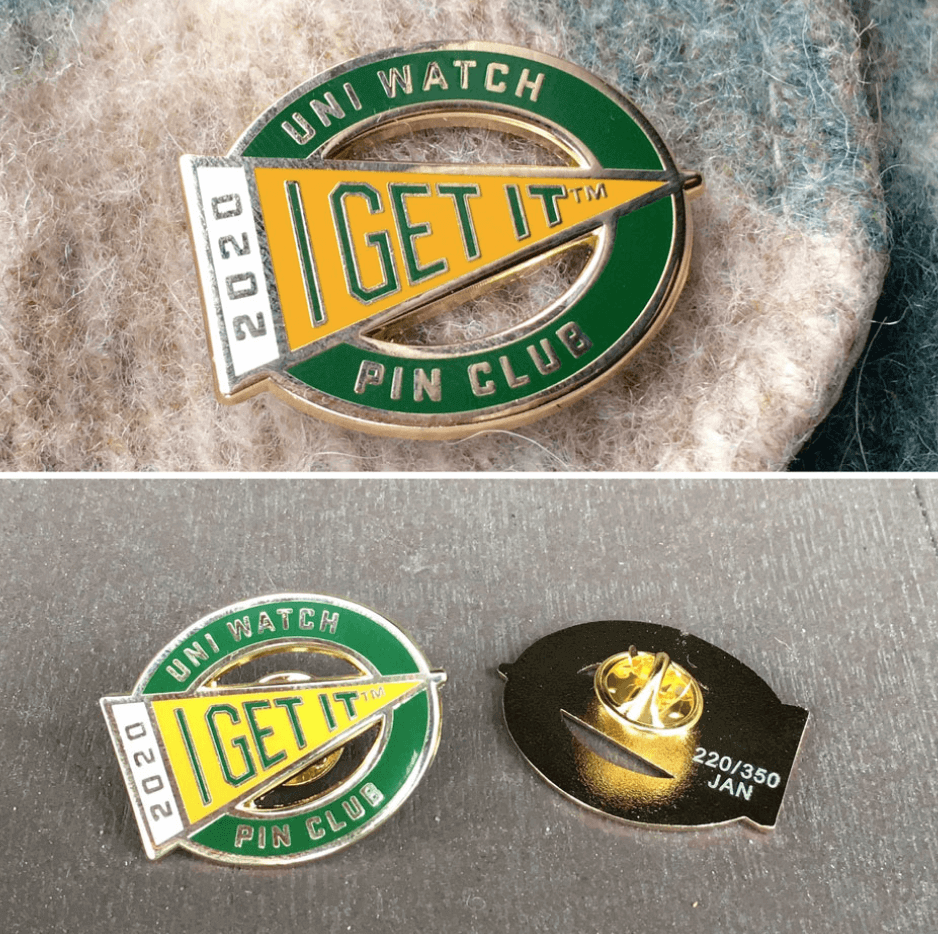 Pin Club reminder: In case you missed it earlier this week, I've partnered with the great Todd Radom to create the Uni Watch Pin Club, which will feature a new limited-edition enamel pin design for each month of 2020. It's a really fun project, and I'm super-excited to be collaborating with Todd on it.
The January pin — a numbered edition of 350, over 100 of which have been sold in the first two days — is now available, and you can get the full scoop on all the Pin Club particulars here.
• • • • •
• • • • •
The Ticker
By Anthony Emerson

'Skins Watch: An Idaho state legislator plans to introduce a bill that would prohibit school districts from changing their mascots or team names. The legislation is in response to an Idaho school that decided last summer to stop calling its teams the Redskins (from Brad Iverson-Long).

Baseball News: These Royals St. Paddy's Day caps are now on sale at the Royals' team store. All MLB teams will probably have a similar template (from @rich59fifty). … Paul, avert your eyes: The Orioles lit up the Eutaw Street warehouse in purple to support the NFL's Baltimore Ravens in this weekend's playoff game against the Titans (from Josh Lake). … New unis for UW-Green Bay softball (from @The_Real_Kub).

NFL News: Cross-listed from the baseball section: MLB's Baltimore Orioles lit up the Eutaw Street warehouse in purple to support the Ravens in their upcoming playoff game against the Titans (from Josh Lake).

Hockey News: Back in December, the NHLPA conducted an interview with Devils D PK Subban, in which Subban revealed that he wears No. 76 because he was drafted in the sixth round in 2007 (from Mike Engle). … The Predators will be making some sort of announcement — maybe uni-related? — today, and it looks like it may be that they'll be wearing their Winter Classic uni on the 18th (from @Kgun716). … During last night's Jeopardy! game, James Holzhauer, who lives in Las Vegas, wrote his name a with Golden Knights theme (from Griffin T. Smith). … The ECHL's Utah Grizzlies will wear these sweaters for their "Guns n' Hoses" night, honoring first responders (from Mike Lucia). … The Trail Smoke Eaters of the BCHL have some stunning throwbacks coming down the pike (from Jim Wooley).

Hoops News: Last night the Thunder debuted their black alternate uniforms, which were designed to commemorate the 25th anniversary of the Oklahoma City bombing (from @ratmfoo). … Western Kentucky men unveiled new alternate uniforms yesterday (from Zach Greenwell and Jonathan Hart). … UNC and NC State women went color vs. color in Chapel Hill last night (from Mike Miller). … With more and more college players rolling the legs of their shorts, ESPN had a graphic showing the evolution of college basketball shorts length (from Timmy Donahue). … BYU and St. Mary's went blue vs. red last night.

Soccer News: An LAFC fan who works for UPS made his own brown version of the team's cap so he could wear it with his UPS uniform (from Greg Phillips and John Flory). … The following are all from Josh Hinton: Louisville City is retaining its old badge for 2020 after their new one was scrapped after three days due to fan backlash. The team still wants a new badge for 2021. … Mexican side Morelia have unveiled their new third kit. Make sure you're wearing sunglasses. … Barcelona and Atlético Madrid played in the Supercopa de España yesterday, and both clubs wore the competition's logo in the center of their chests. Barcelona, as the holders of the cup, wore it in gold.

Grab Bag: The 2020 Continental Cup of Curling started yesterday. Here are the unis for Team Canada and Team Europe (from Wade Heidt). … NASCAR's Chip Ganassi Racing revealed two new liveries on one car (from @waynetm41). … The Sydney Thunder cricket team will wear indigenous-themed kits against Hobart Hurricanes. This is the first time that I know of that a cricket team has adopted an indigenous kit, which is a trend that's common in Aussie rugby union, rugby league, and AFL (from E. P. Conrad).
• • • • •
Raffle results: The winner of yesterday's raffle is Joal Kjarsgaard, who's won himself a complimentary Uni Watch membership. Congrats to him, and thanks to reader Tyler Haney for sponsoring this one.
Tomorrow I'm heading to Florida, where the Tugboat Captain and I will spend a few days visiting her parents. I'll check in from there on Monday. Have a great weekend, and go Niners! — Paul