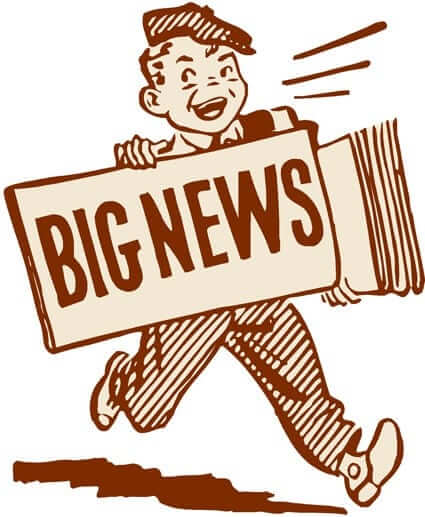 One of the big surprises of 2019, at least for me, was the popularity of Uni Watch pins. I did the winged stirrup lapel pin sort of as a lark, just because it seemed fun to have our logo stamped into metal and enamel. It turned out to be so popular (over 300 sold, and still going strong!) that I partnered with designer Todd Radom to create the limited-edition Uni Watch press pin, which sold out in three days.
With that in mind, I'm happy to announce that Todd and I have decided to partner on a new project this year: the Uni Watch Pin Club. It will be similar to the T-Shirt Club project from 2015 — each month we'll have a new pin design, which I'll launch and reveal to you on the first Tuesday of each month. (This month's launch was delayed by a day due to a Teespring technical glitch.)
Todd and I have had a blast collaborating on this. Here's our first pin, for January (click to enlarge):
Nice, right? This pin was made in a numbered edition of 350. The numbers are on the back, along with the month designation:
Todd and I each took five pins for ourselves, so that leaves 340 that are available for purchase. You can order them here.
Now let's shift into FAQ mode:
Will each design be a pennant with a different slogan?
No. Each month's design will be different — some will be seasonal, some will feature a particular uniform element, and so on. For January, we wanted to start with something that wasn't limited to any particular sport, and we didn't want to do another pin featuring the winged stirrup logo, so a pennant with the Uni Watch slogan seemed appropriate.
Have you created all 12 designs already?
No. In addition to January, we've designed February (which is already in production) and March. We've had discussions about most of the others but haven't committed to anything yet. We'll get the rest of them designed as the year moves along.
Will each pin be a limited/numbered edition?
Yes.
Will the quantity always be 350?
Not necessarily. I chose 350 as sort of a guesstimate quantity, based on how popular the press pin was, and I chose the same quantity for February. Once I see how people respond to this project, I may adjust the quantities up or down, as needed.
If a given month's design sells out, will you make more?
No. "Limited edition" means just that. When they're gone, they're gone!
What happens if a pin hasn't sold out yet by the time the next month's pin is launched?
As long as a pin hasn't sold out, it will remain available in the Uni Watch Teespring shop. Unlike the 2015 T-Shirt Club, there will be no time window on any of these listings. The only limit will be the number of pins.
Will each pin have the same price?
I think so, yes, unless we end up doing a design with a lot of bells and whistles that's more expensive to produce.
If I'm a card-carrying Uni Watch member, will my 15% Teespring discount apply to these pins?
Yes. If you're a card-carrying member and need the code, shoot me a note and I'll hook you up.
Why did you put the month on the back, instead of on the front?
That was a tough call. On the one hand, having the month included as part of the front design would be satisfying for people who collect 'em all, because you'd be able to see all the months lined up in succession. But for the less obsessive customer who only wants a couple of pins, it might be weird to have two pins that have, say, "March" and "August" on the front. It would sort of raise the question, "What about the other months?"
So we decided that each pin will include "Uni Watch Pin Club" and "2020" on the front, with the month listed on the back.
Speaking of people who collect 'em all, will those people get a bonus prize?
Yes. Anyone who purchases all 12 pins will get a bonus Uni Watch Pin Club 2020 All-Star pin. Just like the 12 monthly pins, it will be a numbered edition, based on how many people collect the entire set.
Can I "subscribe" to the pin club by prepaying for the whole year in advance, or by registering to have my credit card charged as soon as each new pin is available?
I'd love to be able to offer that option, but Teespring's checkout system isn't equipped for that, so you'll have to buy each pin one at a time. Sorry.
When you did the 2019 press pin, you said you'd do a new press pin each October, to coincide with the World Series. So will the October pin be this year's press pin?
I'm going to keep these two projects separate. So we'll do two pins in October — one for the Pin Club and one for the annual press pin.
Will you do a pin registry each month, like you did for the 2019 press pin, so we can see who got which number?
I don't think so, no. As you can see in that link, a lot of slots in the press pin registry remain unfilled, even though we sold out all 200 pins. Since the idea didn't really gain traction, I'm going to pass on it (one less thing to keep track of) — sorry! But if someone else wants to set up a registry for the Pin Club, you absolutely have my blessing to do so.
Will the Pin Club continue into 2021?
It's way too soon to say. We'll evaluate that situation when this year is winding down.
———
I think that's it. If you have additional questions, feel free to list them in today's comments and I'll do my best to answer.
Again, the January pin is available here. Enjoy!
• • • • •
• • • • •
Click to enlarge
Helmet hero update: Remember Blaise D'Sylva and his epic collection of mini-helmets? He's nearing the end of his daily Twitter project of posting the complete helmet histories of every FBS and Ivy League school — the final school, Vanderbilt, will be posted today — but he has a few other things planned. Here's what's on his agenda.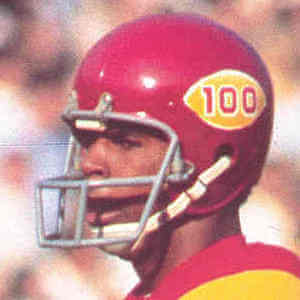 Also! As you know, we're wrapping up college football's 150th-anniversary season, but Blaise has also turned his attention back to 1969, when dozens of schools wore the centennial "100" helmet logo. There's been a lot of confusion over the years regarding which teams wore the 100 logo, which ones wore it on both sides of the helmet and which wore it on just one side (or on the front, or on the back), and so on. Blaise has taken it upon himself to research all of that and has broken down his findings in this completely heroic spreadsheet. He's also uploaded all of his photographic research — broken down by conference, and then by school — here. Great work all around!
• • • • •
• • • • •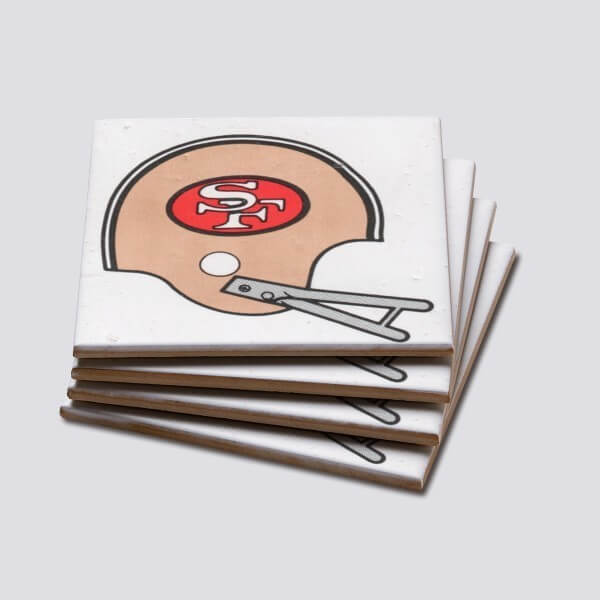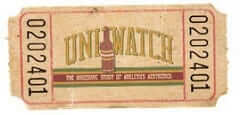 LAST CALL for the Vintage Brand raffle: Today is the last day to enter the latest raffle from our longtime advertiser Vintage Brand. The winner will be able to choose anything from their website (including the 49ers coasters shown above).
To enter, send an email to the raffle address by 8pm Eastern today. One email per person. I'll announce the winner tomorrow.
• • • • •
• • • • •
The Ticker
By Lloyd Alaban

Baseball News: Former MLB infielder and manager Tom Runnells is making his own baseball-related art (from Jon Solomonson). … New jerseys for NAIA school Huntington (from Eric Andrews). … New unis for South Carolina softball (from @willchitty4).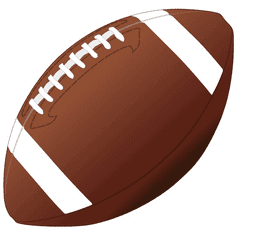 Football News: The 49ers are going with a red end zones for this Saturday's playoff game against the Vikings. Here's another view (from Samuel Lam and Randy David Shin Jr). … Yesterday's helmet history entry from Blaise D'Sylva was for Texas A&M.

Hockey News: White at home last night for the Devils (from @cannolifactory). … The Penguins added a decal on their helmets to honor the late son of co-owner Ron Burkle. It's not clear if this was a one-game thing or if they'll continue wearing it (from our own Phil Hecken). … The Charlotte Checkers, affiliate of the Hurricanes, revealed new alternates (from Canes Uniform Tracker). … Gross: The faceoff dots in the offensive zones at the Fayetteville Marksmen's arena are Pepsi logos (from Shane Bua). … The Ontario Reign, minor league affiliate of the Kings, are going with a Kings-inspired silver sweater with "IE" — for Inland Empire — in place of their parent club's "LA" logo (from Jakob Fox). … Also from Jakob: Geico altered their ad on the Devils' boards from "Geico" to "Nico" to lobby fans to vote for F Nico Hischier to be in this year's All-Star Game. … NHL legend Gordie Howe wore mismatched gloves for the 1980 NHL All-Star Game team portrait (from Jerry Wolper and Moe Khan).

Basketball News: Color vs. color for the Thunder and Nets last night (from Michael Kraver). … From Etienne Catalan: Cavs SG/SF Levi Randolph will wear No. 6 with the team, and G Chris Chiozza will wear No. 4 with the Nets. For the latest on NBA number assignments, check out Etienne's Twitter page. … Former NBA creative director Tom O'Grady explains that former commissioner David Stern was a pioneer in terms of uniform and logo design.

College Hoops News: Villanova men's wore their new alternate unis last night (from our own Phil Hecken). … Color vs. color for Baylor and Texas Tech men's last night, and Texas Tech had unusually small script on their jerseys (from Josh Hinton and Timmy Donahue). … Also from Josh: Georgia PF Rayshaun Hammonds was missing his SEC patch last night against Kentucky. … Baylor G Jared Butler wore short shorts (also from Timmy). … Oklahoma is bringing back Top Daug, their 1980s-era mascot (from Kary Klismet). … One more from Timmy Donahue: Air Force has jerseys with the Air Force academy's core values printed on the back.

Soccer News: The 2019-20 UNAM third kit has leaked (from Josh Hinton). … For the latest kit news from around the world, make sure to follow Josh's Twitter feed. … Inter's third kit has leaked (from Lucan Denfield). … Reader Gabriel Hurl made a graphic showcasing every New Balance/Warrior shirt worn by Liverpool. … The French Football Federation gives thousands of Nike (FFF's provider) template kits every year for any amateur teams participating in the French Cup. That means they do not get to wear their own crest, colors, kit providers or even sponsors (from Albertas Rojus). … New home shirt for Japanese side Gamba Osaka (from Ed Zelaski). … The Portland Timbers have a new 10th-season logo (from Jeremy Brahm).

Grab Bag: In case you missed it during the recent holidays: Formula 1 has unveiled new logos to celebrate its 70th anniversary (from Kary Klismet). … The Global Cycling Network has posted their annual review of the major cycling teams' 2020 kits. You can find it in the first 10 minutes of the linked video (from David Barndollar). … The new jersey advertiser for rugby league club Toronto Wolfpack will be a CBD-infused body cream (from Ewan Williams). … Ohio State men's volleyball posted a picture documenting the program's record against universities in Ohio. Some were era-accurate, some weren't (from Mike Knapp). … Each of Japan's prefectures has its own logo. Here's a page featuring all 47 of them (from Gil Neumann III). … Ever notice that so many apartment complexes in the U.S. look the same? Here's why (from @TheBigJamesG). … Contestants in Jeopardy!'s "Greatest of All Time" tournament wore purple ribbons in support of host Alex Trebek's fight against pancreatic cancer (from James Gilbert).
• • • • •
• • • • •
Click to enlarge

What Paul did last night: The Tugboat Captain mastered a new party trick last night. I'm going to have to up my game.