For all photos, click to enlarge
Uni Watch reader Ethan Hopkin and his wife, Billie (that's them above), are in what you might call a mixed marriage. "When we met over three years ago, one of the first things we learned was that she's a diehard Green Bay Packers fan, while I am a diehard Dallas Cowboys fan," says Ethan. "I was skeptical at first, but I came around to liking our arrangement — so much so that at our wedding, our groom's cake was a football field with Cowboys and Packers end zones."
As you can see from their T-shirts above, Ethan and Billie have come to refer to their arrangement as "House Divided, Hearts United," but the T-shirts are just a small part of it. Ethan has come up with all sorts of cool DIY projects that reflect his and Billie's respective NFL passions. Today we'll have a small example of that — with some bigger ones to come. Take it away, Ethan.
A Tale of Two Hats
By Ethan Hopkin
My wife and I visited Lambeau Field for the first time on Sept. 22, when the Packers were hosting the Broncos. We flew in and out of Chicago and rented a car to drive to and from Green Bay.
Billie has long wanted a cheesehead-style cowboy hat (a mix of Packers and Cowboys). We looked all over Green Bay and couldn't find one. After asking around, we stopped on our way back to Chicago at a shop in Kenosha, Wis., called Something Different. It was basically novelty product heaven — every gadget with team a logo on it you could imagine was in this store. And sure enough, they had exactly the kind of hat we were looking for:
That could have been the end of it, but we ended up buying two of them — one for each of us — because my wife had a plan. In two weeks we were slated to head off to Dallas to watch the Packers play the Cowboys, so the idea was for me to give my cheesehead hat a Cowboys-style makeover. I painted it silver, added helmet stripes and littered it with Cowboys stickers:
It turned out great. Here we are at the game with our hats (also note Billie's yoga pants with stripes to resemble Packers pants):
———
Paul here. Is that great or what? Big thanks to Ethan and Billie for sharing their story. In the weeks and months to come, I'll be featuring more tales from their "House Divided."
• • • • •
• • • • •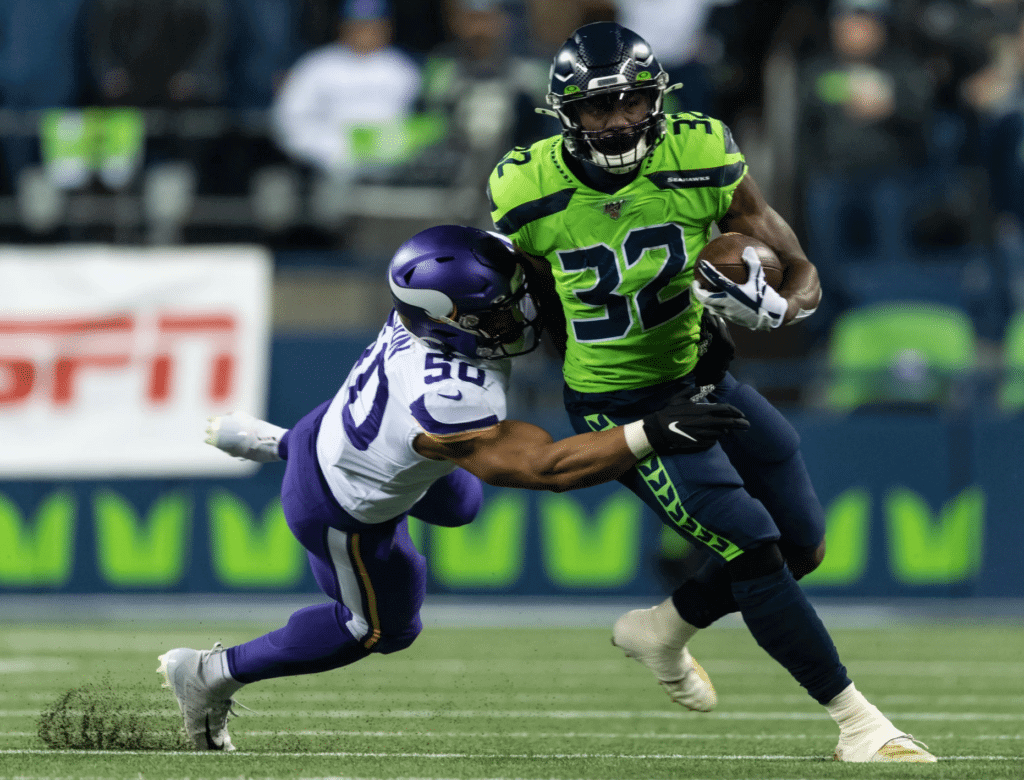 Click to enlarge
Yowza: Quite the spectacle last night in Seattle, as the Seahawks paired their neon green alternate jersey with their navy pants and the Vikings threw in lots of purple for good measure (lots of additional photos here, here, and here).
This is the second time in Seahawks history that they've worn green over navy. The first time was 10 seasons ago (when they had a different uniform set), in a 2009 game against the Bears. Here's a comparison of that look and last night's look (click to enlarge):
I'm not a fan of this color, but I thought the Seahawks looked surprisingly okay last night. Not great, not even good, but okay. The pants piping coordinated well with the jersey color, and the navy pants tied in well with the navy helmets. I feel like this is a uniform about which I can say, "It's not my thing, but it's not necessarily an awful piece of design" (as opposed to, say, the Cardinals' uniform, which is an awful piece of design).
As it happens, Phil was way ahead of the curve on this one. He was advocating for this exact Seahawks uni combo two years ago. Good call, buddy!
• • • • •
• • • • •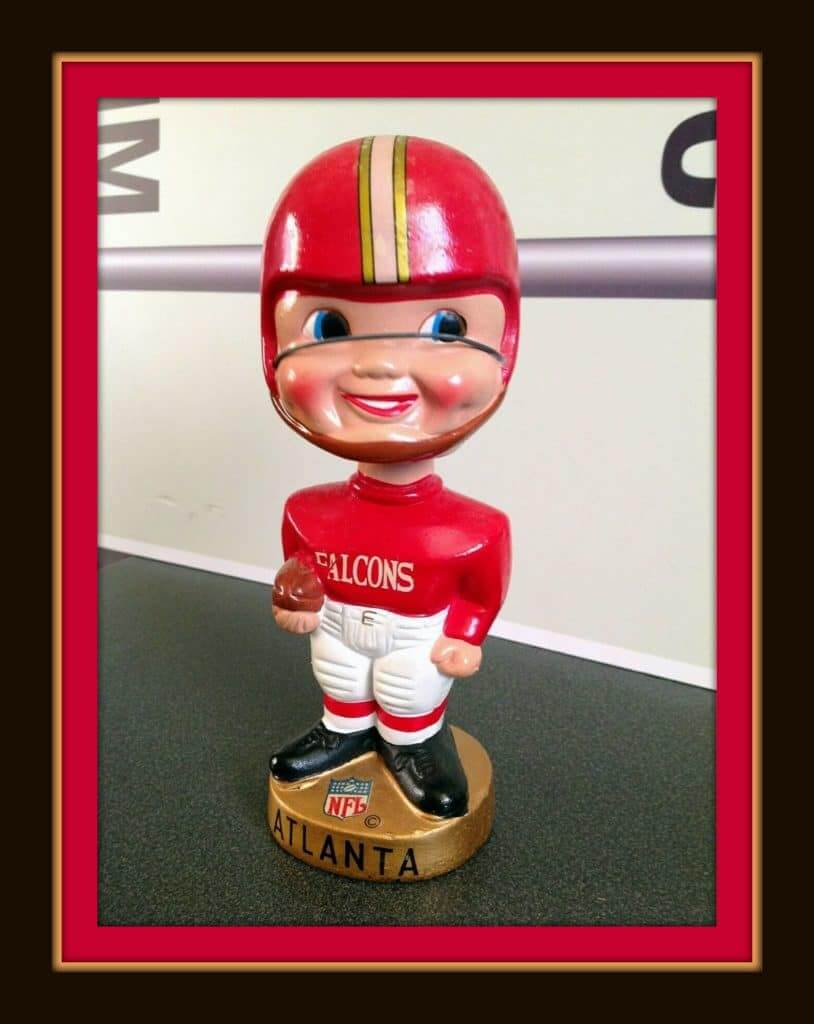 Click to enlarge
Collector's Corner
By Brinke Guthrie
Follow @brinkeguthrie
This 1960s Atlanta Falcons bobblehead is in perfect shape, and includes the gold helmet stripe trim, which was added for Georgia Tech. A perfect holiday gift!
Now for the rest of this week's picks:
• This 1970s NFL sleeping bag (the seller has two of 'em) is covered with terrific team word marks. Those all look dead on the mark except for the Colts for some reason- was that their font back then? It also comes with some player artwork- can't tell who the Patriot is on the left, that's maybe Dorsett in the middle, and definitely Terry Bradshaw on the right.  
• This 1970s Boston Bruins glass has their "B" logo on one side, and the NHL shield on the other.
• Here's a 1967 NFL trading card from the "Philadelphia Gum Company" for the Dallas Cowboys Football Team. Wasn't the "Football Team" part rather obvious? 
• One for the Stillers — this terrific-looking Cliff Engle sweater.
• This Sears catalog from 1993 is called The Starting Lineup and includes licensed merch from MLB, NBA, NFL, and NHL.
• Pro Player decided to go BFBS on this Vikings jacket.
• Here's a 49ers jacket from Starter.
• Logo Athletic, formerly known as Logo 7, acquired an NFL license in the 1990s, and one result was another 49ers jacket.
• Swingster was the maker of this 1970s-1980s St. Louis (baseball) Cardinals jacket. They got the sleeve patch right, but how'd they come up with that plain block font on the chest? What?
 
• Here's a 1970s Mini Sport NFL helmet kit in really good shape.
• • • • •
• • • • •
Culinary Corner, Annual Holiday Edition: I don't usually repeat recipes that have been featured on the site, but each December I make an exception for my favorite holiday preparation, homemade Irish cream. In other words, homemade Bailey's. In other words, melted ice cream that gets you drunk. It's super-easy to make, it'll make you the hero of whatever holiday party you bring it to, and lots of you have told me how much you like it. Here's how to do it:
Start with some decent Irish whiskey — Bushmills, Jameson, Tullamore Dew, something like that (but not super-high-end stuff, because the nuances will be lost in this preparation). Pour a pint of the whiskey into a large-ish container and mix it with a can of sweetened condensed milk; a pint of heavy whipping cream; a tablespoon of chocolate syrup; a teaspoon of vanilla extract; a teaspoon of instant espresso dissolved in two tablespoons of hot water; and a quarter-teaspoon of almond extract.
Mix well (if the container has a tight lid, you can just shake vigorously), refrigerate, serve over ice, and get ready to become the most popular person in the room. No need to thank me afterward, but you'll want to do so anyway — you'll see. Enjoy!
• • • • •
• • • • •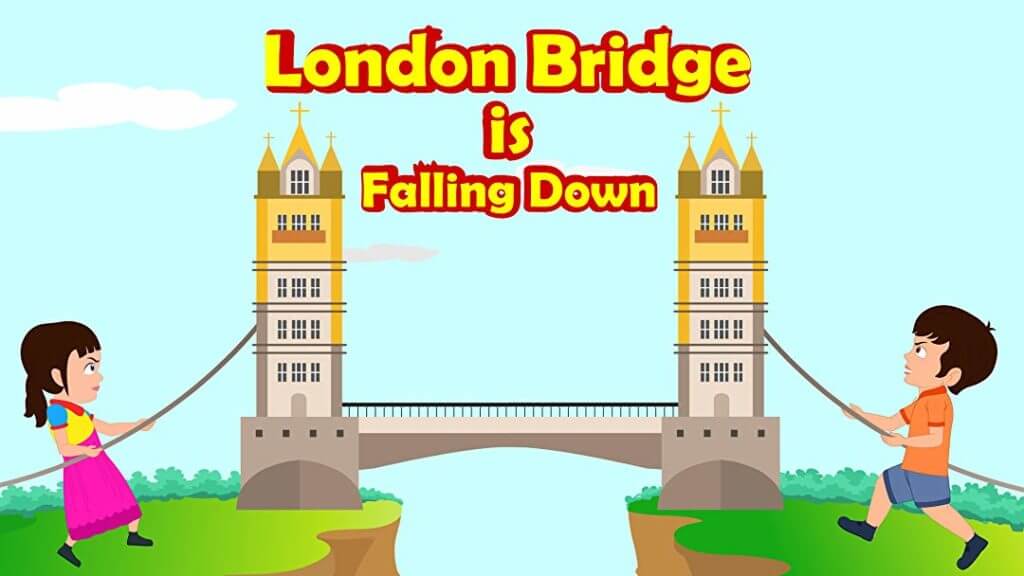 I get so many things wrong: The recent London Bridge terrorist attack reminded me that when I was a kid — and probably well into my adulthood — I mistakenly thought that the classic nursery rhyme lyric was "London bridges falling down" (not "London Bridge is falling down"). I figured London had, you know, lots of bridges and they were all collapsing. It wasn't until much later that I learned the proper lyric.
Similarly: On Sunday, for reasons not worth explaining, I was reading the Wikipedia entry for the great 1998 Neutral Milk Hotel album In the Aeroplane Over the Sea. It mentions that the album cover features a woman who is "wearing a red dress, and has a drumhead for a face."
This totally blew my mind, because for more than two decades now I've thought the woman's face was a cross-section of a raw potato. In case you're not familiar with this album, here's the cover art:
Upon closer inspection, I now see the decorative trim on the side. So okay, yeah, it's a drumhead, or maybe a tambourine. But to me it will always be a potato. I mean, it really does look like a potato! Look: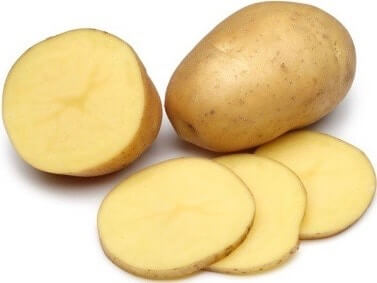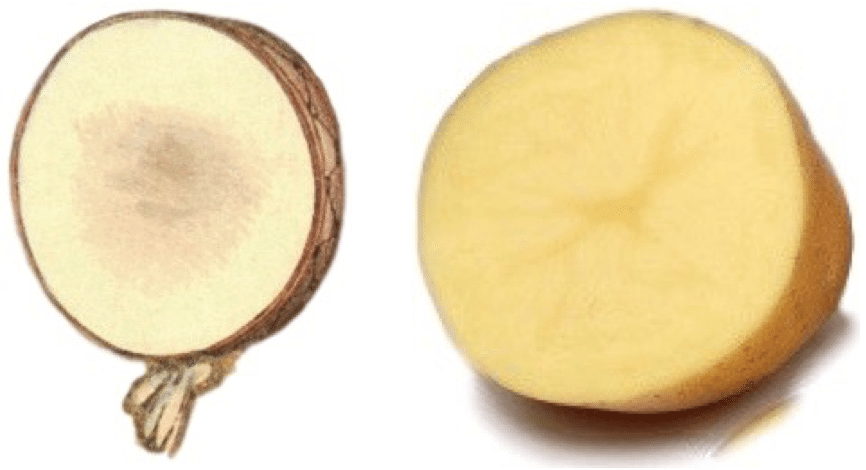 So I was wrong about London Bridge, I was wrong about the cover art for one of my favorite albums, and I've no doubt been wrong about countless other things.
What have you been wrong about, and how did you feel when you found out?
• • • • •
• • • • •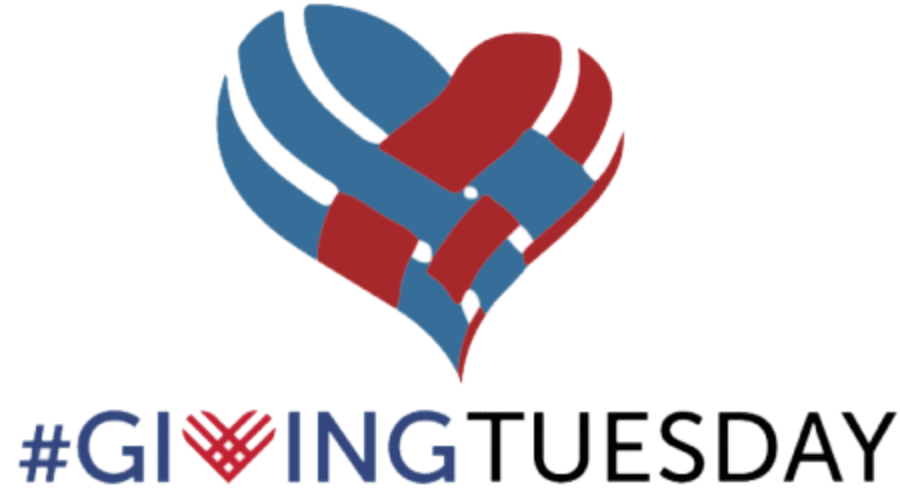 Some thoughts about giving: A few readers have gotten in touch and asked if I'd mind or be offended if they donated to Uni Watch for Giving Tuesday. I guess they thought I might feel bad about being viewed as a charity case or something like that.
Here's what I told these readers: If you'd like to help support Uni Watch and strengthen the comm-uni-ty by paying for some of the content you see here, I'm happy and honored to accept such contributions. (Here's how you can do that.) But obviously, there are lots of other organizations worthy of your consideration on Giving Tuesday. Here are a few of the ones I'll be supporting today — all of them are at least tangentially connected to Uni Watch, and I'd be just as honored if you'd consider supporting them instead:
• Wikipedia has emerged as an essential information resource (personally, I find myself referring to it several times per day). It's not perfect, but it's very, very good, and it doesn't have any advertising or paywalls, so it relies on contributions. You can help support it here.
• If you're a Uni Watch reader, you probably appreciate design and details. The great design podcast 99% Invisible, hosted by Roman Mars, has been pursuing, celebrating, and explaining design and details for nearly a decade now (and they've even done episodes about baseball stirrups and the Raptors' original uniforms). 99PI is an essential listen, and very, very Special. You can support its parent podcasting group here.
• A free and vibrant press is essential for a functioning democracy. As the journalism industry struggles to find a viable way forward in the internet era, two groups I strongly believe in are Report for America, which is like AmeriCorps or Teach for America for young journalists (you can support them here), and ProPublica, which does essential investigative reporting on powerful institutions (support them here).
• When we discuss issues relating to sports teams using Native American iconography, some people inevitably say, "Sure, you can pay lip service to the plight of Native Americans by getting rid of Chief Wahoo, but what are you really doing to help them?" As I always tell such people, I donate to the American Indian College Fund, which helps helps Native Americans pursue higher education. You can support them here.
• • • • •
• • • • •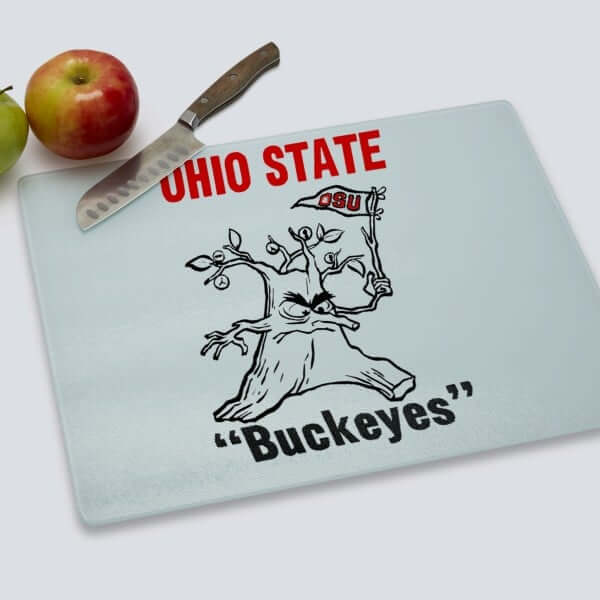 Raffle reminder: The good folks at our longtime advertiser Vintage Brand are generously sponsoring another raffle. The lucky winner will get to choose any item from the Vintage Brand website (including the hilarious Ohio State cutting board shown above — they really need to bring back that logo!).
To enter, send an email to the raffle address by 8pm Eastern tomorrow, Dec. 4. One entry per person. I'll announce the winner on Thursday (and then we'll have a new raffle that day to boot!).
• • • • •
• • • • •
The Ticker
By Alex Hider

Baseball News: Ichiro took the field in Japan on Sunday for a sandlot game against some high school teachers. He actually pitched in the game while wearing No. 1, making him the unlikeliest of single-digit pitchers (from @MichaelNotMikey).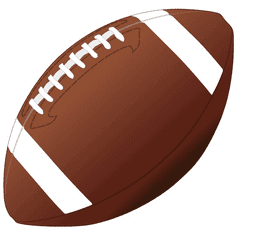 Football News: Ravens TE Hayden Hurst and 49ers WR Deebo Samuel swapped jerseys following Sunday's game, but Hurst didn't remove his jersey — he just gave Samuel a purple jersey (from Kyle Hardee). … Jets LB Avery Williamson is out for the season with an ACL injury. He was back at his old high school recently, and wore his full Jets uni to class (from Josh Hinton). … I don't think I've ever seen the facemask that former Falcons DB Ray Brown is wearing in this photo from the 1970s (from ojai67). … Interesting story shared by Don Schauf: When the Packers took QB Jerry Tagge with their first pick in the 1972 draft, they initially issued him No. 14 — the number Tagge wore at Nebraska. They even issued him a No. 14 practice jersey (note: it's weird seeing Bart Starr in that facemask!) before it was pointed out that the Packers had retired the number for Don Hutson, so Tagge switched to No. 17. A newspaper story from the time also points out that the Packers later often issued No. 14 to young players unlikely to make the roster. … In 1952, Steelers coach Joe Bach considered changing the team's colors. "Obviously, nothing came of it," says Jerry Wolper. … Fordham's library includes a great digital collection of old football programs through the years (from James Gilbert).

Hockey News: The Canucks are inducting Alex Burrows into their Ring of Honor prior to tonight's game against the Senators. Burrows also played for the Sens, so all Ottawa players will wear a No. 14 helmet decal (from Patrick Johnston). … The Edmonton Oil Kings of the WHL will wear these uniforms for their annual Teddy Bear Toss game on Saturday (thanks to all who shared). … Staying in the WHL, the Vancouver Giants will wear Grinch-inspired uniforms on Dec. 6 and 8 (from Joe C.). … The Milwaukee Admirals have officially updated their Milwaukee Brewers ad patch (the two teams have the same owners) to the Brew Crew's 50th-anniversary logo. Since the Admirals are also wearing their own 50th-season patch, they now have dueling 50s (thanks to all who shared). … Blackhawks G Corey Crawford changed pads — and pad brands — between periods last night.

Basketball News: Illinois wore their incredible throwbacks last night, while Miami countered with BFBS (from Erik Spoonmore and Timmy Donahue). … Pitt will wear black and yellow uniforms tonight as an homage to the pro sports teams in the city (from Anakin Forrest). … South Oldham High School (Kentucky) opened their season last night by wearing black numbers on black jerseys, making their uniforms completely illegible (from Josh Claywell).

Soccer News: FC Cincinnati's 2020 away jersey has reportedly leaked. The jersey is slated to be unveiled today (from Josh Hinton). … Speaking of, FC Cincinnati ranked the five best jerseys they've worn during its short history (from @labflyer). … Chelsea is teasing what appears to be a 1969-70 throwback jersey, slated for release in December (from Jakob Fox). … For more jersey unveilings and leaks, follow Josh Hinton's Football Kit Watch Twitter account. … Max Weintraub notes that Aston Villa players wear their shorts shorter than usual. … New away kit for Saudi side Al-Nassr FC (from Ed Zelaski).

Grab Bag: Ever wonder who was the first athlete to have his or her number retired? Hint: It started in Canada (from WK). … Actor Peter Sellers reportedly hated purple even more than Paul does and would throw "volcanic tantrums" when he was in its presence (from Adam Brodsky). … Shocker! Sports Illustrated reporters are now disputing the reporting of Sports Illustrated's local team sites. It's almost like replacing dozens of professional journalists with an army of underpaid bloggers was a bad idea.
• • • • •
Tomorrow: The new XFL uniforms are due to be unveiled tonight, so we'll have coverage of that tomorrow, along with the annual Uni Watch Holiday Gift Guide. See you then. — Paul