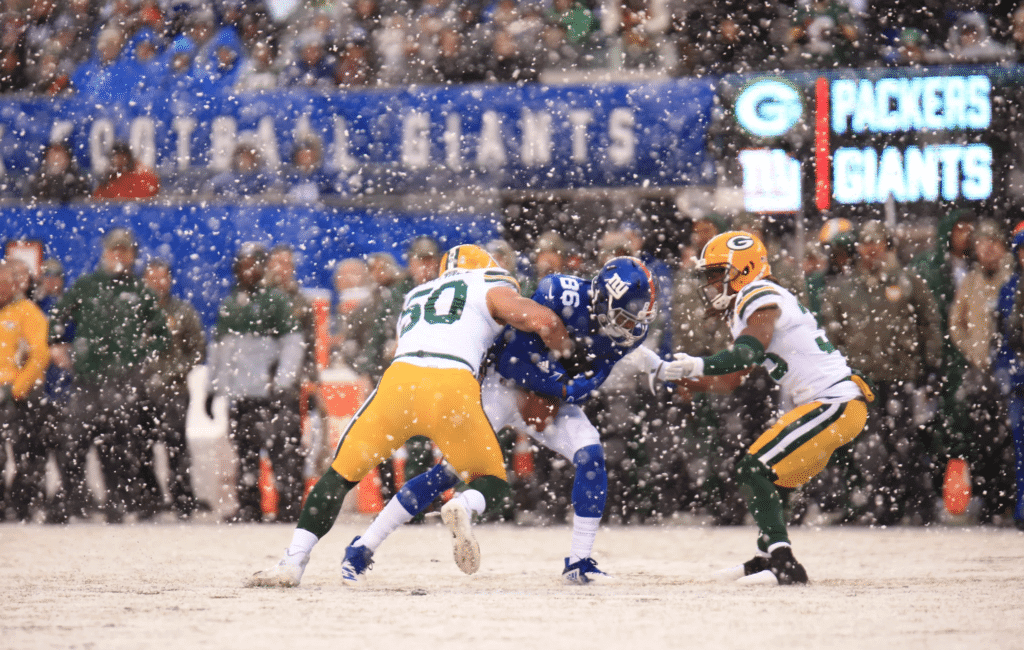 For all photos in this section, click to enlarge
Good morning! Fun snow game yesterday in the Meadowlands, as the Giants hosted the Packers (lots of additional pics here and here). In addition, at one point in the first half, Giants signal-caller Daniel Jones lowered his head on a quarterback keeper and emerged with the "y" missing from his helmet logo. You can see it come flying off in these video clips:
Daniel Jones got hit so damn hard here it knocked the Y off the Giants logo. pic.twitter.com/z9Virs0mYM

— Bobby Mason (@325_Hawks) December 1, 2019
Knocked the Y off his helmet pic.twitter.com/lmJXOcZzMq

— Surf & Turf Podcast (@surfandturfpod) December 1, 2019
In addition, Giants running back Saquon Barkley lost part of his helmet logo and a piece of a helmet numeral to boot:
Barkley lost part of his Y as well. pic.twitter.com/lfnrRAPR7Y

— MaasNeotekPrototype (@MaasNeotekProto) December 1, 2019
In other news from around the league yesterday:
• The Dolphins wore their throwbacks (cue everyone saying, "They should go back to those full-time," which is true):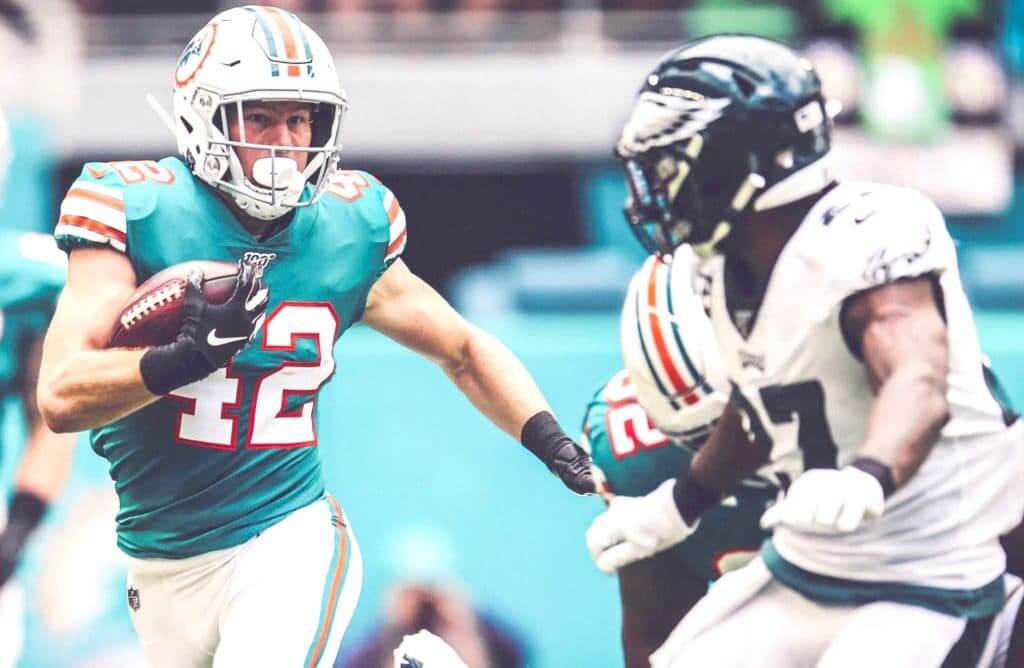 In addition, the Dolphins ran a fake field goal play that resulted in a very unusual formation. Really interesting to see (plus this view provides a nice look at the throwback end zone):
THE GOAT FAKE FIELD GOAL#PHIvsMIA #FinsUp pic.twitter.com/dAZJuTxUmQ

— Miami Dolphins (@MiamiDolphins) December 1, 2019
• I never mind when the Ravens go mono-black, because it means less purple: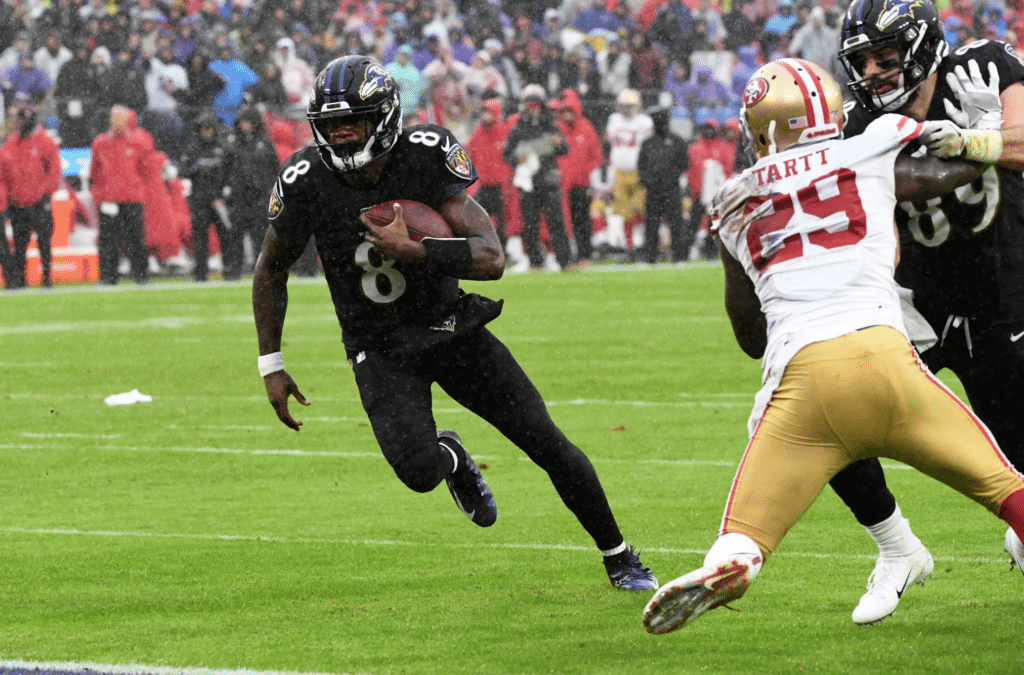 • Not a fan of the Panthers going mono-black, however: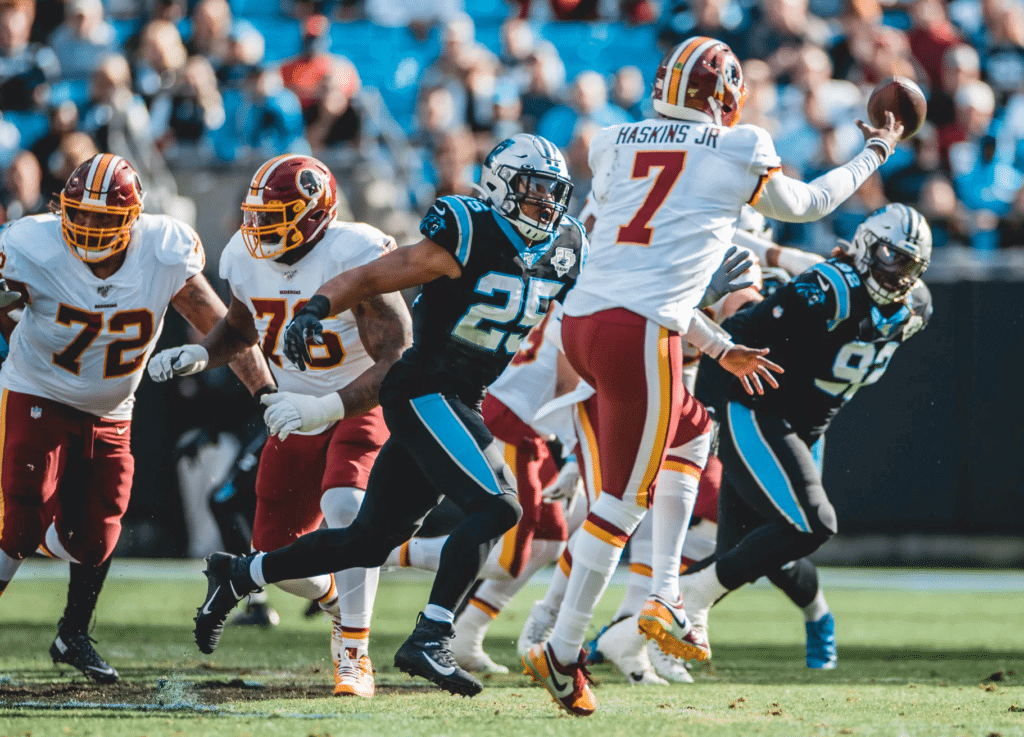 • The Bengals went mono-black as well, but of course they never look good, no matter what they wear: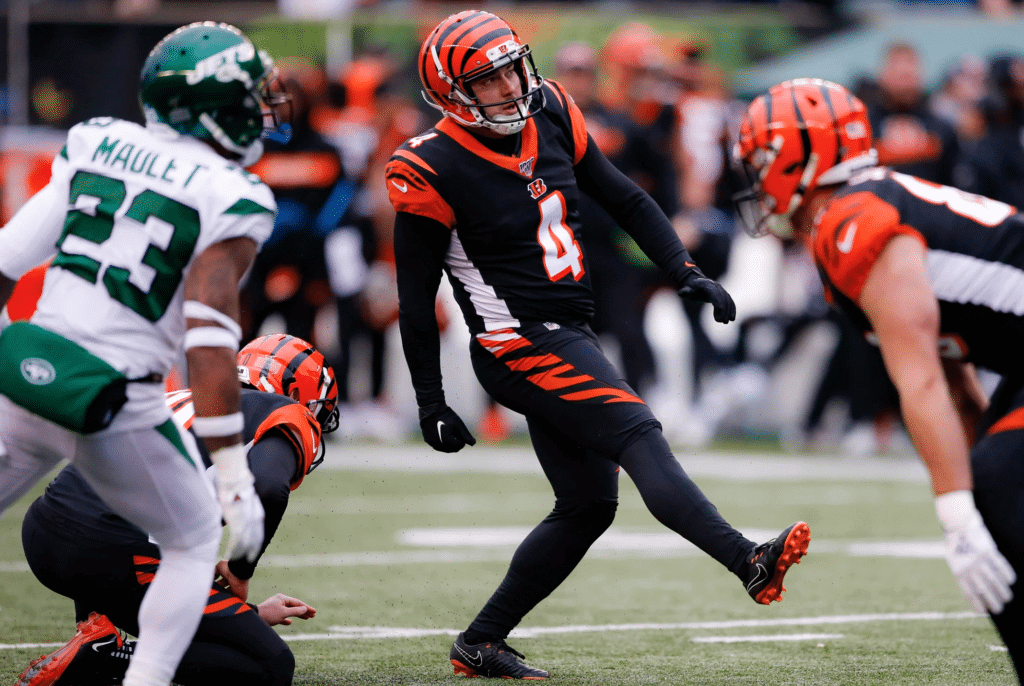 • The Titans went mono-navy: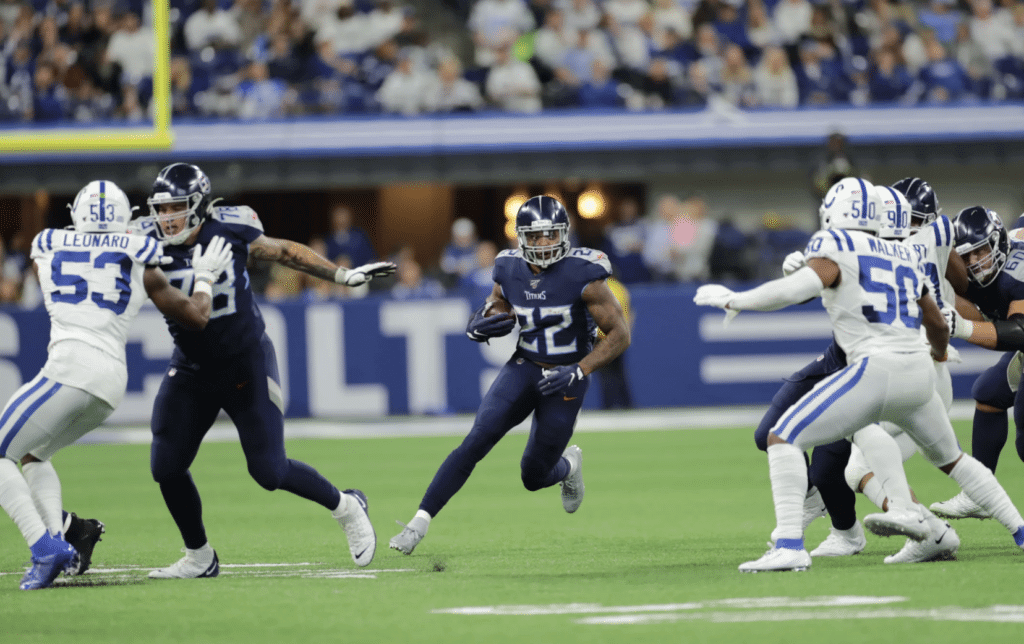 • The Texans also went mono-navy: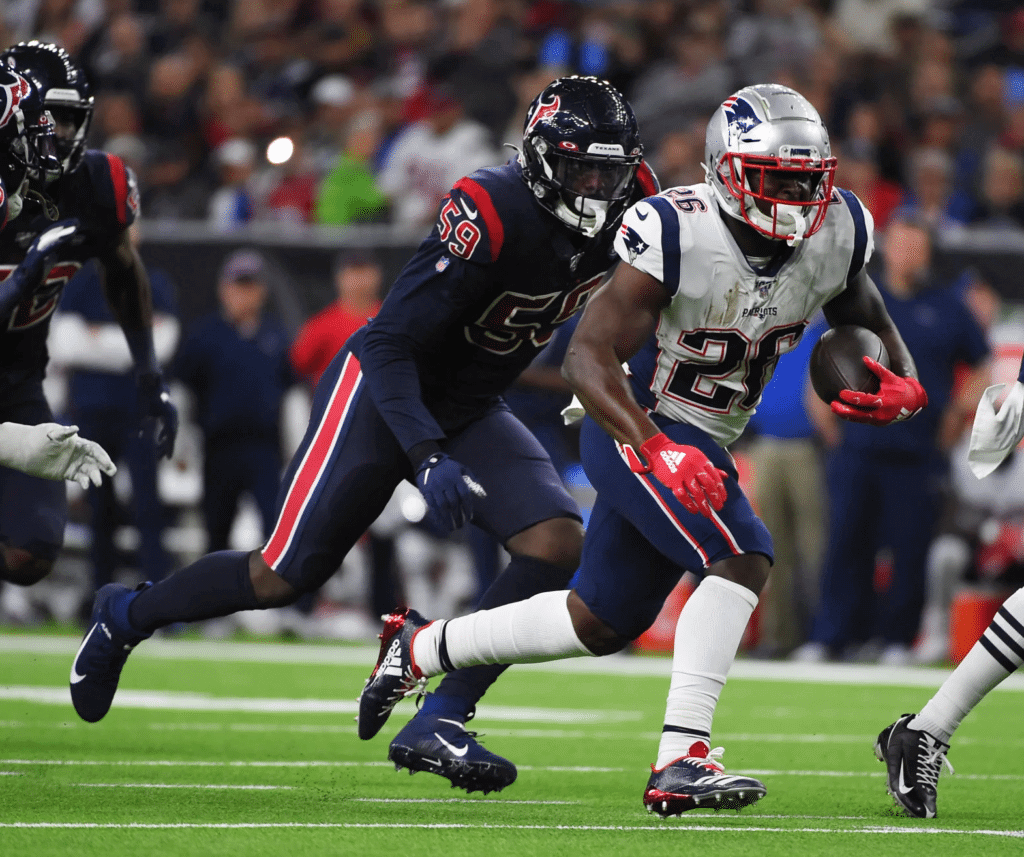 Prior to that game, Texans linebackers engaged in some cringe-inducing cosplay:
Look the part. Play the part. @HoustonTexans Linebackers a.k.a SWAT team are ready for the @Patriots pic.twitter.com/mVgofF39PX

— NFL UK (@NFLUK) December 1, 2019
• The Broncos wore their navy alternate jerseys: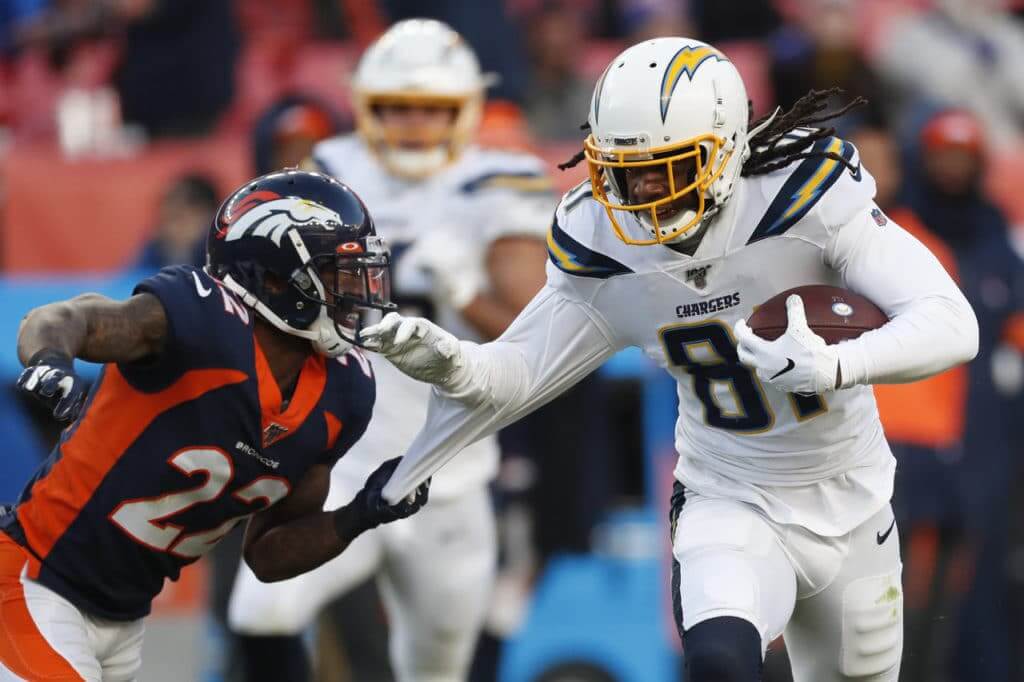 • Several Steelers players wore childish T-shirts (including logo creep!) prior to yesterday's "revenge" game against the Browns. Afterward, they criticized Browns coach Freddie Kitchens for wearing his own childish T-shirt a few days earlier. These idiots all deserve each other.
• ESPN studio analyst Sam Ponder wore an outfit modeled on the Browns' helmet design:
Sam Ponder Wearing Browns style helmet stripes on her dress today. pic.twitter.com/Zxuc56AJyX

— (@HelmetAddict) December 1, 2019
• Not a single home team wore white. Correction: One team wore white at home: the Colts.
Tonight: The Seahawks are apparently planning to wear neon-green over blue.
Next week: the annual "custom cleats for charity" promotion. Remember when that seemed like a big deal? Now it's such a yawn that you probably forgot about it until I mentioned it just now, right?
(My thanks to Brian Vilven and Timmy Donahue for their contributions to this section.)
• • • • •
• • • • •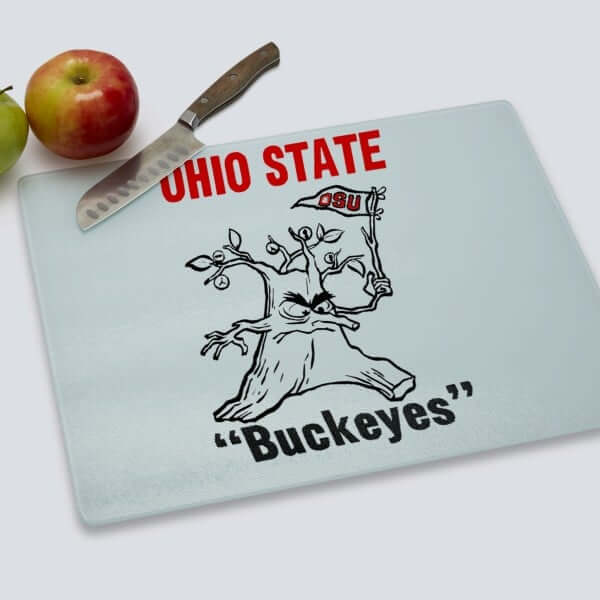 ITEM! New Vintage Brand raffle and sale: The good folks at our longtime advertiser Vintage Brand are generously sponsoring another raffle. The lucky winner will get to choose any item from the Vintage Brand website (including the hilarious Ohio State cutting board shown above — they really need to bring back that logo!).
To enter, send an email to the raffle address by 8pm Eastern this Wednesday, Dec. 4. One entry per person. I'll announce the winner on Thursday (and then we'll have a new raffle that day to boot!).
Also: Vintage Brand is running a Cyber Monday sale today, with 25% off of everything. Enjoy!
• • • • •
• • • • •
Membership update: Now that is a membership card, am I right? That's Bryan Stroud's card, one of eight new designs that have been added to the membership card gallery. If you can't quite place which jersey it's based on, let me hep you to the stylings of the Cleveland Force one of the six original franchises in the old MISL (that's Major Indoor Soccer League, kids). Great card choice, Bryan!
Looking to give someone a membership card as a holiday gift? Fully info on that is available here.
Ordering a membership card is a good way to support Uni Watch (which, frankly, could use your support these days). And remember, a Uni Watch membership card entitles you to a 15% discount on any of the merchandise in our Teespring shop and our Naming Wrongs shop. (If you're an existing member and would like to have the discount code, email me and I'll hook you up.) As always, you can sign up for your own custom-designed card here, you can see all the cards we've designed so far here (more than 2,300 of them!), and you can see how we produce the cards here.
• • • • •
• • • • •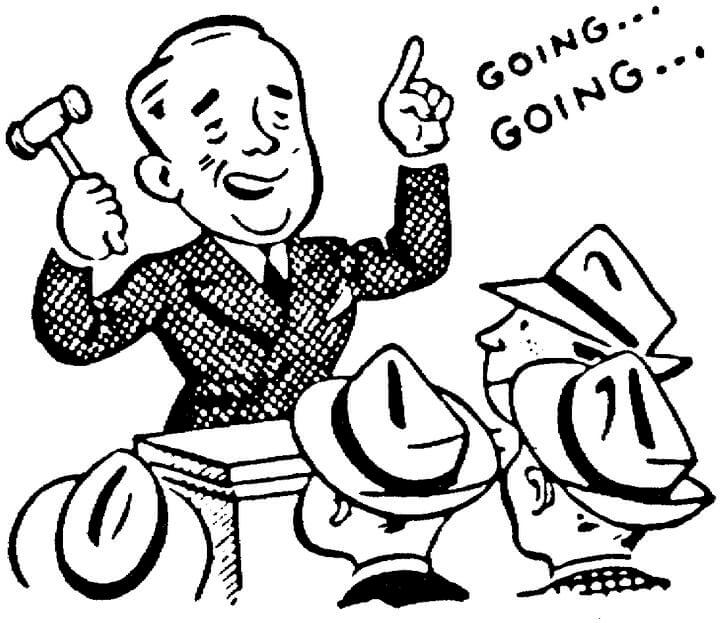 Inventory alert: As holiday shopping season moves into high gear, I've done my best to maintain ample supplies of Uni Watch products, but a few items are currently in short supply, so I wanted to get you up to speed on that:
• For our Classic Cap, we're running low on sizes 7-3/8 (only two left), 7-1/4 (three), and 7-1/2, 7-5/8, and 7-3/4 (four apiece). I've had new inventory on backorder for nearly two months, but you know how holiday-season wholesale orders can go — we're at the mercy of the factory. So if you want any of those sizes, I suggest ordering soon.
• Rocker T Collectibles tells me that there are only eight Uni Watch Mini-Helmets left. These will not be restocked, so get 'em while you can.
• For the Uni Watch Gumball Helmets, I have plenty of green but am down to the last white shell. Who wants it?
• For Uni Watch Seam Rippers, I have plenty of yellow and white, but green and red are temporarily out of stock and I have only one blue ripper left. These will all be restocked soon, or at least soon-ish, but the product is coming from Asia, so I can't predict when it will arrive.
• I currently have eight of the beautiful chain-stitched Uni Watch patches. Amy Bengtson, who makes them for me, is tied up for the rest of the holiday season, so I won't be getting more of these until the new year.
• We never run out of membership cards. But if you want one in time for Hanukkah or Christmas, I suggest that you get your order in by the end of this week. (You can also purchase a membership gift voucher. No deadline on that!)
• Uni Watch 20th-Anniversary Plates are now sold out.
Everything else is well-stocked. You can see our full list of merchandise offerings here. My thanks, as always, for considering our products for your holiday purchases, or just for yourself.
• • • • •
• • • • •
Click to enlarge
Pin-tac-toe: Speaking of Uni Watch products, reader Brett Baker wore his Uni Watch enamel pin on nine different caps while attending Nebraska football games this season — nicely done, Brett!
If you want your own pin, it's available it's available in the Uni Watch Teespring shop.
• • • • •
• • • • •
'Tis the season: One day in December of 1993, when I still had an office job in Times Square, I took a lunchtime walk down to Herald Square and stopped in at the local Woolworth's, where I spotted a bin of plastic mistletoe. I had recently begun writing a column about consumerism for the alt-weekly NYPress, and faux 'toe seemed like a good nutshell summary of our increasingly plastic culture, so I bought one for $2.99, wrote about it for my next column. and hung it in my apartment for the rest of the holiday season.
More than a quarter-century later, that Woolworth's is long gone, but my plastic mistletoe is still as good as new. I brought it out of the cupboard the other day for its 27th consecutive year of working its magic. Let the Yuletide necking commence!
• • • • •
• • • • •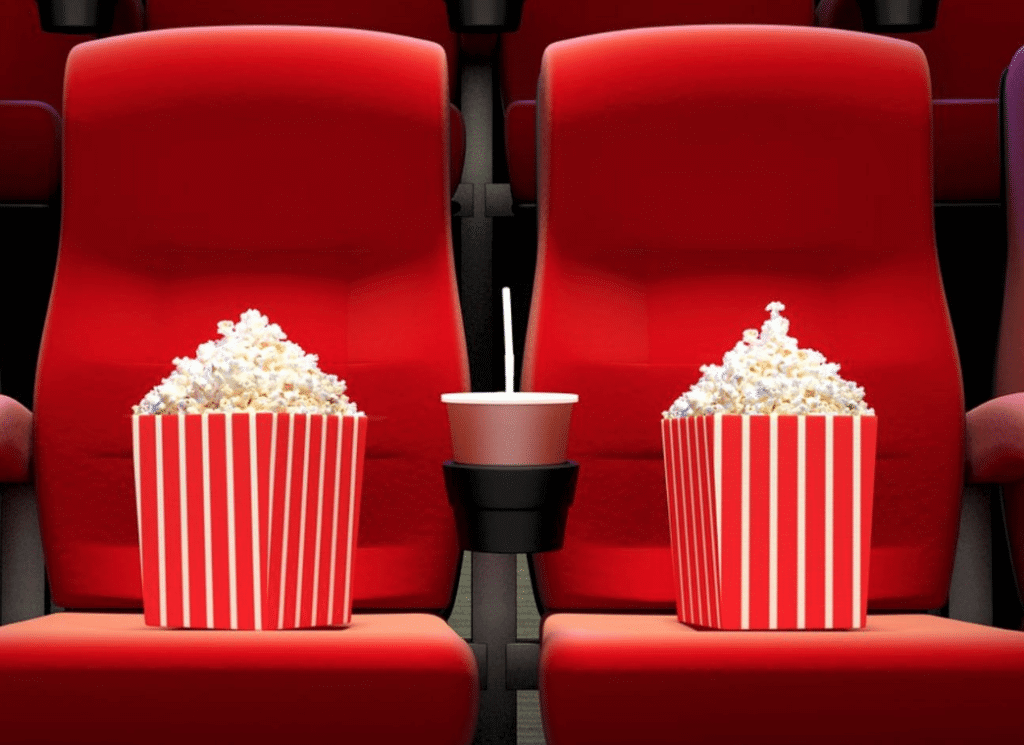 Holiday weekend movie roundup: The Tugboat Captain and I went to see three movies over the holiday weekend, all of which I enjoyed quite a bit. First up was Recorder: The Marion Stokes Project, a documentary about a Philadelphia activist and hoarder who packed her home with TVs and VCRs and, over the course of 35 years, obsessively created history's largest archive of TV news recordings.
I'd heard of Stokes before but didn't know much beyond the barest details of her story. It's pretty fascinating. Here's the trailer:
Then we saw Parasite, the South Korean black comedy that's becoming an unlikely "Best Picture" Oscar contender (not that I care even a little bit about the Oscars, but it's interesting to see a foreign-language movie in the running). It's about a poor but conniving family whose members slowly worm their way onto the staff — and into the home — of a very wealthy family, with results that are both hilarious and horrible. There's a lot of stinging class commentary, not all of it flowing in the direction you might expect. Really good movie. Here's the trailer:
The day after that we saw Waves, a drama about a Florida family that has to deal with a series of circumstances that spiral into tragedy. Great performances here, and dizzyingly spectacular camera work (including during some sensational high school wrestling scenes). I really loved this one — my favorite movie of the weekend, and one of the best I've seen this year. Trailer:
Oh, and a few weeks ago I saw The Irishman. I didn't mind the 3.5-hour length (everyone involved, from the director to the cast to the crew, is a total pro, so there's a certain pleasure in watching them stretch out), but there's nothing here that wasn't done much better 30 years ago in Goodfellas, so the whole exercise feels like a Scorcese-by-numbers retread. Not a bad movie, but an unnecessary one.
Still need to see Queen and Slim, Knives Out, 63 Up, and a few other things — so many movies, so little time. It'd be easier if I had Netflix or any of the premium cable channels, but I don't want any of that because I already spend too much staring at a screen in my home and don't want to facilitate more of it. Not having Netflix forces me to go out to see movies, which is how I prefer it, even if it inevitably means I end up missing some of them.
• • • • •
• • • • •
The Ticker
By Jamie Rathjen

Baseball News: Blue Jays C Danny Jansen commissioned Sylvie Marsolais, one of the mask artists for goalies in the NHL and otherwise, to paint a catcher's helmet. No, he can't wear it on the field (from Marc-Louis Paprzyca). … A Reddit user hand-drew new logos for each MLB team (from Mike Chamernik and Adam Vitcavage).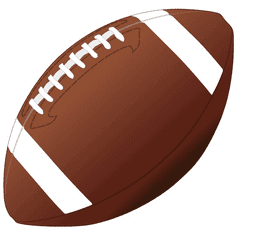 Football News: The Tampa Bay Times is holding a Bucs redesign contest (sounds familiar, obviously), but in addition to reader submissions, they've come up with the first of some concepts of their own (from Austin Ledley). … The University of Wyoming issued a formal apology to the "Black 14" (WaPo link), a group of black players who were kicked off the school's 1969 football team when they asked to wear black armbands to show solidarity against racism. … The latest school from Blaise D'Sylva's helmet collection is UNLV.

Hockey News: The WHL's Winnipeg Ice wore jerseys with red trim, instead of the usual silver/light blue trim, that were auctioned with the proceeds going to a local youth hockey program (from Wade Heidt). … Down a level in junior hockey, Wade also sent us new alternates for the British Columbia Hockey League's Alberni Valley Bulldogs. … Also posted in baseball: Toronto Blue Jays C Danny Jansen commissioned Sylvie Marsolais, one of the mask artists for goalies in the NHL and otherwise, to paint a catcher's helmet. No, he can't wear it on the field (from Marc-Louis Paprzyca). … Christmas-themed uniforms yesterday for the Calgary Hitmen. The bears are from the team's annual Teddy Bear Toss — fans toss stuffed animals onto the ice, and the toys are later donated to local children's charities (from Mike Styczen).

Basketball News: Bucks press conferences now have an American Sign Language interpreter (NYT link). … Iowa debuted the black uniforms from their new set on Thanksgiving. I don't have a good picture, but they also kept the grey TNOB alternates from the previous set. … Maryland wore yellow and Marquette sky blue in the final of their Thanksgiving tournament in Kissimmee, Fla. (from multiple readers). … Pitt is wearing black and gold on Tuesday (from Noah Kastroll). … Temple G Jake Forrester's NOB was misspelled yesterday (from @UntillTheNight). … Penn and Long Beach State wore light grey and dark grey, respectively, when playing each other (from Timmy Donahue). … San Diego State is wearing Michael Jordan/Bulls-themed alternates on Dec. 8 — not that Jordan has anything to do with SDSU except that his brand is on their uniforms (also from multiple readers). … French soccer team Olympique Lyonnais became the advertiser for the French basketball club ASVEL. OL recently bought stakes in both the men's and women's teams (from Christophe Davy).

Soccer News: Premier League teams are participating in the UK's Rainbow Laces campaign in the midweek of Dec. 3 and 4 and next weekend. Scottish Premiership teams and many others in Scotland participated this weekend, which at the very least included rainbow captain's armbands. … Also in the Premier League, Wolverhampton Wanderers wore black armbands in memory of former striker Benik Afobe's daughter, who passed away this week. Wolves' goalscorer, fullback Matt Doherty, celebrated by taking his armband off and kissing it. … Leicester City midfielder James Maddison also wore an undershirt supporting Afobe (from Josh Hinton). … FC Barcelona debuted the latest edition of their recurring Catalan flag-themed kit (from @DukeStJournal). … We also mentioned in the past two weeks or so that Barcelona renewed their contract with the fashion designer Thom Browne to outfit the team for when they're traveling to away games and the result can look odd, apparently (from Mark Coale). … New first shirt for Irish team Shamrock Rovers. … French team Lille OSC wore 75th-anniversary throwbacks this weekend, but with the usual Ligue 1 font (from Ed Żelaski). … Also from Ed: Dinamo Tbilisi won the Georgian championship for the first time since 2016, which apparently called for a celebratory logo. … South Korea might be changing their crest (from Donald Wine II). … Cross-listed from the basketball section: French team Olympique Lyonnais became the advertiser for the French basketball club ASVEL — OL recently bought stakes in both the men's and women's teams (from Christophe Davy). … In 1990-91, Italian team AS Roma wore two different white second-choice shirts, with no discernable pattern determining which one was worn.

Grab Bag: English rugby union participated in the UK's Rainbow Laces campaign this weekend. The Premiership added rainbow accents to its logo and officials' shirts and flags. … After the NLL's Rochester Knighthawks moved to Halifax, an expansion Knighthawks replaced them, but they wear olive green and black instead of purple and teal and have a new bird mascot (from Wade Heidt). … Gross: Players at the Australian Football League's draft posed with a ball featuring the giant logo of the draft's advertiser (the same was done at last month's women's draft), though the ball already has an ad anyway. … Catastrophic: An organization in the UK dedicated to the correct use of apostrophes is conceding defeat and shutting down (from multiple readers). … Here's a great interactive page on the history of New York City subway map design (NYT link).