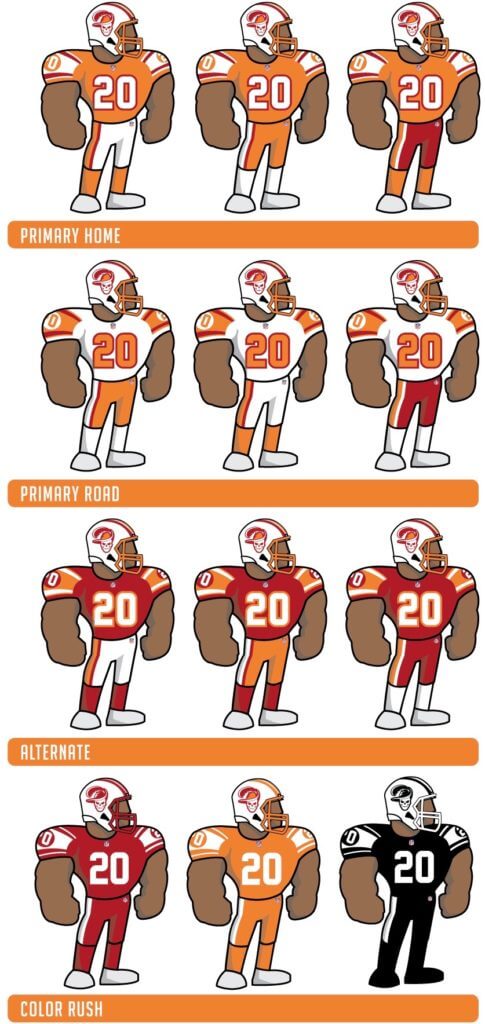 Click to enlarge
Good morning! Today I have the results of our "Redesign the Bucs" contest over on InsideHook. Lots of good entries, including Tim Fesmire's (shown above), which I'm showcasing here not because it was the best entry but because I love his cartoon template. Good one, Tim!
Meanwhile, you can see all the entries we received here.
• • • • •
• • • • •
Membership update: Another eight designs have been added to the membership card gallery, including Steve Hartsock's, which is our first card to be based on the Padres' new look. Looks nice on a card, no? (And if you want to be the first to get a card based on the Brewers' new set, you're too late! Alex Poterack already snagged that distinction, although we haven't yet designed his card.)
Ordering a membership card is a good way to support Uni Watch (which, frankly, could use your support these days). And remember, a Uni Watch membership card entitles you to a 15% discount on any of the merchandise in our Teespring shop and our Naming Wrongs shop. (If you're an existing member and would like to have the discount code, email me and I'll hook you up.) As always, you can sign up for your own custom-designed card here, you can see all the cards we've designed so far here (more than 2,300 of them!), and you can see how we produce the cards here.
• • • • •
• • • • •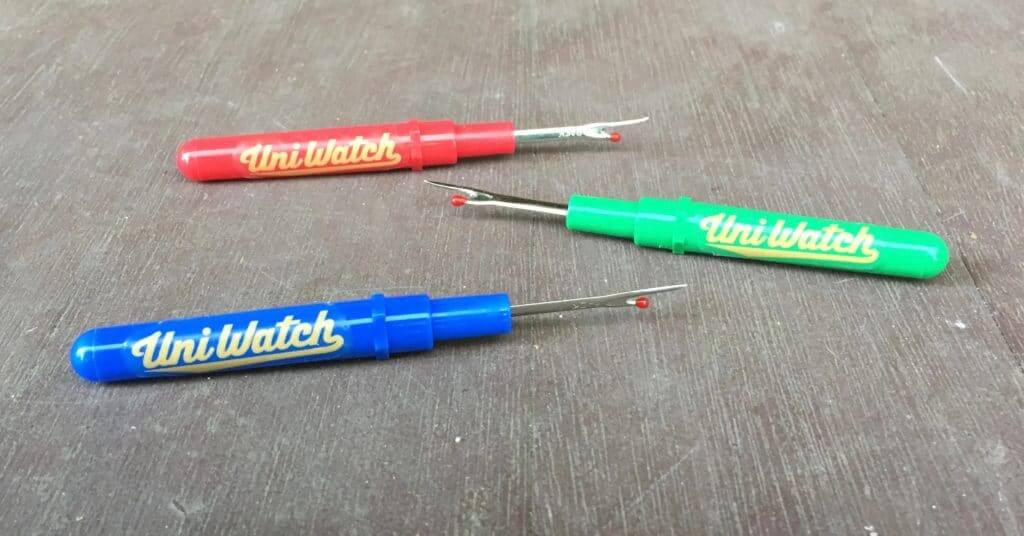 IMPORTANT seam ripper update: Okay, one thing at a time:
• The good news is that I got some new seam rippers in stock and also got some small bubble mailers (no more paper envelopes, since that didn't work out too well). If you previously notified me that your ripper order either didn't arrive or arrived damaged, a replacement is already on its way to you. You should have it in a day or two at the most. (If you didn't receive your original ripper order and haven't yet told me, please do so now.)
• The bad news is that replacing all the mangled original orders means that I'm already out of stock (again) on green rippers. I have more coming from Asia and should be restocked (again) in a week or two.
• The good news is that I do have a decent new supply of blue and red rippers. You can order them here.
• The bad news is that the shipping charge has jumped from $1 to $5. That's because the USPS classifies the bubble mailers as packages and charges me the package rate. I had hoped to avoid this, but there seems to be no way around it.
• The good news is that I'll soon be adding two new colors to the mix: yellow rippers and white rippers. These will have a green script (instead of the gold script I've been using) and should be ready to go in about a week — either just before or just after Thanksgiving.
I think that's everything. Thanks for your interest in (and patience with!) this project.
• • • • •
• • • • •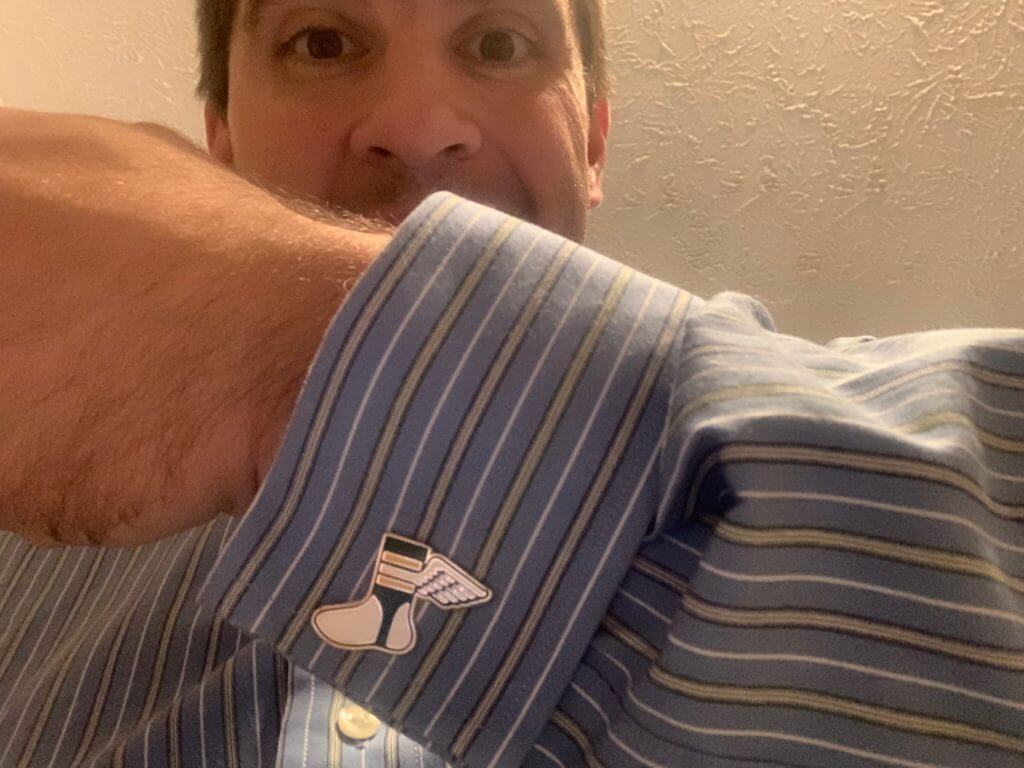 Click to enlarge
Lookin' sharp: People are starting to receive their Uni Watch cufflinks — including longtime reader Mario Fontana (shown above), who wore them while teaching yesterday at SUNY-Brockport. Very nice!
If you want to look as sharp as Mario, Uni Watch cufflinks are available here.
• • • • •
• • • • •
The Ticker
By Paul

'Skins Watch: Carthage College, a D-III school whose teams are called the Red Men, is considering a name change for its athletics department. "To be honest, I'm surprised that name has remained for as long as it has," says Geoff Poole. … Division II UNC Pembroke, which was originally opened for Native Americans and did not admit other races until 1953, wore a medicine wheel patch last weekend for an annual American Indian Heritage Day (from Brian Simpkins).

Baseball News: In the aftermath of the Brewers' recent unveiling, here's an article about the BiG logo designer's widow (from Miles Cliatt). … New 10th-season logo for the Rockland Boulders (from John Cerone). … A group hoping to lure an MLB team to Orlando is calling its prospective team, rather appropriately, the Orlando Dreamers. … New baseball and softball uniforms next spring for Auburn.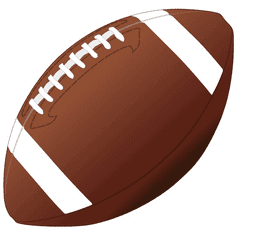 Football News: The Texans will go mono-blue tonight (from Ignacio Salazar). … Here's a lot of info on the "heritage" uniforms that Notre Dame will be wearing this weekend. … Speaking of the Irish, check out this communiqué from Kary Klismet: "I recently came across this amazing color footage of Iowa's 7-6 upset victory over Notre Dame in November 1939. The game is uni-notable because the Fighting Irish famously switched from navy blue jerseys to green jerseys with white shoulders at halftime, likely to provide better contrast to Iowa's black jerseys. This game was the subject of an extensive discussion at Uni Watch five years ago. At the time, evidence suggested that color footage of the game existed, but we could find only black-and-white footage until now." … Here's this week's uni combo for Iowa State and Georgia Tech (from Chad Lehman and @GTThrashFan). … Good story about the guy who does program art for Illinois (from @mrmichael21). … Blaise D'Sylva's latest helmet collection is for Toledo. … This week's No. 25 for Virginia Tech is TE James Mitchell (from Andrew Cosentino).

Hockey News: New grey uniforms for Purdue's club team. … We've seen skylines depicted on jerseys and basketball courts before, but Blue Jackets G Elvis Merzļikins has what might be the first skyline-themed blocker (from Kellen Dargle). … Canucks fans love the "flying skate" throwback that the team is wearing a handful of times this season. (from Vancouver's own Wade Heidt). … Speaking of the Canucks, and of Wade, G Jacob Markstrom has a new mask. "It's the fourth design he's used this season," says Wade.

Basketball News: In addition to all of the new uniforms we covered in yesterday's lede, we now have new uniforms from the Kings. … The NBA is reportedly considering a shorter regular season with a later starting date, which could have some interesting implications for uni-reveal schedules. … The Lakers plan go to back to wearing yellow and white at home for the postseason. … Raptors F Ogugua Anunoby wore protective goggles last night. "He was poked in the eye a few nights ago," explains Mike Chamernik. … New black uniforms last night for San Diego State (from Nathan Clark). … Huge uni numbers — not just on the jersey but also on the shorts — for the French team Nanterre 92.

Soccer News: A trademark application indicates a new logo and name tweak are coming for the Chicago Fire (from many readers). … Puma chose Helvetica as the font for Switzerland's new shirt (from James Gilbert). … New away kit for USL Championship side Indy Eleven (from Josh Hinton). … Fashion designer Thom Browne has unveiled "official off-pitch away uniforms" — in other words, what the team wears while traveling to away games — for FC Barcelona (from Kary Klismet and our own Jamie Rathjen).

Grab Bag: Sports Illustrated's print edition will be reduced to a monthly pub schedule in 2020. One of the new owners said this week, "They've got a 1986 business model. We're bringing in specialists — team, fantasy, gambling, backpacking. That's the model of the future." … More on impeachment witness Lt. Col. Alexander Vindman's military uniform: President Trump questioned why he wore the uniform while testifying, even though he's actually required to do so. More analysis of the significance of wearing a military uniform in a political setting here and here. … Officials in Fairfax County, Va., are pushing back against the DC Metro's plans to bypass usual station-naming rules and unilaterally selling off the naming rights to a Fairfax-area station. Good (from Ted Bloss).
• • • • •
• • • • •

What Paul did last night last Saturday: The video above shows my friend Tim using something called a Minimum Wage Machine. You turn a crank and every few seconds it spits out a penny, at a rate that adds up to the hourly minimum wage — interesting and thought-provoking.
The machine is part of an exhibit currently at the Parsons School of Design, called The Museum of Capitalism, which is a series of clever critiques of capitalism (additional info here, here, and here [NYT link]).
It's a super-cool exhibit. After Tim cranked out a bunch of pennies, we took a few of them to the exhibit's souvenir penny crusher, which is just like the ones you see at tourist attractions, except this imprints radical slogans onto the pennies. I chose "Property Is Theft" (for all photos, you can click to enlarge):
There were sooooo many other good pieces in the exhibit. My favorite was this spectacularly gorgeous arrangement of universal handcuff keys, by the Center for Tactical Magic (additional info here):
Visitors are encouraged to take a key right off the wall (the gallery staff replenishes them at the end of each day), in case they ever find themselves handcuffed and need to escape.
I also liked a piece by Michael Mandiberg called "FDIC Insured," a big display of investment guide books — all purchased for a dollar at used book store — with their covers burn-imprinted with the logos of banks that were closed by the FDIC during the Great Recession (additional info here):
And there's so much more (including the world's largest collection of promotional pharmaceutical pens!). The exhibit is on view at 66 Fifth Ave. in Manhattan from now through Dec. 10. Recommended.
• • • • •
Raffle results: The winner of the free New York Times digital access is Jake Yergert. Congrats to him, and thanks to all who entered. More raffles coming soon.