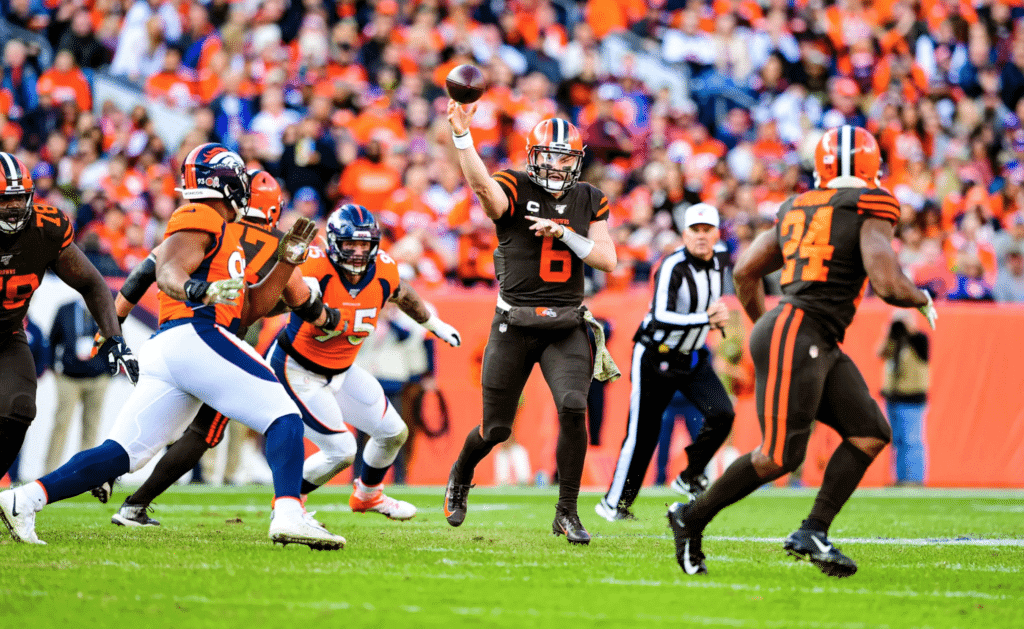 For all photos in this section, click to enlarge
Good morning! Rare sight yesterday in Denver, as the Browns and Broncos went color vs. color. I asked a Browns spokesman about this and was told, "All-brown is our primary this year, as you are aware. With Denver wearing orange tops, NFL approved our request prior to the season to wear primary uniform on the road."
On the one hand, it was a brutal-looking game, with two of the league's worst uniform designs somehow adding up to even less than the sum of their parts. But on the other hand, I'm generally in favor of color/color games, so if this game ends up helping to nudge the league in that direction, it will have been worth it.
In that same game, Browns wideouts Odell Beckham Jr. and Jarvis Landry were told to change their footwear at halftime (additional info here):
Jay Feely reports the NFL told Odell Beckham and Jarvis Landry to change their shoes at halftime or they won't be allowed to play.

Browns in a nutshell this year. pic.twitter.com/Z3UHJDG5Wc

— Will Brinson (@WillBrinson) November 3, 2019
In yet another tidbit from that game, Browns quarterback Baker Mayfield apparently shaved off his beard after arriving at the stadium for yesterday's game and left himself with a mustache:
@UniWatch @PhilHecken Baker Mayfield is now sporting a mustache…and it seems he shaved it AFTER arriving at Denver's stadium for today's game. pic.twitter.com/E9mmRXxJnD

— Alex Hider (@alexhider) November 3, 2019
And in still another item from that game, Browns defensive back Denzel Ward had a noteworthy mouthguard:
Join us, fellow dummies, and gaze in wonder at Denzel Ward's ridiculous mouthguard – National Football League News – https://t.co/bSJ2nrU4QD pic.twitter.com/osP9Aw4jlx

— NFL News (@CSNews2019) November 4, 2019
I think it's great that the Browns, who are now 2-6, have time to focus on important stuff like shoes, mouthguards, and facial hair, don't you?
In other news from around the league yesterday:
• Interesting retro move by the Chiefs, who wore grey facemasks instead of their usual white: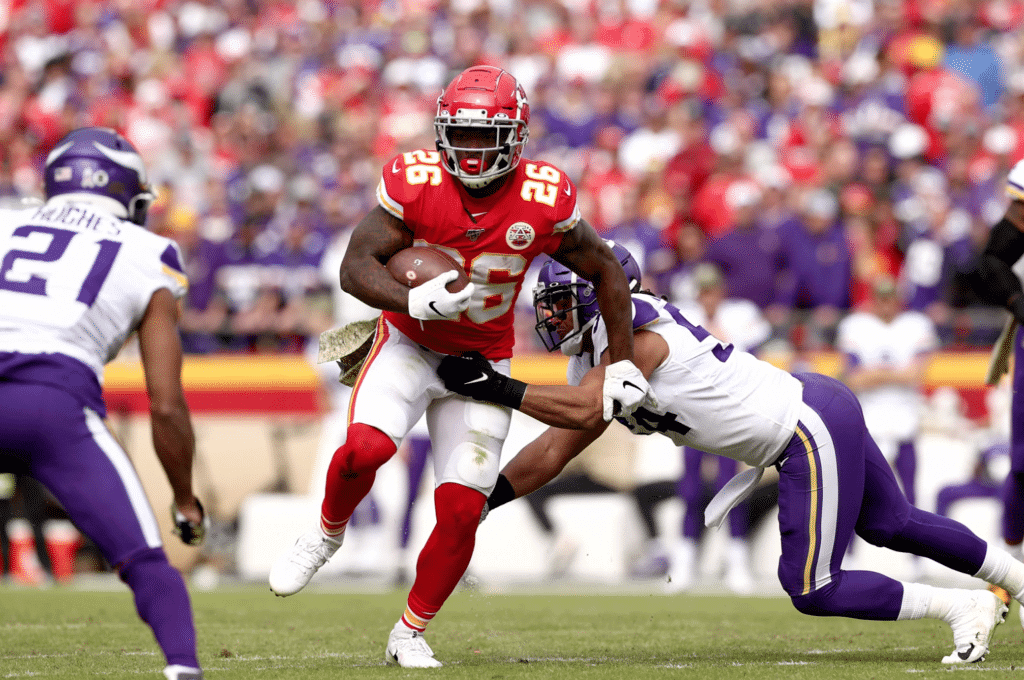 They did this because they were playing the Vikings, who were their opponents in Super Bowl IV. The Vikings no longer have throwbacks in their wardrobe, but they still could have played along by adding their own grey masks and wearing white pants instead of purple. Did they do that? Nope. This marks the third consecutive week that the NFL has missed an opportunity to have teams simulate the uniform matchup from an early Super Bowl, which seems really odd for a league supposedly celebrating its centennial.
• Speaking of missed opportunities, the Packers/Chargers game should have been visual feast — and it would have been, if the Chargers hadn't worn their mono-navy alternates. They changed to navy facemasks, too: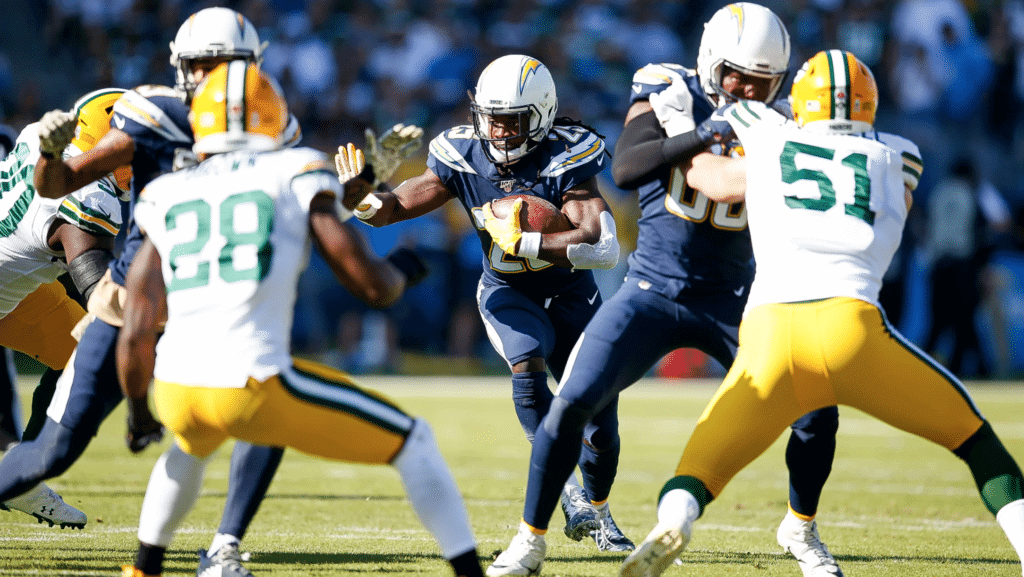 Pfeh. Imagine if the Chargers had worn their powder blue primaries — that would've been sweet. (We can get a vague sense of how that would look from this 1970 game.)
• And speaking of the Chargers, yesterday was their Salute to Service game, so 25 of their players wore black helmet decals with white initials for fallen soldiers (similar to what the Lions did last week for cancer patients):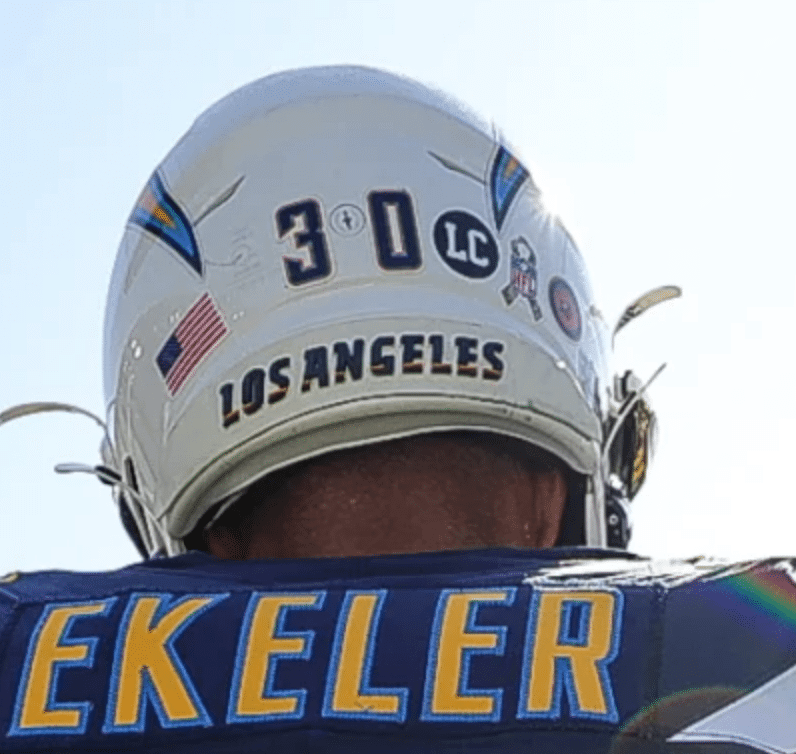 Additional info on the fallen soldiers, and the players who wore their initials, is available here.
• The Bills wore their white throwbacks (the nose bumpers are a nice touch, even though blank bumpers would've been more era-appropriate):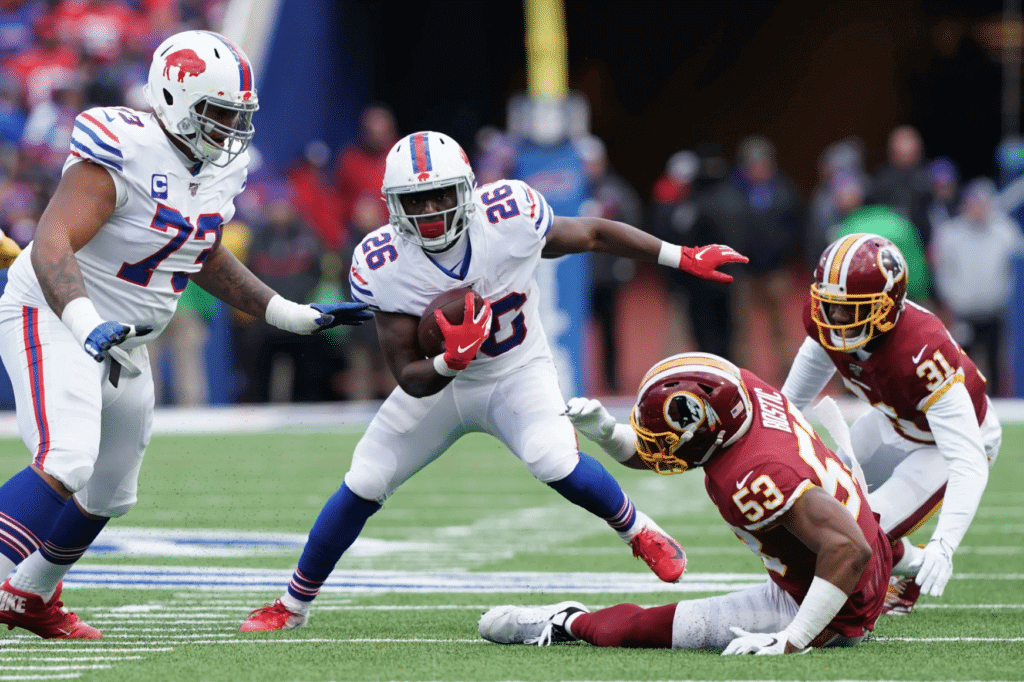 The throwbacks made a certain uni number even more resonant:
This is just so weird for a longtime Bills fan…this year marked the first time someone has worn #32 for Buffalo since OJ in 1977. @UniWatch #BillsMafia #BuffaloBills #uniwatch pic.twitter.com/EqGBdivOxo

— Mark Palczewski (@Mark22Photos) November 4, 2019
• Always disappointing when the Eagles choose to go mono-black, as they did yesterday: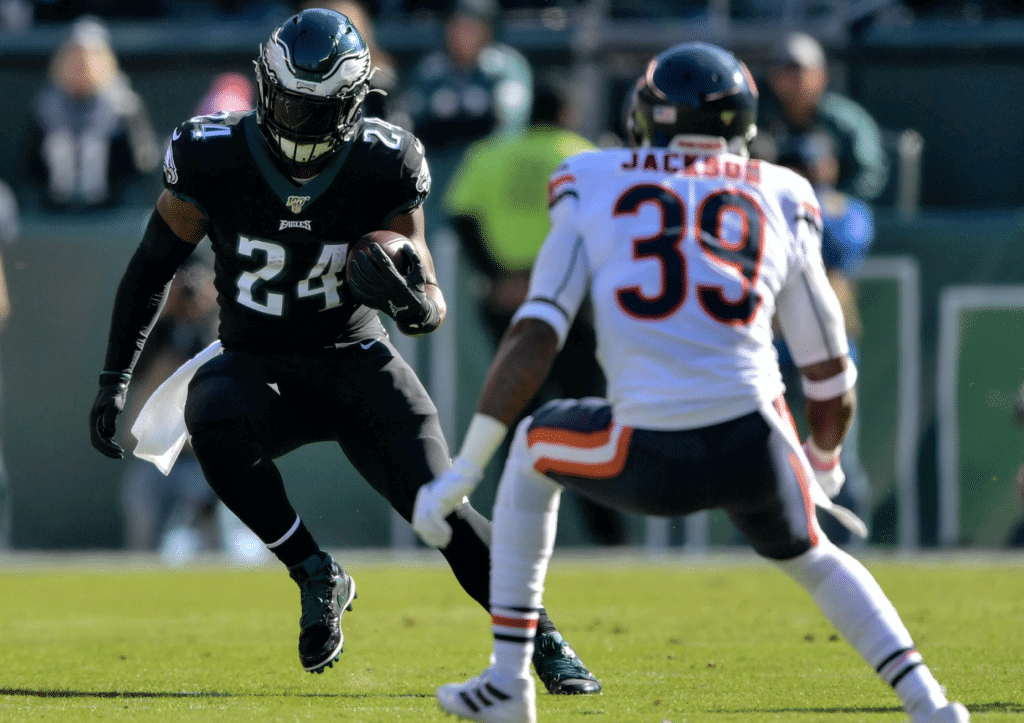 • The Panthers went mono-black as well, and also added "51" helmet decals for the annual Sam Mills "Keep Pounding" game: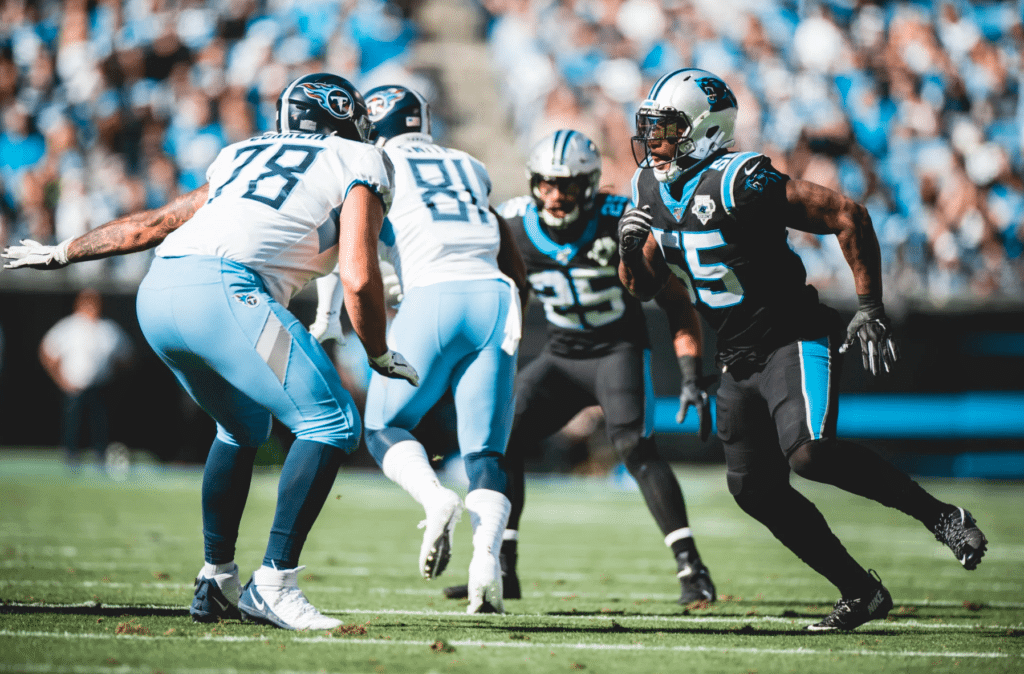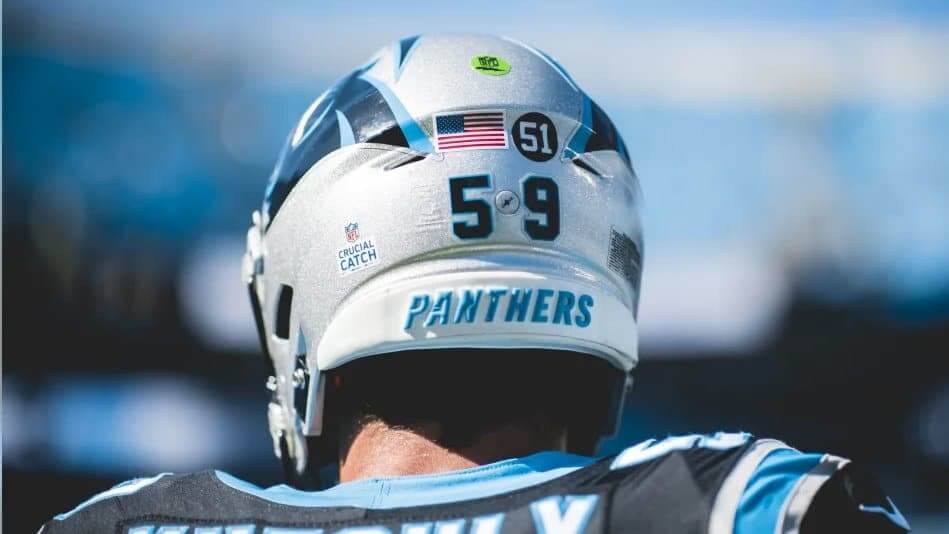 • The Jags were yet another team going mono-black: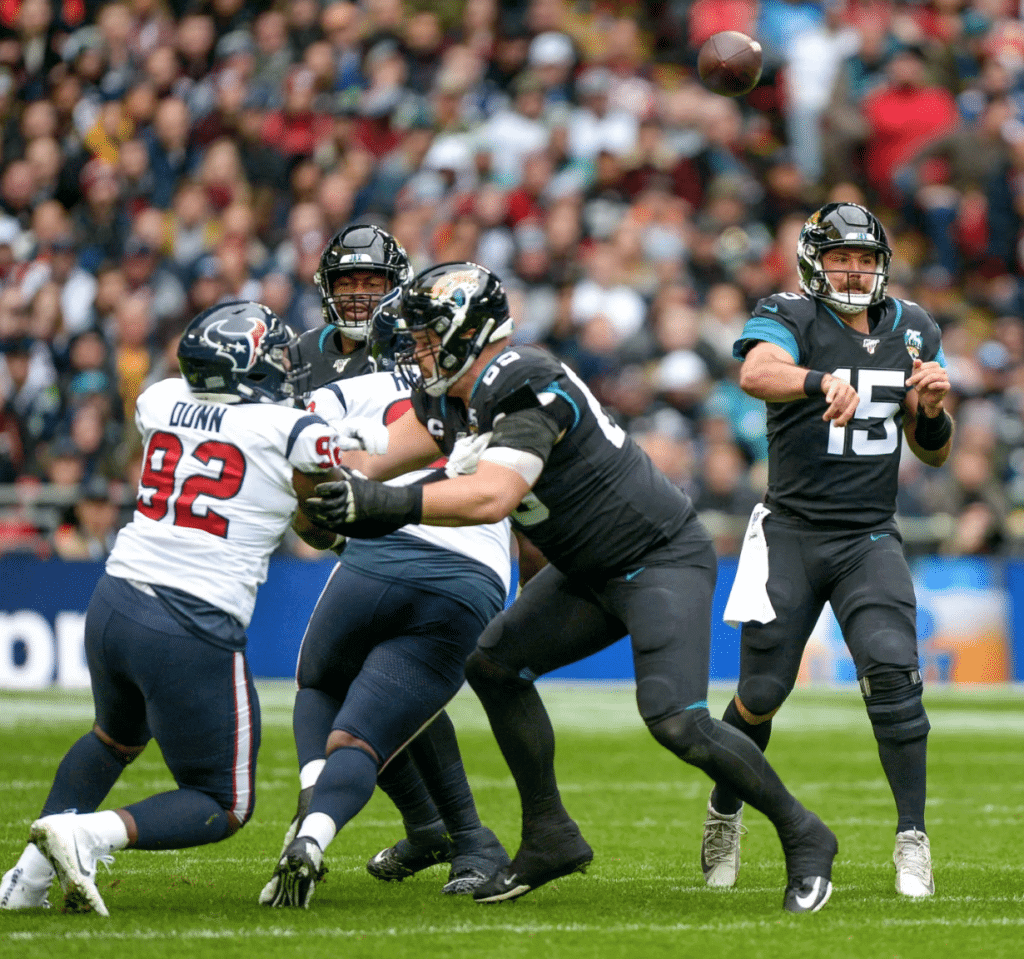 • The Ravens wore their black alternate jerseys: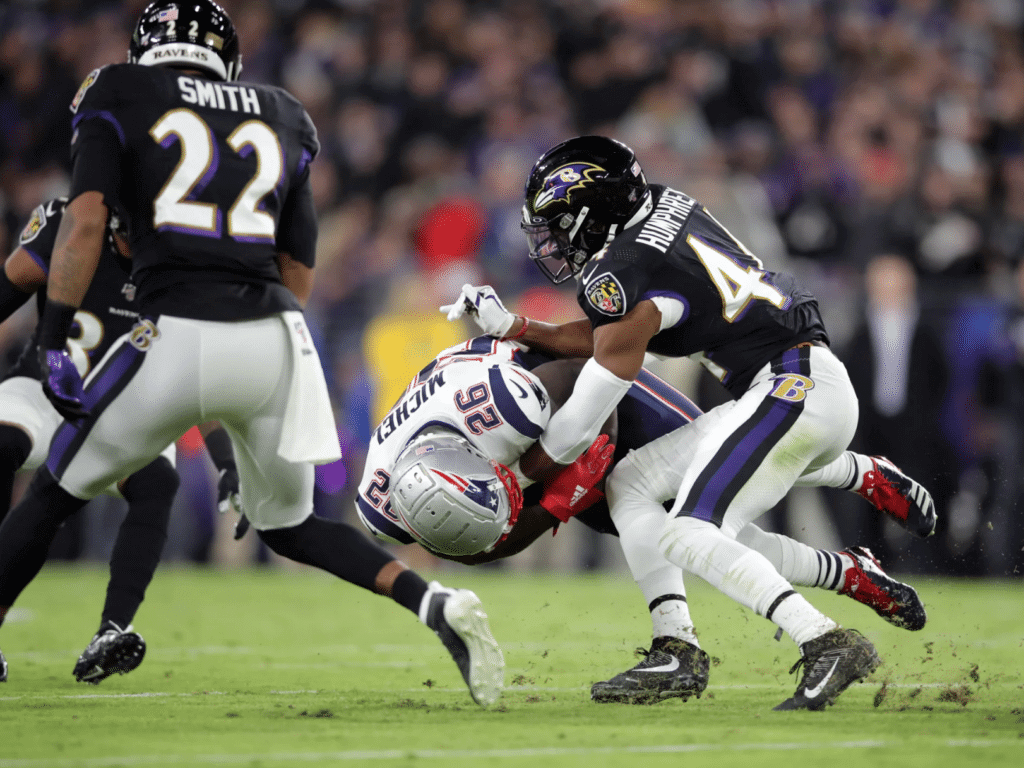 • Yesterday marked the start of G.I. Joevember, so there were lots of military-themed waistband towels, helmet decals, coaches' costumes, and so on.
• Two teams wore white at home: the aforementioned Bills and the Dolphins.
• • • • •
• • • • •
Click to enlarge
Free throw circle update: Following up further on last Thursday's post about the number of dashes in NBA free throw circles, reader Josh Levy noticed that the Pacers' court currently has seven dashes — a number we haven't seen before. Moreover, it's a change from one of their earlier court designs, when they had six dashes: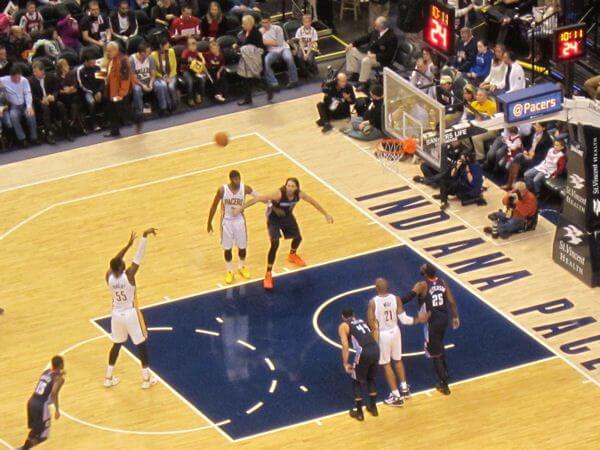 I'm not sure what year that photo is from. Anyone..?
If you look again at those two Pacers photos, you can see another design distinction besides the number of dashes. In the second photo, the top part of the circle extends a bit into the lane. That's standard for most NBA free throw circles. Here are a few examples: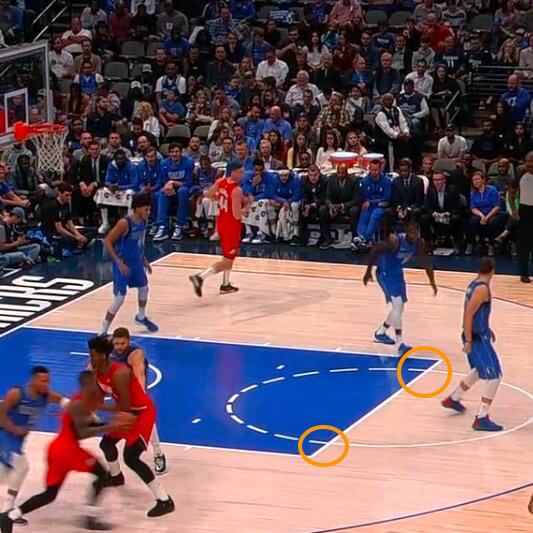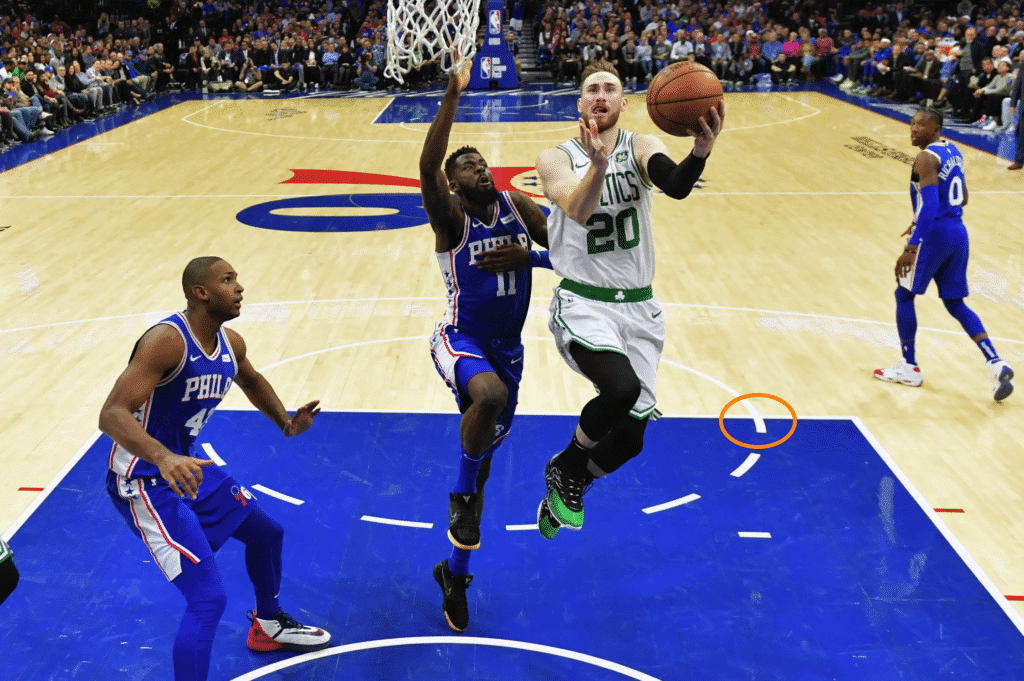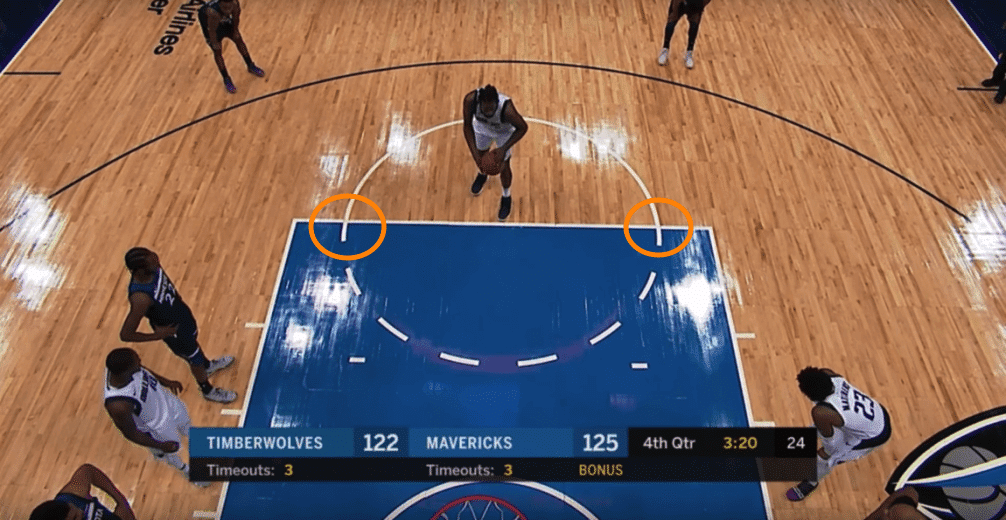 But on the Pacers' new court — the one with the seven dashes — the top semicircle does not extend into the lane. Let's take another look:
That's probably why they were able (or needed) to include a seventh dash, because they had some extra space to fill in the lower semicircle.
And wait, it gets better! When the Pacers changed to their current identity design in 2017, the mock-up they released for their new court design had eight dashes: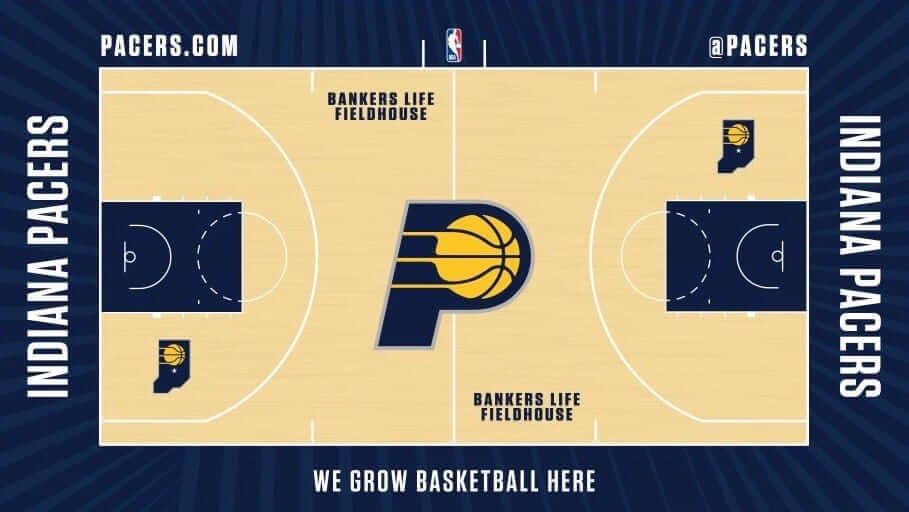 And there's more! On NBA 2K Whatever video games, the Pacers' court has five dashes: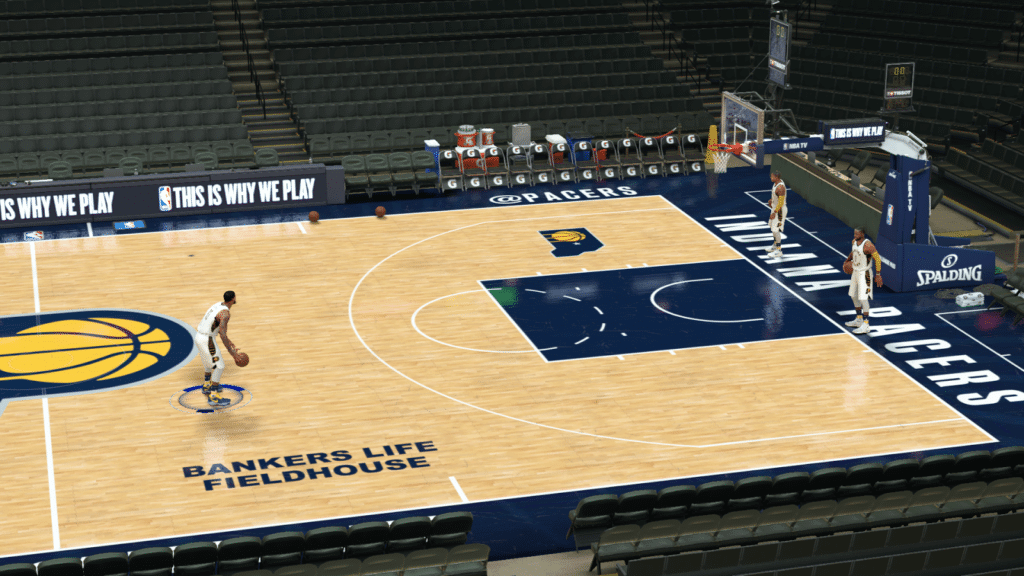 As far as I can tell, the eight- and five-dash designs have never been used in real life. I mention them here only as a way of demonstrating that we should never trust team mock-ups or video games when assessing this design element. We should only trust game photos. For example, we have this shot of the Lakers' court with five dashes (and the top circle extending much farther into the lane!), but it's not a legit photo — it's from a video game. The Lakers' real court has six dashes, not five.
So, to recap, we have now seen the following number of dashes on NBA free throw lower semicircles: six, seven, 10, and 15. How many other numbers will we find?
I cannot adequately express how much I love this topic. Super-niche, super-obsessive, endlessly surprising — it's peak Uni Watch!
• • • • •
• • • • •
R.I.P., Deadspin: By midday Friday, Deadspin's entire staff had resigned, the culmination of a weeklong tussle in which the site's ownership had told the staff to "stick to sports," which was the latest in a series of contentious edicts that had been handed down (and would also, according to multiple outside analyses, have been bad for business). After acting editor-in-chief Barry Petchesky was fired for disobeying that edict, the rest of the staff quit in solidarity. The owners will presumably hire a bunch of scabs to keep the site going, but it obviously won't be the same. It'll be Stepford Deadspin, zombie Deadspin, Deadspin in name only. Deadspin as we knew it is dead.
I won't spend too much time explaining why Deadspin was special, since many other writers have already done a good job of that in recent days. In fact, two of the best Deadspin tributes came in the Uni Watch comments section on Friday. Reader Mike Styczen posted this:
I enjoyed Deadspin primarily because of its "sports without access" approach. The other outlets write about sports while also being "partners" of the teams and networks. Many of them act as de facto league media outlets — MMQB (or whatever it's called now) is basically a collection of league press releases and fawning coverage. I don't know if Deadspin broke many stories [they did, actaully — PL], but they were often the only ones presenting a "league is full of shit" or "team is full of shit" angle when it was warranted.
And reader Tim Bangert had this:
Deadspin was the pin into the puffed-up balloon of the monetized sports world. The best stunt ever was crowdsourcing the Hall of Fame ballot for one of the BBWAA writers. The votes pretty much were in line with the writers' votes anyway. It cost Dan LeBatard his yearly vote, but it took a lot of the puffery, self-importance, and pious nature out of the process.
I'll just add that sometimes we're lucky enough to have a media outlet that feels like a hive mind of prodigious intellect, a critical mass of articulated intelligence. Deadspin always felt like that to me. Its various writers didn't all speak with the same voice, but they shared a similar sensibility — a sensibility devoted to pulling back the curtain and exposing the sports world's considerable bullshit for what it is. That's not to say they were always critical — when there was something worth celebrating, they celebrated it. But they didn't take celebration as a default mode, like so much of sports media does. Their perspective will be missed.
So what the takeaways are from this development (aside from, you know, "Deadspin was great")? Here are a few:
1. This is (still) a really shitty time to be a journalist. Looking back, Deadspin's demise really began in 2016, when its original owner, Gawker Media, went bankrupt in the wake of a defamation lawsuit. Deadspin and the other Gawker-owned sites were then purchased by Univision, which in turn sold them to a private equity firm earlier this year. When you have that kind of chaos and turnover at the top, it's bound to filter down to the newsroom.
If that story sounds familiar, it may be because it's very similar to what happened at Sports Illustrated, which in 2017 was sold by Time Inc. to Meredith and then sold again this year to the private equity-backed American Brands Group, which in turn licensed the publishing operation to the private equity startup TheMaven, which in turn sacked me and dozens of my colleagues a month ago.
This is all part of a steady drip-drip-drip that has decimated the journalism industry in the internet era. According to a Pew Research Center study, American newsroom employment dropped 25% from 2008 through last year, and the U.S. Bureau of Labor Statistics estimates that "jobs for reporters and correspondents will decline by 12% from 2018-2028, while in the same time period, jobs for editors will decrease by 3% and jobs for photographers will decrease by 6%."
And these job losses aren't just a matter of greater efficiencies. Entire newspapers, magazines, and websites have shut down. (In fact, Deadspin's owners shuttered one of Deadspin's sister websites, Splinter News, just a few weeks ago.)
Obviously, every industry goes through changes, those changes can include contraction and consolidation, and journalists don't "deserve" their jobs any more than coal miners, tobacco farmers, or film developers do (to cite three other troubled industries with lots of job losses). But a vibrant journalism sector is essential to a functioning democracy, because it helps hold powerful people accountable, so the steady decline in journalism is something that should trouble all of us.
As I've mentioned before, but it's worth repeating, the big problem here is that the old media business model, based on selling the product to the customer and subsidizing it with ad sales, no longer works. Part of that is because some idiots in the 1990s decided to give away their product for free on the internet, and part of it is that most internet advertisers now devote outsized portions of their ad budgets to Google and Facebook (i.e., even if there are lots of ads on a given website, including Uni Watch, those ads usually aren't paying much). We clearly need to stop the bleeding and come up with a new business model for media — not just for the sake of journalists' employment prospects, but also for the sake of maintaining a free and open society, something that's impossible without a healthy free press.
(You may be thinking, "The Deadspin staffers weren't fired or laid off; they chose to quit. If they'd just done what their bosses told them to do — like I have to do at my job, whether I like it or not — they'd still have jobs today. That's their problem, not anyone else's." Maybe. But ownership had made it clear for months that they wanted to change Deadspin into a very different kind of enterprise than it had long been. They may not have literally forced the staff out the door, but their actions essentially had that effect.)
2. These private equity douchebros are the worst. The common thread in a lot of these recent media crises is the presence of vulture-style private equity ownership that clearly has no interest in journalism and is only motivated to pick the bones clean until they've extracted every last bit of value from a media corpse. I mean, have you seen what the plans are for SI? It's nauseating.
Given the business model issues I already outlined, even the most benevolent owners would face a steep challenge in today's media landscape. But these private equity pricks bring an extra measure of arrogance and cynicism that makes the whole enterprise reek. As Deadspin's last full-time editor-in-chief, Megan Greenwell, wrote after resigning in August:
A metastasizing swath of media is controlled by private-equity vultures and capricious billionaires and other people who genuinely believe that they are rich because they are smart and that they are smart because they are rich, and that anyone less rich is by definition less smart. They know what they know, and they don't need to know anything else.
That whole piece is worth reading, incidentally. It goes a long way toward explaining how what happened to Deadspin last week involved much more than the "Stick to sports" edict.
3. I'm incredibly fortunate. On the one hand, I've had a rough year, being laid off by ESPN and SI in a seven-month span. That sucks. On the other hand, I'm used to freelancing, and I have something most unemployed and/or freelance journalists don't: a blog with a strong following.
This site is, frankly, a shitload of work, and more of that work than you probably realize extends after midnight, or starts before 7am, or takes place on weekends (including these words I'm writing right now). But it's worth it, because Uni Watch is a special project — not just to me, but to so many of you, as lots of you have made clear in various ways over the years. It's quite a comm-uni-ty we've built here over the years.
That has turned the site into a life raft. It keeps me (too) busy, gives me a creative outlet, gives me an emotional lift, and provides me with a base income (which many of you have generously augmented by purchasing products or memberships, or through donations). No private equity douchebros to answer to, either. With so many of my fellow journalists facing bleak prospects, not a day goes by without my realizing how lucky I am to have this life raft. Thanks, people — even during grim times, you folks are the silver lining.
• • • • •
• • • • •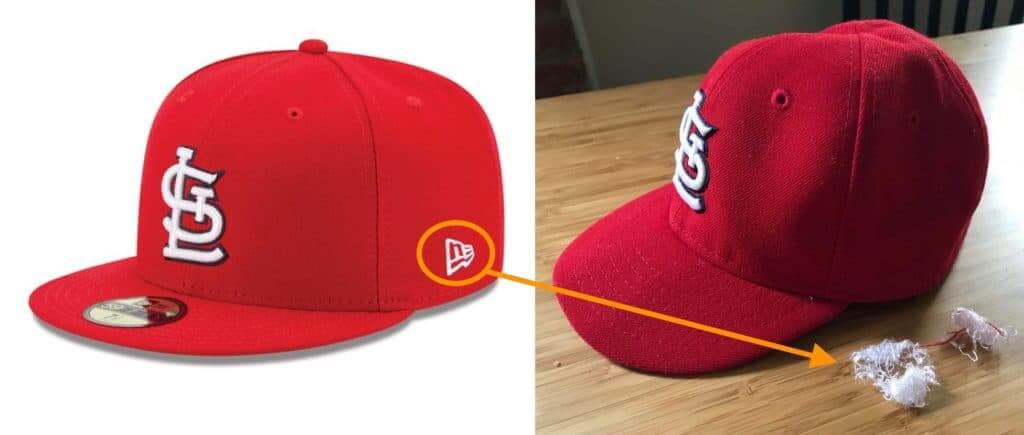 ITEM! New Uni Watch product in the works: Ever since New Era annoyingly added its logo to MLB caps in the fall of 2016, a small but devoted cadre of cap aficionados has been using seam rippers to remove the logo — a move I heartily approve of. Some people have also used seam rippers to remove NBA jersey ads and for DIY jersey projects, and some folks are already talking about using seam rippers to remove the Nike chest mark that's now being added to MLB jerseys. (If you don't care about maker's marks on uniforms, that's fine. You might want to skip down to the next section of today's entry.)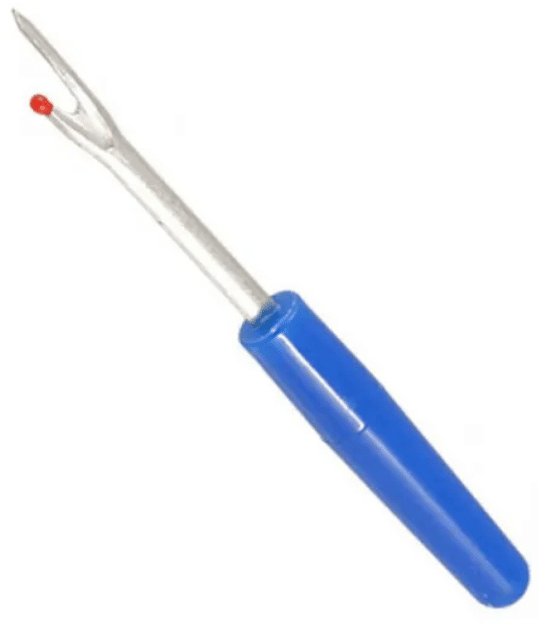 Some of these folks have said to me, "You should offer Uni Watch seam rippers!" I liked that idea, so for the past year or so I've been trying to find a source for customized seam rippers. In addition to having the Uni Watch script printed on the handle, I was thinking maybe I'd get the little red safety ball changed to a different color, like green.
Unfortunately, after looking far and wide, I've concluded that there is no way to get customized seam rippers — they just don't seem to exist. So my next thought was that I'd get a bunch of plain rippers and some dry-transfer decals (the kind that you rub onto a surface, creating a fairly permanent image on the object you're applying them to). But it it turns out that you can't do dry-transfer graphics as small as the ones I'd need for the seam rippers, plus applying the graphics to the curved handle surface would have been challenging.
So I've gone with a simpler approach: I got myself a bunch of clear vinyl decals with the Uni Watch script — voilà (click to enlarge):
Not bad, right? They're not yet available for sale, because I'm waiting on a bunch of seam rippers to be delivered from overseas (it turns out that getting round-handled rippers in any color other than red is surprisingly difficult here in the States), but they should be ready to go in a week or so.
I teased these on social media over the weekend, which makes it easy to shift into FAQ mode:
So these are just regular seam rippers with a sticker slapped on each one?
Yes. I would have preferred something more prefab, but it doesn't seem to be possible, so the decal route is the best workaround I could come up with.
Are green and red the only colors that will be available?
I will also have blue (but not purple, so please don't ask). And if enough people request it, I'll make green decals to apply to yellow seam rippers.
How much will they cost?
Probably around $5.99, give or take, plus shipping.
I already have a green (or red, or blue) seam ripper. Can I just buy a decal from you and apply it myself?
Yes, I will make the stickers available for $2ish.
Can you apply the script in the other direction?
Yes. If you look at the photo, the script runs from the end of the seam ripper handle toward the blade. I instinctively oriented it that way, I guess because I'm left-handed. But that would make the script appear upside-down for a right-handed user. So if you want it the other way — running from the blade toward the end of the handle — I'm happy to do it that way for you, like this: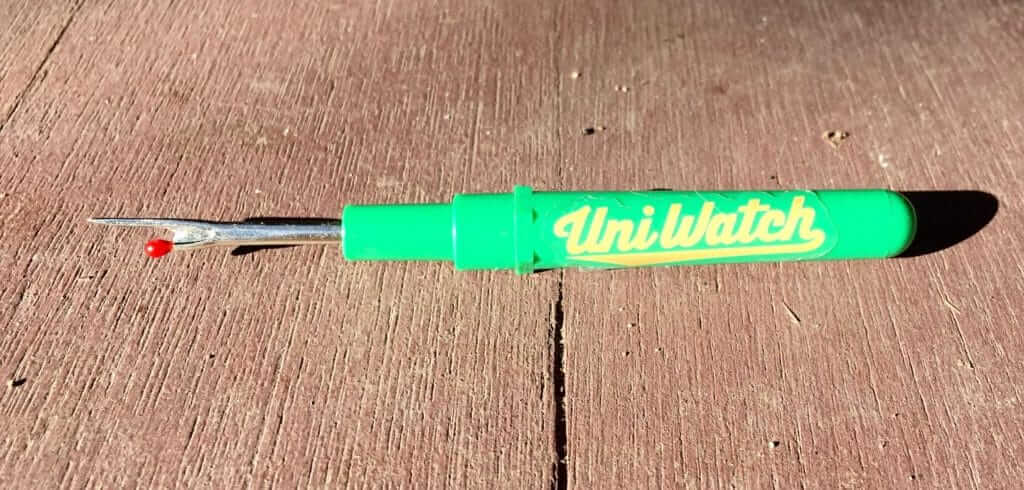 This is stupid. I can go to my local fabric store and get a plain seam ripper for like three bucks!
You sure can — and I encourage you to do so! But for some people who care strongly about a certain issue, using a branded item can make a project or activity feel more personally satisfying. For example, you might want to sign your gun license application with an NRA pen. Or if you're a vegan, you might want to use a PETA apron in the kitchen. Similarly, someone making a DIY jersey or removing the New Era logo from a cap might get a little extra satisfaction from doing it with with a Uni Watch seam ripper. And I get a lot of conceptual satisfaction myself from offering such an item.
I think it's fine that New Era puts its logo on caps and don't see why you get so bent out of shape about it.
Like I already said, I realize some people don't care about this issue, so you might want to skip ahead to the next section of today's entry. I'm not trying to convert anyone into suddenly caring about this issue; I'm creating this product for people who already care about it.
You're such a hypocrite! You're against logos on products but you're putting your logo on a seam ripper!
Actually, I've never said I'm opposed to logos on products. I just think the only logo that belongs on a team uniform element is the team's logo, because that's the only brand the uniform should stand for. If a Uni Watch seam ripper can encourage people to improve the integrity of their uniforms by removing extraneous logos, I'm proud to be a part of that. It's very much in keeping with what Uni Watch has always stood for.
Think of it this way: Sports teams put their logos on all sorts of things — Dodgers key rings, Steelers shower curtains, etc., none of which I have any problem with. The people buying those items have no idea who made the key ring or the shower curtain, and they don't care. The Uni Watch seam ripper is in a similar category, but it's even better, because key rings and shower curtains have nothing to do with sports, while seam rippers can be used for Uni Watch-related projects.
You're such a hypocrite! The Uni Watch script is distracting from the maker's mark on the seam ripper, just like you say the New Era mark distracts from the team logo.
Actually, these seam rippers don't have any maker's mark, and neither do any other seam rippers I've ever seen. They're simple, utilitarian items, like a safety pin or nail clippers, most of which are also unbranded. I'm just adding the Uni Watch logo to them to turn them into a Uni Watch fan item.
You're such a hypocrite! You're opposed to capitalism, except when it suits you, like when you want to sell seam rippers.
Actually, I've never said I'm opposed to capitalism. Frankly, as a career freelancer, my life and work involve more entrepreneurial capitalist enterprise than most people's (which I say not as a boast but as a simple statement of objective fact). But as I've explained many times, I view capitalism as a tool, not as a religion, and I think we should be on guard against its excesses. You probably think the same thing — for example, you probably approve of laws that ban child labor, restrict monopolies, and require truth in product labeling, all of which serve to constrain capitalist excess. Does this mean you're "opposed to capitalism"? Of course not. Now, you and I may have some differences regarding how much and in what areas capitalism should be reined in, but that's just a difference in degree, not in kind. All of which is a lengthy way of saying there's nothing inconsistent about what I'm doing here.
Also, as capitalist enterprises go, selling seam rippers for $6ish to a handful of obsessed DIYers is not exactly a huge profit-making project. I'm doing it for the same reason I do most of our merch projects: because it's creatively satisfying and fun. I wouldn't go quite so far as to say it's an art project, but it's probably closer to that than to a business project.
———
I think that's it. I hope to have these available in another week or so — stay tuned.
• • • • •
• • • • •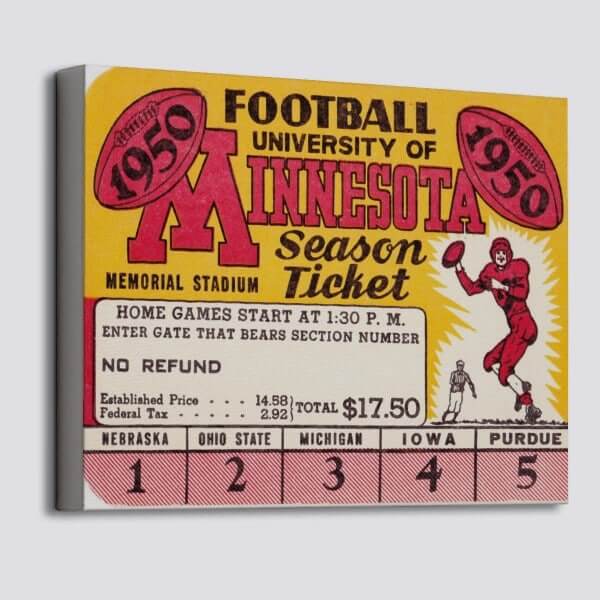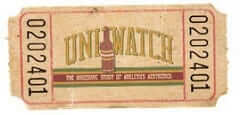 ITEM! Another Vintage Brand raffle: The folks at our longtime advertiser Vintage Brand are generously running another raffle. The lucky winner will get to choose any product from the VB website (like the 1950 Minnesota season ticket canvas shown above).
To enter this raffle, send an email to the raffle address by 7pm Eastern this Wednesday, Nov. 6. One entry per person. I'll announce the winner on Thursday.
• • • • •
• • • • •
The Ticker
By Jamie Rathjen

Baseball News: The NHL's Washington Capitals celebrated the Nationals' World Series win by hosting a bunch of Nats players yesterday. Most of the Nats players wore white Capitals jerseys, but 1B Ryan Zimmerman wore red and owner Ted Lerner wore a red Caps-like jersey with a Nats logo on the front (from John Muir). … D.C.-area residents will also be able to get Nats-themed Metro cards soon (from William F. Yurasko).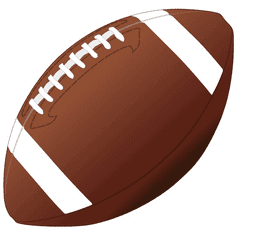 Football News: The Museum of Jerseys blog, which usually focuses on soccer, rugby union, and Gaelic games, points out that the Browns wore 15 of their 18 possible combos, not including the Color Rash alternates, from 2015-18, and all three missing combos included orange jerseys. … The school of the day from Blaise D'Sylva's helmet collection was Columbia. … You can see Wade Heidt's uni-tracking of the Canadian college football conference playoffs in yesterday's comments. … Wade also tells us that the CFL's BC Lions wore their black road pants at home, while some Saskatchewan Roughriders players have some odd sock habits: LB Cameron Judge was wearing white team-logo socks, while DB Nick Marshall was wearing baggy green socks pulled over the bottom of his cleats so as to cover the heel. … Two of the oldest high school rivals in the country, Ohio's Canton McKinley and Massillon, met this weekend. McKinley wore red-black-black alternates. "First time I can recall them wearing a red helmet and first time without a bulldog on the helmet," says Tom Pachuta.

Hockey News: Cross-listed from the baseball section: The Washington Nationals' World Series win was celebrated at the Capitals game yesterday. Most of the Nats players on hand for the occasion wore white jerseys, but 1B Ryan Zimmerman wore red and owner Ted Lerner wore a red Caps-like jersey with a Nats logo on the front (from John Muir). … DIYer Wafflebored just finished a mashup of the Canucks' flying V with the WHA Vancouver Blazers' color scheme. … The junior United States Hockey League's Green Bay Gamblers and Omaha Lancers both wore military-themed alternates — not against each other — on Saturday. The Gamblers appeared to have some NOB theme going on, but I can't tell what (from Chris Treft).

Soccer News: Poppy watch: while many teams in England wore Remembrance Sunday poppies this weekend, as we've mentioned in the Ticker, I only saw two do so in Scotland: Hamilton Academical and Queen of the South (blue), the latter through armbands. … Additionally, a few women's teams in England wore poppies for the first time that I can remember, because the 11th usually falls during a women's international break. … Also in Scotland, Celtic (gold) and Hibernian (purple) both changed against one another, which seems to be their habit when playing at neutral sites. … German team Fortuna Düsseldorf released a fourth shirt to be worn Nov. 23 incorporating the logo of the local band Die Toten Hosen, well-known fans of the club who even were the shirt advertiser during a period of financial trouble for F95 in the early 2000s (from Josh Hinton). … Also from Josh: the finalists of the South American club competitions, the Copa Libertadores and the Copa Sudamericana, are both receiving patches for participating in the final. You can see more on Josh's Twitter feed. … Kevin Brewer tells us that the seats at Estádio Kléber Andrade in Cariacica, Brazil, one of the venues of the ongoing U-17 World Cup, look like a Piet Mondrian painting.

Grab Bag: Yesterday's New York City Marathon published an identification guide for 12 top male and female runners (from Chris Lotsbom). … Tiffany has a new pop-up shop in L.A. that includes a display of classic sports trophies, including the Lombardi and O'Brien Trophies (from James Gilbert). … The Justice Department and the SEC are investigating Under Armour for possible shady accounting practices.
• • • • •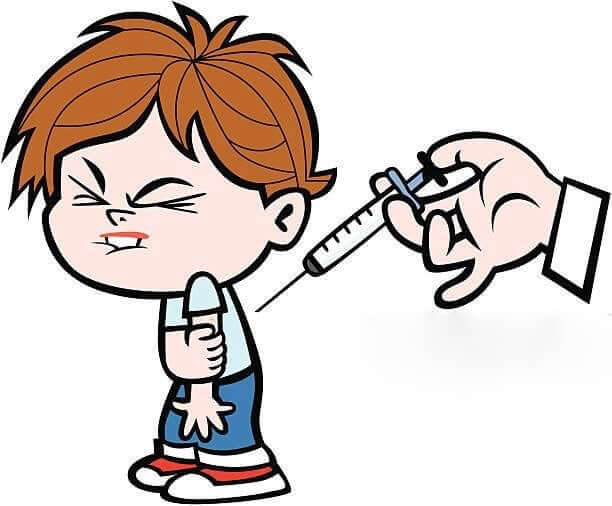 I neglected to mention last week that I recently got my annual flu shot. I do it every year — in part just because it's a smart thing to do, and in part because I'm asthmatic, so the flu could literally kill me (which is why I'd appreciate it if you got a flu shot as well, to help lower the risk for me and other people with chronic respiratory disorders).
In addition, at a time when a disturbing number of our fellow citizens are rejecting science and embracing fantasies and conspiracy theories, getting a flu vaccination is a good way to reaffirm reality-based public health initiatives. It's also a good way of reaffirming that we're all in this together, regardless of any other differences we may have, so I hope you'll join me in getting this year's vaccine. Thanks. — Paul