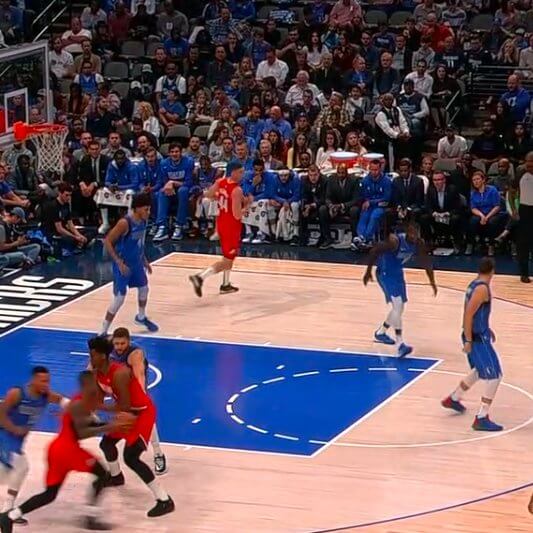 As you may have heard or noticed, the Mavericks have added two silhouettes of Dirk Nowitzki to their court design this season. You can see one of them right in the center of the photo shown above.
But Twitter-er @nomuskies noticed something else about the Mavs' new court design. Look at the lower part of the free throw circle — the part that's in the lane. See how it consists of 10 dashes?
That, it turns out, is really unusual. If you look around the NBA, you'll find that the standard format for the lower part of the circle is six dashes, not 10. Here are some examples, all with six dashes (some of these pics aren't from this season, but I've looked around and six dashes still appears to be the current standard; for most of these, you can click to enlarge):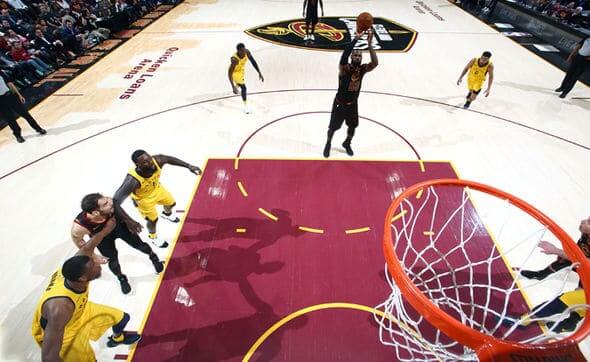 Cavaliers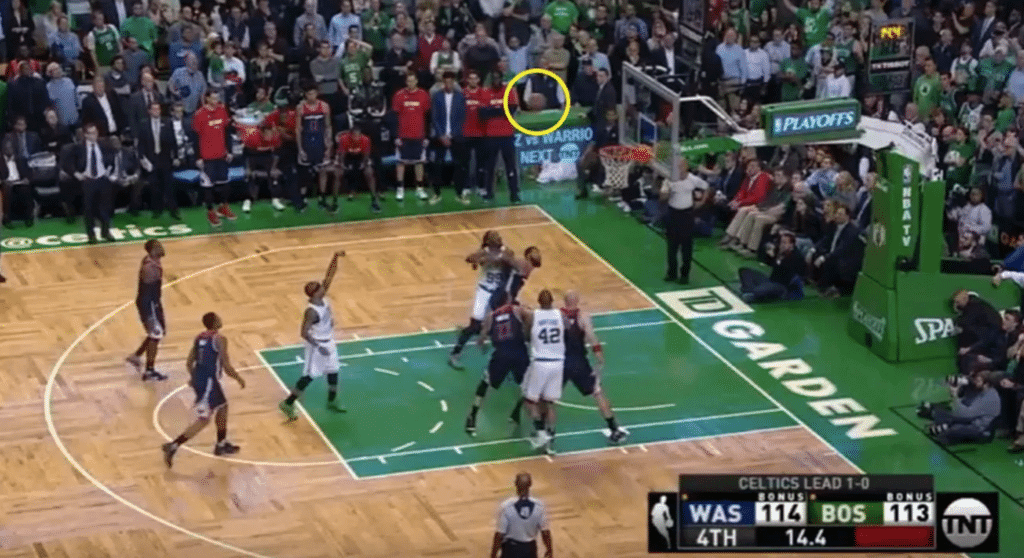 Celtics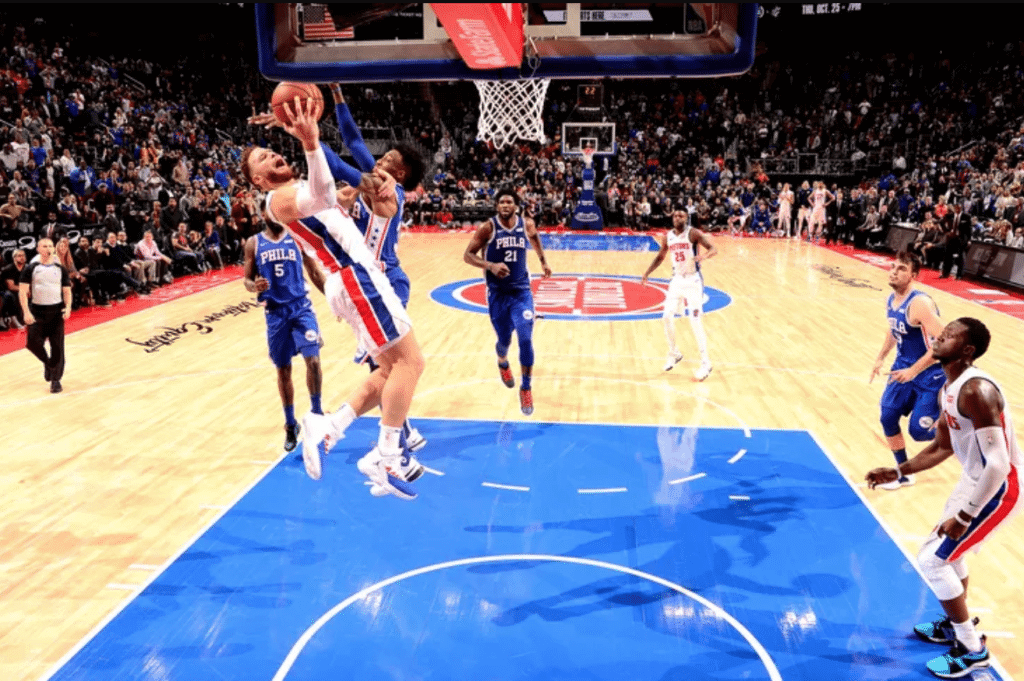 Pistons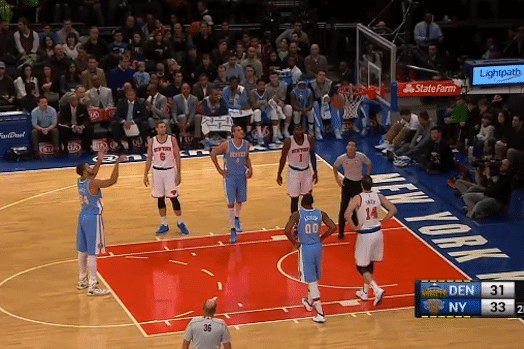 Knicks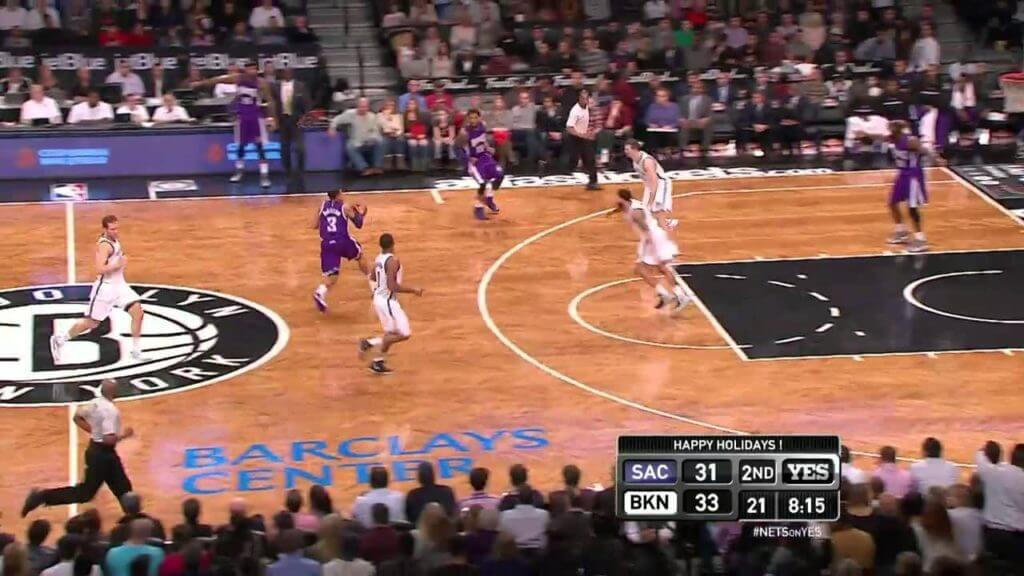 Nets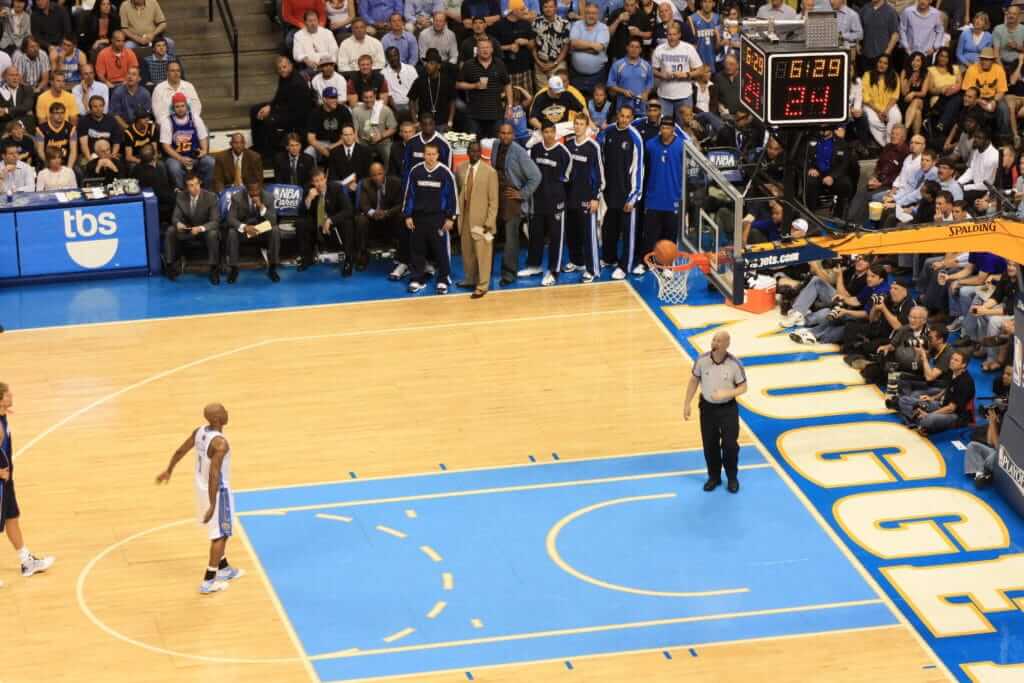 Nuggets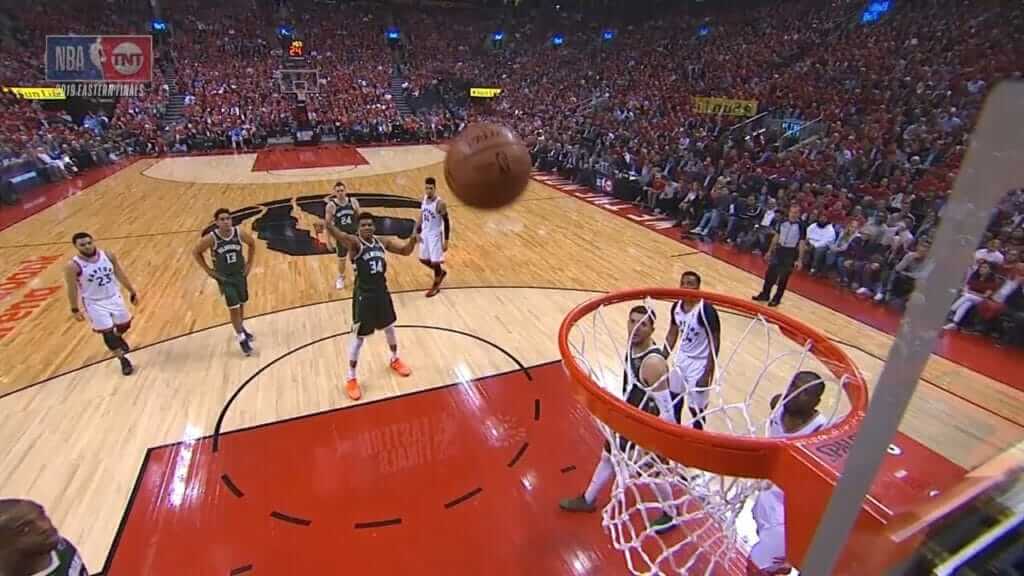 Raptors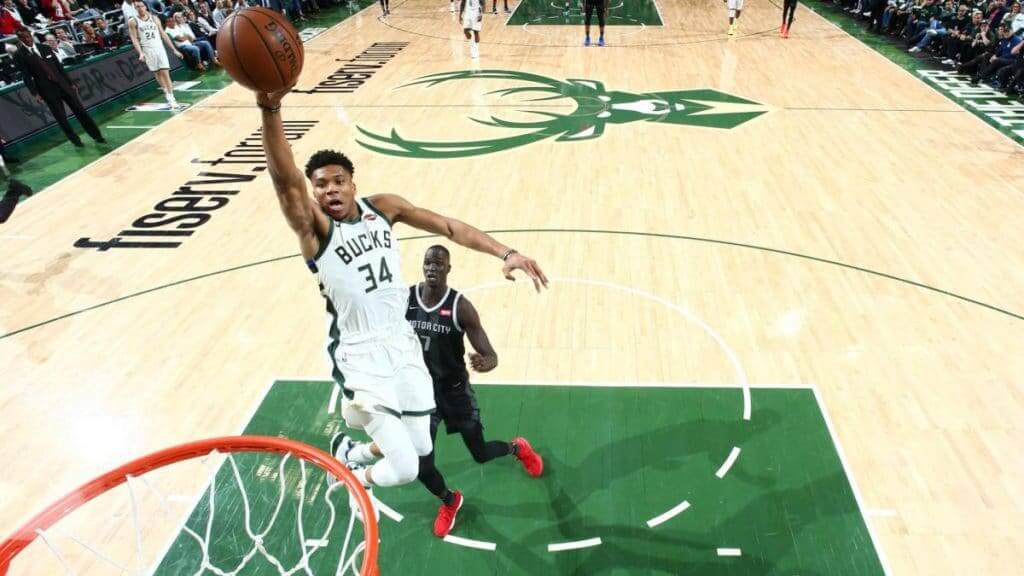 Bucks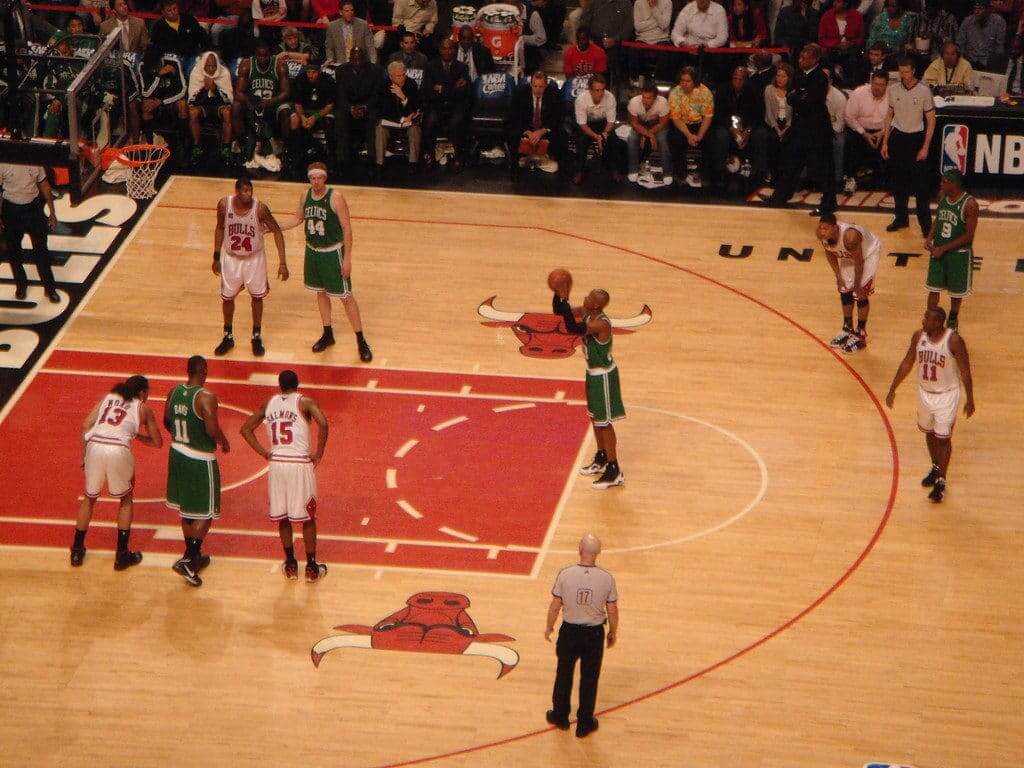 Bulls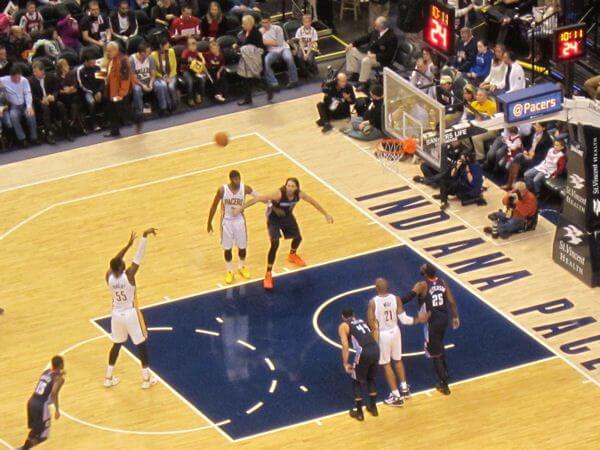 Pacers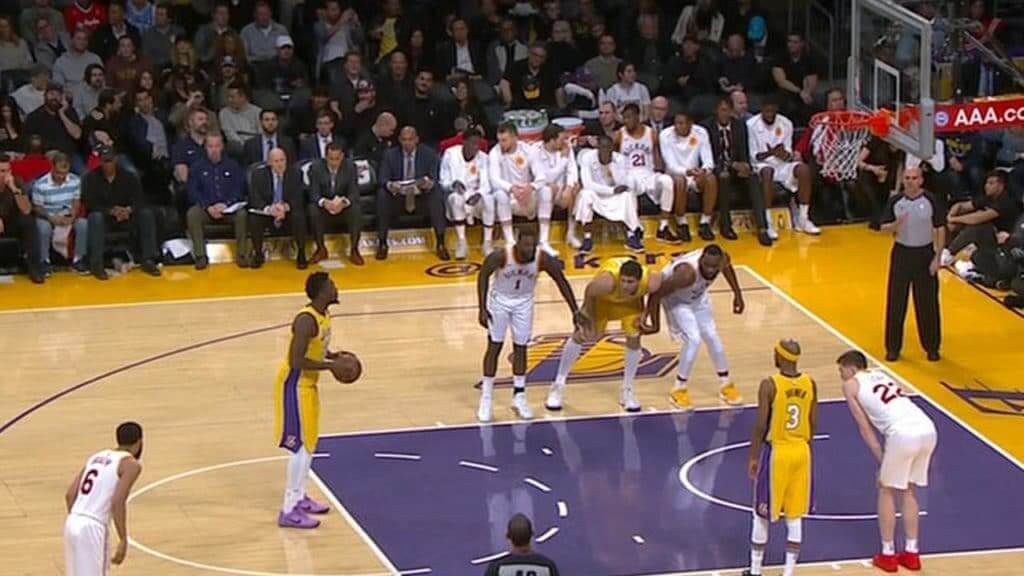 Lakers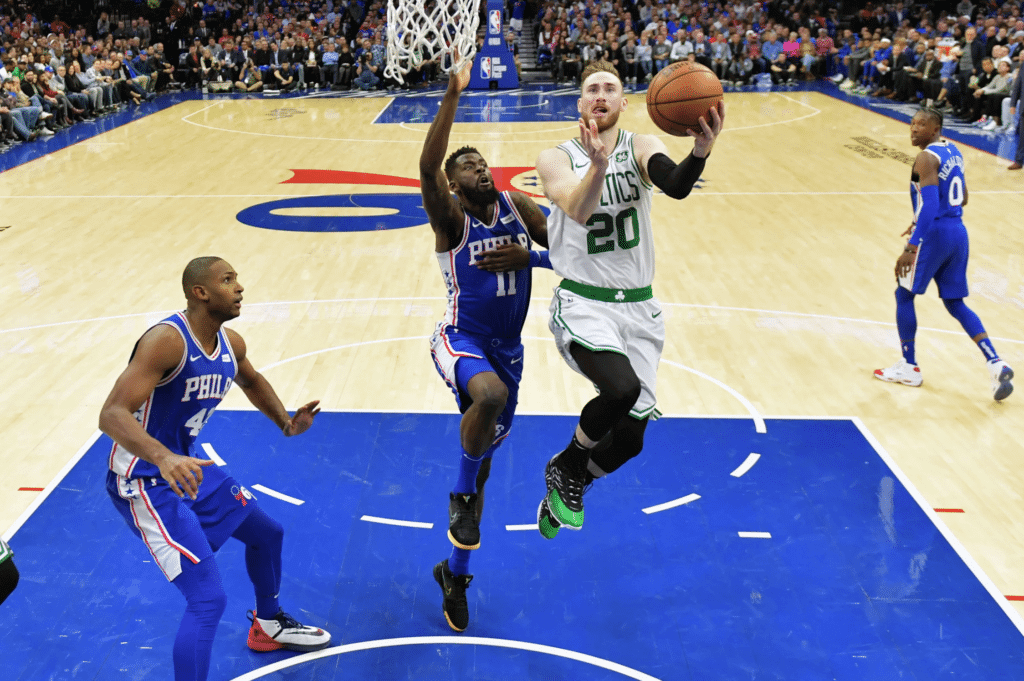 76ers

———
I could go on, but you get the idea. Six dashes is definitely the default design for the lower part of the circle. By going with 10 dashes, the Mavs are clearly breaking the mold. In fact, the Mavs themselves had six dashes prior to this season:
It's hard to express how much I love this. While I'm not the biggest basketball fan, I've been watching pro hoops for nearly half a century now and have never once thought about how many dashes are in the lower part of the circle. One of the best things about Uni Watch is that it makes me (and I hope you) think about things that had never even occurred to me before.
When you think about it, the dashed line is kind of weird. The reason the circle is there, of course, is in case there's a held ball that results in a jump ball at that end of court. But what does the part of the circle that's in the lane need to be dashed? Why can't it be a solid line? (I assume there's a good reason for this, and that the more hoops-savvy among you are already scrolling down to the comments to enlighten me. Thanks in advance!)
But get this: If you go the NBA's official court guidelines, their diagram shows … wait for it … 10 dashes (click to enlarge):
In other words, the Mavs' new 10-dash semicircles are right, and all the other courts, with their piddly six-dash semicircles, are wrong. Who'da thunk?
Even better: When the Mavs announced their new court design earlier this month, they released a mock-up with … wait for it … six dashes:
Mavs adding two silhouettes of Dirk Nowitzki to court design this season. pic.twitter.com/KTbuNrbEuT

— Paul Lukas (@UniWatch) October 15, 2019
So the mock-up doesn't match the actual court. Curiouser and curiouser!
Is this something that has changed over the years? Maybe 10 dashes was the old-school way and six is the newfangled style? I chose a random moment from NBA history — the 1970 Finals, when injured Knicks center Willis Reed famously started the game and scored the Knicks' first four points of the game. Let's take a look: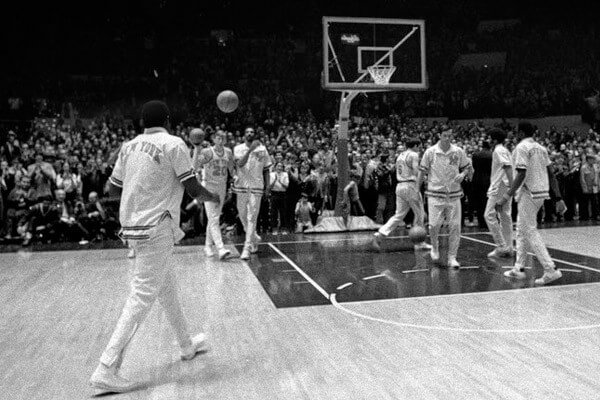 Six dashes. So that style has been around for a long time. Hmmmm.
Are six dashes and 10 dashes the only two configurations? Has there ever been an eight-dash semicircle? Seven? Nine?
Meanwhile: College courts don't have any dashes. They don't include the lower part of the circle, because the college game doesn't have jump balls at the free throw line (click to enlarge):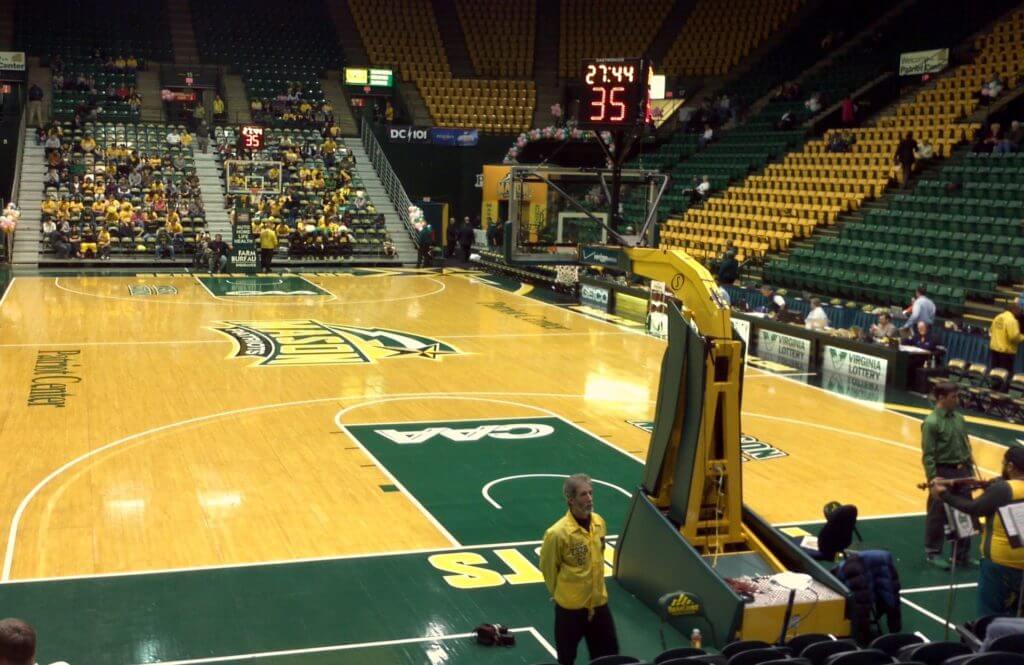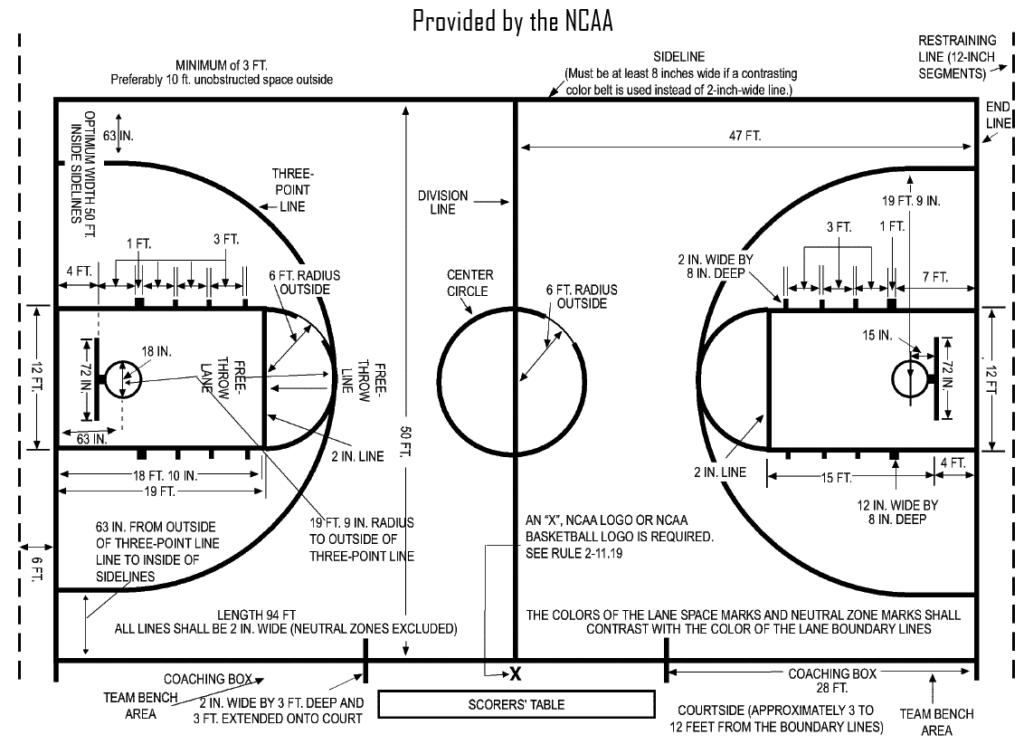 (I'm not sure why college hoops doesn't have jump balls at the ends of the court — but again, I assume someone out there will enlighten me, yes?)
I love this topic. I don't know nearly as much about basketball courts as I do about, say, baseball fields or football fields, so it's entirely possible that I'm leaving out some relevant info here or even missing an important point entirely. But whatever — a fun rabbit hole! Let's discuss.
(Big, big thanks to @nomuskies for getting this ball rolling, and also to @SacKings_Unis for the official NBA court diagram.)
• • • • •
• • • • •
Click to enlarge
World Series recap: I figured the last baseball game of the year called for a hot dog, and it was also the first use of my Uni Watch 20th-anniversary plate, whoop-whoop! (Yes, I know some of you think the capers look like rabbit turds or deer scat or whatever. But hey, at least I didn't cook the hot dog with mayonnaise.)
As for the game:
• So much for home field advantage! All seven games of this World Series were won by the visiting team, something that's never happened before. The previous record for a visiting team winning streak at the start of a Series was five games.
• As expected, the Nationals wore their navy alternate jerseys for all seven games. As noted last week in my World Series Preview, this is unusual but not unique. Cleveland did the same thing in 2016.
• The Nats became the fourth consecutive champions to wear a solid-colored alternate jersey in the deciding game, following the Red Sox (2018), Astros (2017), and Cubs (2016). The last team to win the title wearing white or grey? The Royals (2015).
• As usual, Nats shortstop and NC State alum Trea Turner wore Wolfpack headgear — two different kinds this time — for the clubhouse celebration and the postgame interview.
• Last night's game marked the end of the MLB's Majestic uniform era and also the end of maker's marks appearing on the sleeve. Come next spring, the mark of the beast will be on the chest of all MLB jerseys — sigh. (So far, the only indication we have of how this will look is this.)
Congrats to the Nats and their fans (and especially to longtime reader/supporter Max Weintraub, who wears his heart on his sleeve forearm) — enjoy your special moment.
Now then: How many days until pitchers and catchers?
(My thanks to Bridger Deschamps and John Muir for the Trea Turner shot.)
• • • • •
• • • • •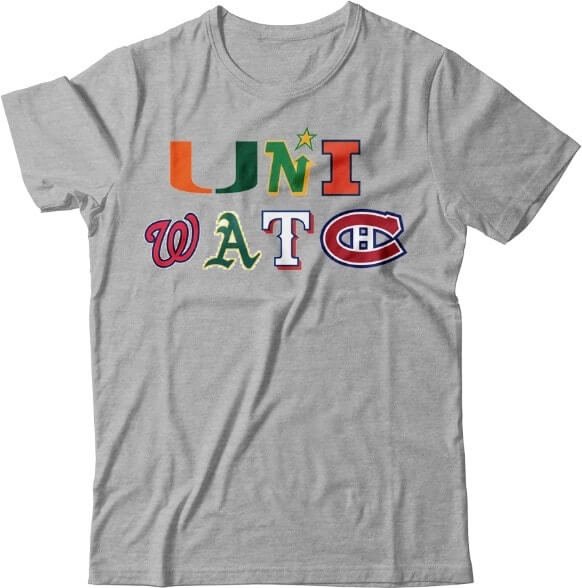 Hypothetical reminder: In case you missed it on Monday, I'm wondering — just hypothetically, of course — how many people would have been interested in a T-shirt based on that Uni Watch ransom note design that I showed on the site last week.
There are trademark issues, natch, so this mock-up is just for "What if?" illustrative purposes. Still, it would be fun to know how many people would have been interested — you know, just hypothetically — if such a shirt were possible in real life.
So: If you would have been hypothetically interested in this shirt, shoot me a note. Thanks.
• • • • •
• • • • •
Click to enlarge
LAST CALL for the cycling jersey: If you want a Uni Watch Cycling Jersey, you must get your order in today. After that, the window for this batch will close. As always, you can customize the back of the jersey with your choice of number and NOB.
• • • • •
• • • • •
San Diego update: Things are shaping up nicely for the upcoming Uni Watch party in San Diego, which will take place at the Wonderland Ocean Pub on Sunday, Nov. 10, beginning at 4pm. There will be several luminaries in attendance, including:
• SportsLogos.net founder Chris Creamer, who, like myself, will be in town to cover the Padres' unveiling.
• Bob Halfacre, who runs the L.A.-based uniform outfitter Bobcat Athletic; works as an equipment staffer for the L.A. Kings; serves as the stitcher for the Dodgers; is responsible for the Mets' BFBS phase (I'll never forgive him for that!); and hates first initials on NOBs. Bob and I have been communicating for about a decade now, but we've never met in person, so I'm looking forward to the chance to finally shake his hand.
• Brandiose designers Casey white and Jason Klein, whose studio is based in San Diego. Never met them before either!
And I'm working on a few other people. Should be a good time — hope to see lots of our SoCal readers there.
It'll be fun to see how many people show up wearing our new Uni Watch brown shirts. They're available in cotton with a white wing logo, cotton with a gold wing logo, or sublimated poly with contrasting collar, sleeve trim, and custom sleeve patch.
• • • • •
• • • • •
Click to enlarge
Meow: Shame on me for not mentioning in yesterday's post that Uni Watch girl mascot Caitlin turned 14 and a half yesterday. I know she has to start showing her age at some point, but it hasn't happened yet. She still climbs where she doesn't belong, gets ants in her pants and runs laps around the apartment, chatterboxes all day long, and generally acts more like a carefree child than like a grown-up (something we could all learn from). Happy half-birthday, cutie!!
• • • • •
• • • • •
The Ticker
By Paul

'Skins Watch: Minnesota Lt. Gov. Peggy Flanagan, who's Ojibwe, thinks it's past time for the 'Skins to change their team name (from Jason Hillyer).
.

Baseball News: Since you can't frame a digital ticket, the Nationals are providing ticket printouts for fans who attended the three World Series games in DC (from Andrew Hoenig). … Check it out: the Reds' 150th-anniversary logo carved into a pumpkin (rare baseball submission from Josh Hinton). … A fan at last night's World Series game had a different T-shirt for each Astros player and changed to the appropriate shirt as each one came to bat (from several readers).

NFL News: The Bills will wear their throwbacks this weekend. … The Chiefs are apparently swapping out their white facemasks for grey ones for this Sunday's game against the Vikings (from many readers). … Seahawks LB Bobby Wagner explained why he likes exchanging jerseys with other players. … Some fans are wearing Antonio Brown jerseys and clown makeup for Halloween. … The Giants will be wearing their mono-white throwbacks on Monday night. … Washington OL Trent Williams recently ended his holdout and returned to the team. But he failed his physical yesterday due to "helmet discomfort." "He did have a growth removed from his scalp last year, which may be the cause of this," notes Mike Chamernik. "Or, he has been adamant about never playing for Washington again after the team failed to trade him, so it could be that." … Here's a new one, at least to me: Packers-licensed AA batteries (fron Shaun Meulemans). … Patriots special teamer Justin Bethel gave his teammates some sharp-looking Pats Starter jackets (thanks, Anthony).

College and High School Football News: Helmet maven Blaise D'Sylva's latest helmet collection is for UMass. … Homecoming throwbacks for North Texas (from Cary Linck). … Did you know Illinois was supposed to play a game in Moscow 30 years ago? They even had jerseys made for Ronald Reagan, George H.W. Bush, and Mikhail Gorbachev. The game never happened, but the jerseys are still in the school's equipment room (from @mrmichael21). … Now that the NCAA has begun the process of allowing players to profit from their names and likenesses, I wonder if this will lead to pressure on NNOB teams to start adding NOBs, since the players would be able to get a share of merch revenue. … Here's this week's uni combo for Virginia (from our own Jamie Rathjen). … Jeopardy! host Alex Trebek got to do the coin toss for a Canadian college football game involving his alma mater. But for reasons that are unclear, at least to me, he wore a hockey jersey instead of a football jersey (from @PhillyPartTwo). … Texas A&M seniors will have some extra bling on their shoelaces this weekend (from Philip Golden).

Hockey News: Fans can vote on a Maine Mariners alternate design (from Heath Carignan). … New pad setup for Sabres G Linus Ullmark (from Edward Snyder). … Cross-listed from the college football section: Jeopardy! host Alex Trebek got to do the coin toss for a Canadian college football game involving his alma mater. But for reasons that are unclear, at least to me, he wore a hockey jersey instead of a football jersey (from PhillyPartTwo). … The Canadiens scored a goal when Coyotes G Antti Raanta lost a skate blade (from Mike Chamernik). … Really good article on how Penguins G Matt Murray gears up (from Jerry Wolper).

NBA News: Breaking this morning: Looks like the rumors of a peach-themed Hawks alternate were accurate. … This is pretty good: a mural of the Raptors logo eating the Warriors' logo. … Here's some interesting video footage of someone flying a drone through the shuttered Mid-South Coliseum, former home of the ABA's Memphis Pros/Tams/Sounds and the NCAA's Memphis Tigers. It's been closed since 2006 (from Kary Klismet). … We've all seen pumpkins carved with team logos, but how about a pumpkin carved to look like the Raptors' championship ring design? That's pretty good! (From Ross Taylor.)

College Hoops News: Loyola Marymount season ticket holders are getting two new bobbleheads (from @PhillyPartTwo). … New uniforms for West Virginia (from Caleb Jenkins). … Colorado has a new jersey patch for an upcoming game that will take place in China (from Chad Lehman).

Soccer News: Here's the ball design for the UEFA Champions League Final. … Sporting KC will be getting new jersey sponsors advertisers in 2021 (from Ed Zelaski). … New fourth kit for Juventus. "Aside from the neon green and orange, I much prefer these to their regular home kit," says Mark Sencich. … Renderings for the new MLS stadium in St. Louis have been released (from Kary Klismet). … Spain's 2020 home kit has leaked.

Grab Bag: Iowa's "blackout" license plates are now the most popular specialty plates in the state (from Dustin Jensen). … Perhaps unsurprisingly, people are very bad at drawing famous logos from memory. … A CNN fashion writer really likes the sight of a man in a uniform. … The Yolo County (Cal.) Sheriff's Department is switching to green-and-tan "throwback" uniforms (from Kary Klismet). … An Appalachian State-themed race car? Sure, why not (from several readers). … Yesterday was the 45th anniversary of the Rumble in the Jungle, the fight in which Muhammad Ali knocked out George Foreman in Zaire to reclaim the world heavyweight boxing championship. The unusual thing from a uni perspective is that referee Zack Clayton was wearing a zebra-striped ref's shirt — very uncommon for a boxing ref! … This infographic of the 2020 Aussie rules football season looks like an abstract mosaic (from Jeremy Brahm). … More tough times in journalism, as most of Deadspin's staff resigned yesterday. Like so many media properties, Deadspin is currently owned by a bunch of clueless private equity douchebags who wouldn't know journalism if it sat on their face. I'll have more to say about all of this tomorrow.
• • • • •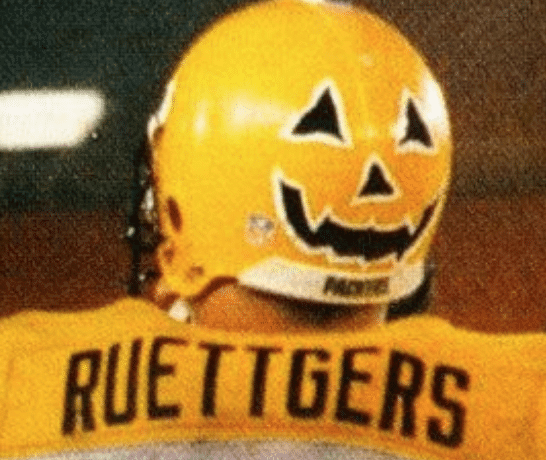 Happy Halloween! Here's to a spoooooky day and night. May your jack-o-lanterns burn bright, may your candy all be fresh and not left over from last year, and may you send any and all Heath bars you receive directly to Uni Watch HQ. Big thanks to Brinke Guthrie for the holiday-colored Twitter avatar!