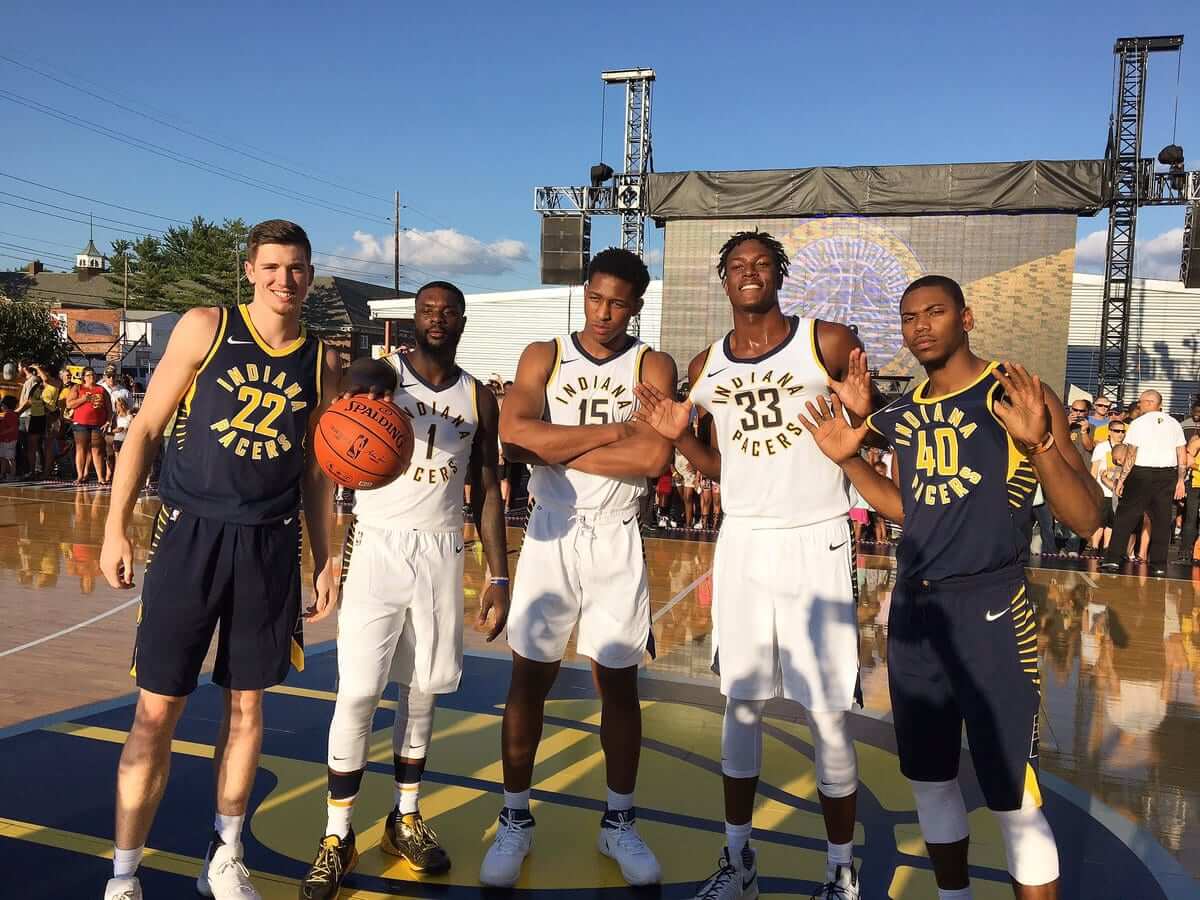 For all photos, click to enlarge
By Paul, pinch-hitting today for Phil
Who the hell does a uniform unveiling on a Friday night? The Indiana Pacers, that's who. While I was out doing, you know, Friday night stuff (more on that in a minute), they revealed an entirely new team identity.
Okay, one thing at a time:
1. As you can see above, there are new uniforms. You can see the rear view in this next shot: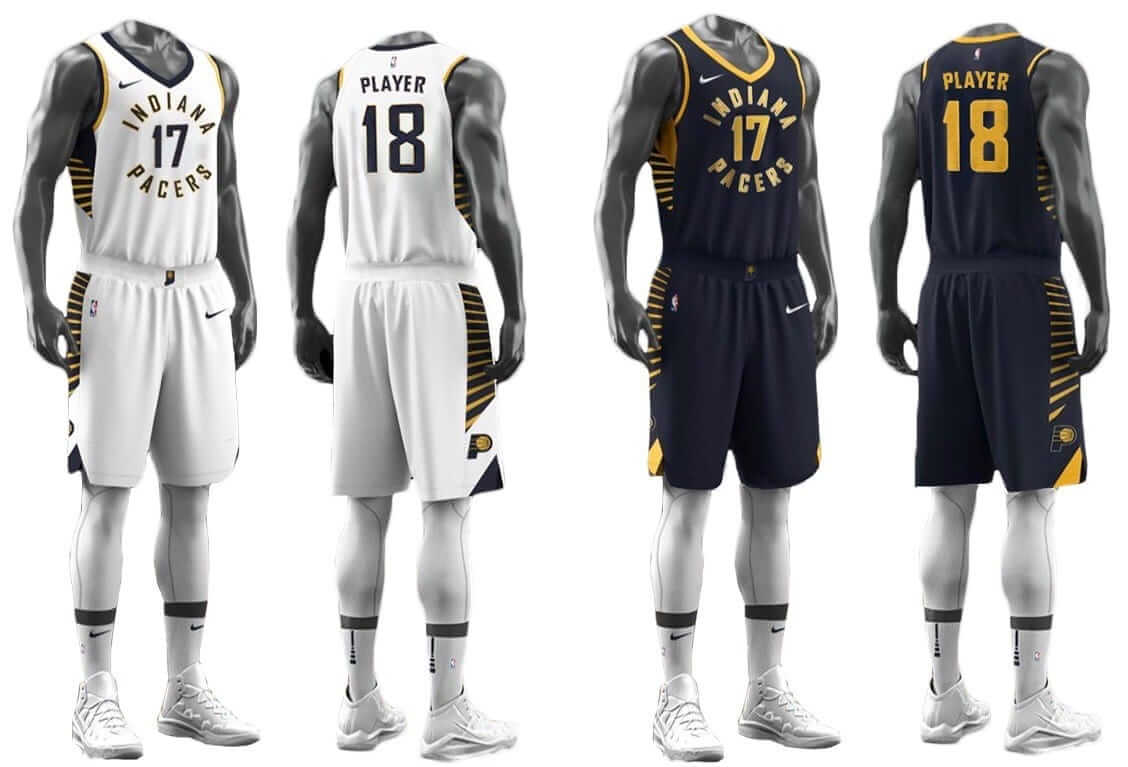 2. Those lines on the sides of the uniforms are echoed in two new secondary logos and a new "seal":
Dimensional farmland. It represents the rising sun rays on top of the Indiana farmlands. These lines are sense of home and represent growth. pic.twitter.com/V985Wu8ca7

— Indiana Pacers (@Pacers) July 28, 2017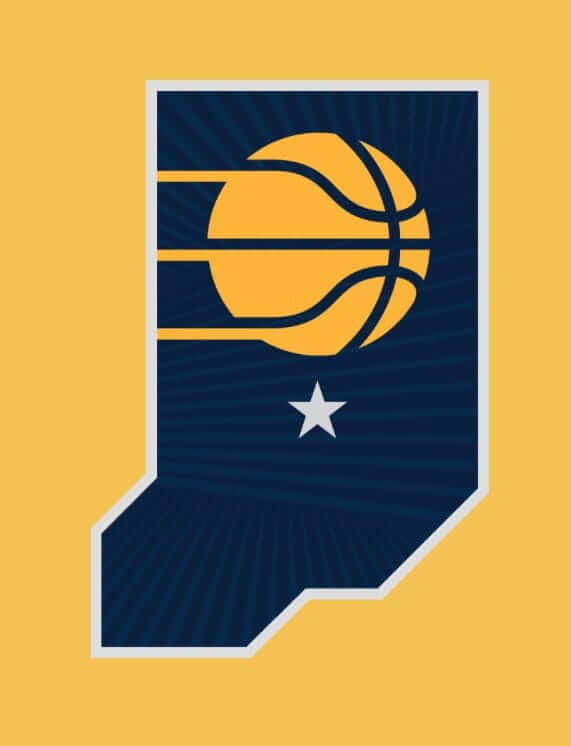 The Seal of Basketball in Indiana is a symbol of unity, bringing together all with a shared devotion to the game. #WeGrowBasketballHere pic.twitter.com/QeVWMwmizm

— Indiana Pacers (@Pacers) July 28, 2017
3. The lines are also visible on the outskirts of the new court design: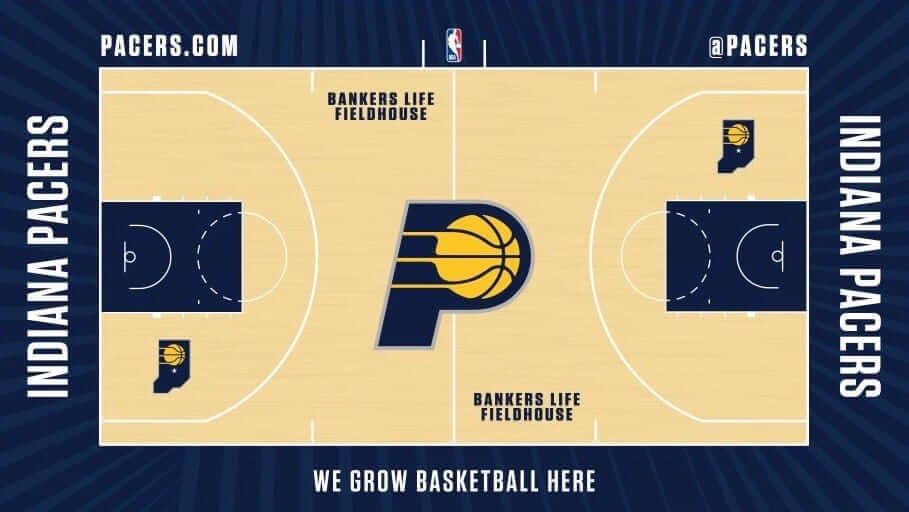 All of these new visual elements are explored in greater detail in this site that the Pacers have put together. You can also get a closer look at some of the uniform details and see how the court design has changed in this video clip:
Introducing the new look of Pacers basketball.#WeGrowBasketballHerehttps://t.co/nq0ocBgCTb pic.twitter.com/hs431HC1gf

— Indiana Pacers (@Pacers) July 28, 2017
Okay, some quick thoughts:
•  I like the circular type treatment on the chest. A lot! However…
•  The uniform would be so much stronger if they had gone with a different number font. The font they used, Agency, is badly overused in the uni-verse these days. I suppose I should be happy that Nike didn't come up with some godawful custom font — that would definitely have been worse. But still, this could have been better.
•  I'm generally a fan of horizontal lines on side panels. But the treatment here feels a bit collegiate, no? Reminds me of Marquette, among others. Also, the Pacers helped pioneer the vertical racing stripe look, so I find it a bit jarring to see them wearing horizontal lines. I don't think the lines are a dealbreaker, but I do think the uniform would be stronger without them.
•  That said, I do like all the new logos with the lines — even the seal, which I think works surprisingly well. Yeah, some of the marketingspeak is eye-roll material (gee, how many times can they mention "pride"?), but the designs themselves aren't bad. It's odd, though, that the two state-based marks take different approaches Indiana's shape — one literal, one stylized: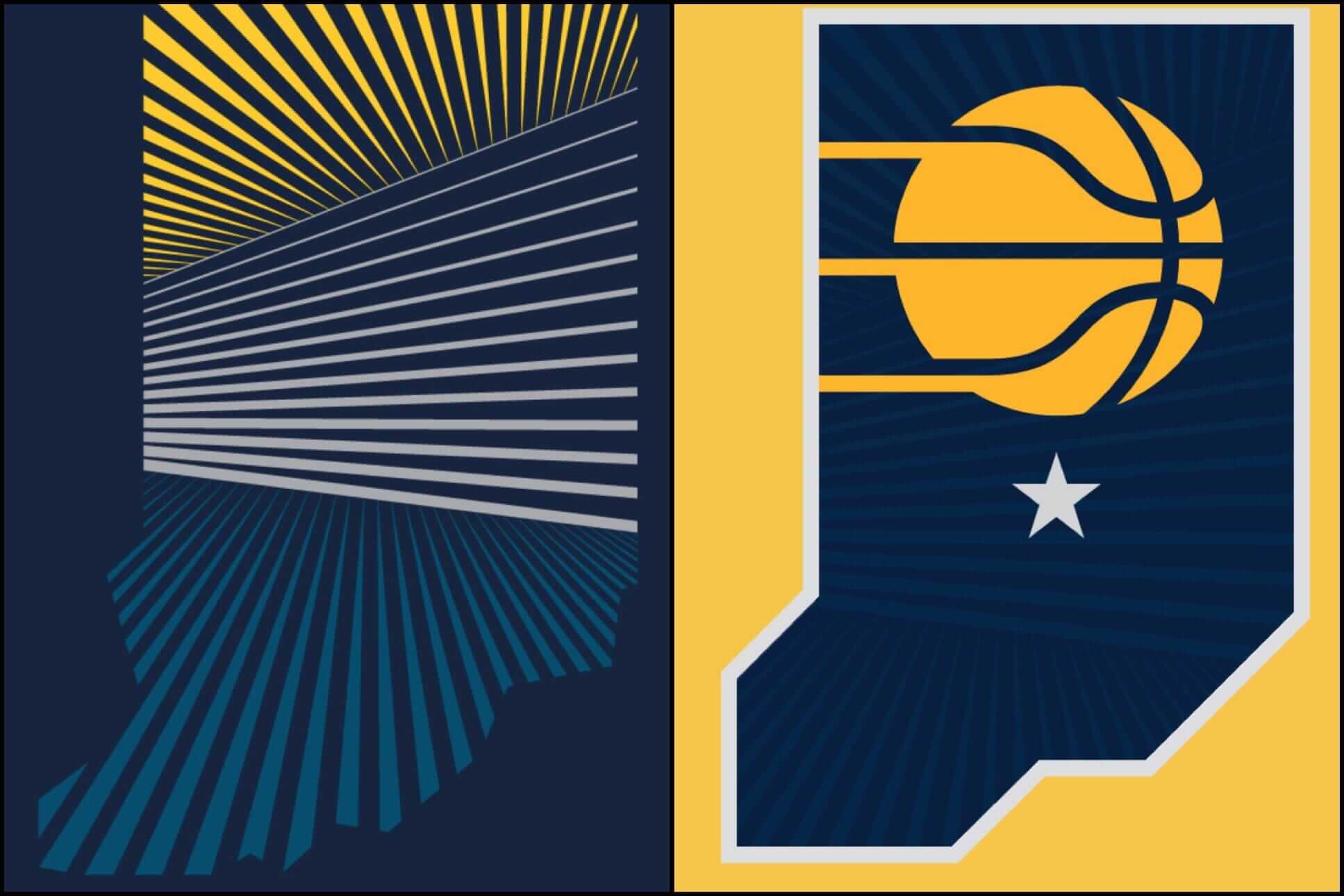 I think the one on the left is much, much stronger.
•  Nike appears to be using two collar treatments. A simple, gentle V-neck, which we've seen being used by the Thunder, Kings, and now the Pacers, and the more wishbone-y one being used by the Pistons, Warriors, and a few others. The simple V-neck is clearly the better option.
•  Yet another team with a waistband logo. Looks like it's gonna be a league-wide thing.
•  At least one player at the unveiling — forward Lance Stephenson — was wearing Stance-branded socks: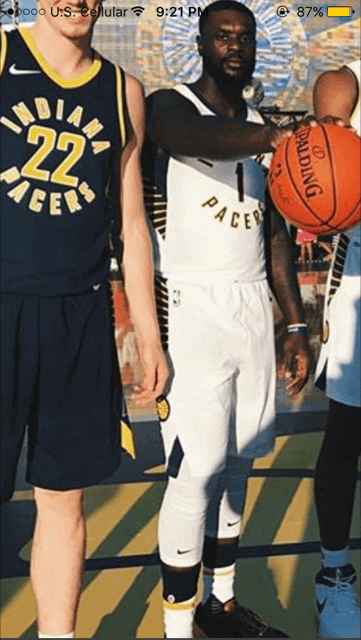 That's a no-no, as Nike is now the league's sock provider.
•  Another team without a corporate uniform ad. Let's count our blessings.
•  One final thought: As you've no doubt noticed by now, the new identity package leans heavily on a slogan. It's not the worst slogan in the world, although it got sort of tedious to see it invoked over and over and over again in the marketing materials, so I feel no particular need to repeat it here. As I looked through those marketing materials, which also talked a lot about Indiana's "work ethic" and "pride" and "early morning sunrise" (the sun apparently rises in the afternoon in the other 49 states), I suddenly realized why I dislike Nike's uni-marketing style so much: They sound exactly like a tourism bureau. The boilerplate clichés and bromides, the inevitable references to "hard-working people," the mentions of local landmarks and history and heritage, the reduction of a complex place into a caricatured confection — it's all tourism marketing 101, like they want you to book your flight right now and come visit Indiana (or Cleveland, or wherever the latest uniform is being unveiled). Of course, the people they're marketing to — the local fans — already live in Indiana, so they don't need to book a flight. But they presumably feel good about their home state being packaged so attractively.
And just to be clear, I'm not saying there's anything wrong with visiting Indiana. I've visited there several times myself! I'm just saying that the way Nike markets local culture has a lot in common with tourism marketing (which is something that really should have occurred to me a long time ago). Speaking of which: How long do you think it'll be before Indiana's real tourism bureau starts using the Pacers' new slogan?
(My thanks to Erick Kriewaldt and Neal Dorfman for their contributions to this section.)
•  •  •  •  •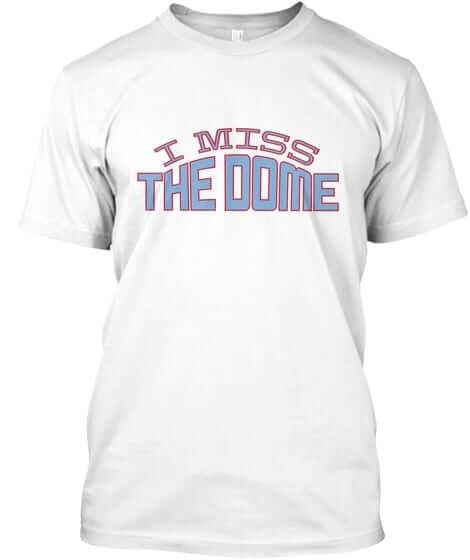 Naming Wrongs update: In case you missed it earlier this week, we have a new batch of Naming Wrongs designs. Full details here, or just go straight to the Naming Wrongs shop.
•  •  •  •  •
The Ticker
By Paul

Baseball News: Check out the uniforms worn by the ushers at Jarry Park, the Expos' original stadium (from BSmile). … The Bowling Green Hot Rods will host a solar eclipse promotion on Aug. 21 (thanks, Phil), and the Lincoln Saltdogs are doing the same thing (from Zach Peterson). … The Brooklyn Cyclones will wear Nickelodeon Night jerseys on Aug. 23. … Ever wonder what Randy Johnson would look like in a current D-backs uniform? Right, me neither, but here you go anyway. That was at a Hall of Fame event in Cooperstown (from BigDaddy45). … Whoa, the Fresno Grizzlies Tacos have taken the tequila sunrise concept to a new level! (From Mike Givler.)

NFL News: The Vikings' horned "V" logo is being used by a San Antonio appliance delivery company. … Several readers have reported that the Jets' new yearbook cover design uses a kelly-ish shade of green, leading them to wonder if the team is changing its official colors. I am not aware of any such change being in the works, but it's interesting that they went that route with the yearbook (thanks to Steven Presser). … The Bears have worn the annoying Nikelace collar since 2012. So why does this 2015 photo show RB Matt Forte wearing a completely different collar? (Good spot by @sadcarolinafan).

Hockey News: NASCAR driver Corey Lajoie will have Lehigh Valley Phantoms logos on his car this weekend (from Blake Pass). … This is pretty wild: When Lightning G Andrei Vasilevskiy's new mask gets wet, the team's 25th-anniversary logo appears.

NBA News: The Trail Blazers will unveil their new uniforms this afternoon (I'll have coverage here tomorrow) and it appears that that Hornets will follow on Monday. … New game ball for the G-League I still call it the D-League (from Zach Loesl). … Man, if you weren't already convinced that the AAU scene is a corporate cesspool, just read this. The only consolation is that all the people involved clearly deserve each other.

College Hoops News: New floor design in progress for Virginia Tech. … Looks like Maryland G Anthony Cowan is going with JrOB this season.

Soccer News: A color clash in German's fourth-tier league resulted in one team having to wear practice jerseys. … Arjen Robben of FC Bayern wore running sneakers for the team photo (from Doc Serph). … New third kit for Norwich City (from Brian Mazmanian).

Grab Bag: A Virginia high school named for a slave-owning Confederate general will be getting a new name — sort of. "For now, J.E.B. Stuart High School will become Stuart High School, with the school board set to adopt a permanent new name by 2019," explains R. Scott Rogers. "In the meantime, the school's team name will remain the Raiders, but a teacher I know in the district tells me that the principal hopes to change the school's athletic identity from a Confederate cavalryman to a Scottish Highlander or possibly just a horse." … Finland is going through a boom in unusual sports, including swamp soccer and phone throwing. … The Republican National Committee is accusing a Virginia politician of trademark infringement because his campaign materials include a GOP-style elephant, even though he's an independent (from Tommy Turner). … Repeated from the hockey section: NASCAR driver Corey Lajoi will have Lehigh Valley Phantoms logos on his car this weekend (from Blake Pass). … The New Westminster Salmonbellies — that's a box lacrosse team — have their jerseys depicted on their floor. … Hmmm, could these new mobile ink-jet printers be used on uniforms? "Imagine if you need to quickly get a new player's name and number onto a jersey for that night's game," says Brice Wallace. … New rugby kits for the Leicester Tigers (from Eric Bangeman). … Here are the car designs for this weekend's Honda Indy 200 (from Tim Dunn).
•  •  •  •  •

What Paul did last night: While the Pacers were unveiling their new uniforms, I was having dinner with my friend Carrie in my backyard, because that's the sort of thing people are supposed to be doing on a Friday evening.
I'd picked up a really nice slab of top sirloin from Fleisher's, and we also got some corn and some scallions. Oh, and Carrie brought some very nice local cherries. That's all we needed. So simple but soooo good (for all photos, click to enlarge):
After dinner, I biked over to Hank's Saloon, because the great Connecticut hockey-rock band the Zambonis were in town. As usual, their attire was highly uni-centric (although I was a bit disappointed that nobody was wearing Cooperalls this time around):
Bonus points for this very cool item at their merch table:
I would've loved to hang out with the band after their set, but I had to scurry home to cover a breaking story. (Have I mentioned that it's nuts to unveil a uniform on Friday night?) So that's what I did for the next few hours. Wrapped up just after 1am. The things I do for you people! See you back here tomorrow.