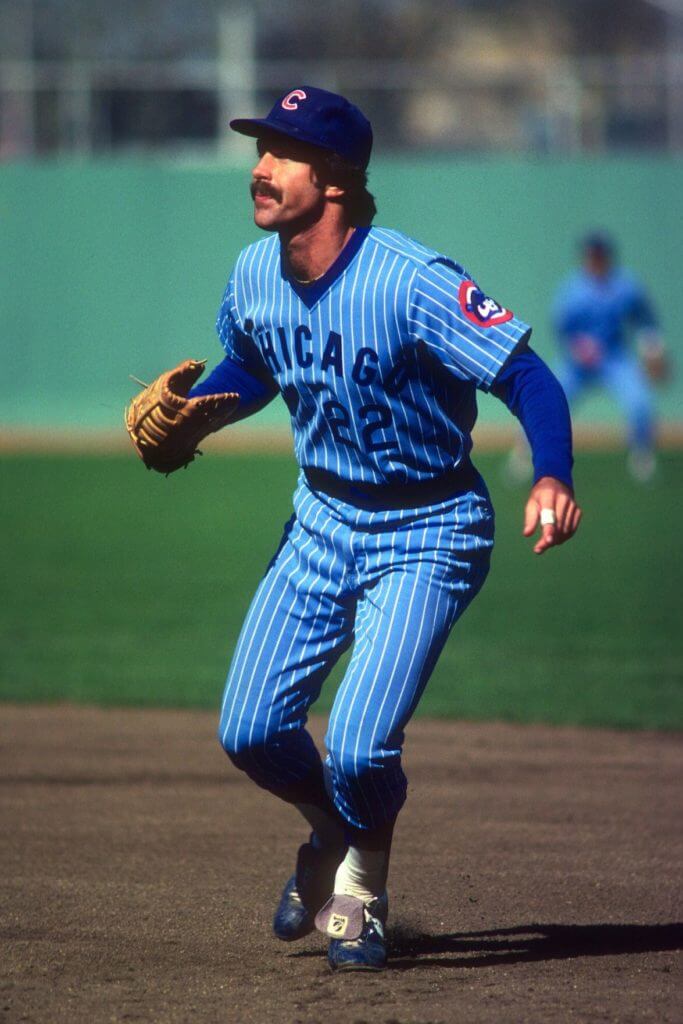 Click to enlarge
Bill Buckner died yesterday. He wore several classic uniforms during his career (including the Cubs' beautiful reverse-pinstriped road uniform, shown above), but of course he'll always be remembered for making one of the more famous errors in baseball history during the 1986 World Series, when he played for the Red Sox. Twenty years later, that error led to a discovery that has forever tied him to Uni Watch.
Here's the backstory: In the fall of 2006, one of ESPN.com's photo editors, Sean Hintz, was looking through old wire photos for a story on the 20th anniversary of the Buckner error. Most photos of the Buckner play showed, you know, the play, but Sean found a photo that showed Buckner walking dejectedly off the field after the Mets won the game. He had removed his first baseman's mitt and, like many first basemen, wore a batting glove underneath his mitt to provide an additional layer of padding. The interesting thing was that this batting glove had a Cubs logo. Buckner hadn't played for the Cubs since 1984, so he had clearly kept this batting glove around for a while.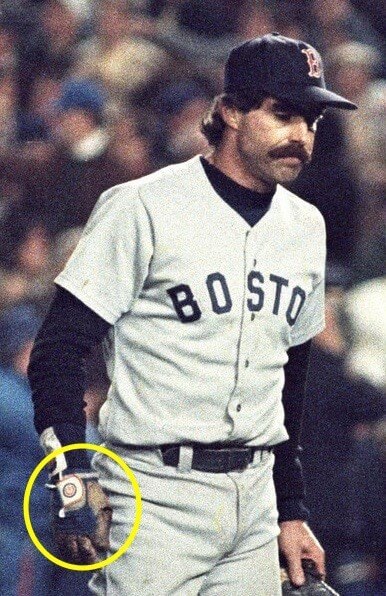 Most photo editors wouldn't have noticed this detail (or, having noticed it, wouldn't have cared). But Sean Hintz was a Uni Watch fan — he had helped me out with a few projects during the two years or so that I'd been writing for ESPN at that time, and he definitely Got It™. So he got in touch with me to let me know what he'd found.
Nowadays, both the Cubs and, especially, the Red Sox have emerged as powerhouse teams. But in 1986, when Buckner made that error, they were still saddled with their respective curses, and it's hard to overstate how hopeless both franchises seemed. (Even two decades later, when Sean discovered the photo, the Cubs were still mired in their own voodoo. The Steve Bartman incident had taken place just three years earlier.) By wearing Cubs and Sox logos simultaneously, Buckner had unwittingly commingled the two most storied hexes in sports lore. No wonder he made that error — he never had a chance.
It's not often that you get to discover something new about a famous incident two decades after the fact. The Buckner error was one of the most scrutinized and replayed incidents in MLB history — who'd have thought there was more to be learned about it 20 years later?
I wrote a column about all of this for ESPN. It became the first Really Big Story I did for them, doing monster traffic, generating lots of attention, getting featured on the site's home page for days, blah-blah-blah. When I recently listed up my favorite ESPN pieces for my final column, I put the Buckner piece at No. 1.
I tried to contact Buckner for that piece, but he declined to talk with me. That's understandable — he'd made it pretty clear by that point that he hated how that one play had come to define his life, and I felt pretty bad just for asking. I didn't realize that he had been battling Lewy body dementia recently until I heard the news of his death yesterday. That's a cruel disease and seems like a particularly nasty way to go. I hope he found some peace in recent years before the disease began taking its toll on him.
Shortly after the news broke yesterday, I received a text from Sean Hintz, my old ESPN photo editor (he's still with the company):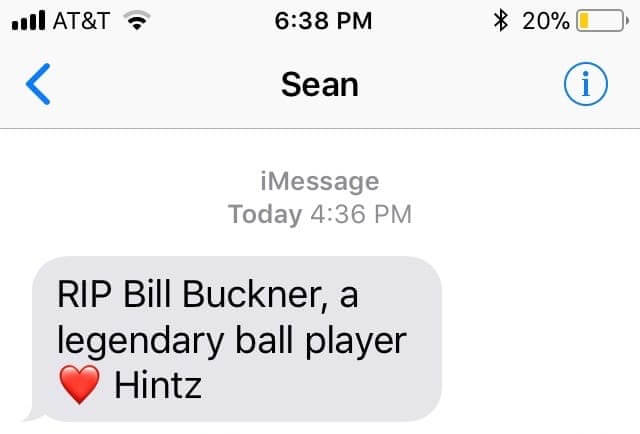 Legendary indeed — including here on Uni Watch.
Meanwhile, here's an amazing statistic — not uni-related but still fascinating — from longtime Uni Watch pal Tyler Kepner:
On Sunday, the last full day of Bill Buckner's life, 16 major leaguers struck out at least three times. Buckner played 22 seasons and never did it once.

— Tyler Kepner (@TylerKepner) May 27, 2019
That's something, eh? R.I.P.
• • • • •
• • • • •
Memorial Day roundup: For the first time ever, MLB teams wore remembrance poppies on their jerseys yesterday, along with Memorial Day cap patches. Here's a peek at how the poppies looked on several teams' uniforms (for all of these, you can click to enlarge):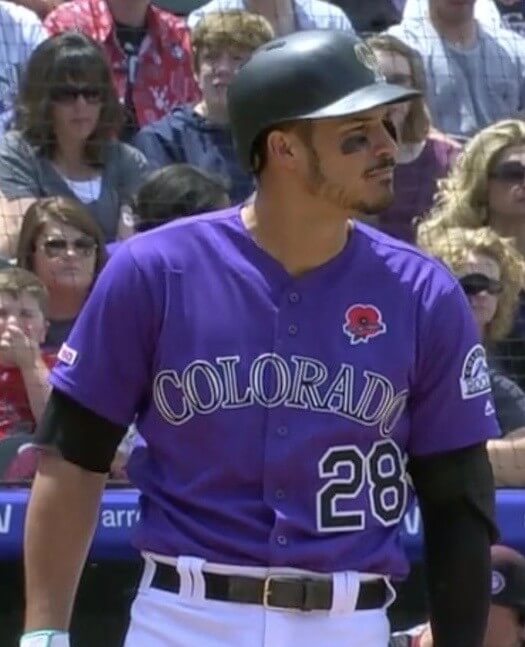 We've often said that the Rangers can't decide if they're a blue team with red trim or a red team with blue trim. That identity crisis was never more apparent than yesterday: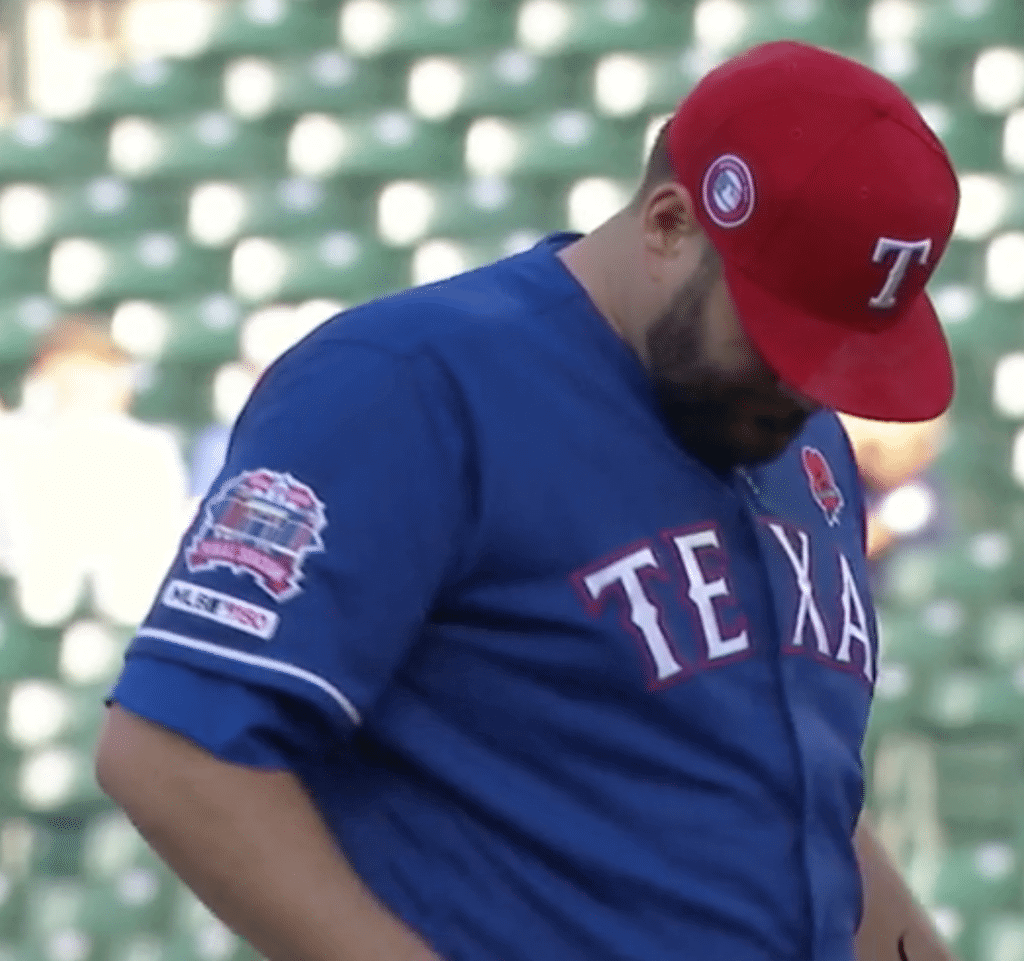 Just to make the red caps more confusing, they wore blue batting helmets. Oh, and let's not forget the red socks. Yikes!
Fun fact: Because of make-up game that was played prior to the regularly scheduled game, the Pirates and Reds both wore the poppy on two different jerseys yesterday:
Because of a postponed make up game from March, the Pirates have two uniform combinations feat. the #MemorialDay cap patch and poppy patch on the uniform in Cincinnati today. @UniWatch @PhilHecken

📷 courtesy: @pirates/@mlb pic.twitter.com/PmiCkPScYP

— Noah Kastroll (@NRKastroll) May 28, 2019
Yep, Reds too pic.twitter.com/bBDHYcQgjY

— Erik (@eousley) May 28, 2019
The umpires wore the same jersey and cap patches that the players did:
All in all, the poppies were much better than the boilerplate camouflage treatment. Unfortunately, some players ruined it by wearing camouflage socks and accessories: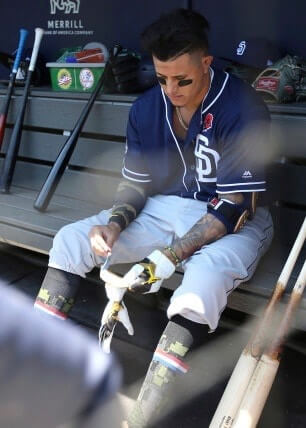 Also, while it's a little hard to see, the little placards on the bases were trimmed in digital camouflage. Why not use the poppies? Sigh:

In addition, at least two Reds players — first baseman Derek Dietrich and outfielder Yasiel Puig — wore stars/stripes belts, which seems a bit rah-rah for this particular holiday: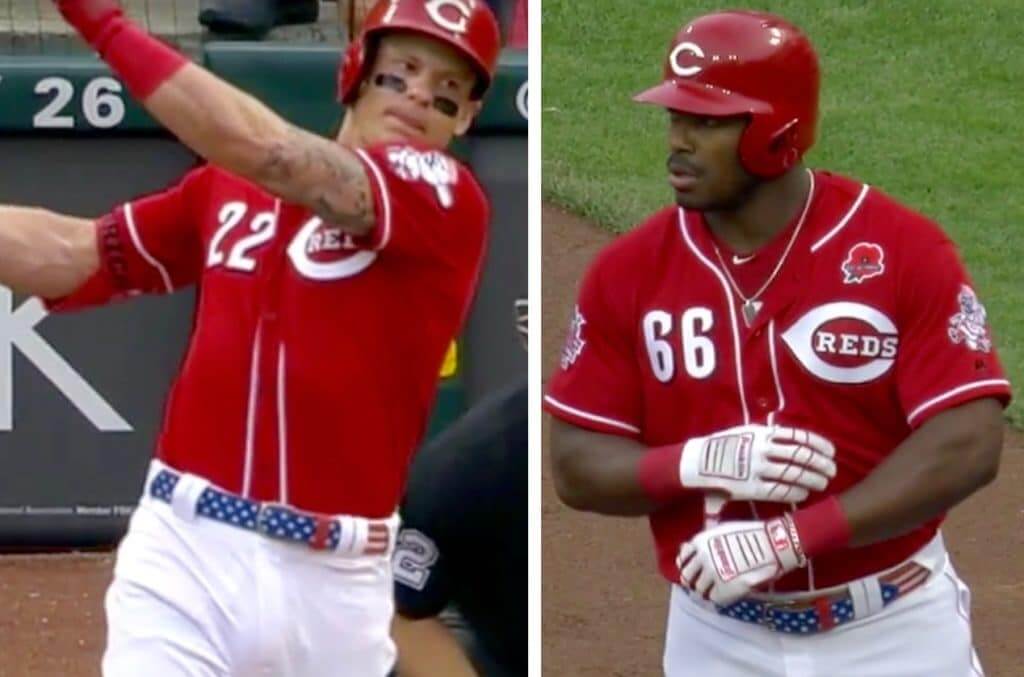 Meanwhile, Cleveland manager Terry Francona wore the poppy on his pullover and also added a patch for an Ohio soldier who was killed in action:
In addition to the poppy patch with the words "Lest We Forget" across the flower, Tito is wearing a patch to commemorate the life of U.S. Army Captain Michael Medders Jr. from Avon Lake who was killed in action in 2008. pic.twitter.com/oYb9j6N6sL

— Cleveland Indians (@Indians) May 27, 2019
Speaking of Francona and Memorial Day uniforms: In case you missed it last Thursday, I had an in-depth interview with Francona's son, U.S. Marine veteran and former MLB front office employee Nick Francona, who has some strong feelings about MLB's handling of this holiday. It's powerful stuff, and it has prompted a lot of reaction and response — if you haven't read it yet, I encourage you to do so now.
(My thanks to our own Brinke Guthrie for letting me know about the Francona patch, to Phil for letting me know about the bases, and to @shmistertug for tipping me off about the Reds' belts.)
• • • • •
• • • • •
@PhilHecken @UniWatch Jeffress has to change his compression sleeves in the Brewers Vs Twins Game because they were lighter than his teammates'. pic.twitter.com/bK8HxKfsd4

— Tony T (@Tinger_3) May 28, 2019
Some weird shit going on out there: There were two very odd scenes on MLB mounds yesterday. Let's start in Minnesota, where Brewers pitcher Jeremy Jeffress was called out by the umps for having light-blue undersleeves, instead of the Brewers' standard navy. Pitchers aren't allowed to wear white or grey sleeves, because the batter could lose sight of the ball, so that was apparently the issue.
So did Jeffress change his undershirt? No — because he was already wearing a navy base-layer shirt. As you can see in the video above, his sleeves turned out to be stand-alone compression sleeves! So he just peeled them off and replaced them with navy sleeves.
Meanwhile, over at Fenway, Cleveland pitcher Oliver Pérez had a problem with his shoes, so he took them off and stood around on the mound in his socks while waiting for someone to bring him a fresh pair of spikes from the clubhouse (in the video that follows, the broadcasters say that the umpires had a problem with Pérez's footwear, but Pérez said after the game that he actually broke a cleat):
OP had a shoe dilemma and we had to stop play momentarily 😂 pic.twitter.com/weciqZsOKm

— SportsTime Ohio (@SportsTimeOhio) May 27, 2019
And wait — there's more! It turns out that Pérez (and maybe other players as well?) has his uni number on the bottom of his socks:
According to former MLB pitcher Brandon McCarthy, this is standard procedure. Who knew?
Meanwhile, there was a very interesting detail lurking in that Pérez video. Take a look at this: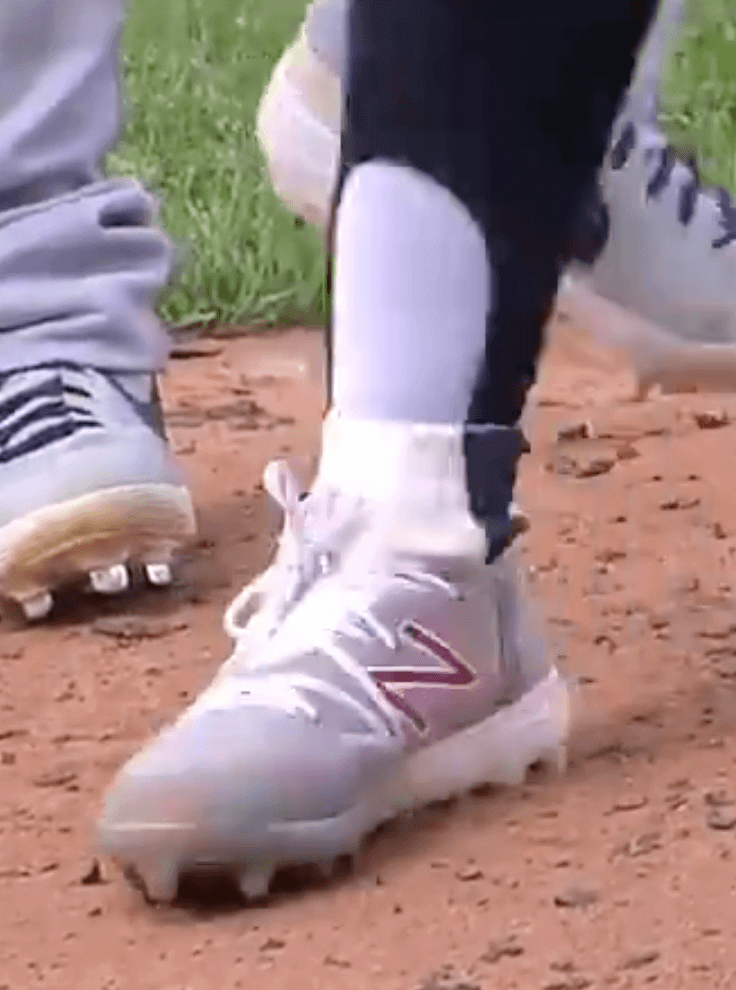 That's Cleveland shortstop Francisco Lindor. He's been wearing stirrups for several years now, and it looks like he's added a truncated two-in-one to his hosiery arsenal. He's apparently been doing this for week or two, and even has a red version to match his red cleats: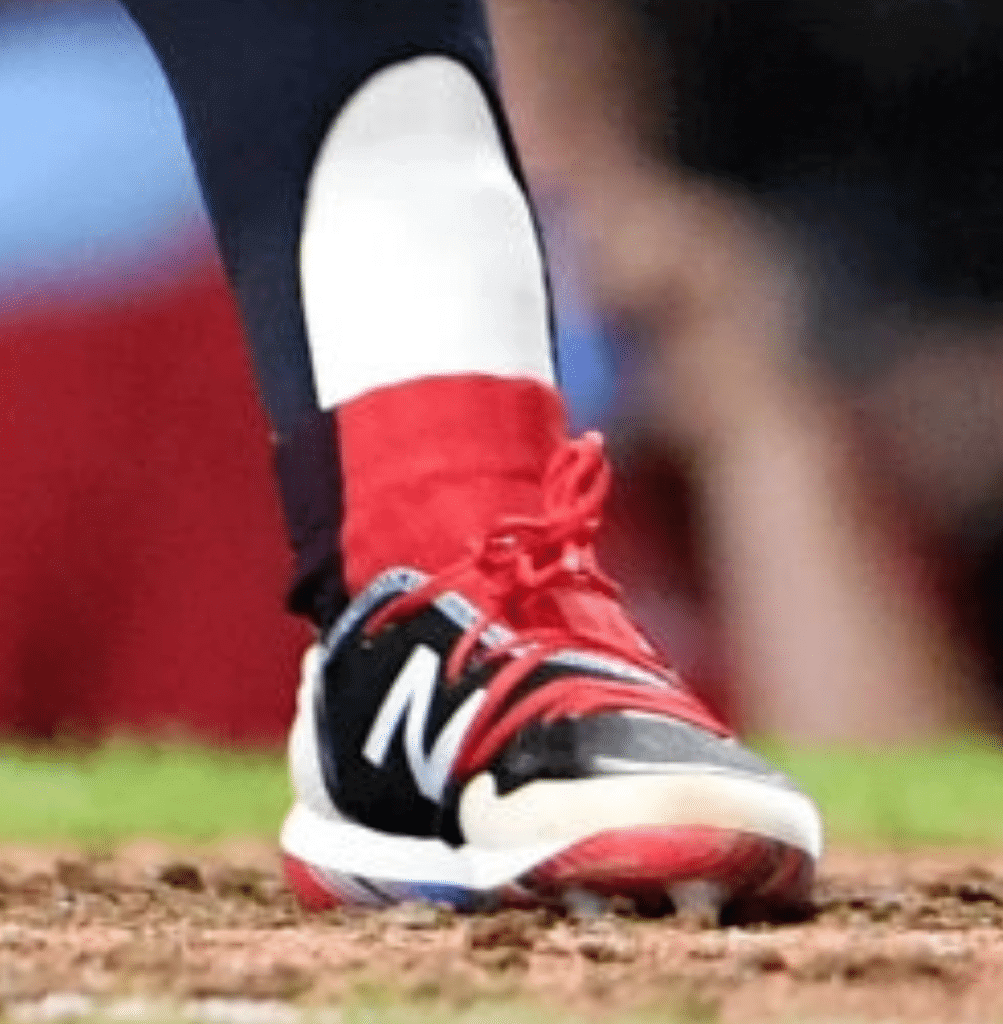 As you may recall, Lindor has used Trusox, with their telltale dot pattern, as his sanitaries, so I initially thought the shortened two-in-one was to cover up the Trusox dots, but that doesn't seem to be the case: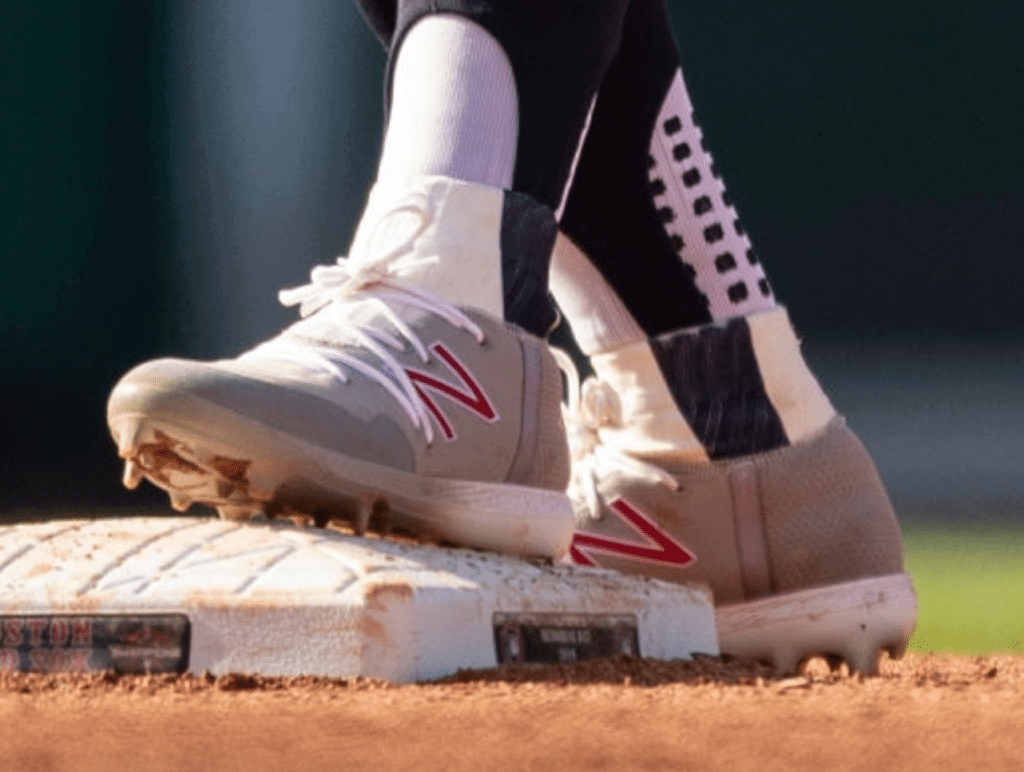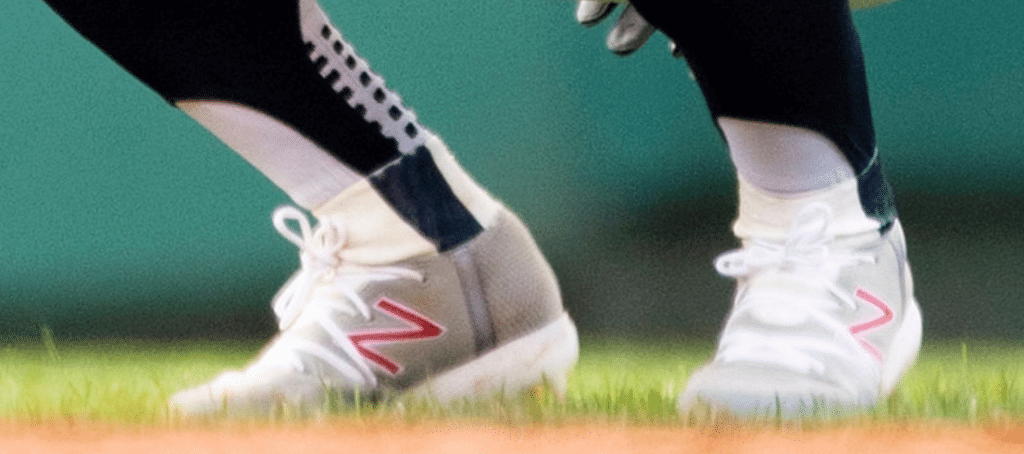 It almost looks like those short over-the-stirrup socks might be sewn into his shoes! Very strange. I'll try to find out more about this — stay tuned.
Update: Reader/commenter Tim Feren has confirmed that the short over-the-stirrup socks are indeed sewn into the shoes. New Balance apparently did this for him as a custom job:
The question remains: Why? I've asked a team spokesman — stay tuned.
(My thanks to the many readers who mentioned the Pérez and Jeffress situations, to Mike Chamernik for the photo of Perez's sock number, and to David Chisholm for spotting Lindor's odd sockwear.)
• • • • •
• • • • •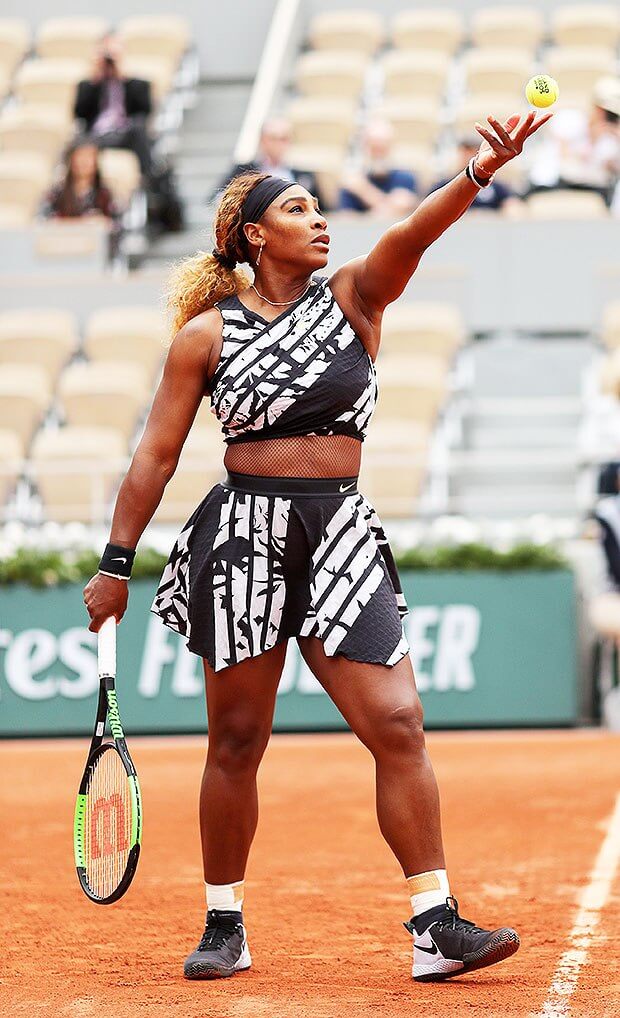 Click to enlarge
At least they downplayed the swoosh: After being told that the catsuit she wore in last year's French Open would no longer be allowed, Serena Williams responded yesterday with the outfit you see above. It came with a jacket that had, in French, the words ""Mother, Champion, Queen, Goddess." (They must not have had enough room to include "Diva.") Additional info here.
(Another tip of the cap to Brinke, who was the first to bring this one to my attention.)
• • • • •
• • • • •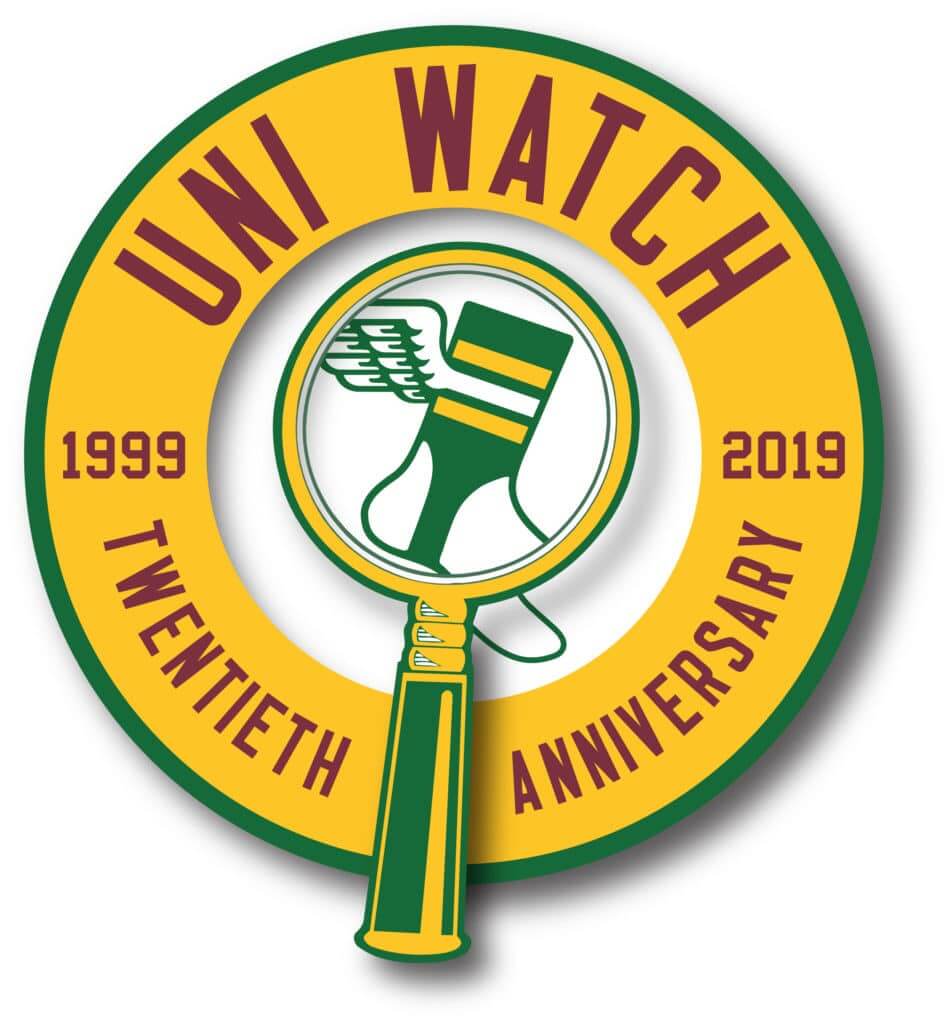 Anniversary roundup: Sunday was Uni Watch's 20th anniversary. I realize many of you were busy with various holiday-weekend activities, so here's a quick roundup:
1. Anniversary logo: That's our new 20th-anniversary logo shown at right (or shown above, if you're reading this on your phone). The concept was mine, the execution was by Scott M.X. Turner. I love how it shows the progression from our old visual icon (the magnifying glass) to our newer icon (the winged stirrup), and also provides some continuity from the 15th-anniversary logo we used five years ago.
The anniversary logo will be appearing here and there on the site, and will also be featured on a few bits of merchandise, including embroidered patches (these are already in production and should be available in about two weeks), stickers (I hope to have these available by tomorrow), and T-shirts (again, aiming for tomorrow).
I've also had a couple of people ask about mini-helmets (which would probably be similar to the basic Uni Watch mini-helmets that we sold a few winters ago), and Casey Tierney from Rocker-T Collectibles says he'd love to make them again, just like he made the previous batch. Hmmm — I really like the white shell we used last time, so we could stick with that, swap out the side decal, and change the center striping. Or we could go with a green shell or a yellow shell. Price would still be about $40. Is there any appetite or demand for this? Please email me if this is a product you'd be willing to purchase, and feel free to let me know how you'd feel about the shell color.
2. Anniversary post: I wrote a post on Sunday about how Uni Watch came to into existence (including some details from my uni-obsessed childhood), how it has developed over the past two decades, and how it has just earned me an official citation from the Brooklyn borough president (!). It's long, but people seemed to like it. I encourage you to check it out here.
The response to that piece was tremendous. Amidst all of the congratulations and kind words of support, reader Andy Moeschberger, posted a comment on Sunday that included the following passage (boldface emphasis added):
Your criticism has changed the way I look at the world. You have never been "This sucks," but always "This sucks because," which is a refreshing change from so much of what we read on a daily basis. Your willingness to engage your community in the comments, and to force them to also give more than just "This sucks" is one of the reasons this community is a community. Your obsessive observations have changed the way I look at the world. It has definitely changed the way I think about design and consumption.
Oh, man — that is pretty much the greatest compliment any cultural critic could ever hope to receive. And by the same token: Andy, if you're reading this, thanks so much for taking the time to say not just "Congrats," but "Congrats because."
3. Anniversary party in Brooklyn: As I've previously announced, we'll celebrate 20 years of Uni Watch on June 29, 2-6pm, at the 773 Lounge. If you're reading this, consider yourself invited!
4. Anniversary parties elsewhere: I asked longtime reader/pal Marty Hick, who lives in St. Louis, if he'd come out to Brooklyn for the party. He said he couldn't justify the expense, but then he came up with a brilliant idea: He asked if I'd be okay with him arranging a satellite Uni Watch party in St. Looey on the same afternoon as the party here in Brooklyn.
I love this idea — not just for St. Louis but for any other cities where people want to gather on June 29. We could have a whole network of anniversary parties taking place at once (and maybe link them up via Facebook Live or Skype or something like that). I mentioned this possibility in Sunday's post, and since then I've already received notes from people who are interesting in doing parties in Atlanta and — get this — Paris!
I'd love to see this happen, but I'd like to enlist some help. Ideally, I'd like to have a Satellite Party Coordinator who would keep a spreadsheet showing all of the party cities, venues, organizers, etc. The spreadsheet could be shared on Google Drive, or something similar, so everyone could see what's going on in their city. People who wanted to organize or host a party could get in touch with this coordinator, who'd then update the spreadsheet and so on.
If you'd like to volunteer to be the satellite party coordinator, please email me and we can talk about that.
If you would like to organize a party in your city on the afternoon of June 29, please stand by for now. Once we have a party coordinator in place, you can get in touch with that person. Thanks.
———
That's enough for now. But I'll have more anniversary-related announcements in the days and weeks to come. Thanks again to everyone for all the kind words, and for helping to make Uni Watch such a special community.
• • • • •
• • • • •
Click to enlarge
Membership update: The first batch of 2019 Purp Walk membership cards mailed out on Friday, and it was be fair to say I washed my hands very, very hard after processing them. We still have a bunch more purple cards still to go, which we'll be getting to in the next two weeks or so.
Also: Remember last week when I mentioned that card designer Scott M.X. Turner was able to include the tiny lettering in in the pinstripes on Mark Malazarte's Lakers-themed card? The lettering was visible in the digital files that Scott prepared, at least when I blew it up to 400%, but I wasn't sure it would be visible in the final printed card. But sure enough, it printed just fine. Check this out (click to enlarge, it's worth it):
Ordering a membership card is a good way to support Uni Watch (which, quite frankly, could use your support these days). And remember, a Uni Watch membership card entitles you to a 15% discount on any of the merchandise in our Teespring shop and our Naming Wrongs shop. (If you're an existing member and would like to have the discount code, email me.) As always, you can sign up for your own custom-designed card here, you can see all the cards we've designed so far here, and you can see how we produce the cards here.
• • • • •
Sorry, no Ticker today, because the whole Uni Watch team had the day off. The Ticker will return tomorrow. See you then. — Paul