Last week I wrote about the very cool Uni Watch helmet that Riddell sent me (shown at right; click to enlarge). The virtual ink on that entry had barely dried when a bunch of people started asking, "Where can I get a mini-helmet version of that?"
Full disclosure: Up until this week, I didn't know jack shit about mini-helmets. I can see how they'd be a fun thing to collect (less expensive and cumbersome than real helmets, and miniature items tend to be inherently pleasing), but they've never really been on my radar. So it would never even have occurred to me that someone might be interested in a Uni Watch mini-helmet. And I certainly wouldn't know how to get them made.
Fortunately, there's a Twitter-er called MiniHelmetGuy, who specializes in creating all sorts of custom mini-helmets. I knew about him because he often tags me in his posts. So I went to his Twitter profile, which includes a link to his website, which includes a contact link, and got in touch with him.
It turns out that MiniHelmetGuy's real name is Casey Tierney. Nice guy, smart guy. We talked for a bit and agreed that it would be fun to offer Uni Watch mini-helmets, assuming there's enough demand. I said I'd need to see a prototype or sample, so I sent him the artwork for the striping and side decals (the same artwork I had provided to Riddell). Casey then sent the artwork to his decal provider, a guy named Shane Maddox, who runs a mini-helmet site of his own called T-Mac Sports. Shane made me a prototype and shipped it to me. It arrived yesterday. Check it out (for all photos, you can click to enlarge):
Pretty cool, right? I included my hand for scale. Also tried to put the helmet on Uni Watch girl mascot Caitlin, but she wouldn't sit still for it.
Here are a few notes:
• My full-size helmet is a Riddell SpeedFlex, but Riddell doesn't offer a mini version of that model, so we went with a mini-Speed. Unlike the full-size helmet, it doesn't have the flex panel, so the striping tape runs across the crown without being cut.
• Casey says that the striping tape on the Uni Watch helmet is better than what's typically used on mass-produced mini-helmets. "For multi-colored striping, Riddell uses individual stripes for each color," he says. "For example, they use three different pieces of tape to make the striping on a Dallas Cowboys mini-helmet. For the Uni Watch helmet, we used a one-piece stripe, which just looks smoother and more realistic, like what's on the full-size helmet."
• If there's enough interest, we'll offer these for sale through Casey's website. If that happens, we might create a logo decal — a magnifying glass, say — to place over the Riddell logo on the nose bumper. I'm open to other suggestions.
• As you can see, the green facemask on the mini-helmet is darker than the one on the real helmet. We might end up swapping out the dark mini-mask for a lighter, kelly-ish green mask, which would be a closer match to the stripes and decals.
• Looks like the price will be $40 (which I'm told is pricier than a mass-produced NFL mini-helmet but not out of line for a custom job like this one). If you want a clear plastic display case, that'll be another $11. You'll likely be able to add a visor to the helmet for an additional $20ish.
So: With all of that in mind, would you be interested in such a product? If so, shoot me a note. This isn't an iron-clad commitment — we're just trying to gauge how much demand there is. Not interested? No problemo. Either way, thanks for letting me play show-and-tell today.
However this plays out, I want to thank Casey and Shane for preparing the sample mini so quickly, and for giving me a crash course in mini-helmets. Good stuff.
• • • • •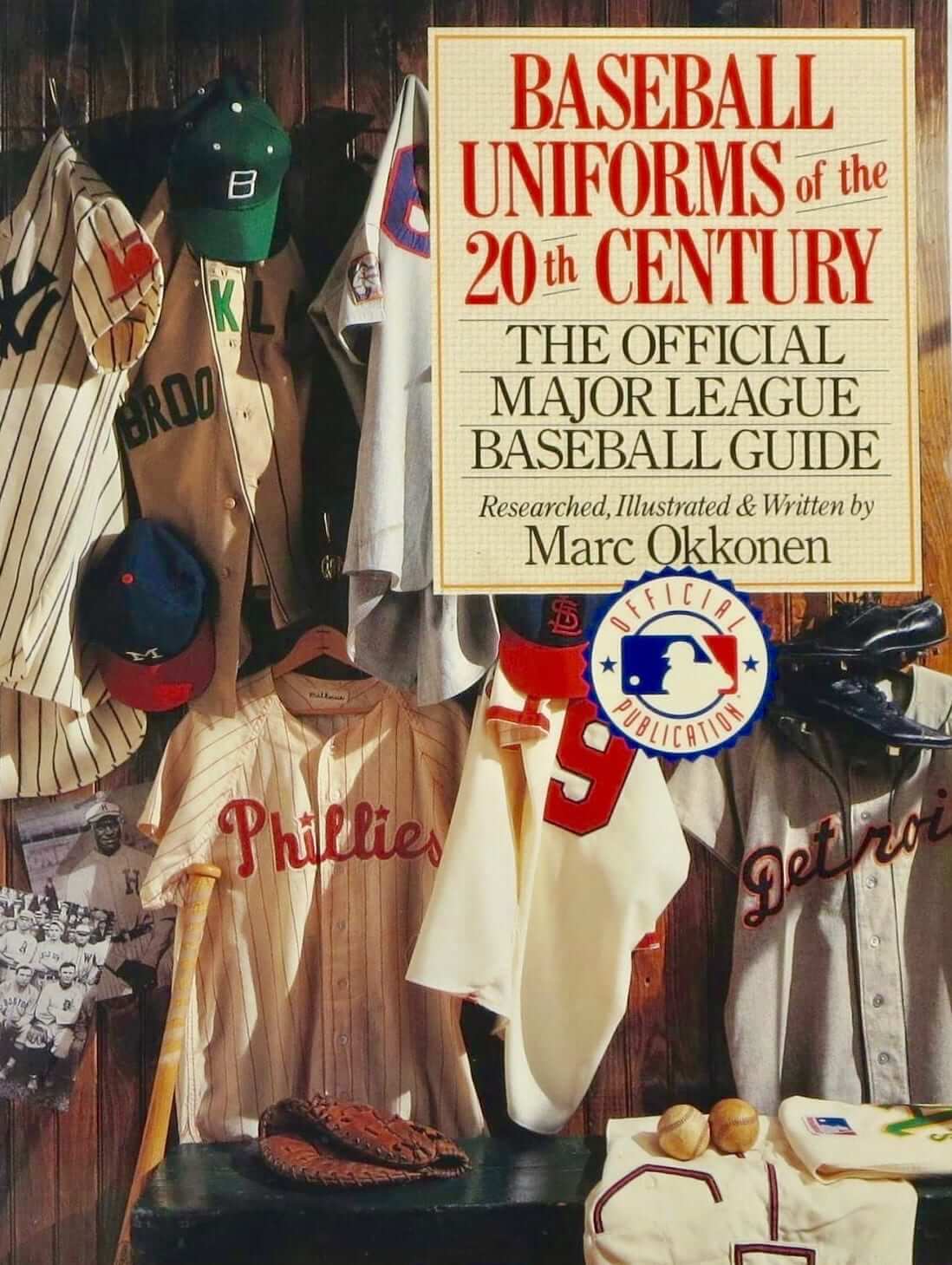 Uni Watch Personal Shopper: Longtime reader Jason Hillyer was shopping for used books yesterday and came across a hardcover copy of Marc Okkonen's seminal Baseball Uniforms of the 20th Century. It's no exaggeration to say that Uni Watch probably wouldn't exist if not for this book, which was the first major uni-historical effort of its kind.
Jason already has a copy of the book in his library, but the used copy he found was only $10 and in very good shape (here's the front, back, and spine), so he bought it and will gladly sell it the first Uni Watch reader who's willing to pay the 10 bucks plus shipping. (If you live in or near Columbus, Ohio, he'll even meet up with you personally somewhere in the suburban Westerville area.)
Incidentally, the book has a lot more than just the little uniform diagrams that also form the basis of the Dressed to the Nines database. There's also lots of text for every MLB team, vintage photos, and so on. A great book, and a very nice gesture on Jason's part. If you're interested, contact him here. Update: The book has now been claimed. Thanks again to Jason for doing this.
• • • • •
Naming Wrongs update: Busy week for Naming Wrongs, as we have still more designs available today. One at a time:
The Hive: This one is available in teal with purple lettering, teal with outlined lettering, purple, and grey (for all photos, you can click to enlarge):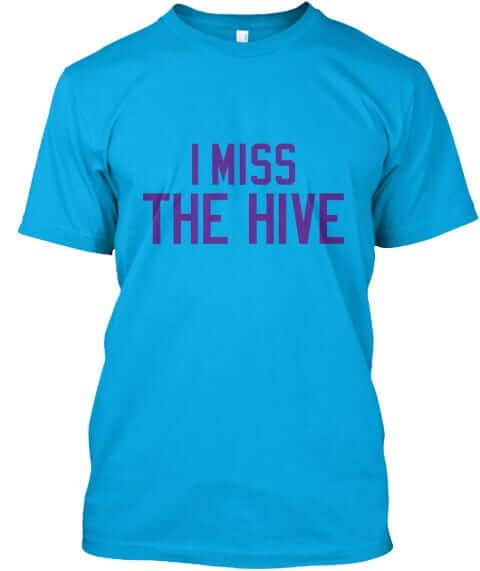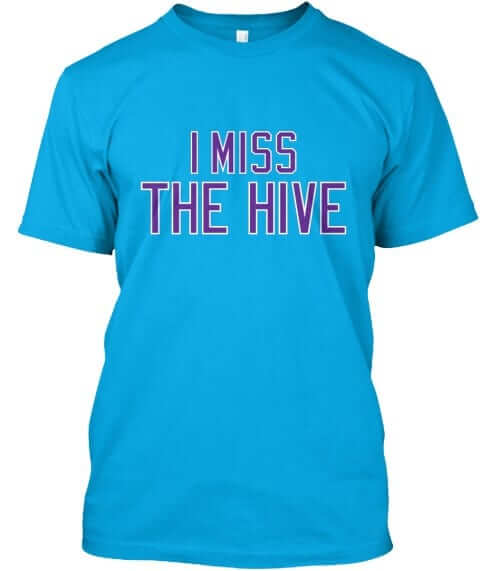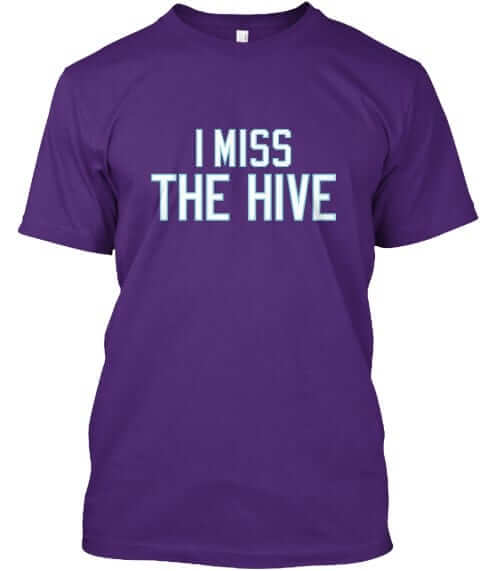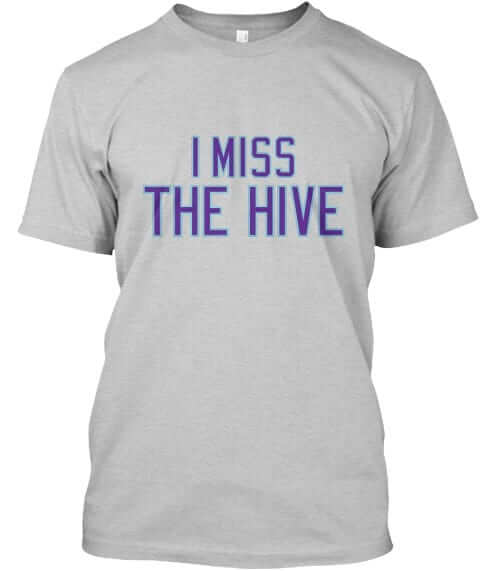 Brendan Byrne Arena: Devils fans have been asking for this one. It's available in red with green lettering, red with white lettering, black, and grey: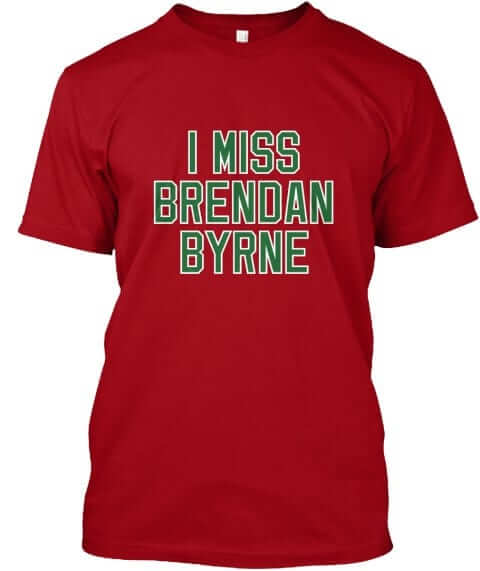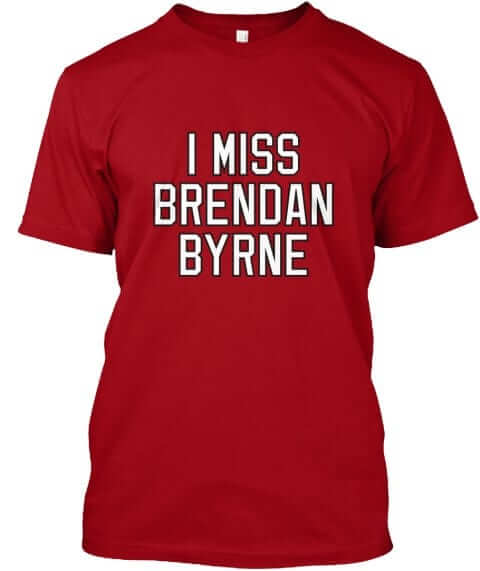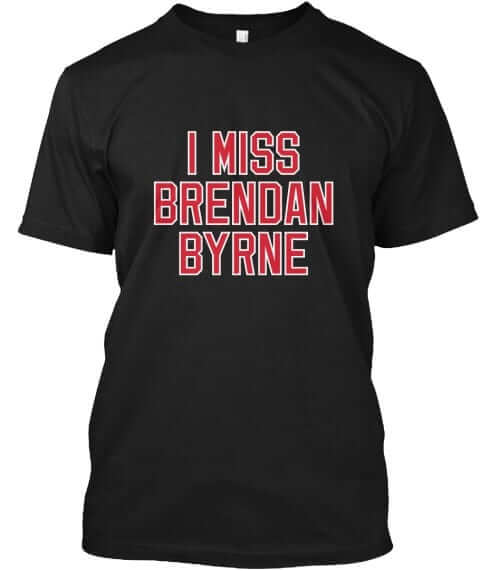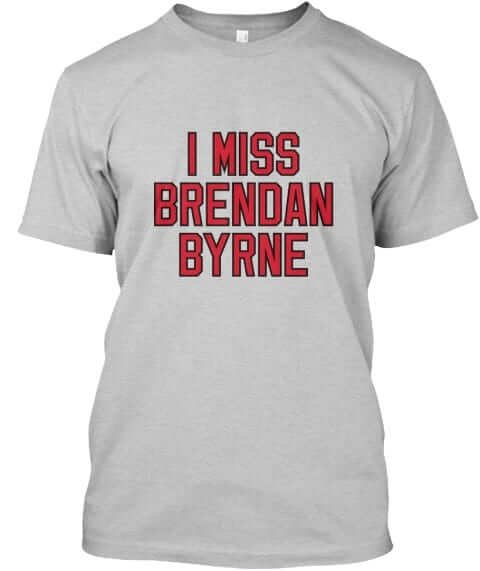 Nassau Coliseum: I know, I know — nobody misses the Nassau Coliseum. Except some people do (maybe because the Islanders' current arena, which is just a few blocks from Uni Watch HQ, wasn't designed for hockey and has terrible sightlines). And check out the great designs that Scott Turner came up with — wavy navy, wavy white, royal, white, and grey: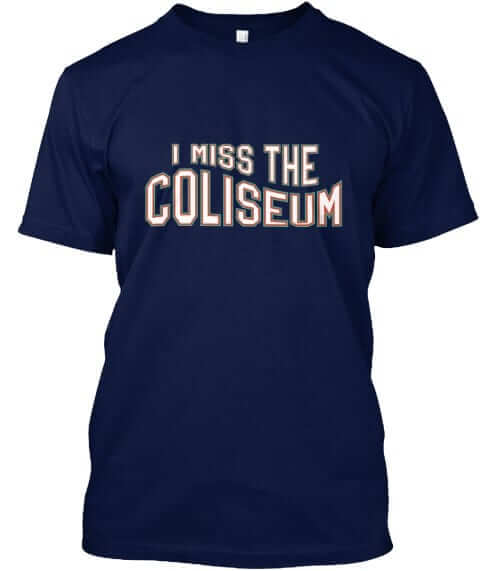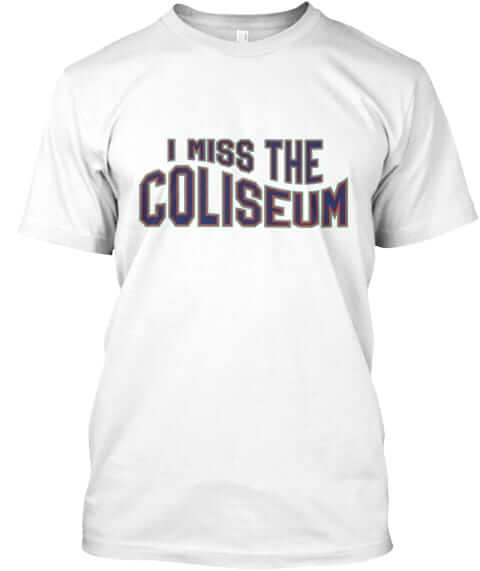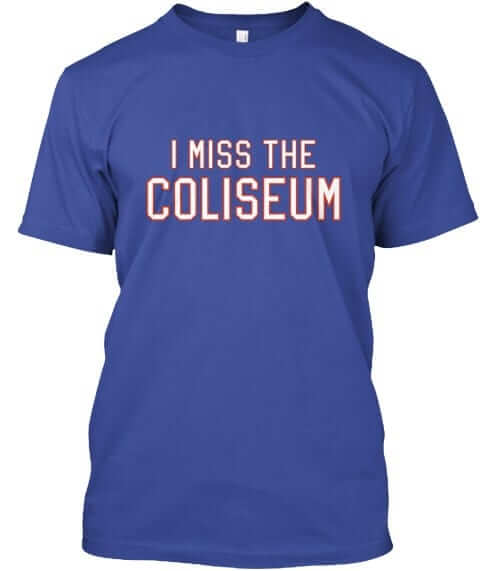 Hartford Civic Center: We had already done this one in Whalers colors, but now we've added UConn colors — navy and grey: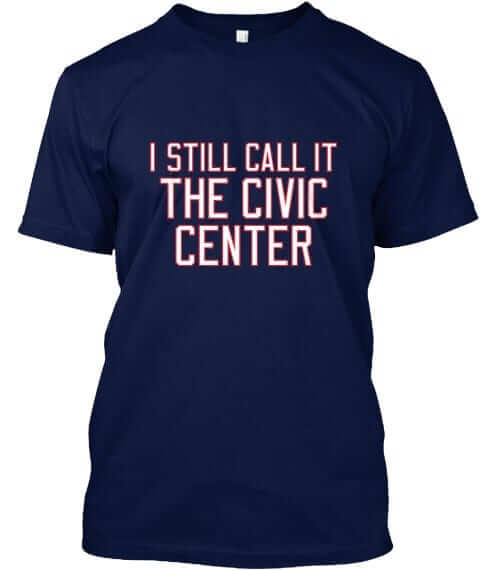 Reunion Arena: Reunion was home to the Stars and the Mavericks. For now, we only have the Stars designs available, in green with gold lettering, green with white/gold lettering, and black (the Mavs versions will follow next week):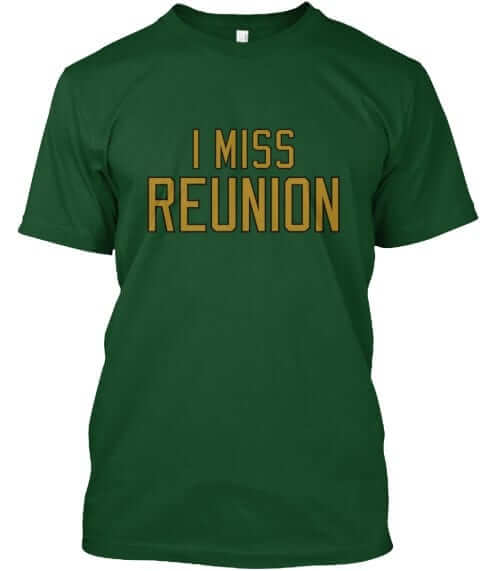 All of these designs are now available in the Naming Wrongs shop. They're also cross-listed in the Uni Watch shop, where card-carrying members can get 15% off. (If you're a member and need the discount code, send me a note and I'll hook you up.)
In case you missed it earlier this week, we also have new Naming Wrongs shirts for the Hoosier Dome, the L.A. Forum, the Salt Palace, and RFK Stadium (which we'd previously done in 'Skins colors but is now available in DC United colors). Full info and images here.
We also recently launched four new shirts devoted to college basketball arenas. You can see those here.
My thanks, as always, for your consideration.
• • • • •

'Skins Watch: The artist who created the logo of a "brave" for an Ontario high school back in the 1970s is sad that the school has decided to stop using the design. … An Edmonton hockey fan has amassed a collection of rookie cards for every Indigenous player ever to appear in an NHL game (from Mike Styczen).

NFL News: Last night's Ravens/Dolphins game was mono-purple vs. mono-white. Additional photos here. … Washington will be wearing throwbacks this Sunday against the Cowboys. … Speaking of Washington, TE Niles Paul says he was fined $6,000 for wearing non-regulation socks (from Andrew DeFrank). … The folks at the Unforgettable Buzz, who've spent the past few years documenting the history and culture of electric football, have published another book. This one is called The Electric Football Wishbook, and it consists of dozens of pages from old Sears catalogs from the 1950s through the '80s. Really nice stuff. You can buy it, and also see some of the interior pages, here. … The fastest-growing sport in New York is flag football, with many of the kids wearing NFL-themed uniforms (from Tommy Turner). … An off-duty New Jersey state trooper was wearing a Jets jersey when he saved a choking man by administering the Heimlich maneuver (from Alan Kreit). … Remember when Toronto mayor Rob Ford confessed to smoking crack while wearing an NFL team logo necktie? That tie — or what someone claims to be that tie — is currently up for auction on eBay (from David Firestone).

College Football News: Recruits are reacting to Ohio State's grey uniform. … UNC will wear its navy alternates this weekend (from James Gilbert). … Homecoming uniforms this weekend for Maryland (thanks, Phil). … Black-white-black this weekend for Dartmouth (from Cameron Mellor). The annual Georgia/Florida game has been color-vs.-color for the past three seasons, but not this year, as Georgia will be wearing white (from Chris Thorpe). … The latest Virginia Tech player to wear No. 25 will be defensive tackle Ricky Walker (from Andrew Cosentino).

NBA News: The Bucks wore their 1970s throwbacks (complete with ad patch, ugh) last night. The game was played at UW-Milwaukee Panther Arena — i.e., the old MECCA Center — on a new version of the old MECCA court design, which led to much hilarity when Celtics G Kyrie Irving mistakenly thought it was the original MECCA court (although he later reversed course on that). Additional game photos here. … Also of note: The Bucks wore throwback shooting shirts. "That buck's head logo was on the team's shorts from 1968 through 1976, and was also on the throwback shorts," says Alan Filipczak. … Also-also: The Bucks' throwbacks didn't have the little championship tab on the back. … Looks like the adhesive or something was showing through the letters and numbers on Nuggets G Gary Harris's jersey the other night (from Chris Weber). … The Hawks will retire a No. 59 jersey for outgoing Atlanta mayor Kasim Reed. They chose No. 59 because Reed is the city's 59th mayor. … Here's a weird one: Newly acquired Pelicans G Jameer Nelson wore No. 1 for last Sunday's game against the Lakers — his first game with the Pelicans — but is now wearing No. 14. Turns out that the No. 1 jersey was just a placeholder (from Tyler Adams and Joel Lutz).

College Hoops News: The most embarrassingly named arena in all of college basketball is keeping its embarrassing name (from James Gilbert).

Soccer News: New presenting partner jersey advertiser for the San Diego Sockers. It's amazing the lengths these teams and companies will go to just to avoid saying, "advertiser" (from Jim Vilk).

Grab Bag: Reader Joe Burke and his bride had a Philadelphia sports-themed wedding cake.
• • • • •
Happy Birthday to our own Scott M.X. Turner, who designs all of our membership cards and Naming Wrongs shirts. He also designed the logo and striping that appear on the Uni Watch helmets (although I don't think he ever imagined that they'd be used in that context). Have a good one, buddy!