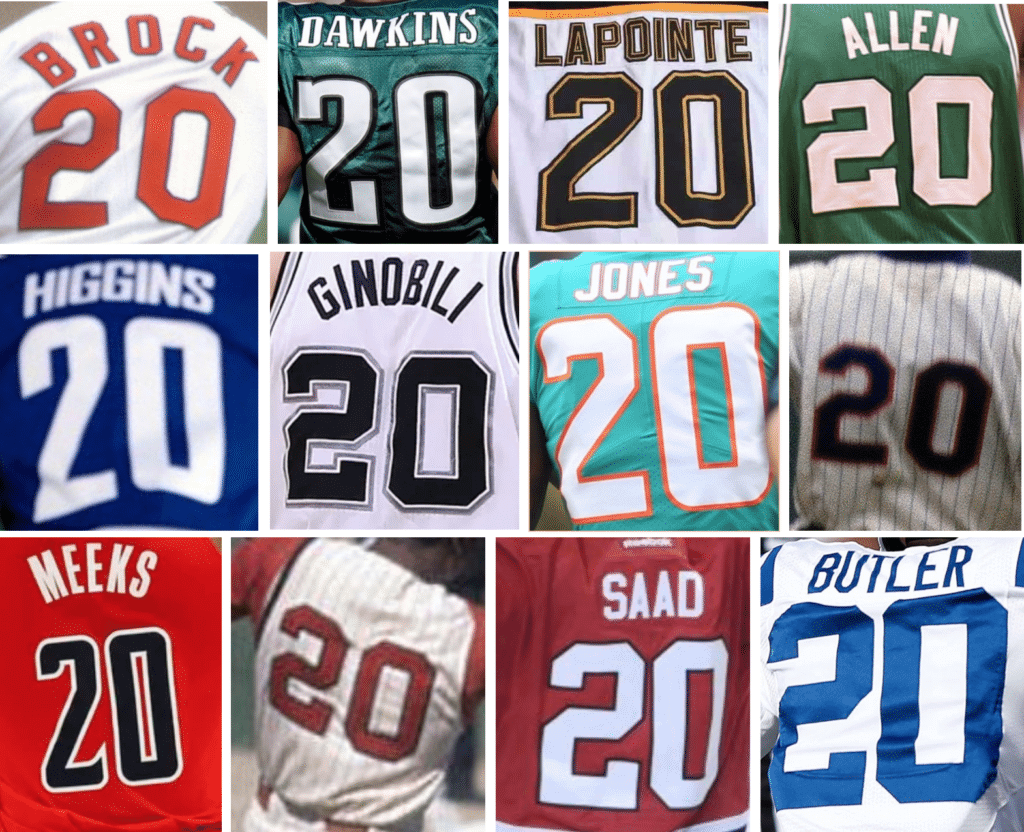 I
See that up there, right above this line of text? That big, centered italic Roman numeral is one of those pretentious writerly devices to tell you that what you're reading is Important. I've never used that device before, but I'm using it today, because today is an Important Day — Uni Watch's 20th birthday.
The use of big, centered italic Roman numerals also usually indicates that what follows is going to be fairly long.
II
I've always loved uniforms. I was super-excited to get my first Little League uni (it seemed so official!) and made sure to that my stirrups looked just right. When I watched sports, I obsessed over how the players wore their uniforms. Willie Mays and Hank Aaron might have been two of the greatest ballplayers who ever lived, but I didn't think much of how they wore their pants and socks; I hated the Dallas Cowboys but had to admit that they looked pretty great on the field; I didn't understand what the "H" in the Montreal Canadiens' logo was for, but I knew that the logo felt really cool and satisfying in a way that I didn't yet have the vocabulary to describe.
At some point, when I was about 10, a sweatshirt became part of my wardrobe. I don't recall how I acquired it, but I guess my mom must have bought it. It was pale yellow with a dark red "87" printed on the front and back in block numbers, like a football jersey. Yellow and dark red were basically Redskins colors, so I consulted my NFL Action '72 stamp album, which my father had gotten for me at our local Sunoco station, and determined that No. 87 on the Redskins was a tight end named Jerry Smith. Then I went to my mom and asked if she could sew "J. Smith" above the number on the back of the sweatshirt. ("Smith" by itself, without the initial, seemed too plain. I wanted everyone to know that this was referring to Jerry Smith, not just any old Smith.) She obliged, using red thread that matched the shade for the numbers and lots of horizontal stitches. As I recall, it looked something like this:
It looked good, except that she didn't leave a space after the period, so it came out as J.SMITH, instead of J. SMITH, which bugged me. I told her that she'd done it wrong; she scolded me for complaining instead of thanking her. I felt ashamed and knew I was being selfish. At the same time, the missing space after the period still bugged me.
In spite of the missing space, I wore the sweatshirt a lot, including while playing backyard touch football with some of the older kids in our neighborhood. At one point I made a good catch, and I heard one of the older kids saying, "He does look like Jerry Smith out there."
I had two much older brothers (they were 12 and 15 when I was born), so our house had a lot of books, including sports books, that they had gotten when they were kids. One of these books was The Pros, a beautifully illustrated and photographed book about the NFL that I found on a shelf when I was about 11. I loved poring over it, and I was particularly interested in an illustration that showed the evolution of the NFL helmet.
Another hand-me-down from my brothers was one of those tabletop hockey games with the metal players. Because the game had been made in the 1950s or '60s, the goalies were shown without masks. But by the time my friends and I were playing the game in the early 1970s, most goalies were masked, so I made little paper masks and taped them onto the metal goalies — except for the Red Wings goalie, which I left mask-free, because Andy Brown played for the Wings at the time.
At school, like a lot of kids, I doodled in the margins of my notebook instead of paying attention to the teacher. Other kids were doodling comic book superheroes or whatever, but I was doodling team logos (for some reason I found the Philadelphia Flyers' logo particularly confounding — I could never get it just right). For many years I also did doodles — like, lots of doodles — that showed a lower leg with baseball pants and stirrups. I would do front views of stirrups, side views of stirrups, high-rise stirrups with lots of white showing, low-rise stirrups with just a little white showing. I'm badly out of practice now (at some point in my life I stopped doodling altogether, which is kind of sad now that I think of it), but here is a v-e-r-y rough approximation of what those doodles looked like:
One day another kid asked what I was drawing. I told him, figuring he'd find stirrups as cool and compelling as I did. Instead, he made fun of me and quickly told everyone else.
III
I always enjoyed writing. In high school and college, I wrote for my school newspapers, but it never really occurred to me that I could be a "real" journalist. The whole idea of that intimidated me, and I didn't have the imagination or courage to envision how I could get from here to there. So I did what a lot of similarly creative but intimidated people did in those days: I started a zine. My first zine, which I called Hyper-Tension (slogan: "For Fuck-Ups Like You") and published from 1986 through 1988, was a fairly boilerplate indie-rock zine — not bad for what it was, but what it was was fairly derivative. It consisted mostly of record reviews, live show reviews, and so on. But every now and then I'd run a section of product reviews — in part because I thought it was funny to use the same voice and same unrelenting cynicism and irony and so on that I normally applied to music and instead bring it to bear on, say, a box of cereal or a brick. But I also wrote the product reviews because I was genuinely interested in cereal boxes and bricks. It was fun to write about things like that.
Later, in the fall of 1993, I was dealing with the end of of a long-term relationship and approaching my 30th birthday, which seemed impossibly old. I was unhappy with a lot of things about my life and realized that a source of that unhappiness was that I hadn't created anything since the last issue of Hyper-Tension in 1988. Moreover, I had literally never created anything original, something that wasn't derivative.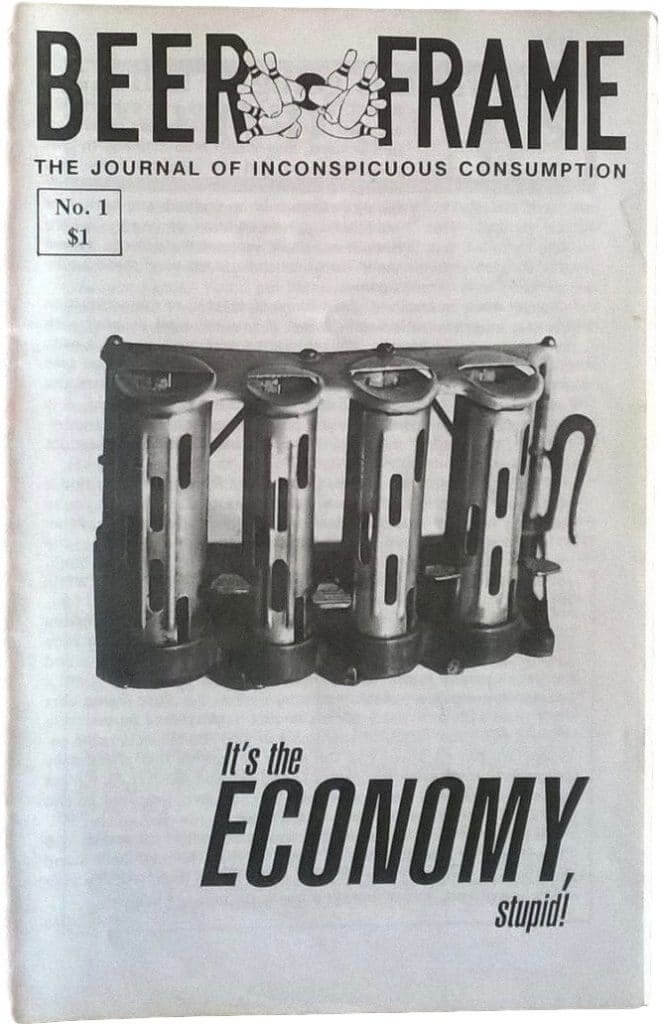 I missed writing, so I basically assigned myself a project to create a new zine. When I looked back at Hyper-Tension, it was clear to me that the product reviews were the best and most interesting things about that zine, so I decided that this new zine would be all product reviews.
After playing around with some titles and subtitles, I decided that this new zine would be called Beer Frame: The Journal of Inconspicuous Consumption. The first issue, which was basically a detail-obsessive look at consumer culture with a storytelling voice, came out in October 1993. It included a review of the Green Bay Packers' uniforms, which seemed like a fun thing to include. I'm pretty sure that was the first time I ever wrote anything about uniforms.
IV
Beer Frame changed my life. First and foremost, it was the first time I'd created something that I knew was good, which made me a much happier person (which in turn had lots of very positive ripple effects). It also led to a bunch of freelance writing opportunities and a book deal, which allowed me to quit my job in early 1996. Suddenly I was a real journalist after all.
Most of my freelance writing work during this period related to consumer culture, but I began to realize that I could write about pretty much anything that interested me, as long as I was passionate about it. I got some travel writing gigs, some food writing gigs. Meanwhile, I was still very much into sports, but I had never much thought about being a sportswriter. After all, sportswriters went on the road with the team and spent lots of time covering team workouts and hanging out in the clubhouse, right? I wasn't really interested in living or working like that.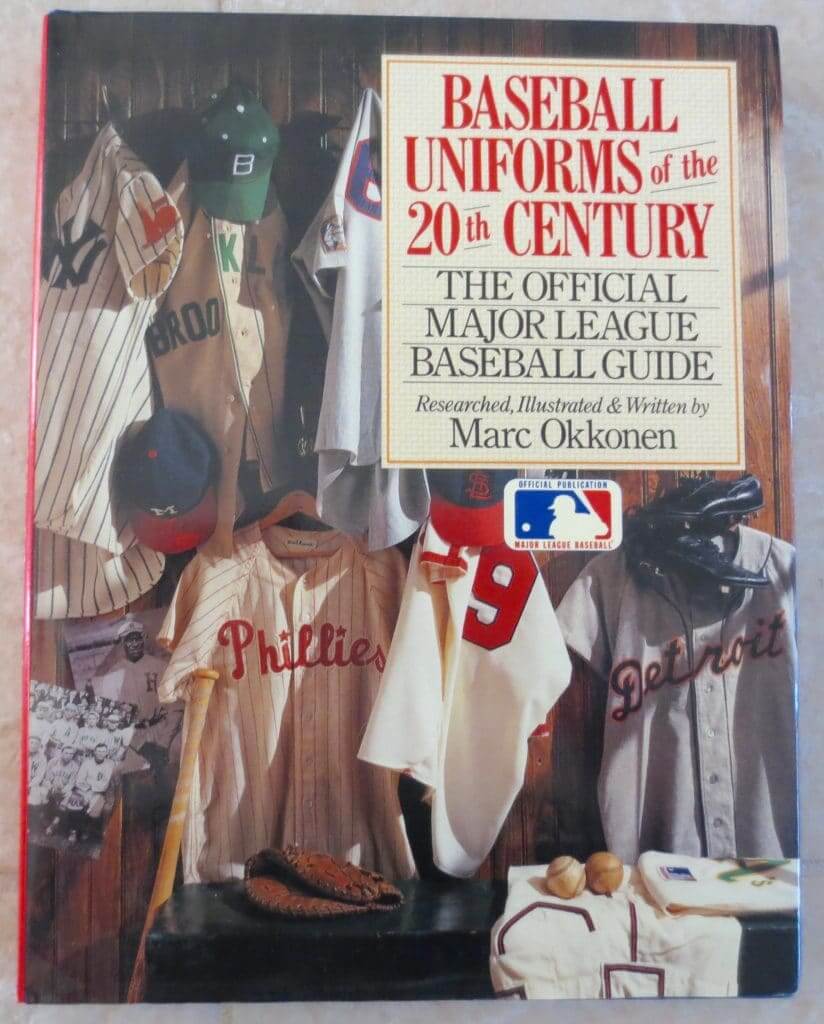 But then, in the spring of 1998, it occurred to me: What about uniforms? I'd never stopped being interested in them (sometime around 1995, my friend Liz had gotten me a copy of Marc Okkonen's seminal uniform book, which opened up a whole new world of historical uni obsessions), and I realized I'd accumulated a lot of opinions and a lot of knowledge about them. I also had a girlfriend who was getting tired of me constantly pointing out the nuances of the players' uniform stylings every time we watched a game on TV. "Look how this guy's sleeve is a little longer than that guy's sleeve," I'd say. "You know, Paul," she'd respond, rolling her eyes just a bit, "maybe you need an outlet for this."
TV and radio sportscasters sometimes mentioned the uniforms that the teams were wearing (I always hung on every word), but as far as I could tell, no sportswriters ever covered uniforms. Could I do that? I didn't have any sports media connections, but I knew a guy at The New York Times Magazine — maybe he'd let me do something about the evolution (and, by that point, the sad diminution) of stirrups? I discussed that with him, but it never got off the ground.
The more I thought about it, the more I realized that I needed to create a uniform column, not just a single article. I needed to define uniforms as a subject category worth obsessing over, just like I'd done with consumer culture. By this point I'd written for a decent number of design magazines, so I could have tried to create a design column about sports. But what I really wanted was to create a sports column about design. I wanted to create a new sports beat and have it taken seriously as legitimate sports journalism.
I described this idea to lots of friends in the latter part of 1998, but I didn't actually pitch the concept to any editors. Part of it was that I was busy, part was that I was afraid of rejection, part was that I was afraid someone would say yes (which would mean I'd suddenly have a lot more work to do). By the end of the year, I realized that my concept for a new uniform column had become something I talked about, not something I was actually working to make happen.
That felt lazy and underachieving, so on Jan. 1, 1999, while celebrating the new year with some friends out in Montauk, I did something I'd never done before: I made a New Year's resolution. "This year, I will create and find a home for a column about sports uniforms." Two decades later, it's still the only New Year's resolution I've ever made.
V
I began by setting my sights high, pitching the idea to ESPN The Magazine (which at the time was still a fairly new enterprise). They said no. Then I pitched Sports Illustrated. They said yes — success! They didn't want to give me a regular column on a set schedule, but they said they liked the idea of having me write about uniforms. I did a piece for them around the start of 1999 baseball season, but it got bumped because something "more important" took priority. I did another piece a few weeks later, but the same thing happened. (They paid me the full fee for both pieces, even though they didn't run, which was nice.) Then, in early May, some sort of uniform news story came up — I think it was something about MLB floating the idea of maybe having ad patches on jerseys, although I honestly don't remember for sure — and they assigned it to one of their regular baseball writers instead of to me. I could see that this relationship wasn't going to work out, so I thanked them for the opportunity and moved on.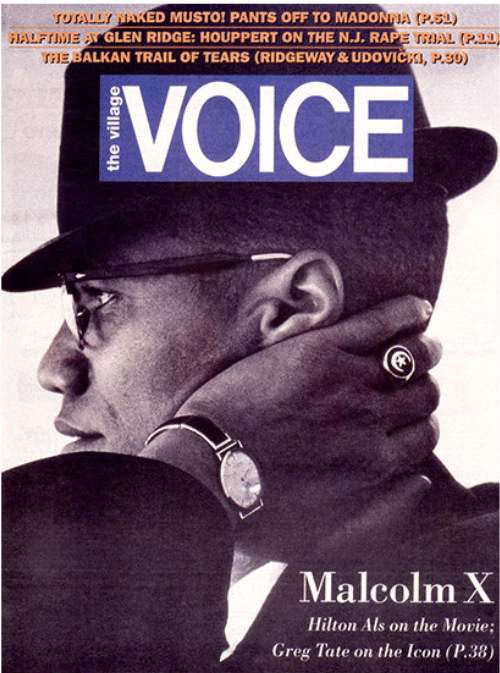 Since I wasn't having much luck with the high-profile national media outlets, I grudgingly decided to set my sights a bit lower. The Village Voice, an alt-weekly here in NYC, had a really unusual sports section. They were writing about advanced baseball analytics long before mainstream sports outlets were (instead of OPS, they referred to SLOB — slugging plus on-base — so the goal was to be "the biggest SLOB"), and they also had a lot of stuff that was sort of pre- or proto-Deadspin, including a bi-weekly column about hockey fights ("Mixing It Up," written by a guy named Mike Beaver) and a regular feature in which Yankees TV broadcaster Phil Rizzuto's on-air ramblings were set to poetic verse (which actually led to a book of poetry). I figured any sports section with content like that could probably handle a column about uniforms.
I got in touch with the sports editor, a guy named Miles Seligman, and described what I had in mind. Not only did he instantly get it, but he was already familiar with my work, so he understood my basic style and point of view — a huge stroke of luck. We kicked around a few ideas for what the column should be called (the only other one I remember was "Emperor's New Clothes") but ultimately settled on the working title I'd been using — "Uni Watch." At the time I thought that was kind of a lazy placeholder name, and I was disappointed in myself for not being able to come up with something better. Years later, I decided that it was the right name all along.
The Voice was a weekly, but Miles didn't have the space or the inclination to run Uni Watch that often. He said, "How about every four weeks?" I said sure. Then he added, sounding just a wee bit concerned, "You can actually do that, right? Like, there's enough uniform stuff to write about every four weeks?"
"I think so," I said, trying to sound confident. I really wasn't sure, but I figured there was only one way to find out.
And that's how Uni Watch was born. For the first installment, I did a rundown of all the MLB uniform changes for that season. This was in late May, which by today's standards would be a laughably late time frame to publish something like this. But this was 1999, and there was no precedent or protocol for this sort of thing, so there was no "wrong" time to do it. It ran on May 26, 1999 — 20 years ago today. I still have the clipping.
VI
Uni Watch settled in for a nice run at the Voice. I wrote about things that now seem familiar: MLB vests, NFL sleeves, nameplates vs. direct-sewn lettering. I had several other regular writing gigs during this period, but Uni Watch was definitely the most fun. Uni Watch was also starting to get a bit of attention from other venues, like this 2002 article in Salon. It felt like I had at least somewhat achieved my goal of creating a new sports beat.
One day in October 2003, I was working on a travel story in New Mexico and received a message on my answering machine from my Voice editor, Ward Harkavy (Miles had left a year or so earlier): The Voice was scrapping its sports section. Uni Watch was done.
That could have been the end of it — I'd certainly had lots of other writing gigs that had ended, and four-plus years wasn't a bad run. Why not call it a day and move on to other projects? But I felt like I still had things to say with Uni Watch (plus, to be honest, I didn't want to give up the income, at least not without a fight), so I shopped the column to some other venues. Frankly, I wasn't optimistic — media outlets generally like to think they're getting something that's fresh-squeezed, not sloppy seconds — but I caught a break when Slate.com's sports editor, Brian Turner, decided to give Uni Watch a chance.
"We're a web magazine, so things move faster here," Brian told me. "We can't wait four weeks in between columns. How about every two weeks?" I said sure. Then Brian said, "You can actually do that, right? Like, there's enough uniform stuff to write about every two weeks?"
"I think so," I said, trying to sound confident. I really wasn't sure, but I figured there was only one way to find out.
In some ways, moving to Slate turned out to be the best thing that ever happened to Uni Watch, because it taught me how to write for the web. The Voice would basically take my print columns and copy/paste them onto their website, but they didn't add any links or additional photos. At Slate, I could suddenly link to photos of the things I was writing about — a godsend for a project about visual details like Uni Watch.
But in other ways that I won't go into here, being at Slate was frustrating, and by the summer of 2004 I began wondering if I could finally place Uni Watch at a true sports media venue, instead of a general-interest venue that happened to have a sports section. By this time I had created a Uni Watch mailing list and invited readers to join it, and I could see that two of those readers had espn.com email addresses. I contacted those readers — their names were Royce Webb and Michael Knisley (both now gone from ESPN, alas) — and basically pestered them to help me move Uni Watch to ESPN. They eventually arranged for me to have a phone interview with a guy named Kevin Jackson, who at the time was running ESPN's "eccentric" section, called Page 2.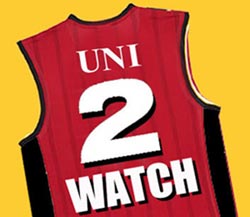 I figured it was a long shot — if Slate had taken Uni Watch as sloppy seconds, I was basically asking ESPN to take sloppy thirds. But to my surprise, Jackson said, "Okay, let's try this." He said, "How about once every week to 10 days or so?" I said sure. Then he added, sounding just a wee bit concerned, "You can actually do that, right? Like, there's enough uniform stuff to write about that often?"
"I think so," I said, trying to sound confident. I really wasn't sure, but I figured there was only one way to find out.
I made my ESPN debut on Page 2 in August 2004. It felt like a tremendous validation — my project was now appearing on the world's preeminent sports media platform. Whatever else might happen, I figured Uni Watch could now legitimately be called a success.
VII
Sometime in early 2006, ESPN cut back my column's frequency to once every three weeks, which was a bit frustrating. Since there was a longer wait in between columns, I had more material piling up in the interim. So when a new column finally appeared, I'd compile a lot of that material — much of it contributed by readers — into a new section called the "Uni Watch News Ticker," which I tacked onto the end of my columns. (I remember my ESPN editor at the time, Dave Schoenfield, telling me, "Paul, you don't have to include all of that if you don't want to!" I told him that it would be a waste not to include all of the Ticker info, especially since most of it had been contributed by the readers.)
One of my readers, a guy named John Ekdahl, emailed to say that he wished ESPN would let me write more often. "Have you considered doing a blog?" he asked. Blogs were still fairly new (at least to me), but the idea of writing more frequently was appealing — not only because I'd be able to cover my beat more effectively, but because I figured I'd be paid more. So I went to my ESPN editors and said, "Look, I think I can do this a lot more often than once every three weeks. I fact, I think I can do it every day, as a blog. What do you think?"
ESPN thought about it for a while — as I recall, they took several months — and then told me (I'm paraphrasing here), "We love what you do, but we don't want it every day. But if you want to do it every day on your own, knock yourself out. Just make sure you do the big uniform stories for us, and keep the little stories for your blog." (In retrospect, this was incredibly generous of them. They could easily have said, "Nope, we're not giving you a blog and we don't want you doing anything that could compete with what you're already doing for us. Just stick to the column." And then this blog that you're reading right now would never have existed.)
So I went back to John Ekdahl and said, "ESPN doesn't want to give me a blog. They said I could start one on my own, but I don't know anything about how to do that." He said, "That's okay — I'm a web developer, so I can build a site for you."
So that's how the Uni Watch blog was born. The idea was that it would supplement my ESPN content. The initial site design and logo were based on a T-shirt that a reader named Scott M.X. Turner had created for the first-ever Uni Watch party in March 2006.
As we got set to launch the blog, I asked myself, "You can actually do this, right? Like, there's enough uniform stuff to write about every day?"
"I think so," I said to myself, trying to sound confident. I wasn't 100% sure, but by this point I'd figured out that the more uniform content I put out there, the more I got back from readers who'd come to view Uni Watch as a hub or clearinghouse for uni-related content. I wasn't too worried about having enough content; it was just a question of whether I'd have enough time to process all of it on a daily basis while doing all the other things in my life. (That's still the biggest challenge today.)
The blog debuted on May 17, 2006 — just nine days before the seventh anniversary of the first column appearing in the Voice. If I'd been smart, I would have waited those nine days so the blog launch would have aligned with the column's birthday, but that didn't occur to me at the time, and I certainly didn't think either the column or the blog would still be going so many years later.
VIII
I continued to do lots of enjoyable and rewarding work for ESPN over the next dozen years (a lot of my favorite columns are listed and linked in my final ESPN piece from a few months ago), but the blog turned out to be where the fun was. Along the way assorted blog-centric rituals, activities, and protocols were born, including the Uni Watch Membership Program (2007), the annual year-end raffle (2009), Purple Amnesty Day (2010), the annual cat birthday post (2012), and more.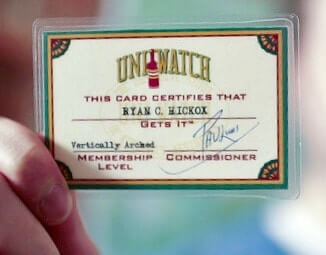 Meanwhile, an additional cast of characters and contributors began coalescing around the site. The first of these was Vince Grzegorek, who became the first Uni Watch intern, handling weekend entries, in 2007. He was followed by Bryan Redemske and then by the amazing Phil Hecken, who quickly carved out his own stylistic niche and created his own subculture for the site's weekend content (and, in turn, drafted his own cast of characters to assist him). In 2010 I asked a reader named Brinke Guthrie, who'd been finding lots of items on eBay and sending them in as Ticker submissions, if he'd like to write a regular column about eBay finds, and that's how "Collector's Corner" was born. Somewhere along the line I began delegating more and more of the Ticker — first to a pair of guys named Mike Chamernik and Garrett McGrath, and to a bunch of additional people since then. And there have been lots of other people who've shared their talents, time, and labor, like DIYer Wafflebored, Mr. Yuk Photoshopper Nic Schultz, cap fulfillment manager Mark LaFountain, and on and on.
All of these rituals, protocols, subcultures, and people, along with several other elements, have created that elusive characteristic that we were always told the internet would provide: community. In my experience, the 'net doesn't actually deliver on that promise very often, but it has definitely done so with Uni Watch. Uni Watch is mine, but it is also yours, ours, because we share this niche passion, because we speak this distinct language, because we Get It™. That's a pretty special thing.
That sense of community has seemed particularly strong lately, ever since I announced the recent unpleasantness. The outpouring of support and — I'll say it — love from many of you has been super-duper-humbling, and also incredibly inspiring. It has reinvigorated my enthusiasm for the Uni Watch (which, I'll admit, has occasionally flagged here and there over the years).
So yeah: I'm proud of Uni Watch, and I'm proud that we're celebrating its 20th birthday today, but I'm even prouder of the community that's developed around it. You should be, too.
IX
Generally speaking, it's more enjoyable to be positive about things than to be negative. And I know most people come to Uni Watch because they like uniforms. So they're looking for a place where they can feel positive about uniforms. And they don't like it when, as is sometimes the case, I'm negative about them.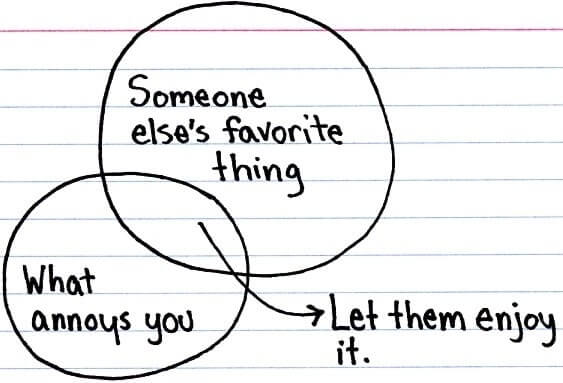 I totally understand that. When I complain about uni ads or logo creep or merch dumps or whatever, I'm harshing your mellow, I'm yucking your yum. I hope you can understand that I love uniforms every bit as much as you do (have I mentioned that I had my mom sew "J.Smith" onto my sweatshirt?), and that things like logo creep and merch dumps are harshing my mellow, yucking my yum. But what am I supposed to do — ignore them?
That's not as ridiculous an option as it might seem. The rock critic Robert Christgau used to review pretty much everything he could get his hands on. But over the past decade or so he's stopped writing negative reviews and now only writes about records that he recommends. Among other things, I gather it's a more enjoyable and probably healthier way to work.
I've considered doing something similar. I could focus on things like Hal the Hot Dog Guy interviews and stop doing things like Nick Francona interviews, to take two recent examples — one very positive and celebratory, the other fairly negative and critical. I mean, when I critique camouflage uniforms, or logo creep, or BFBS, is anyone really learning anything new? Am I learning anything new? Is it just the same basic critique over and over?
But here's the thing: Lots of readers have told me that those two interviews I just mentioned, both of which ran on the site this month, are two of the best Uni Watch entries ever (and I happen to agree with them). So yeah, scrapping the critical content and just doing positive content might be more fun on some level, but would it be good for the uni-verse? Would it be good for Uni Watch?
I think about this stuff all the time.
X
Okay, enough backstory and preliminaries — let's get to today's main event: Uni Watch's 20th anniversary.
As you may recall, we had a logo five years ago for the 15th anniversary, designed by Scott M.X. Turner. Here's what it looked like, just to refresh your memory:
For the new 20th-anniversary logo, I wanted something that referenced that earlier design, so it would provide some sense of continuity. So after working a bit with Scott (who, in the interests of full disclosure, tried to push me in a different stylistic direction, but I pushed back), here's our new anniversary logo (scroll down a bit)…
.
.
.
.
.
.
.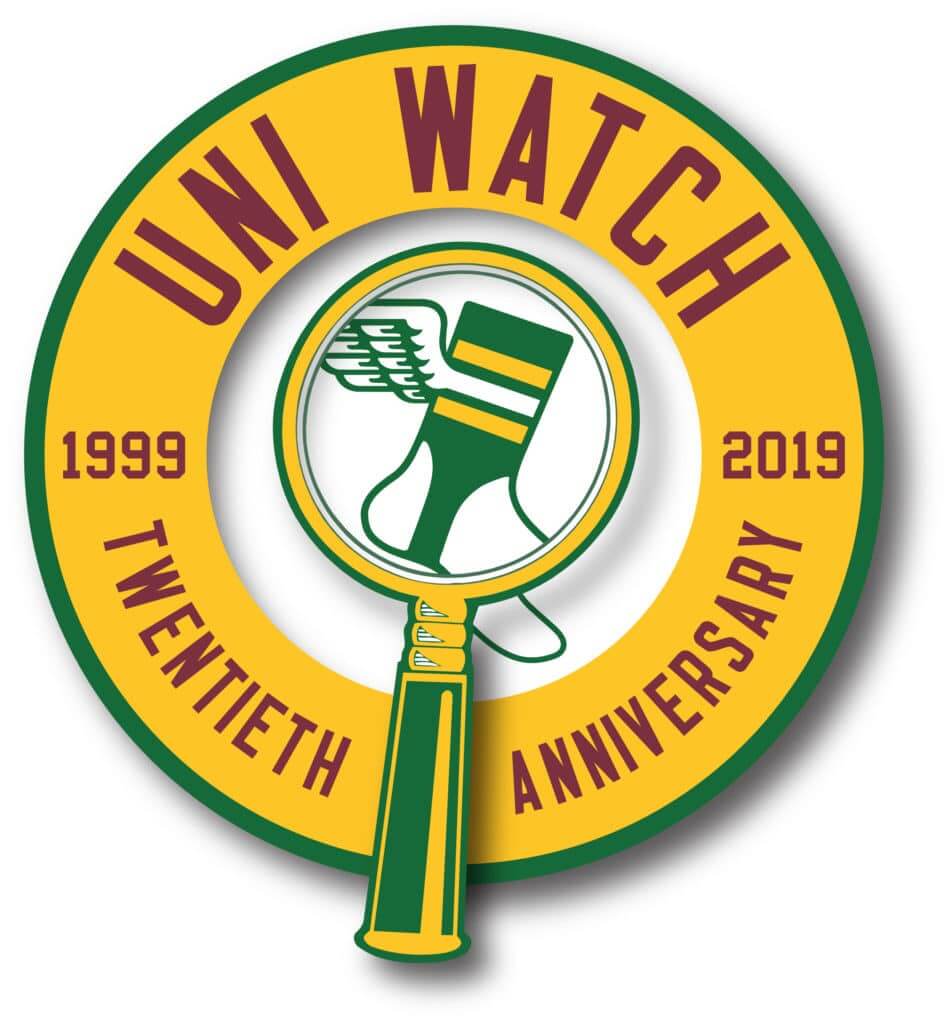 Not bad, right? I love how it references the previous anniversary logo and also shows the progression from our old visual icon (the magnifying glass) to the new one (the winged stirrup). I'm really happy with it.
This logo will be appearing here and there on the site during the rest of this calendar year. It will also be available for sale as an embroidered patch (as you may recall, we did that with the 15th-anniversary mark as well), which should be ready to go in a couple of weeks, plus we'll probably have stickers and a few other goodies.
But wait — there's more! A lot more. For starters, when Phil and I went to a Mets game a few nights ago, he had a big surprise waiting for me. Longtime reader/pal/neighbor Chance Michaels met us at the ballpark and presented me with something very special:
That's Chance standing next to me. What I'm holding there is a citation from Brooklyn borough president Eric Adams. Like any good governmental citation, it has a bunch of "Whereas"es, and I don't mind saying that I am thrilled to be the subject of a document with a bunch of "Whereas"es. Here's a better photo, in case you want to read it:
If you don't want to slog through all of it, the gist is that the borough president is congratulating me for Uni Watch's 20th anniversary. How cool is that? Chance arranged the whole thing. At first I figured he must have friends in high places, but it turns out you can nominate people for this type of thing on the borough's website, so that's what Chance did. So cool!
And there's still more: Yesterday afternoon, when I was in the middle of writing this essay, I went for a bike ride. When I got back there was a congratulatory bouquet of flowers waiting for me, courtesy of longtime reader/pal Anthony Verna. Note the wrapping paper:
Anthony swears that he had nothing to do with the purple wrap and that it must have been the florist's idea — or at least that's his story. Hmmmm.
And there's still a lot more to come. As I've mentioned on the site, we're going to have a 20th-anniversary bash on Saturday, June 29, 2-6pm, at the 773 Lounge here in Brooklyn. If you live in the NYC area, you should definitely come.
Hell, you should come no matter where you live. But if you can't swing that, longtime reader/pal Marty Hick has a really good idea: On the same afternoon that we're having the anniversary party in Brooklyn, he's going to convene a satellite Uni Watch anniversary party in St. Louis. I love that idea, and I encourage people who want to do something similar in other cities to go for it. It would be very cool to think that people around the country are celebrating Uni Watch at the same time. Maybe we could even link the parties via Facebook Live or Skype or some such.
I'll have more anniversary news in the days and weeks to come. For now, thanks for listening, and thanks for helping me build something so special. You're the best.
XI
I tend to think of work and creativity in terms of projects. Beer Frame was a project; Naming Wrongs is a project; Key Ring Chronicles, Gromm•It, Permanent Record, the Candela Structures — all projects.
Uni Watch was also conceived as a project. It has turned out to be the most durable project I've ever created. I'm not sure how long I thought it would go, but I certainly never dreamed it would last 20 years.
That begs the question: How much longer? Honestly, I'm not sure. I think we can safely say that I won't be doing this for another 20 years (that would mean I'd still be writing about unis when I'm 75!). But it also seems fair to say that Uni Watch still has plenty of life left in it, which means that today we're celebrating the future that's still ahead of us, not just the past that got us here. Thanks for listening — yesterday, today, and tomorrow.