Click to enlarge — it's worth it!
When the Chargers announced their new primary jersey and new facemask color last week, most fans were happy. But Charles Wagner, a longtime card-carrying Uni Watch member, was annoyed. The new facemask meant he'd have to go back and revise a spectacular DIY project he'd just completed.
As you can see above, Charles's project — one of the best ever featured here on Uni Watch — is a Tecmo Super Bowl-inspired cross-stitch, which is a genuinely brilliant idea. Although Tecmo Bowl is a digital video game from a few decades ago and cross-stitch is an analog form of embroidery that dates back at least to the Middle Ages (you can learn more about cross-stitch here and here), the two are actually quite similar, because they're both based on pixel/raster-style points of color that form low-resolution images. So depicting Tecmo Bowl graphics in cross-stitch is a natural pairing, if a somewhat counterintuitive one.
How did he do it? I hereby hand the mic to Charles.
My Tecmo Super Bowl Cross-Stitch
By Charles Wagner
I started this project around the beginning of March, because I was going stir crazy with the bad winter we had in Kansas City. I got the idea based on other video game cross-stitch projects I've seen (8-bit graphics and their big pixels lend themselves well to being replicated via cross-stitch). Tecmo Super Bowl was one of my favorite games as a little kid, I'm a big football fan, and it just seemed like a fun project.
I began by firing up the game on my NES [Nintendo Entertainment System] and taking photos of the game's team-select screen from my TV. Then I used an online cross-stitch pattern making website to transcribe the game graphics to font and helmet templates. The same online pattern maker was used to make the layout (for all of these photos, you can click to enlarge):
The game was released in 1991 and only nine of the 28 helmets in the game have stayed unchanged then. For those nine, I tried to keep everything pixel-perfect so my cross-stitch helmets matched the game helmets. For the remaining 19 teams — plus the Jaguars, Panthers, Texans, and Ravens, all of which have joined the league since 1991 — I either made the new pattern myself or tweaked a version from user-updated versions of Tecmo Super Bowl via TecmoBowl.org
.
Once the patterns were done, I got my embroidery hoop and began stitching the helmets and lettering:
Fortunately, I didn't go left to right (I went division by division: south → west → north → east), so I hadn't gotten to the AFC East yet when the Jets released their new uniform set. Otherwise, I would have done their old helmet design.
Unfortunately, I wasn't so lucky with the Chargers. I had already stitched their helmet with a blue facemask when they announced that they'd be changing the mask to yellow. So first I had to go back and use a seam ripper to remove the mask: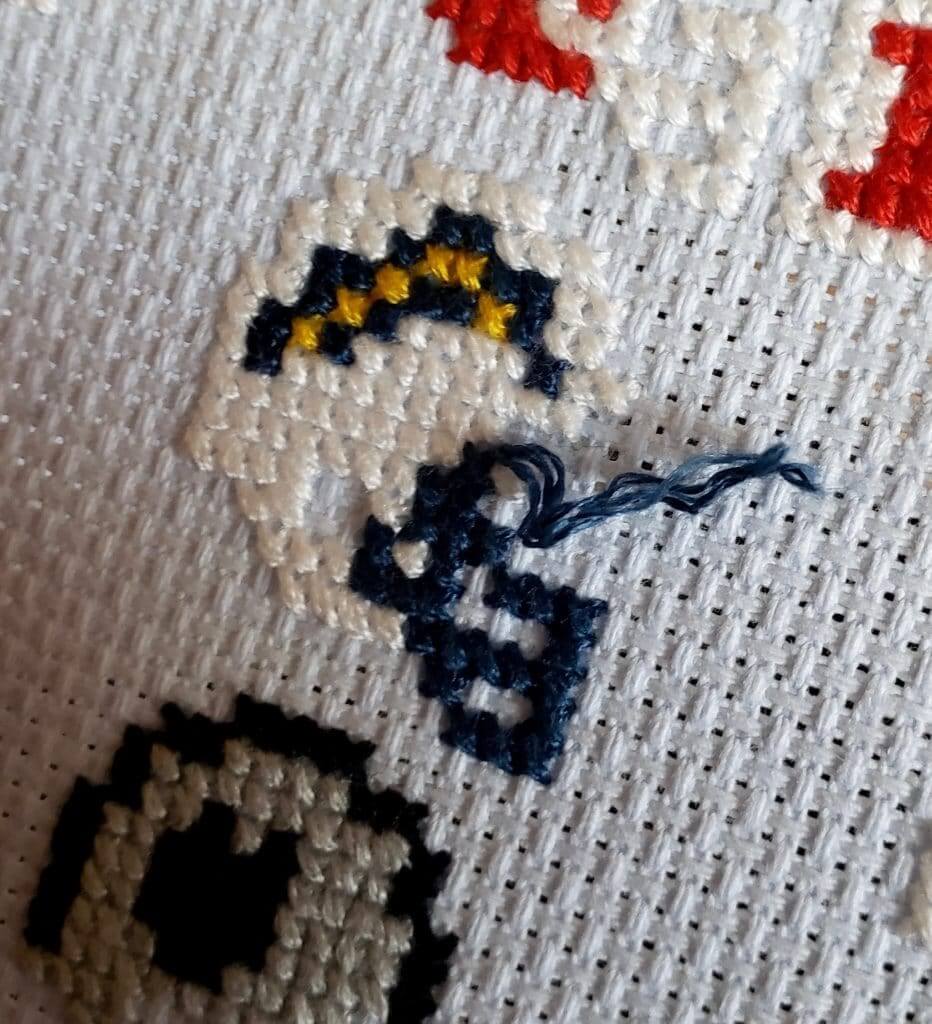 Fortunately, the facemask was a different color than the rest of the helmet, so I only had to rip out the blue floss. If, say, the Falcons had gone with a different facemask, I would have had to rip out the black from the entire facemask/helmet and redo it. But for the Chargers, it was just a matter of cutting some of the stitches, pulling all of the floss out, and restitching the mask with the new color:
For the record, I think the cross-stitch version looked way better with blue facemask. We'll see which will look better on the field.
I think a few helmets look especially good in cross stitch Tecmo form: Cincinnati, Tampa, Jacksonville are my favorites. This is in spite of how bad I think the Cincinnati and Tampa helmets look in real life.
As you can probably tell from the little Player 1 arrow icon next to the Chiefs helmet, I'm a Kansas City fan. If they make it to the Super Bowl this season, I can add another selector arrow to make the NFC team Player 2.
———
Paul here. Is that awesome or what? I reallyreallyreally love this one.
One thing was bugging me, though. Take a look at this stitch I've highlighted on the Vikings helmet depiction:
That stitch should be yellow, not purple, right? It was driving me nuts (and not just because it's purple), so I asked Charles about it. His response: "When I was designing the pattern for that helmet, I initially had that stitch yellow. But when I zoomed out and looked at it from a distance, having that stitch yellow really threw off the balance of the colors. The helmet overall just looked too yellow. Making that stitch purple helped with that. Similarly, with the Steelers helmet, it would technically be more correct if the bottom-left stitch on the logo was white, but that would make it look too white overall."
On a side note, Charles's brother Jim wrote a guest entry for Uni Watch
10 years ago
, which Charles mentioned in the very first sentence. So for the Wagners, uni-watching has clearly been a family affair — since childhood!
• • • • •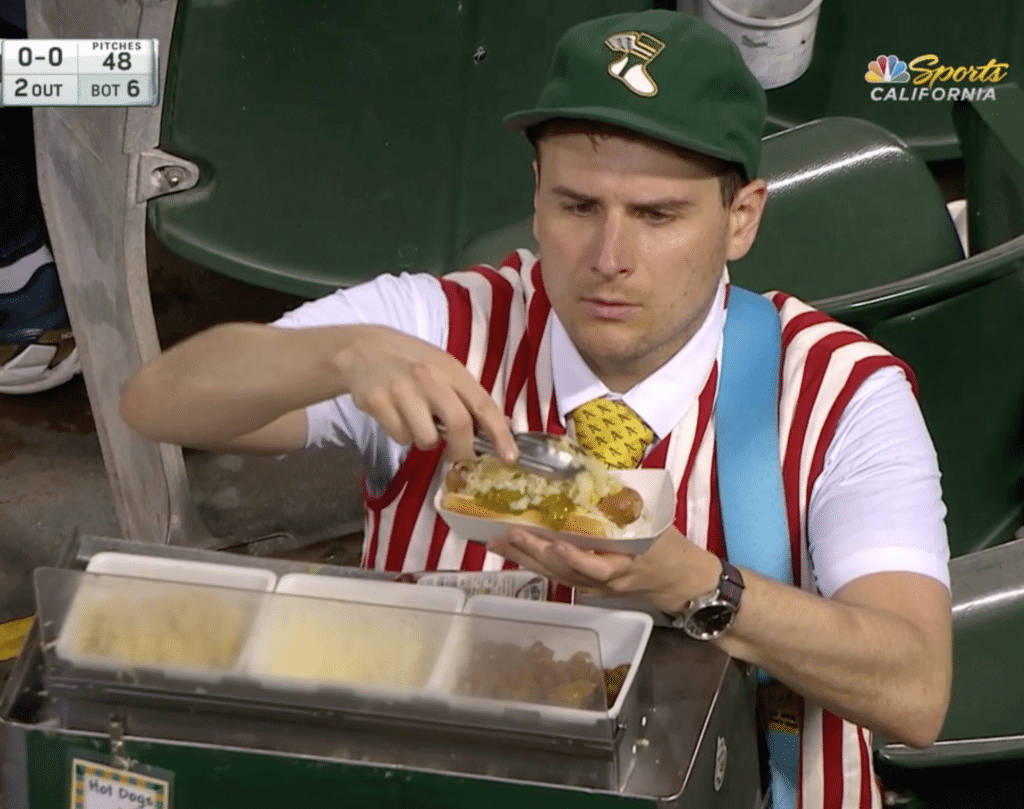 • • • • •
Click to enlarge
All hail Hal: Woke up this morning to find that there was major news out of Oakland, where last night's A's broadcast spent the better part of a minute in the bottom of the sixth showing a hot dog vendor wearing a Uni Watch cap! (And yes, also a necktie.) It is in A's colors, after all. Now we just have to get him to add capers to his toppings.
The broadcasters said the vendor's name is Hal the Hot Dog Guy (he even has a cool little green/gold name tag). Some quick Googling reveals that he's been featured on A's telecasts many times before, although probably not with a Uni Watch cap.
Hal, if you're reading this, I'd love to hear from you. In any case, thanks for wearing our cap!
If you'd like to be like Hal (at least in terms of his taste in headwear), the Uni Watch Classic Cap is once again ready for ordering after a brief hiatus — and at a lower price! This is the same cap we've had available all along, made by Ebbets Field Flannels, but now we're selling and shipping it ourselves instead of having Ebbets do it for us.
Here's the deal:
• The price is $42.99 ($6 less than Ebbets was charging!). Shipping is $5 for one cap and $7 for two caps. (For more than two caps, or for non-USA orders, check with me to get the shipping charge.)
• As of now, all sizes from 7 to 8, in 1/8 increments, are in stock. But we only have one 7-3/8 remaining, so that will probably go almost immediately. (I've already ordered new inventory, so we should be restocked on that size by about the end of May.)
• Not sure of your size? We also offer the adjustable version with a handsome leather strap and burnished metal buckle.
• To order, start by sending the appropriate amount to me by one of the following methods:
a) The best ways to pay are via Venmo (use @Paul-Lukas-2 as the payee) or Zelle (plukas64@gmail.com) or Apple Pay (718-915-4943), because they don't impose any fees. If you're not familiar with Zelle, it's the system most banks now use for free cash transfers to other banks. If you use your bank's website, click on the "Transfers" or "Send Money" tab — you'll probably see an option for Zelle. It's free and easy to use.
b) You can also use the Cash App, although they skim a bit off the top. Use plukas64@gmail.com as the payee.
c) If you don't like electronic payments, get in touch and I'll tell you where you can send a paper check or well-concealed cash.
Unfortunately, I can't accept PayPal (a long, extremely frustrating story). But if you live overseas and PayPal is the only feasible option for you, get in touch and I'll explain how we can come up with a workaround.
Important: After paying, email me with your desired cap size and shipping address.
(My thanks to Zach Matthews, Chris Harris, @shtc10, Brock Towler, and Russell Ebright, all of whom sent screen shots of Hal my way while I was sleeping last night.)
• • • • •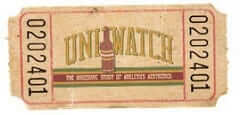 • • • • •
ITEM! Yet another one-day membership raffle: Our most recent membership raffle winner was Scott Curl, who has paid it forward by purchasing another membership that we're going to raffle off today.
To enter, send an email to the raffle address by 8pm Eastern tonight. One entry per person. I'll announce the winner tomorrow.
Speaking of membership cards, I've just added a bunch of new designs to the membership card gallery. This batch includes Pete Walker's card (shown at right), which is based based on our Uni Watch Tequila Sunrise Deluxe shirt — a brilliant request!
Ordering a membership card is a good way to support Uni Watch (which, quite frankly, could use your support these days). And remember, a Uni Watch membership card entitles you to a 15% discount on any of the merchandise in our Teespring shop and our Naming Wrongs shop. (If you're an existing member and would like to have the discount code, email me.) As always, you can sign up for your own custom-designed card here, you can see all the cards we've designed so far here, and you can see how we produce the cards here.
• • • • •
• • • • •
A different kind of face guard: Yesterday I donated blood for the first time in about a year (I had to stop after getting my Brannock tattoo re-inked last spring, because New York State imposes a one-year post-tat donation ban). As usual, the technician pricked my finger so she could check my blood's iron level. And as usual, she shielded herself from any inadvertent blood spurts with a little plastic splatter-guard thingie, which she positioned in front of my hand as she drew my blood.
But here's the thing: The plastic thingie is not meant to be a splatter guard. It's actually a placard holder — an office-supply item, not a medical-supply item.
They use these at every blood donation center I've ever been to in NYC. It's a clever repurposing of a simple item, I suppose, but is there really no item available that's intended to be a blood splatter guard? (Update: Yes, there is. But it's just a wee bit pricier than the placard holder. Yikes.)
• • • • •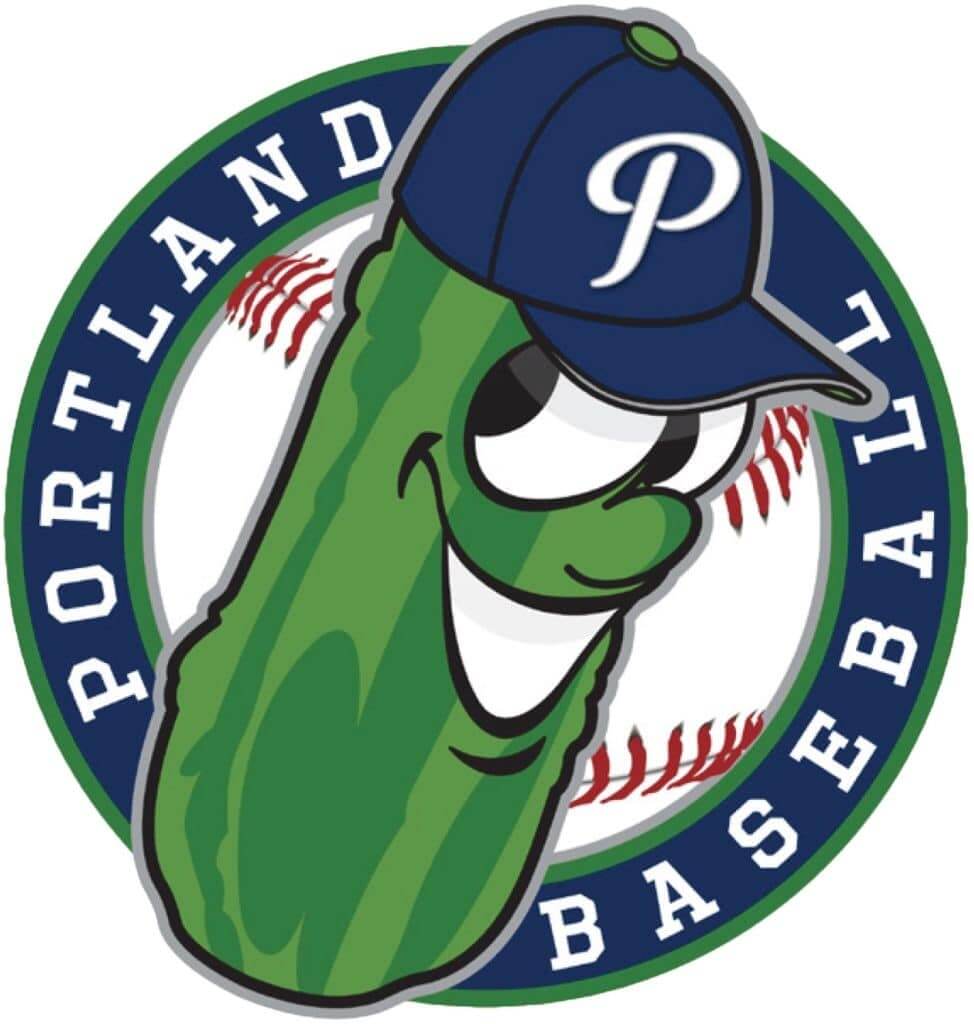 • • • • •
Design contest reminder: In case you missed it on Monday, Uni Watch is teaming up with the Portland Pickles — that's a college wood bat summer team — for a contest to design the Pickles' "Future Baseball Night" jersey, which will be worn on July 4. There's a $150 cash prize for the winning designer, along with a free futuristic jersey.
Entry deadline is Friday, May 3. Full details on the contest rules and entry requirements, along with the full scoop on what "Future Baseball Night" will entail, can be found here.
• • • • •
• • • • •
The Ticker
By Lloyd Alaban

Baseball News: Nobody noticed until now, and apparently there was no announcement, but MLB has darkened the colors of its silhouetted-batter logo. … Reds RF Yasiel Puig wore Jackie Robinson gloves last night (from @Coach_KT). … What does Mr. Met look like without his hat? @michebag22 shows us. … Star Wars Night uniforms for the Carolina Mudcats, Single-A affiliate of the Brewers. … The Twins confusingly tweeted a furry version of their cap logo. … Twitter was advertising the Marlins/Indians game last night and inexplicably used a picture of Mariners SS Tim Beckham, who obviously doesn't play for either the Marlins or Indians (from @djpremis). … A baseball from the first victory in Mets history, way back in 1962, has finally come back to Queens. … A DC-area Dick's Sporting Goods is carrying a cap that mistakenly has the Cardinals script logo on a Nationals cap (from @The_VZA). …  A web series that keeps track of what Connecticut baseball teams in are wearing calls itself Uni Browse. Well, at least they didn't poach "Uni Watch" (from our own Phil Hecken). … Here's a photo of Joe DiMaggio re-upping with the Yanks 81 years ago yesterday. Check out his new jersey, complete with a 1939 New York World's Fair patch (from @BSmile).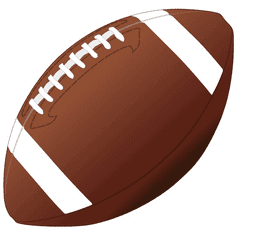 Football News: The Jets wore their new helmets at practice today but were still using their old practice jerseys with the darker shade of green and old number font (from Jason Klein). … 49ers WR Trent Taylor gave us another look at how the NFL 100 logo will look on jersey collars (from CA Bells). … Texas A&M's athletic director left to take up a position at LSU, so they replaced him on an interim basis with legendary former Aggies football head coach RC Slocum. The A&M fan site asked him some uniform questions, including one on how Nike asked him to make uniform changes. Skip to the 12-minute mark of the video to hear that sequence (from Dave Wilson). … Ball State is letting their fans pick which uniform they're going to wear against Florida Atlantic in September (from Jake Elman).

Hockey News: NHL ice hasn't always been white. Here's how that came to be (from Jack Wade). … This group of sportswriters gave their critiques of the UHL's Danbury Hat Tricks' new name and logo. … Jeopardy! champion and Las Vegas resident James Holzhauer once again incorporated a Golden Knights logo in his signature when he appeared on the show last night (from Donald, who didn't give his last name). … It's become a tradition for the wives and girlfriends of NHL players to wear custom-designed jackets during the postseason (from Jason Hillyer).

Basketball News: A marketing identity crisis in Denver: The Nuggets' jerseys say "Mile High City," their court says "Mile High City Basketball," and their sideline says "Mile High Basketball." … The Edmonton Stingers of the new Canadian Elite Basketball League have revealed their uniforms (from multiple readers). … Ewan Williams found an artist's renditions of NBA logos in the style of Australia's old Victorian Football League (VFL) crests. … When then-UNLV PG Greg Anthony was recovering from a jaw injury during the 1990 season, he wore a hockey helmet with a football face mask (from James Gilbert).

Soccer News: Juventus's new home shirt has leaked. Instead of keeping with tradition and using black and white stripes, the club has (bafflingly) elected to go with a half-black, half-white design with a red stripe bisecting the two halves (from Josh Hinton). … Russian third-tier club Volga Ulyanovsk wore a Vladimir Lenin-themed kit over the weekend to celebrate the 149th anniversary of his birth (from Ed Zelaski). … Here's an article tracking MLS's expansion since its inception in 1993. MLS is looking to expand from 24 to 30 teams in the near future (from James Gilbert).

Grab Bag: Here's what IndyCar driver Conor Daly's car for next month's Indy 500 looks like (from Alan Wedge). … Here's a breakdown of all the different brands athletes are wearing going into the All-America Girls Lacrosse Senior Game and what brand they'll be wearing in college. … The Fairmont Austin hotel celebrated their new advertising partnership with the University of Texas by creating a Longhorns logo out of the hotel's room lights. … $12 million in fake championship rings from the Big Four US sports leagues were seized from a shipment to the US from China by US Customs (from Marty Ballard). …The West Coast Eagles of the Australian Football League have released an indigenous-themed uniform (from Will Pike). … Frisbie Pies, the pie company whose pie tins gave the name to the Frisbee flying disc, are coming back (from @walbergLines). … Sprint and AT&T have settled a lawsuit over AT&T's "blatantly misleading" 5G E logo. … Gloucester, Mass., has released its 400th-anniversary logo. … United Airlines will apparently unveil a new livery today (from Charlie Hobart). … A Houston high school has announced a new dress code — for parents. Ironically, a memo from the principal in which she explains that the new policy is an example of the school's "high standards" is riddled with grammatical errors.
• • • • •
• • • • •

What Paul did last night: About two months before the Uni Watch column debuted in The Village Voice in 1999, a guy named Kevin Walsh (who had been a fan of my "Inconspicuous Consumption" column in NYPress, although I didn't learn that until later) launched a website called Forgotten New York, which was devoted things like old neon signs, old street light fixtures, ancient signs painted onto the sides of buildings that suddenly got exposed when an adjacent building was torn down, old streets that technically no longer exist but you can still see traces of them if you know where to look — you know, all the shit that I love.
Twenty years later, Forgotten New York is still going strong. It's a major accomplishment, and last night I went to an event at a VFW hall in Queens to help Kevin celebrate. Much like Uni Watch, Forgotten New York has its own little community (I'm a very peripheral member these days, but I sort of have emeritus status because I've been a fan of the site almost from the very beginning), and it was great to see Kevin basking in the attention and affection of his followers. He gave a slideshow presentation about the site's earliest days, and then there was champagne and cake (see above). A swell time.
Of course, I'm in a good position to appreciate what it means to keep a creative project going for two decades, because Uni Watch's own 20th anniversary is coming up next month. I'll have more to say about that soon.