Photo by Mike Nowak/Los Angeles Chargers; click to enlarge
In a total surprise move that I hadn't heard even a whisper about, the Chargers announced yesterday that they're redesignating their powder-blue alternate uniform as their primary colored uni. Fans have been clamoring for this move literally for decades, and now the team has finally responded.
Even better, as you can see above, they're going with a yellow facemask. In recent years, they've worn their usual navy masks with the powder blues, but the yellow mask on the white helmet shell nicely echoes the yellow shoulder bolts on the white background — a big improvement. (As an aside, you may recall that the 1974 Chargers were the first team ever to have a colored facemask. I told the behind-the-scenes story of that move for ESPN two years ago.)
A few thoughts:
• While I heartily approve of this move — who wouldn't? — I'd love it even more if the Chargers ditched their current jersey template and number font and went back to this version.
• I'd also like to see the Chargers bring back the yellow pants, which pair quite nicely with the powder blues. We've seen teams occasionally add new pant options without any warning (the Ravens, e.g.), so maybe the Chargers will do that at some point this season. Or at least that's what I'm hoping for.
• The announcement didn't mention if the navy uni, which had been the primary, will now become the alternate. I asked a team source about that and was told, "I'm not sure. I think there will be more info on our full slate of unis like we usually put out sometime shortly before training camp."
• This announcement provides us with another view of the NFL 100 logo on the collar. I'll say it again: While I didn't like the logo design itself when it was unveiled, I think it works surprisingly well on the collar.
• Another image from this same photo shoot indicates that Chargers safety Derwin James is going with JrOB this season. He had previously worn just his surname.
One final thought: I imagine the elevation of the powder blues is a bit of salt in the wound for fans in San Diego who are still smarting from the loss of their team. If you're one of those fans, I feel for ya. Hang in there.
• • • • •
• • • • •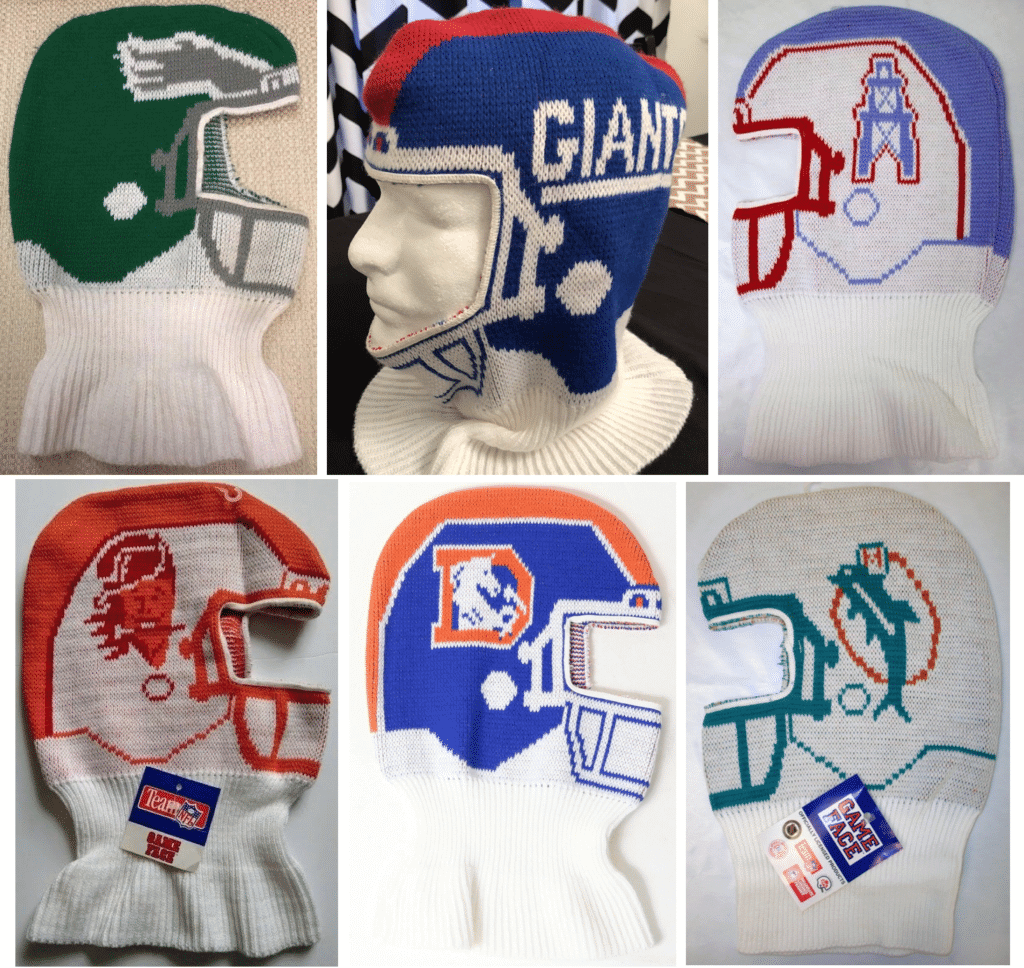 Click to enlarge
Saving face: Remember these? Ski masks that looked like NFL helmets — they were called Game Faces, and they were sold in the early 1990s.
If you ever wore one of these — or if you still wear one now, for that matter — I'd like to talk to you for a story I'm working on. Thanks.
• • • • •
• • • • •
ITEM! Important dates approaching: Two big dates on the Uni Watch calendar will soon be upon us. One at a time:
• Friday, May 17 — exactly one month from today — will be the 13th anniversary of the first post that ever appeared on this website. That means it will also be our annual Purple Amnesty Day — the one day of the year when I accept purple-inclusive membership card orders. So if you're a Vikings, Rockies, Hornets, or Northwestern fan, get set to place your order! Once those 24 hours elapse, the purple window will slam shut and you'll have to wait until next year.
As has been the case for the past few years, designer Bryan Molloy and I have been working on a special piece of purple Uni Watch apparel, which will likewise be available for only 24 hours (here's what we offered in 2015, 2016, 2017, and 2018). I don't mind saying that what we have planned for this year is very, very good. It is brilliantly, deliciously hideous, and I think you're really going to like it. A lot!
• Nine days after that, on May 26, is an even more important date: the 20th anniversary of the very first Uni Watch column being published in The Village Voice in 1999. In other words, May 26 will be Uni Watch's 20th birthday.
I have some things in the works for that, but the calendar is working against us this year, because May 26 falls on the Sunday of Memorial Day weekend. So what should I do — should I do a big celebratory anniversary post on the actual date (I'm sure Phil would gladly cede the Sunday to me), even though our readership is usually lower on weekends and lower still on holiday weekends? Should I do the celebratory post on the preceding Friday, even though that will actually be two days before the official anniversary? Should I do it on the Tuesday after the holiday, even though that will be two days after the anniversary?
Hmmmm. If it were a less momentous anniversary, I'd just push the announcement to Tuesday. And that's probably what I should do this time as well — but there's something about the 20th anniversary that brings out the literalist in me.
What do you folks think?
• • • • •
• • • • •
The Ticker
By Lloyd Alaban

Baseball News: Angels C Jonathan Lucroy, who wears No. 20, wore a No. 21 belt last night (from Andrew Hallonquist). … The Yankees weren't home on Sunday, so yesterday was their Jackie Robinson Day game. Although every player on both the Red Sox and Yankees wore Robinson's No. 42, the Yankee Stadium scoreboard listed each player with their regular numbers (from Alan Kreit). … Umpire Tony Randazzo's No. 42 patch honoring Jackie Robinson was peeling off as he officiated last night's Giants/Nationals game (from Tim Haller). … Majestic has fixed the Brewers' "ball-in-glove" logo on their alternate jersey sleeve patch to add the white spot in the webbing of the logo, matching what New Era did with the new cap (from Chance Michaels). … More Brewers news: OF Christian Yelich wore a California Strong logo on his right batting glove last night. You may recall our recent Uni Watch entry about Yelich's connection to that charity (from Jakob Fox). … The Trenton Thunder, Double-A affiliate of the Yankees, will be the Pork Rolls for a handful of nights this season. Here's a Frankenhat they'll be giving away for one of those nights (from John Cerone). … The Cedar Rapids Kernels, Single-A affiliate of the Twins, wore their road greys at home again last night (from Josh Claywell). … No pictures yet, but the Wisconsin Timber Rattlers, Single-A affiliate of the Brewers, will be the Brats for two games this season (from Brian Kerhin). … The Lakewood BlueClaws, Single-A affiliate of the Phillies, are letting fans choose the team's caps for a game in August. Fans will have to choose between a pork roll-themed cap, an egg-themed cap, or a cheese-themed cap (from @NachoScout). … The Salem Red Sox will become the Beer Mongers for Thursday home games (from Clark Ruhland). … The Toledo Mud Hens, Triple-A affiliate of the Tigers, will become the Toledo Stingers to celebrate the Toledo-based Ohio National Guard's 180th Fighter Wing during Military Appreciation Weekend (from Patrick Horne). … The Round Rock Express, Triple-A affiliate of the Astros, have released six tequila sunrise-themed caps to celebrate their 20th anniversary (from Ignacio Salazar). … Singer-songwriter Prince Buster is seen here wearing a Reds cap in the 1964 BBC documentary This Is Ska. Note the white outline, which was only worn by the Reds in 1955 (from Scott Rogers). … This sportswriter picked the best and worst designs from MLB's most recent holiday merch dump (from our own Phil Hecken). … The University of Central Arkansas will be auctioning off the cancer awareness jerseys they will be wearing this weekend. Proceeds from the auction will go to a fund for a local high school student who is battling ovarian cancer (from David M. Kuhn). … Philadelphia will host the 2026 MLB All-Star Game. Former Phillies skipper Charlie Manuel was on hand for the announcement and wore a jacket with a patch from the 2009 ASG. He managed the NL squad in that game (from @HOF_for_Charlie). … This is interesting: We all know how players will sometimes wear an influential player's number as a way of honoring him, but many Hispanic players avoid wearing No. 21 (NYT link) as a way of honoring Roberto Clemente, creating a sort of de facto number retirement.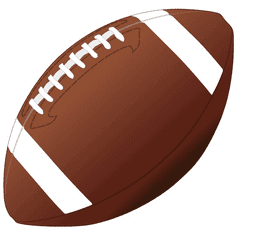 Football News: Dolphins TE Mike Gesicki, who wore No. 86 last season, will be wearing No. 88 for this season, a number he wore at Penn State (from Blake Fox). … Like many of us, some Michigan State football fans aren't too pleased with the team's new alternate uniforms (from our own Phil Hecken).

Hockey News: @juicegriffey found these Foodland Coupons from 1992 with Topps hockey card stickers on the back. … From the "How is this possible?" category: The Golden Knights misspell G Marc-André Fleury's surname during pregame introductions (from Jack Wade and AJ Strong).

Basketball News: From Magic reporter John Denton: "A member of the @OrlandoMagic bought several of the headbands that tie in the back and PG DJ Augustin is debuting one of them in the morning shootaround. 'You look like you work at Bennihana,' a teammate said to DJ. Augustin said he would not wear the headband in tonight's game" (from Mike Chamernik). … Here are the uniforms for the Saskatchewan Rattlers of the new Canadian Elite Basketball League (from Raul Garcia). … Former NBAer Shaquille O'Neal was quizzed on his old uni numbers (from Mike Chamernik).

Soccer News: Paris Saint Germain's team store has a €5 option to add a Notre-Dame de Paris cathedral patch upon purchase of any shirt. The €5 will go to the funds to restore the cathedral (from Mike D.). … Mexican League club Club America wore mismatched socks on Sunday in support of diversity and inclusion (from John Flory).

Grab Bag: Hockey One, a new Australian field hockey league, has released the kits for all seven of its clubs (from EP Conrad). … The State of Michigan has released new license plates featuring the logos of Detroit's Big Four sports teams (from Mike Cole). … The University of Washington Hand Center has a really clever Washington Huskies-inspired logo (from Matthew Spencer). … Here's a Time article on how the Champion brand became popular again. … New logo for IKEA. … The logo for the DC Comics movie Birds of Prey has leaked. … Stade Toulousain, a rugby union team in France's Top 14, will wear shirts featuring an outline of the Notre-Dame on Sunday (from @Stumpy7780).
• • • • •
Our latest raffle winner is reader Scott Curl, who's won himself a free Uni Watch membership card. Congrats to him, and big thanks to reader Blair Hough for purchasing and donating the membership. We'll have another raffle (not for a membership this time) tomorrow. — Paul