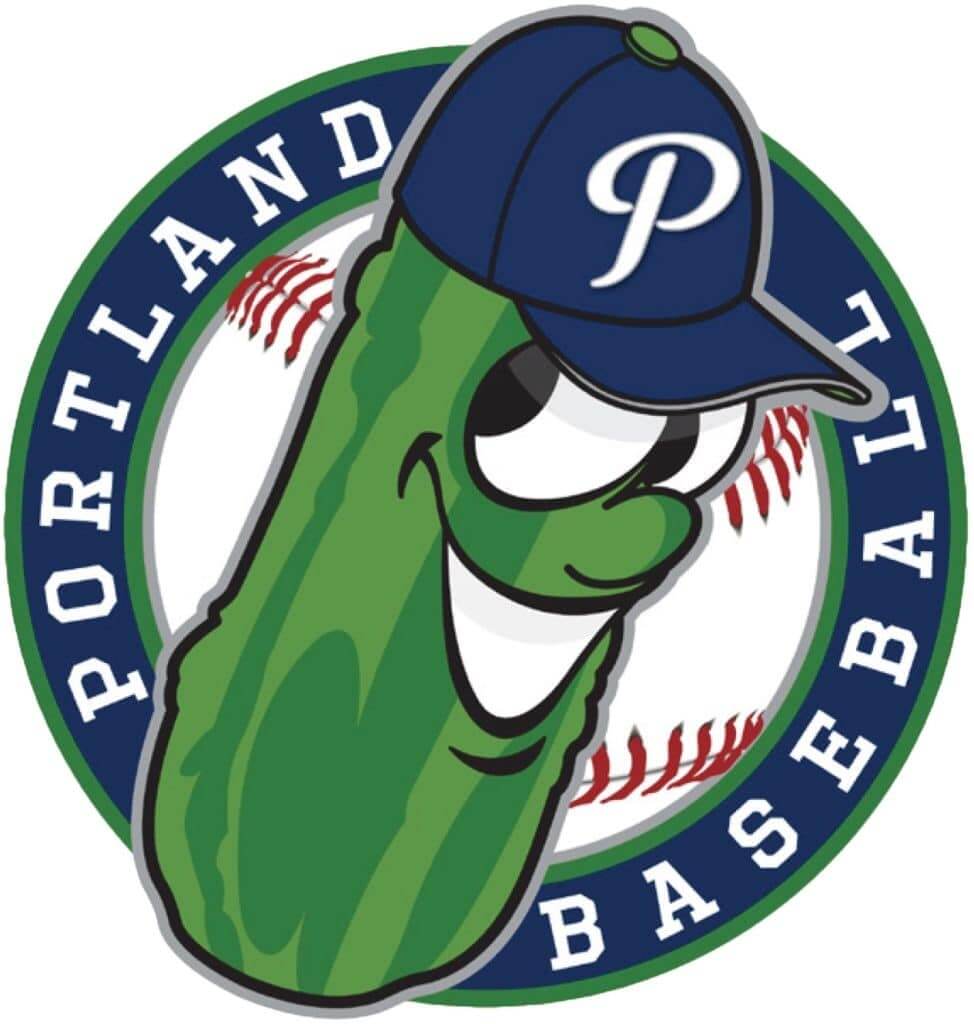 I get inquiries pretty regularly from people who want me to hold design contests for their teams. My response is always the same: "If you're going to wear the design on the field/court/ice, etc., you must provide a fair cash prize for the winning designer. If you're willing to do that, let's talk. Otherwise, I can't help you."
That usually puts an end to the discussion, because it turns out that most of these people are just looking for free design services. But recently a team said, "Sure, we'll pay the winner."
So here's the deal: The Portland Pickles — that's a collegiate wood bat team in Oregon — will be hosting Future Baseball Night on July 4. The Pickles and their opponents that day, the Corvallis Knights, will fast-forward to the year 2050 and play by "futuristic baseball rules." For example, bunting for a base hit will count as a double, but bunting foul will be an out. And in odd-numbered innings, runners can run the bases clockwise instead of counter-clockwise, if they choose. (There will be other rule adjustments, which the team isn't yet ready to reveal.)
Naturally, they'll need futuristic uniforms for the occasion. That's where you come in — the Pickles are inviting Uni Watch readers to design their jersey for futuristic game. Here are the basics:
• You only need to create the jersey. No cap, no pants, no socks/stirrups. (Also, don't worry about the Corvallis team, as they'll be creating their own futuristic uni.)
• The jersey design will be sublimated, so you can use the entire jersey as your canvas.
• Your design must be submitted as a vector file (.ai, .pdf, or .eps).
• The Pickles will be wearing a blue cap, so you may want your jersey design to match or complement that. (Or, on the other hand, maybe baseball caps and jerseys will clash in 2050. Up to you!)
• Feel free, but not obligated, to use any graphics from the Pickles' style guide.
• For any logos or graphics not found in the style guide, you will need to provide a separate vector file.
• If you use any special fonts, you will need to provide the font files so the jersey printer can install them.
• Judging will be done by the Pickles, not by Uni Watch. (If nothing else, this means you can use purple without fear of reprisal.)
• The winning designer will receive $150 and a futuristic jersey.
• You can enter as many times as you like.
• Deadline: You must send your designs to this address by Friday, May 3.
I think that covers everything. I'd like to thank the Pickles, who've been great to work with on this. Good luck!
• • • • •
• • • • •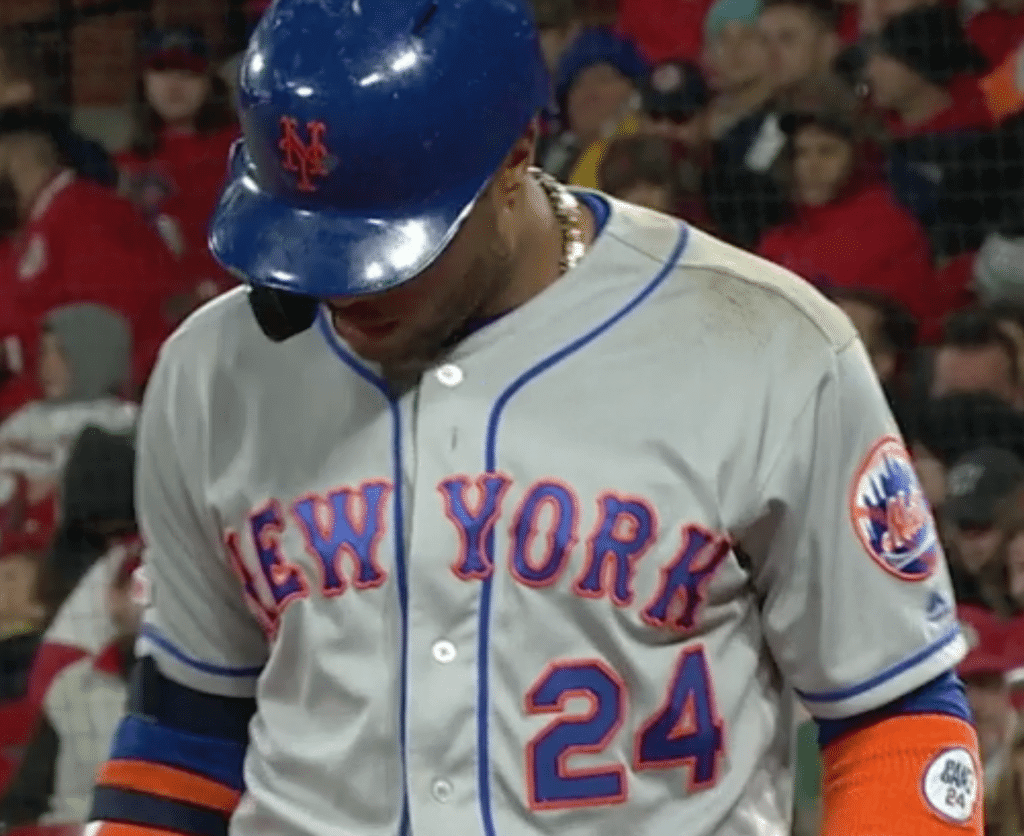 Canópening explained on the air: Last Tuesday I wrote about how Mets second baseman Robinson Canó has spent his entire career sporting the Pedro Porthole (i.e., buttoning the top jersey button but leaving the second one unbuttoned), which I suggested should be renamed the Canópening. I also tweeted about it, and one of my followers, James Beattie, tagged Mets/SNY field reporter Steve Gelbs and urged him to look into it.
Gelbs apparently did just that. When Canó came up to bat in the top of the eighth inning of Friday night's Mets/Cards game in St. Louis, the following discussion ensued between Gelbs, play-by-play man Gary Cohen, and analyst Keith Hernandez:
Steve Gelbs: Gary, there's been a question circulating around the internet about how Canó wears his uniform. You'll notice he buttons the top button, but not the second button right below that.

There's actually a very practical reason why, especially on a cold night like tonight. It creates a cubby for him in his uniform. If his hand is cold, he can stick it inside and warm it up.

Keith Hernandez: Oh, like Napoleon!

Gary Cohen [at same moment]: Napoleon!

Gelbs: Exactly. He's a lot taller than Napoleon, though.

[An image of Napoleon appears onscreen.]

Cohen: There you go. That's not Robinson Canó. That is merely Napoleon, keeping his hand warm.
Pretty good, right? In light of Gelbs's explanation, I suppose "Canó Cubby" might be a good name. But I'm sticking with Canópening.
It's also worth noting that he's had the Canópening on warm days (that photo is from June 17, 2017, when the game-time temperature was 95º) and even indoors (that's from a game at the Trop in Tampa), so it's clearly not just a cold-weather thing. I got in touch with Gelbs on Saturday and mentioned this to him, and he said, "You know, when he told me why he does it, I pointed out that he does it all the time [not just in cold weather]. He said he just leaves it like that either way. Just because."
The funny thing is that I've never seen Canó actually sticking his hand inside his jersey, and Gelbs said he's never seen him doing it either. But we'll all be watching for it now.
• • • • •
• • • • •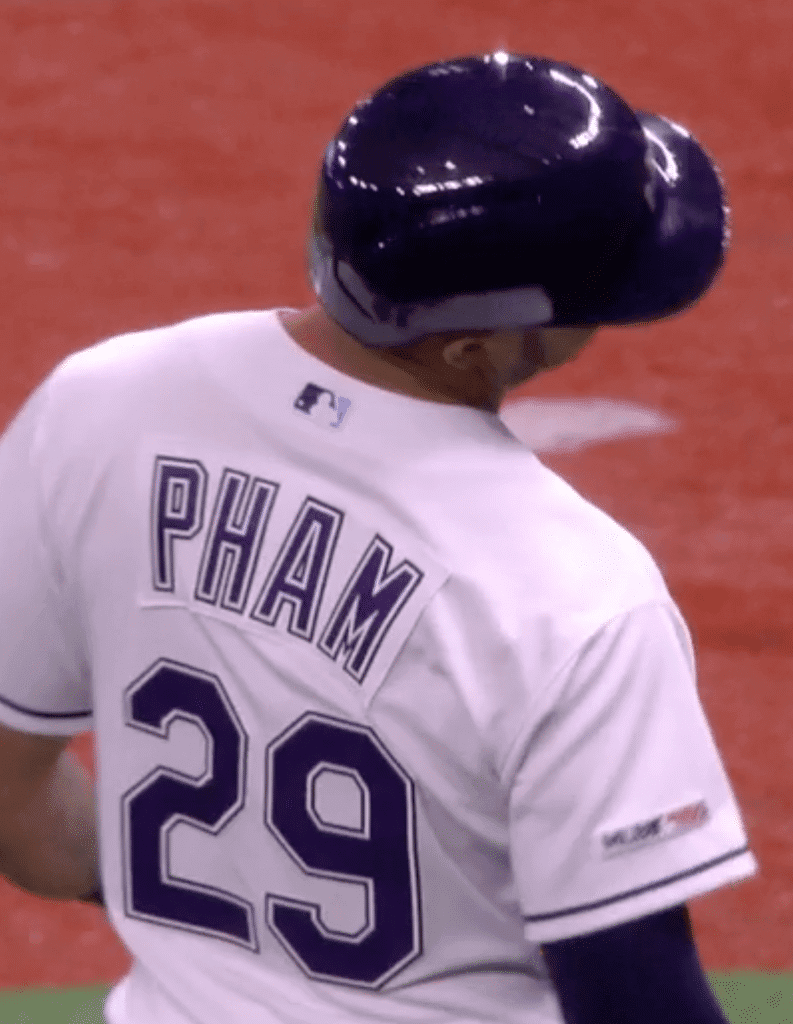 MLB nameplates get reprieve: I've previously written about how 2019 will be MLB's first nameplate-free year since 1972. But that has turned out to be inaccurate. The Rays wore their Devil Rays throwbacks on Saturday — the first of four times they'll wear them this season — and lo and behold, as you can see above, the jerseys were nameplated.
I wondered if this was just a carryover from last season's Devil Rays throwbacks, or if it was a conscious attempt to make the throwbacks true to the originals, which had nameplates. So I texted Rays equipment manager Tyler Wall and asked him.
His response (which he actually sent to me during Saturday's game): "Yes, just a carryover. This jersey is not considered one of our in line items, so we made no changes." (Translation: This is not one of the Rays' official primary or alternate uniforms as shown in the MLB Style Guide. It's just a special-occasion uni that's being worn for four promotional dates this season.)
And there you have it. MLB nameplates — not quite dead yet.
(My thanks to Mike Tully and Nick Lineback for pointing out Tampa's 'plates on Saturday.)
• • • • •
• • • • •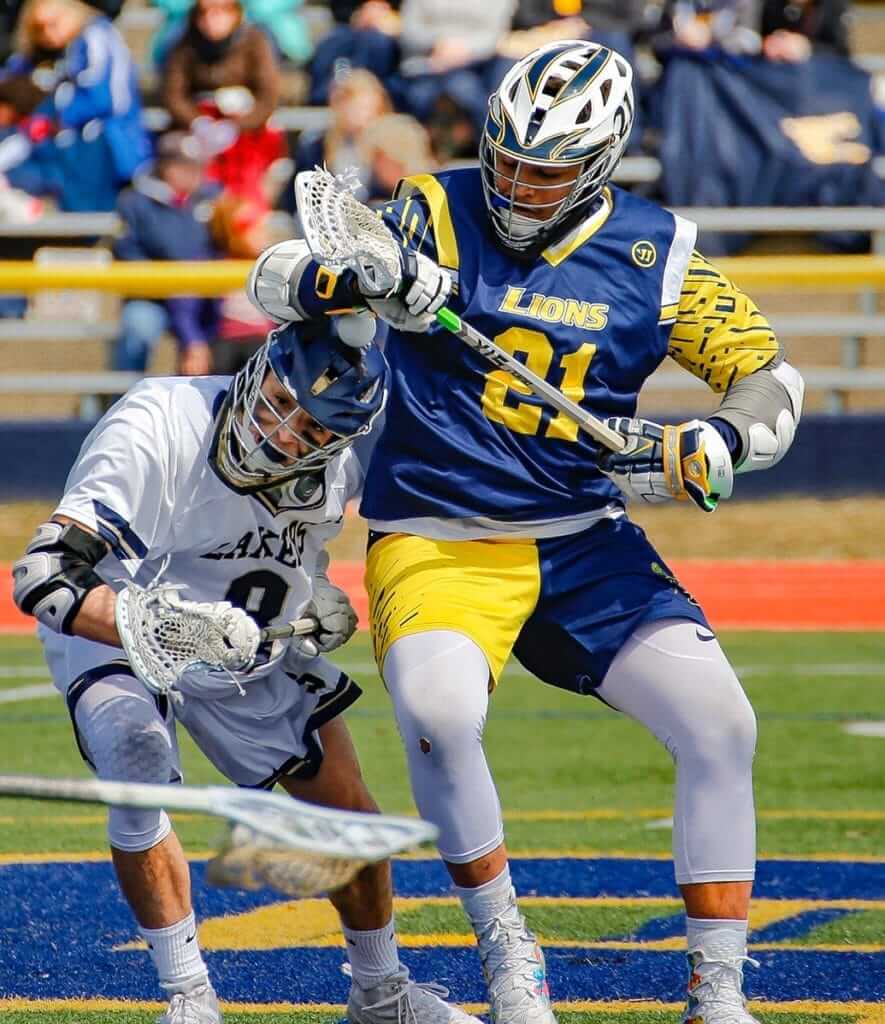 Photo by Evan Whitney; click to enlarge
Harlequin bromance: Granted, I don't know a whole lot about high school lacrosse uniforms. But I'm gonna go out on a limb here and say they don't usually have harlequin-styled sleeves and shorts. That's General Brown High School from Dexter, N.Y., in the blue and yellow, with Skaneateles High in white. Additional pics here.
(My thanks to Kris Russell for bringing this one to my attention.)
• • • • •
• • • • •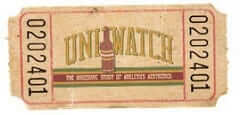 ITEM! New one-day raffle: I recently told you about the Charleston RiverDogs' NBA Draft Night promotion. The team has generously made one of the jerseys from that game available for me to raffle off.
As you may recall, the jerseys were tuxedo-style, complete with a "custom inner tuxedo lining" pattern on the inside of the jersey (click to enlarge):
The jersey for this raffle is No. 19, and is a size 46. In addition to the jersey, the RiverDogs will throw in pair of their Perros Santos socks (a giveaway from their Copa de la Diversión alternate identity), a baseball glove-scented bar of soap which (part of their "The First Rule of This Promo Night Is You Do NOT Talk About this Promo Night" promotion), and a few other goodies.
To enter, send an email with your shipping address to the raffle in-box by 8pm Eastern tonight. One entry per person. I'll announce the winner tomorrow.
• • • • •
• • • • •
Culinary Corner: Lamb figures prominently in both Passover and Easter traditions. The Tugboat Captain and I aren't religious, but we do like lamb (plus we have a vintage lamb butchery chart hanging on the wall of our kitchen), so we used the spring holidays as an excuse to make lamb chops on Friday night.
I started with a bunch of loin lamb chops (essentially the same thing as T-bone steaks, but from a much smaller animal), which I marinated in a mix of olive oil, garlic, rosemary, thyme, salt, and pepper for about an hour (for all of these photos, you can click to enlarge):
While I was dealing with the lamb, the Captain sliced up some Yukon gold potatoes and put them in a cast iron skillet with some more garlic and rosemary. The normal thing to do here would be to toss them with some olive oil as well, but the Captain astutely remembered that we have a jar of rendered hog jowl fat (a friend recently gave us some jowl, which we had in lieu of bacon for breakfast a few weeks ago, and then we strained and refrigerated the rendered fat), which has a nicely smoky flavor, so she used that instead. Then she popped the skillet in the oven:
After the lamb had marinated, I seared the chops for a few minutes per side in a large cast iron skillet:
After both sides were seared, I put the skillet in the oven for a few minutes, alongside the potatoes, which were still in there. Then we took everything out, let the meat rest for a few minutes, and served everything with a nice arugula salad:
The lamb was good, but the potatoes were unbelievably good. Crispy on the outside, creamy on the inside, and just a bit smoky because of the jowl fat. Best single dish I've eaten this year.
Hope your holiday-weekend eating was just as enjoyable. Happy Passover and Easter!
• • • • •
• • • • •
The Ticker
By Jamie Rathjen

Baseball News: Division II Colorado School of Mines softball turned a variety of things pink, including the uniforms and the sides of the bases. … Arizona OF Ryan Holgate has merit decals on his C-flap (from John Furstenthal). … Biloxi Shuckers INF Bruce Caldwell has been wearing a repurposed batboy jersey, with a ghosted "BB" still visible on the back (from Mike Krebs). … Here's an article about the Brandiose guys (from Jeff Fouchard).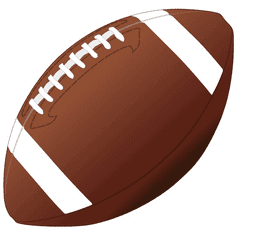 Football News: Notre Dame's gold helmets have slightly different shades of gold depending on the helmet manufacturer. … Reader Keith Thibault found NFL helmet-themed lucha libre masks while on vacation in Cabo San Lucas, Mexico.

Hockey News: Following up on a story from last Friday: The Flyers, who had covered up the statue of singer Kate Smith outside their arena after learning that Smith had recorded some racist songs in the 1930s, removed the statue altogether yesterday. … Sharks C/RW Joe Pavelski has been using a white stick that's difficult to see on TV (from @Gryfey19).

Basketball News: Spanish team Miraflores wore Notre Dame-themed uniforms (from @HitTheGlass). … Celtics PG Kyrie Irving has been wearing white socks with his logo on them, instead of black socks like the rest of the team (from multiple readers).

Soccer News: MLS did its Earth Day promotion this weekend, so every matchup was light blue on dark blue. Most of what I wrote last year still applies. One matchup — D.C. United/New York City FC — saw D.C. get the light blue even though NYCFC's primary color is sky blue, meaning the visual matchup was almost exactly the opposite from what it normally would be. … French team Paris Saint-Germain wore a picture of Notre Dame instead of an ad and "Notre-Dame" NOBs yesterday (from multiple readers). … The NWSL's Sky Blue FC, who have not announced any new kits for this season, rather bizarrely turned out in dark blue for their first home game. They opened the season wearing a white/sky blue effort from last season, as expected. … Manchester United changed for an away game against Everton for the first time since August 1963. They might want to rethink that decision. … Scottish teams St. Johnstone and Dundee played a blue-vs.-blue matchup. … Two new kits for English National League team Barnet and Scottish Championship team Ayr United. … Scottish women's team Glasgow City have a new second kit that they say is a sequel of sorts to the one used for the previous two seasons, which had a message below the numbers criticizing the lack of British media coverage for women's sports. If this one has a similar message, there are not yet any pictures or videos good enough to make it out.

Grab Bag: Women's cycling team Boels-Dolmans wore pink yesterday, including a pink version of the rainbow jersey for world champion Anna van der Breggen. … During yesterday's Penn State/Johns Hopkins men's lacrosse game, play was stopped because somebody's knee brace fell off (from Griffin Smith). … There is a strong and increasingly visible community of hobbyhorse enthusiasts (NYT link) among Finnish girls. … Reader Benji King sent us a 1930s-era picture of the Salt Lake Tabernacle with its roof painted with a primitive method to direct pilots to the city airport: "Salt Lake Airport" and an arrow. More information here. … The Toledo Library has a clever logo. … The LSU gymnastics team, which finished second in this year's national championships, posted a billboard celebrating their season. That prompted a rebuke from former ESPN business reporter Darren Rovell, who's now with the betting site Action Network. who tweeted, "No, you can't put up a billboard for coming in second," which resulted in an avalanche of criticism.