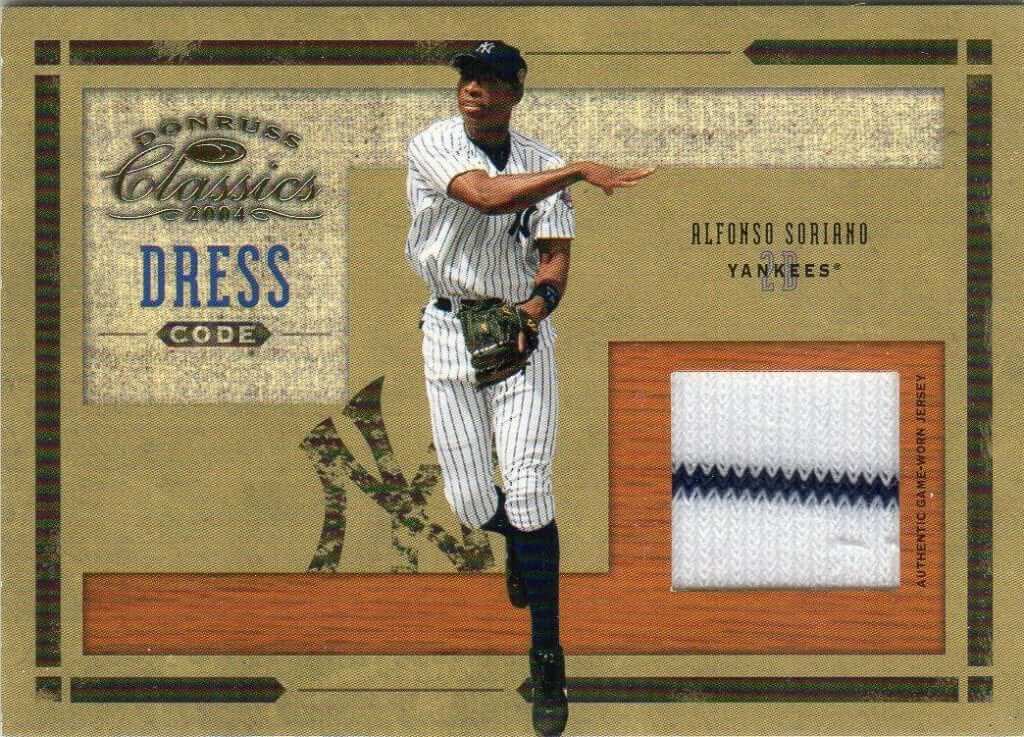 I've been writing about uniforms for nearly 20 years now, and there's a fairly big elephant in the room that I've never written about or probably even mentioned: jersey trading cards, which are the cards that come with a little swatch of a game-used jersey, like the Alfonso Soriano card shown above.
I don't collect either sports cards or game-used gear, which I guess is why I've never written about this topic, but my interest was kindled when reader Aaron Roggensack recently sent me a video showing the process of an NBA jersey being cut into swatches for a series of cards. The video is from 2013, but I'd never seen it before, and it's pretty fascinating. It's eight minutes long but worth checking out (and the only sound is a music loop, so you can mute it without missing anything):
I find myself conflicted about this, on multiple levels. For example: On the one hand, I love seeing how things are made, so the video is really interesting in that regard. On the other hand, it's a bit upsetting to see a jersey being cut into little pieces like that!
Also: I suppose the jersey cards are a good budget-priced option for people who want a piece of game-used memorabilia but can't afford a full jersey (although I can't imagine what sort of rush anyone gets from a tiny game-used swatch). On the other hand, turning the swatches into cards seems like an cynical way to take one category of collector-fetishized items and turn it into another category of collector-fetishized items. Hmmmmm.
According to this article, the game-used jersey card was pioneered by Upper Deck in 1997. The article includes this passage:
This was an historic moment for the [card collecting] hobby. Suddenly the value of these little paper rectangles wasn't quite so abstract because there is something with inherent value embedded right into the card. Suddenly you weren't holding a glorified picture of a player – you were holding a piece of his actual game-used uniform.
That's amusing, because of course a little swatch of fabric has no more (or less) "inherent value" than a trading card. It's just a matter of what people choose to fetishize.
I asked my Twitter followers about game-used jersey cards and got lots of responses. The best one came from Jeremy Duff, who had a lot to say. Here's an edited version of the very informative note he sent my way:
Upper Deck was the first major licensed company to issue trading cards with jersey pieces in them. They did this with their 1996 UD Game Jersey set. The company Press Pass also issued non-licensed jersey cards in 1996.  Originally, the Upper Deck cards were incredibly valuable.  Now, they've become so common that they are not very valuable, even for superstars.  That being said, people still enjoy finding them in packs more than just your everyday common cards.

The main thing now is the RPA, or Rookie Patch Autograph, which features a player's official rookie card, with a jersey patch (usually multi-colored and from a letter or stitched part of the jersey) and an autograph.  Those can be incredibly valuable, but the value is driven mostly by the rookie card and autograph dynamic. 

Originally, these were guaranteed authentic game-worn jersey pieces.  And many still are, but the card companies discovered there was a huge demand for rookies who might not have ever played an official MLB, NBA, NFL, or NHL game.  So, they started inviting drafted players to "premier" events, where they would have them wear a jersey, maybe throw a ball around for a minute, and then take it off, put on another one, and start all over.  They would cut up these jerseys and call the subsequent product "event-worn jersey cards." They'd include them in products at the same odds as game-worn jersey cards.

Today, they also can obtain game-worn jerseys from college games, and they put these into cards, too.

They've also done much more than jerseys.  Here is a list of stuff that's ended up in cards just off the top of my head: pants, gloves, shoes, bats, helmets, hats, laces, buttons, dirt, ball pieces, base pieces, field grass, batting gloves, stadium seats, eye black stickers, warm-ups, T-shirts, and more. [Indeed, they're even going to cut up the tablecloth from Manny Machado's introductory Padres presser last week. — PL]

Where the material comes from can also demand a premium.  For example, if the fabric includes part of a laundry tag, button, laces, patch, NOB letter, maker's mark, or league logo, that's are considered more valuable than a plain white/grey jersey piece.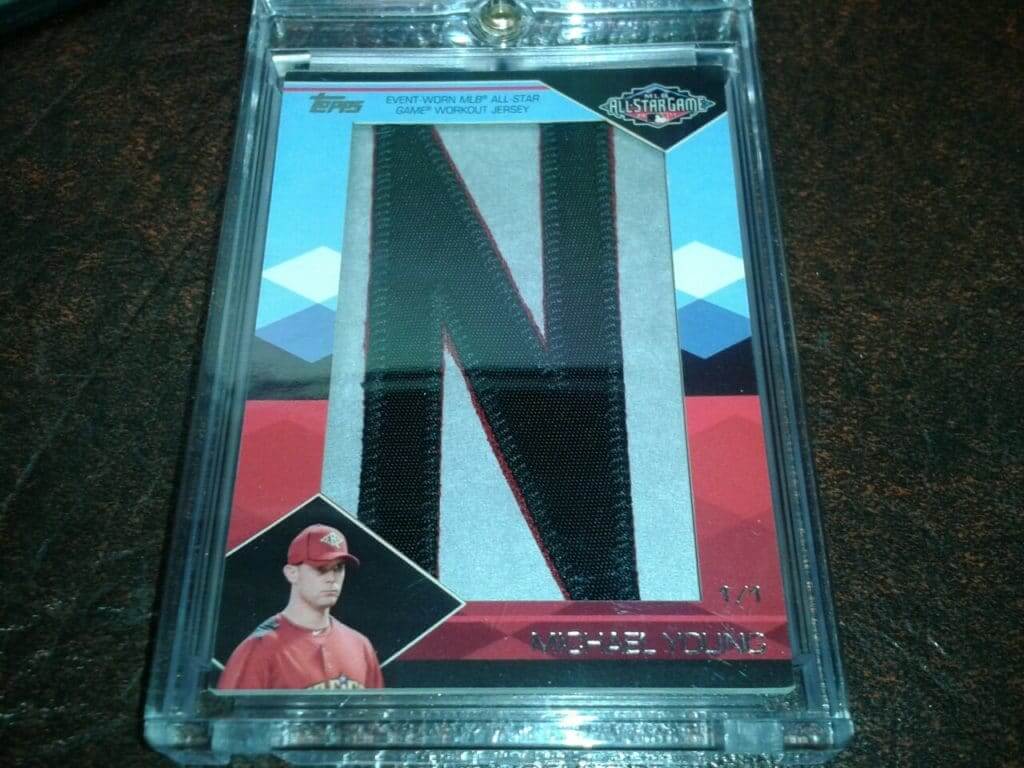 The jersey swatches can be big, small, or there can be multiple pieces on one card.  They now make booklet cards, where you can get sometimes 10-20 different jersey pieces and/or autographs on one card.

The card companies have also begun making manufactured pieces that look like jersey pieces, but they just make them in-house.  These are not very valuable, but sometimes they can be autographed, which increases the value.  I have an autographed one from Yale Lary that has a manufactured Texas A&M Logo on a white "jersey" — a pretty cool-looking card.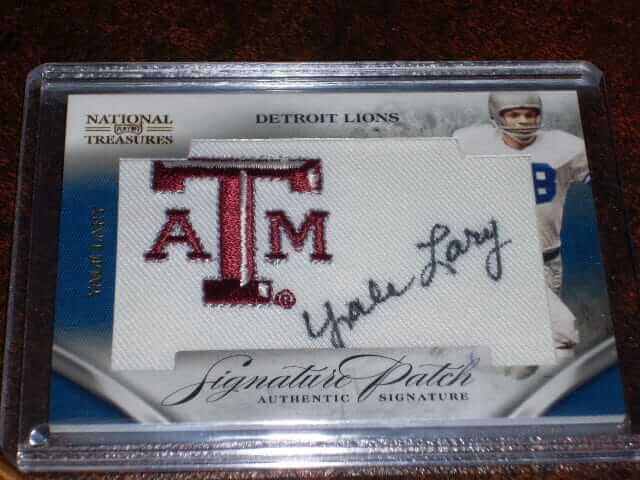 Another thing to add is that these have gone beyond the area of sports.  Several card companies now make cards that include swatches from the costumes worn by actors in movies and TV shows. I have several from the Marvel film and television franchises.
Wow — that's a lot of info!
I was also curious about how these cards affect the auction houses that sell game-used jerseys. So I asked Grey Flannel Auctions honcho Michael Russek if he hated the cards because they took a lot of jerseys off the market. His response: "Yes and no. The card companies have been very aggressive over the years buying jerseys from us, so I appreciate the business. But when they cut up a historically significant flannel, a little piece of me dies inside."
Of course, card manufacturers aren't the only ones cutting up game-used jerseys. Our friends at Tokens & Icons, for example, offer those wallets with jersey fabric lining. Is that any different than the cards? At the very least I figure it's more creative.
Do any Uni Watch readers collect these cards? Does anyone have strong feelings about them? Feel free to give your thoughts in today's comments.
(My thanks to Aaron Roggensack for bringing up this topic, to Jeremy Duff for all the great info he provided, and to Ryan Cracknell, Matt Edwards, John LaFreniere, @atopgreeneshill, and @cfssports for providing historical background and related info.)
• • • • •
• • • • •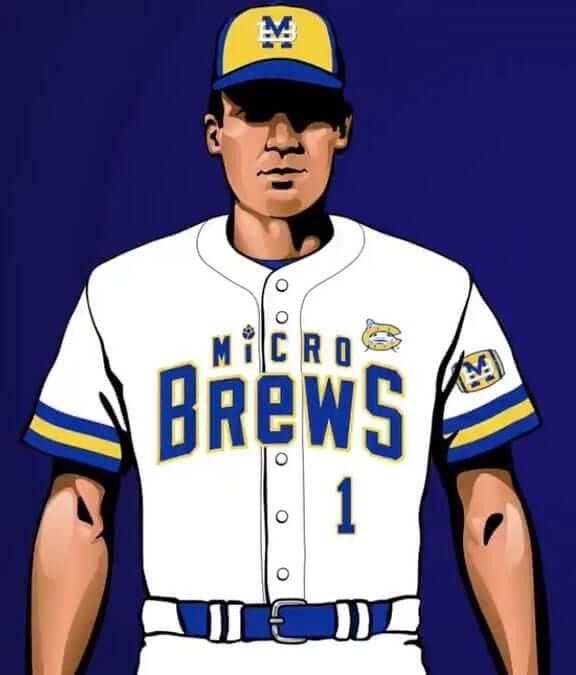 Good, not stupid: Phil had this in yesterday's Ticker, but I think it deserves a bigger showcase: The Single-A Carolina Mudcats, who are a Brewers affiliate, announced over the weekend that they're going to play four games this season as the Carolina Micro Brews.
Minor league food-based renamings have become so rote that it's easy to miss how good this one is. First of all, "Micro Brews" is a great, great name for a Brewers farm team. Secondly, the team is using an excellent "MB" cap logo that does double duty, symbolizing "Micro Brews" and "Milwaukee Brewers" (click to enlarge):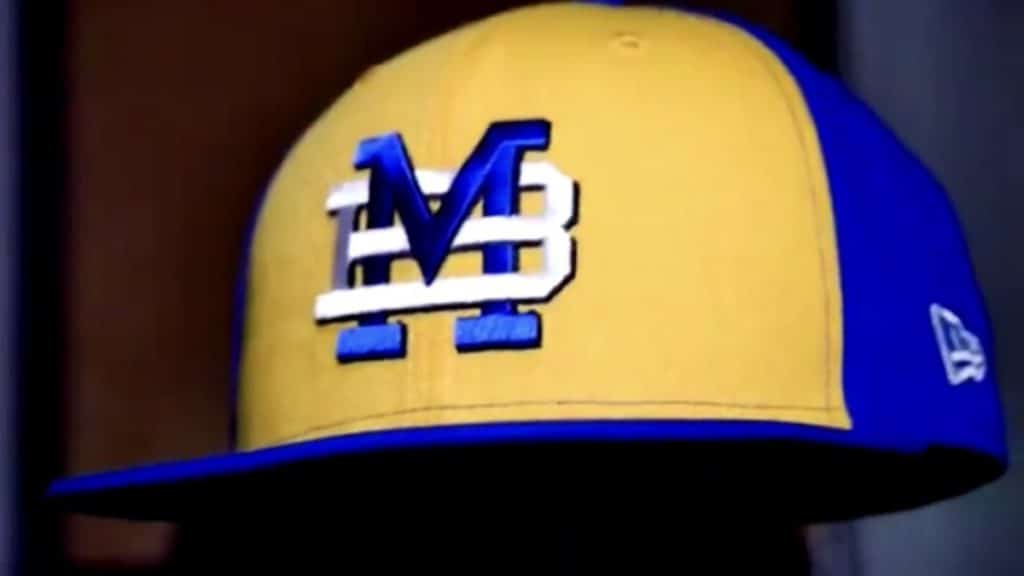 Obviously, the Brewers' ball-in-glove logo is still the best "mb" mark the team has ever had. But they could do a lot worse than to adopt this mark as an alternate. Kudos all around.
• • • • •
• • • • •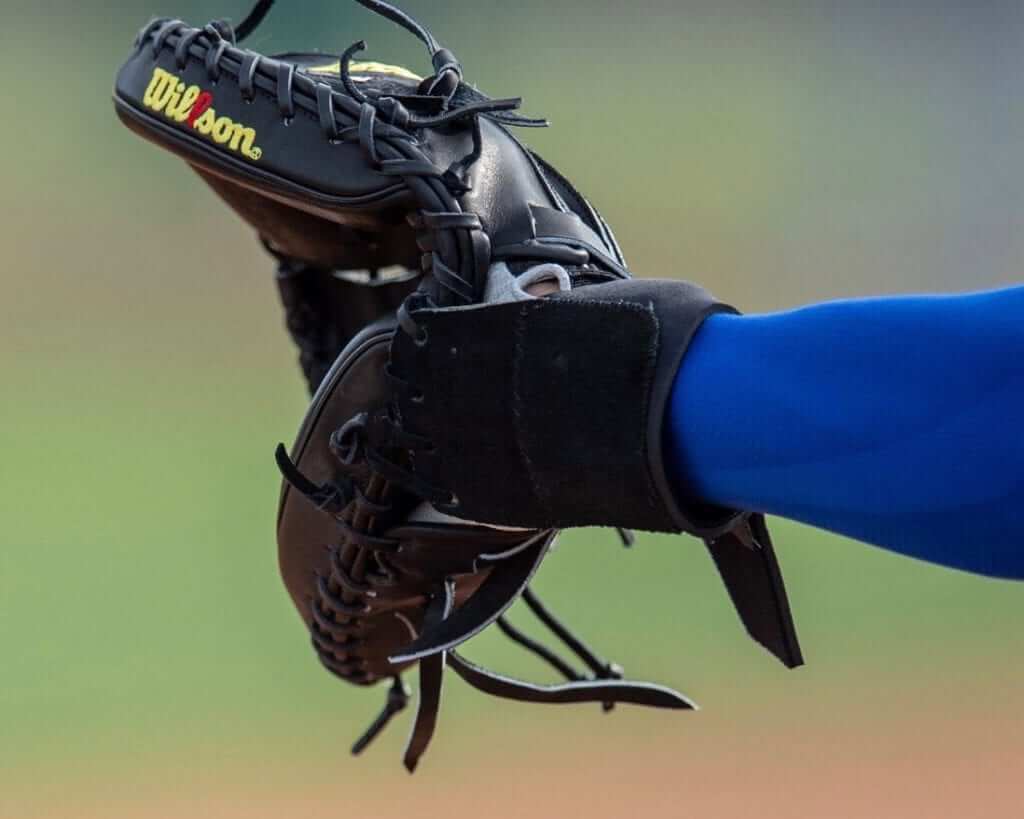 Click to enlarge
Too good for the Ticker: Cubs catcher Willson Contreras spells his first name with two "els," so the folks at his glove supplier, Wilson, modified their maker's mark for him. Isn't that nice?
Now we just have to find a player whose name is Rawllings.
(My thanks to @UncleBuckJake and Henry Nelson for spotting this one.)
• • • • •
• • • • •
ITEM! Important membership update: I got a note the other day from reader/member Andy Riley (whose membership card, shown at right, is based on the jersey Charlie George wore for Arsenal during the 1971 FA Cup Final), as follows:
I thought long and hard about what I wanted on the back of my card. Scrolling through the membership card gallery made me wonder about other people's choices and inspirations, especially for the cards based on jersey designs that I couldn't easily identify.

I think it would be really interesting, and a good way to strengthen the Uni Watch community, if card-carrying members added a short blurb/narrative about how they chose their card motifs. I bet a lot of interesting stories would emerge. And since all the card designs are hosted on Flickr, it's easy to add an explanatory comment to your card's page for everyone else to see, as I've now done on my card's page.
As longtime readers may recall, a lot of members did exactly what Andy's describing back in the membership program's early days. People posted comments, asked each other questions, and created a nice community discussion. But at some point people stopped doing that.
I'd love to rekindle it. If you're a card-carrying member, here's how you can participate in this:
1. If you're not already a Flickr member, go to Flickr and sign up. It's free.
2. Go to my Flickr stream.
3. To find your membership card, click on the search button shown here and then search on your surname (Smith, or Lukas, or whatever):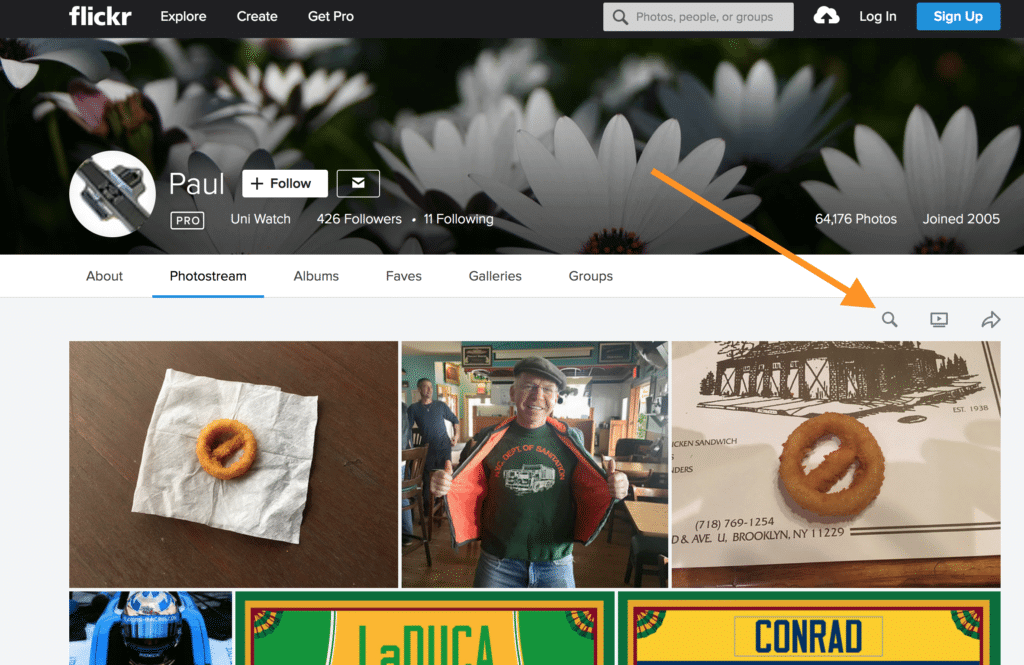 The search results should include a thumbnail image of your membership card. Click on that and it will take you to your card's page. I recommend bookmarking the page so you can go back to it whenever you like without searching for it.
4. Go ahead and post a comment on your card's page, explaining the story behind your card's design.
5. You can also comment on other people's cards by scrolling through the membership card gallery (please, no abusive or nasty comments), and you can go back to your card's page to see if anyone has commented on it or posted a question for you to answer.
(If you're a card-carrying member and can't locate your card via the method I've just described, contact me.)
I'd love for card-carrying members to re-establish a robust discussion within the online gallery. Go for it, people!
If you don't already have a membership card, ordering one is a good way to support Uni Watch (which, quite frankly, could use your support these days). And remember, a Uni Watch membership card entitles you to a 15% discount on any of the merchandise in our Teespring shop and our Naming Wrongs shop. (If you're an existing member and would like to have the discount code, email me.) As always, you can sign up for your own custom-designed card here, you can see all the cards we've designed so far here, and you can see how we produce the cards here.
• • • • •
• • • • •
Click to enlarge
Uniforms in the wild: The Tugboat Captain and I, joined by our friend Carrie, visited our favorite and most out-of-the-way Brooklyn watering hole on Saturday. While we were there, we made friends with a retired New York sanitation worker named Tim McAuliffe (yes, just like the sporting goods company with the classic number font). He was on his way to a trash workers' reunion, so he wore his original green-and-orange sweatshirt and matching vest that had been issued to him in 1987. "And they still fit!" he proudly noted.
Tim was a hoot. Over the course of several beers, he told us stories about the Mafia, finding valuable items in the trash, tossing a rolled-up rug into his truck without realizing there was a dead body inside of it, the Mafia, work slowdowns ("a slow day of trash pickup can bring the entire city to a standstill!"), the Mafia, some of the crazy characters he worked with, and the Mafia.
Tim also tipped us off to an old-school Italian restaurant that we didn't know about. We considered heading straight there, but we already had our hearts set on going to the venerable Brenn and Carr, Brooklyn's oldest roast beefery, so we put the Italian place down on our list of places to check out later and headed to B&C for roast beef sandwiches.
We also ordered some onion rings, one of which looked like no onion ring I'd ever seen before (click to enlarge):
Check that out — a circle-slash onion ring! It seemed like a sign, but of what? Empty set? No onions? No fries?
I set it aside, stopped the waiter when he was about to clear it from the table, and took it home. Now what do I do with it? Should I sell it on eBay, like the people who sell things that look like Jesus? Hmmmmm.
• • • • •
• • • • •
Click to enlarge
Wafflebored jersey reminder: We're currently auctioning off the very excellent Uni Watch hockey jersey shown above, which was made by the one and only Wafflebored. Full details here.
• • • • •
• • • • •
The Ticker
By Jamie Rathjen

Baseball News: Several Pirates players are wearing "Freedom for Venezuela" T-shirts, led by the team's Venezuelan catcher Francisco Cervelli, to bring awareness to the country's ongoing political crisis (from Mike Chamernik). … Red-on-red matchups yesterday included Ball State/Alabama, Nationals/Cardinals, and Angels/Reds (all from multiple readers). … Reds minor-league P Jimmy Herget appeared yesterday wearing stirrups, something he also did last year (from Lee Ursich). … Reader William F. Yurasko recently compiled some Senators/Nationals spring training videos. … The Braves, who according to MLB commissioner Rob Manfred "have taken steps to take out the tomahawk chop," have now released a T-shirt that encourages the chop (from multiple readers). … The Canadian Baseball Hall of Fame, which has been closed for renovations, will be reopening this spring (from Jack Wade). … Rays P Jose De Leon has a new glove rendered in team colors. It was designed by his cousin (from John McMunn).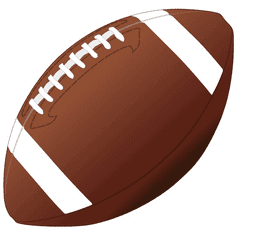 Football News: The Naming Wrongs "I Still Call It Joe Robbie" shirt was spotted in the wild on TV host Adam Richman, who was doing a live episode of Man vs. Food from Miami (from David Wiechmann).

Hockey News: The Canucks released their 50th-season logo (from Wade Heidt). … New Stars winger Mats Zuccarello was traded from the Rangers but still wore a blue undershirt yesterday (from multiple readers). … The OHL's Saginaw Spirit and Oshawa Generals both wore red jerseys and dark blue pants for warmups yesterday, but as the away team Saginaw wore white during the game (from Tim Constantin). … The Tkachuk brothers — Flames winger Matthew and Senators winger Brady — played against each other yesterday in Ottawa, and their family and friends all wore what can best be described as mashup jerseys that are not quite Frankenjerseys (from @Pappy_Hour). … The Coyotes retired No. 19 for Shane Doan and both they and the Jets wore warmup jerseys honoring him. Doan was the last active player to play for the first incarnation of the Jets.

Basketball News: Eight Ole Miss players knelt during the national anthem before Saturday's game against Georgia, which was played as pro-Confederate groups marched at the university. … Louisville wore red at home Saturday, meaning Virginia wore white on the road twice in a row and for the fourth time this season. … Michigan/Michigan State was color-vs.-color (from Josh Hinton). … Lehigh retired No. 3 for Trail Blazers SG C.J. McCollum (froom Mike Chamernik). … Reader Gabe Cornwall tells us that NC State's women are on their second set of pink-accented uniforms in a week, because they wore white on Monday and black yesterday, the latter against North Carolina in pink with Carolina blue accents (also from James Gilbert). … Other women's teams that wore pink or pink accents included Virginia, Miami (Fla.), and Florida State. … Iowa's Girls High School Athletic Union — Iowa appears to be the only state that has gender-separated governing bodies for high school sports — has a logo for the 100th state tournament (from Jay Wright). … Adidas's "Harlem Renaissance" uniform program hs now spread to Louisville's women's team (from Josh Claywell).

Soccer News: NBC promoted yesterday's Manchester United/Liverpool game with each team's Pantone shades of red (from Chris Chmura). … Scottish team Hibernian wore their highlighter-colored third kit against Dundee, and goalie Ofir Marciano was allowed to wear a pretty similar lime green outfit, even though goalies are supposed to contrast with everyone else on the field. … The stadium in the Spanish city of Santiago de Compostela was recently renamed for the still-active Utah Royals striker Verónica Boquete, a native of the city and the all-time leading scorer for Spain's women. … Nike-outfitted goalkeepers are using gloves that are actually banned by UEFA (from Josh Hinton).

Grab Bag: This weekend's AFLX competition, a shortened and gimmicked-up version of Australian rules football similar in game length to rugby sevens, featured one player on each team as the "game-changer," a role that came with a kit that was essentially a brightly colored ad for a certain sports drink, with no team identification (except perhaps the color), number, or NOB. … Spike Lee wore golden Nikes at last night's Academy Awards (thanks, Brinke).
• • • • •
I'll be attending tonight's Devils/Canadiens game in New Jersey. My first NHL game in three years. Among other things, I'm looking forward to meeting Devils P.A. announcer Kevin Clark, who's a longtime Uni Watch reader. See you tonight, Kevin! — Paul