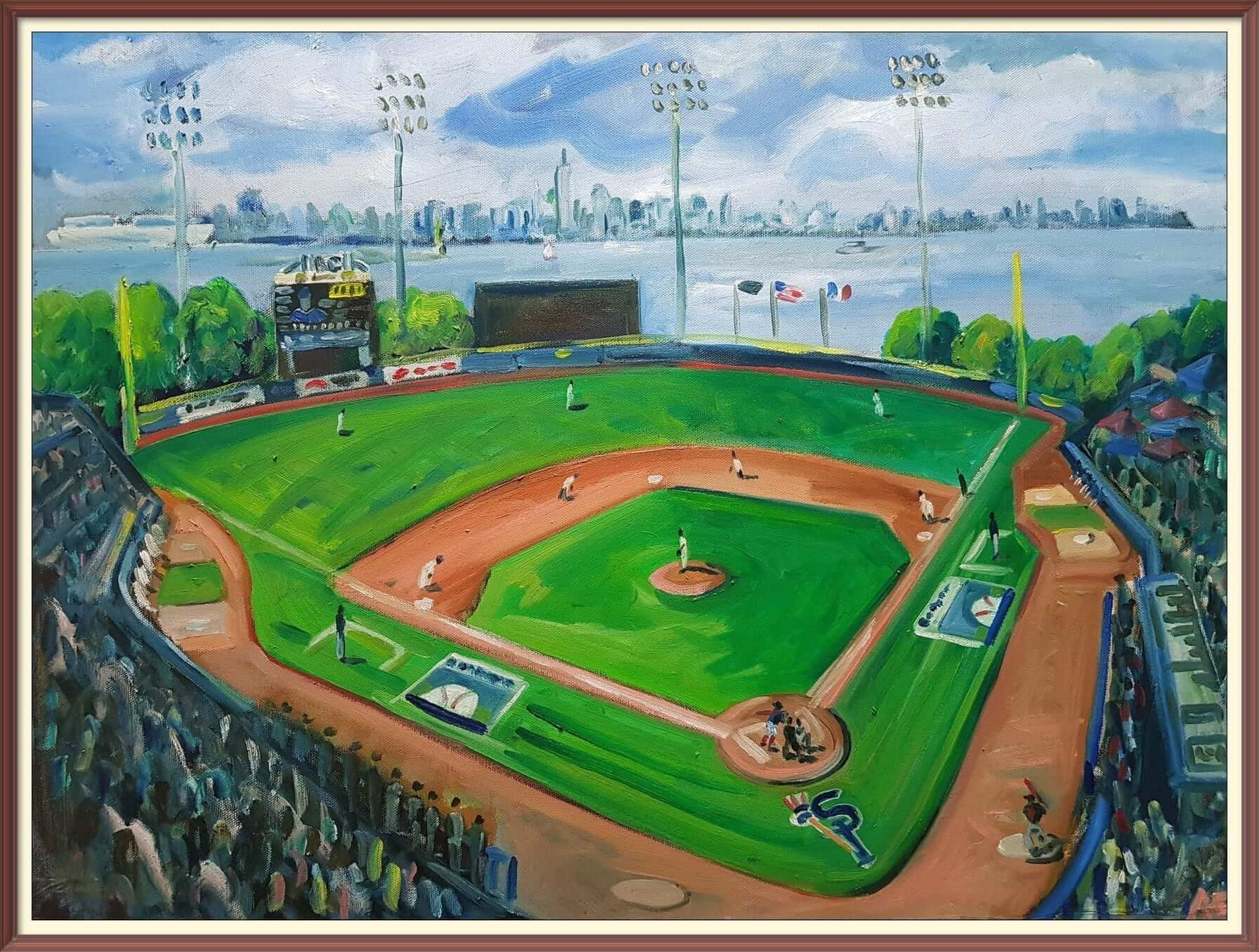 By Phil Hecken
Follow @PhilHecken

If the style of art above looks familiar to you, it should. It's done by artist Andy Brown, whom I've featured on here a few times (including his 2018 Olympic art, and various baseball renderings). I'd hoped both to meet Andy (who was in town in mid-August for a couple days) and feature him during Paul's annual sabbatical, but unfortunately, neither came to pass. However, we did plan out the wonderful post you're about to read below, which chronicles Andy's travels this year to many ballparks across the States. Enjoy!
• • •
Painting Baseball: One Ballpark at a Time.
By Andy Brown
My name is Andy Brown and I paint Baseball. I am originally from the UK, not somewhere presently where the game is particularly well known or recognized. I discovered it while living in Korea where I currently work and live. I have been painting Baseball (and other sports), for around 5 years now, regularly attending KBO games and taking along a sketchbook and/or paints. Over the years this has become more of a passion of mine and has led me to paint all aspects of the game all around the world. I paint the ballparks, stadiums, the players and people who make up the game and have done so in Korea, China, Taiwan, Japan and the US.
I do this to visually record and promote the game I have come to love. Through my work I examine the diversity, but also the similarities in Baseball and the structures within which it is played in different countries. By doing this I hope to uncover more of the history, stories and understand more of what it means to the people who watch, play and organise the game, and to preserve these moments for future generations to see.
This past summer I travelled across America bottom to top, left to right with an aim of painting and documenting the National Pastime in it's homeland. I travelled with my friend Joey Mellows (@baseballbrit) who writes about baseball, promoting the game ahead of the Red Sox and Yankees series, due to be held in London next summer. Together we flew from Korea and watched 32 games in 34 days from the Major, Minor and Independent leagues. We visited 24 different ballparks, 40 different teams in 8 different states (Texas, Kansas, Missouri, Michigan, California, Arizona, Pennsylvania, and New York). I painted at least one canvas per game, sometimes more, always with other sketches and works created during the rain delays, in the car, at the restaurant, in the hotel or waiting for the game to begin.
Joey Mellows (right) and myself (left), Incheon, South Korea 23 June, 2018.
An average day would start watching the World Cup Soccer fixtures, driving to the next town or city, or finishing up any paintings or sketches from the night before. This was followed by lunch and then preparing my materials for the evenings game. Due to the distances we were travelling I had to be practical, carrying a large roll of canvas in my bag, and stretcher bars which could be assembled or disassembled as necessary.
Usually we would arrive at the ballpark a couple of hours early. This would give me time to find my ideal view (interesting angle, interesting geographical backdrop, interesting feature of the ballpark) set up my easel and start painting. The early set up allows me to get as much paint onto the canvas as possible before the game starts. To get the field in first is key, as to me this sets the 'stage' for the characters of the performance as they appear, and they always do! 'Doug', the man who plays the accordion for the 7th innings stretch at the Washington Wild Things games in PA, Joey Zanaboni (@joey_zana) the lyrically unique play by play commentator for the Texas Airhogs, Jack the generous customer services representative at the Texas Rangers game in Arlington, who shared his wife's delicious cake with me, and many, many more.
I like to work at a reasonably big size (30 x 20 inches). This allows me to move the paint with the intention of giving an expressive element to the work, to try and capture the atmosphere, sounds, sights and feelings.
Painting in Grand Prairie, Texas. Home of the Texas Air Hogs.
In my paintings I tried to show the people I meet, the local landscape, light, and the games themselves to show the unique features of each ballpark, state or town. The trains car on the Cleburne Railroaders first base side, the Chinese national anthem played before each Texas Airhogs game (30 players from the Chinese national team trained this season with the Airhogs and rotated on the roster), the incredible views of Manhattan from the Staten Island Yankees Richmond County Bank Ballpark, the unforgettable view of of the Bay from AT&T park, along with painting for perhaps the first and last(?) time the Wichita Wingnuts home ballpark, The Lawrence Dumont Stadium, which is due to be knocked down in the coming year.
Richmond County Bank Ballpark, home of the Staten Island Yankees
The paintings hold stories of the cities, towns and experiences I had while there. As an artist I can bring together many different moments and feelings and fuse them within the canvas and pigments. Within the works are the pitcher who posed between innings with his team mates, Doug dancing on the 3rd base side dugout playing his accordion, Cannonball Charlie, the deafening artillery firing mascot for the York Revolution and the mark left by a baseball accidentally thrown into (almost through) the night's freshly painted canvas by @baseballbrit in the hotel room while he was practising his mitt skills, and many other special memories.
On reflection there were two main things which came across to me during this my tour. One was the beautiful sense of dedication, focus and purpose at each stadium. Each diamond had a pervading sense of hope and dreams, with each player, intern, fan, and artist – working to reach their targets. It was inspiring to be surrounded by such driven and determined individuals, working with their hearts.
The other aspect that sticks with me was the role or purpose of Baseball in America, with the connections and community which surrounds it ever apparent. The friendships and camaraderie brought about by the team on and off the field were incredible to see. Baseball gives people a sense of belonging, a sense of worth, pride and a feeling of being involved in something special. I had the pleasure to experience these connections to many people through their reaction to my work, which was always incredibly supportive and generous. I also had the chance to meet people I have met through social media or have sold work to previously, a highlight of which was meeting with pitcher for the San Francisco Giants, Tony Watson at AT&T park. Last year I sold two portraits of him playing in the World Series 2017 for the Dodgers. To get to meet up and talk about painting, and what it was like pitching in a World Series was a real honour.
Meeting with Tony Watson of the San Francisco Giants at AT&T Park
I am now looking to to exhibit my unique travelogue. Within the 50 or so paintings, sketches and other works I created I feel there is a special snapshot of America and America's past time through my British eyes. I also am looking for help in terms of sponsorship and funding to support my work as I head towards making this a full time commitment. This next year I plan to continue to travel to ballparks worldwide documenting and promoting the game, including the Red Sox vs Yankees series in my home of London next year. Wherever you are and wherever you are a fan, I hope to see you there soon! Cheers!
– – – – – – – – – –
Paintings, drawings and sketches from the first half of my trip
PNC Park, Pittsburgh, PA. Chicago Cubs (9) vs Pittsburgh Pirates (2) 1 August, 2018.
A magnificent ballpark, city and place to watch baseball. The view across the Roberto Clemete bridge is one I have wanted to paint for a long time.
– – – – –
The Coliseum, Oakland, CA. Toronto Blue Jays (1) vs Oakland As (10) 30 July, 2018.
The Coliseum was the venue of my first ever MLB game in 2014. I didn't realise then what a gem of a stadium it is. Somewhat grungy and rough around the edges, it holds a sincerity and authenticity which some of the newer ballparks miss out on. The light and inspiration in California is also an artists dream!
– – – – –
Felipe Paulino, Pitcher.
The Sugarland Skeeters of the Freedom Division of the Atlantic League, were our first independent league stop after seeing the Houston Astros. A great stadium with a Texas State shaped scoreboard and an incredibly friendly fan base.
I painted this from a photo of Dominican-Venezuelan Felipe Paulino from the front cover of the Skeeters team newsletter. After seeing the piece Felipe and I exchanged messages and met the next day on the field. We talked about his love of life in America, pitching and what lay ahead for me. I always love listening to pitchers and their lifelong dedication, fascination and honing of their craft – something to really admire.
– – – – –
Arnold Field, Sonoma, CA. Pittsburg Diamonds (9) vs Sonoma Stompers (11) 29 July, 2018.
The Sonoma Stompers of the Pacific Association, are the team chronicled in the book 'The Only Rule is that It has to Work'. Arnold Field is a wonderfully quaint ballpark in a beautiful town, with the mountain backdrop and the football goal posts in right field.
In 2015 the team made history with the first openly gay professional baseball player Sean Conroy. They also were the first team since the 1950s to have two female baseball players (Kelsie Whitmore and Stacy Piagno) on their roster in June 2016
I cannot recommend this ballpark and the Pacific Association enough. Great venues, lovely people and gorgeous settings for a game of Baseball.
– – – – –
The Lawrence Dumont Stadium, Wichita, KS. Lincoln Saltdogs (11) vs Wichita Wingnuts (4) 3 July, 2018.
A fantastic ball park situated on the Arkansas river with views of downtown Wichita in the background. Many great ball players played here including Satchel Paige, commemorated with a statue in the right outfield. The stadium is due to be leveled this year, with the team left with an uncertain future. I was glad to be able to capture part of this cities unique and passing history for future generations to see.
– – – – –
Peoples Bank Park, York, PA. Southern Maryland Blue Crabs (3) vs York Revolution (4) 5 August, 2018.
Near the end of the trip we spent two days watching the York Revolution at Peoples bank Park which boasts the tallest wall in professional baseball (37 feet 8 inches). This makes it 6 inches taller than the Green Monster at Fenway Park.
– – – – – – – – – –
High quality prints and original canvases are available through Andy's website: www.andybrownstadiums.com

You can also get in touch with him on:

Twitter: @andybisanartist
Instagram: @andybrownisanarist
Email: andybrownisanartist@gmail.com
Thanks Andy! Great, great stuff as always, my good sir.
[adrotate group="2″]

Kreindler's Korner
I had the distinct pleasure of featuring the wonderful artwork of artist Graig Kriendler on two occasions over the summer and fall of 2017, and more recently, in August of 2018.
For those who don't wish to click the links, Graig paints baseball heroes (and regular guys) from the past, and is an immense talent.
Occasionally, I will be featuring his work on Uni Watch.
Here's today's offering (click to enlarge):
• • •
Title: "Gehrig, Gordon and Glenn Back Gomez"
Subject: Lou Gehrig, 1938
Medium: Oil on linen
Size: 58″ x 32″

Only 2,773 fans showed their faces at Yankee Stadium on the warm afternoon of September 27, 1938. With the pennant locked up for New York and the cellar-dwelling Senators in town, there wouldn't be any meaningful action in the city until a little over a week later against the eventual National League champions. In the fifth inning of the contest, Lou Gehrig stepped up to the plate with no one on base and launched his 29th homer of the season off of a Dutch Leonard knuckleball. The ball landed in the Washington bullpen in right field, abruptly scattering the sleepy-eyed relievers benched behind the small fence, and was good for the Yankees' fourth run of the day. In the end, New York beat the Senators, 5-2.

The Yanks would face Chicago in that year's World Series, and Red Ruffing would get the nod to open the series for New York. The Bombers easily dispatched of the Bruins in four quick games, flaunting the fine-tuned machine that steamrolled through the American League that regular season. The veterans Bill Dickey and Frankie Crosetti contributed big for the Yanks, as did youngsters Joe DiMaggio, Tommy Henrich and Joe Gordon.

Virtually missing from the action, however, was Gehrig. Hitting only four singles in fourteen at-bats in the series, Lou drove in no runs – a sharp contrast to his usual post-season output. In his previous six series, he had averaged .386, hit 10 homers and batted in 35 runs. The first basemen had a solid 1938 season, though by no means was it standard fare for the great man. He batted .295, hit 29 round trippers and drove 114 runs home – which was a far cry from his stats in 1937, when he batted .351 and slugged .643 – and fans in New York started to think that he had begun the eventual decline of the aging athlete. It is fair to say that nobody seriously considered that the Yankee captain might have been ill.

Gehrig's homer that September 27th afternoon would be the 493rd of his career, and ultimately, his last.
• • •
Thanks, Graig! You can (and should!) follow Graig on Twitter.
[adrotate group="2″]
No Dummy
I got an e-mail late Thursday night from Chris Whitehouse (who you guys may know better as "Man Cave") and with whom I've worked and featured several times on the blog. Chris, working with a collaborator, was able to ascertain a slight "mistake" in the DTTN ("Dressed To The Nines" MLB Uniform Database), and provided a great new colorization.
I'll let Chris explain…
I'm currently working with the White Sox, Negro League Baseball Museum, Baseball Digest and the Hall of Fame Magazine.

Recently, an expert on the old baseball player "Dummy" Hoy contacted me to say that I had his uniform logo the wrong color. I was using the red C that [Chris Creamer] and Okkonen both show for the 1901 White Sox. But he owns a 1901 game-worn uniform of Hoy's that shows the C to be blue (and one version of the belt to be red).

The White Sox have put up my original work on the 1901 team as a huge banner at their park, so now I have to let them know that they need to update it with the blue C!
Let me know what you think.

My current portfolio is here.

Chris Whitehouse
Thanks Chris! Awesome colorization (as always) and thanks for your efforts in setting the historical record straight. I've let Tom Shieber from the MLB HOF site know about the color differences, and hopefully the DTTN site will be updated in short order.
[adrotate group="2″]
And now a quick item from Paul: Next Saturday, Oct. 6, will be the 50th anniversary of when Marlin Briscoe of the Broncos became the first black quarterback to start a game in the AFL. But today — Sept. 29 — is the anniversary of Briscoe's first game, when he came off the bench in the fourth quarter of a game against the Patriots. The video embedded above shows Briscoe removing a sideline warmup jacket as he prepares to enter the game.
Longtime Uni Watch reader and Broncos memorabilia collector extraordinaire Tom Jacobsen owns that jacket. "I got it years and years ago from a guy who has a card shop here in town," he says. "He got it from a team employee." Briscoe presumably wore it on the sideline when he made his historic start the following week as well.
You can see photos of the jacket (including a few shots of Tom posing with it, which I took when I visited him in Denver last winter) here.
Meanwhile: In case you missed it on Friday, my annual Uni Watch NHL Season Preview is now available for your enjoyment on ESPN. Check it out here.
[adrotate group="2″]

Too Good…
for the Ticker
Paul received an e-mail from reader Brandon Hamburg, who saw a tweet of Paul's (credit to Robert Brashear) and it reminded him of another instance of some similar. It's a bit too long, and too good for the ticker.
Here's Brandon…
Hi Paul,

Saw your tweet on the Kentucky helmet stars from 1965 and it reminded me that A&M had them at one point as well. I did some searching a while ago and never found an answer.

I was able to narrow down the 1978-1982 timeframe, then went to those yearbooks and realized it was only the 1981 season.

Here's the link to those pictures:

The stars are clear on these pages:

p. 122 – A&M/UH
p. 125 – A&M/Baylor
p. 127 – A&M/Rice
p. 128 – A&M/SMU
p. 131 – A&M/Arkansas
p. 134 – A&M/Texas

Also realized they were shown on the 1982 Summer edition of Dave Campbell's Texas Football Click Here.

I started asking around. Nobody seems to know what they were for. Why did some of the pictures have two stars and some had four? Team captains?

Just one of those mysteries. I know you have more contacts than I ever will, so maybe there's an answer out there somewhere?

Anyhow, just wanted to pass that over to you to do what you want with it.

Cheers,
Brandon Hamburg
OK. Now, on to the ticker…
[adrotate group="2″]
The Ticker
By Anthony Emerson

Baseball News: Ben Zobrist Gets It™ (from Andy Carges). … The Reds wore their Los Rojos jerseys again last night (from @FormerDirtDart).
.

NFL News: The Packers published a great infographic of their uniforms over the course of their 100-year history (from Brian Kehrin). … In a similar vein, the Packers also published a live-action Twitter vid of their uniform history. … The Saints are going with their all-white color rush unis tomorrow (from Russell Goutierez and Pipes Guice). … Jon Gruden loves playing on the Oakland Coliseum's dirt infield (thanks, Alex). … The logo of the new Alliance of American Football team San Diego Fleet looks mighty similar to the logo of the Virginia Destroyers in the old United Football League.

College/High School Football News: The Seattle Post-Intelligencer ranked the uniforms of the Pac-12 schools (thanks, Phil). … Houston is wearing 70s-era throwbacks today (from Ignacio Salazar). …  Daniel Moskowitz sends along a great video of staff applying the angry wave decal to Tulane's helmets. … Northwest University — not to be confused with Northwestern University — are wearing Salute to Service unis today. Here's a good look at the helmets they'll be wearing (from John Fitzgerald and Scott Vicker). … McKendree is going purple-white-white today. … The following are all from Phil: Orange-white-orange for Florida against Mississippi State. … Blue-red-white for Ole Miss in their showdown against LSU. … Oregon is going all white with chrome helmets against Cal. … Troy will wear military appreciation unis today. … James Madison is going grey-white-purple with special helmets today.

Hockey News: We may have already covered this, but just in case: here are the 2019 Stadium Series logos (from Michael Nealon). … This Twitter thread of the Flyers' new mascot Gritty photoshopped menacingly into the background of stock images is the best thing you'll see on that website as long as Brett Kavanaugh remains in the news (many thanks to @theauthenticeli for brightening my day by submitting this). … Speaking of, StateCollege.com has a profile on Gritty's designer (from William F. Yurasko). … Ryan Osborn noticed some similarities between the Vegas's new center ice logo and the Kings's final center ice logo from their Forum days.


NBA & College Hoops News: For some reason, Kobe Bryant wore a Lakers-themed wizard hat and robe on an episode of Ellen (from Mike Chamernik). … Celtics F Marcus Morris has added a "Sr." suffix to his NOB. Could he be the first NBA player to play with a "Sr." suffix? (from @marcomanipon). … Mount Aloysius has revealed its women's hoops unis.

Soccer News: Macron will be the exclusive kit provider for clubs in the new Canadian Premier League, in what is described as a long-term deal (from Jake Henderson). … Providence Men will wear 50th anniversary sleeve patches for today's match (from Timothy Finnegan).

Grab Bag: AFL side Collingwood has added the Grand Final patch to their jumpers (from Jeremy Brahm). … Truckee Meadows Community College in Nevada is starting an athletics department, and a student designed their logo and mascot (from Damon Hirschensohn). … The US Army is looking to bring back its iconic "pinks and greens" dress uniforms.
[adrotate group="2″]