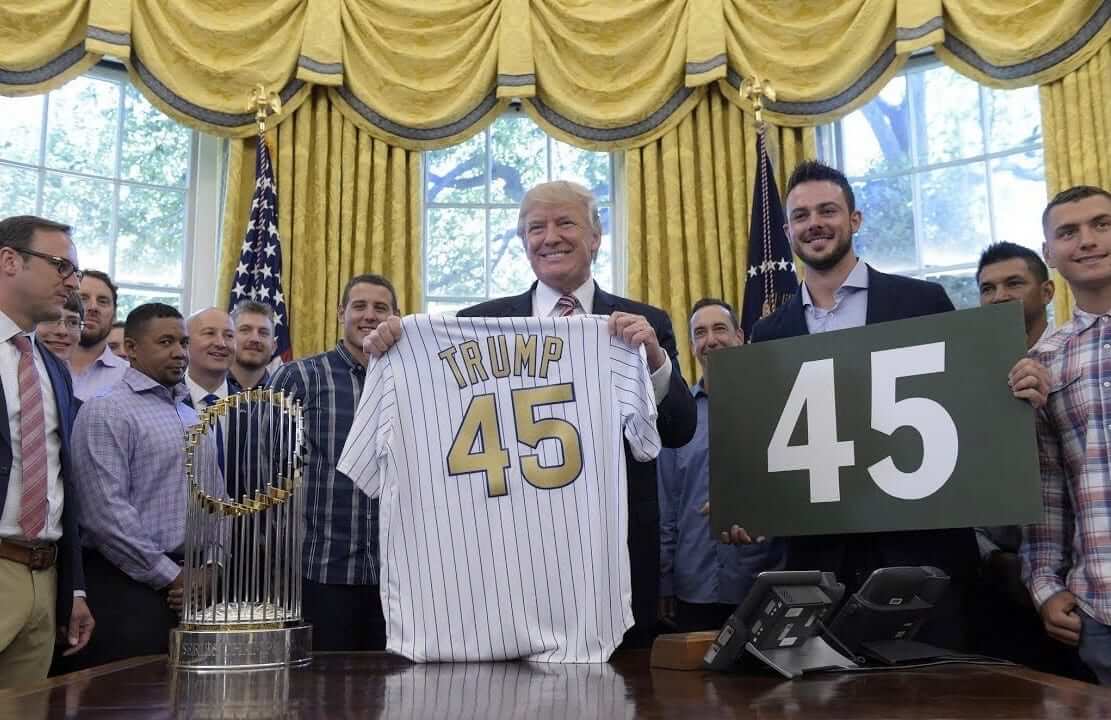 As you're no doubt aware by now, the Super Bowl champion Philadelphia Eagles were scheduled to visit the White House earlier this week, and then they ended up not going. There's talk that the two teams in the NBA Finals don't want to visit the White House either, apparently because of their antipathy for its current occupant.
I'm not interested in debating who's "right" or "wrong" in those situations, because none of that is of any concern to us here at Uni Watch. But I do want to address a related point, a larger point — a point I've been thinking about for some time now. To wit: It's time to end the ritual of championship teams visiting the White House altogether.
Here are some reasons why:
1. I see no reason why a president (or any other politician) should get a free photo op — which is essentially an exercise in political marketing — with championship athletes, especially when his official duties already give him plenty of photo ops with foreign heads of state, titans of industry, and so on.
2. I also see no reason why athletes should be expected to provide political marketing for a politician, including a president, with whose politics they may disagree.
3. These team visits and photo ops have become pathetically predictable and scripted-seeming over the years. It's often painfully obvious that the president knows nothing about the team or the sport in question (which is understandable, of course). After the event, the president's boilerplate souvenir jersey is whisked away to the National Archives to gather dust with all the other souvenir jerseys, and the whole thing ends up feeling perfunctory.
I can see having these visits if there's a particularly strong bond between the president and a given team. Barack Obama, for example, was known to be a passionate White Sox fan, and George W. Bush was once a part owner of the Texas Rangers. So if those teams had won the World Series during those presidents' respective terms in office, perhaps a team visit would have been warranted. Those visits would be special, instead of predictable and perfunctory.
4. If there's one thing we have too much of in this country, it's the culture of celebrity. Granting special White House access to elite athletes, who are already among the most overprivileged people in our society, just exacerbates that problem.
5. One of the nice things about rooting for a team is that it forms bonds between people of diverse backgrounds, diverse beliefs, and so on. But once you put the team in a political setting, a lot of that goes out the window. I'm sure there are now rival factions of Eagles fans who are sniping at each other on Twitter (or wherever) about the how the White House situation played out. If the White House invitation had never been issued to begin with, those fans would still be friends; now they're just another reflection of our nation's polarized politics.
Here's another thought: One day, inevitably, we're going to have a president who doesn't much care about sports. (We've probably already had such presidents before, back before it became routine for championship teams to visit the White House.) When that happens, will that president still go through the ritual of pretending to give a shit about the Super Bowl champions who stop by for a visit? Or will he or she just dispense with the ritual altogether? I hope the latter. Let's cut to the chase and scrap the ritual now.
I know many of you prefer to keep politics out of sports. By the same token, let's keep sports out of our politics.
• • • • •
[adrotate group="2″]
• • • • •
Brannock-palooza: Have you ever wondered about the logistics of how a minor league team executes a one-game rebranding, complete with a new team name, custom uniforms, and so on? I've written a ESPN feature about that, using the Syracuse Chiefs' recent Brannock Device Night as a sort of case study. Some of the piece is about the Brannock promotion and my role within it, but more of the article is about the steps that have to be taken for one of these one-game makeovers. It was a super-fun piece to report and write, and I think you'll really enjoy it. Check it out here.
• • • • •
[adrotate group="2″]
• • • • •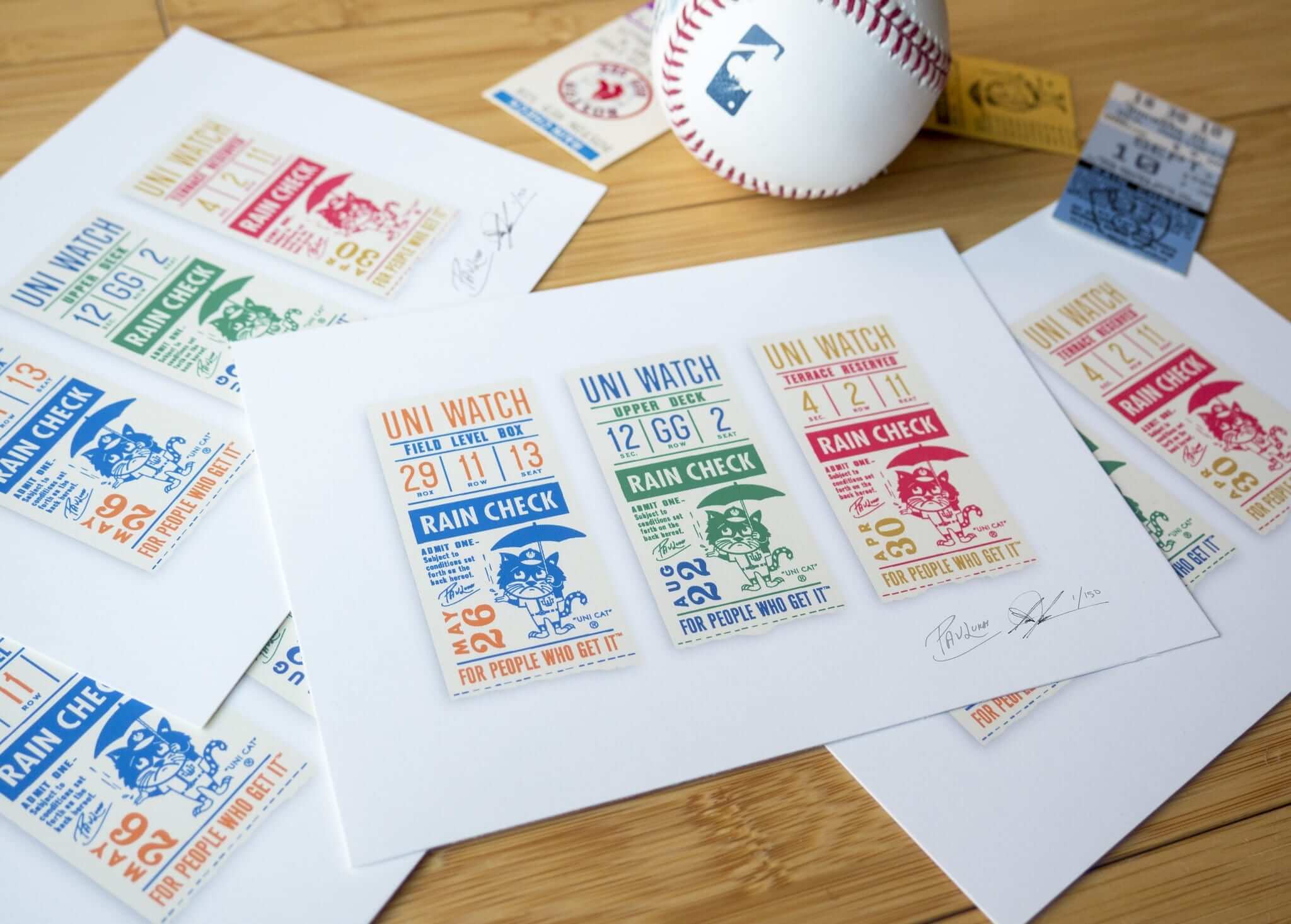 Need a last-minute Father's Day gift? Allow me to suggest that you could do a lot worse than to get dad one of our limited-edition "Rain Check" prints, printed on acid-free paper with museum-quality archival inks. Each print is individually numbered and signed by designer Todd Radom and myself. You can order them here.
While we're at it: The official Uni Watch cap would also make a swell gift. Don't know Dad's hat size? No worries — we're sold out of fitted sizes anyway, but we still have about 20 of the adjustable caps, which come with a handsome leather strap and a burnished metal buckle. You can order them here.
And of course there are also Uni Watch shirts and coffee mugs, Naming Wrongs shirts (including a bunch of new designs that we just released yesterday), and let's not forget the Uni Watch watch (also available in this design).
My thanks, as always, for your consideration.
• • • • •
[adrotate group="2″]
• • • • •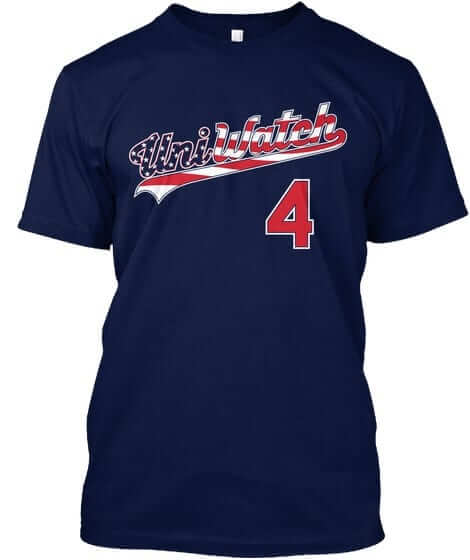 And speaking of holidays…: Don't look now, but Independence Day is right around the corner. Celebrate the holiday in style with the Uni Watch stars/stripes T-shirt, whose NOB lets you make a timely statement about those "patriotic" uniforms everyone else will be wearing for the holiday. You can order it here.
This shirt design was originally part of the Uni Watch T-Shirt Club back in 2015. If you're seeing it for the first time and are wondering about the "Pandering" NOB, there's a good explainer available here.
In addition, our old Canada Day shirt, which also dates back to the original T-Shirt Club series, is now available once again as well.
• • • • •
[adrotate group="2″]
• • • • •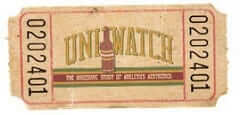 Raffle reminders: We currently have two raffles in progress. First, illustrator Alex Bennett is currently raffling off two of his new "Football Mishmash" posters (shown above) to a pair of lucky Uni Watch readers. full details here.
In addition, the good people at Vintage Brand are raffling off a pair of their vintage sports-themed canvas prints. Full details on that one here.
• • • • •
[adrotate group="2″]
• • • • •
The Ticker
By Kris Gross

Baseball News: After ESPN's accidentally listed Giants P Derek Holland as "Derek Lastname," Holland wants to use that nickname for his Players Weekend jersey (thanks Brinke). … This is a good look for Reds SS Alex Blandino (from Todd). … The Sun Sentinel says Marlins fans want to bring back the teal (thanks Phil). … Brewers pitchers recreated the Dumb & Dumber car scene as part of a bullpen cart giveaway promotion (from Brian Kerhin). … Fans using cellphone lights at Fenway caused a game delay on Wednesday night (from Mike Chamernik). … The Cedar Rapids Kernels wore breast cancer awareness jerseys last night. … The Wisconsin Timber Rattlers held their "Salute to Cows" night last night. … Check out the great unis on Keckler's Motors Team from Pennsylvania, the 1950 Big Spring Fast-Pitch Softball League champions (from Jason Bernard). … A nice tequila sunrise jersey for Westland John Glenn High School in Michigan (from Ryan Keberly). … The Red Sox held their annual Pride Night promotion last night, with a rainbow-striped Sox logo on the back of the mound.

NFL News: The Packers tweeted a video running through their uniform history, starting from 1919 (from Justin Wolf). … Houston rapper Travis Scott's new shoes pay tribute to the Houston Oilers. Here's a better look (from Ignacio Salazar). … Interesting spot by Brad Eenhuis on the Browns website. "Was Drew Stanton's head photoshopped on a lineman's body? Maybe it's just the jersey." … Pro Football Journal points out that Craig Colquitt and Ken Anderson used to have the same issue — peeling facemask paint.

Hockey News: Here's a peek at Blackhawks G Corey Crawford's new mask (from Marc-Louis Paprzyca). … Speaking of headwear, check out this Ohio State helmet from the '80s (from @WesAndHammy). … With the Caps having won the title last night, Chris Creamer has updated his chart showing the jerseys of every Stanley Cup winner.

NBA News: We've solved it. Kevin Durant keeps losing his shoes because they're a size too big (from James Gilbert). … Scott Smoker hated the new Finals logo as much as we did, so he came up with his own design. Here's the explanation on Scott's development process.

Soccer News: There are much better ways to reveal a kit than Arsenal's latest attempt (from Ted Arnold). … Here are all 32 home and away kits for the World Cup (from Josh Hinton). … New uniforms for FC Columbus (from Ed Zelaski).

Grab Bag: Penn State should bring back these 1942 lacrosse unis (from María Canales). … You can now own those dress shirts Phil Mickelson wears on the PGA Tour. … This is a sweet redesign of US currency (from Greg Kissler). … Did you know there are six other flags in the Norwegian flag? (from Matthew Moss). … Marcus Messer spotted two different Pepsi logos at the same fountain. … Here are one observer's picks for the best and worst jerseys at the ultimate Frisbee college championships (from Alex Rubin).
• • • • •
[adrotate group="2″]
• • • • •

What Paul did last night: I will soon be moving to a quieter, sleepier part of Brooklyn. But for now, I still live in a neighborhood where I can walk 10 minutes and see world-class entertainment. Case in point: Last night I walked 10 minutes to Hank's Saloon, where indie roots band Girls on Grass was playing.
Granted, I'm biased because I'm friends with the singer and the drummer, but I think they're really, really good. Here's a snippet of one of their better songs:
Next up was the country singer/songwriter Cliff Westfall. He and his band are a more polished product than Girls on Grass. Here's one of his better tunes from last night — "Messin' with My Heart":
All that, plus socializing with friends I hadn't seen in a while, for eight bucks. Sometimes I really love New York.